Kettlebell Workout Programme For Beginners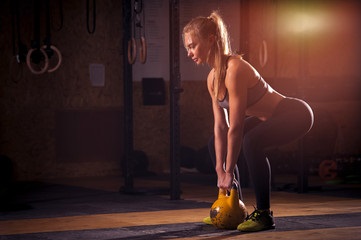 Kettlebell Workout Programme: Easy Exercises You Can Do At Home
A kettlebell workout might not sound like much, but it's one of the best ways to build muscle, improve your performance, and burn even the most resilient fat in your body.
Most people only use the kettlebell set in the gym as a lightweight way to get warmed up for their main exercise. There's nothing wrong with that approach though, it's just that there's so much more potential for a heavy kettlebell workout that will help ease the tension in your body from only using dumbbells and barbells.
Kettlebells have numerous benefits when used for strength, power, and weight loss. What makes them so special is their perfectly ergonomic design. They promote symmetry and force you to stabilize all the joints in your body in a way other fitness equipment can't.
And best of all, exercises with kettlebells are fairly simple and can be done even if you're a kettlebell workout beginner. Just make sure to adjust the weight based on your fitness level.
These exercises can easily be done at home if gyms are closed in your area due to social distancing measures. The only thing you'll need is a kettlebell set. We'll review the 5 best options later, but for now, let's see what the best kettlebell workout exercises are.
6 exercises for the perfect Kettlebell home workout
1. Kettlebell Goblet Squats
The goblet squat targets your entire lower body, core, and back. It will help you establish better balance and stability and reinforce proper body positioning.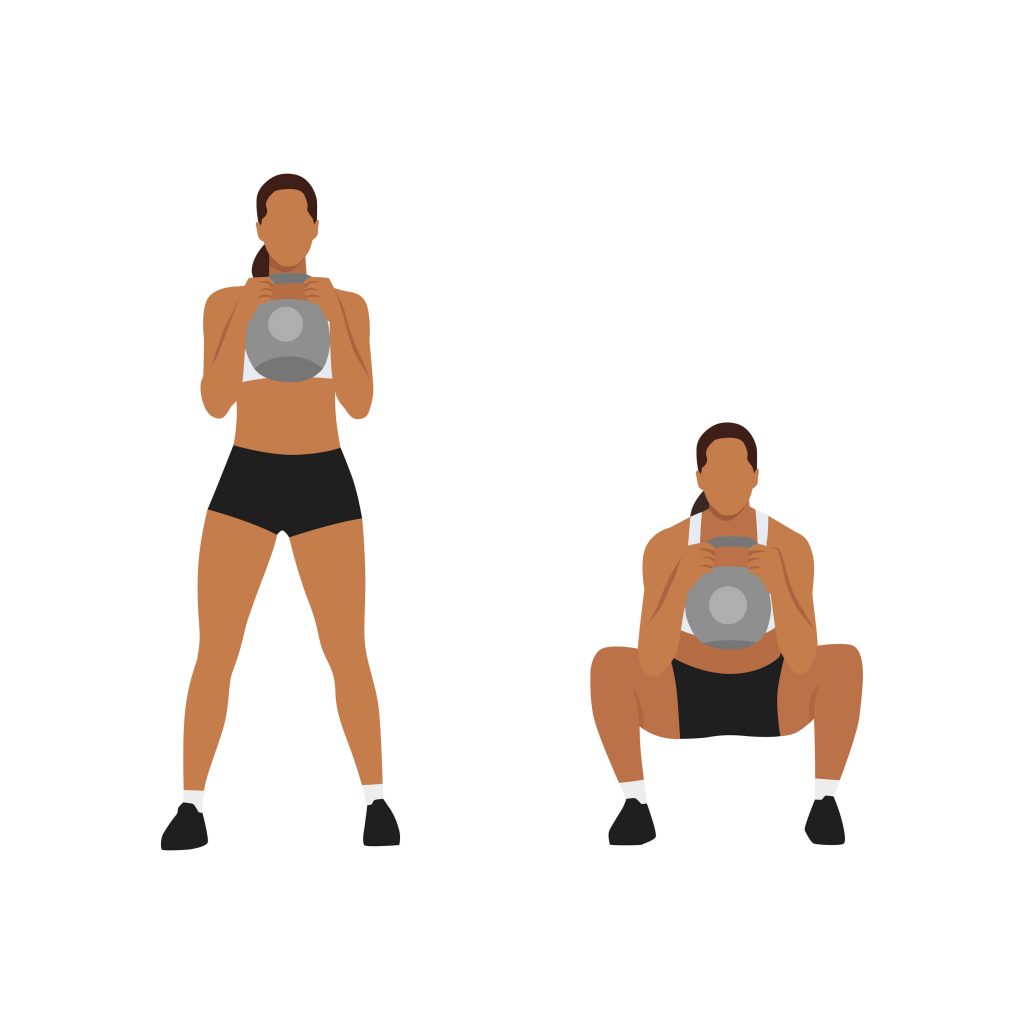 How to do Kettlebell goblet squats:
Hold the kettlebell on the handle with both hands.
Keep your feet shoulder-width apart and your elbows by your body.
While holding the kettlebell at chest level, lower down into a squat.
Return to the starting position and repeat.
Tip: Instead of focusing on how many reps you do, focus on proper form and squat all the way down with your knees over the toes,
2. Kettlebell Swing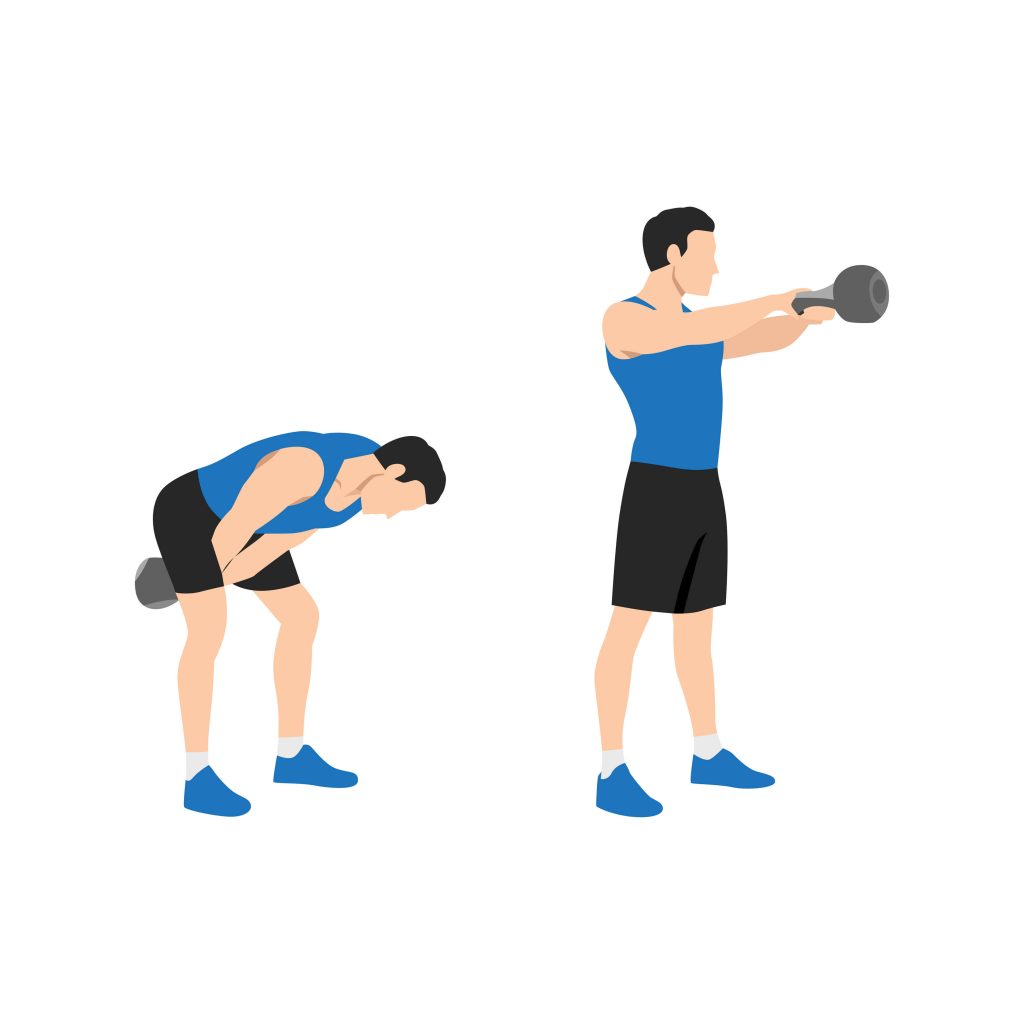 One of the best kettlebell weight loss exercises, the swing targets almost every muscle group in your body, burning huge amounts of fat along the way.
How to do Kettlebell swings:
Place your feet shoulder-width apart and slightly bend your knees.
Hold the kettlebell between your legs with both hands.
Arch your lower back and bend your hips as you swing the kettlebell behind your legs.
Swing the kettlebell back while extending your hips and knees to use the momentum of the kettlebell. You should be in an upright position at the peak of the movement.
Reverse and repeat
Tip: Once you perfect this exercise, you can build additional strength by using two kettlebells, one in each hand, and do the same movements.
3. Kettlebell Overhead Press
A staple in every kettlebell workout, the overhead press (OHP) transforms your entire upper body and helps you develop proper body alignment.
How to do Kettlebell overhead press:
Grab the kettlebell with one hand, with the handle going down the palm.
Get it in the rack position, with the weight of the bell resting against the back of your arm. Your palm should be facing your chest.
Press straight up with your fist while slightly rotating your arm so that your palm is facing away from you when it's at the top.
Reverse and repeat.
Tip: Keep the kettlebell as straight as possible, pressing up and down slightly behind your head.
4. The Kettlebell Snatch
The snatch develops the entire posterior chain of the body, all while building strength and coordination. It's like a combination of the swing and overhead press.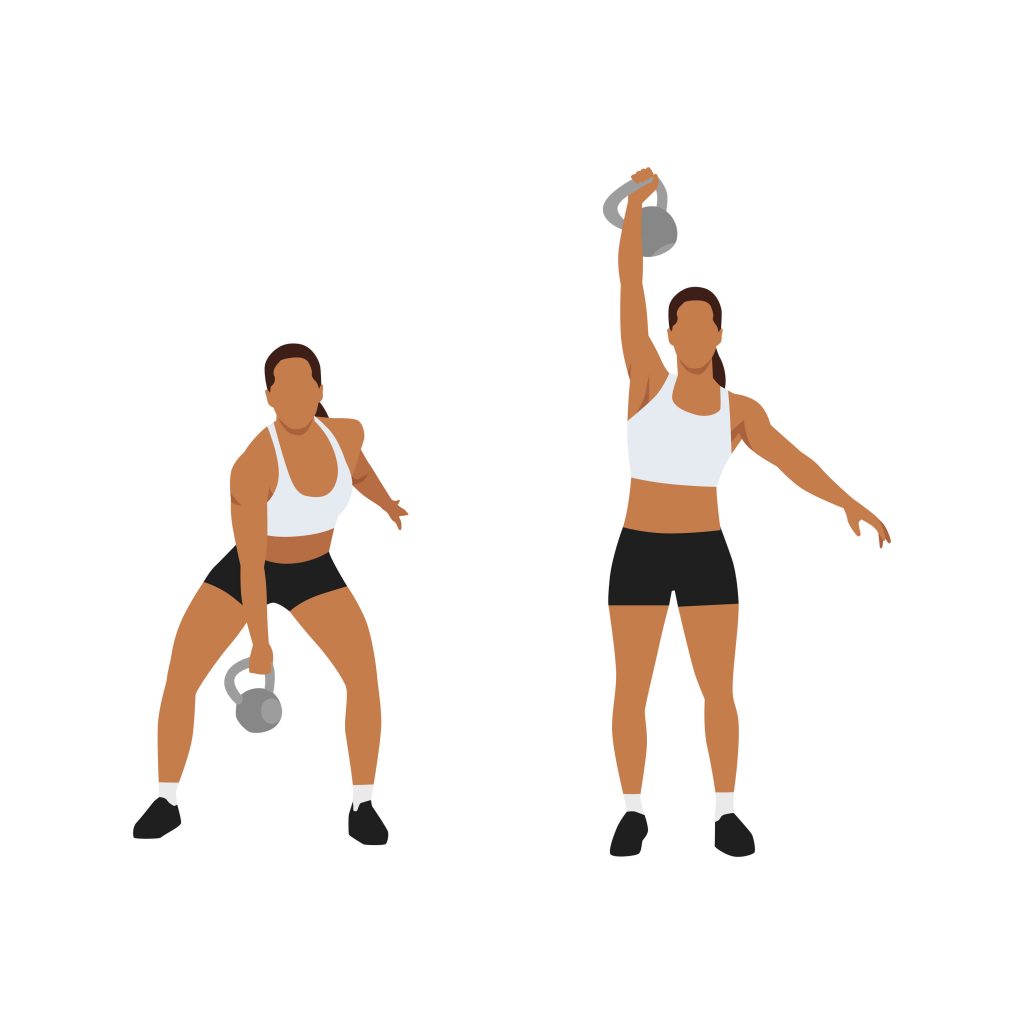 How to do Kettlebell snatch:
Hold a single kettlebell between your legs using only one hand.
Get into a semi-squat.
Thrust upwards with your hips and knees while pushing the kettlebell upward with your arm.
Return to the semi-squat position with the kettlebell between your legs.
Use the momentum like in the swing, and repeat.
5. Single-leg Romanian Deadlifts
This gym classic gets a kettlebell upgrade to build the hamstrings and glutes.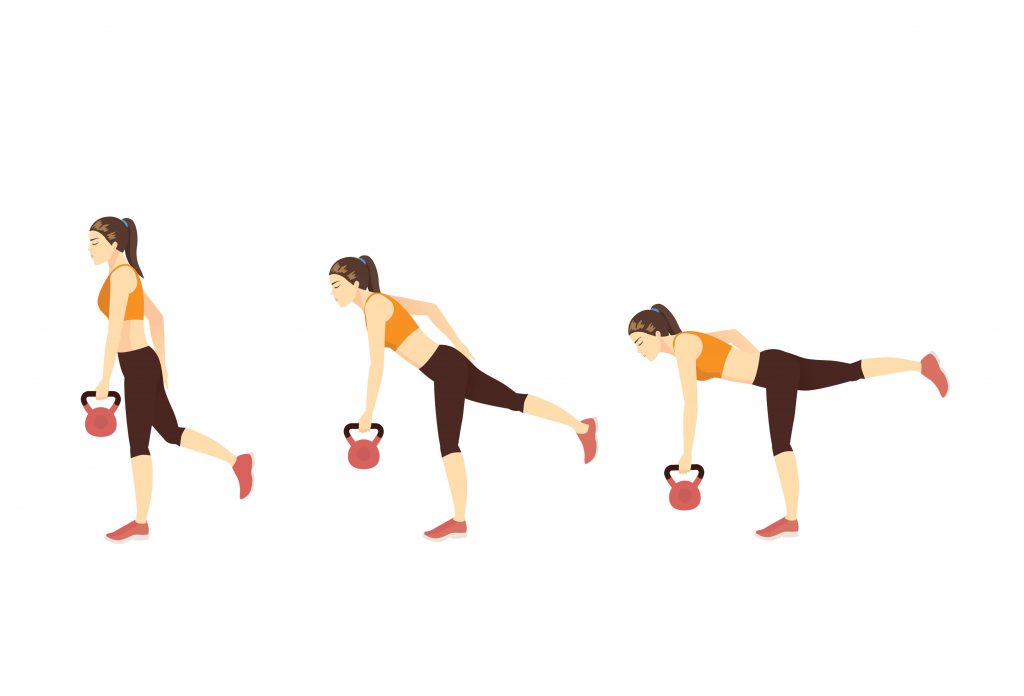 How to do Kettlebell single-leg Romanian deadlifts:
Grab a kettlebell with one hand, and slightly lift the leg on the same side as the bell.
Bend your standing leg while extending the other leg behind you.
Slowly lower the kettlebell down until your chest is parallel to the ground.
Return and repeat.
6. The Kettlebell Turkish Get-Up
The Turkish get-up targets all muscles that traditional exercises can't. It takes most of your body through full ranges of motion, making it more resilient and injury-proof. It truly is the ultimate kettlebell workout.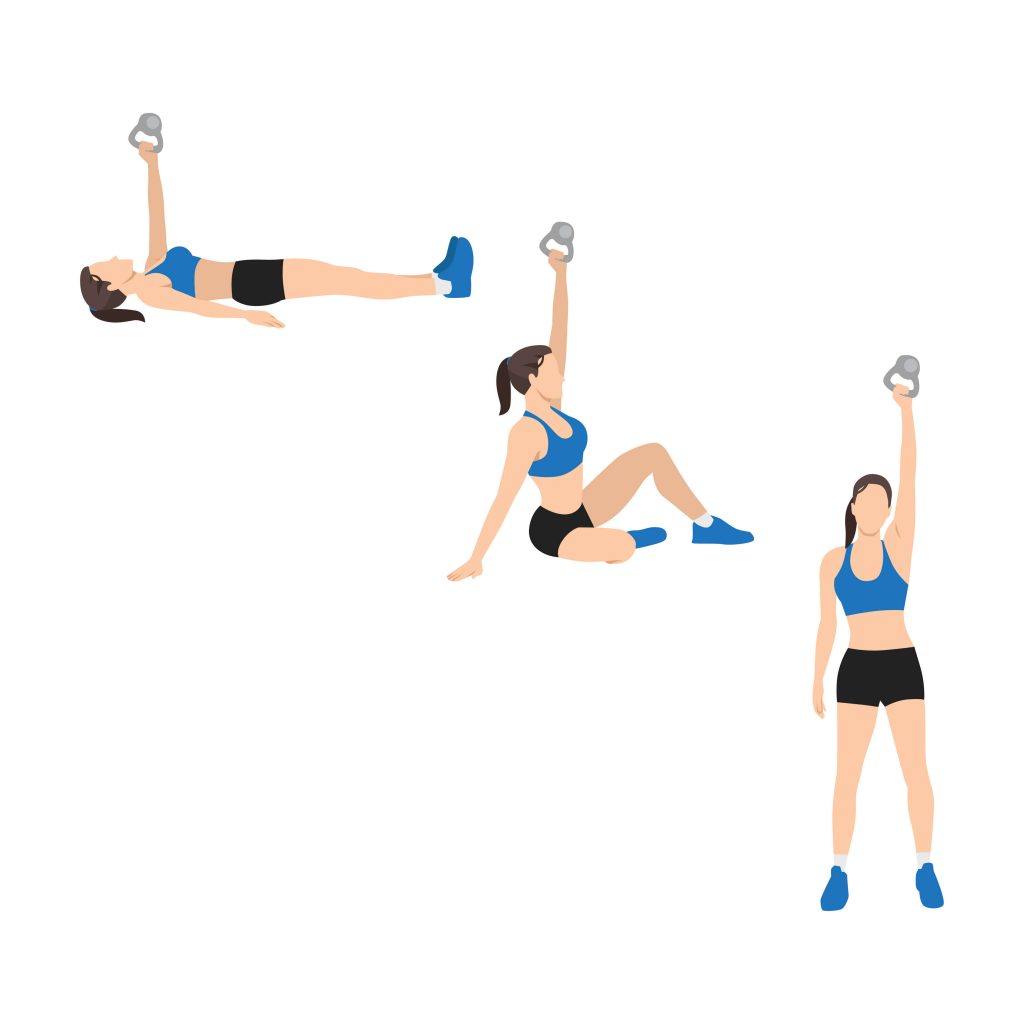 How to do Kettlebell Turkish get-ups:
Grab one kettlebell with your left hand and lie on your back.
Bend your left knee and raise the kettlebell above your body while locking your arm into position.
Push with your left foot as you slightly rotate towards your right hip, leaning on your right elbow.
Use your right hand to push and get off the ground, keeping the arm with the kettlebell locked.
Tighten your core, swing your right leg back, and stand up.
Reverse and repeat.
Kettlebell Workout Routines
Okay, now that you know the best kettlebell workout exercises, let's see how you can combine them to get the perfect kettlebell home workout.
To get the most benefits and total-body conditioning, it's best to use an A/B split over a few weeks. This means that you'll split these 6 exercises into 2 groups (A and B), and alternate between them: A/B/A one week, and the next one B/A/B. You get the point.
Workout A:
Goblet Squats: 2-3 sets x 10 reps
Kettlebell swing: 2-3 sets x 10 reps
Overhead Press: 2-3 sets per arm x 10 reps
Few seconds rest between sets, and short, active rests between exercises
Workout B:
Snatch: 2-3 sets x 8 reps
Romanian Deadlifts: 2-3 sets x 10 reps
Turkish Get Up: 2-3 sets per arm x 6 reps
Few seconds rest between sets, and short, active rests between exercises
1st-week Kettlebell workout programme
| | | | | | | |
| --- | --- | --- | --- | --- | --- | --- |
| Monday | Tuesday | Wednesday | Thursday | Friday | Saturday | Sunday |
| A | B | A | Rest | A | B | A |
2nd-week Kettlebell workout programme
| | | | | | | |
| --- | --- | --- | --- | --- | --- | --- |
| Monday | Tuesday | Wednesday | Thursday | Friday | Saturday | Sunday |
| B | A | B | Rest | B | A | B |
You can repeat these two weeks for as long as you like. If you participate in any sport or do other exercises, you can of course adjust these based on your existing schedule and workout programme.
If your fitness level is high and you're looking to build muscle, you can gradually increase the sets up to 5 instead of the suggested 3.
Now that you're familiar with the exercises, it's time to find the perfect equipment for your kettlebell workouts.
Best Kettlebells to buy in 2023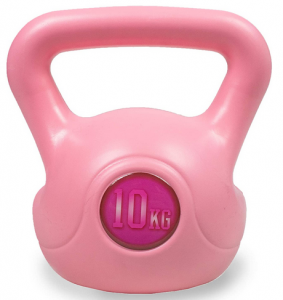 The Phoenix Fitness kettlebell comes in 6 different weights: 4kg, 6kg, 8kg, 12kg, 16kg and 20kg.
They are brightly colored and have an ergonomic grip to help support your hand during the workouts.
The best thing is that they're built to last thanks to the vinyl coating, making them ideal for use both indoors and outdoors. The vinyl coating also ensures that they're very easy to clean.
Additionally, you'll also get a workout guide on the back of the box to help you find different exercises.
Pros:
Ergonomic design
Vinyl coating
Workout guide
Cons:
Too large for some people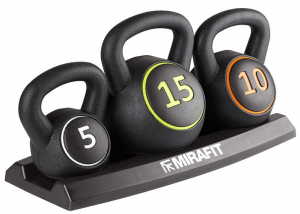 The kettlebell set from Mirafit includes a 2.2kg, 4.5kg & 6.8 kg kettlebell, plus a storage stand to keep them in.
They're made entirely out of high-quality material and easy-grip handles that won't slip away while you exercise.
The storage stand is especially helpful as you can always keep them neatly tucked away in a safe space.
Pros:
Comes with a storage stand
3 different weights
Cons:
Doesn't have bigger weights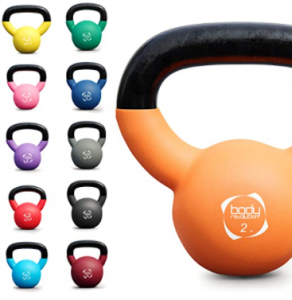 The kettlebells from Body Revolution are made out of heavy-duty cast iron, which is highly durable and much more concentrated than concrete-filled kettlebells. This allows the kettlebell to be much smaller in size, allowing you to use it for exercises that require more movements, such as Turkish get-ups or swings.
These kettlebells come in a range of different weights: 2kg, 4kg, 6kg, 8kg, 10kg, 12kg, 14kg, 16kg, 18kg, 20kg, and 24kg.
They're also coated in neoprene wrapping to protect your floors and reduce noise.
But the clever design doesn't stop here. The bottom base of the bell is flat to ensure it stands up on its own on any flat surface.
Pros:
Cast iron build
Neoprene coating
Flat base
Cons: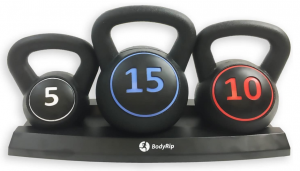 The kettlebell set from BodyRip Fitness includes 3 different weights, at 2.3kg, 4.5kg, and 6.8kg. They also come with a stand holder to keep them when not in use.
They're made out of high-quality vinyl and don't have any seams or welds on them, which means you can use them both outdoors and indoors.
Pros:
High-quality vinyl
Comes with a stand holder
Cons: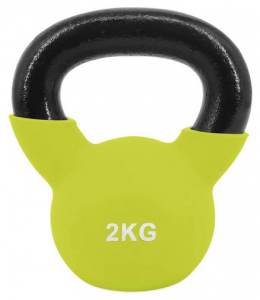 Green Bay is another company that makes their kettlebells out of cast iron, ensuring a compact bell even for the heaviest weights.
It's also coated with neoprene to help protect your floors, and the handle is very spacious and comfortable to use.
Their most popular weight is the kettlebell 16kg, but they also have many different weights to choose from: 2kg, 4kg, 6kg, 8kg, 10kg, 12kg, 14kg, and 20kg.
Pros:
Cast iron material
Comfortable handle
Range of weights
Cons:
References and further reading:
Harvard Health Publishing – Should you try kettlebells?
Strength and Conditioning Journal – The Role of Kettlebells in Strength and Conditioning
Last update was on: November 20, 2023 3:39 am