Own The Court With The Best Badminton Racket In 2023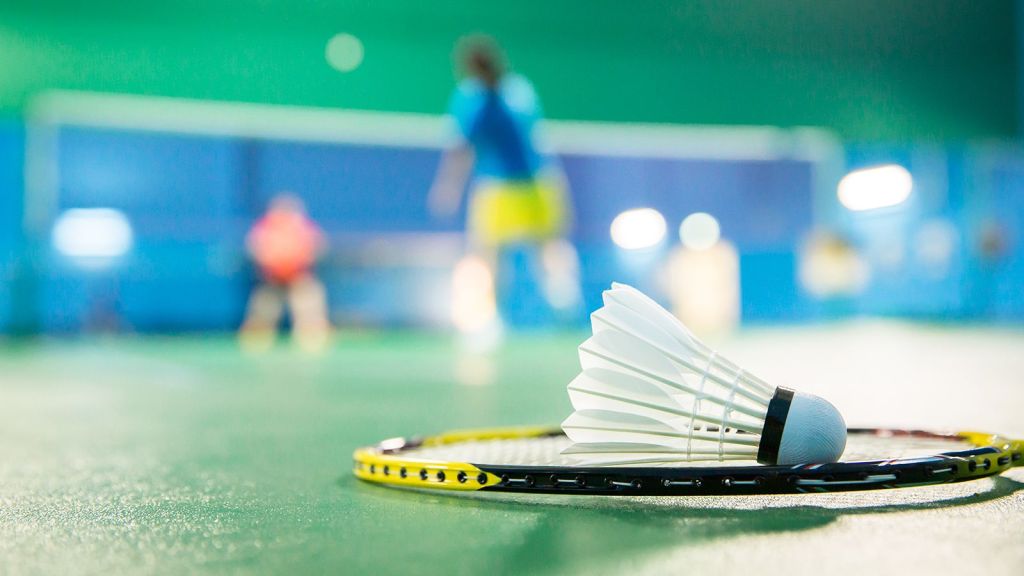 What Are The Best Badminton Rackets For 2023
So, until recently, I hadn't touched a badminton racket in about 15 years, ever since I waved goodbye to high school. It all changed when I randomly bumped into an old mate from school at the local gym. Next thing I know, I'm on the court, realizing badminton is a seriously heart-pounding, fast-paced affair. Now, I'll be honest—I didn't clinch the victory. My mate's practically a badminton pro, and I was just planning to hit the gym until he persuaded me otherwise. Since that game, though, badminton's joined the ranks of sports and hobbies I'm into, and like any sport, there's gear to grab.
In this guide on picking your perfect badminton racket, I'm laying out all the deets on snagging one that fits your style and budget. Plus, we've got the lowdown on the top 11 badminton rackets in our review section. Whether you're balling on a budget or ready to splash some cash, there's something in there for every play style, from the big names to some hidden gems that bring the perfect mix of affordability and quality.
Badminton Racket Reviews
The best thing about badminton players is that they look for racquets that match their playing style. Now that you know all there is to know about buying a badminton racket, its time to take a look at some of the best ones available to buy in 2023. In our review section you will find something for all budgets and skill level. Read on to discover the ideal racquet that will elevate your game to the next level.
Wilson Blaze Badminton Racket – Best Badminton Racket For Beginners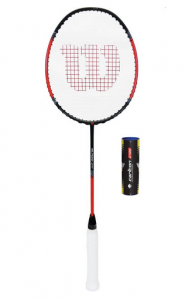 Specifications – Balance: Head-Light
Shaft Type: Flexible
Weight: 108g
If you are new to badminton then the Wilson Blaze series may be of interest. With a good choice of rackets they are ideal for beginners. A household name the Wilson brand has a long history of producing high quality rackets for numerous sports and their badminton rackets rank well in many badminton racket reviews.
The main features of this racket are the lightweight of 108g and flexible shaft both of which make for a good beginner racket. The balance is head-light which is good for manoeuvrability and playing close to the net. In terms of power it offers more than enough for less experienced players without sacrificing control, however, more advanced players would more than likely notice a lack of power with this racket.
With very good customer feedback previous buyers seem to be very happy with this racket. Offering a good mix of affordability and quality it makes for a good badminton racket for beginners.

Last update was in: November 26, 2023 8:00 pm
Babolat I-Pulse Essential – Best Badminton Rackets For Intermediate Players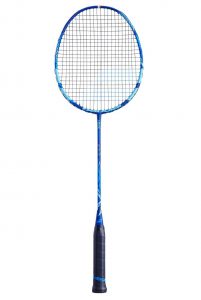 Specifications – Balance: Head-Light
Shaft Type: Flexible
Weight: 84g
Grip Size: G4
If you're an old badminton fan, you probably know about Babolat, the oldest racquet sports company, known for its dedicated service for racquet preparation. Their exclusive product, I-Pulse Essential, is designed specifically for versatile club players. Made with 100% graphite, this modern-looking badminton racquet provides versatility and power.
For accuracy, the racquet has differentiated shaft flexibility. The shaft is more flexible near the handle, helping you gain precision and make winning shots. Plus, the bottom of the shaft is stiffer, which raises the flex point, further enhancing precision.
One of this racquet's standout features is the aerodynamic Ultra Aero Frame with scalable sections. This smart design achieves a perfect balance between power and manoeuvrability by efficiently transferring energy from the shaft to the frame. This results in powerful shots with an impressive impact, making the racquet even more remarkable.
With excellent five-star reviews from satisfied buyers, this racquet proves its quality and affordability. So, if you want a racquet that offers precision and power without breaking the bank, this is the perfect choice for you!

Unleash your potential: for versatile club players, the I Pulse Essential racket will bring you manoeuvrability and speed. Thanks to its balanced weight and flexible shaft, it ensures versatility in the game and optimises the arm speed
Last update was in: November 26, 2023 8:00 pm
Yonex Astrox 99 Tour – The Best Badminton Rackets For Smashing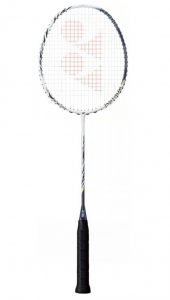 Specifications – Balance: Head-Heavy
Shaft Type: Stiff
Weight: 83g
Grip Size: G5
Almost every badminton player has heard of Yonex, a famous brand even among professional players. Stars like Kento MOMOTA, Kodai NARAOKA, LU Guangzu, and LEE Cheuk Yiu trust Yonex racquets, including the powerful Astrox 99 Pro. Now, they have introduced the Astrox 99 Tour, its younger sibling.
The Astrox 99 Tour is specially designed for intense players, who crave power and precision on the court. It is equipped with the Power-Assist Bumper System, which means tungsten-infused grommets at the top of the frame help you hit with more power.
This racquet features the renowned YONEX ISOMETRIC frame, but they have made it even better by strengthening the corners to expand the sweet spot for hitting. With a comfortable 83g weight, it offers both ease and power during your shots.
For accuracy and propulsion, the stiff shaft works wonders. The head-heavy balance ensures top-notch performance. The shaft is crafted from First-generation graphite, making it tough yet flexible for maximum power.
Here's a bonus: Astrox 99 Tour comes strung with Yonex strings with a 0.70mm gauge, usually found only in high-end Japanese racquets, making it a perfect choice for all offensive players.

The Yonex ASTROX 99 Game badminton racquet is a powerful racquet for offensive and attacking oriented players that want more flex to increase their power. A great racquet for a wide range of players, the Yonex ASTROX 99 Game features a medium flex to give more power from the racquet
Last update was in: November 26, 2023 8:00 pm
Yonex Arcsaber Badminton Racket – Best Badminton Racket For Control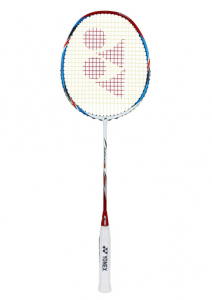 Specifications – Balance: Even
Shaft Type: Stiff
Weight: 83g

Grip Size: G5
Another top quality racket from Yonex and this time its the Yonex Arcsaber Badminton Racket. Offering power and control this racket is well suited for intermediate to advanced (designed for versatile players). Similar to most Yonex rackets it has positive customer reviews with many highlighting how responsive it is.
Designed to flex on impact and hold the shuttle on the string bed for longer the Arcsaber has the advantage of storing and releasing energy at the correct moment to maximise power. Even-balanced with a stiff flex shaft and an overall weight of 83g makes this a good racket for both doubles and singles games.
In total there are 6 rackets to choose from in the Arcsaber series and all of them are considered to be among the best in their price bracket. If you are looking to buy one of the best rackets for badminton you can't go wrong with a Yonex.

Yonex Original US version Racket
Color: Grayish Pearl / Pre-Strung by Manufacturer
Weight: 4U (Avg.83g) / Grip: G5
Flex: Medium
Frame: Graphite / Shaft Composition: Graphite
Free shipping
Last update was in: November 26, 2023 8:00 pm
Yonex Voltric

– Best Head-Heavy Badminton Racket For Power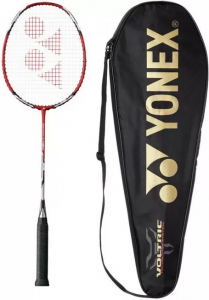 Specifications – Balance: Head-Heavy
Shaft Type: Medium
Weight: 85g
Grip Size: G4
For those in the know Yonex is the go to brand for when buying a racket for badminton. Favoured by many professional and amateur players their rackets have a reputation for been the very best in terms of quality. There is no denying that they are among the most expensive rackets on the market but you do get what you pay for with this brand.
The Yonex Voltric is a popular choice for those that don't mind investing a bit of money into a very good racket. With excellent feedback on Amazon there isn't a bad review to be found and it is made from the highest quality materials.
This head heavy racket comes with medium flexibility in the shaft and offers good power and overall control. Perfect for smashes, long shots and rallies it really is a great racket for all situations on the court.

This Racket Comes in different colors. Racket will be dispatched as per color availability.
Frame : Super-high elasticity carbon, High Elasticity Carbon Fiber,Tungsten || Shaft : High Elasticity Carbon || Weight :3 U (Avg.85 gms) || Grip : G4 || Tension: 24-35 lbs ||
Last update was in: November 26, 2023 8:00 pm
Visit Decathlon UK For More Yonex Badminton Racket
Yonex Nanoflare 001 Clear – Best Badminton Racket For Speed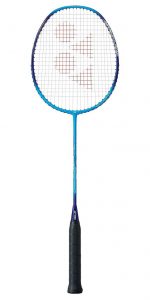 Specifications – Balance: Head-light
Shaft Type: Highly Flexible
Weight: 78g
Grip Size: G4
If you're a beginner or a junior player transitioning to a full-size racquet, the Yonex Nanoflare 001 Clear is the option you should consider.
Weighing only 78g and featuring an isometric head and head light balance, this racquet is incredibly nimble and agile allowing you to move swiftly and cut through the air at a higher rate.
Moreover, the Nanoflare 001 Clear takes advantage of Aero Frame technology, which adds speed and power to your shots, making your gameplay more reactive and exciting. And that's not all! The Sonic Flare System further boosts acceleration, giving you an upper hand in the game.
With Control Support Cap technology, gripping the racquet becomes a breeze, and manoeuvring becomes sharper and smoother. Plus, it arrives pre-strung with a synthetic gut string, enhancing playability right out of the box.
Overall, the Yonex Nanoflare 001 Clear is designed with extra precision, increased speed, and easier targeting to level up your game and give you an edge on the court.

Head Shape: Isometric; Frame Weight: 5U (78g /2.8oz)
Balance: Head light; Length: 26.2" (665mm); Flex: Hi-flex
Strung with synthetic string; String Tension: 20-27lbs
Grip: Yonex synthetic; Grip Size: G5; Shaft Composition: Graphite
Last update was in: November 26, 2023 8:00 pm
Li Ning Wind Lite – Best Badminton Racket Lightweight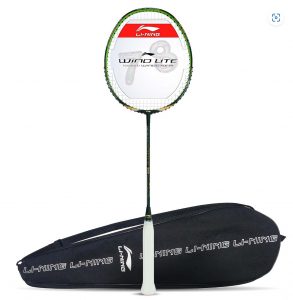 Specifications – Balance: Head-heavy
Shaft Type: Medium Flex
Weight: 78g
Li-Ning is a renowned Chinese brand known for its fantastic range of athletic equipment, and their Li-Ning Wind Lite Strung Badminton Racquet is a game-changer for intermediate players looking to elevate their gameplay.
Weighing a mere 78g, this racquet boasts Li-Ning's Unique Super Lightweight technology, which reduces air resistance and significantly improves your swing speed. Moreover, the racquet comes with an aerotic beam system that helps maintain a low drag coefficient while offering high intensity, making it easy for you to perform various shots with ease.
Li-Ning's Wind Lite series draws inspiration from the Windstorm technology platform, making it extremely lightweight yet powerful with the Medium-Flex Shaft. The 0.7mm diameter shaft, with unique elastic material, ensures accurate power transmission for dominating the court with precision and control.
So, if you want a racquet that's light, powerful, and easy to handle, the Li-Ning Wind Lite Strung Badminton Racquet is the perfect choice for you!

Tension : Upto 30 lbs
Weight distribution : Head - Heavy
Powered By Windstorm : We re-engineered the Windstorm technology platform, to design the Wind Lite series of rackets. This gives Wind Lite the extremely lightweight class of the Windstorm rackets, with additional power generation capability with its Medium-Flex Shaft.
Free shipping
Last update was in: November 26, 2023 8:00 pm
VICTOR Auraspeed Light Fighter – Best Badminton Rackets For Doubles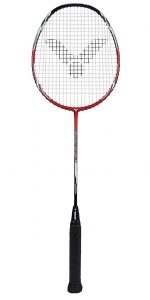 Specifications – Balance: Head-heavy
Shaft Type: Stiff
Weight: 76g
Grip Size: G5
Victor, a brand known for environmentally conscious production and support for aid projects worldwide, has launched the Light Fighter Series, featuring four racquets with a focus on lightness and aerodynamics. One exceptional racquet in this lineup is the VICTOR Auraspeed Light Fighter 40D.
It's ultra-light and head-balanced, making it ideal for dynamic movements and quick swings. Moreover, the racquet has a thin frame and higher rigidity that makes it versatile for fast and powerful shots.
On top of that, VICTOR Auraspeed 40D comes with a combination of Sword and Ultra Thin Frame technology which not only minimizes air resistance but also gives you swift and responsive performance. With positive feedback from users, this racquet is highly suitable for fast and powerful gameplay, especially in club-level doubles matches.

Auraspeed - Thanks to the combination of Sword and Ultra Thin Frame technology, air resistance is reduced to a minimum - suitable for fast, powerful play
Handling: a stiff shaft and a relatively head-heavy balance do not keep the racquet from good manoeuvrability and great handling - an ideal combination of lightness and power
Last update was in: November 26, 2023 8:00 pm
Victor V-3700 Magan Graphite Badminton Racquet – Best Badminton Racket Under £50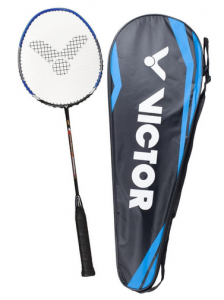 Specifications – Balance: Even
Shaft Type: Medium
Weight: 89g
Grip Size: G3
Victor are a very popular brand in badminton circles thanks to their excellent rackets with above average quality. The Victor V-3700 is a good example of the brands quality, however, there are far more superior rackets in their range with the Thruster F Falcon being one of their best.
The V-3700 is an even balanced racket with a medium flex shaft and weighs in at 89g. Bearing these factors in mind this racket is best suited for beginners and intermediate players. With a snappy responsive feel to it and good weight distribution it represents great value for money.
The Victor V-3700 was the first badminton racket I bought before investing in a Yonex Nanoray and I have to say it still gets used today. If you are in the market for a racket that won't break the bank and has a lot to offer then the V-3700 is well worth taking a look at.

Incredible value for money - includes a Thermo Bag
Isometric head with large hitting surface and large sweet spot
Evenly balanced with a medium flex shaft
Strung with durable multifilament string
Suitable for all styles of play
Last update was in: November 26, 2023 8:00 pm
Senston N80 Badminton Racket – Best Value Badminton Racket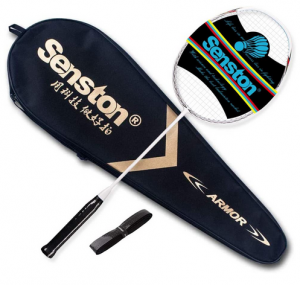 Specifications – Balance: Head-Light
Shaft Type: Flexible
Weight: 82g
Senston are by no means a big brand in the badminton world but they do know how to make a good quality racket that offers good value for money. If you are only looking to buy a cheap badminton racket the Senston N80 is one of the best available.
The carbon fibre design means it is extremely lightweight weighing in at only 82g. In addition the carbon fibre used in its construction is also very durable. The durability is further reinforced with the one-piece design of the shaft and head. Another positive to this racket is the relatively large sweet spot making it a good racket for new players.
With a wide choice of colours to choose from and coming with a carry bag all for under £30, the Senston N80 comes recommended as a top quality cheap badminton racket.

MATERIAL: Made of 100% High-Modulus Carbon Fibres - Highly Durable, Yet Very Light (UNSTRUNG WEIGHT : Only 80g±2g) Improved Aerodynamics at High Speeds.
★ONE-PIECE DESIGN★ : With ONE-PIECE Design Outside and Built-in T-Joint Inside - smooth connection between the shaft and the head of the racquet. It has been Further to Improve Stability, Achieve High-Precision Control Performance.
Free shipping
Last update was in: November 26, 2023 8:00 pm
Prince Pro Nano 75 Ti Graphite – Best Cheap Badminton Racket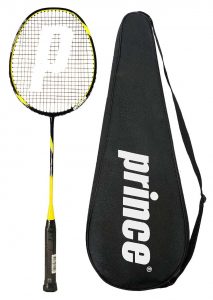 Specifications – Balance: Even
Shaft Type: Stiff
Weight: 75g
Prince, an old sports brand known for their top-quality racquets catering to players of all levels, has launched the impressive Prince Pro Nano 75 Ti Graphite Badminton racquet. This one-size-fits-all wonder is designed to enhance your game, offering five distinct styles: beast, rebel, shark, vortex, and warrior.
The good part is, Prince Pro Rebel 75 has an even balance and is lightweight, making it highly manoeuvrable and easy to control. The isometric head shape ensures accuracy, even on off-centre hits.
Made with a durable graphite frame, this racquet is surprisingly light, providing you with a winning combination of durability and agility.
With a positive rating and an affordable price of under £30, the Prince Pro Nano racquet is a steal. And to top it all off, it comes with a full-length headcover with an adjustable strap, keeping your racquet safe and ready for action. With all these features, the Prince Pro Nano racquet is a fantastic choice to elevate your badminton game.

Prince Pro Warrior Nano 75 Ti Badminton Racket + Cover
Last update was in: November 26, 2023 8:00 pm
How to Choose a Badminton Racket
Although most badminton rackets pretty much look the same there are a number of differences between them that you should know about before buying. The three main differences and most important things to consider are the balance, shaft flexibility and weight of the racket. The difference between these three variables are what can make one racket the best badminton racket for beginners and another the best badminton racket for intermediate players.

Balance
The balance of your chosen racket has a big effect on your overall game. When talking about balance we are referring to where the majority of the weight of a racket is located. There are three types of balance that a racket can have these are Head-Heavy, Head-Light and Even-Balanced. The best one for you depends on your style of play and a few other factors.
Head-Heavy Badminton Rackets
This type of badminton racket is favoured by players that like to play a powerful game, mainly from the back of the court. The extra weight in the head of the racket helps to produce more power and is ideal for smashes. Generally speaking this type of racket for badminton is used by more advanced players of the sport.
Head-Light Badminton Racket
Head-light badminton rackets are better suited for those that play doubles considerably more than singles. Due to the fast pace of the doubles game quick reactions are a necessity. As the name suggests this type of badminton racket has a light head and is consequently quicker and easier to manoeuvre, which is perfect for when on the defense. In addition this racket is ideal for those that play close to the net or have an attacking style of play.
Even Balanced Badminton Rackets
If you are new to badminton then you may want to consider buying an even balanced badminton racket. This type of racket provides a happy medium between a light-head badminton racket and a heavy-head badminton racket and is perfect for beginners. In an attempt to offer the positives of both, including power and manoeuvrability they are well-suited to those still trying to find their style of play on the court. This is by no means saying that this type of racket isn't suitable for more advanced players just that they are probably the best for those just starting out.
Shaft Flexibility
The flexibility of the shaft is just as important as the balance of your racket and is something that should be paid close attention when buying. Generally speaking there are three categories relating to the flexibility of the racket which are stiff, flexible and medium. The type of flexibility you should choose depends mainly on your swing speed.
Stiff
A racket with a stiff shaft is best suited to those with a fast swing speed. Due to a stiffer shaft bending and unbending very quickly it allows for maximum power to be attained for those with good wrist and arm speed. This type of racket is usually used by more advanced badminton players. Due to the nature of how this type of badminton racket performs, players with a slower swing speed would notice a decrease in power if they used one.
Flexible
Flexible badminton rackets are considered to be the best beginner badminton rackets. This is because beginners tend to have a slower swing speed and a flexible racket is best suited to that attribute. When experienced/faster players use a flexible racket they notice a loss of power. This is because they tend to connect with the shuttlecock before the flexible shaft unbends resulting in less power.
Weight
The weight of a racket can have a big effect on your overall game. The weight of a badminton racket only varies slightly between the different weight classes, however, this small difference is noticeable in how it has an impact on your game. The most common rackets used are the 3U (85-89g) and 4U (80-84g). Generally speaking a singles player will tend to use a 3U and for a doubles game a 4U. A 3U is good for balance and control and a 4U been lighter is perfect for the fast pace of a doubles game.
Grip
The size of the grip can vary from brand to brand. For example all Yonex badminton rackets are G4 and all Victor badminton rackets are G5 as standard. If you aren't familiar with the different grip sizes the smaller the number the larger the handle size. The full range of sizes goes from G1 to G6 with G1 been the largest.
Final Words
Thanks to a chance meeting with an old school friend I have managed to add another sport to my long list of sporting activities. Hopefully, with the help of my buying guide and top reviews yo managed to find the best badminton racket for your budget and skill level.
If you can think of any helpful information that isn't included in my buyers guide or maybe a badminton racket worthy of a place in the review section then feel free to leave a message in the comments section below.
Frequently Asked Questions
What are the best badminton racquet brands?
The badminton market offers various brands, each with unique attributes. Some well-known and popular brands include Yonex, Carlton, Babolat, Li Ning, Victor, Ashaway, and Apacs which stand out for their strengths and weaknesses.
Which racquet is better: carbon or graphite?
The best badminton racquet for you depends on how you play, what you like, and how skilled you are. Graphite racquets are strong and light, giving power, control, and a good feel for the ball. On the other hand, Carbon composite racquets distribute weight precisely, making them strong in all directions and less likely to break. Some players prefer more carbon for power and stability, while others like more graphite for control and easy movements.
How much tension is good for a badminton racquet?
For advanced players who prefer higher tension, the string tension can be around 28 lbs or higher. Intermediate players need a slightly larger sweet spot and should aim for string tension between 24 to 28 lbs. Beginners should avoid string tension above 24 lbs to start with.
Should I consider restringing my badminton racquet?
If you play badminton 3-4 times a week, it's a good idea to restring your racquet every 3 months. If you notice that the strings are loose, damaged, or not performing well, it's time for a restring. You can either restring it yourself or seek help from a professional racquet stringing service.
Last updated on November 26, 2023 8:00 pm