Best Running Shoes For 2021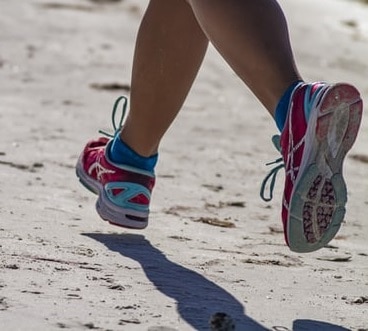 Best Running Shoes 2021
"When you're looking to improve your running performance, there are many different factors to consider. But most importantly, what you put on your feet is probably the most important decision you make as a runner."
That's why today we'll review the 10 best running shoes and learn more about how to choose the right shoe for you, and all the ways they can improve your running performance.
Running shoes can make all the difference between getting better at running or having painful runs, getting injuries, and eventually giving up. If you're serious about your running performance, you need to invest in high-quality supportive running shoes that ease the impact of running.
The best road running shoes are made out of lightweight fabrics, mesh, and better cushion to help support your feet. But not all shoes are made the same.
Despite the popular belief, that the "Best Running Shoes" will fit everyone – they simply don't exist. Even if you desperately want the newest Nike running shoes, they might not be the best running shoes for you.
Everyone has their own unique running style and body type, so it can be difficult to choose the right one. Let's see what are the 6 main things you should look for when buying the best running shoes.
Before we continue, here are our top choices in each category. You can read their full review further down below.
Things to Consider When Buying the Best Running Shoes for You
The Surface You Run On
There are three main types of running shoes, each designed for a specific surface:
Road running shoes: for running on pavements and occasionally foraying onto other surfaces. The best road running shoes usually have flatter and smoother soles to create a consistent surface.
Train running shoes: for running on off-road routes and hiking. They are stiffer than regular shoes to provide more support on uneven surfaces.
Cross training shoes: for gym workouts, training, or other balance activity where contact with the ground is required.
Heel-Toe Drop
The heel-toe drop can be a bit confusing for runners at first, but it's quite simple actually. It represents the downward "slope" of your running shoe, or the difference in cushioning between the heel and the toe of the shoe. It's usually measured in millimeters, and it affects the way your foot strikes your ground.
Regular supportive running shoes usually have a heel-toe drop of 10-12mm to provide cushion and promote heel-first landing. The cushioning under the heel takes most of the impact, and absorbs the force of each landing, ultimately preventing you from sprains and other injuries.
Running shoes with a zero drop, on the other hand, strengthen your calf and ankle muscles by utilizing the same amount of cushioning both under the heel and the toes.
If you prefer landing nearer to the center or front of your foot, look for running shoes with a lower heel-toe drop, under 8mm.
Determine Your Pronation
Pronation is the way your foot rolls inward when you strike the ground. There are 3 different types of pronation, and each of them requires a different type of shoes.
Neutral: when your foot hits the ground near the center of your foot. Best suited for neutral shoes.
Overpronation: when your foot rolls too far inward as you run. Best suited for stability shoes with structured support.
Supination: when your foot rolls too outward as you run. Best suited for neutral shoes.
You can do a self-evaluation of your feet to determine the pronation by observing your gait as you run, or checking the wear pattern on your old running shoes. You can even get evaluations in the running shoe store for more precise results.
Stability
We mentioned neutral and stability shoes earlier, but what exactly are they?
Each shoe type provides a different level of support and stability, again splitting them into 3 main categories:
Neutral running shoes: best for neutral runners or runners who supinate
Stability running shoes: these shoes have stability devices, helping you control your pronation. They often include guide rails to control the side-to-side motion. Best suited for runners with mild to moderate overpronation.
Motion control running shoes: the most stable of running shoes, and usually found only in specialty running stores. Best suited for runners with high overpronation.
Cushioning
Similar to stability, the amount of cushioning gives your feet additional support. Shoes can have lots of stability, but not much cushioning, and vice versa.
The Right Fit
And finally, in order to get the best running shoes for your needs, make sure you find the right fit. When running, the amount of force causes the shoe to spread out, so it's advisable to measure your feet precisely and get a shoe a half size bigger.
Also, make sure to try both shoes in the store, as some people have one foot that is slightly larger. If you use running socks or other orthotics, bring those with you as well to get the proper fit.
Now that you know how to choose the best running shoes according to your needs and body type, it's time to see the 10 top options on the market today.
The 10 Best Running Shoes For 2020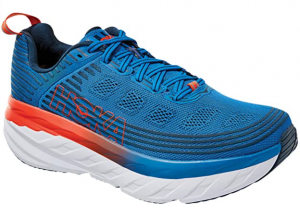 Weight: 309g
Heel-toe Drop: 4mm
Terrain: Road
Stability: Neutral
The Bondi 6 features a 36mm full EVA midsole and is one of Hoka One One's best cushioned running shoes. The latest version, the Bondi 6, came out with a redesigned upper with a combination of engineered mesh and lycra providing a smooth feel inside.
When your foot lands in the Bondi 6, you'll feel comfortable and protective no matter how long you wear them, making them one of the best long distance running shoes on the market.
The outsole has seen slight changes from the Bondi 5, with more rubber placed on the lateral side of the shoe to reduce the impact. Another notable change is the refined early stage Meta-Rocker, an internal heel counter that will stick to your foot.
If you're excited about the idea of running on clouds then the Bondi 6 is as close as you can get.
Pros:
Comfortable upper
Soft cushioning
Cons:
Heavier than other HOKA models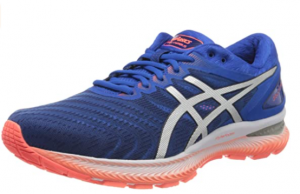 Weight: 311g
Heel-toe Drop: 10mm
Terrain: Road
Stability: Neutral
The Gel Nimbus is one of the best Asics running shoes you can get. It's packed with technologies that can improve your running performance.
The most impressive element of this shoe is the sole unit, offering gel cushioning that absorbs all the shock from your runs, making it that much more enjoyable to go on long-distance runs. Additionally, the FlyteFoam that runs the length of the midsole offers even more responsiveness and flexibility thanks to the organic nanofibers.
As for the upper, it's made out of lightweight and very breathable mesh to avoid running in sweaty shoes.
The biggest upgrade from the previous Nimbus model though is the cushioning in the heel. It has a nice grip and a much softer cushioning, making it one of the best running shoes for men.
Pros:
Extremely comfortable
Stable and steady feel
Highly responsive
Cons: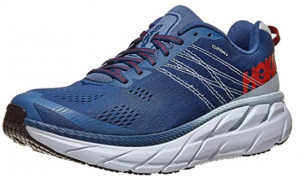 Weight: 257g
Heel-toe Drop: 5mm
Terrain: Road
Stability: Neutral
Hoka One One is known for making the best cushioned running shoes on the market, and the Clifton 6 model is no exception. It's the lightest Clifton of all previous models but still doesn't sacrifice on cushioning, nor on responsiveness.
The cushioning of the Clifton series has won countless awards, and the Clifton 6 has probably the best cushioning yet. Combined with the famous Meta-Rocker that "rocks" you forward upon touchdown, you'll be getting one of the best long distance running shoes if you opt for this model.
The comfort of this shoe extends even to the upper. It's one of the most comfortable ones out there, and the engineered mesh is a high-quality and elastic material providing your foot with a secure feel while you run.
If you're a regular runner and appreciate shoes with full-on cushion, it's really hard to see past the Clifton 6.
Pros:
Smooth ride
Durable
High-quality mesh
Cons:
Wide soles can hit each other if you pronate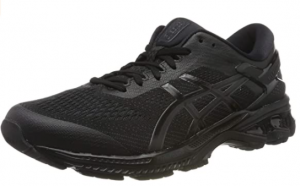 Weight: 314g
Heel-toe Drop: 10mm
Terrain: Road
Stability: Stability
The Gel Kayano 26 continues the line of its previous models as one of the best Asics running shoes.
If you're a pronating runner, this shoe will prove to be the best investment you can make. It offers exceptional stability and extra support on the inside of your foot thanks to the Dynamic Duomax Technology that is harder to compress than the rest of the midsole, preventing the pronating movement of your foot.
The upper is made with a new jacquard mesh material, which is super soft and nice to touch. It even has more room for your toes compared to the previous Kayano model.
Other notable improvements from the Kayano 25 include the anatomical insole that forms itself to the shape of your foot. Combined with the midsole made out of FlyteFoam and GEL, the Kayano 26 makes for one of the best running shoes for flat feet.
The GEL is not just featured in the midsole, but under the heel as well. It's visible on the outer side of the heel allowing for a softer feel when landing.
Pros:
Smooth upper fit
FlyteFoam Propel Cushioning
Reactive midsole
Excellent stability
Durable
Cons: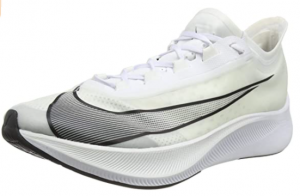 Weight: 252g
Heel-toe Drop: 8mm
Terrain: Road
Stability: Neutral
The third version of the Zoom Fly was released with a complete overhaul compared to its previous models, allowing it to receive its place in the best Nike running shoes out there.
After complaints about the Flyknit upper absorbing too much water, Nike found a great solution. They introduced Vaporweave, a thin and translucent mesh that dries quickly, is very lightweight, and highly breathable.
It also features the full-length Nike React cushioning in the midsole in addition to the standard carbon plate to provide a responsive feel.
As for the outsole, it's made out of foam and high-abrasion rubber, very similar to the Vaporfly Next%, and allows for high traction capacity to handle both wet and dry ground. The high-quality outsole also allows for more durability compared to other Nike models.
It's best suited for experienced runner willing to invest in a premium performance shoe.
Pros:
Durable outsole
Responsive and fast
VaporWeave upper
Cons: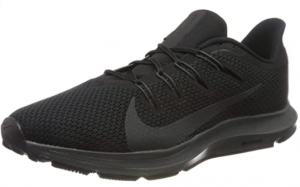 Weight: 213g
Heel-toe Drop: 10mm
Terrain: Road
Stability: Neutral
Nike has always made high-quality running shoes, and the Quest 2 is no exception. Although this version is a men's shoe, Nike also released a women's version which is one of the best running shoes for women.
They're also one of the most affordable road running shoes for women, with an average retail price of $75.
The most impressive feature of the Quest 2 is its lightweight design at only 213 grams. With such small weight, you could easily run long-distance tracks without even realizing you have the shoes on!
Additionally, the Quest 2 doesn't sacrifice any of the cushioning to achieve that weight. It has a single-density EVA midsole that provides all the cushioning you need. As for the outsole, it has a separate crash pad to allow smooth transitions and grips to protect the midsoles from wear and tear.
Pros:
Comfortable
Responsive
Sticky traction
Lightweight
Cons:
Lacks arch support
Can be too wide for some people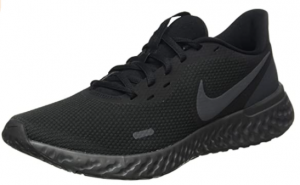 Weight: 283g
Heel-toe Drop: 10mm
Terrain: Road
Stability: Neutral
With a suggested retail price of $65, the Nike Revolution 5 is one of the most affordable running shoes on the market.
The upper material is minimalistic and thin, allowing for plenty of room for your foot. Although it's not the most breathable material, it has good protection qualities for cold and wet weather. Nonetheless, it's still breathable and you'll be good as long as you don't run in the heat of the summer.
The foam cushioning runs the length of the foot and feels very responsive when you run, but is not suited for running long distances. Instead, it's best used for short and fast runs.
If you're an average runner who just wants to get decent shoes to reduce the impact of running, then the Revolution 5 can provide you with just that without breaking the bank.
Pros:
Affordable
Enough space for your toes
Secure heel
Light
Cons: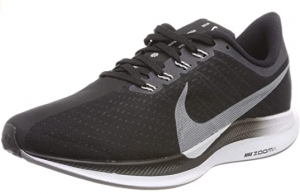 Weight: 281g
Heel-toe Drop: 10mm
Terrain: Road
Stability: Neutral
The Pegasus 35 is an update to the well-known Pegasus shoe line from Nike. It features all the elements that made the Pegasus line so popular and a few key updates on top of that.
It has one of the most impressive combinations of cushioning and responsiveness, especially for a price of only $120.
The first thing we have to mention is the full-length Zoom Air bag, a cushioning technology with a urethane chamber and pressurized gas inside. It's half as thick as previous versions, allowing for better forefoot flexibility, but sacrificing a little on the responsiveness.
Another big update is the elongated heel collar, which was changed based on feedback from Olympic gold medalist Mo Farah. The point of contact is more to the mid-heel, allowing for a greater range of motion when flexing, and less friction on your Achilles.
If you don't pronate or supinate and have a stable arch, the Pegasus 35 are the best running trainers you can get!
Pros:
Aesthetic design
Full-length Zoom Air unit
High grip capability
Wide toe box
Cons: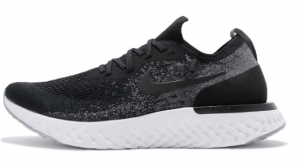 Weight: 272g
Heel-toe Drop: 8mm
Terrain: Road
Stability: Neutral
Featuring their well-known React Foam, Nike has managed to keep the Epic React Flyknit 2 much lighter than other models with similar foam type.
The React foam is very durable in terms of cushion longevity but also resists outsole wear. It stretches through the whole length of your foot to cushion your steps and provide you with that bounce for extra energy, which is especially useful if you like going on long runs.
Another Nike exclusive material used in this shoe is the Flyknit upper, which hugs your foot closely while still providing enough breathability.
What sets this shoe apart from other models and brands is the plastic plate around the heel connecting the sole to the upper. It ensures you have additional heel stability and improved responsiveness.
Pros:
Lightweight
Comfortable upper
Responsive cushioning
Cons:
The foam hardens in the cold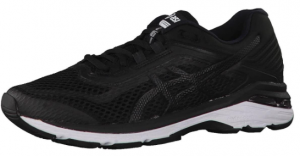 Weight: 297g
Heel-toe Drop: 10m
Terrain: Road
Stability: Stability
The Asics GT-2000 6 has several important improvements over the previous model from the same line, most importantly updating the midsole to FlyteFoam for increased comfort and responsiveness.
Asics also included a single layer of SpEVA foam and Dynamic DuoMax, allowing for even more cushioning and distributing the impact evenly throughout the foot.
It also features an all-new outsole and upper.
The outsole features a high abrasion rubber in the heel for increased durability, and two other Asics staples: The Guidance Line and Trusstic System. These two technologies allow for gait guidance and stability for the midfoot. All of this makes it one of the best Asics running shoes for overpronators.
As for the upper, its a one-piece breathable mesh that wraps seamlessly to your foot. Another change from the previous version is the replacement of the heel clip with an internal counter, ensureing you get a secure grip to your heel. This however means your foot will move slightly forward and reduce the amount of space for your toes.
Pros:
Breathable upper
Responsive cushion
Solid heel counter
Cons:
Benefits of Having the Best Running Shoes
Investing in a new pair of running shoes provides a lot of benefits.
It's important to note that running shoes need to be replaced somewhere between 300 and 500 miles of wearing. To measure how many miles you've spent, you can get a smart running watch that will track your health and performance metrics as well. Check out our review of the top 10 Garmin running watches to find the best one for your needs.
No matter which shoe you pick from our list above, you can expect to reap these benefits:
1. Injury protection
First and foremost, the best running shoes will keep you injury-free no matter where you run. And isn't that the whole point?
The midsole cushioning can prevent tendonitis, joint pain, and stress fractures, and the arch support is crucial when buying running shoes for flat feet.
Once you get high-quality running shoes, you'll no longer need to worry about potential injuries. Instead, you can focus on your performance and enjoying the outdoors.
2. Improved performance
The added support and protection don't only protect you from injures, they also allow you to perform better. The extra comfort enhances your running capacity, allowing you to run faster, longer, and better.
In addition, running with specialized running shoes uses much less energy and effort than running with regular shoes. This allows you to spend your energy on the things that matter the most, like running with a better form and for longer times.
3. Overpronation prevention
We mentioned overpronation earlier and how stability shoes are best suited for people whose feet roll inwards when they run. But what these shoes do is amazing!
They have a tougher midsole material on the inside to provide additional support and prevent your foot from rolling too far inward. This will prevent the misaligning of your knee, and reduce the risk of developing shin splints, plantar fasciitis, and other foot problems.
Last update was on: May 17, 2022 2:19 am