Everything you need to know about Biltong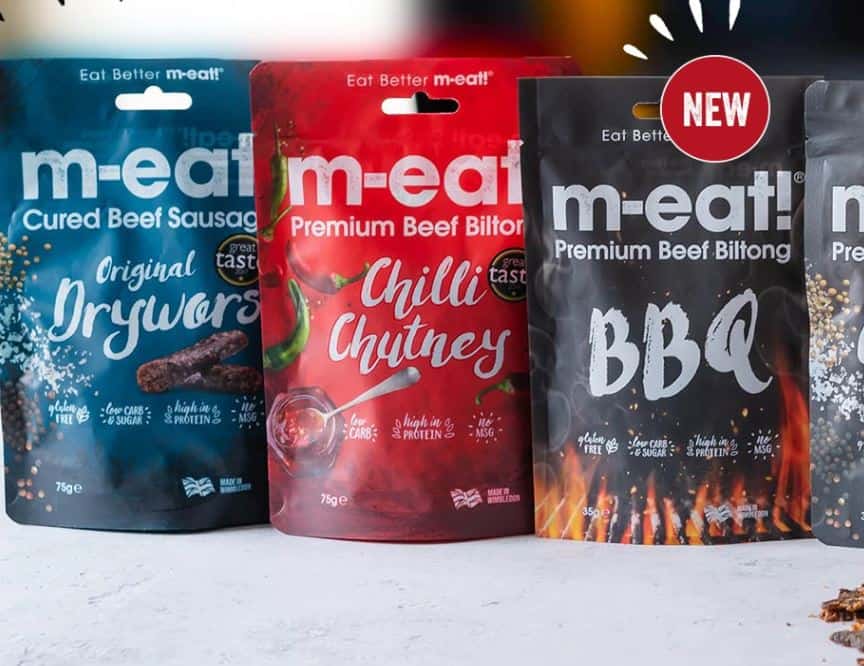 Everything you need to know about Biltong
It's likely you've heard all about Biltong in the UK and probably have seen it in the vending machine at your gym or down the supermarket aisles in your weekly shop. But what exactly is Biltong and how does this cured meat snack compare to others available on the market? In this post we'll tell you everything you need to know about Biltong.
What is Biltong?
First thing's first – what is Biltong? Well, much like any preserved meat, Biltong has a rich history dating as far back as the Ancient Egyptians! However, it really came into its own some 400 years' ago in Southern Africa as a way to preserve meat for future meals. Back then, Biltong was made from pretty much any form of lean animal muscle including Kudu and Springbok but today you'll most commonly find it in beef form.
Is Biltong the same as Jerky?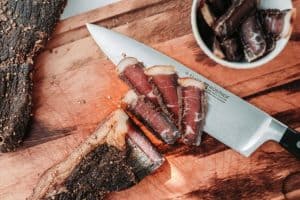 Yes and no. Most people will compare Biltong to Jerky because they're both dried, cured, beef-based snacks that use a variety of spices in them. However, the taste, cuts of meat, drying and production processes are worlds apart.
Although both Jerky and Biltong use beef as their primary ingredient, the cuts of meat differ. Jerky often uses very lean pieces of beef that are sliced into strips before being dehydrated whereas Biltong is air dried as one whole piece of meat and then sliced. Because of how each piece of beef is sliced and then dried, you will find that Biltong is much softer than Jerky.
Additionally, what goes into Biltong and Jerky differs too. Biltong uses a 400-year-old South African recipe and is made with a blend of savoury spices and vinegar as a method of preservation whereas Jerky uses savoury spices, salts, and sugars to enhance the flavour of the meat after it has been dehydrated.
Is Biltong healthy for you?
Biltong is an amazing snack for anyone looking to follow a healthier lifestyle. Because it uses premium grass-fed scotch silverside beef from UK & Irish farms, it means that it's packed to the brim full of rich protein. Biltong is also incredibly low in carbohydrates, sugars, salts, and saturated fats too making it a popular snack for people following a variety of diets including paleo and keto.
Although the exact nutrients depend on the brand or ingredients, the nutrition profile of an original 35g bag is:
Calories 89

Carbs 0.3 gram

Protein 18.9 grams

Fat 1.4 grams
Beef Biltong also has numerous other advantages, including:
Low in fat – Biltong contains almost no fat, around 1.4g on average for a 35g bag. For this reason, it's brilliant for weight-loss

High in Zinc – Zinc helps to form blood cells and boosts your immune system, which is incredibly important for keeping covid-19 at bay

High in Creatine – Fitness buffs rejoice! This protein-packed meat-based snack is absolutely loaded with the energy producing Creatine.

Good source of iron – Biltong contains high levels of iron, which is important for healthy blood and nerve cells. One serving of the delicious snack contains enough iron to meet over a third of your daily needs !

High in natural protein – with almost 60% protein, Beef Biltong helps to boost your recovery, keep you fuller for longer and replenish your muscle reserves making it perfect for those with an active lifestyle

Child friendly – Biltong is a brilliant snack for children as it's made using 100% lean beef and natural ingredients. Its high protein content means it's the perfect snack for children that are continuously burning off energy

Great for pregnant women – Because Biltong is packed full of iron and protein, it makes for a great snack for pregnant women. Not only does it help pregnant women get all the minerals their body needs, but it can also help to offset pregnancy-induced weight-gain, help regulate blood sugars in someone with gestational diabetes and keep the baby healthy too!

What is the best way to consume Biltong?
The great thing about Biltong is that it is incredibly versatile and can be enjoyed on its own with an ice-cold beer or can be added to other dishes such as salads, sandwiches, omelettes, and plenty more.
Who is Biltong for?
Because biltong is so flavoursome, it makes for a great supplement to a variety of diets and lifestyles. Whether you're following a high protein diet or are just looking to improve your daily eating habits, biltong is a popular choice.
As it's extremely low in saturated fat it makes for a fantastic choice for anyone looking to shed the pounds. Because it can be easily stored, it makes for a great snack for anyone going on a long car journey, or a hike. And did we also mention that Biltong is also the perfect snack for teething babies? That's right! Because Biltong is derived from natural ingredients it makes for the perfect chew-toy for your little one to nibble on when their teeth are starting to poke through.
Final thoughts
Protein plays an incredibly important role in the body – it helps to repair and build tissues in the body and keep it healthy. It also helps to keep you fuller for longer and helps antibodies fight off infection and illness. Not consuming enough protein can lead to health issues, especially as you get older.
If you're looking to incorporate a snack that is high in protein and low in saturated fats into your balanced diet, you can benefit from consuming red meat snacks such as beef biltong. Because biltong contains a high amount of protein in each serving, it is one of the better grab-and-go snacks you can consume and keep on hand in your gym bag or desk at work.