Best Folding Exercise Bike Reviews Of 2021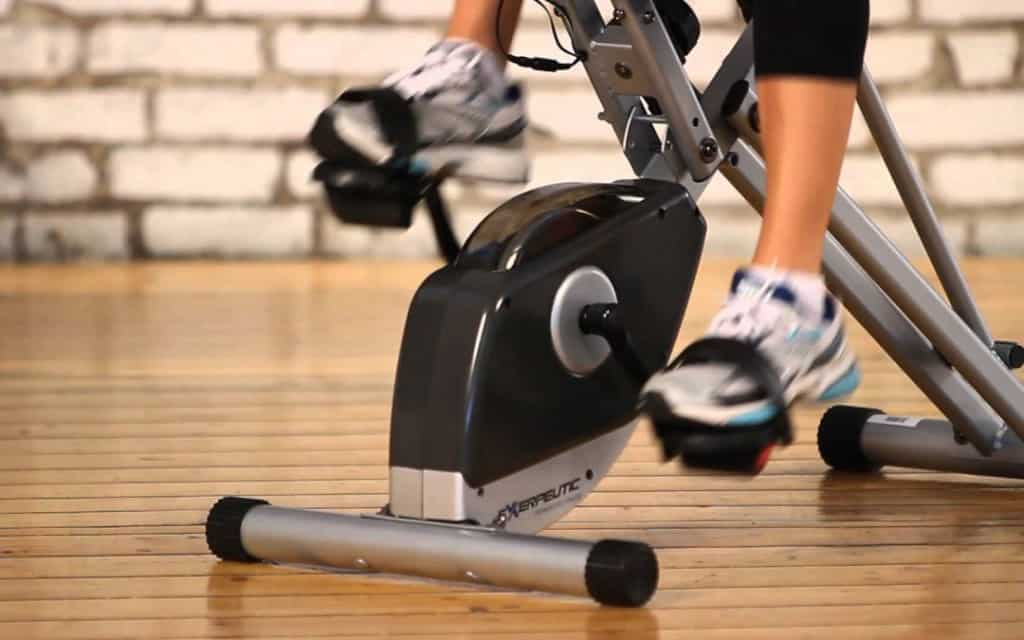 We all like to stay fit and healthy and for some that means going to the gym on a regular basis and for others a home gym is the answer. If you are to busy with work and family commitments to be able to warrant the expense of a gym membership or don't have enough space for a home gym, then a folding exercise bike might be the best alternative. But which are the best foldable exercise bikes? And how do you go about choosing the right one? If you want to know the answer to these questions and more, we have you covered.
In our folding exercise bikes guide we have all the information you need to help choose the model that best suits your needs and budget. After you are armed with this vital information you might want to check out our folding exercise bike reviews. In our top 10 list you will find a mix of quality and affordability as we have tried to include someting for all budgets.
Who Should Buy A Fold-Away Exercise Bike?
Before buying one of the best folding exercise bikes you should first consider if it is the best type of exercise bike for your needs. The main reason most people invest in one is due to their small footprint, which is considerably smaller than a spin bike or recumbent bike. If you are looking to buy a compact exercise bike that can be easily stored away when not in use a folding exercise bike makes a good choice.
Another good reason for buying one is due to their affordability. This type of exercise bike is among the more affordable options on the market with the best models offer very good value for money. Consequently if you are on a limited budget you are still capable of buying a top rated model for less than £100.
In terms of the workout offered they are of a lower intensity than a spin bike or an upright exercise bike. The resistance offered is enough to provide a light to medium intensity workout. If you are looking for something with more intensity then a spin bike may be more suitable. You can check our spin bike guide out for more information.
In terms of negative aspects a foldable exercise bike lacks sturdiness and they aren't designed for intense training. That been said, if you are looking for a compact and lightweight exercise bike that offers a decent workout, a fold up bike might be worth considering.
What To Look For When Buying A Foldable Exercise Bike
Before buying a folding exercise bike there are few things worth considering. Of course you could just buy the one that looks the best, but if you are to get real value for money then it's worth considering the features of the best folding exercise bike on the market.
Resistance
The resistance type is one of the most important purchasing considerations when buying any exercise bike. There are two types of resistance systems that can be found with a fold up model, which are magnetic and belt-driven.
As the name suggest magnetic resistance uses magnets to create resistance when pedaling. The benefits of this type of resistance is that it causes less wear and tear on the inner components. This is due to none of the components having to come in to contact with each other.
Belt-driven resistance uses friction to create the resistance you feel when pedaling. This is the less desireable of the two as friction cause wear and tear to the belt. When buying you will find that only very cheap foldable exercise bikes use belt-driven resistance. In our opinion if you are looking for an exercise bike that needs less maintenance then magnetic resistance is the best choice.
LCD Monitor Features
The LCD display allows you to keep track of your workout through the various readouts given. These can include information about your time, distance, speed, calories burned and even pulse readings. The LCD tends to be very basic with folding bikes, which is generally a by product of their affordable price. However, there are a few models that have gone the extra mile in this department. The Sportstech x150 is a good example, it has a standard LCD with the usual readouts but comes with the addition of a smartphone app.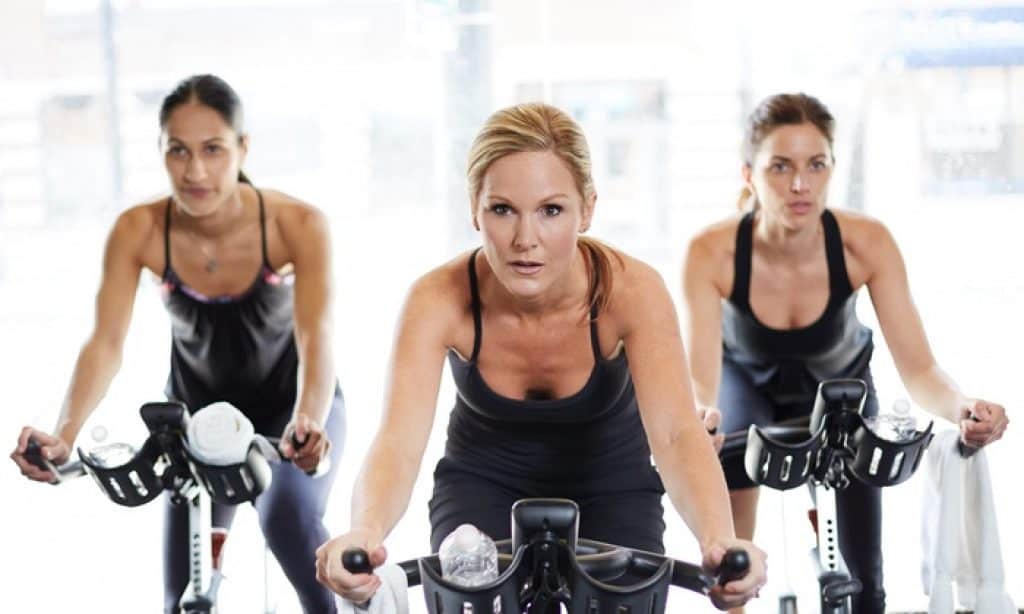 Seat
The seat is more important than you may at first think. When buying I would recommend checking out the customer reviews to see what they have to say about the seat on any model. After all the more comfortable you are when exercising the longer you will workout for. Another thing to look out for is whether or not the seat is adjustable. An adjustable seat makes it far easier to attain a comfortable riding position than a fixed seat position.
Backrest
Some folding bikes come with a backrest for extra support. If you have problems with your back but are still capable of exercising then a model with a backrest might be the best option. This feature tends to be reserved for the more expensive models.
If you are on a limited budget and a backrest is a must have feature be sure to check out the Zaap X Bike. This is the most affordable choice with a backrest. In addition it is also a good model and features in our top 10 list.
Size/Dimensions
Considering a large majority of people that buy folding exercise bikes do so because they have limited space, it is worth mentioning the dimensions of folding bikes. Folding exercise bikes are very compact and relatively lightweight making them easy to keep out of sight when not in use. If you have limited storage space I would recommend measuring up with a tape measure before buying. This will save you the hassle of either having to send your brand spanking new exercise when you realise you have nowhere to store it.
Maximum User Weight
The maximum user weight is a factor that lets many folding exercise bikes down. For most models it hovers around 100 Kg and only exceeds this when you spend more than £100. That been said, this type of exercise bike is generally very lightweight and less durable on purpose for ease of storage and portability. If you are looking to buy a more sturdy and durable exercise bike, then an upright exercise bike might be more to your liking.
Price
The price is the biggest concern for most people when buying any exercise machine. Folding bikes are one of the most affordable pieces of home gym equipment and cost between £80 and £200, depending on the model. Anything less than £80 will be very low quality and won't offer good value for money in the long run. If you are looking to buy a model that will last a good number of years you will have to spend about £100. In our reviews you can find models that have good overall design quality and offer good value for money, there is no point spending more than you have to. 
Best Folding Exercise Bikes In 2019
1
Ultrasport Unisex F-Bike Bicycle Trainer
Click on image to check price on Amazon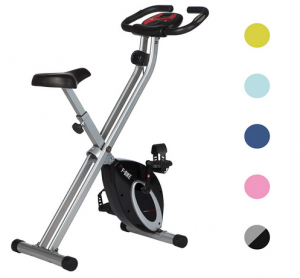 Our number one choice has to be the Ultrasport F-Bike folding exercise bike. This model has been the best selling foldable exercise bike in the UK for some years and with over a thousand positive reviews on Amazon alone, previous buyers seem to be very happy with it.
Offering a good mix of quality and affordability it makes a good beginner model. Fully collapsable and with folded dimensions of 131 x 43.5 x 45 cm it is very quick and easy to setup and put away. In addition the space saving design means it takes up very little in terms of storage space and can easily be tucked away in a cupboard.
The F-Bike uses the more desireable magnetic resistance and has 8 levels of resistance in total. The workout offered is of a medium intensity making it best suited for beginners and intermediate users.
Built-in to the Ultrasport is an LCD display that allows you to keep track of your workout. The screen readout shows your distance traveled, speed, heart rate, time and calories burned. These functions allows you to keep track of your training session and monitor any improvement.
With a maximum user weight of 100kg the F-Bike isn't for everyone and this is probably the only drawback of this model. That been said, there are more models in the Ultrasport range and the F-Bike Heavy has a maximum user weight of 130kg.
PROS:
Ideal for beginners
Affordable
Space saving design
Excellent customer reviews
CONS:
Not suited for those over 100 Kg
Our View
Considering the affordable price, space saving foldable design and good degree of quality, the Ultrasport F-Bike comes recommended as the best folding exercise bike under £100. It does have it's limits though with the maximum weight of user being the main concern.
2
XS Sports Magnetic Folding Exercise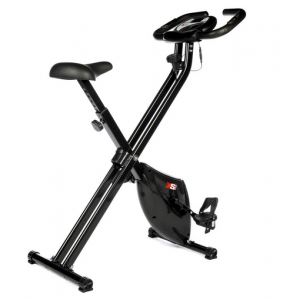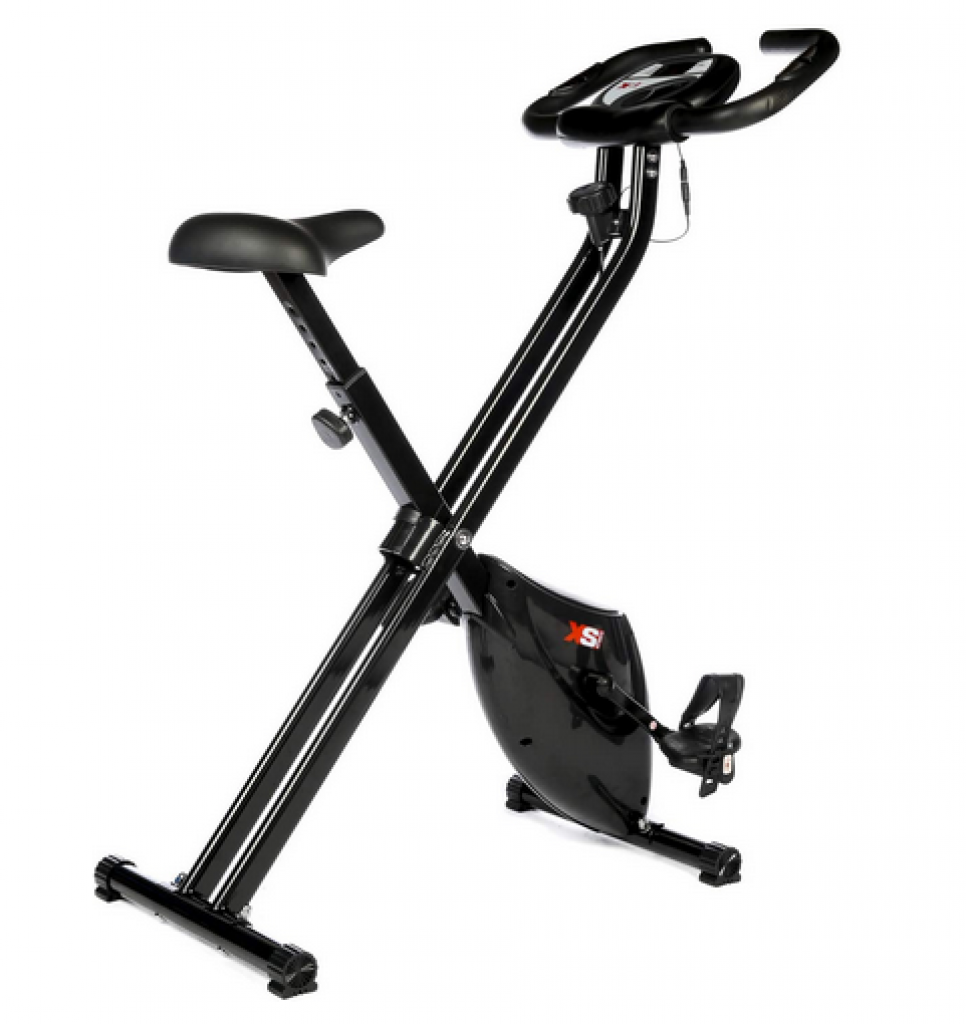 The XS Sports Magenetic Folding Execise Bike is another very popular choice for those looking to buy an affordable model with a good degree of quality. Like the previous featured model customer feedback is overall generally positive, which is a good indicator of a well-built and durable model.
The XS Sports features magnetic resistance making it noticeably quieter than its belt-driven counter parts. Another good point is the small footprint making it the most compact choice in our reviews, ideal for those with little storage space.
The LCD display is basic and consequently easy to navigate through the various functions. Readouts given include time, speed, distance, odo, calories and also pulse reading via the sensors built into the handles.
The workout offered by this bike is relatively light even by foldable exercise bike standards. The 1.6kg flywheel may be a little light for
Due to this been a budget folding exercise bike there are one or two drawbacks. The most mentionable is the handful of reviews that say the LCD display simply stopped working after a couple of months.
PROS:
Affordable
Small footprint
Good beginner model
CONS:
Some reviews say the LCD broke after a few months
Our View
XS Sports are known for their affordable fitness and home gym equipment and its easy to see why this model is a popular choice among buyers. Costing significantly less than most other models and having many of the same attributes, its simply a bargain!
3
Roger Black Folding Exercise Bike
Roger Black is one of the best 400m runners Great Britain has ever produced. Since hanging up his spikes he has focused his attention on making good quality and affordable home exercise machines, with the Roger Black Folding Exercise Bike been a prime example. Considering this brand hasn't been around for a very long time, you might find it surprising that this model is one of the best sellers in the UK, you shouldn't.
The most notable feature with this bike is the 2.5Kg flywheel which is significantly more than you get with most. Consequently there is a good workout to be had with this exercise bike. In addition it is among the more quieter and smoother folding bikes making it a good choice for those that like to watch TV while they exercise.
Another positive feature is the very small footprint. With dimensions of 140 x 41 x 37cm this is one of the most compact exercise bikes available. If lack of storage space is a concern I would consider this model as top choice.
It also comes with grip pulse sensors, basic LCD console and an adjustable seat. The maximum weight is 100kg, which is the standard amount for a model of this price.
In terms of drawbacks the most mentionable one affects those above 6ft. If you are taller than this then you may struggle to find a comfortable riding position even with the adjustable seat on the highest setting.
PROS:
Best seller in UK
Sturdy and durable frame
Affordable
CONS:
Not suitable for those taller than 6ft
Our View
To sum up, the Roger Black Folding Exercise Bike is an excellent model that's stable, durable and provides a decent enough workout. Due to the magnetic resistance system it is very quiet when been used and the thick foam padded seat is among the more comfortable ones. Overall a great model at a reasonable price.
4
Opti Folding Exercise Bike
If you are on a very limited budget then the Opti Folding Exercise Bike is a good option for a cheap folding exercise bike. It comes with a RRP of £100 but we have managed to find it for a fraction of that price, making it even better value for money.
It comes with magnetic resistance and a 1.6kg flywheel, which isn't the heaviest but enough to provide a light to medium intensity workout.
Due to this been a cheap foldable bike there are no standout features of such and everything is pretty much run of the mill. There is a basic console which displays your calories burned, distance, speed and pulse via the handlebar sensors. Additional features include an adjustable seat and pedal straps.
In terms of build-quality there is nothing bad to say about the Opti. It has a sturdy frame and a maximum weight of, yes you guessed it,100kg. The assembly is easy enough and it only takes 5 minutes to have it ready to go.
PROS:
Very affordable
Compact and easily portable
Our View
The Opti is a good choice for those looking for affordability. It has almost the same features and specifications of more expensive models at a fraction of the price. Offering a decent enough workout and having a small footpring it is worth considering.
5
ZAAP Fitness Folding X-Bike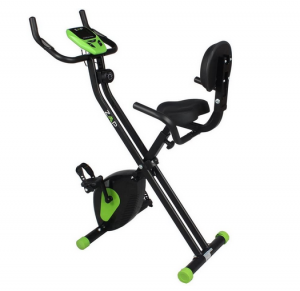 Another brand with a reputation of offering a good mix of affordability and quality is Zaap Fitness. The Zaap Fitness Folding Exercise bike comes in at less than £100 and has some very positive features about it. In addition it comes recommended as the choice model on Amazon and with good customer feedback it seems to tick all the right boxes.
The first thing you might notice about this model is the built-in backrest. This is a welcome addition especially for those that suffer with back pain. Furthermore this is the most affordable fold away exercise bike with a backrest.
The overall build quality is worth mentioning and with a heavy-duty frame there is an impressive maximum user weight of 120kg.
There are 8 levels to the magnetic resistance and the workout isn't as intense as you might of hoped. Unfortunately the 1.5kg flywheel only offers a light workout, but still enough to get a sweat going.
The console is easy to navigate and gives readouts on speed, time, distance, calories and pulse.
PROS:
Max user weight of 120kg
Backrest for extra support
Affordable
Our View
The Zaap Folding Bike is one of the more sturdier and durable models available. With a very good weight capacity a built-in backrest and all for less than £100 it comes highly recommended. The only drawback is the flywheel weight of 1.5kg.
Click on image to check price.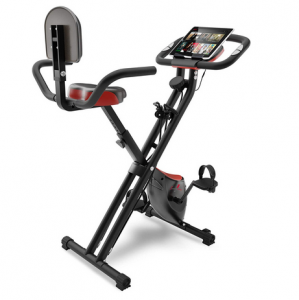 The Sportstech X100 is a slightly more expensive fold up exercise bike, but we think it offers good value for money due to the high quality features.
Sportstech are known for their innovative exercise bikes and the X100 is no exception. It features a built-in pulley system and power ropes allowing you to do an upper body workout. This adds an extra dimension to your training and is a welcome addition.
Another positive is the built-in foldable backrest which offers plenty of support for those that need it. In addition combined with the comfortable ergonomic seat a long workout is achieavable with this model.
The X100 comes with a multifunctional console that keeps track of time, speed, distance, calories burned and pulse. Pulse measurements are taken via the integrated hand pulse sensors.
In terms of the workout offered you can expect more from this model. The 4Kg flywheel and powerful magnets provide one of the highest intensity workouts of any fold away exercise bike.
Similar to our number 1 choice the only drawback to this model is the 100 Kg user weight. However, this does tend to be the standard amount with the majority of folding bikes.
PROS:
Gives a good workout
Very sturdy
LCD display reliably tracks your performance
Our View
Sportstech never fail to impress and the X100 is a good choice for those looking for a fold up bike with back support. In addition if you are looking to add variety to your workout it is well worth considering. Overall a very well-built and sturdy model with some quality features.
7
iDeer Foldable Exercise Bike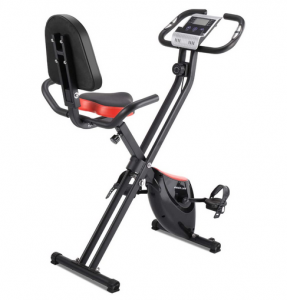 The iDeer Foldable exercise is another good option if back support and overall comfort is a main concern. It comes with a very comfortable thick foam padded seat and backrest. In addition the seat is fully adjustable allowing you to achiece the perect riding position.
The overall design is very sturdy and the maximum user weight of 110 Kg is more than you get with a budget model. Consequently if you are on the heavier side it may be a better option.
The 8 levels of magnetic resistance give a medium intensity workout making it suitable for both beginners and intermediate users. Unlike with the Sportstech models there are no additional workout options, which is a drawback with this model.
The LCD display is more modern looking than most other models, however, this is only aesthetics as the functions are exactlly the same as with a cheap folding exercise bike.
The standout feature of the iDeer lies in the 3 exercise modes. The iDeer can be adjusted in to three different positions with each one providing a different workout. On the first adjustment the focus is mainly on the legs. The second adjustment provides a balanced workout of both aerobic and a leg workout. Finally the last adjustment setting gives a more intense aerobic workout.
PROS:
3 exercise modes
110 kg max user weight
backrest for extra support
CONS:
The side support handles make it quite hard to mount, especially if you have mobility problems.
Our View
If you are seeking a varied workout from your exercise bike then the IDeer Folding bike is the one for you. With 3 exercise modes it has more to offer in this department than the majority of models on the market. It also has very good build quality with an overall sturdy design and a respectable weight capacity of 110 Kg.
Click on image to check price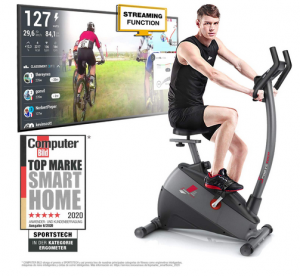 The Sportstech X500 is the most expensive model to make it in to our reviews and in many ways it could be said to be the best magnetic folding exercise bike, except for one drawback. But first lets take a look at the good points and reasons why you should consider buying the X500.
First of all like the X100 this is a multi functional folding exercise bike. In addition to been a folding bike it can also be used as an ergometer. On top of that it comes with an arm and leg pull back system giving a total of 4 exercise options. If its a versatile workout you are looking for then look no further.
Another positive is the LCD console which shows important information such as calories burned, time or speed. The standout feature though is the smartphone fitness app, this allows you to keep track of your successes and make your training even more effective.
In terms of the workout offered this is one of the better choices for those looking to build up a sweat. The 4kg flywheel is heavy for a folding bike and one of the heaviest available.
PROS:
Good customer reviews
Very versatil 4 in 1 exercise bike
LCD display reliably tracks your perfor mance
Comfortable seat
CONS:
100kg weight capacity
Quite expensive
Our View
The X100 is great for those looking for a varied workout. In addition the resistance it offers is one of the highest out of all options available. The only downside to this otherwise very good model is the dreaded maximum user weight of 100kg. Considering this exercise bike costs twice as much as some models you would expect a better weight capacity.
Final Words 
When buying one of the best folding exercise bikes you should be fully aware of what you are getting for your money. The top models offer a good workout, don't take up a lot of room and are very reasonably priced. If However, if you are looking for a more intense workout you should probably consider a different type of exercise bike. If that is the case you can check our spin bike guide for more information on thre best models.
Last updated on August 12, 2022 3:06 am