10 Best Foldable Exercise Bikes for Cardio Workouts in Your Home Gym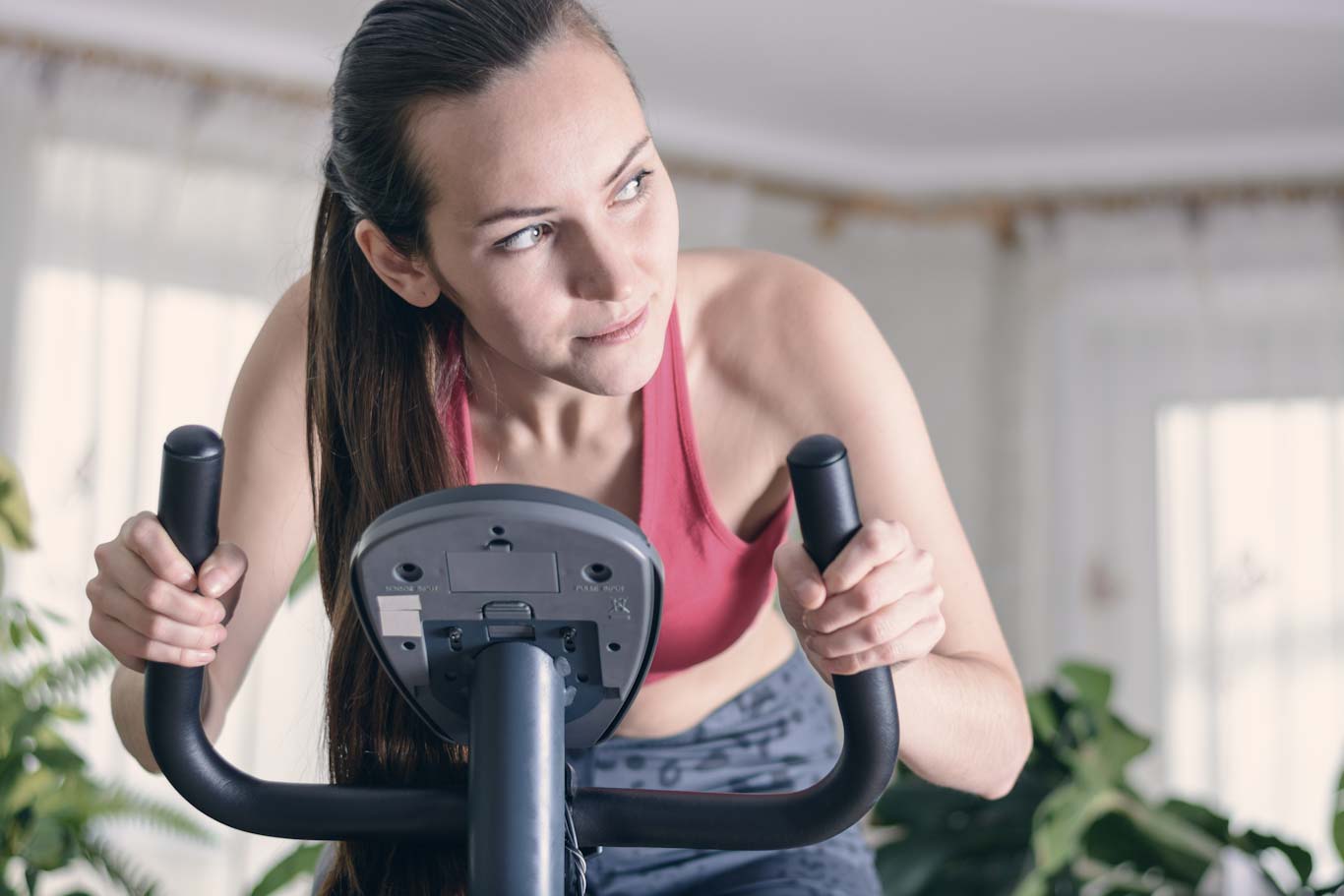 Cycling offers a fantastic cardio workout at home, blending lower-body resistance training and joint-friendly cardio. Yet, in small spaces, finding room for a stationary exercise bike can be a challenge. Here's where foldable exercise bikes shine.
These bikes let you fold them up, perfect for storage in cupboards or under beds, making them a boon for compact living spaces. However, not all folding exercise bikes are created equal, and the quality can vary significantly, especially when it comes to the folding mechanism compromising structural integrity. Fear not, as we've compiled a list of the top 10 folding exercise bikes for cardio workouts, ensuring you can make an informed choice.
What are the best foldable exercise bikes in the UK?
Whether you crave a gentle, low-impact session or a heart-pounding cardio experience, having a foldable stationary exercise bike provides the flexibility to achieve your fitness goals on your terms. Say goodbye to the limitations of gym memberships and dive into a world of versatile, home-based fitness.
At a glance – our top picks
Best Folding Exercise Bikes 2023
1
Ultrasport Unisex F-Bike Bicycle Trainer
Best Rated Foldable Exercise Bike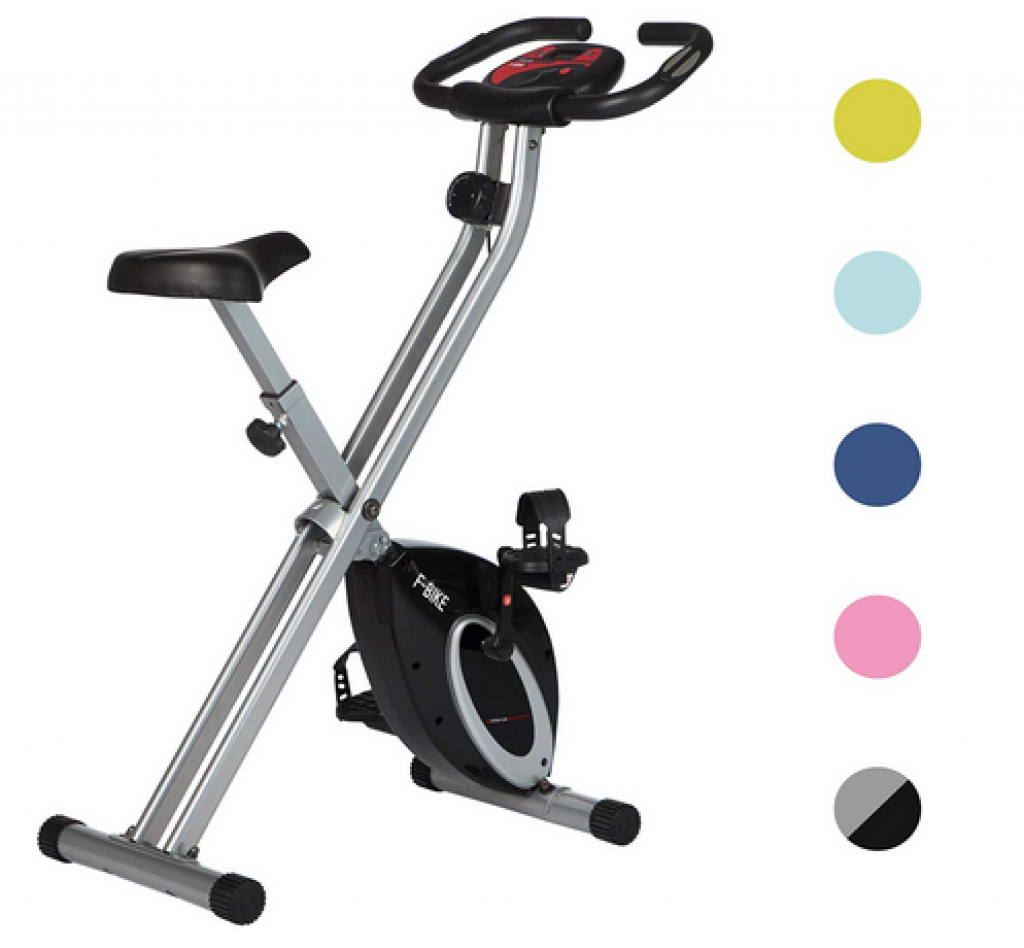 Our top choice is the Ultrasport F-Bike folding exercise bike. This model has consistently been the best-selling foldable exercise bike in the UK for several years (still holding the number one spot in 2023), with over a thousand positive reviews on Amazon alone—indicating high satisfaction among previous buyers.
Balancing quality and affordability, it serves as an excellent option for beginners. Fully collapsible, with folded dimensions of 131 x 43.5 x 45 cm, it is remarkably quick and easy to set up and put away. Its space-saving design ensures minimal storage space requirements, allowing it to be conveniently tucked away in a cupboard.
The F-Bike employs desirable magnetic resistance with 8 levels in total. The workout intensity is moderate, making it ideal for beginners and intermediate users.
Integrated into the Ultrasport is an LCD display to track your workout progress. The screen displays distance traveled, speed, heart rate, time, and calories burned—providing valuable insights to monitor your training session and track improvements.
With a maximum user weight of 100kg, the F-Bike may not suit everyone. However, it's worth noting that Ultrasport offers other models, and the F-Bike Heavy variant supports a maximum user weight of 130kg.
PROS:
Ideal for beginners
Affordable
Space saving design
Excellent customer reviews
CONS:
Not suited for those over 100 Kg
Our View
Considering the affordable price, space saving foldable design and good degree of quality, the Ultrasport F-Bike comes recommended as the best folding exercise bike under £100. It does have it's limits though with the maximum weight of user being the main concern.
2
ATIVAFIT R8 Folding Exercise Bike
Best 3 in 1 Folding Exercise Bike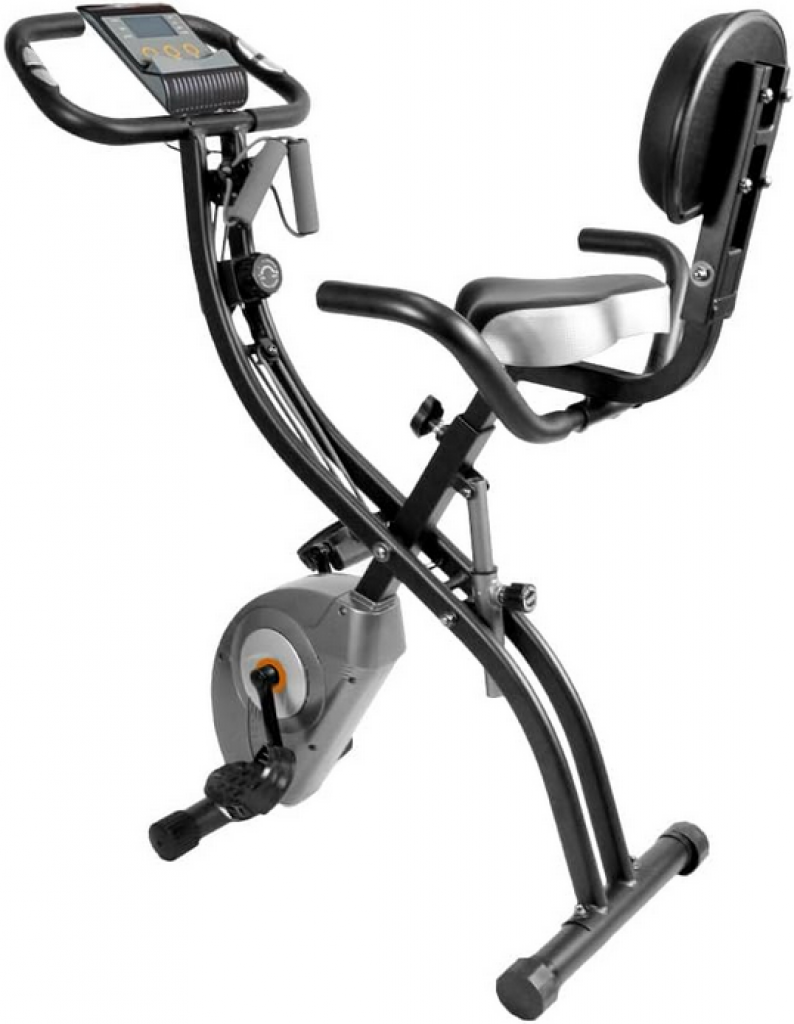 As our second choice for a space-efficient yet effective fitness companion, the AtivaFit Foldable Exercise Bike currently holds the number 4 spot among best-selling exercise bikes on Amazon UK. This model excels in both superior ratings and affordability, offering a smooth riding experience within a compact design.
Measuring a modest 26 inches in length, 16 inches in width, and 48 inches in height, the X-type frame design facilitates easy folding and storage. The three purchase options, distinguished by seat variations, cater to diverse preferences, offering a standard roomy seat, a larger seat, or a padded lower back combined with a large seat.
The AtivaFit Indoor Cycling Magnetic Bike boasts a user-friendly digital monitor displaying key metrics such as distance, speed, time, and heart rate, ensuring precise fitness tracking. With seamless and quiet operation, the bike provides eight adjustable magnetic resistance levels, allowing users to customize exercise intensity. A thoughtful addition is the tablet bracket, although it lacks onboard program options.
The adjustable frame accommodates various body shapes and heights, enhancing inclusivity for individuals with different fitness goals. Beyond the workout, its convenience shines as it effortlessly folds away, making it the best 3-in-1 foldable exercise bike that excels in performance, versatility, and affordability.
PROS:
X-type frame design for space efficiency
Smooth feel with magnetic resistance
Easy folding, transportation, and storage
CONS:
Lack of pre-programmed workout routines
Not suitable for experienced cyclists
Our View
If you're a fan of indoor workouts but dealing with limited space, the AtivaFit Foldable Bike is a game-changer. Tailored for heights from 5'0″ to 5'11" (152-180 cm) and supporting up to 250-275 lbs (max 125kg), it's the go-to for compact yet robust exercise. The hush-hush operation sets the stage for a tranquil workout haven. Overall it's perfect for spin enthusiasts craving convenience when skipping the gym.
3
BCAN Foldable Exercise Bike
Best Folding Exercise Bike for Short / Tall Person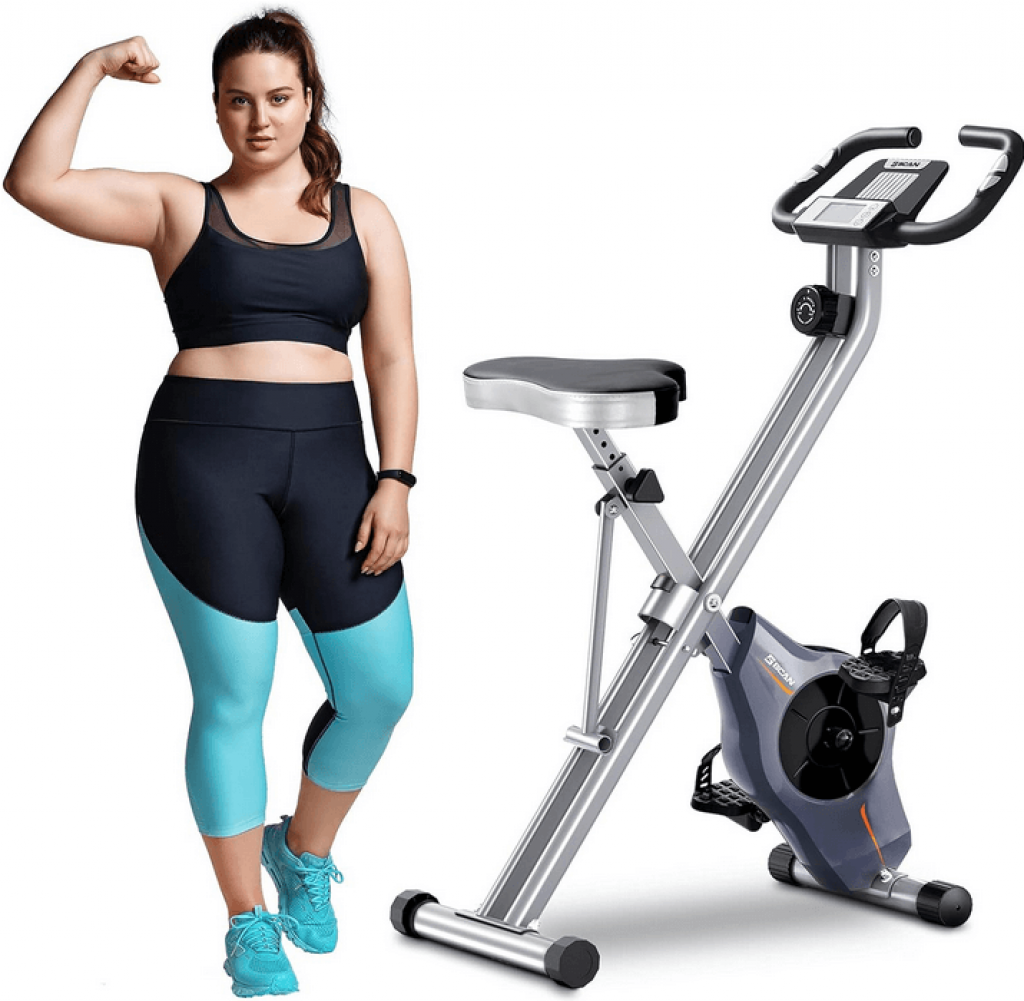 If you're on the heavier side and believe indoor exercise bikes aren't suitable for you, meet the BCAN Folding Exercise Bike—an innovative blend of modern design and robust functionality. Featuring a robust steel frame, this semi-recumbent folding upright bike supports a maximum user weight of 330 pounds (150kg). Beyond affordability, its compact, portable design facilitates seamless transitions between home and office spaces, saving valuable room.
With an infinite magnetic resistance system, it caters to diverse fitness levels, enabling users to achieve goals like weight loss, muscle toning, cardiovascular improvement, and strength building. The folding upright bike proves exceptionally accommodating with 7 levels of height adjustment, catering to users between 4 '8" and 6'2", even a 6 '4" user (142 – 193 cm) . Renowned for its performance, the BCAN Folding Exercise Bike is hailed by enthusiastic users as a top-notch fitness companion.
PROS:
The unique folding design offers a compact recumbent option
Impressive range of tension settings for versatile training
The large display provides easy access to training data
CONS:
Lack of programming may pose challenges for new users
Lower resistance settings are relatively weak
Our View
What sets the BCAN exercise bike apart is its inclusivity. While many gym machines cater to "big and tall" users, few acknowledge the needs of shorter, heavier individuals who also seek convenient home workouts. BCAN breaks the mould, prioritising accessibility and consideration for larger users. While it may have limitations in workout variety, its standout features lie in hardware and thoughtful design for a diverse user base. With the right motivation, the BCAN exercise bike has the potential to be a highly valuable tool for those looking to maximise their fitness routine at home.
Best Folding Exercise Bike for Heavy Person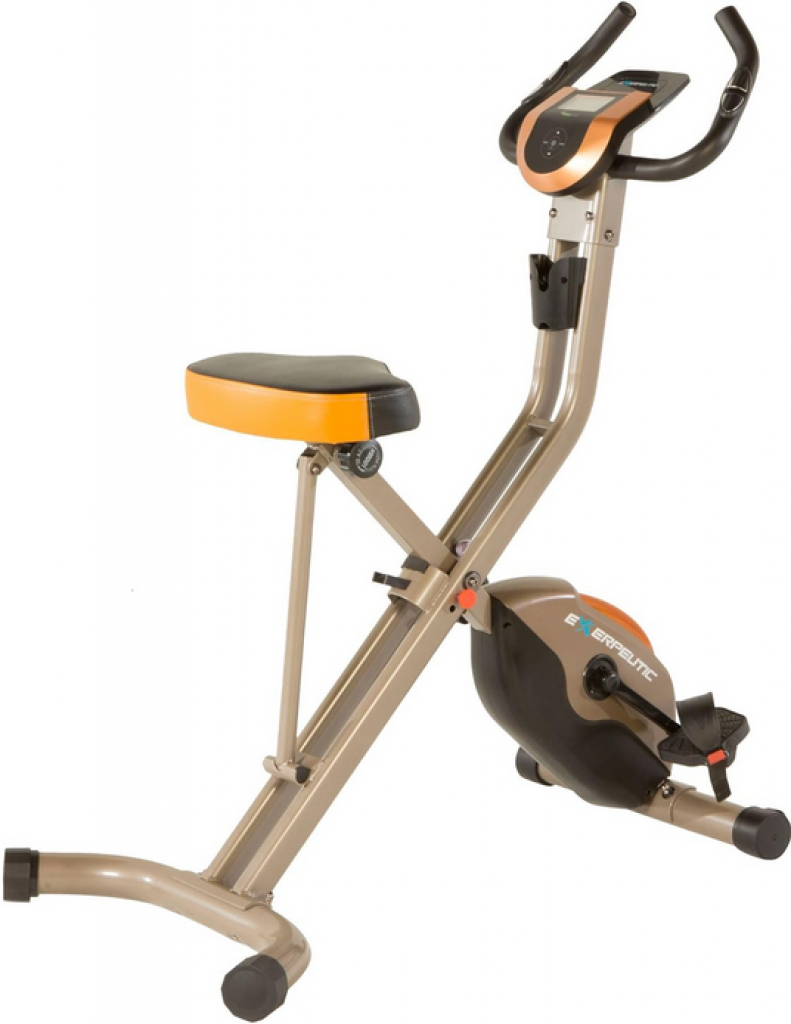 The Exerpeutic 575 Upright Bike is your go-to fitness solution even in tight living spaces like a New York-style apartment. Surpassing expectations, this folding marvel boasts a weight capacity of 400 lbs (181kg), thanks to its robust steel frame. This bike also offers 21 pre-set programs along with 16 levels of magnetic resistance catering to various needs.
A standout feature is its Bluetooth Smart Technology, paired with a free app for seamless workout tracking. The folding design maximises space efficiency, making it perfect for confined rooms. Elevate your fitness journey with the Exerpeutic 575, combining robust design, advanced features, and Bluetooth connectivity for a connected and results-driven workout experience.
PROS:
Sturdy frame with a higher weight capacity
Bluetooth compatibility for app integration
A diverse range of programs and resistance settings
CONS:
No cooling fan or built-in speakers
Our View
For those seeking a folding bike with enhanced strength and productivity, the Exerpeutic exercise bike stands out. With robust programming, impressive Bluetooth technology and durability, it caters to a broader range of users. While it holds great potential for long-term gains, acknowledging certain limitations in its build and features is crucial. The Exerpeutic exercise bike may not be flawless, but it certainly surpasses numerous expectations, offering a compelling option for those desiring a more robust and versatile workout experience.
Learn more by reading our Exerpeutic Gold 575 XLS Review
Best Folding Exercise Bike with Bluetooth Connectivity
Crafted by UK-based fitness equipment brand VRAI Fitness, this foldable exercise bike transcends traditional boundaries. What truly distinguishes the SXB-350 is its integration with the "Kinomap Smartphone App," offering a virtual ride through global landscapes. Whether seeking a challenge, competition, or fitness tracking, your smartphone becomes the hub for an immersive experience.
Designed with a stable triangular structure, the SXB-350 ensures secure workouts, supporting up to 150kg with durability in mind. Beyond its tech prowess, this bike transforms into a holistic workout station by incorporating arm resistance bands for a fusion of cardio and strength training. Monitor your performance seamlessly with integrated pulse/heart rate sensors in the padded handlebars, providing instant feedback.
When it's time to store, the SXB-350 conveniently folds to half its size, with transport wheels for easy relocation. Immerse yourself in a dynamic, tech-savvy, and space-efficient fitness routine with the VRAI Fitness SXB-350.
PROS:
Ergonomic design for enhanced comfort
Bluetooth compatibility for versatile connectivity
Easy folding mechanism for convenient storage
CONS:
Flimsy display
Subpar assembly instructions
Our View
The VRAI Fitness SXB-350 is a revolutionary foldable exercise bike that seamlessly merges technology with fitness. Its integration with the Kinomap Smartphone App provides a virtual global ride, offering an immersive experience. The ergonomic design ensures comfort, while Bluetooth compatibility adds versatility. The fusion of cardio and strength training with arm resistance bands sets it apart. Despite a flimsy display and subpar assembly instructions, its dynamic tech-savvy approach and space efficiency make it a commendable choice for modern fitness enthusiasts.
Best Foldable Exercise Bike with Backrest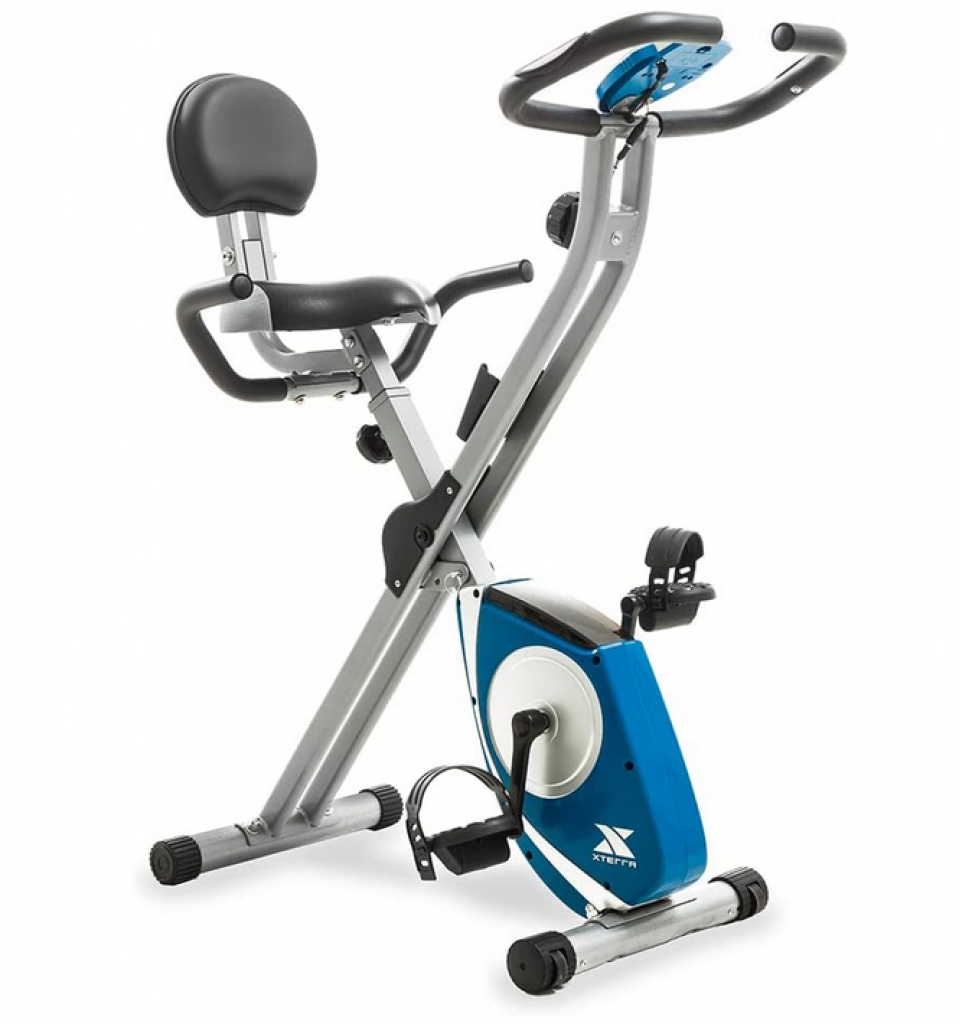 If you're in search of an economical and space-saving recumbent bike for home workouts, consider the XTERRA Fitness FB350 Folding Bike. Designed with thick, padded lower back and seat pads, along with multi-grip padded seat handles, it prioritises user comfort during rides. While the non-adjustable seat may be uncomfortable for larger individuals, the bike includes handlebar pulse grip sensors, eight resistance levels, a 3.3-pound magnetic flywheel, and a small LCD screen displaying vital metrics.
When neatly folded, the FB350 minimises space, measuring 20.5 inches by 20.5 inches, complemented by transport wheels for convenient storage. Despite these merits, users have reported challenges with the folding process, finding it somewhat cumbersome, and the transport wheels not as helpful. In essence, the FB350 caters to budget-conscious fitness enthusiasts, offering a decent entry-level option for home workouts.
PROS:
Compact footprint for space efficiency
Convenient handlebar grip heart rate sensors
Handy accessory holder
Equipped with transport wheels for easy relocation
CONS:
Non-adjustable seat
Lack of pre-programmed options
Our View
The XTERRA Fitness FB350 Folding Bike is a cost-effective and compact recumbent option, suitable for low-impact home workouts. While it lacks advanced features seen in more expensive models, its sub-$150 price tag aligns with certain expected drawbacks. With a non-adjustable seat, small pedals, and occasional noise issues, its overall performance is deemed satisfactory. Not ideal for intense cycling, the FB350 could be a fitting choice for beginners in confined spaces, offering accessibility without a hefty price tag.
View Latest Sweatband.com Prices
7
YYFITT Foldable Exercise Bike
Best Folding Exercise Bike with Tablet Holder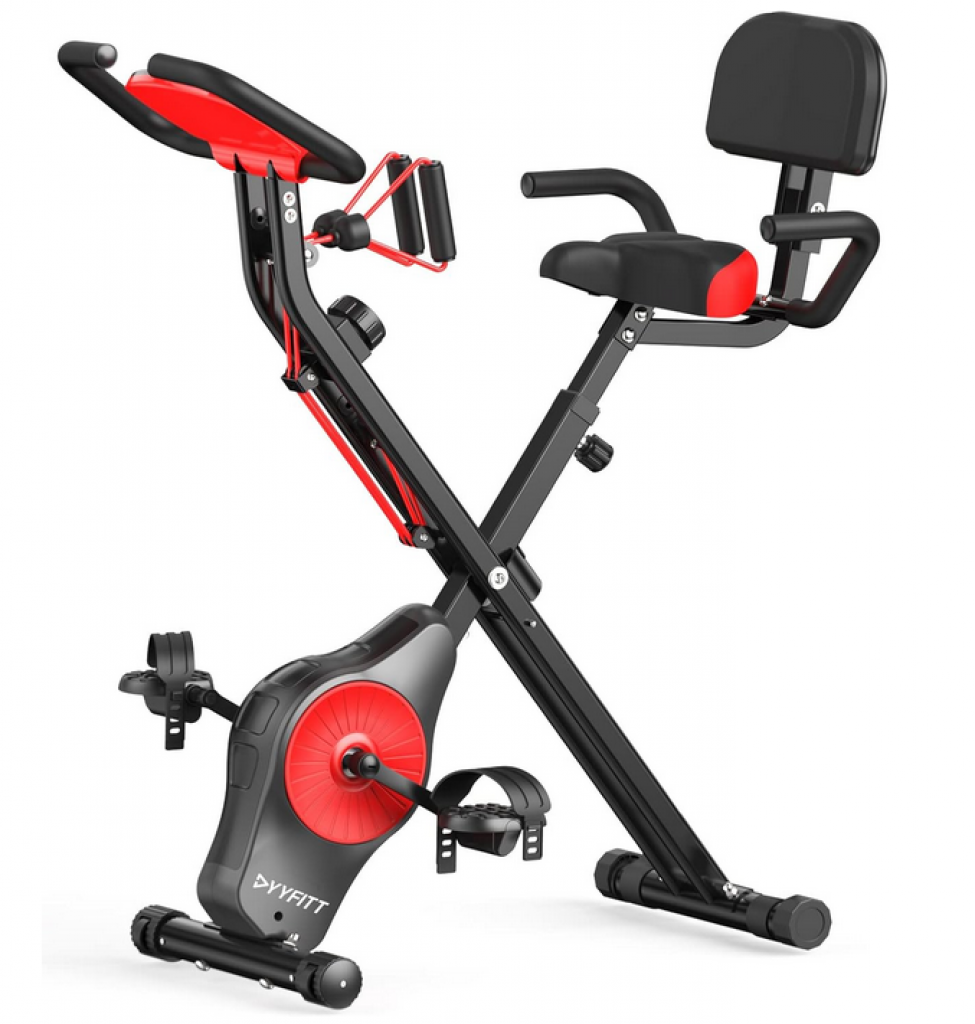 Affordability, durability, and versatility converge in the YYFITT Folding Exercise Bike, earning it a top spot among our favourites. While its budget-friendly nature is impressive, this stationary bike goes beyond cost-effectiveness. It stands out for stability, offering a robust platform for upright riding and an inclusive full-body workout. Impressively supporting a maximum user weight of 120kg, it defies the limitations often associated with budget folding bikes, ensuring lasting quality.
Central to its appeal is the smooth motion of the flywheel and the capacity to adjust resistance across 16 levels, providing users with a diverse and engaging cardio experience. Notably, this stationary bike innovatively incorporates resistance bands for arm exercises, allowing simultaneous engagement of arms and legs.
The comfort-focused design includes a well-shaped padded seat and backrest, ensuring a pleasant workout experience. While the folding mechanism may be less adjustable, it remains user-friendly, delivering a compact shape. Enhancing its practicality, transport wheels facilitate easy mobility. The YYFITT Folding Exercise Bike emerges as a compelling choice, harmonising cost-efficiency, stability, and versatility for a reliable home cardio workout.
PROS:
Exceptionally robust and sturdy design
Impressive maximum user weight capacity of 120kg
Semi-recumbent design, ideal for individuals with lower back issues
CONS:
Resistance band addition may seem a bit gimmicky
Our View
While the higher settings lack intensity, and data issues may pose annoyances compared to more advanced models, the YYFITT exercise bike provides ample variety with its 16 settings and added resistance bands—ideal for novice users. Relying on apps and smart devices, rather than the console, mitigates potential concerns. Despite these considerations, if you seek a comfortable folding bike as a starting point for fitness, the YYFITT exercise bike remains a viable and practical choice.
8
AceFuture 4 in 1 Foldable Bike
Best Folding Exercise Bike with Resistance Bands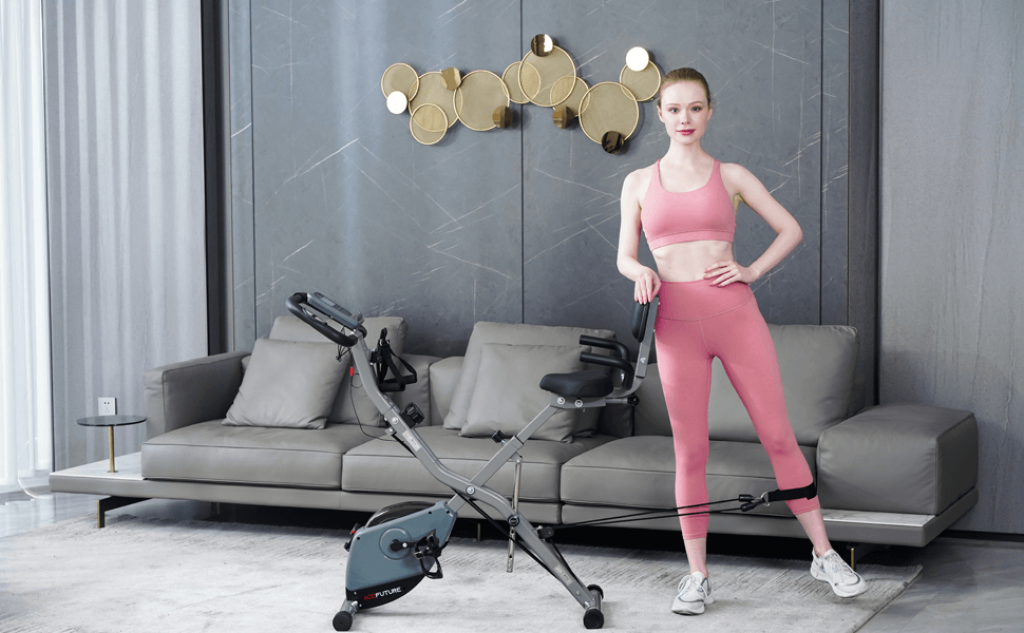 The AceFuture Indoor Cycling Bike proves to be a sturdy and space-efficient workout companion, designed to propel users toward their fitness goals. With its heavy-duty frame and a padded seat supporting a weight allowance of 120kg, this stationary bike maintains a compact footprint in any home gym.
The 30 lb flywheel (13kg) delivers the power, tension, and smooth motion necessary for an effective workout, enhanced by variable resistance settings to accommodate various fitness levels. Users can track their progress on the integrated tracker between the handlebars.
However, the bike's compact design, while space-saving, presents challenges. Taller users, around 6ft (182cm), may struggle to achieve an ideal posture even at the highest seat post setting, leading to discomfort and rhythm issues. On the other hand, shorter users may encounter challenges during the assembly process, requiring time and effort to ensure a secure setup. Despite these limitations, the AceFuture Indoor Cycling Bike remains a solid choice for those seeking a robust and adaptable exercise option within a confined space.
PROS:
3-in-1 frame for an additional riding position and enhanced comfort
Added workout option with resistance bands
Well-designed console connected to pulse sensors in the handlebars
CONS:
Initial setup may demand some time and effort
Occasional noise complaints, though not excessive
Our View
The AceFuture exercise bike strikes a perfect balance by expanding workout options without overwhelming users with excessive features. The additional frame setting and resistance band option enhance functionality for greater fitness gains, maintaining accessibility and simplicity. It's an ideal choice for those seeking an upgrade from basic recumbent bikes, providing a step-up in versatility without pushing users too far out of their comfort zone.
Continue reading: AceFuture 4 IN 1 Full Review
9
VIAVITO Onyx Foldable Exercise Bike
Best Lightweight Folding Exercise Bike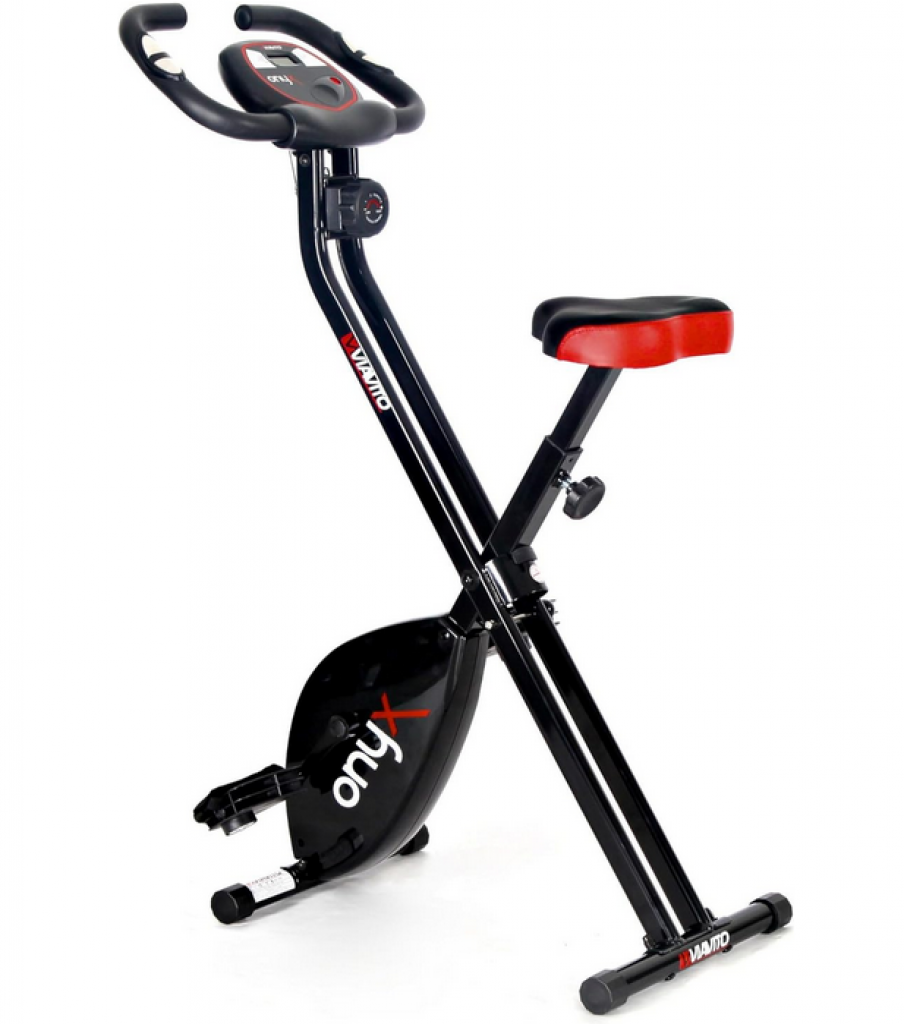 The VIAVITO Onyx Folding Exercise Bike redefines home workouts, combining premium features with a lightweight design at an attractive price. Weighing just 30.6 lbs (13.9kg), it offers exceptional exercise experiences and convenient storage in tight spaces.
The sleek black 'X' frame, adorned with vibrant red accents, isn't just about aesthetics – it boasts a robust tubular steel frame with a secure smart locking mechanism. Leg levellers ensure stability on various surfaces, and 8 levels of manually controlled magnetic resistance personalise your workout.
The stylish moulded console and ergonomically padded handlebar add flair and function, delivering essential exercise stats with magnetic resistance for a whisper-quiet operation. Beyond its chic appearance, the VIAVITO Onyx is effortlessly foldable, portable, and storage-friendly – a savvy, enduring, and budget-conscious exercise choice with a touch of modern elegance.
PROS:
Lightweight and foldable design, weighing 30.6 lbs
Smooth action for a seamless workout experience
Impressive top-level resistance for varied intensity
CONS:
A small LCD bar may limit display visibility
Our View
The VIAVITO Onyx folding exercise bike is an excellent choice, particularly for beginners, delivering advantageous features at an affordable price. Its lightweight design and ease of handling make it a comfortable and convenient piece of equipment for home use, especially on rainy days. However, it may not be suitable for advanced users seeking a more intense workout. This indoor bike is most efficient for beginners and everyday users.
View Latest Sweatband.com Prices
10
XS Sports Magnetic Folding Exercise
Best Budget Folding Exercise Bike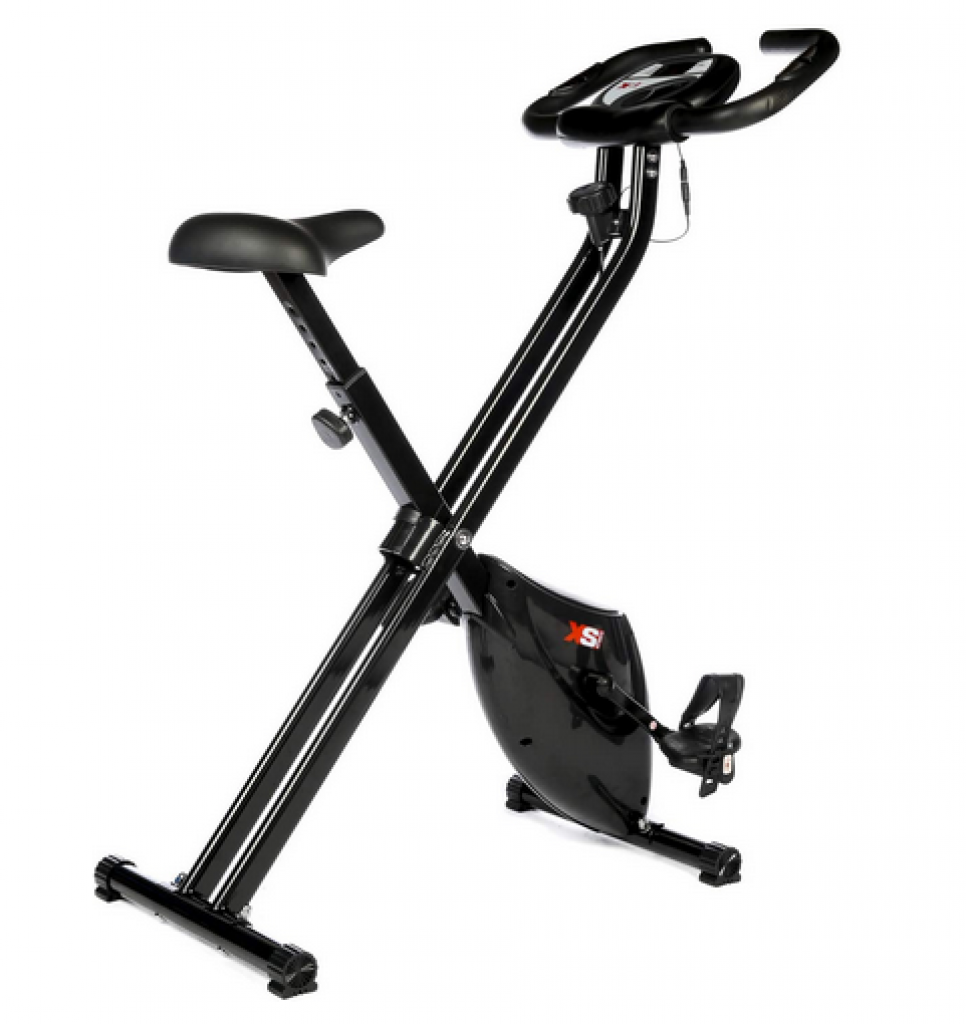 The XS Sports B210 Magenetic Folding Execise Bike is another very popular choice for those looking to buy an affordable model with a good degree of quality. Like the previous featured model customer feedback is overall generally positive, which is a good indicator of a well-built and durable model.
The XS Sports features magnetic resistance making it noticeably quieter than its belt-driven counter parts. Another good point is the small footprint making it the most compact choice in our reviews, ideal for those with little storage space.
The LCD display is basic and consequently easy to navigate through the various functions. Readouts given include time, speed, distance, odo, calories and also pulse reading via the sensors built into the handles.
The workout offered by this bike is relatively light even by foldable exercise bike standards. The 1.6kg flywheel may be a little light for
Due to this been a budget folding exercise bike there are one or two drawbacks. The most mentionable is the handful of reviews that say the LCD display simply stopped working after a couple of months.
PROS:
Affordable
Small footprint
Good beginner model
CONS:
Some reviews say the LCD broke after a few months
Our View
XS Sports are known for their affordable fitness and home gym equipment and its easy to see why this model is a popular choice among buyers. Costing significantly less than most other models and having many of the same attributes, its simply a bargain!
Who Should Buy A Fold-Away Exercise Bike?
Before buying one of the best folding exercise bikes you should first consider if it is the best type of exercise bike for your needs. The main reason most people invest in one is due to their small footprint, which is considerably smaller than a spin bike or recumbent bike. If you are looking to buy a compact exercise bike that can be easily stored away when not in use a folding exercise bike makes a good choice.
Another good reason for buying one is due to their affordability. This type of exercise bike is among the more affordable options on the market with the best models offer very good value for money. Consequently if you are on a limited budget you are still capable of buying a top rated model for less than £100.
In terms of the workout offered they are of a lower intensity than a spin bike or an upright exercise bike. The resistance offered is enough to provide a light to medium intensity workout. If you are looking for something with more intensity then a spin bike may be more suitable. You can check our spin bike guide out for more information.
In terms of negative aspects a foldable exercise bike lacks sturdiness and they aren't designed for intense training. That been said, if you are looking for a compact and lightweight exercise bike that offers a decent workout, a fold up bike might be worth considering.
What To Look For When Buying A Foldable Exercise Bike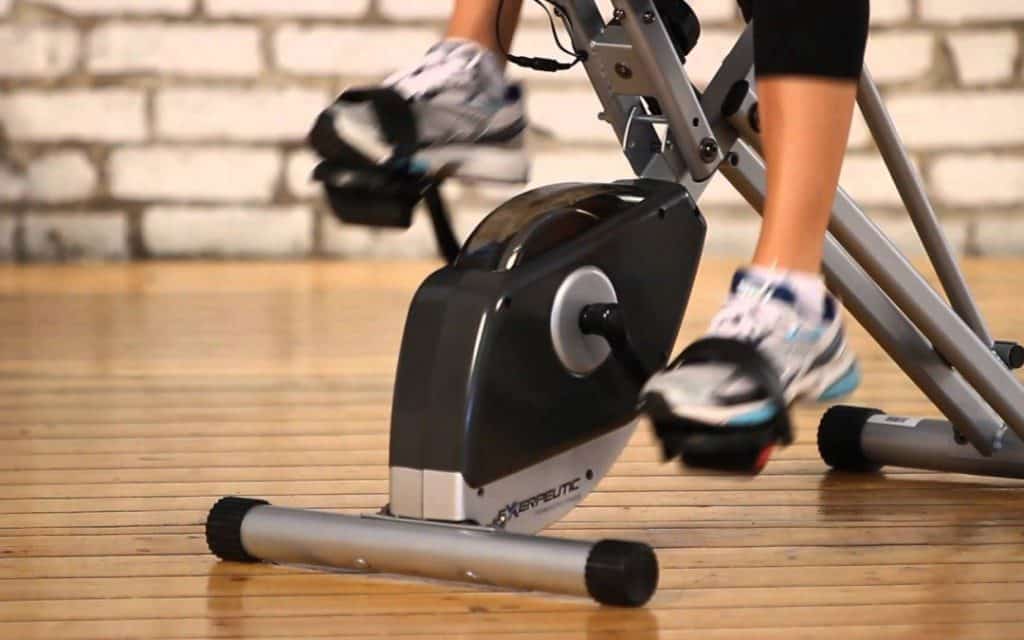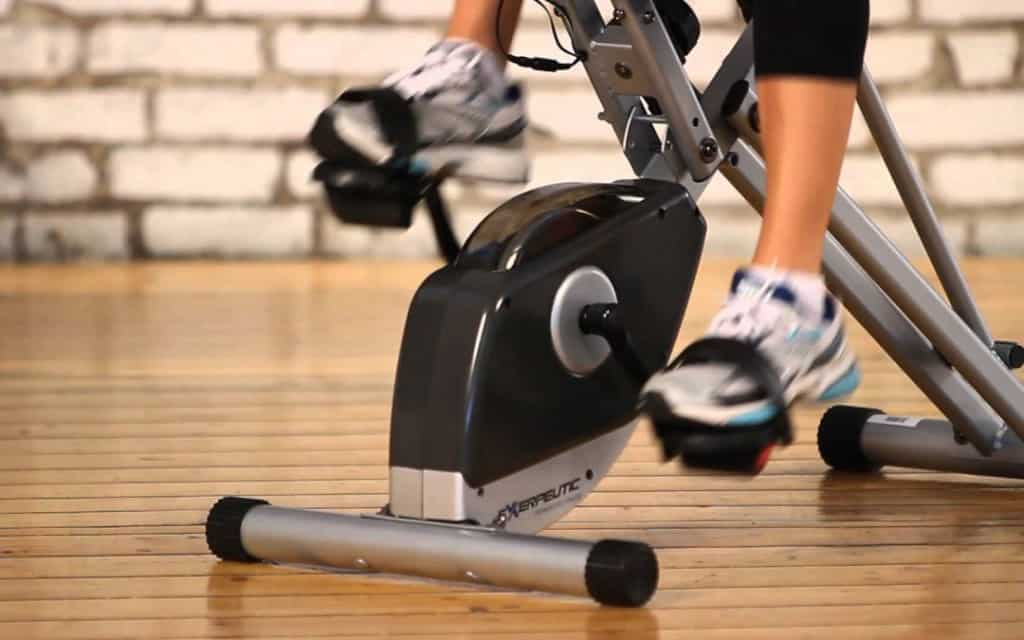 Before buying a folding exercise bike there are few things worth considering. Of course you could just buy the one that looks the best, but if you are to get real value for money then it's worth considering the features of the best folding exercise bike on the market.
Resistance
The resistance type is one of the most important purchasing considerations when buying any exercise bike. There are two types of resistance systems that can be found with a fold up model, which are magnetic and belt-driven.
As the name suggest magnetic resistance uses magnets to create resistance when pedaling. The benefits of this type of resistance is that it causes less wear and tear on the inner components. This is due to none of the components having to come in to contact with each other.
Belt-driven resistance uses friction to create the resistance you feel when pedaling. This is the less desireable of the two as friction cause wear and tear to the belt. When buying you will find that only very cheap foldable exercise bikes use belt-driven resistance. In our opinion if you are looking for an exercise bike that needs less maintenance then magnetic resistance is the best choice.
LCD Monitor Features
The LCD display allows you to keep track of your workout through the various readouts given. These can include information about your time, distance, speed, calories burned and even pulse readings. The LCD tends to be very basic with folding bikes, which is generally a by product of their affordable price. However, there are a few models that have gone the extra mile in this department. The VRAi Fitness SXB-350 is a good example, it has a standard LCD with the usual readouts but comes with the addition of a smartphone app.
Seat
The seat is more important than you may at first think. When buying I would recommend checking out the customer reviews to see what they have to say about the seat on any model. After all the more comfortable you are when exercising the longer you will workout for. Another thing to look out for is whether or not the seat is adjustable. An adjustable seat makes it far easier to attain a comfortable riding position than a fixed seat position.
Backrest
Some folding bikes come with a backrest for extra support. If you have problems with your back but are still capable of exercising then a model with a backrest might be the best option. This feature tends to be reserved for the more expensive models.
If you are on a limited budget and a backrest is a must have feature be sure to check out the XTERRA Fitness FB350. This is the most affordable choice with a backrest. In addition it is also a good model and features in our top 10 list.
Size/Dimensions
Considering a large majority of people that buy folding exercise bikes do so because they have limited space, it is worth mentioning the dimensions of folding bikes. Folding exercise bikes are very compact and relatively lightweight making them easy to keep out of sight when not in use. If you have limited storage space I would recommend measuring up with a tape measure before buying. This will save you the hassle of either having to send your brand spanking new exercise when you realise you have nowhere to store it.
Maximum User Weight
The maximum user weight is a factor that lets many folding exercise bikes down. For most models it hovers around 100 Kg and only exceeds this when you spend more than £100. That been said, this type of exercise bike is generally very lightweight and less durable on purpose for ease of storage and portability. If you are looking to buy a more sturdy and durable exercise bike, then an upright exercise bike might be more to your liking.
Price
The price is the biggest concern for most people when buying any exercise machine. Folding bikes are one of the most affordable pieces of home gym equipment and cost between £80 and £200, depending on the model. Anything less than £80 will be very low quality and won't offer good value for money in the long run. If you are looking to buy a model that will last a good number of years you will have to spend about £100. In our reviews you can find models that have good overall design quality and offer good value for money, there is no point spending more than you have to.
Final Words
The world of foldable exercise bikes opens up a range of possibilities for home fitness enthusiasts. From the compact AtivaFit to the tech-savvy VRAI Fitness SXB-350, each model brings unique features, including Bluetooth connectivity and diverse resistance levels. While some lack frills, they cater to specific fitness needs and space constraints.
Choosing the right bike depends on personal preferences and budget considerations. So, bid farewell to the constraints of traditional gym memberships and welcome a new era of fitness versatility right at your fingertips.
FAQs
Is a folding exercise bike worth it?
A folding exercise bike provides a great way to stay fit while saving space at home. Most folding bikes have adjustable resistance levels, making them an ideal choice for users of any fitness level. While they may not be the sturdiest exercise equipment compared to other stationary bikes, they offer great convenience in terms of easy storage and portability.
Can you stand on a folding exercise bike?
Yes, many portable exercise bikes allow you to stand while pedalling. This is ideal for HIIT workouts and those looking to strengthen their leg muscles more intensely. Make sure to check the manufacturer details of your chosen bike before purchasing.
Is a folding exercise bike easy to assemble and use?
Yes, folding exercise bikes can be easy to set up and use! Many models come pre-assembled, and once set up, it's a simple process to adjust them for different users and start exercising. Many also offer digital interfaces with tracking apps and preset workouts for added convenience.