Best Garmin Running Watches; Ten Best Garmin Watches for 2022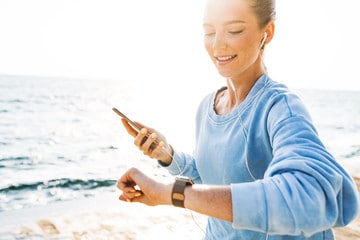 Ten Best Garmin Running Watches 2022
Running is a relatively inexpensive sport that doesn't require much more than comfortable running shoes. However for those of us that love running, there are some luxuries that if you can afford them, can take your running experience to the next level. One such item is a running watch. Which means none of us can go without a Garmin running watch, We can't do without our tracking and record keeping of how we are going. which makes tracking our miles on the road and our times and averages so easy. Whether you go for the Garmin 235 or a beast like the Garmin 935, Garmin have a watch for you. The watches have progressed loads in the last few years from big heavy Garmin watches to the sleek watches of today. Personally I find the Garmin forerunner 235 does everything I need it to.
Running watches, at their most basic level, allow you to track how far you've run and in what time you've accomplished that distance. But as technology progresses, sports watches, like anything else, have been quick to adopt the latest features and become a staple in every runner's must-have list.
From monitoring your heart rate and running form to improving your sleep, and even allowing you to listen to music and receive notifications, the latest running watches have it all.
Today, we'll be keeping our focus on Garmin watches, one of the big names in both the fitness world and the smartwatch world. They have a massive range of trackers and sports watches for women and men, all with a specific set of features and lifestyle choices.
But we'll get to the Garmin running watch comparison later! For now, let's see what you need to look for when buying a running watch, and how to determine the right running watch for your needs.
Running Watch Buying Guide
First off, let's take a look at the types of watches you can use to track your runs and how they differ from one another.
Fitness Trackers – offers only the most basic data: step count, distance, calories.
GPS Running Watches – offers much more accurate data that you can use to analyse your pace, cadence, and elevation.
Running Watches – monitors your heart rate and offers fitness advice accordingly. They can also estimate your VO2 max, oxygen consumption, and recovery rate.
Sports Watches – they can record all the data as running watches, but the best sports watches can be set to different types of sports, like cycling, swimming, skiing, snowboarding, etc.
Okay, now that we got that out of the way, let's see the things you need to consider before buying a running watch.
Cost
When it comes to running watches, you can choose between 3 main price ranges:
Budget running watches: Usually below $100, budget running watches have a few simple features that track the most basic running activity. They're best suited for beginners who just started running or people who don't need too many stats and just want to enjoy the run.
Mid-range running watches: These watches come with many advanced features, like heart rate monitors and other body sensors that log your full health data. Best for people who want to understand how their body works during a run so they can improve their performance.
High-end running watches: These watches are essentially your smartphone – they can receive notifications, play music, keep track of your calendar, and much more. All that, in addition to the full health report you get, makes these watches well worth the investment.
Activities
While running watches are mostly used for running, they can track a range of different activities and monitor your health all day long.
To ensure you get the best Garmin running watch, look for features that align with your daily activities. If you plan on using it every day for various activities, it's wise to invest in a watch with advanced features, but if you only need it for 2-3 runs a week, you can choose a more basic watch.
Satellite GPS
Running watches with a GPS connection can provide you with much more accurate distance readings that those with an estimated distance.
Battery life
Just like smartphones, the more features a running watch has, the faster it will "eat" through the battery.
So, if you don't plan on charging your running watch too often, it's best to choose one with more basic features and only one or two of the advanced ones, like Bluetooth, or Wi-Fi connectivity.
Yes, we're aware that there are a lot of choices to be made, and a lot of features to consider, but…
That's where Garmin comes in
From budget-friendly running watches with basic features to high-end sports watches, Garmin has it all.
If you're a fitness fan AND a smartwatch enthusiast, you'll definitely love what Garmin has to offer. They design various watches that meet the needs of both fitness fanatics and smartwatch geeks.
However, the number of well-designed Garmin watches grows by the day, making it difficult to choose the right one for your needs. That's why we've listed the top 10 options in our Garmin running watch comparison and review.
And without further ado, let's finally get into it.
Best Garmin Watches
We'll be reviewing the 10 best Garmin watches for 2022, ordered by price at the time of writing this review.
Check out the watches in the table below. Don't worry, we have a review article coming which will give you a breakdown of the best Garmin watch to buy for your running needs. So keep an eye out for the article but in the meantime have a look at whats available.
Image
Make and Model
Features
Check Amazon Price Here
Garmin Forerunner 35 GPS Running Watch with Wrist Heart Rate
Simple-to-use running watch with built-in GPS that tracks how far, how fast and where you run
Wrist-based heart rate monitors heart rate all day and night
Includes VO2 max estimate and training tools such as Auto Pause, Auto Lap and pace/speed selection
View Amazon Price
Garmin Forerunner 45S GPS Running Watch with Garmin Coach Training Plan Support
Easy-to-use running watch monitors heart rate at the wrist and features GPS to track your pace, distance, intervals and more
Works with free Garmin Coach adaptive training plans that bring expert, personalised coaching right to your wrist
View Amazon Price
Garmin Forerunner 235 GPS Running Watch
Tracks heart rate, VO2 Max estimate and recovery advisor through Elevate Wrist Heart Rate technology ; Smartphone compatibility: iPhone
View Amazon Price
Garmin Forerunner 735XT GPS Multisport and Running Watch
Lightweight GPS multisport watch for tracking training data
Tracks heart rate at the wrist day or night
Provides information on stride length ground contact time and more.
View Amazon Price
Garmin Fenix 5S Multisport GPS Watch with Outdoor Navigation and Wrist-Based Heart Rate
Sleek, smaller-sized multisport GPS watch with Elevate wrist-based heart rate fit for sport and adventure with stainless steel bezel and anti-glare coated lens. Battery life: up to 2 weeks in smartwatch mode (depending on settings), up to 24 hours in GPS mode or up to 75 hours in UltraTrac battery saver mode
Preloaded with activity profiles for running, cycling, swimming, trail running and more. Supports Strava Live Segment
View Amazon Price
Garmin fēnix 6 Pro, Ultimate Multisport GPS Watch, Features Mapping, Music, Grade-Adjusted Pace Monitoring and Pulse Ox Sensors
Navigate the outdoors With preloaded TOPO maps, ski maps for over 2, 000 Worldwide ski Resorts, multiple global navigation satellite system (GPS, GLONASS and Galileo) support and built-in sensors for 3-axis compass, gyroscope and barometric altimeter
Support for Garmin Pay Contactless payments (not all countries and payment networks are eligible), music storage with premium streaming service (may require a premium subscription with a third-party music provider) support, smart notifications and more
View Amazon Price
Garmin Vivosport Smart Activity Tracker with Wrist-Based Heart Rate and GPS
Smart activity tracker (tracks steps, floors climbed, calories burned, intensity minutes and sleep) with wrist-based heart rate monitoring and GPS
View Amazon Price
Garmin Forerunner 245 Music, GPS Running Smartwatch with Music and Advanced Dynamics
GPS running smartwatch with music advanced training features
Sync with music streaming services, such as Spotify, to easily store and play your favorite songs right from your watch
View Amazon Price
Garmin Forerunner 645 Music Sports Watch
A sports watch with Heart Rate Monitor and Music.
View Amazon Price
Garmin Forerunner 935 Running/Triathlon GPS Watch
GPS, watch, camera features: Bluetooth interface, wireless interface, App compatible
Compass: digital compass
GPS : satellite systems: GPS, Glonass, waypoint and route navigation graphic
View Amazon Price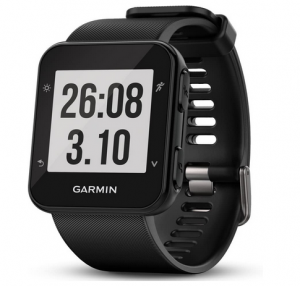 Size:5 x 23.4 mm
Display:93″ (128 x 128 pixels)
Weight:3 g
Battery Life: Smartwatch mode up to 9 days / GPS mode up to 13 hours
Water Rating: 5 ATM
Heart Rate Monitor: Yes
The Garmin Forerunner 35 is a solid all-around running watch with a heart rate monitor and GPS to track your runs.
Unlike most other Garmin watches, the Forerunner 35 has a flat and square design, with the two main buttons (workout selection and moving through the menu) located on the right of the watch. The other two buttons, for going back and turning on the backlight, are on the left.
Since its release, the Forerunner 35 has been upgraded to the Forerunner 45 (which we'll be reviewing later), but you can still buy the 35, even at prices lower than $100 if you can find yourself a deal.
It's great if you're a beginner runner since it provides just enough data to improve your performance from the start, but not so much that it can overwhelm you.
The most important ones, like distance, pace, calories, and following your heart rate monitor are all easy to access, and you also can receive smartphone notifications on it.
In addition, you can use it to track other daily activities, meaning you don't have to buy two separate watches.
Pros:
Easy to use
Inexpensive
Long battery life
Heart rate monitor
Cons:
Limited fitness tracking
No music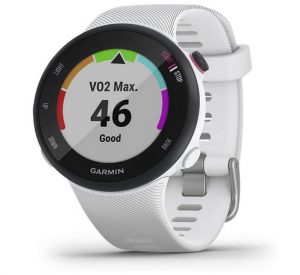 Size: 42 x 42 x 11.4 mm
Display:04″ (208 x 208 pixels)
Weight: 36g
Battery Life: Smartwatch mode up to 7 days / GPS mode up to 13 hours
Water Rating: 5 ATM
Heart Rate Monitor: Yes
The Garmin Forerunner 45 is the new and improved version of the Forerunner 35. We can say with confidence that Garmin did an amazing job with this upgrade and managed to pack plenty of features into it without bumping up the price too much.
It comes in a round design and two different sizes, but it's still incredibly lightweight so it won't hold you back on your runs. The band is made out of a sweat-ready silicone that will make chafing a thing of the past.
You can choose from a wide range of built-in sports apps, and you get adaptive training plans from expert coaches that adapt to your fitness levels. Pretty amazing!
And the most notable improvement over the Forerunner 35 is the wellness features. The watch will alert you if it detects you have high stress levels and prompt you to take a few deep breaths. In addition, it also measures your energy levels via the Body Battery feature.
Overall, the Forerunner 45 is your best choice if you don't want to spend a fortune but still want to enjoy all of the amazing features of the newest running watches.
Pros:
Thin design
Great value
Wide range of metrics
Cons:
No music
No multi-sport features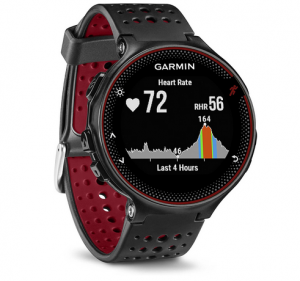 Size: 45 x 45 x 11.7 mm
Display:23″ (215 x 180 pixels)
Weight: 42g
Battery Life: Smartwatch mode up to 9 days / GPS mode up to 11 hours
Water Rating: 5 ATM
Heart Rate Monitor: Yes
The Garmin Forerunner 235 has plenty of features to suit both casual and professional runners. And, it's beautiful to look at as well!
It's one of the most stylish Garmin watches you can buy, and you can even choose between 3 different colour combinations: black and frost blue; black and red; black and gray.
The band is made out of high-quality silicone that won't sweat around your wrist, but the screen doesn't work on touch. Instead, you get five buttons on the sides to navigate your way around the simple menu.
As for fitness features, the Forerunner 235 has it all – from an optical heart rate sensor to GPS connectivity for accurately measuring your pace and distance, and even tracking daily activities.
But that's not even half of it!
You can receive your smartphone notifications right on your wrist, and measure your VO2 Max, or the maximum volume of oxygen your body can use, which is a great indicator of your fitness levels and how you've progressed over time.
Overall, with an impressive set of features and a very stylish appearance, the Forerunner 235 is a worthy addition to runners at any level.
Pros:
Lightweight
Stylish design
Detailed tracking features
Water-resistant
Cons:
Heart rate monitor is not so accurate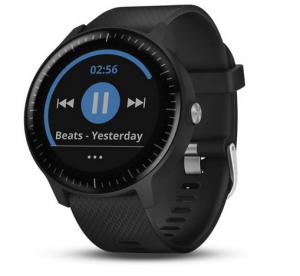 Size:1 x 43.1 x 13.6 mm
Display:2″ (240 x 240 pixels)
Weight: 39g
Battery Life: Smartwatch mode up to 7 days / GPS mode with music up to 5 hours / GPS mode without music up to 13 hours
Water Rating: 5 ATM
Heart Rate Monitor: Yes
The Vivoactive 3 is a versatile smartwatch built for fitness, as well as many other activities.
With a weight of 43g and a stainless steel casing, it feels like a premium, but once you strap it on your wrist, it feels like a normal watch.
When comparing the Vivoactive 3 vs. Forerunner 235, there are a lot of similarities, but the former has a much sleeker design since it doesn't have any buttons, and you can control the screen by touch.
It offers super-detailed tracking of any activity, including GPS and heart rate sensors. In addition to running, you can use it for bike rides, gym sessions, swimming, skiing, and much more, making it one of the best sports watches on the market.
To top it off, you can use the Vivoactive 3 to listen to music while on runs. Download any song you want (up to 500), and connect it to your Bluetooth headphones and you're good to go!
Oh, and did we mention you can also make payments with it? Thanks to the Garmin Pay contactless solution, you don't have to take your cash or card with you anymore.
All of this makes it an incredibly versatile running watch that can suit your needs no matter what you need it for.
Pros:
Stylish design
Detailed tracking
Great battery life
Contactless payment
500 songs music storage
Cons: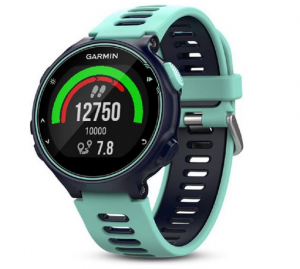 Size:5 x 44.5 x 11.9 mm
Display:23″ (215 x 180 pixels)
Weight:2g
Battery Life: Smartwatch mode up to 11 days / GPS mode up to 14 hours / UltraTrac mode up to 24 hours
Water Rating: 5 ATM
Heart Rate Monitor: Yes
The Forerunner 735XT is like the expensive cousin of the Forerunner 235. It has similar features, but it's mostly suited for professional triathlon runners. It can track running, cycling, swimming, and many other sports, making it one of the best multisports watches you can buy.
Unlike other triathlon watches, which can be a bit chunky, the 735XT is incredibly sleek. We're amazed at how Garmin managed to put that entire tech into such a small and thin package. The rubberised straps are extremely comfortable, even when strapped on very tightly for heart rate monitoring.
What makes it so suitable for triathlon runners is that it can measure important metrics like ground contact time balance, stride length, vertical ratio, and much more.
In addition, it offers a VO2 max estimate, lactate threshold, race predictor, and a recovery advisor to help you properly recover after a tough training session.
When running a triathlon, you can switch between different sports with just one button press without losing your focus.
Overall, if you plan on improving your triathlon performance, it's hard to see past the 735XT and all the amazing features it offers.
Pros:
Long battery life
Accurate GPS
Lightweight
Waterproof
Multiple colour options
Cons: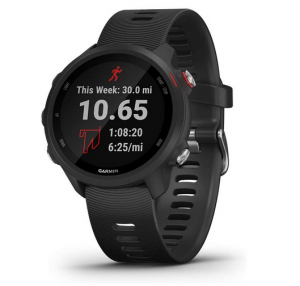 Size:3 x 42.3 x 12.2 mm
Display:2″ (240 x 240 pixels)
Weight:5g
Battery Life: Smartwatch mode up to 7 days / GPS mode with music up to 6 hours / GPS mode without music up to 24 hours
Water Rating: 5 ATM
Heart Rate Monitor: Yes
The Forerunner 245 was released as an update to the 235 version in 2019. It offers all that the 235 does, but with added music, Bluetooth headphones, and much more.
When it comes to the design, it's incredibly comfortable to wear but doesn't look too stylish on your wrist. It's pretty small and lightweight, and with a high-quality silicone strap, we bet you'll absolutely love wearing it throughout the day.
But the best part comes in its fitness features. It can analyse all your activities to track your progress, both current and in the previous seven days, and monitor your anaerobic and aerobic training effect to see how effective your workouts are.
It also has a safety feature that you can use to contact emergency services at the touch of a button if you run into an incident.
The built-in music feature allows you to listen to up to 500 songs from your Spotify or Deezer playlist, and connect it to your headphones via Bluetooth. It's finally time to say goodbye to your phone when going on runs.
Overall, with a strong battery, advanced tracking features, and a music option, the Forerunner 245 proves to be a worthy purchase for serious runners.
Pros:
Advanced training metrics
Spotify playlists
Lightweight
Comfortable
Long battery life
Cons: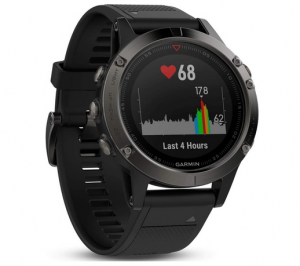 Size: 47 x 47 x 15.5 mm
Display:2″ (240 x 240 pixels)
Weight: 85g
Battery Life: Smartwatch mode up to 14 days / GPS mode up to 24 hours / UltraTrac mode up to 60 hours
Water Rating: 10 ATM
Heart Rate Monitor: Yes
The Garmin Fenix 5 Multisports watch is an outstanding high-end GPS watch. However, don't let the price scare you. It truly reflects all the features and functionalities of this watch.
For a watch with such a good battery life, it's really small and fits on your wrist nicely. Still, it's much heavier than most other Garmin watches at 85 grams.
There are a total of 5 buttons, three on the left side and two on the right. And when it comes to style, it's not the most pleasing to look at – with an industrial style and five actual screws in the bezel.
When it comes to features, the Fenix 5 contains everything that you can imagine in a GPS multisports watch – distance, pace, time-keeping, smartwatch features, advanced navigation, sleep tracking, optical heart rate, thermometer, barometric altimeter… in short, it has it all!
To sum it up, the Fenix 5 is definitely not a cheap GPS watch and is best suited for adventurers who practice multiple sports and want to track every imaginable metric.
Pros:
Long battery life
Great and durable design
Customizable display
Cons: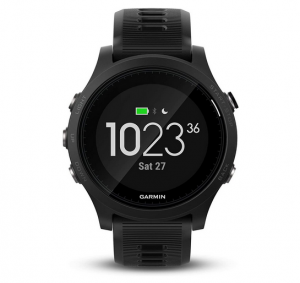 Size: 45 x 45 x 13.9 mm
Display:2″ (240 x 240 pixels)
Weight: 49g
Battery Life: Smartwatch mode up to 14 days / GPS mode up to 24 hours / UltraTrac mode up to 60 hours
Water Rating: 5 ATM
Heart Rate Monitor: Yes
The Forerunner 935 is the definition of a premium GPS watch. It acts as a running partner that can bring the very best out of you.
If you're familiar with wearing Garmin watches, the design won't come as a surprise to you. It's essentially the same as the Fenix 5, but adapted to the "Forerunner" line, with less hardened glass and more sleek rubber. The highlights of the design are the 5 metal buttons around the display.
But the Forerunner 935 shines the most when it comes to its running features. The heart rate monitor is one of the most accurate ones on the market. What's new in this monitor is that it can tell you how much effort you have left to give by analysing your heart rate variance.
And when it comes to showing you essential data, there's really no limit on how much you can see. You can even customize loads of screens and cycle through them to get all of your data in an organized way.
It's perfect for those who want to get as much data as possible with a GPS watch, and use it for different exercises and sports, like strength training, HIIT, swimming, cycling, running, and much more.
Pros:
Lightweight design
Tons of features
High accuracy
Long battery life
Cons: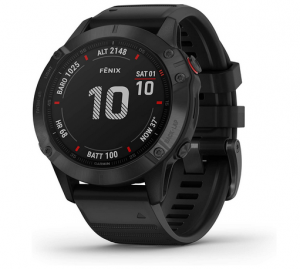 Size: 51 x 51 x 14.9 mm
Display:4″ (280 x 280 pixels)
Weight: 93g
Battery Life: Smartwatch mode up to 21 days / GPS mode up to 60 hours / GPS mode with music up to 15 hour
Water Rating: 10 ATM
Heart Rate Monitor: Yes
If you're looking for the ultimate multisports watch, look no further than the Garmin Fenix 6. It will track almost any activity you could imagine, with a built-in heart rate monitor and GPS connectivity that both work even underwater.
Although it has huge feature upgrades, the design is quite similar to other Garmin watches. The high-quality battery means that it's a little bulkier than the rest, but it's still 1.1mm slimmer than the Fenix 5 model.
The biggest design upgrade comes in the display size, with a huge 1.4-inch display and a 280x280px offering.
As for the features, it has a similar set like the Fenix 5 but slightly more adjusted to make it more intuitive. The biggest improvement is the introduction of widgets with which you can group all the data you need into more accessible parts.
And the best part? The heart rate sensor has been improved to work even underwater. So, you can now track all your performance even when swimming.
We're aware that the high-end price will put many of you off, but it was designed to meet the needs of the most professional adventurers out there. If you're not sure whether you need this kind of capacity, you probably don't, and you can choose some of the cheaper options, like the Frontrunner 935, or the Fenix 5.
Pros:
Best outdoor tracking features
Solid design
High accuracy
Long battery life
Large display
Cons:
Very expensive
Not the most stylish
Benefits of Owning a Running Watch
Hands-free running
Carrying a phone with you on runs is not only frustrating, it can be dangerous as well. It's bulky, it weighs in your hand or in your pocket, and you have to constantly worry about not dropping it.
With a running watch, you can still enjoy all the features you use on your phone while running, but keep your hands free and your mind focused on the run.
Useful data
If there's one thing every runner loves, it's comparing and analysing data from their runs.
You can now record your heart rate, measure your speed and distance and even your cadence. When you download the information you will see a map of your route and if you are on Strava its easy to check out your best running times and conmpare them to other runners over set routes! Its a world of endless possibilities for a runner.
And all of that in real-time with the help of a running watch!
You can see exactly how you're performing and alter your routine accordingly. You can also easily do precise interval training by using the heart rate monitor.
Some watches even have a tracking feature that provides extra safety in the event of an accident. The location is shared via a wireless connection to your family or friend's phone.
Style
A running watch can be the perfect accessory to your running outfit. It can even be the perfect accessory to any outfit, not just for running.
Style is very important and it helps you express your individuality and present yourself to the public. Most running watches today are designed with that in mind.
There are a variety of different styles, colours, materials, and designs you can choose to fit your style and match your other outfits.
Daily life tracking
Besides running performance, running watches can be used to monitor many different activities.
They will record the amount of other physical activity you do and compile that data to help you see if you're getting enough exercise and whether you need to adjust your daily habits to improve your health.
Final Thoughts
Garmin watches, and many other sports watches, prove to be a worthy investment if you're looking to improve your running performance and your overall health. But dont forget, running watches are essential but even more important are running shoes. Check out our reviews on the best running shoes right here.
Hopefully, we've covered just enough in our Garmin running watch comparison to help you choose the best Garmin running watch according to your needs.
Last update was on: November 27, 2023 2:30 am