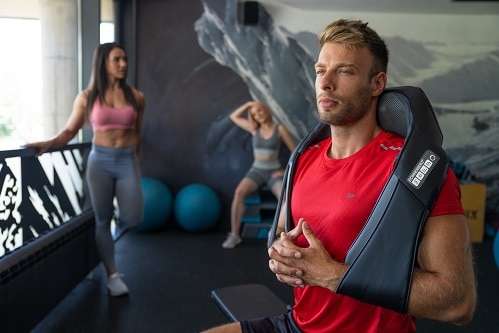 The Donnerberg Neck And Shoulder Massager Review
The Donnerberg (neck and shoulder) Massager arrived in the post today. I am very excited about its arrival as I have been really looking forward to using it.
When I opened the box I found the massage machine ready to use, a user manual in multiple languages, two spare removable covers in different colours, a power adapter and also a car lighter adapter so you can use it on the move, and a special soft cloth cover for sensitive skin.
It is ready to go out of the box. All I had to do was plug it into the electric socket and press the 'on' button and my deep tissue massage machine was ready to do its work.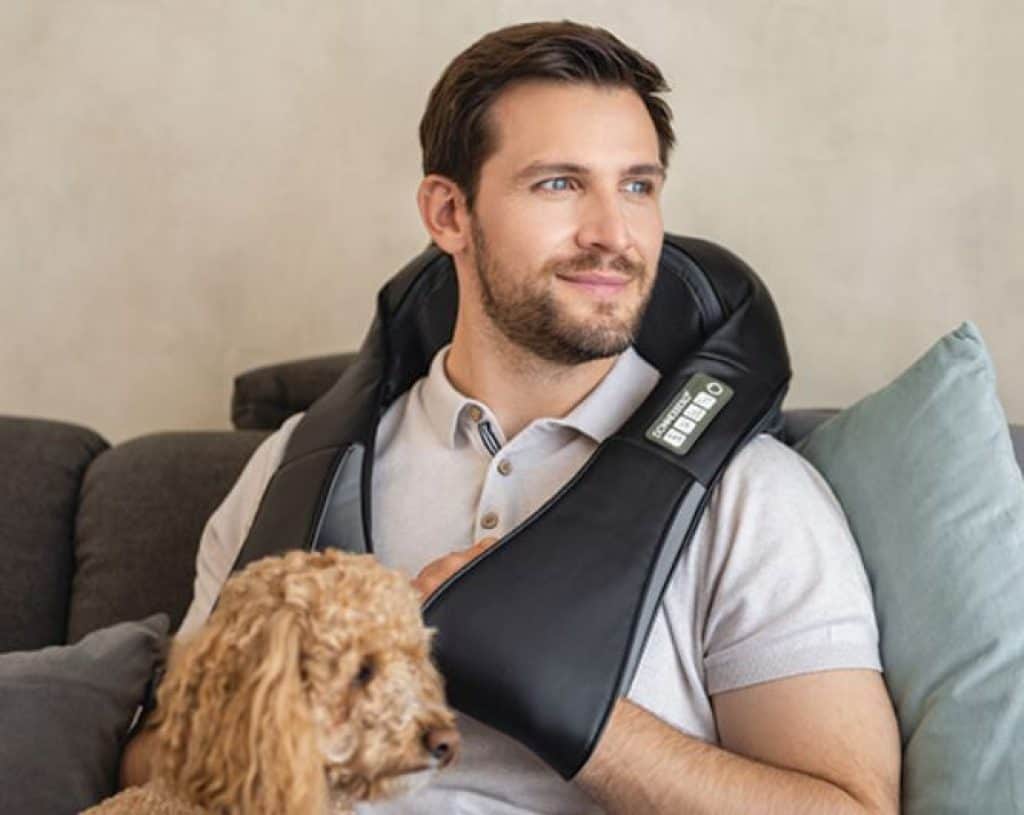 The way it works for your neck and shoulders for instance, is that you wrap the device around your shoulders and put your arms into the open sleeves. You can then use your arms to pull the sleeves downwards and add extra pressure to the massage. To switch it on you then press the 'on' button which is conveniently located on the left hand sleeve. Just to note, once you press the 'on button it will work for fifteen minutes. Then if you want to keep going you just press the same button again.
I tried it on my neck and shoulders first. Have you ever been to Thailand and had a massage there? Those Thai women have fingers of steel which get right into the knotty muscles you have been storing up for ages. Well, the Donnenberg massager is just like that. It really kneads your muscles like a Thai women looking for revenge. In fact the massager is based on the principles of Shiatsu massage. It helps the body to self heal. Its a great adjunct to other forms of treatment if you do have injuries.
Features Of The Donnerberg Neck And Shoulder Massager
The massage speed can be varied. So for instance you can have it on either speed one, two or three, depending whether you want a slow and deep or a fast massage.
That's not all with this massager either. There is also an infrared application. This comes on automatically when you use the machine, but it also has a booster button to increase the heat level. It feel so good having a hot massage on those tired muscles. I think this is my favourite function. And its one thing you don't get with a conventional Thai massage.
There is one more function you can apply, all from the control unit on the sleeve. This is the vibration function. This just has one setting but that is good enough. The vibration will come on for five seconds, stop for two seconds then come on again. It feels great!
Where To Use The Donnerberg Neck And Shoulder Massager
The picture on the box shows someone using the Donnerberg massager as a heated neck and shoulder massager, but you can use it almost anywhere.
I have found it fabulous for the low back area, and boy did I find tight muscles down there which I didn't know I had. Its an excellent massage machine for low back pain. To use it for my low back pain I sat on the sofa and wrapped the device around me with the massage wheels on my low back. Then, having switched it on I leant back into the massager to increase the pressure on my back. It feels so good. This is luxury. When you have had enough in one area, you can slide it up a couple of inches/centimetres to the next tender area. Its a very effective back massage machine.
It is effective on other parts of your body too. You can use the Donnerberg massager on your legs. Its perfect for thighs, and even good for knees. I used it on my right knee which has had a running injury for some time. A torn tendon. The massager was a little painful but that was because the it was working directly onto bony areas, ie around the patella, so it was bound to be a bit uncomfortable. It helped my knee though. And that's what counts!
Reflexology is great for your feet, and the Donnerberg is a lovely foot massage machine, and although the massager doesn't have the anatomical knowledge that your reflexologist will have, it still does a pretty good job of finding the sore spots and working into them. You can use it on your arms too. Just place the massager on the arm of a sofa or on a table and rest your arm on it.
It doesn't matter where on your body you use it. It works on any body part. The important thing to remember is that the Donnerberg massager should feel pleasant and relaxing at all times. If the pressure is truly painful or uncomfortable, you should change the pressure. Although as I experienced, it can be a little painful but still give a great result. After all, those Thai women kill when they dig their fingers in, and then you feel great for ages!
When To Be Careful With The Donnerberg Neck And Shoulder Massager
Are there any restrictions in the use of the massager? Well, children under eight will need to be supervised, pregnant women should talk to their doctor before using it – although I think it would relieve a lot of upper back pain in pregnant women. Apart from that it is common sense, don't use it on open wounds, be careful if you have a chronic condition as the massager might make it worse, and if you experience severe pain at any time, have a word with your GP.
Conclusion For The Donnerberg Neck And Shoulder Massager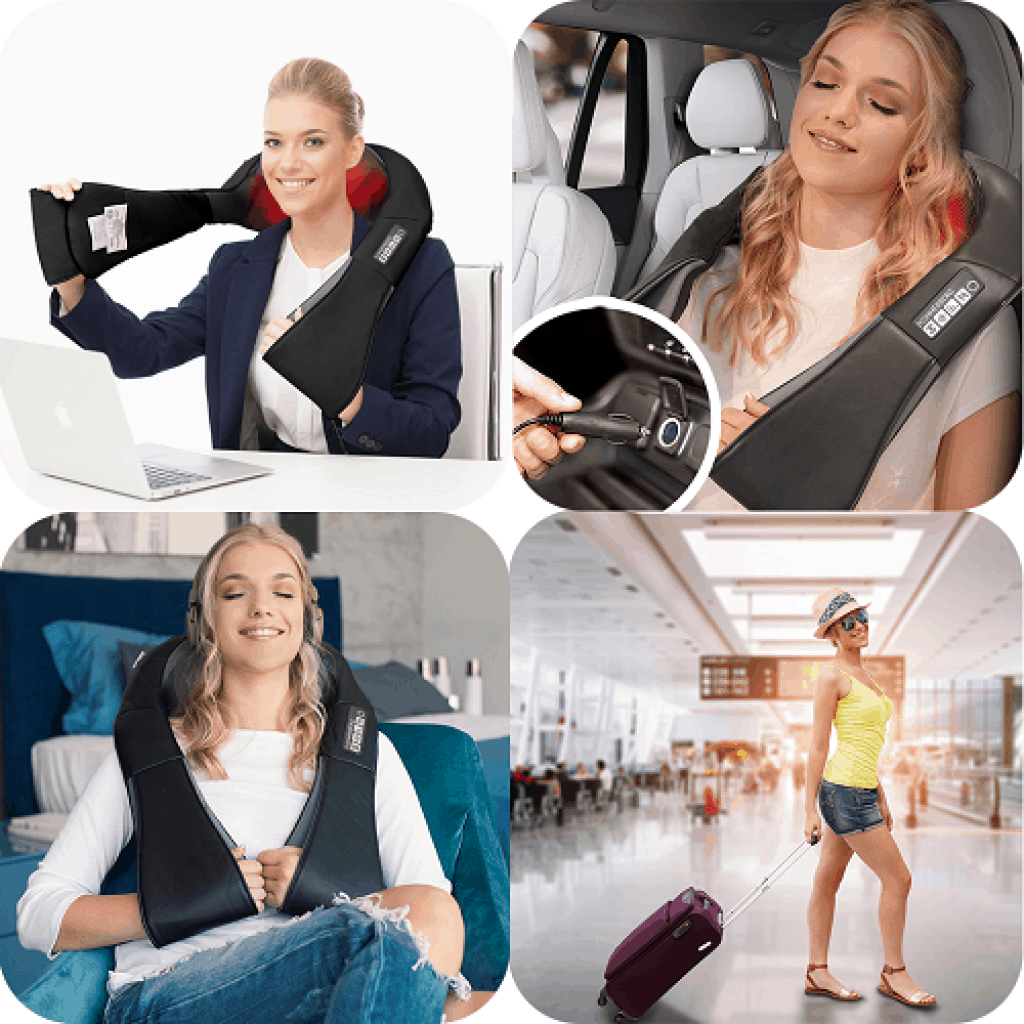 So in conclusion, the Donnerberg massager is an excellent alternative to going to the local masseur every week. Its a great massage machine for low back pain and for neck and shoulder massage. You can use it any time you want, apply as much pressure as you want, for as long as you want. For instance you can have a lovely massage while you are watching your favourite TV show. It has the interchangeable covers so you can keep it clean. Thanks to the integrated zip, the covers can quickly and easily be removed and washed in your washing machine
The Donnerberg massager will help to reduce stress, promote overall health and well being, help to release those tight muscles and promote blood flow to injured tissues. Its recommended by the German Olympic Sports Federation, and that means something. And you know, its not expensive at all. Want to check it out, click on the link below. And, before I go, just to let you know I have negotiated a 10% reduction in price for the first ten people to order one, just use this code; HILLS10 And If you spend over 120GBP use this code for a free pillow; HILLS20
Good luck.