UFC 270 PPV "Ngannou Vs Gane" + Latest News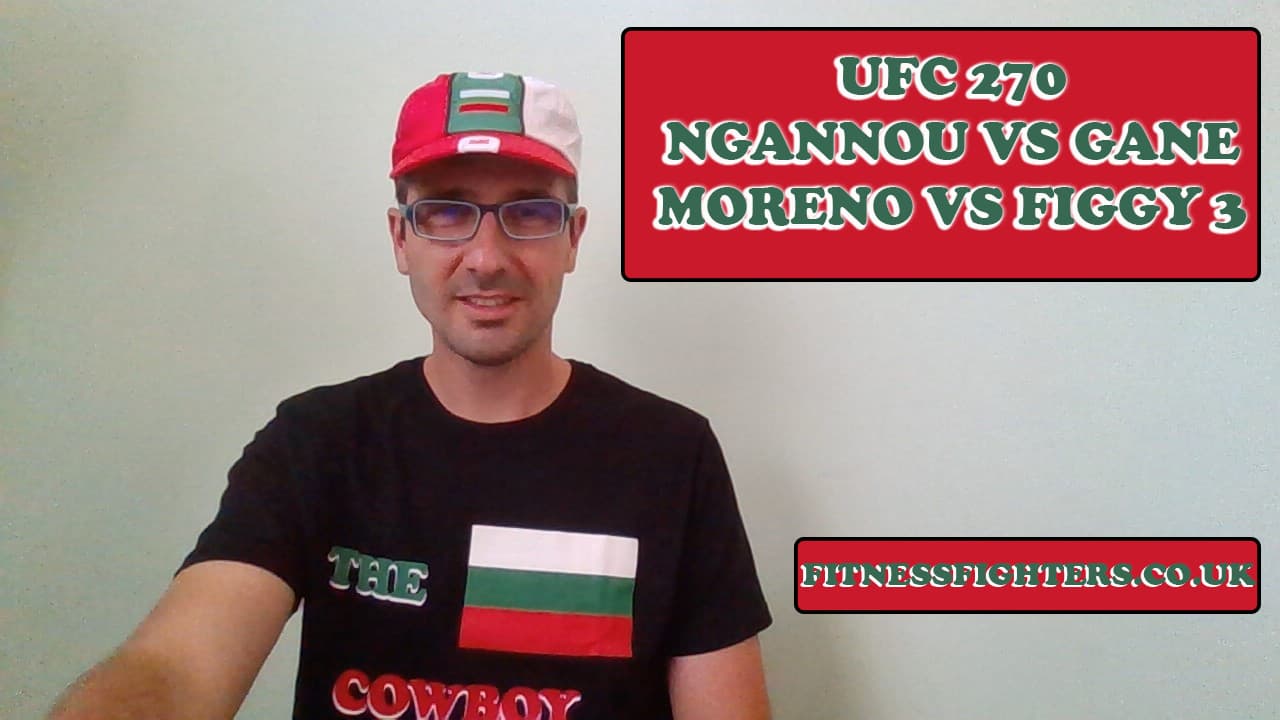 The weekend behind us was in jeopardy because 11 fights were pulled off. Some were moved to the later events, others fell through, thanks to CoVid-19 and injuries.
Yet, despite only 10 fights taking place at UFC Vegas 46, it was an entertaining event to watch. Calvin Kattar outworked Giga Chikadze in five rounds of blood and battered war of the main event, remaining at the top of UFC 145-pound rankings. This clash earned the Fight of the Night bonus, while both Octagon warriors earned the Performance of the Night bonus – Viacheslav Borshchev for a first-round body-shot TKO win over Dakota Bush and Jake Collier for round one rear-naked choke victory over Chase Sherman (co-main event).
Yet, the upcoming weekend will bring an even more entertaining event, as it's the first PPV event of the year. The UFC 270 takes place at Honda Center in Anaheim, California, United States. The early prelims are set to go down at 6 PM ET (11 PM UK time, ESPN/ESPN+) Prelims kick off at 8 PM ET (1 AM UK time, ESPN/ESPN+), while the main card gets underway at 10 PM ET (3 AM UK time, ESPN+ PPV).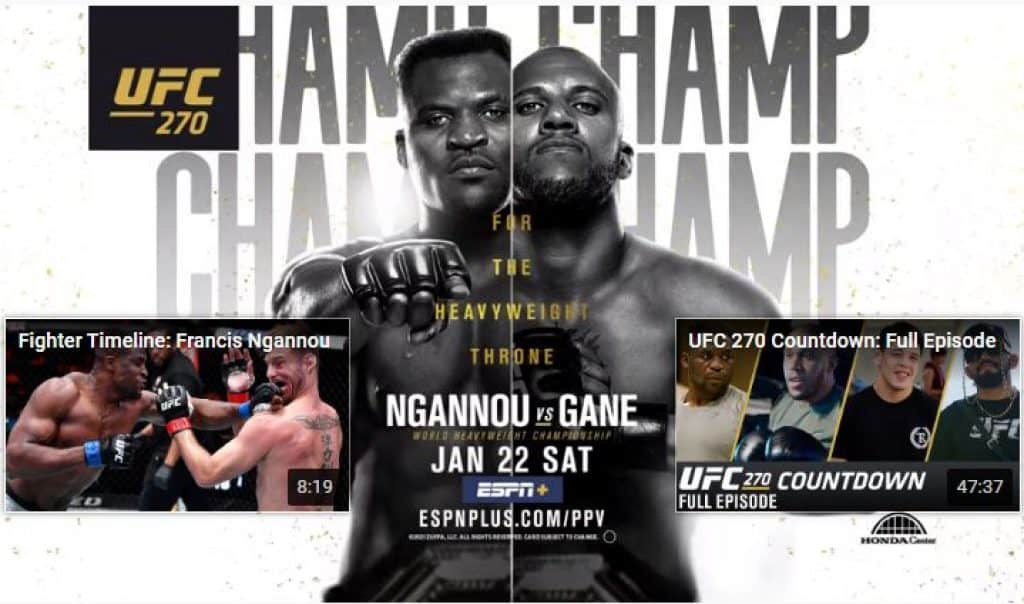 Image source: https://www.youtube.com/watch?v=Z9RBuQqJ6So
The heavyweight title bout between the current 265-pound champ and the most powerful puncher of UFC, Francis "The Predator" Ngannou, and technical Muay Thai specialist and the undefeated heavyweight division interim champion Ciryl Gane headlines the event. There's a lot of beef going on between the two. Fernand Lopez, Gane's head coach, used to train Francis Ngannou and saved him from homelessness in the streets of Paris. Yet, when Francis turned rich, he refused to pay gym fees, which heavily irritated Lopez.
If there's a guy to know the Cameroonian demolisher, it's legendary French coach and Ares FC executive sporting director (Lopez – https://thebodylockmma.com/mma/ares-fc-fighter-pay-contract-reveals-purse ). Ciryl Gane's gas tank is better, and it's very hard to hit him thanks to his tremendous ducking ability. Gane moves like a cat. Dewey Cooper improved Ngannou's kicking and combos, but it's probably not going to be enough. Prediction: Gane via decision (+333) or Gane to win (-150)
The co-main event of the evening brings the trilogy between the reigning defending, first-ever Mexican 125-pound titleholder Brandon Moreno and Brazilian lightning-fast all-around former division king Deiveison "Deus da Guerra" Figueiredo.
Moreno shocked the world in the first match and fought to a draw despite popped shoulder. Figueiredo suffered stomach issues and spent 30 hours in the hospital before the bout. Moreno ended the second fight victorious thanks to a third-round submission and won the belt.
Figueiredo cuts from 160 to 125, which leaves massive problems for his cardio and footwork, while Moreno becomes more dangerous as the fight advances into later rounds. Prediction: Moreno to win (-180) or fight starts round 3 (-200) (you can check at bestfightodds.com, depends on the bookie)
You can check all my predictions in the playlist.
The weigh-in is going to take place at 9 PM PT (noon ET, 5 PM UK time) at the UFC Fighting Championship official YouTube channel. https://www.youtube.com/c/ufc
Here is a look at the whole fight card (there is a possibility of last-minute changes, you can check at https://mmajunkie.usatoday.com/schedule, they are the fastest to update):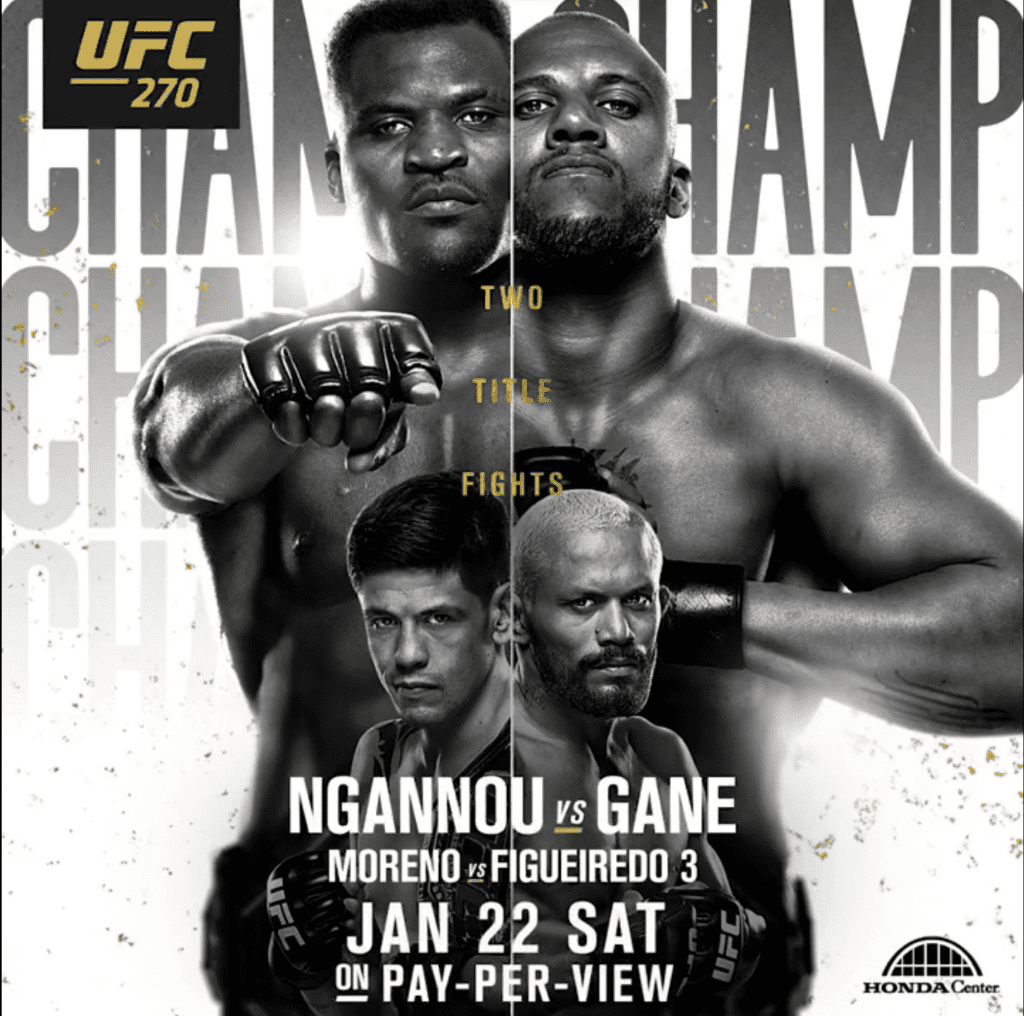 Image Source: https://twitter.com/ufc/status/1482891102571008000?s=20
Main Card, ESPN+ PPV, 10 PM ET
Francis Ngannou (16-3-0) (c) vs Ciryl Gane (10-0-0) (c) – Heavyweight (265 lbs) title fight
Brandon Moreno (19-5-2) (c) vs Deiveson Figueiredo (20-2-1) – Flyweight (125 lbs) title fight
Charles Jourdain (12 – 4 – 1) vs Ilia Topuria (11 – 0 – 0)
Said Nurmagomedov (14 – 2 – 0) vs Cody Stamann (19 – 4 – 1)
PRELIMINARY CARD ESPN, ESPN+, 8 PM ET
Wellington Turman (17 – 5 – 0) vs Rodolfo Vieira (8 – 1 – 0)
Tony Gravely (21 – 7 – 0) vs Saimon Oliveira (18 – 3 – 0)
Jack Della Maddalena (10 – 2 – 0) vs Pete Rodriguez (4 – 0 – 0)
Andre Fialho (14 – 3 – 0) vs Michel Pereira (26 – 11 – 0)
PRELIMINARY CARD, ESPN, ESPN+, 6 PM ET
Raoni Barcelos (16 – 2 – 0) vs Victor Henry (20 – 4 – 0)
Trevin Giles (14 – 3 – 0) vs Michael Morales (12 – 0 – 0)
Matt Frevola (8 – 3 – 1) vs Genaro Valdez (10 – 0 – 0)
Kay Hansen (7 – 4 – 0) vs Jasmine Jasudavicius (6 – 1 – 0)
Vanessa Demopoulos (6 – 4 – 0) vs Silvana Gomez Juarez (10 – 3 – 0)
You should pay attention to an undefeated Georgian prospect Ilia Topuria, a great pressure fighter with superb wrestling and crisp strikes, and Said Nurmagomedov, one of the greatest Dagestani prospects at the moment.
This upcoming weekend is gonna bring the fireworks, two title fights and a lot of potential finishes, and great tactical wars. Tune in on Saturday at 6 PM ET (11 PM UK time) and don't miss the first PPV event of 2022!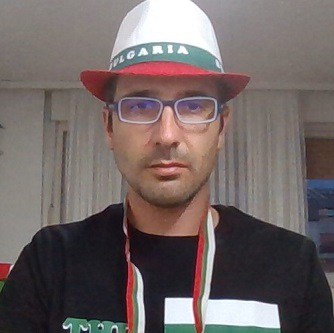 He is a master of Sports and Physical education and a a well-known Bulgarian MMA commentator ("The Bulgarian Cowboy") who also spends time as an analyst, interviewer, and podcaster. Get to know about him here.