Top 5 Elevation Training Masks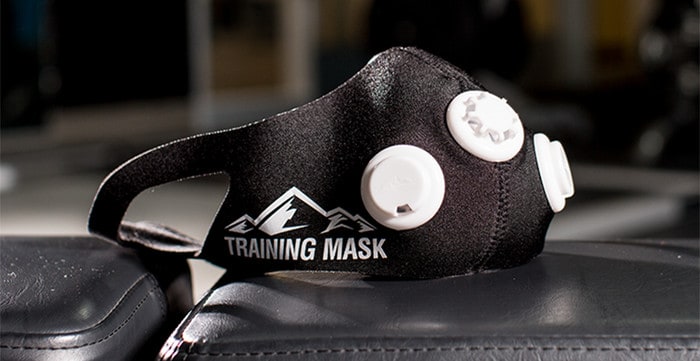 Best Elevation Training Mask
Elevation training masks are used by athletes, boxers, runners, cyclists and by participants in pretty much any other sport or cardio exercise. Their aim is to simulate the effects of high-altitude training, which has been proven to have many benefits associated with improving endurance and overall stamina. When used in conjunction with a weighted vest they give a high-intensity workout. These days there are many different brands and models available to buy, but which is the best elevation training mask?
In this guide on the top 5 elevation training masks UK customers can buy, we will be covering all you need to know about elevation masks. In addition our high altitude mask reviews feature the top 5 best sellers in the UK-based on customer reviews.
Best Training Mask Reviews
All the high altitude masks in our reviews are available on Amazon and come highly recommended. A decent training mask costs around £40 anything less is a gamble. For the best elevation masks the cost rises to between £70 and £100. However with this extra cost comes a better quality product that tends to be more durable and functional.
So let's take a look at the top 5 elevation masks available in the UK today.
Gorge Fitness High Altitude Training Mask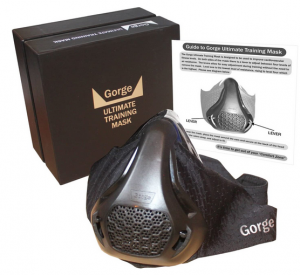 This training mask by the Gorge brand is their latest model and comes highly recommended due to its quality and affordability. With four and a half stars on Amazon and positive customer feedback this is the best budget training mask UK customers can buy.
Featuring adjustable resistance valves, which are easy to adjust while training unlike with some models, the Gorge Ultimate can simulate altitude resistance levels ranging from 3000 feet to 18000 feet.
Most notable and definitely worth a !mention is how this mask feels when wearing. Some altitude masks tend to collapse inwards towards the face when in use. This particular model doesn't suffer from what we tend to feel is a negative side towards altitude masks. When wearing the fit is comfortable and stays firmly in place.
To sum up: for the price this in an excellent product and undoubtedly better than some of the more expensive ones available. Made by a brand known to offer great quality and value you can't go wrong with this very affordable altitude training mask.
Elevation Altitude 2.0 Blackout Training Mask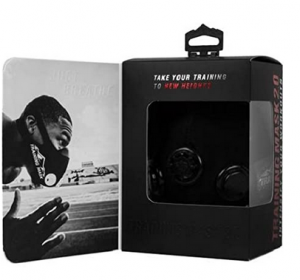 Elevation are a brand well-known for their altitude training masks. This model is not their latest one, however, it is still worthy of a place in out top 5. The latest model is the Elevation Altitude 3.0 Performance which features later on in our reviews.
With a fairly substantial price reduction, due to the release of their latest model, buyer's can grab themselves a bargain.
Made from neoprene which can be wiped down after every use this is an easy to keep clean mask. In addition the durability of this product is nothing to worry about as the stitching is of the highest quality as are the rest of the materials used in its construction.
To sum up: one of the better known brands and at a price reduction that can't be overlooked. If you don't mind not having the latest model then this is a great buy. With four and a half stars and excellent customer reviews you could do a lot worse.
£44.99
in stock
as of November 26, 2023 8:04 pm
Last updated on November 26, 2023 8:04 pm
Training Mask MK Attitude 2.0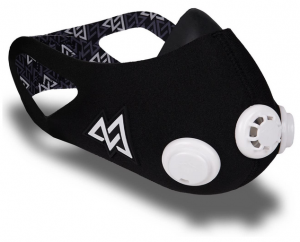 This elevation mask has been two years in the making and well worth the wait. Incorporating all the good points from the MK Attitude 1.0 and then redesigned on customer recommendations this is a very good elevation mask.
In total there are six different levels of altitude resistance. Starting at 3,000 feet and then going up in increments of 3,000 all the way to 18,000 feet this mask has plenty to test your limits.
The most notable feature of the redesigning of this elevation training mask is the fact it is a lot lighter than the first version. In addition it has been made to be far more comfortable and secure when wearing.
To sum up: this is one of the better altitude masks available and is very durable as well as highly functional. With a wide range of resistance and a firm yet comfortable fit this is the chosen training mask for many .
£44.99
in stock
2 new from £44.99
as of November 26, 2023 8:04 pm
Last updated on November 26, 2023 8:04 pm
Elevation Altitude 3.0 Performance Training Mask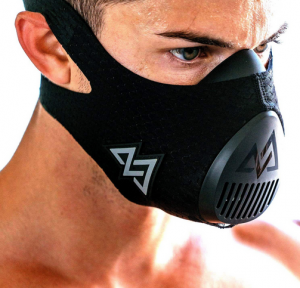 The product description for the Training Mask 3.0 says this is a cutting edge respiratory training device and we have to agree.
The construction and design are top-notch with this model. Powered by a revolutionary air flow platform which has been patented and with the flux force pressure valve, the inner workings of this altitude mask are what makes it place higher than the three previous models in our training mask reviews.
In addition there is a good range of altitude levels. In total there are six and they range from three thousand to eighteen thousand feet.
The most noteworthy feature associated with the Elevation 3.0 is the tight yet comfortable fit. There are a lot of training masks available and many of them just don't mould to the face correctly. Due to this air escapes and the effectiveness of the mask is drastically affected. This model has hit the nail on the head in terms of offering a secure fitting and doesn't release any air.
To sum up: a step up from the three featured models this is close to been the number one model in our elevation training mask reviews. However, with the next model blowing the rest out of the water Elevation 3.0 will have to settle for a very respectable second place.
£49.89
in stock
2 new from £49.89
as of November 26, 2023 8:04 pm
Last updated on November 26, 2023 8:04 pm
Phantom Athletics Training Mask – Unisex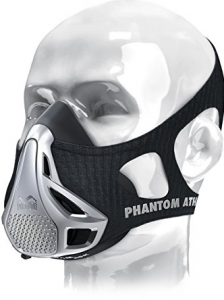 Here it is the Phantom Athletics training mask and the number one model in our best training mask reviews.
Everything about this model is as it should be with the best altitude mask. First of all the materials used are of the highest quality. In addition the fit is firm and secure at the same time as been reported to be the most comfortable model on the market.
The mask sleeve is made from a lightweight , breathable and moisture wicking high-tech fabric. This fabric is easy to keep clean unlike with some of the cheaper masks, which can start to smell a bit funky after a while.
There are in total four levels of resistance which may not be as much as the previous model reviewed. however, they are very testing especially at the top end. The four levels of resistance are beginner, advanced, professional and extreme. Trust us when we easy the extreme level is exactly that and it will take a while for the majority of people to be using the extreme level.
To sum up: this mask is suitable for all fitness levels and is set at resistance levels that help the user steadily progress. With excellent customer reviews on Amazon which is always a good indicator of a quality product, the Phantom Athletics elevation mask is our best rated elevation mask in our top 5 reviews.
out of stock
as of November 26, 2023 8:04 pm
Last updated on November 26, 2023 8:04 pm
---
Benefits Of Altitude Training
Maximised Speed and Endurance
Elevated Strength and Power
Increased Lung Capacity
Enhanced Energy Levels and Overall Wellness
Strengthens the diaphragm
Altitude training masks have gained popularity as a means to simulate high-altitude training and improve athletic performance. However, the effectiveness of altitude training masks is a topic of debate among experts.
While these masks restrict airflow and create a sensation of breathing at higher altitudes, they do not truly replicate the physiological adaptations that occur in the body at higher elevations. When training at high altitudes, the body experiences reduced oxygen levels, triggering various adaptations such as increased red blood cell production and improved oxygen utilization.
The main criticism of altitude training masks is that they primarily restrict airflow without actually reducing oxygen availability. They may make breathing more challenging, but they do not induce the same physiological changes as true high-altitude environments.
Research on the effectiveness of altitude training masks has produced mixed results. Some studies have shown modest improvements in aerobic capacity and performance, while others have found no significant benefits.
It is important to note that altitude training masks should be used with caution, as they can increase breathing resistance and potentially cause discomfort or breathing difficulties. Individuals with respiratory conditions or cardiovascular issues should consult with a healthcare professional before using these masks.
In summary, while altitude training masks may offer some benefits in terms of respiratory muscle training and mental toughness, they do not replicate the full physiological adaptations of training at high altitudes. For athletes seeking to enhance their performance, other altitude training methods, such as training at actual high-altitude locations or using specialized altitude chambers, may be more effective.
Final Words
The benefits of using an elevation mask are quite numerous and as a training aid, that pushes you to your limits, they are undeniably a good buy. All the models featured in our best elevation training mask reviews are among the very best models on the market.
Last updated on November 26, 2023 8:04 pm