Weight Cutting: How It Should and Shouldn't Be Done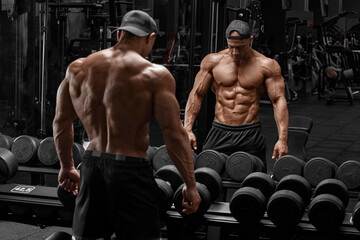 Weight Cutting

[credit: https://www.instagram.com/robblifts/]
Weight cutting is common in all combat sports. In boxing, where the difference in
weight classes can be as little as three pounds, it's commonplace to see fighters boiling
down for the weigh-in the day prior to the fight – the 24-hour delay is purposely to
give them time to rehydrate.
Many fighters have moved across weight categories during their careers. It's even
more pronounced in mixed martial arts (MMA) where the leeway in weight classes
can be as much as 15 pounds. With the UFC being a much younger sport with fewer
competitors, many of the game's big talents have taken advantage to win titles in
multiple divisions.
However, it's true to say that for fighters – for all of us – it's easier to put weight on
than take it off. When a fighter moves through weight categories, that trajectory is
generally up. See David Haye moving from cruiser to heavyweight or Floyd
Mayweather winning his first title at super-featherweight (130lbs) before moving up
to 147lbs and dominating the welterweight division for so many years.
More recently,Scotland's first Ricky Burns three-weight world champion had to turn down what
would have been the country's biggest fight in decades when the veteran deemed it too
much of a risk to come back down to Josh Taylor's light-welterweight.
While weight cutting is commonplace amongst the professional classes, as in many
sports, what happens in the big leagues trickles down to the amateurs. Many amateur
fighters do cut weight prior to bouts. There are good ways to do so and not-so-good
ways. Let's have a look at both.
Extreme cutting
First, the bad bits. In 2021, MMA athlete Julija Stoliarenko collapsed at her weigh-in.
Stoliarenko had tried to cut too much weight too quickly, and as a result, her fight was
cancelled. She was one of the lucky ones. There's so much pressure on the pros to be
on the bill and pick up the purse that fighters have died as a result of extreme cutting.
In 2013, Brazilian MMA fighter Leandro Feijao Souza set himself the impossible
task of losing 33 pounds in a week and tragically paid for his efforts with his life. The
main way most fighters cut weight is by dehydration – up to 60% of our body is water
weight – and this really shouldn't be done without professional supervision.
Boxing clever
For the amateur, the most sensible way of making weight for a fight is through
planning and maintenance. If losing a few pounds will get you in better general
condition, then great, but a good weight loss plan will also come with an ongoing
maintenance plan and be customised to the individual. Developing a good relationship
with food to achieve balanced nutrition is key – Manchester fighter Ricky Hatton
would likely be the first to admit he may have had a longer career had he not indulged
his passions for the pub and the chip shop quite so hard between training camps.
Balanced nutrition is a great way to cut weight, especially if you're training. Simple
things like portion control can help – remember, you still need to put energy into your
body to help with training. Extreme weight loss is unhealthy and won't leave you at a
fighting weight. Smaller portions mean you can manage what goes in with a little
more regularity – think about it like filling up your car. If you put a full tank of petrol
in, your car weighs more. If you don't put any petrol in, you won't even be able to go
on a small journey.
One advantage the amateur may even have over the professional is support – when a
professional fighter is paying the wages of their entourage, they may not get much
pushback over potentially bad decisions. Amateur clubs and gyms where fighters
congregate, socialise, and are often entered into competition en masse by the club can
be excellent sources of encouragement and sharing best practices. It could (and will
most likely) be other fighters are on the same weight management journey.
It's also worth being mindful that lulls in performance caused by weight or nutritional
issues can lead to common injuries like sprains, strains and cramps.
Combat sportspeople are modern-day gladiators in a square nylon coliseum. Much as
Rome wasn't built in a day, neither is a fighting body or fighting fitness. Not
respecting an opponent has seen many fighters' pride come before a (literal) fall.
Boxing clever is treating weight cutting in the same manner.