What Are The Best Hand Wraps For Boxing?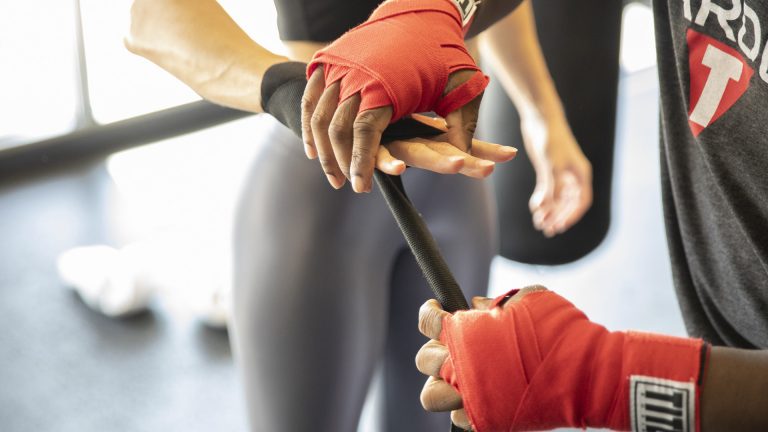 Any boxer out there will tell you that the hands are the tools of their trade and that it makes perfect sense to protect them from any unnecessary injury. If you are new to boxing training you may well have already bought a good pair of boxing gloves, but how much thought have you put in to choosing a good pair of boxing hand wraps?
Been as affordable as they are, there isn't a single reason I can think of to not invest in a good pair of boxing hand wraps. Although they don't completely protect your hands from the powerful impact forces of your own punches, they do offer some protection against fractures and sprains. When put on correctly hand wraps help to strengthen and protect the wrists by providing plenty of additional support. They also make the fist feel more solid when clenched and offer extra protection for the knuckles.
When it comes to buying hand wraps there are number of different types available to choose from. If you are only just getting started with your boxing training it can be confusing trying to decide which type is the best for your needs.
In our guide to choosing the best boxing hand wraps, we will be sharing everything you need to know for when buying. In our buying guide you will find all the important information you should really know about choosing hand wraps for wrist to fist protection.
Top 5 Best Hand Wraps For Boxing
1
Beast Gear Advanced Boxing Hand Wraps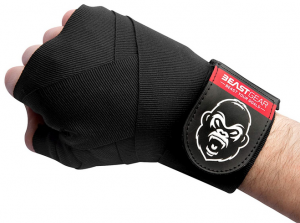 When it comes to small and affordable boxing equipment such as mouthguards, skipping ropes and hand wraps the Beast Gear brand is one of the best in the business. Although they are not necessarily a boxing brand they do produce very high quality training gear.
The Beast Gear Advanced Boxing Wraps are designed to protect the knuckles, wrists, fingers, muscles and tendons. This is achieved with a combination of materials that provide the perfect mix of durability, elasticity and comfort. If you are working the punch bag, pads or throwing bombs at your sparring partner, you can rest assured knowing that your hands are safe.
The length of these wraps is 4.5m and they are said to be suitable for everyone. However, if you have very small hands they may be a bit too long.
Featuring a velcro strap that fits very securely and a thumb loop they can be wrapped up tightly to offer a secure and comfortable fit.
Beast Gear training equipment is more expensive than most other brands due to the quality of materials used in their products. When it comes to protecting your hands and the difference between a good pair of hand wraps and a poor quality pair is a few quid, does it really matter? When the best hand wraps on the market cost less than £10, do your hands a favour and buy a set.
---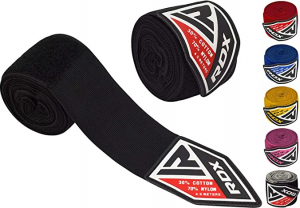 These hand wraps by RDX are made from the very best materials and are advertised as been the most durable wrist wraps money can buy. This is mainly due to the carbon fiber material that is used to weave them together. Mexican in style and made from polyester and cotton they are designed to be very comfortable for the wearer.
They are also thicker than most providing extra protection for the hands and enhanced shock absorbency. At 4.5 meters long and with anti-sweat properties they tick all the right boxes.
Featuring a hook and loop closure for easy on and off, you won't be wasting any time wrapping up with them.
As usual the RDX brand strive to provide a quality product at a reasonable price. With plenty of colours to choose from they are worth checking out.
---
3
Venum Kontact Boxing Handwraps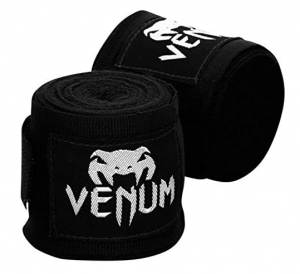 Every boxer wants a pair of wraps that are comfortable to wear and that offer adequate protection. With these qualities in mind the Venum Kontact Boxing Handwraps come with very good feedback from previous buyers.
Although these are Mexican hand wraps in design they do seem to be less stretchy than other brands. This seems to be a quality that many people like though, as they are very popular in terms of sales.
There are two sizes to choose from these are 2.5 meters and 4 meters. There is also numerous colour options and they and you can chuck them in the washing machine without worrying it will ruin them.
With both a thumb strap and hook and loop closure these are a great pair of hand wraps by Venum. Offering protection and shock absorbancy from wrist to fist they come recommended by many.
---
4
Meister Elastic Cotton Hand Wraps
Enhance your performance with Meister Elastic Cotton Hand Wraps – the ultimate choice for MMA enthusiasts and boxing athletes. Experience unbeatable comfort and protection with these semi-elastic wraps, meticulously designed to safeguard your knuckles, hands, and wrists. Boasting a generous 180-inch length, these wraps ensure comprehensive coverage.
The inclusion of a reliable thumb loop and robust Velcro closure guarantees a secure and customized fit, allowing you to focus solely on your training or match. These wraps are more than just protective gear; they're a testament to durability, as they're both machine-washable and incredibly tough.
With a spectrum of 18 vibrant colors, you can express your style while prioritizing safety. Dominate in style, whether you're in the MMA ring, boxing arena, or practicing Muay Thai. Elevate your training regimen with Meister Elastic Cotton Hand Wraps – the partner every dedicated athlete deserves.
---
5
RDX Training Boxing Inner Gloves Hand Wraps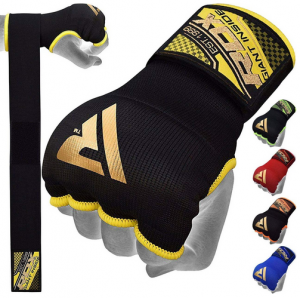 With more people than ever before deciding to buy boxing inner gloves instead of traditional wraps, it makes sense that we include them in our top 5 list. If you are new to boxing and haven't yet mastered the art of wrapping up, then inner glove wraps should be considered. Even if you have been training for years, the convenience of inner gloves may be something you are interested in.
There was a time when the majority of inner glove hand wraps were pretty much useless. Move on a few years and there are some very good options available.
The RDX Boxing Inner Gloves are currently the best selling inner gloves in the UK. They feature a super shock absorbent gel padded knuckle area for ultimate protection. In addition the 75cm cotton hand wrap attachment provides plenty of wrist support.
One benefit of these gloves over normal hand wraps is their hygienic properties. With unrivaled anti-moisture properties they will keep your hands dry while training. Made from woven carbon fiber they are extremely durable and will also last for a long time.
With a choice of seven colours and an affordable price tag the RDX Inner Gloves have something to offer most people. If time and convenience is a main concern I would recommend them over hand wraps.
---
How To Choose Boxing Hand Wraps
Why Wear Hand Wraps
The main purpose of hand wraps is to provide protection and support. It doesn't matter whether your a boxer or muay thai fighter, they are an essential piece of safety equipment that should be used in all types of boxing training.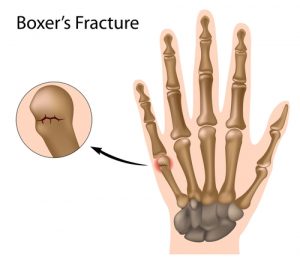 When put on correctly hand wraps provide adequate knuckle protection in addition to giving ample wrist support. As a whole the wraps strengthen your fist making it feel rigid and more able to take the impact forces of your punches without sustaining an injury.
Many people make the mistake of not wrapping up properly or not wrapping up at all, either of these scenarios will eventually lead to an injury. As anyone who has had a hand or wrist injury already knows that there is nothing worse than not been able to train.
Consequently, hand wraps are a cheap and effective way to protect the tools of your trade. If you are serious about boxing I highly recommend investing in a good pair, high quality hand wraps are just as important as a pair of high quality boxing gloves.
Do hand wraps make you hit harder?
Hand wraps are primarily used to protect the hands and wrists during boxing or other combat sports. While they provide support and stability, they do not directly make you hit harder (according to TitleBoxing.com). The power of your punches comes from proper technique, strength, and conditioning.
Are hand wraps or gloves better?
Hand wraps and boxing gloves serve different purposes and are both important for protecting your hands during boxing. Hand wraps provide support and stability to your wrists and knuckles, while boxing gloves offer padding and protection for your hands. It is recommended to use both hand wraps and gloves for optimal hand protection during boxing.
Different Type Of Boxing Hand Wraps
Traditional Hand Wraps
Traditional hand wraps are made from cotton with a tight weave. Due to the cotton used in this type of hand wraps there is no stretch in them. This means that hands can be wrapped very tightly giving a solid fist. However, if done too tightly blood flow can be restricted to your fingers. Consequently, this is the main reason most fighters prefer Mexican hand wraps for training as they are considered to be more comfortable.
Mexican Hand Wraps
Mexican hand wraps are designed using an elastic material that is obviously stretchy. The elasticity of these boxing hand wraps makes them a lot more comfortable to wear than the traditional type. Another added benefit is that they stay tight through a workout without coming loose, unless the they have been put on the wrong way. Finally, they are less likely to dig into your fingers when wrapped tightly than traditional boxing wraps.
Inner Glove Hand Wraps
There was a time when I would advise staying well clear of inner glove hand wraps. In the last few years though there has been some drastic improvements made and they are now up to standard. The main difference with this type of protection is that they more of a glove than a hand wrap. They do have a short wrap attached, this is used solely around the wrist and not the whole hand.
This way of protecting hands is highly convenient and a lot quicker than wrapping up. However, they are not as good at providing protection and support as hand wraps and they don't fit as tightly as some may want. If you are in a rush and only doing a light workout then these will suffice. If you intend going into beast mode on the punch bag then stay well clear.
Gauze/Tape
Tape is only worn by professional fighters in competitive bouts and is not something to worry about for training purposes.
How Long Should Boxing Hand Wraps Be?
Hand wraps come in various lengths/sizes to accommodate different hand sizes and personal preferences. The most common available length of hand wraps are 108" and 180". The difference in length determines how much knuckle padding and wrist support you gain when wrapping up.
Equipment Tip: if you have weak wrists go for 180" hand wraps as you can provide more support to the wrist area.
Traditional Or Mexican Hand Wraps?
As explained earlier glove wraps are pretty much useless and should be avoided if you are serious about training and looking after your hands. Consequently this leaves us with traditional or Mexican.
Both of these type of hand wraps do the job they are supposed to do the main difference been that traditional are non stretch and Mexican are stretchy.
With traditional you get a tight fit that can be quite uncomfortable where as with Mexican the fit is very tight but at the same time a lot more comfortable and less likely to come loose.
So when deciding upon hand wraps a lot of the decision making is down to personal preference as both types are up to standard. In my opinion I would go for Mexican hand wraps every time for the fact that they are a lot more comfortable therefore it is less likely that you will have to readjust them during training sessions.
Equipment Tip: Go for a wide velcro strap when choosing hand wraps as the extra Velcro helps ensure a tighter fit that won't come loose in boxing training.
How Long Do Hand Wraps Last?
On average a good quality pair of hand wraps will last for between 12 to 18 months, but as with all equipment it depends on how many times they are used and if they are taken care of properly.
Similar to gloves after a training session you shouldn't leave your hand wraps in your kit bag as they will quickly begin to fester. Worse still is leaving your hand wraps inside your gloves with your gloves in your kit bag.
After every few training sessions it is advisable to wash your wraps as this will help them last longer in addition to been hygienic. Hand wraps can be cleaned using a washing machine and should be hung up to dry.
How To Put on Hand Wraps/Wrapping Up
In this short video you can watch as somebody shows the correct way to wrap up. The method he uses ensures there is correct wrist and thumb support in addition to adequate padding in the knuckle area.
Equipment Tip: Open and close your hand now and again as you are wrapping up as this ensures that you aren't putting them on too tight.
Common Mistakes Made When Wrapping Up
Putting hand wraps on too tight – Aside from been uncomfortable putting hand wraps on too tight can reduce circulation and blood flow to the fingers and will eventually have to be taken off.
Putting them on too loose – Failing to wrap up tight enough will only lead to you having to redo them mid workout and is a ball ache.
Not making a fist during the wrapping process – Failing to make a fist at the correct times during the wrapping process will leave you with a less secure and snug fit. If you are unsure how to wrap up correctly then watch the YouTube video above for a step by step guide.
Having the wraps the wrong way – Starting to wrap your hands with the wrong side down means at the end of the process the velcro tab is facing the wrong way and needs to be twisted to fit. Due to you having to twist the wraps to make the velcro fit this more often than not leads to you having to redo them as it keeps coming loose.
Not providing enough wrist support – Safety wise this is the most common mistake to avoid as failing to support your wrists properly can lead to an injury that could have you out of action for a while.
Not wrapping around the thumb – Ignoring the thumb during the wrapping process is a scholboy error. Thumbs need to be held securely in place in training.
To Conclude
So, what are the best hand wraps for boxing? In my opinion it has to be the one's that provide the most protection and support, as that is what they are supposed to do. Taking this into consideration we choose the Title Professional Hand Wraps. Although a little expensive for what they are, you can guarantee that the wrist support will be more than adequate and that if wrapped correctly they will give enough protection, been 180 inches in length.