Top 5 Best Boxing Shoes – A Fighters Guide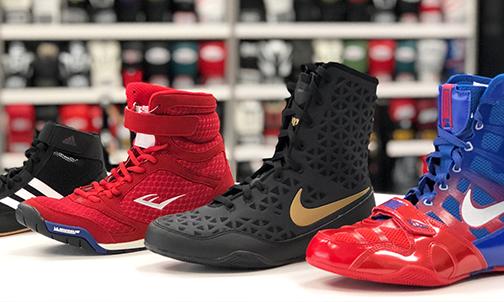 Having a pair of the top quality boxing shoes in your locker or kit bag is just as important as having a good pair of boxing gloves. The importance of this often overlooked piece of gear shouldn't be underestimated by any aspiring boxer. Boxing boots are an essential piece of kit for a number of good reasons all of which we will cover in this guide.
In our guide to choosing the best boxing shoes we will be explaining everything you need to know about shoes for boxing. From all the different types to the benefits of owning a pair and everything in between. We will also be including any information that will help you to find the right pair for your feet.
For those of you that are just here for our top list of the best available boots in 2023, you can compare the models we feature in our reviews below.
Best Boxing Shoes In 2023
IMAGE
BRAND/MODEL
TYPE
PRICES
adidas Box Hog 2
Hi-Top - Perfect boots for agile footwork in the ring
One piece Gum rubber outsole for ideal traction and grip
Outer Material: Synthetic
Inner Material: Mesh
Sole: Gum Rubber
View Amazon Prices
adidas Speedex 16.1
Mid-Cut - Mesh Upper - Provides a breathable environment, keeping the wearer cool and dry.
Ankle Straps - Offers support and stability to the ankle.
Outer Material: Synthetic
View Amazon Prices
Lonsdale Contender
Mid-Cut - Outer Material: Leather
Inner Material: Textile
Sole: EVA
Closure: Speed-Laces
View Amazon Prices
Reebok SS19
Mid-Cut - Flexweave upper
High-cut design
Sole: Rubber
Closure: Lace-Up
Shoe Width: M
View Amazon Prices
Rival RSX Guerrero
Low Top - Made of High Quality PU
Carbon Textured Heel Cap
Ultra Resistant Rubber Outsole
View Amazon Prices
Top 5 Boxing Shoes Reviews
1
adidas Box Hog 2 Boxing Boots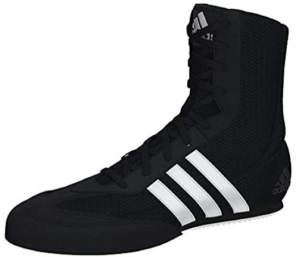 Adidas are one of the handful of boxing brands that make very good quality shoes for boxing. The adidas Box Hog 2 have been around for some time and are still just as popular as when they were first launched.
Offering a good mix of affordability and quality they make a good choice for both beginners and those with plenty of experience in the ring.
Featuring a mid-cut design they provide plenty of ankle support without feeling too restrictive. The Gum rubber outsole doesn't stick to the floor and offers just the right amount of grip and traction.
The materials used in their construction have been designed with comfort, lightweight and durability in mind.
With excellent reviews from previous buyers, the Box Hog 2 come recommended as the best value for money boxing shoes on the market. Offering unbeatable quality for the price they are definitely worth taking a look at, especially if you aren't wanting to spend too much.
---
The latest shoes in the very popular adidas Speedex range are the adidas Speedex 16.1. Designed with expert footwork in mind they tick all the right boxes for a good quality pair of boxing training shoes. One of the main selling points of these boots is that they are very lightweight. This is due to the adiWear outsole which is considerably lighter than other brands. The outsole also has a multi-directional grip to keep you balanced and steady on your feet when moving around the ring or working the heavy bag.
In terms of support the ankle straps that they have work very effectively and don't have a negative impact on comfort. Another positive is the use of a single layer lightweight mesh upper, this allows your feet to breathe and stay cool. This works by venting warm out and cool air in to the boots when your feet are moving around.
Unlike many others the Speedex shoes are true to your normal shoe size, meaning you don't have to worry about buying a size larger or smaller.
Although they are quite expensive these are some very well-designed boxing shoes. If you are already fast on your feet the overall lightweight of these shoes could potentially make you even quicker, they are called Speedex for a reason.
Click Here For Latest Adidas Speedex Model
---
3
Lonsdale Mens Contender Boxing Boots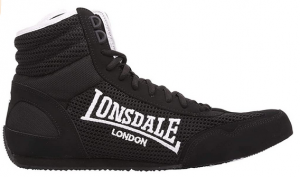 Lonsdale have a long history and have been making boxing gear since 1960. In that time they have built a solid reputation for producing top quality boxing equipment at great prices. The Lonsdale Contender Boxing Boots are a prime example of the brands quality and affordability. Costing a fraction of the price of any of the adidas or reebok boxing shoes in our reviews they are a great alternative to the more expensive options.
Featuring a mid-cut design the Contender boots offer plenty of ankle support without affecting mobility. The ankle area is also quilted and padded for maximum comfort. They come with a full lace front and feature mesh panels that do a great job with allowing plenty of airflow. The boxing specific midsole is another positive feature.
These shoes have the basics covered, they provide adequate ankle support without been to restrictive are comfortable to wear, lightweight and have good traction. For the price you can't go wrong with these boots by Lonsdale
They provide everything you need in good a boxing boot at an affordable price.
---
4
Reebok Boxing Boots SS19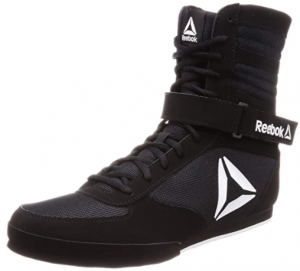 Like the adidas Box Hog 2 these boots by Reebok have been around for a while and are still very popular. Designed to keep you moving with speed and confidence a lot of thought has been put in to their construction. To be honest there aren't that many Reebok boxing shoes that I would recommend with these been an exception.
Crafted to perfection, the synthetic nobuck upper provides unwavering comfort and support, wrapping your foot securely for every move you make. The incorporation of mesh elements amplifies breathability, ensuring your feet stay cool and dry during intense training sessions.
The mid-cut design of these boots serves a dual purpose: enhancing ankle stability and lending a touch of modern style to your gear. The ankle strap takes things a step further by not only promoting a secure fit but also delivering an extra layer of support that's invaluable in combat sports.
The EVA midsole is a testament to Reebok's commitment to performance. It's lightweight yet exceptionally durable, offering the ideal cushioning for your feet without adding any unnecessary bulk.
Perfect for MMA enthusiasts and boxing athletes alike, the Reebok Men's Boxing Boot is more than just footwear; it's a partner in your journey to success. Elevate your training, dominate your matches, and conquer the ring with the confidence that comes from wearing quality gear trusted by athletes worldwide. With a commendable 4.4-star rating and glowing reviews on Amazon, these boots are a true contender in the world of combat sports.
---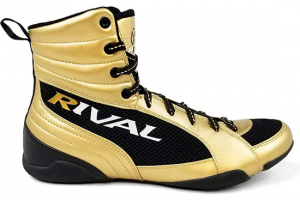 Elevate your boxing performance with the Rival RSX-Guerrero Deluxe Boxing Boots Gold, a striking fusion of design and technical prowess. Crafted for both training and competition, these boots are a testament to innovation.
Engineered with a mid-top design, these boots offer exceptional ankle support and stability, giving you the edge during training and fights. The carbon fibre textured heel cap not only provides added support but also extends the boot's lifespan. The enhanced inner fitting ensures maximum comfort, and the breathable mesh panels on each side offer ventilation, preventing discomfort even during intense sessions.
What sets these boots apart is their upgraded sole, featuring an improved rubber compound for superior traction and durability. The integrated inner steel shaft enhances performance and longevity, making these boots a reliable investment.
Designed for professional use and longevity, the Rival RSX-Guerrero Deluxe is available in a captivating gold hue. Regardless of your skill level, these boots guarantee the highest quality and performance. Embrace excellence in every step and make these boxing boots an integral part of your journey to success.
---
Why Do You Need Boxing Shoes?
If you are new to boxing you might be wondering, why do I need boxing shoes? and what is wrong with wearing trainers?
In addition to the ankle ankle support that a good quality pair of boots offers and the fact that they help to improve footwork and increase power transference, owning a good pair of boxing shoes for training is a necessity for safety reasons.
Trainers are not designed for the quick lateral movements that happen when boxing and wearing them makes it far more likely that you will sustain an ankle injury. Most boxing gyms won't even let you spar in the ring without wearing boots.
Benefits Of Owning A Pair Of Boxing Shoes
The benefits of owning a pair of boxing shoes might no seem obvious to most people, after all there just another pair of shoes right ! Wrong, boxing shoes are specifically designed to enhance all of the following attributes in a boxer.
Balance

Footwork/Mobility

Comfort

Power
For a more detailed analysis of how boxing shoes can improve your overall performance as a boxer and enhance essential attributes needed to become a good boxer see below.
Balance
Owning a pair of boxing shoes will considerably improve your sense of balance in the ring. The soles are specifically designed to provide just enough grip so that you are not caught off balance when suddenly moving, too much grip and your foot can stick to the floor, similarly not enough and your on your backside.
Footwork/Mobility
Similar to balance, the grip of your shoes can also drastically affect your footwork. Consequently in addition to having the right amount of grip, having the correct support, can help improve both your footwork and mobility.
Having too much support and by this I mean material on your boots that isn't really needed and is just there for the aesthetics of the boots can add unwanted weight to your shoes. This added weight can affect your movement so try to go for a lighter pair unless of course you prefer a heavier boxing shoe as some do.
Comfort
The comfort that a pair of boxing shoes offers can't be beaten, when you find the correct pair you will instantly know what I mean.
Whether or not a shoe feels comfortable is down to the insoles and how the shoe feels when fully laced up. Furthermore having the right insoles and feeling comfortable in them is essential, as nobody wants to be thinking about their insoles when they should be training.
Once you have found a pair of boxing boots your comfortable in you should notice an improvement in your performance.
Power
Believe it or not boxing shoes can increase the power of your punch. How you may ask ? Well, the thinner sole means that less energy is lost than when compared to thicker soles, Why ? Thicker soles absorb more of the energy when you are pushing down on the floor with your foot than a thinner sole does. Although the difference isn't huge, any advantage in a contact sport is a plus.
---
Different Types Of Boxing Shoes
There are three types of boxing shoe, these are Low top, Mid top and Hi top. In general these three types of boot are essentially the same the only difference been is how high they rise above the ankle.
The height of your boxing shoes can have a knock on effect, which can affect other boxing attributes. For example Hi-Top's offer more ankle support than Mid and Low-Top's. Consequently with them been so high that can also affect your mobility and ability to move around the ring.
Each of the three types of boxing shoe have their own pro's and cons, choosing the right pair is down to personal preference. We all want something different from the training equipment we buy to see what you will get when buying low, mid or hi-top boxing shoes see below.
---
Low-Top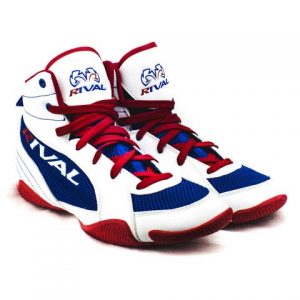 As the name suggests these are the lowest out of the three style's of boxing shoe. How low they rest depends on the brand, for example Rival make a low top that rests just above the ankle, where as Grants have one version that rests just a bit lower.
If you do decide upon a pair of low tops remember they provide less support than mid or hi tops. However because they are less restrictive than hi-tops you may find it easier to move your feet around.
Purchasing Do & Don't
Do
Buy a brand that is established

Make sure you lace up when trying them on to get a proper feel of the shore
Don't
Don't buy a pair if you are prone to ankle injuries
Do You Need Them?
If you have strong ankles and are less likely to pick up an ankle injury than most and you are comfortable with a boxing shoe that provides little in way of ankle support, but gives you a little edge in mobility, then you probably would benefit from a pair of low tops.
---
Mid-Top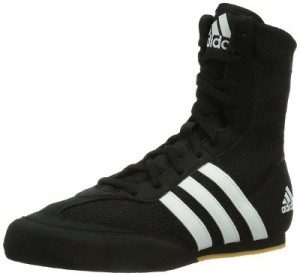 The mid top or mid cut as they are also known rise a few inches above the ankle. They are known to provide good ankle support at the same time as leaving you remaining agile on your feet. These are the preferred choice boxing boot cut for most professional boxers the world over making them the most popular boxing boot among amateurs as well.
Purchasing Do & Don't
Do
Try them on if possible
Make sure there is enough airflow

Buy a good brand because you get what you pay for with boxing boots
Don't
Don't buy a brand you haven't heard of even if they look the part there more than likely not
Do You Need Them ?
In my opinion yes you do need a good quality pair of mid tops. They are without question the best boot out of the three different types available. Whenever you watch a boxing match if you look at what kind of boxing shoe most professional boxers wear you will find that between 70% and 80% choose to wear a mid top. They provide enough support as not to be too restrictive at the same time. In addition because they are not too high they don't restrict mobility and foot movement.
Last updated on November 26, 2023 7:52 pm
---
Hi-Top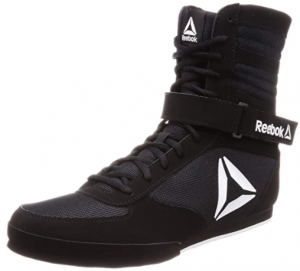 Hi tops rise a few inches higher than mid tops and typically stop just below the calf muscle. The benefits of hi tops are the extra ankle support that they provide and the added feeling of been more secure in your stance. The only downside is that some people feel a little restricted in their movement when wearing a hi top.
Purchasing Do & Don't
Do
Buy a pair if you have weak ankles the extra support will help prevent injury

Make sure there is plenty of air holes (hi tops get sweatier than low or mid tops)
Don't
Don't buy a pair if you like to feel light on your feet and not restricted with your foot movements
Do You Need Them ?
The answer to this question depends on a few things, if we are talking safety then yes you do need a pair. Hi tops offer the most ankle support and protection out of any boxing shoe. Typically the hi top is best suited for boxers with weaker ankles, although this doesn't have to be the case some people just prefer the way they feel when compared to other boxing shoes.
Last updated on November 26, 2023 7:52 pm
---
What Are The Best Boxing Training Shoes ?
This all depends on what it is that your looking to gain from your boots, if we are talking brands then Nike, Adidas and are the most popular brands. However on overall performance and taking into consideration the support, mobility and height of the boots, then personally I would recommend a mid top.
The mid top gives you the best of both the low and hi-top, been in between them both in terms of height means you do get a fair bit of support from them. In addition the fact that they don't rise so high also means you still feel mobile in them. Also you have to ask yourself, why do most professional boxers wear them? The reason is that they feel most comfortable in a pair of mid tops.
Equipment Tip: The most popular boxing shoe is the Adidas Box Hog
---
Boxing Shoes

v

Trainers
In this match up we will be putting boxing shoes up against trainers. A lot of newcomers to boxing start off wearing trainers to the gym to practice pad or heavy bag work so it makes sense to put these two against each other.
First of all there is no denying that trainers are comfortable to wear but when it comes to boxing training they are not ideal. Trainers offer virtually no support to your ankle and with all the footwork and sudden movements that boxing involves at some point you are going to hurt yourself wearing them.
When it comes to grip again there is no denying that trainers provide excellent grip. However in terms of boxing and training the grip they provide is too much. If you are already wearing trainers to train in you will know what i mean when I say at times you will find your feet sticking to the ground when back peddling, and if your not careful you will lose your balance and end up on the floor.
On the other hand the boxing shoe provides perfect grip for pivoting and moving around the ring without sticking to the floor. In addition the added support is a must in any sport where you are constantly moving your feet.
And The Winner Is….
Without a shadow of a doubt the winner by a unanimous decision is………. boxing shoes
The boxing shoe
Less friction for faster movement , counter
---
Women's Boxing Shoes
A few years ago you would of found it quite hard to find a good pair of women's boxing boots. Nowadays there are many good quality women's boots on the market with Adidas and Lonsdale making some of the best. There are not any real differences between men's and women's boxing boots the only noticeable difference been in the colour. If you are a women into boxing and looking for some new boots my advice would be to search the internet with Amazon been a good starting point.
Last updated on November 26, 2023 7:52 pm
---
Purchasing Considerations
As you can see there is a lot to consider before purchasing your boxing shoes. Before buying yourself a new pair take into consideration all of the following and you will have a much better chance of finding the perfect pair for you and What you need.
Support
The amount of support your choice of boxing shoe provides is down to you. The three types of boxing shoes, low, mid and high top all offer different levels of ankle support.
The low top offers little in support mainly because they are generally ankle level or even below (depending on the brand). On the flipside this lack of support leads to more mobility, with the ankles been less restricted when it comes to moving.
On the opposite side hi tops offer plenty in support, however this leads to less mobility.
As mentioned earlier the level of support your shoes provide is up to you and down to personal preference.
Material
The materials your boots are made of is a good indication about the quality of the product. All good quality boxing boots are made from either leather or suede with rubber sole.
Sole
The sole is an important part of the boxing shoe, they provide the grip that is needed to keep you on your feet but at the same time provide just enough traction to be able to pivot or move around the ring without slipping.
Most soles are made from rubber and are a lot thinner than normal trainers. Consequently this leads to you feeling better connected with the ground which also leads to better power transference when throwing a punch.
A good sole should feel comfortable to wear and provide just the right amount of grip.
Quality
Obviously the quality of your boxing boots is a major purchasing consideration. If you want a pair that are going to go the distance then you are best off choosing one of the popular brands. When it comes to boxing shoes Nike and Adidas are the heavyweights and tend to be most professional boxers brand of choice.
The main features to look at when deciding upon the quality of your boots are the sole, materials and brand.
Final Thoughts
So now you know pretty much all there is to know about how to buy the best boxing shoes. Hopefully you found the information contained in this guide useful in helping you purchase your next pair of boxing boots. For more guides on boxing related equipment such as a fighter's guide to the best boxing gloves or a fighter's guide to the best punch bag check out our equipment page.