Best Weighted Vest UK Reviews 2023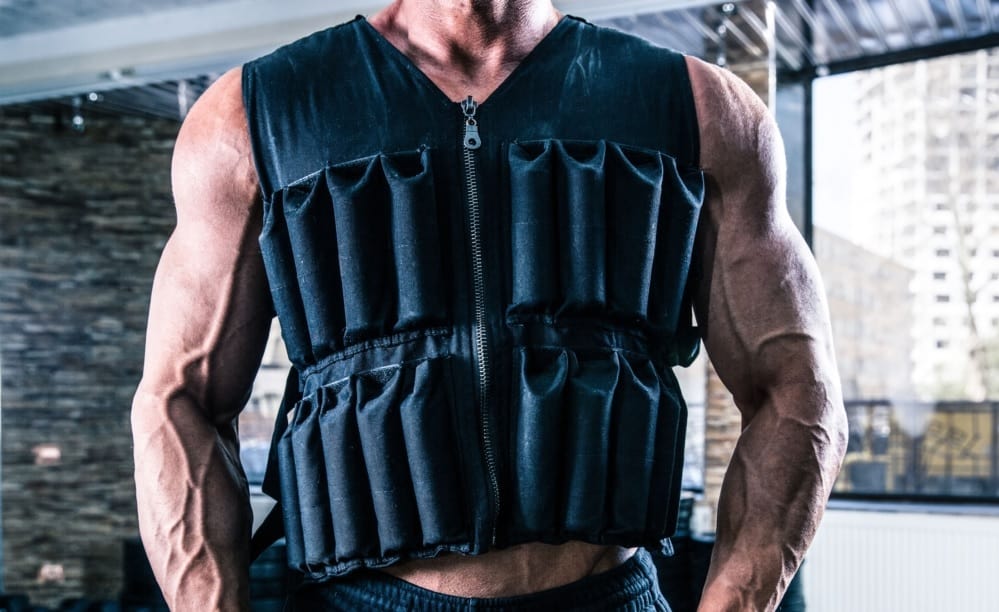 Wearing a weighted vest is a great way to add an extra level of intensity to your workout. It doesn't matter whether you are running, walking taking part in crossfit or performing any type of muscle building exercise. A weighted vest will drastically help to increase the overall intensity of that exercise and make you work a lot harder. In addition they are great for building strength and endurance as well as been an effective way of burning extra calories. In this guide to the best weighted vests in the UK we will be explaining everything you need to know before investing in one, with the aim of helping you find the weight vest that best suits your needs.
If you are in a rush and just want to know which are the top rated weight vests, you can compare our top 5 recommendations in the table below.
Top 5 Rated Weighted Vests UK
Best Weighted Vest – Buyers Guide
There are a few things worth knowing about weight vests before you actually go ahead and buy one. In this section you will find all the relevant information you need to know for making a much better informed purchasing decision.
Different Types Of Weighted Vests
The first thing to consider is which type of vest is best suited for your intended use. There are two main types of weight vest with each having their own benefits and disadvantages. Getting this wrong will make it far more likely that you notice the disadvantages of your chosen vest type.
Full Body Weight Vest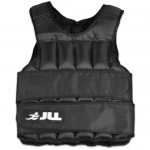 A full body weight vest is the bulkier of the two main types available. This is due to them been intended to carry more weights than a shoulder weight vest and needing more pockets to carry the additional weights. Consequently, they are ideal for building muscle, strength and endurance.
The design of this vest hugs the body and is fixed securely with either velcro straps or a plastic buckle and strap. This is perfect if you have a 30kg weighted vest or even a 40kg weighted vest, the firm fitting is great for comfort.
Weight vests of this design are best suited for muscle building exercises, running and even walking. However, some people do prefer the lighter shoulder vest for running, its down to personal preference really.
Shoulder Weight Vest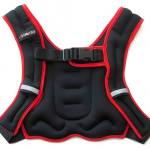 This type of weight vest features a shoulder strap design and holds far less weight than a full body vest. Generally speaking they are mostly used for running/walking and crossfit.
The design gives you a lot more freedom of movement and is less restrictive. Generally speaking the maximum weight that a shoulder strap weighted vest holds tends to be around 5kg.
Key Features To Consider Before Buying
Variable Weights
Weighted vests come in a number of different weight sizes. These typically range from 5 Kg all the way up to 30 Kg. The weight you should choose depends on the type of exercise you are doing. If you are looking to build body strength a 30 Kg weighted vest is your best option. The weights usually come in increments of 2 Kg or 2.5 Kg, which allows you to start low and gradually build up to the maximum weight.
If you are a cyclist or in to crossfit then a 30 Kg weight vest probably isn't suitable. This would be far too heavy and could easily put you off balance when cycling. For these activities a much lighter weight vest is the best option. Consequently, this is why people who take part in these activities tend to prefer a shoulder strap weight vest.
Comfort
Feeling comfortable when wearing a weighted vest is very important. If you don't it is far more likely that you will eventually stop using one. Things to look out for when buying are features such as wicking properties, this reduces sweat and wicks it away moisture from the surface. This is essential for runners and endurance training where you tend to sweat a lot. Another important feature is, does your chosen vest offer multi-plane movement? A vest that restricts your arm movements can be a big discomfort, as well as very annoying. The final thing to consider is the overall fit, which leads us to adjustability.
Adjustability
When wearing a weighted vest ideally you want it to be as tight fitting as possible without feeling uncomfortable. A loose fitting vest will chafe and with up to 30 Kg of weight behind it that can be painful. To solve this problem weight vests come with either a velcro strap or a buckle and strap. The type you go for is a matter of personal preference. Velcro straps give a more overall secure fitting and buckle and straps tend to be secure in one area
Top 5 Weighted Vest Reviews
Now that you know what to look for when choosing the best weighted vest its time to take a look at our top 5 recommendations. In our top list you will find vests for all budgets and uses.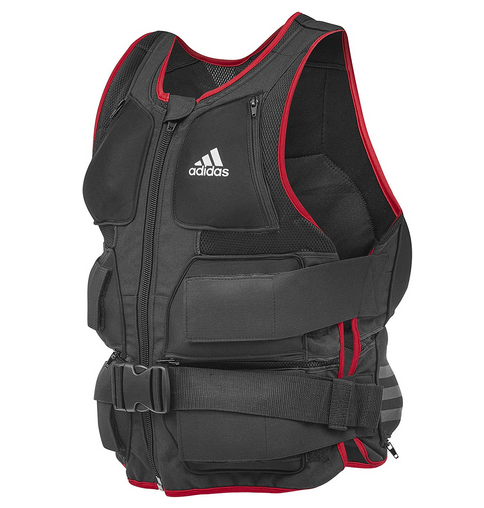 If it's a premium quality weighted vest you are looking for they don't get better than this one by adidas. Developed with the help of top athletes from around the world, it is designed to be outstanding in every department.
It features a full length zip and a buckle and strap that work together to provide a very snug and secure fit. In terms of comfort the inner vest is thickly padded and the fully breathable lining with ventilation panels helps to wick sweat away, keeping you cool and dry so you can focus on your training. Another positive is that it is machine washable and made from very durable materials that can stand up to the harshest of training regimes.
In total there are 8 weight inserts that add up to 10 Kg. These are placed in the positions that ensure balance, comfort and performance aren't affected. for those that really want to push themselves there are 2 D rings on the back of this vest to which a resistance parachute can be attached, has to be bought separately.
With this model by adidas you can easily turn your training up a gear and reap the benefits of weight vest training and exercises. A little bit more expensive than most, but it is the best on the market.
---
2
We R Sports XTR Weight Vest

We R Sports make the best-selling weight vest in the UK. This model is available in a choice of three colours which are black, red and blue.
There is a choice of four sizes and these are 5Kg, 10Kg, 15Kg and 20Kg. If you intend to use a weight vest into the future i would advise on buying a 20Kg, if needs be you can always take a few of the sandbag weights out until ready for the maximum amount.
Most noteworthy is that this weighted vest comes with a 12 month warranty so any fears about quality should be alleviated.
Reviews state how comfortable this vest is as well as how secure the velcro strap is. Costing a lot less than the Adidas weight vest the We R Sports XRT weight vest comes in a very close second in our weight vest reviews. In terms of functionality this is probably better than the Adidas model, but the overall product quality and durability of the Adidas vest trumps this vest, ever so slightly.
---
3
RDX Adjustable Weighted Vest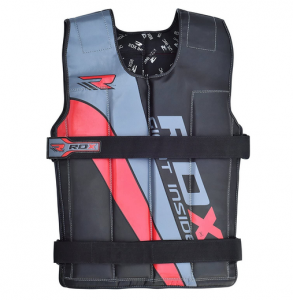 The RDX brand have a very good reputation for providing top quality sports and fitness equipment at brilliant prices. Their range of boxing gloves are very popular, as is the RDX adjustable weighted vest.
This vest is designed with ultimate comfort in mind and this is one theme that commonly pops up in customer reviews. Featuring flex panels it fits very firmly to the wearer and thanks to the patent pending design it is ideal for multi-plane movement.
The fabric on the inside has vey good wicking properties leaving you surprisingly dry even after a good run. In addition the padding offers a comfortable workout with no chafing.
In total the maximum weight this vest can carry is 18 Kg. This is a good amount and should be suitable for the large majority of people. There are four 2 Kg and four 2.5 Kg weight inserts giving you plenty of options.
To sum up, this vest is quickly gaining a reputation for ticking all the boxes of a high quality vest. Costing considerably less than our top choice, it is a great alternative for those not looking to spend too much.
---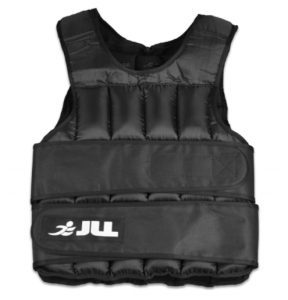 The most notable feature about the JLL weight vest is that it comes with a wide variety of different weights. From 5 Kg all the way up to 30 Kg in incremets of five, it has good range. Due to there been a 30Kg option this weight vest tends to be used mainly for weight training and gym exercises.
The double velcro closure grips the body nice and tight and is said to be really comfortable.
Another plus is that this vest can be put in the washing machine to freshen it up. In addition it is worth mentioning that is made from a material that doesn't absorb sweat.
Very affordable and highly functional this is a good buy.
---
5
Viavito Unisex Weighted Vest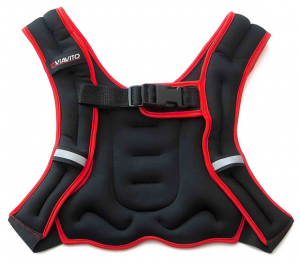 This vest by Viavito is different in design to the previous weighted vests in our reviews and is the only shoulder weight vest to make it in to our recommendations. By design it is best suited for cycling, walking, running and cardio training. If you are looking to increase the intensity of your body weight training, one of the previous featured models would be more suitable.
The maximum weight that this vest carries is 5 Kg. It is made from durable neoprene, which has the added benefit of been comfortable to wear. In terms of overall fit, it stays firmly in place and doesn't budge once you have secured the buckle and strap tightly.
One feature that makes this a good choice for running is the mesh pocket on the back designed for carrying a water bottle.
There are a lot of brands selling this type of weight vest, most of them are low quality imported products that won't last that that long. This one by Viavito is the best of the bunch and has far more quality to it than the competition.
---
Benefits Of Using A Weighted Vest
The benefits associated with using a weight vest fall mainly in the endurance/stamina and strength/toning categories.
The purpose of a weight vest is to add intensity to a workout. This is achieved through the variable weights that can be found in a weight vest. The extra weight makes the body work harder when training, whether it be running, walking or doing push-ups.
With continued use of a weight vest the body becomes used to the weight and eventually more weight is needed to feel the same effect. This is when you know you have gained in strength and endurance, which are two of the main benefits associated with using a weight vest. In addition using a weight vest also helps with muscle toning as the added weight makes the muscles work harder. If you are looking to burn extra calories while training then a weight vest is perfect for this, the added weight means more fuel is burned. Consequently this leads to more calories been burned.
Running Weighted Vest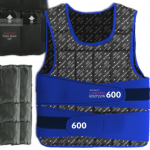 When looking for a weight vest for running there are four requirements it must meet. First of all it must be comfortable to wear, this usually means having a soft inner padding. The second requirement is that it provides a snug and secure fit. Then there should be enough weights in the vest to provide enough resistance to give a tough workout. Finally, it should ideally be made from a material that has wicks sweat away.
The WE R Sports Limited Edition weight vest meets all of the above
requirements and is highly sought after. It is essentially the same as the WE R Sports vest we featured earlier, but with a different pattern.
Crossfit Weighted Vest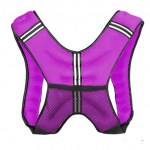 When buying a weight vest for crossfit the first thing to remember is that you are probably not going to need a 30Kg model. Crossfit weight vests are a lot lighter than the ones used for running or gym training for obvious reasons.
This weight vest is made of neoprene so it is gentle on the skin with none of the rubbing that some vests cause. The secure double closure is also perfect for crossfit providing a tight fit that is also comfortable. This weight vest is popular with both women and men and is one of the best sellers on Amazon. In addition it also has very positive customer feedback. With a no quibble money back guarantee you can't lose with this one.
Click Here For Latest Xn8 Weighted Vest Model
FAQs
Does running with a weighted vest build muscle?
Yes, running with a weighted vest can definitely help build muscle. Weighted vests add resistance to your body as you run and can help your muscles get stronger and develop more quickly. It is important to start slowly and gradually increase the weight of the vest to avoid injury.
Related guide: Top 10 Running Shoes 2023
Does walking with a weighted vest help you lose weight?
Yes, wearing a weighted vest while walking can increase the intensity of your workout and result in greater calorie burn. As long as you are following a balanced diet, adding a weighted vest to your regular walking routine can help you reach your weight loss goals faster.
Are weighted vests safe?
Yes, weighted vests are considered safe as long as you follow the standard safety guidelines. Wear the vest for no longer than a total of 20–30 minutes at a time, and make sure to give your body enough rest in between sessions. Also, always be mindful of how much weight is on the vest and avoid exceeding the recommended limits (10% of your body weight).
Final Words
A weight vest is a great way to increase your strength and stamina at the same time as toning the muscles and burning calories. Adding one to your training regime and reaping the benefits they offer will go a long way in helping you to reach your fitness goals. Hopefully, with the help of our buyers guide and best weight vest reviews you succeeded in finding one that is suitable for your training needs.
References and further readings:
EClinicalMedicine

, 2020; 100338 DOI –

Increased weight loading reduces body weight and body fat in obese subjects

Journal of Strength and Conditioning Research 31(10):p 2659-2666, October 2017 –

Effects of Sprint Training With and Without Weighted Vest

BMC Geriatrics

volume 22, Article number: 911 (2022) –

Effects of whole body vibration exercise combined with weighted vest
Last update was on: November 21, 2023 12:52 am