The 10 Best MMA Fighters of the Year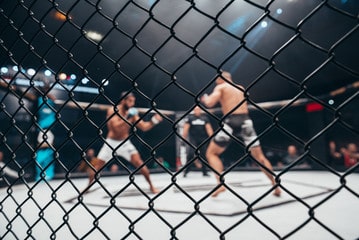 Since 2013, UFC has been ranking fighters with the help of a voting panel that consists of several media members. They have two different rankings, by weight class and pound-for-pound.
Today we'll focus on the pound-for-pound rankings and outline the top 5 men's and women's fighters in 2021.
Top 5 Male MMA Fighters
1. Jon Jones
Weight class
: Light heavyweight
Height: 193 cm
Win/Loss record: 26:1
Nationality: American
Jonathan Dwight Jones, more commonly known as Jon Jones, is an American MMA fighter signed with UFC in the heavyweight division. He's the current champion in the division, and has won it a total of three times.
He holds a couple of UFC records, such as the highest number of successful and consecutive title defenses, longest winning streak, most victories, and most wins by submission.
But Jon Jones had a different career before becoming a professional MMA fighter – he was a football player and a wrestler in high school. He became a UFC fighter in August 2008 and won his first division in March 2011, becoming the youngest ever UFC champion.
5 years later, he won an interim championship, but his title was taken away due to a failed drug test. This happened again just a year later, and resulted in a one-year suspension. Upon his return, he defeated Alexander Gustaffson and became the reigning champion again.
His fighting style is adaptive and technical, and has been described as "one of the most dynamic, innovative, and constantly evolving fighters in the history of MMA". He favors front kicks to the body and roundhouse kicks to the legs, while his most known technique is the "oblique kick", a move that targets the opponent's knee.
2. Kamaru Usman
Weight class
: Welterweight
Height: 182 cm
Win/Loss record: 19:1
Nationality: Nigerian-American
Kamaru Usman is an up and coming UFC fighter who can easily become one of the top fighters of all time if he continues his career well.
He was born in Nigeria in 1987, and immigrated to the US with his family when he was just 8 years old. He started wrestling in high school and had an excellent record of 53-3. His MMA professional debut came in 2012, while he debuted as a UFC athlete in 2015 where he won his first fight against Leon Edwards.
In 2019, after a nine-fight winning streak, he faced the champion at the time, Tyron Woodley and won the fight by unanimous decision after dominating the entire fight. He then defended his first title in an amazing fight with his long-time rival, Colby Covington. The fight had high-paced offense and ended via a technical knockout, setting the UFC record for latest finish in welterweight history.
He then went on to defend three more titles in 2020 in 2021, and surpassing the record for the largest win streak in his division, with thirteen.
3. Israel Adesanya
Weight class
: Middleweight / Light heavyweight
Height: 193 cm
Win/Loss record: 21:1
Nationality: Nigerian-New Zealander
Israel Adesanya, also known as "The Last Stylebender", is the current UFC champion in the middleweight division. He is most known for his unconventional and free flowing style of fighting, and widely regarded as one of the best strikers in mixed martial arts. He also has a purple belt in Brazilian Jiu Jitsu.
Born in 1989 in Nigeria, he started training kickboxing at the age of 18. At 21, he moved to New Zealand and continued his kickboxing career there. His professional debut first came in 2012, and he signed with the UFC in 2017. His first fight was against Rob Wilkinson, and he won via a technical knockout, winning the performance of the night for that fight.
The first title for him came in UFC 243 against Rober Whittaker, where he won via a knockout in the second round. He later defended his title against Yoel Romero in what was an uneventful fight without much offense. His second title defense came after a fight with Paulo Costa, which he won via technical knockout in the second round.
On 6 March 2021, he suffered his first defeat from Jan Blachowicz in the UFC Light Heavyweight Championship, where he weighed 5 pounds away from the light heavyweight limit at 200 pounds.
4. Alexander Volkanovski
Weight class
: Featherweight
Height: 168 cm
Win/Loss record: 22:1
Nationality: Australian
Alexander Volkanovski is a professional MMA fighter from Australia, and the current UFC Featherweight Champion.
He was born in 1988 in New South Wales, and began training wrestling from an early age up until 12. When he was 12, he started playing rugby until he reached the age of 23. He then decided to pursue a career in MMA after watching UFC events his entire childhood. Before even signing up with the UFC, he amassed a record of 13-1 with 10 straight wins.
He signed with UFC in 2016, and won his first fight against Yusuke Kasuya. After that fight, he announced that he would drop from the lightweight to featherweight division from his next fight.
His first UFC Featherweight Championship title came in 2019 where he defeated Max Holloway via unanimous decision. He then defended his title in a rematch against Holloway in a controversial split decision. His next fight is scheduled for September this year against Brian Ortega for his third title defense.
5. Francis Ngannou
Weight class
: Heavyweight
Height: 193 cm
Win/Loss record: 16:3
Nationality: Cameroonian
Francis Ngannou is a French MMA fighter born in Cameroon. He competes in the heavyweight division for the UFC, where he is currently the champion. He also holds the record for the hardest punch in history, breaking the previous record held by Tyrone Spong.
His early years were spent in Poverty in a Cameroonian village, with limited access to education. He picked up fighting at the age of 22, against his family's will. But he didn't fully get the opportunity to train properly until he moved to Paris. As a big fan of Mike Tyson, he first wanted to try boxing, but his coach introduced him to MMA.
He debuted at UFC in late 2015 against the newcomer Luis Henrique where he won via knockout in the second round. He won his next few fights as well, winning a bunch of "Performance of the Night" awards along the way.
Top 5 Female MMA Fighters
1. Amanda Nunes
Weight class
: Featherweight
Height: 175 cm
Win/Loss record: 21:4
Nationality: Brazilian
Amanda Nunes, also known as "The Lioness" is a professional MMA artist and the current champion in the Bantamweight and Featherweight divisions of the UFC. She's also the first woman in UFC history to become a two-division champion, and the third fighter ever to hold titles in two weight classes at the same time. All of these records contribute to her being regarded as the greatest women's mixed martial artist of all time.
She was born in 1988, and began fighting at a very young age. She learned karate at the age of 4, and by the age of 16 she was an avid boxer as well. Her MMA debut ended up in a loss in her first round, but she still moved on and won plenty of fights after that.
She made her UFC debut against Sheila Gaff in 2013, winning the fight in her first round. Her first bantamweight championship came in 2016 at UFC 200 and won the fight in the first round. What's notable about this win is that she was the first openly gay champion in UFC history.
on to defend her bantamweight title four times.
2. Valentina Shevchenko
Weight class
: Heavyweight
Height: 165 cm
Win/Loss record: 24:3
Nationality: Kyrgyzstani and Peruvian
Valentina Shevchenko is the reigning women's flyweight champion, signed with the UFC. She is an expert in Muay Thai, Kickboxing, Judo, and Taekwondo and holds a Master of Sports in all of them.
She was born in 1988, and started combat sports at the early age of 5 together with her family. At the age of 12, she managed to knock out a 22-year-old fighter, earning her famous nickname, the "bullet".
After that, she won numerous fights and medals in Muay Thai and kickboxing, and was considered one of the best female fighters in the world.
Her UFC debut came in 2015 when she came on as a replacement for Germaine de Randamie. She won against Sarah Kaufhmann, and her next fight was against Amanda Nunes, the current #1 female MMA fighter in the world. Even with a a strong performance, she still couldn't match Nunes and lost unanimously.
She then had a rematch against Nunes for the bantamweight championship in 2017, and after a very close fight, she lost it via a split decision.
Once she moved to flyweight, she became the champion and defended her title three times.
3. Rose Namajunas
Weight class
: Strawweight
Height: 165 cm
Win/Loss record: 10:4
Nationality: American
Known as the "Thug Rose", Rose Namajunas is an American MMA fighter of Lithuanian descent. Born in 1992, she's an expert in Taekwondo, Karate, and Brazilian Jiu-Jitsu, and she currently holds the champion title in the women's strawweight division of UFC.
She started doing combat sports while she was very young, at the age of 5, with her first discipline being Taekwondo. Later she picked up karate, kickboxing, wrestling, and jiu-jitsu. She had a perfect record during her first 5 fights, and was signed by UFC in 2013. In the first ever women's strawweight championship by the UFC, she went on to the final in an impressive streak, but lost out to Carla Esparza in the final.
In 2017, she faced current strawweight champion, Joanna Jedrzejczyk, as a big underdog, but she famously dealt her a KO in the first round, earning her the new UFC Women's Strawweight Champion title.
She defended her title with a rematch against Jedrzejczyk in 2018, and won that fight by unanimous decision. Her second title defense, however, resulted in a loss against Jessica Andrade in 2019 via a knock out in the second round.
4. Weili Zhang
Weight class
: Strawweight
Height: 163 cm
Win/Loss record: 21:2
Nationality: Chinese
Weili Zhang is a Chinese MMA artist competing in the strawweight division. She is the first ever Chinese champion in UFC history, and the current #1 strawweight fighter in the UFC.
Born in 1989 in China, she started martial arts training at the age of 6 after being inspired by Kung Fu movies. She made her professional MMA debut in 2013, and although she lost that fight, she went on to win 11 straight fights after that. She won three Kunlun titles with a record of 16-1 before signing with the UFC.
At her 2018 UFC debut, she fought Danielle Taylor and won via unanimous decision. She had her first strawweight championship in 2019 against Jessica Andrade, and won it via a TKO in the first round.
She defended her title in 202 in a tight, back-and-forth fight against Joanna Jedrzejczyk, which was later considered to be one of the greatest fights in women's MMA history.
5. Joanna Jedrzejczyk
Weight class
: Strawweight / Flyweight
Height: 168 cm
Win/Loss record: 16:4
Nationality: Polish
Joanna Jedrzejczyk is a Polish MMA artist competing in two different divisions of the UFC – the flyweight and the strawweight, where she is a former champion.
She was born in 1987 in Poland, and first started training Muay Thai at 16 years old. She competed for 10 years and won over 60 matches, collecting 6 world medals and 4 European championships.
In 2014, she officially signed with the UFC and made her debut against Juliana Lima where she won by unanimous decision. Her first strawweight championship was in 2015 where she faced Carla Esparza and won via TKO in her second round. This win meant she was the first Polish UFC title-holder, and the first European female UFC champion.
She then went on to defend her title five consecutive times in the next few years, but what's most impressive is that she landed 220 strikes in the second defense. That marked the most ever in a championship fight. She even managed to break those records in her fifth defense by landing 225 strikes, and had the highest significant strike differential in UFC history, with 142.