Top 5 Best Pedometers For Counting Steps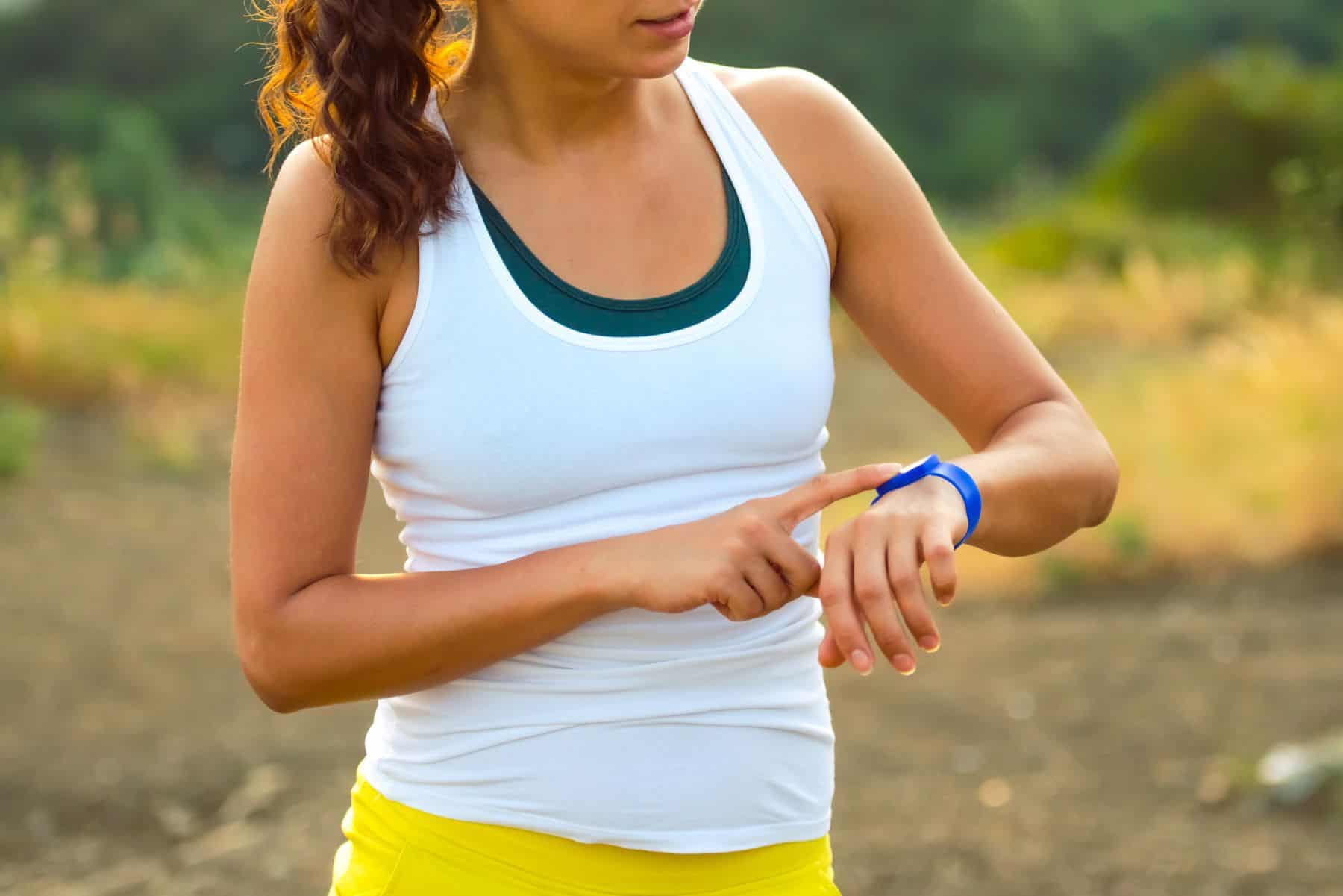 Counting the amount of steps you take every day is a great way to start the journey towards reaching your fitness goals. This simple, but effective method of setting yourself a daily target and reaching it, is great for motivation and goes a long way in helping you to stay on track. Obviously, counting every single step you take yourself isn't very practical and this is where the trusty pedometer comes in. A pedometer or a step counter, is a very affordable fitness device that offers a lot of value for the user. In this guide to choosing a pedometer we will be taking a look at the best pedometer choices currently available in the UK.
If you have already taken a look at the choices available online you may have noticed that there are quite a few options to choose from. From the basic step counter and wristband pedometers all the way through to full activity trackers, pedometers fall in to three different categories. In our buying guide we will be explaining all the information you need to know for finding the one that best suits your needs.
Below you can compare our top 5 recommendations that are featured in our reviews.
Best Pedometer UK
Different Types Of Pedometers
The first thing to be aware of when deciding on which pedometer to buy, is what type of step counter is the best for you and your needs? Do you need a simple model that only counts your steps when walking or running? or maybe a full blown activity tracking wristband with all of the latest features. The following information on the various options available should help you narrow down your search. Deciding which type of pedometer is best for you makes finding the right one less of a headache.
Clip On Pedometer 
These are the most basic type of step counter available and this is reflected in their price. In terms of readouts given they count your steps and calories burned. They can be kept in your pocket or clipped on to your belt/waistband. They generally cost less than £20 with the 3D Trisport been the best seller in the UK.
Wrist Pedometer/Pedometer Bracelet 
This type of step tracker has more to offer in terms of tracking capabilities than a simple clip on pedometer, but not quite enough to fall in to the same category as pedometer sport watches and FitBit style trackers. Price wise they cost between £20 and £40 and are worn on the wrist just like a sports watch.
The best models available can monitor your heart rate, sleep duration and even receive text messages from your phone and social media accounts. These are perfect for those that want a bit more data about their day to day activities than a simple model can provide. They also look very stylish with most models imitating the design of the FitBit. In addition you are far less likely to lose one than you are a with a clip-on step tracker. In this category the Mpow Fitness Tracker that we feature in our reviews offers the best value for money costing a little over £20.
Fitness Tracking Wrist Pedometer 
If you want the ability to track and store data as well as set yourself targets then a fitness tracker is probably the best choice. Fitness trackers are a whole new category with both simple affordable options and more expensive high-end models to choose from. In terms of cost you are looking at spending between £60 and £150.
For the majority of people the Fitbit Alta will provide all the readouts they need to keep track of any progress. This falls in the budget price bracket, but I wouldn't let that put you off, it is the best selling fitness tracker in the UK and customer feedback is very positive.
Top 6 Best Pedometers
1

Realalt 3DTriSport 3D Pedometer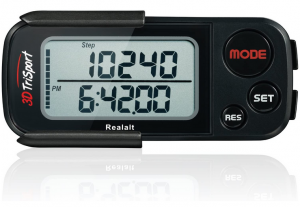 The 3D Tri-Sport is the most pupular basic pedometer on the market. It has been around for some time now and has built up a very impressive collection of 5 star reviews on Amazon. This basic step counter features the latest 3D Tri-Axis Sensor Technology for tracking daily activity with accuracy far superior than most other simple pedometers..
It comes with a 30 day memory allowing the user to track progress over the course of a month. This allows you enough time to notice any improvements you have made in daily activity.
In addition to the steps counted it also shows the distance in kilometres or miles, calories, fat burned and total exercise time. The 3DTriSport Pedometer features Tri-Accelerometer (Tri-Axis) technology which accurately measures steps whether positioned flat, vertically or horizontally. This also means it can be worn around your neck, on the hip/belt, in a pocket or even thrown in a purse or bag.
With just enough readouts for keeping track of the basics and an 18 month guarantee this is a very popular pedometer and well worth taking a look at. There are a choice of five colours which are black, white, blue, magenta and grey.
---
2

3DFitBud Simple Step Counter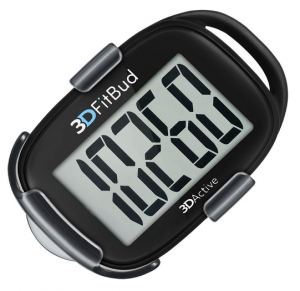 Giving only the one readout the 3DFitBud is the most basic pedometer to make it in to our top list. As you can probably guess the readout given is your step count. If you are looking for a very simple, no fuss and easy to use model it comes highl;y recommended. Unlike with more advanced step counters there is no set up required meaning you can use it straight out the box.
Featuring a large digital display it is very easy to see your current step count with the 3DFitBud. In terms of accuracy it uses the same Tri-Axis technology as the previous featured model.
With four colours to choose from there should be one to everyone's liking. The colours available to choose from are blue, black, pink and white.
With a wide choice of basic pedometers on the market it is easy to get stung with a cheap inaccurate one. The 3DFitBud is one exception out of the handful of good cheap pedometers available.
---
3

Omron Walking Style Pro 2.0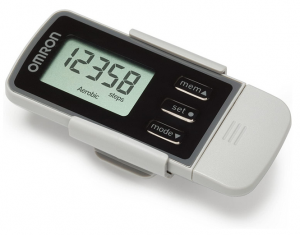 The Omron Pro is another popular basic option with good feedback from previous buyers. Like all pedometers featured it is fairly basic, however, when compared to all the other basic pedometers, this one gives the user a host of information on their walking activities.
Most pedometers only let the user track their step count over a 7 day period. Due to the Omron web software this step counter allows the user to upload all their data and keep track of progress for as long as they wish.
Aside from all the above the Omron Pro 2.0 also has all the usual features that most basic models have. This includes distance and calories burned and step count.
If it's the best basic step counter UK customers can buy you are seeking the Omron is the winner buy a mile, or about 2000 steps.
---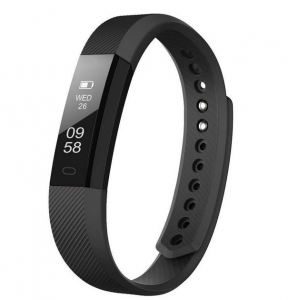 The letscom Fitness Tracker is a step away from a simple pedometer and resembles something more like the very popular FitBit. In terms of readouts it is still fairly basic and pretty much gives the same readouts as a clip-on pedometer. The main difference been that this is incorporated in to a wristband design.
Surprisingly this fitness tracker only costs £20, which is only a few quid more than the previous models in our top list. In terms of readouts given it tracks your steps, distance, calories and total active minutes. There is even a sleep tracking function, this allows you to keep record of your sleep duration and quality.
To get the most out of the Letscom Fitness Tracker it is best to hook it up to their "Very Fit Pro" app. This allows the user to track exercise data as well as access additional functions.
Recharging only takes a few hours and can be done through a USB port. A full charge will last 7 days.
For a very affordable price you get a stylish looking wrist pedometer with the Letscom. It also comes in a choice of 5 colours.
---
5

Garmin Vivofit 3 Wireless Fitness Wrist Band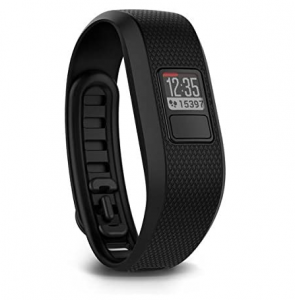 The Garmin Vivofit takes us even further away from the traditional step counter and is the first full blown activity tracker in our reviews. For those that don't already know the Garmin brand make excellent sport watches and are regarded as one of the best brands in the world.
The Garmin Vivofit 3 is one of a number of options in their full range of activity trackers. Price wise it falls in the budget category and offers really good value for money.
In terms of readouts it shows steps, calories, distance, intensity minutes the time and date. It also monitors your sleep duration and quality of sleep. It even alerts to move when you have been stationary for too long.
Another positive feature is how it automatically sets goals for you based on your current fitness level. Stick to the targets and you will be a step closer to a fitter and healthier you. Furthermore the ability to connect to the Garmin Connect app, which is a great motivational tool, is another plus..
If you aren't looking to spend to much on your fitness tracker, the Vivofit 3 comes recommended as a good choice.
---
6

Fitbit Flex 2 Fitness Wristband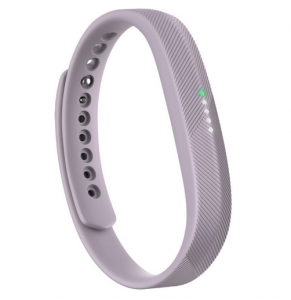 Activity trackers like the Fitbit Flex take the basic pedometer to the next step (pun intended). In terms of price there is quite a jump. However, with this extra cost comes better quality and more accurate data readouts.
Activity trackers like the one pictured monitor all of the basic functions that a simple pedometer can. This includes a step counter, distance, calories and exercise time. In addition they come with the ability to track your progress and show how results stack up over certain time period.
Other positives include been water-resistant and users having the ability to access data through use of a computer, tablet or smart phone.
The Fitbit Flex is a great introductory fitness tracker been affordable in price and having all the features needed to track progress towards your fitness goals.
---
How To Choose A Pedometer/Step Counter
For many choosing a step counter is as simple as going with the one they like the look of the most. If price is of no concern then this isn't a problem, however, if you are on a budget it is wise to learn about all the features first and see if there is any you can live without. Below you can find the various readouts that the different pedometer options offer.
Key Features
Accurate Step Count Readings: With a pedometer been designed to count your steps you would think that they all do this to an acceptable standard. Unfortunately, they don't and this is why, we recommend taking a look at ther customer reviews before purchasing.
Distance: Some step counters will track the distance you have travelled. The cheap pedometers that offer this capability are not entirely accurate and if this is something of importance you might want to invest in a fitness tracker.
Calories: This is another readout that is not 100% accurate as there are too many factors to determine an exact result. In most cases the numbers are fairly accurate though. This readout can be found on some budget models and I would say it is on every wristban or bracelet pedometer.
Memory: All pedometers will keep record of your daily activities for a certail length of time. The exact amount varies from model to model with some keeping track of data for 7 days and others up to a month. The more expensive activity tracker style pedometers come with the ability to synch them to your Smartphone or computer. This means you can keep track of your fitness goals from start to finish.
Heart Rate: For this feature you will have to at least invest in a wristband pedometer. This is something you won't get with a basic model.
Sleep Tracking: In addition to tracking your movements throught the day some models can also monitor your sleep duration. This allows you to access the overall quality of your night's sleep.
Battery Life: This can vary depending on the brand and is definitely worth checking before buying.
Water Resistance: Due to the British weather been what it is, it's better to be safe than sorry.
---
FAQ's
How Accurate Are Pedometers?
The accuracy of a pedometer is obvioulsy very important and the technology they incorporate has come a long way since the early days. Most step counters these days incorporate 3D Tri-Axis Sensor Technology that gives a very accurate reading. It is woth mentioning that the more you spend the more accurate the readouts tend to be. A basic step counter can be off by as much as 10%, if your goal is 10,000 steps a day you could find yourself doing an extra 1000 steps , which isn't a bad thing.
How Do Pedometers Work?
Most modern pedometers use what are called accelerometers to accurately count steps. These are microchips that can detect subtle changes in your leg movement. Check out this article for more information on how pedometers actually work,
How Many Steps A Day Should I Be Aiming For?
This depends on your mobility and level of fitness, as a rule of thumb and with the aim of staying fit and healthy it is recommended that you try to do 10,000 steps per day. If you want to step up from pedometers to a running watch which will do all the things a pedometer does and more, check out our running watch reviews.
Final Words On Pedometers
For such a simple and affordable fitness device, there is a lot to be said for the pedometer. They are great for keeping you motivated and all for relatively little expense. In our best pedometer UK guide we have tried to cover as much information as we can about finding the right one for your individual needs. If you can think of anything we have missed out, that should be in there, then please leave a message in the comments.
Last updated on July 2, 2022 10:02 am