Best Speed Bag For Beginners 2022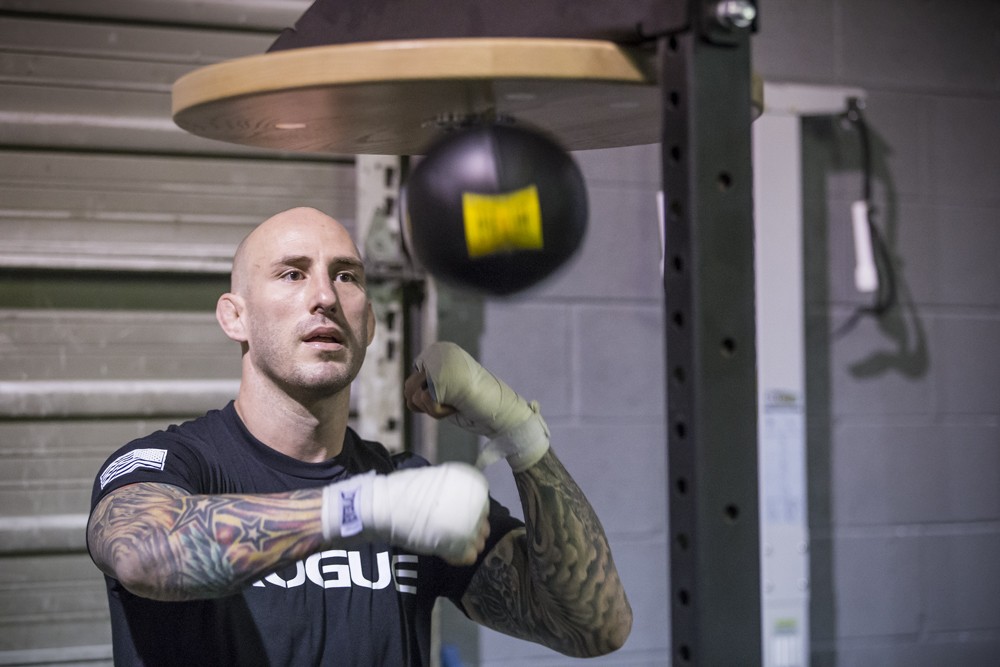 Learning to use a speed bag is something every boxer has to do. In more recent times speed bag training has also increased in popularity in the general fitness world. This is mainly due to the fact that speed bag training can help to improve hand-eye coordination, timing and overall endurance as well as been fun to do. So you can see why speed bag training is becoming more common and why more people are wanting to know what the best speed bag for beginners is.
However with speed bag training been mainly associated with Boxing and MMA it can be hard to find them in a commercial gym. So if you are wanting to take up speed bag training as a form of exercise then you are more than likely going to have to buy one.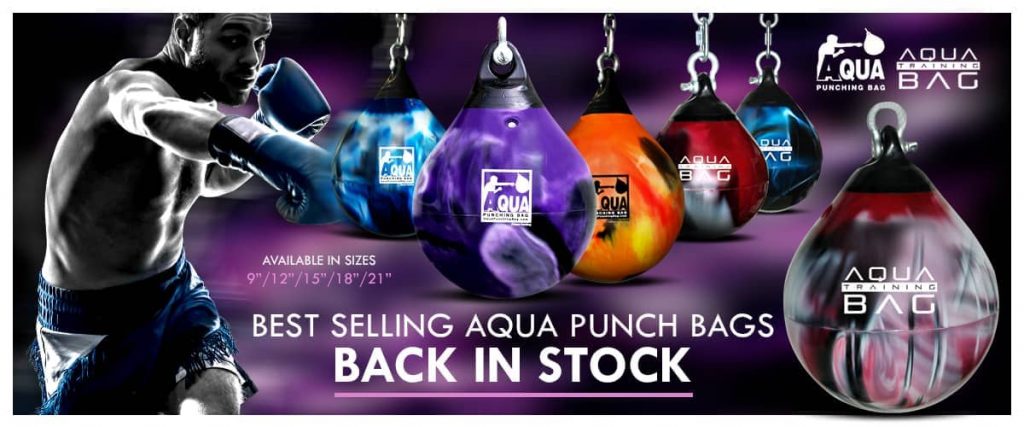 In this guide we will be going over the best speed bag for beginners in our top 5 speed bag reviews. In addition to our top 5 list we will also be explaining everything you need to know about choosing a speed bag to help you make the right purchasing decision when buying.
So here are our top best speed bags for beginners.
Top 5 Best Speed Bag For Beginners
---
RDX Maya Hide Leather Boxing Speed Bag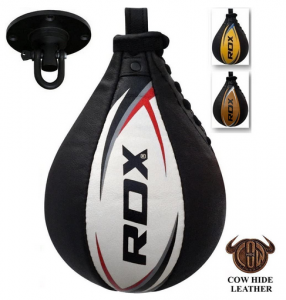 Key Features
Comes with RDX elite swivel made from a high grade of stainless steel and constructed with quality bearings
Maya hide leather material is lined inside with 4 layers of poly cotton material
Each ball is individually shaped and balanced for rebound accuracy, Tough construction
Lightweight design means lightning fast rebounds, Guaranteed quality
Riveted attachment provides superior durability, Double-lined hanging strap discourages splitting
What We Think
If you are looking for a cheap speed bag then this one by RDX is the perfect starting point. First of all it comes with a speed bag swivel so you don't have to worry about buying one. This bag is made from maya hide leather which is fairly durable. The inside has an inflatable bladder which can be replaced if needed. The overall design is lightweight, meaning the bag will rebound very quickly. All in all a good cheap piece of boxing equipment which is ideal for beginners.
For Latest Amazon Price Click Here
---
Everlast Everhide Speed Bag
Key Features
Lightweight Carbon Fibered patterned Everhide constuction
Welted seams & reinforced lacing for durability
Shaped & balanced for accurate rebounds
Premium synthetic leather along with excellent glove construction provides lasting durability and functionality
Product in Inches (L x W x H): 6.0 x 6.0 x 9.0
What We Think
This Speed bag by Everlast is one of the cheapest around and from a brand with an outstanding reputation for producing high quality boxing equipment. The durability of this model is sometimes sketchy as there are reviews reporting that the seams have split after not much usage. However they also state they were replaced with a new one very swiftly. The main attractive quality of this speed bag is the price costing only £14.99 on the downside the leather is not smooth so you will have to ear hand wraps unless you like friction burns.
For Latest Amazon Price Click Here
---
Everlast Leather Speed Ball

Key Features
Vintage speed bag design
Made from heavy pattern PU-leather
Classic lace-up fastening
Equipped with robust strap for suspension
What We Think
If you like traditional looking boxing equipment but with the added bonus of modern technology and design then this is the best speed bag for you on the market. This 1910 vintage speed bag is made from PU-leather which is very durable and can withstand constant usage for years before wear and tear begin to kick in. Another good attribute about this Everlast speed bag is that we ll balanced which leads to accurate rebounds. All in all a very good speed bag and if you like vintage then this is probably the best speed bag for beginners with a traditional look as there aren't that many around.
For Latest Amazon Price Click Here
---
TITLE Boxing Gyro Balanced Speed Bags

Key Features
Constructed with precision gyro balance
Made from the best top grade leather
Triple reinforced leather seams for durability
Includes a butyl rubber pro bladder
Internal balancing for maximum results
What We Think
Title are known to make some of the best punch bags available and their speed bags are no different. This model has a built in gyro balance which helps with rapid recoiling and true rebounding of the speed bag when you hit it. The durability of this bag is outstanding been made from the very best top grain leather available. The triple reinforced seams also adds to the durability which guarantees that this bag will last for years to come. Overall a very well made speed bag with a gyro feature that you don't get in many speed bags.
For Latest Amazon.com Price Click Here
---
Cleto Reyes Speed Bag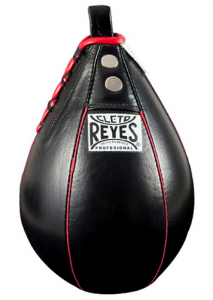 Key Features
Handmade in Mexico
Made from head leather
Constructed with tough nylon lining
Comes in various sizes
Professional speed bag
Comes with a spare inflatable bladder
What We Think
Been the number one speed bag its hard to find any faults with it. This speed bag by Cleto Reyes is the best speed bag on the market by a long shot. Although it looks pretty much the same as most other speed bags the difference is in the overall quality and functionality. Been handmade in mexico from the very best head leather available and with a nylon lining the durability is second to none. this is a professional speed bag and the type that can be found in most commercial gyms. If you are looking for the best speed bag look no further.
For Latest Amazon Price Click Here
---
Benefits Of Speed Bags
There are numerous benefits of learning to use a speed bag and unfortunately speed bag training does get overlooked. If you are not aware of the benefits of using a speed bag here are a few of the main ones
1) Improves Hand Speed
When first learning to use a speed bag you will more than likely struggle, but after a while and with practice you will notice a big difference in your hand speed. This is due to the constant high speed movements of the bag and you adapting to react to them movements.
2) Helps To Improve Timing, Rhythm & Hand Eye Coordination
When you have mastered using a speed bag you will notice a marked improvement in your timing, rhythm and coordination. As with all things practice makes perfect and this is the problem for many beginners to speed bags. Most beginners get frustrated and stop using a speed bag because they find it too hard too build a rhythm. But learning correct timing and rhythm only comes with regular practice. Stick at it if you want to gain the benefits.
3) Improves Muscular Endurance & Cardio
Keeping you hands up for 12 rounds while throwing punches can be a grueling task. Using a speed bag can help to condition the body so that it gets used to this. Speed bags dramatically help improve shoulder endurance which is essential if you are going to keep your guard up for 12 rounds.
Speed bags are also great for cardio conditioning many people like to think of it as the upper body equivalent to the treadmill..
4) Develops Your Boxing Skills
The speed bag is great for improving all round general boxing skills. The main benefits here are with hand positioning, parries and helping to sharpen the transition from probing shots to power punches and deadly combinations.
The speed bag can also be used for boxing skill development. Sport-specific benefits include improving your parries, hand positioning, and sharpening the transition between probing and power punches in combinations.
What Size Speed Bag Is Best ?
First of all speed bags come in various sizes with a typical medium bag been about 10 inches tall by 7 inches in diameter.
As a beginner a medium sized bag is a good size to start with and with a bit of practice you will soon start to build a rhythm up when using it. This may seem strange but using a big speed bag can be a quite difficult for a beginner and the smaller the better for novices. This is mainly due to how the bag reacts when hit, a smaller bag is easier to build a rhythm with than a bigger one.
Also big speed bags tend to be more for power punching where as smaller ones are more suited to improving timing and rhythm.
Vinyl Or Leather ?
Speed bags are either made from leather or a synthetic material.
Deciding which is best is a matter of personal preference.
Not too long ago most people in the know would advise you to buy leather or a synthetic material. However in recent times there have been many advancements in synthetic materials with many outperforming leather in terms of durability and at a cheaper price.
The other main difference is how the bag reacts when you hit it. With a leather speed bag you will find it tends to bounce back slower than a synthetic speed bag. so generally speaking a leather speed bag would be more functional for a beginner.
Speed Bag Accessories
Speed Bag Platform
Remember when buying a speed bag you are going to need a platform to hang it from. There are numerous speed bag platforms available but the best ones are thick and sturdy. The thicker the platform the better the rebound you get when hitting your speed bag. In addition to better rebound thicker platforms are better at reducing noise. Cheap platforms made from low quality materials tend to make a right racket and rattle when your working the speed bag which is very annoying.
Speed Bag Swivel
In addition to a good speed bag platform you are also going to need a swivel.
The swivel is what controls the speed bags movements and there are three types available.
First we have the "hook and ball" swivel which is probably the best swivel for beginners. This type of swivel has a tendency to slow the bags movement and can be hit from all angles. There is however a downside to this type of swivel and that is that is does jump now and again when hit.
Next there is the "U-hook". The U-hook swivel is better than the hook and ball in the way that it doesn't jump. Although there is still a downside and this is that it doesn't respond well to been hit from the side unlike the hook and ball.
Finally we have chain link swivels. This type of swivel provides a very fast action and rebound when hit. Also similar to the hook and ball the chain link swivel allows the speed bag to move in any direction. This is the perfect swivel for speed work as the rebound is so fast.
Final Round
As you can see when choosing a speed bag there is a lot to consider. If you are looking for the best speed bag for beginners then this guide should help you to choose the right one for you.
Last updated on November 26, 2023 6:22 pm