What Are The Best Mini Steppers? Reviews & Comparison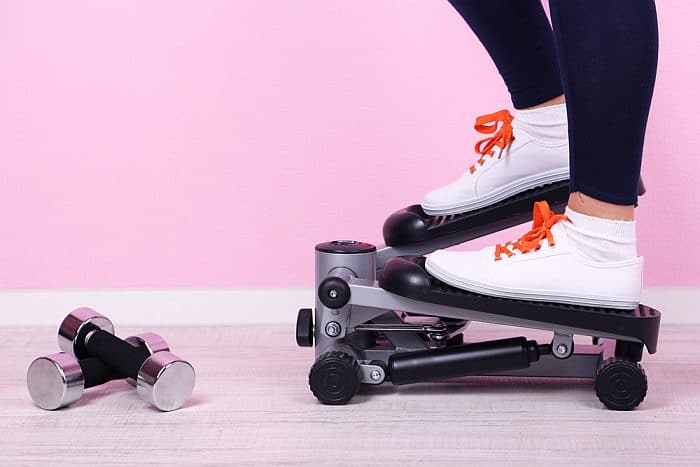 Best Mini Stepper Reviews 
Mini steppers have been around for quite some time and their effectiveness as a good piece of home gym equipment is well documented. In this guide/review we will be giving you all the information you need to know about mini steppers as well as bringing you the best mini stepper in our reviews of all the best selling models.

Do Mini Steppers Work?
The answer to this question depends on what you expect to get from using a mini stepper. If you are looking to get ripped and put on plenty of lean muscle mass then you will be disappointed.
A stepper offers the user a good aerobic workout. In addition they are also useful in helping to tone the lower body muscles and aid with weight loss. So if it's any of these that you are expecting then yes, mini stepper machines do work
Different Types Of Mini Steppers
Mini Stepper
The traditional mini stepper is the one most people are familiar with. This exercise machine gives the user a good aerobic workout as well as working the lower body muscles. Simple in design but very effective as a form of exercise. The main idea behind this exercise machine is that it mimics the effects of walking upstairs.
Twist Mini Stepper
A twist mini stepper is variation of a traditional mini stepper but with an added twist, literally. When using a twist mini stepper the foot pedals have a slight twist in their movement. The main reason for thi is that it engages more muscles than a traditional stepper.
What Are The Benefits Of Mini Stepper Machines?
For such a small exercise machine a mini stepper has many benefits for its user. Below you can find a few of the most beneficial.
Cardio
Believe it or not but one of these little exercise machines can get both the lungs and heart working quite hard. Using a mini stepper does give the user an aerobic workout, which over time will lead to improved cardiovascular fitness.
Muscle Toning
Due to the up and down movement of stepper machines been very similar to walking upstairs, they are good for toning the muscles. Due to this been a lower body exercise machine obviously most of the benefit are from the waist down. The glutes, calves and buttocks will be the first areas where improvement is noticed, as these are the main muscle groups that are worked when using a mini stepper.
Weight Loss
In terms of weight loss, which at the end of the day comes down to the amount of calories burned while exercising, a mini stepper machine is better than expected. Exercising with a mini stepper for 30 minutes can roughly burn up to 250 calories.
---
Best Mini Stepper Reviews
All of the mini steppers in our reviews are some of the best selling models available. In addition they all have really good customer feedback on Amazon.
---
Mirafit Low Impact Aerobic Mini Stepper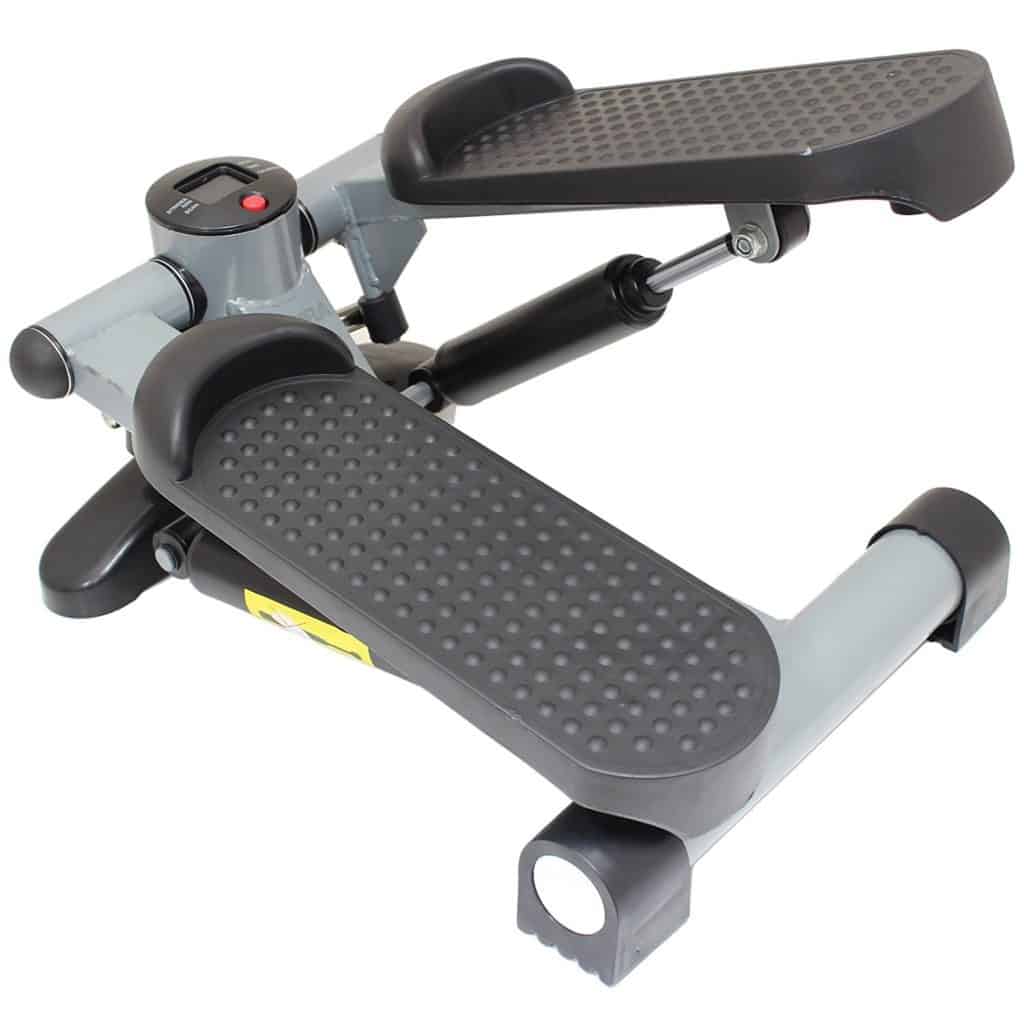 Mirafit are known to build very good quality and affordable home fitness equipment. The Mirafit low impact aerobic mini stepper is a prime example been one of the top selling models on Amazon.
With an overall rating of four and a half stars and very positive customer feedback the credentials are there.
Is it any good ? 
What you get with this mini stepper is a basic traditional model with the well recognised up and down movement. There is a display that shows the amount of calories burned and overall exercise time.
This model is compact in design and lightweight but built to be sturdy when in use. There is a maximum user weight of 100Kg and the anti-skid pads on the bottom work just fine.
Overall this is a good basic stepper machine at a very affordable price.
£29.95
in stock
1 new from £29.95
Last updated on April 16, 2019 12:43 pm
---
Ultrasport Up-Down Stepper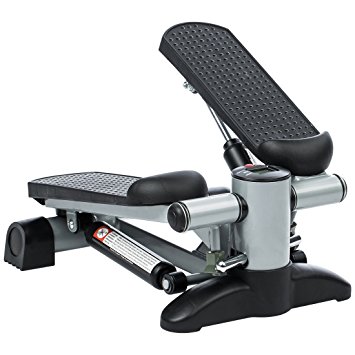 The Ultrasport stepper machine is in the same price range as the Mirafit, but offers better value for money.
Why?
When compared to the Mirafit stepper there is no denying they look similar, although the Ultrasport does look a bit more modern.
The biggest difference between the two is that the Ultrasport offers more in terms of workout information. The LCD shows step count per minute, time, scan and calories burned.
Most noteworthy is that when using this stepper the foot plates are of a good size in addition they also give plenty of grip.
To sum up this is a better version of the Mira-fit mini stepper and the difference in price is a few pounds. If its a good sturdy mini stepper you are after then this is a good choice.
£44.99
£79.99
in stock
1 new from £44.99
18 used from £24.69

Amazon.co.uk
Free shipping
Last updated on April 16, 2019 12:43 pm
---
Confidence Twist Stepper With Ropes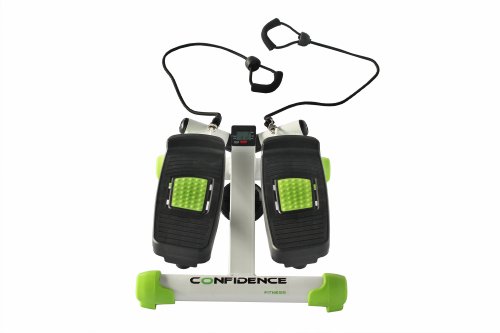 This mini stepper by Confidence has the plus of been a twist stepper. This basically means that in addition to the up and down movement it also has a twisting action. This twisting engages different muscles and therefore leads to a more varied workout which does have fitness benefits.
In addition to this been a twist mini stepper there are also ropes attached, which help to reduce pressure on the joints. The display screen shows time, step-count, strides per minute, calories and there is a scan function.
When using this stepper it does feel quite sturdy and there is no shifting around like with some models.
The resistance offered by this stepper is enough to give a good workout for most people. To sum up this is a durable and well-built twist mini stepper from a reputable brand at an affordable price.
£59.99
in stock
1 new from £59.99
Last updated on April 16, 2019 12:43 pm
---
Homcom Mini Stepper Exercise Stepper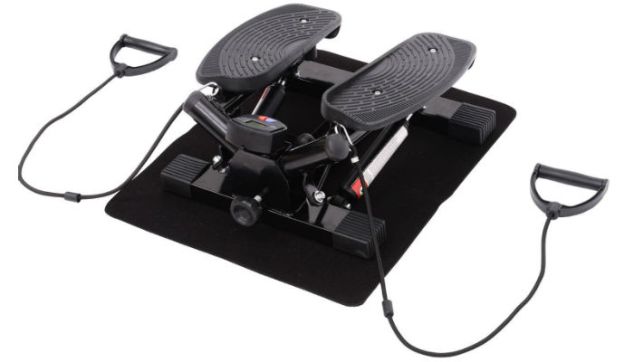 Out of all the models in our best stepper machine reviews the Homcom is without a doubt the most sturdy and robust. some steppers tend to move around as you use them, however the Homcom stays firmly put even without the free rubber floor mat.
The most notable feature of this stepper is the resistance which is quite strong. If its a stepper that will give the calves, hamstrings and glutes a good workout that you are after the Homcom would be a good choice. To adjust the resistance all it takes is a twist of the dial and this will adjust the pedals from between 10 and 38cm.
As with all stepper machines the display for this one is fairly basic and simple to use, so no problems there. The readouts given are calories burned,step count and elapsed time.
All in all this is a very good mini stepper that gives the user a testing workout. Built to last with a solid design unlike the very cheapest stepper machines that are available.
£42.99
£74.99
in stock
2 new from £42.99

Amazon.co.uk
Free shipping
Last updated on April 16, 2019 12:43 pm
---
MAXOfit® Home Stepper Greenline MF-15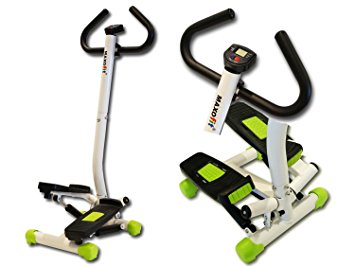 At the time of writing the Maxofit Home Stepper has a five star rating on Amazon.
To look at this may not look like a mini stepper to some. However this is a traditional stepper (not twist) with the addition of supporting handlebars. The reason we have included this model in our mini stepper machine reviews is because it is probably the best stepper for the elderly or those who aren't too steady on their feet.
The display is simple to use and has useful functions such as step count, distance, time and calories. When using this stepper the resistance can be easily changed with the use of a dial and although there are steppers that offer more resistance there is still a fair amount.
There is a maximum user weight of 100Kg which is typically the limit of a mini-stepper.
Overall this is a good quality stepper with some very good customer feedback. The supporting handlebars are great for those that need a bit of support when on their feet.
£59.90
£89.90
in stock
1 new from £59.90
Last updated on April 16, 2019 12:43 pm
---
Final Words
In our reviews of all the best mini steppers we have included some of the best selling models with the most positive feedback. If you are still struggling to find the perfect stepper check out the wide selection on Amazon.
Last updated on April 16, 2019 12:43 pm