Best Mini Stepper Machine Reviews For 2023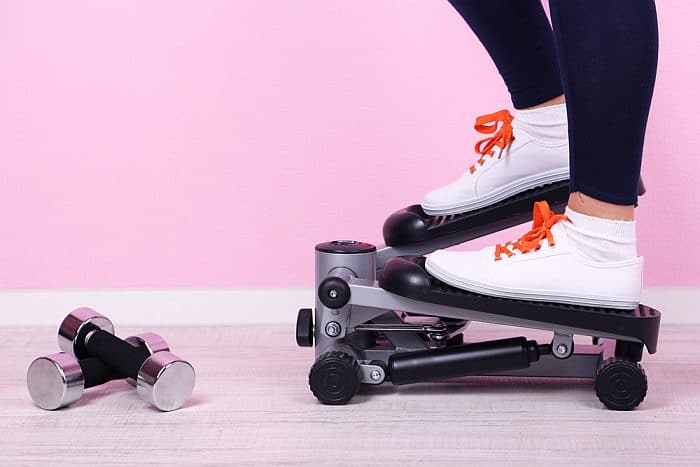 If you are looking to invest in a very affordable and compact piece of home fitness equipment, you should consider purchasing a mini stepper machine. These small and very lightweight exercise machines have a surprising number of benefits and are ideal for those with limited space. It would be wrong to say that they are suitable for everybody, as they do have their limitations. In this guide to choosing the best mini stepper, we will be sharing all the useful information you need to know about choosing a stepper machine and helping you to decide if it is the right exercise machine for your needs and fitness goals. Finally, in our reviews and recommendations, we will be bringing you the best models currently available in the UK.
In a hurry? You can compare the models we feature in our review section in the comparison table below.
Best Mini Stepper Machines for Home
Do Mini Steppers Work?
The answer to this question depends on what you expect to get from using a stepper machine. A stepper offers the user a moderate aerobic workout, and they are also useful in helping to tone the lower body muscles and aid with weight loss. If it is any of these benefits of a stepper machine that you are expecting to receive, then the answer is yes, mini stepper machines do work. However, if you are looking to get ripped and put on plenty of lean muscle mass, then the answer is no, a mini stepper is not what you require.
It is worth mentioning that, due to the limited range of motion, a stepper machine won't work the muscles as much as a cross trainer or vertical climbing machine would.
How Do They Work?
A stepper machine incorporates a hydraulic piston that provides resistance with each stepping motion of the feet. The lateral and vertical motions of a stepper help to tone the quads, hamstrings, thighs, buttocks, and core muscles. Most models have the option to increase resistance to provide a more intense workout. A person of average build can expect to burn roughly 300 calories during a 30-minute session.
Things To Consider When Buying a Mini Stepper Machine
There are a few things worth considering before you go out and buy the first mini stepper that catches your eye. Bearing in mind the following points will go a long way in helping you to find the model that best suits your needs. The first thing to think about is what type of stepper machine is the best for you.
Different Types of Stepper Machines
Mini Stepper – The traditional mini stepper is the one most people are familiar with. This exercise machine gives the user a good aerobic workout as well as working the lower body muscles. It is simple in design but very effective as a form of exercise. The main idea behind this exercise machine is that it mimics the effects of walking upstairs.
Twist Mini Stepper – A twist mini stepper is a variation on a traditional mini stepper but with an added twist, literally: the foot pedals have a slight twist in their movement. The main reason for this is that it helps to engage more muscles than a mini stepper, mainly on the inner and outer thigh.
Steppers With Resistance Bands – Some mini stepper machines come with the addition of ropes or resistance bands. Resistance bands add an extra dimension to your workout and help you to achieve a better full-body workout.
Mini Stepper Reviews
In our top recommendations, you can find the best mini stepper exercise machines currently available in the UK. Due to the affordability of stepper machines, anyone can own one of the best models.
---
Domyos Mini Stepper MS500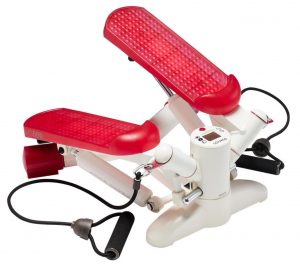 The Domyos Mini Stepper MS500 stepper takes a spot as one of the most loved and recommended mini stepper machines on the market.
Using this mini stepper, you can easily cover areas such as the thighs, calves, and glutes to achieve a complete body workout, including your cardiovascular system.
The two motion types (vertical and twisting) make this mini stepper versatile for home workouts. The twisting motion is a feature that most users have loved. It helps you stretch deep muscles from your feet and up the body.
The MS500 mini stepper has resistance bands for upper body workouts. Use these bands for balance and to build arm strength. You don't have to worry about safety or stability. The adjustable foam-covered hand grips ensure you remain stable throughout your workout session.
Adjust the handlebars to a lower level when not using them and hold the resistance bands instead.
The Domyos MS500 mini stepper has a built-in, four-function display system that allows you to track your workout's duration, frequency, repetition, and the number of calories burned, making it easier to set up your preferred workout time and speed.
---
PROIRON Steppers for Exercise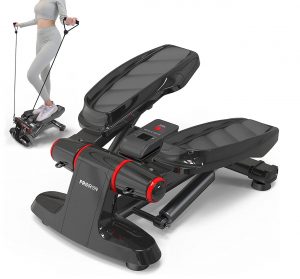 The PROIRON mini stepper machine is a model that you would fall in love with just from its appearance. It has one of the best designs, making it stand out among other steppers.
This mini stepper is made from 1.8mm gauge steel, making it sturdy and durable. It has a maximum user weight of up to 120kg.
The PROIRON mini stepper's 13-inch foot pedals have a cushioned, anti-slip surface that helps reduce joint stress and make workouts fun and satisfying. The pedals also have raised edges to further reduce the risk of slipping during exercise.
You can easily change the intensity of your workout by simply increasing or decreasing the step height, allowing you to perform a complete lower body workout in comfort.
Unlike most steppers, the PROIRON has noise reduction pads fitted under the pedals, so you don't have to worry about those annoying squeaking sounds coming out when doing intense exercises!
This mini stepper helps you develop upper body strength by using the resistance bands attached to the underside of the stepper. The resistance bands help stretch your arms and back.
The LCD monitor tracks the number of calories burned, the duration of the exercise, and the repetitions.
This mini stepper has received positive feedback from users impressed by its quality and weight capacity.
---
Sunny Health & Fitness Mini Stepper Machine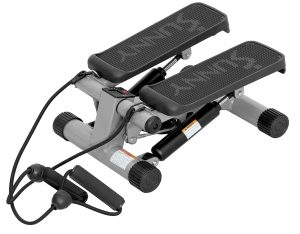 The Sunny Health & Fitness mini stepper can be a great choice if you need a simple stepper machine with a comfortable motion.
The built-in hydraulic drive system increases comfort by making the stepping motion smooth and non-strenuous.
The Sunny Health & Fitness mini stepper allows you to change the intensity of your workout by either increasing or decreasing the stepper height. All you need to do is adjust a knob.
Like the PROIRON, this mini stepper has wide and comfortable pedals with non-slip surfaces. The rough-textured footplates increase your foot grip and make you feel stable and comfortable.
The resistance bands attached to the mini stepper handles help you complete a full-body workout. Synchronize your steps by pulling the resistance bands and stretching your arms, chest, and back. These movements ensure muscular stretch from your feet up the body. Start this process with slower steps and speed it up whenever you feel comfortable enough to handle the intensity.
You can also keep track of your workout with the LCD monitor that displays time elapsed, total calories burned, and the number of steps taken.
This Sunny Health & Fitness stepper has a maximum weight capacity of around 100kg/220lbs.
When it comes to customer feedback, most users have appreciated the service they got from this mini stepper, saying that they loved its simple design and value for money.
The stepper is light, compact, and can be easily stored away when not in use.
---
Nordic Lifting Mini Stepper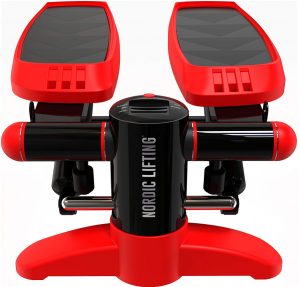 The Nordic Lifting mini stepper is another very effective cardio workout machine. This mini stepper can hold up to 130kg, a feature that makes it slightly different from others on the market.
This foot cardio machine has a rigid, sturdy balance bar drive and a flexible hydraulic cylinder that ensures maximum safety when working out.
The pedals have non-slip rubber mats that increase foot grip and keep you stable even when doing high-intensity steps.
For upper body workouts, you have resistance bands that come in three different sizes: 20, 28, and 39 inches.
The resistance bands connect to the mini stepper through the D-Ring handles included in the package.
These bands allow you to test different arm workout levels, starting from low intensity with the longer bands. The Nordic Lifting Mini Stepper also features a magnetic induction system that simplifies the transmission of your exercise data.
It is easy to track your workout progress with the LCD monitor that displays the exercise time, speed or intensity, and the number of calories burned.
There's no need to worry if you are just getting started with your home cardio workouts. The user manual included guides you through the process.
If you plan to start a home workout routine, this is an option that you should consider.
---
Capital Sports Galaxy Step – Mini Stepper with Monitor
If you're struggling to create some gym time and have little space at home, the Capital Sports Galaxy Step – mini stepper can make a great home workout accessory.
This stepper covers little space but can still offer full-body training at home.
Try different types of workout intensity for both your lower and upper body.
The mini stepper is adjustable and allows you to increase or decrease the height to suit the stride sizes you prefer.
A sturdy platform with a hydraulic absorbing system that holds a capacity of up to 120kg puts this stepper amongst the best family workout tools.
The pedals have non-slip rubber surfaces to prevent sliding and accidents. The mini step feet have rubber covers to protect the floor and stabilize it during a workout.
The Capital Galaxy Step mini stepper helps you exercise your lower and upper body by the use of the included power ropes to stretch the arms, chest, and back.
Set your preferred workout time and track all the progress through the LCD monitor. The display shows the number of calories burned, the workout speed, and the workout duration.
This mini stepper has also received positive feedback from most customers. Those who loved it highlighted the stability, wide pedals, and smooth steps. It is therefore a piece worth trying if you want to burn a few calories.
---
SportPlus 2 in 1 Dual Exercise Stepper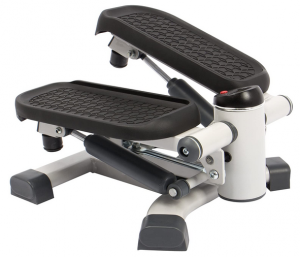 The SportsPlus 2 in 1 Dual Exercise Stepper comes recommended as our top choice for home stepper machines. One of the main selling points of this model is its versatility. It benefits from both lateral and vertical motion, making it suitable for those looking for a more intense workout from their home stepper machine. There is also the option to switch to just the up and down movement of a traditional mini stepper.
The overall design is solid and stable when in use. The maximum weight capacity of 100kg is a good sign of how durable the SportsPlus 2 in 1 Dual Exercise Stepper is, as is the wear-free hydraulic cylinder that is designed for daily use.
The onboard computer provides all the important information from your workout. This includes your total number of steps, stride frequency, time elapsed, and calorie consumption. Another positive is that it rotates between readouts so you can keep an eye on them all. The LCD screen saves you from having to bend down mid-stride to push the button to see your desired readout.
With the SportsPlus 2 in1 Dual Exercise Stepper, you can train your cardiovascular system in a very small space and at the same time strengthen and tighten your legs, core, and buttock muscles. If you are looking for a versatile mini stepper machine with positive customer feedback, it is worth taking a look at this model.
---
Mirafit Low Impact Aerobic Mini Stepper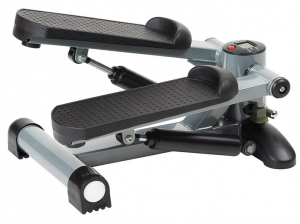 Mirafit is known to build very good quality and affordable home exercise equipment. The Mirafit Low Impact Aerobic Mini Stepper is a prime example, being one of the top-selling models on Amazon.
With an overall rating of four and a half stars and very positive customer feedback, the credentials are all there.
Is it any good?
What you get with this mini stepper is a basic, traditional model with the well-recognised up and down movement. There is a display that shows the number of calories burned and overall exercise time.
This model is compact and lightweight in design but is built to be sturdy when in use. There is a maximum user weight of 100kg, and the anti-skid pads on the bottom work just fine.
Overall, this is a good basic stepper machine at a very affordable price.
---
Ultrasport Up-Down Stepper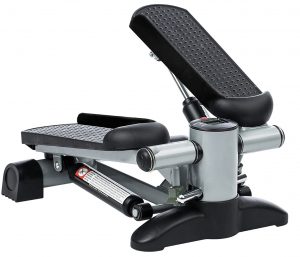 The Ultrasport stepper machine is in the same price range as the Mirafit but offers better value for money. When compared to the Mirafit stepper there is no denying they look similar, although the Ultrasport does look a bit more modern. But the biggest difference between the two is that the Ultrasport offers more in terms of workout information. The LCD screen shows step count per minute, time elapsed, and calories burned.
Most noteworthy is that the footplates are of a good size, as well as giving plenty of grip.
To sum up, this is a better version of the Mirafit mini stepper and the difference in price is only a few pounds. If it's a good sturdy mini stepper you are after, then this is a good choice. There is also the Ultrasport Step Swing Stepper Machine, which has the benefit of coming with resistance bands,
---
Homcom Mini Stepper Exercise Stepper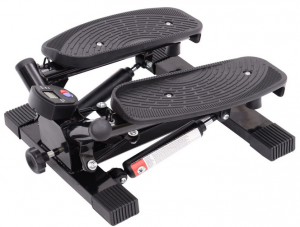 Out of all the models in our best stepper machine reviews, the Homcom is without a doubt one of the most sturdy and robust. Some steppers tend to move around as you use them, but the Homcom stays firmly fixed even without the free rubber floor mat.
The most notable feature of this stepper is the resistance, which is quite strong. If you are looking for a stepper that will give the calves, hamstrings, and glutes a good workout, then the Homcom would be a good choice. All it takes to adjust the resistance is a twist of the dial, and this will adjust the pedal amplitude from between 10cm and 38cm.
As with all stepper machines, the display for this one is fairly basic and simple to use, making it very user-friendly. The readouts given are calories burned, step count, and time elapsed.
All in all, this is a very good mini stepper that gives the user a decent workout. Built to last and with a solid design, it is one of the best of the cheaper stepper machines on the market.
Click Here For Latest Homcom Stepper Model
---
MAXOfit® Homestepper Greenline MF-15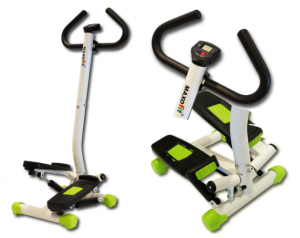 At the time of writing the MAXOfit® Homestepper Greenline MF-15 has a five-star rating on Amazon.
This may not look much like a mini stepper to some. However, this is a traditional stepper (not twist) with the addition of supporting handlebars. The reason we have included this model in our mini stepper machine reviews is that it is probably the best stepper for the elderly or those who aren't too steady on their feet.
The display is simple to use and has useful functions such as step count, distance, time elapsed, and calories. When using this stepper, the resistance can be easily changed with the use of a dial, and although there are other steppers that offer more resistance there is still a fair amount in this model.
There is a maximum user weight is 100kg, which is typically the limit of a mini stepper.
Overall, this is a good quality stepper with some very good customer feedback. The supporting handlebars are great for those that need a bit of support when on their feet.
---
What Are the Benefits of a Mini Stepper Machine?
For such a small exercise machine, a mini stepper has a good number of benefits associated with using one regularly. Below you can find a few of the most beneficial.
Muscle Toning – Does a mini stepper build muscle?
It makes sense that we start with muscle toning as this is one of the main reasons people choose to buy a stepper machine. They are very effective at working the muscles below the waist, including the glutes, thighs, calves, hips, quadriceps, and buttocks. In addition, they also provide a good workout for the abdominal and core muscles, due to your having to balance when you are using one.
If you are worried that your legs will start to look like a pro weightlifter, don't worry! Using a stepper machine only tones the muscles and helps to build a little muscle mass. If you are looking to build more muscle mass you could always hold a few dumbbells while exercising.
Weight Loss – Is a mini stepper good for losing weight?
In terms of weight loss, which at the end of the day comes down to the number of calories burned while exercising, a mini stepper machine is better than you might expect. Exercising with a mini stepper for 30 minutes can burn between roughly 200 and 400 calories, depending on your body weight. If weight loss is your fitness goal, you would be more likely to succeed with a treadmill. If you don't have the room for a treadmill a good alternative is a foldable exercise bike, which is very compact, affordable and gives the user a good workout.
Cardio – Is mini stepper good for cardio?
Believe it or not, one of these little exercise machines can get both the lungs and heart working quite hard. Using a stepper does give the user an aerobic workout, which over time will lead to improved cardiovascular fitness. The intensity of the cardio workout you get with this type of exercise machine depends on the user. If you turn the resistance dial to the maximum setting and really go for it, I can assure you it will get your heart racing!
Low Impact
One of the reasons many people choose to buy a stepper machine is the low impact it has on the joints. The pressure using a stepper machine places on the joints is significantly less than a treadmill or rowing machine. However, if you do have problems with your knees, hips, or ankles I would consult a doctor before deciding to use a mini stepper.
Final Words
Stepper machines are a great choice for those looking to invest in a convenient, lightweight, compact, and affordable home exercise machine. At first glance, they might not look like they can offer much of a workout. However, they are an effective way to achieve a moderate workout in the comfort of your own home. Hopefully, with the help of our guide, you have learnt a thing or two about the benefits of owning one and that you will manage to find the model that best suits your needs.
References and further readings:
JAMA Netw Open. 2021 –

Steps per Day and All-Cause Mortality in Middle-aged Adults

University of Massachusetts Amherst –

Heart health tip for older adults in 2023: Step it up a bit

J Phys Ther Sci. 2015 Jun –

The effects of stepper exercise
Last updated on November 26, 2023 8:12 pm