The Best Speed Bag Platform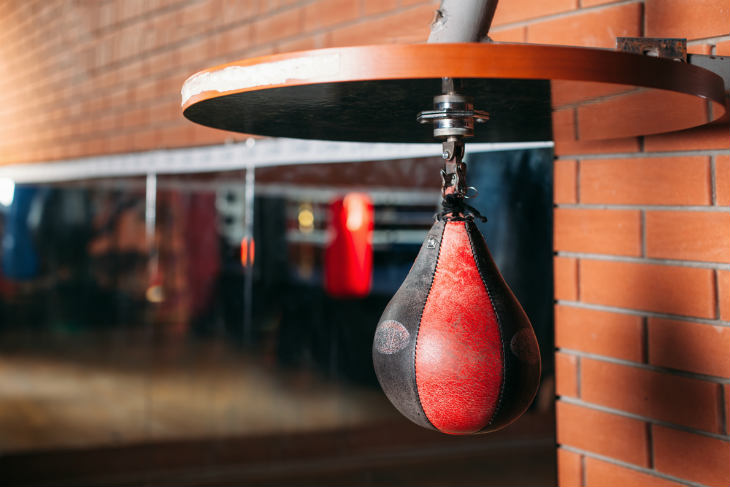 Using a speed bag and the best speed bag platform can vastly improve a boxer's co-ordination, timing and reflexes. This piece of kit is essential if you are to advance with your boxing skills. If you have already bought a speed bag then you are going to need a speed bag platform to hang it from.
In this article we will be reviewing various models to bring you the best speed bag platform in our top 5 list. In addition we will also give you all the information needed to make sure you get the best platform for a speed bag when buying in our buyer's guide.
Last updated on November 26, 2023 7:53 pm
Best Speed Bag Platform – Top 5
---
Everlast Hydrostrike Speed Bag Platform
What They Say
Enjoy a great work out with confidence using the Everlast Hydrostrike Water Speed Bag Platform, this durable platform uses Everlast's unique hydro-strike technology that spreads 11 lbs of water throughout the base to provide consistent speed bag rebounds for an enhanced boxing workout so that you keep up your rhythm.
Features
Includes the Everhide Speed Ball
Hydrostrike technology provides consistent density for perfect rebounds
Lightweight everhide vinyl for excellent durability
High density plastic platform with hydrostike chamber holds up to 11 pounds of water
Caribiner ball and socket swivel allows you to quickly change speed bags without the use of tools
Dimensions: Length: 75cm x Width: 55cm x Height: 55cm
The Good
Easy to assemble
Very affordable
Compact and not too bulky
The Bad
The rebound action could be better
Our View
Although this made it in to our top list, there is no denying its not the best of all the speed bag platforms. However there are many good things about this platform. The bracket doesn't look the most sturdy, but reviews do say its a very sturdy product and i agree. There is the novelty factor that it is water filled and features the hydrostrike technology to help give a perfect rebound. The water filled vinyl is in my opinion the downside to this platform,the rebound action isn't quite as good as with a solid wooden one. The carabiner swivel is positive thing especially if you like to change the size of speed bay your using often. Overall this is a good cheap speed bag platform ideal for beginners or those on a budget.
For Reviews & Latest Amazon Price Click Here
---
RDX Boxing Speed Ball Platform
What They Say
RDX takes boxing workouts to a new level with the introduction of the Commercial Grade adjustable Speed Ball Platform. Specifically designed to withstand the demands of a heavy use environment. Raise and lower the platform to punch at any angle. A heavy-duty hand-locking mechanism helps to eliminate vibration during your frenzied assault.
Features
Commercial Grade Speed Ball Platform designed to withstand heavy use
11 Gauge Steel Tubes along with 2.5cm thick manufactured wood drum
Comes with Maya hide leather Speedball & Pro Stainless steel bearing swivel
Fully adjustable Speed Ball Platform adjusts more than 50 cm vertically
The Good
Very affordable
Adjustable up to 50 cm
Solid rigid frame
Easy to assemble
Lifetime frame warranty
The Bad
The drum/platform is made from manufactured wood
Our View
If its a sturdy well made speed bag platform that you are after then look no further. The RDX speed bag platform made from reinforced steel tubing and comes with a 1 inch thick drum/platform. Like most of the RDX products this item is highly durable and the steel support frames do a really good job at preventing vibrations which you get with less well made speed bag platforms.
When using this platform the first thing to say is that the rebound action is sufficient to gain a good rhythm, however there are better ones available. The adjustable feature is simple to use and just requires you to turn the knobs to raise or lower the platform. With a whopping 50 cm+ adjustment this is one of the best platforms for height adjustment range and makes it perfect for using all size speed bags. Coming with a lifetime frame warranty you can't go wrong with this one, it also comes with a speedball and swivel.
For Reviews & Latest Amazon Price Click Here
---
Everlast Pro Elite 4264 Speed Bag
What They Say
Securely mount your speed bag on the Everlast Adjustable Speedbag Platform and get going with your practice sessions. Whether you're trying to get into shape or go above and beyond in your training, this mounting platform will allow you to add working out with a speed bag to your routine.
Features
Dimensions – L 26.54 x W 26.46 x H 8.19 inches
1″ thick layered hardened speed bag drum
Includes professional-grade swivel
Adjustable
The Good
Easy to adjust
Very sturdy if mounted properly
Comes with a decent swivel
Good rebound
Minimum vibration
The Bad
Only adjustable up to 8" in 1 inch increments
Our View
This speed bag platform is perfect for both beginners and professionals. Constructed from very durable and heavy coated powdered steel the longevity isn't something to worry about. The adjustable feature is one of the easiest to use out of all speed bag platforms and only takes a matter of seconds to adjust. The platform/drum is made from a 1"thick layered hardened wood and gives an excellent rebound enabling a good rhythm to be built up. In addition the sturdiness helps to minimise vibrations which also leads to a better rebound. Overall this is a very good speed bag platform which is easy to assemble and it won't break the bank.
For Reviews & Latest Amazon Price Click Here
---
Paffen Sport PRO SPEED SYSTEM
What They Say
Professional box–Wall set with crank height adjustment in high quality, extra sturdy professional model. Reinforced rail construction 25x90cm, with 4 Star knobs for determining surface high-grade powder coated anthracite metallic. Ball-bearing crank drive for height adjustment, trapezoidal threaded rod height adjustment of about 50cm
Features
Professional boxing wall apparatus with height adjustment via crank, premium quality, extra solid professional execution
Reinforced rail construction 25x90cm, with 4 star grip screws for adjustment, surface high-quality powder-coated in anthracite-metallic
Rotary handle drive provided with ball bearing for height adjustment, acme thread bar, height adjustment of approx. 50cm
MDF baffle plate, 60mm thick, 74cm, untreated
The Good
Very durable
Amazingly sturdy
Adjustable up to 50 cm
60mm thick platform/drum
The Bad
Our View
If you are determined on buying the best platform for a speed bag then here it is. This model by Paffen Sports is as robust as they come been made from the very best materials and will last a lifetime. The rebound action is amazing and that's why this is sold as a professional speed bag platform. When using the adjustable feature it's as simple as turning a crank which in turn lowers or raises the platform. There really isn't much else to say apart from its very good, however it's also expensive. In my opinion you would be best off buying the Everlast Pro Elite because in terms of price/quality ratio you are getting a better deal.
For Reviews & Latest Amazon Price Click Here
---
Different Types Of Speed Bag Platform
Speed bag platforms come in two variations, these are Fixed mounted and adjustable. Below is more information to help you decide which is best for your needs.
Fixed Speed Bag Platform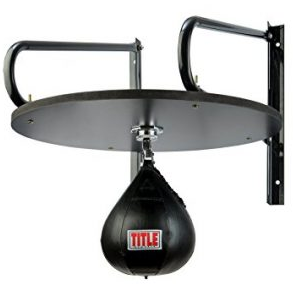 As the name suggests this speed bag platform is mounted in a fixed position to the wall. This basically means once it's there that's the position it stays in. This type of platform doesn't allow for any horizontal movement. Although it does the job it is pretty much limited to only been able to be used by people of the same height. If you are buying this solely for your own use then that is not a problem, just make sure you fix it to the correct height the first time as nobody wants a wall full of drill holes.
Adjustable Speed Bag Platform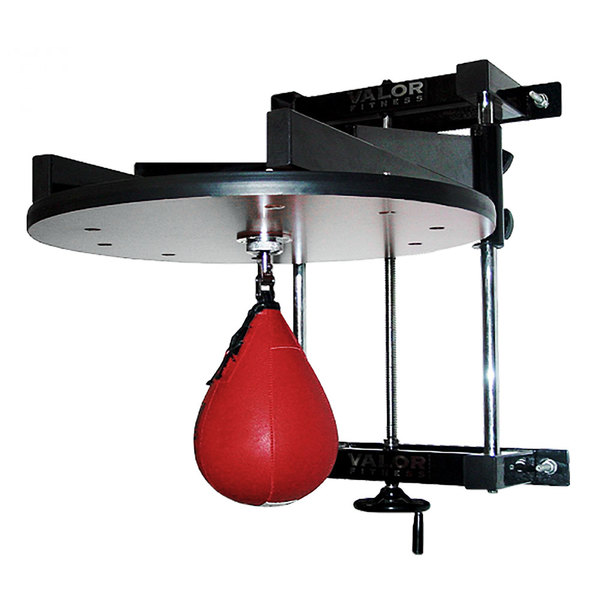 Again as the name suggests this speed bag platform is adjustable, on a horizontal axis. The benefit of this is that it can be used by people of different height, making it a lot more versatile for multi-use. In addition been able to adjust the height allows you to use different size speed bags.
In my opinion this speed bag platform is the best of the two. There are some models that go way over the top in terms of construction. Although they do look the part and do the job there supposed to do, they also cost a lot more to buy.
---
What To Look For When Buying
When buying a speed bag platform there are a few things to consider, if you are to get the best one for your needs. Below is a few words on the most important factors to take on board when buying.
Adjustability
Our opinion is that adjustable speed bag platforms are the best speed bag platform out of the two available options. When buying try to get an adjustable platform with as much movement as possible. Most platforms are adjustable from between 12 and 15 inches. Adjusting the platform height is a simple process all you need to do is turn the knobs to change the height.
Solid Frame/Brackets
The best speed bag platform frames are made from steel. This gives great durability and ensures a long-lasting product. In addition and just as important if not more, is that the sturdier the frame is the better the rebound will be on the speed bag. If your frame is rattling and swaying when in use these added vibrations will have a negative impact on your speed bags rebound.
Platform Thickness
The platform or the "drum" is the round plate that the swivel and speed bag are attached to. The drum can be made from a few materials such as a manufactured wood or vinyl/synthetic material. The best option is a solid wooden drum. Solid wood provides the best rebound action out of all materials. If you decide to go for the cheaper option you will more than likely be disappointed with it.
---
How To Mount A Speed Bag Platform
Mounting a speed bag platform can be a fairly complicated thing to do, especially if you are doing it alone. When fixing a speed bag platform make sure you get someone to help you as they are quite heavy and been as bulky as they are it is a job trying to do it yourself.
In the video below there are a few tips on fixing your platform to the wall
---
Final Words
When buying a speed bag there is a lot to think about if you are to get the best speed bag platform for your needs. If you have read most of this guide you will be a lot more informed on how to make the best purchasing decision. Just remember you don't have to buy the most expensive model to get the best for your needs. You can't go wrong if you choose any of the models featured in this article.
FAQs
How High Should a Speed Bag Be Hung?
When installing a speed bag platform, it is crucial to ensure that it is hung at the appropriate height to suit your boxing objectives. The height should be adjusted so that the top of the bag aligns with your chin level when you punch it. Hanging the speed bag at this height will allow you to work with the bag comfortably, without needing to stoop over or reach too high.
What Materials are Speed Bag Platforms Made Of?
Speed bag platforms are commonly constructed using Medium-Density Fibreboard (MDF) or particle board materials, which feature a high-pressure laminate finish. These materials are chosen for their ability to absorb shock and vibrations caused by punches, while providing a stable foundation for the speed bag.
What Thickness Should a Speed Bag Platform Be?
Ideally, a speed bag platform should have a minimum thickness of 1/2 inch (1.3 cm). Opting for a thicker platform, such as 3/4 inch (1.9 cm) or 1 inch (2.5 cm), offers increased stability and better vibration reduction during use.
Last updated on November 26, 2023 7:53 pm