Best Toning Belt For Abs 2023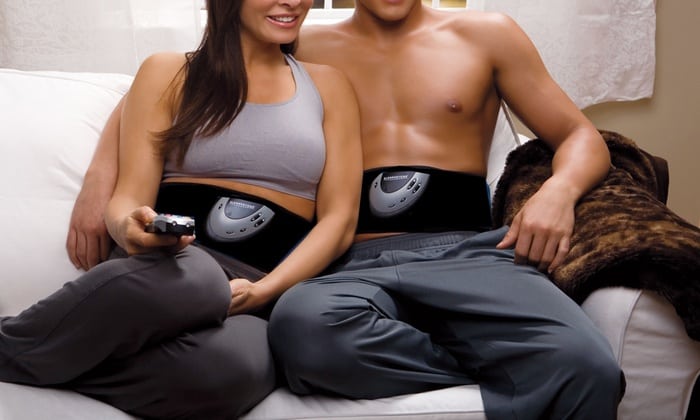 What's The Best Ab Toning Belt

The ab toning belt can be a practical solution for a fitter body. In many cases, it can work your other muscles as well as your abs. People choose toning belts or muscle toning pads due to their simplicity. You can wear such a belt while at home, performing daily tasks, and even while watching TV. But with designs improving all the time, it is often worth investing in compact solutions, as you can also use them while away from home. This is where you can choose a solution which allows you to wear it even while you are at work or studying. The best products are great for slimming and muscle toning as well.
Best Abs Toning Belt On The Market – Top 10 Choices
With hundreds of options available, choosing the right toning belt for you can feel a little overwhelming. Do you go for adjustability? Or do you prefer a design which is compact and easy to carry? In reality, all toning belts are different, and they each come with their own strengths and weaknesses. Here are the leading options to choose from so far in 2023.
Ab Flex Ab Toning Belt
This toning belt is one of the most popular choices when it comes to better overall abdominal definition. Users report positive results in weeks. Of course, as with all similar devices, it is the workouts and the foods you eat that eventually provide you with the results you want. There is little doubt that the belt is practical. With its hand-held controller, it is easy to use, and it represents one of the leading options for simplicity. Simply apply the conductive gel and you are ready to go!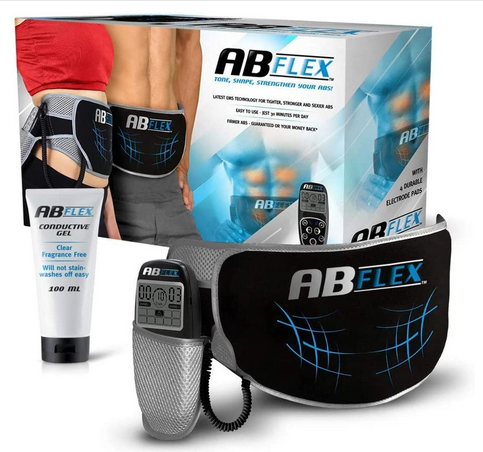 There are 10 programmes to choose from that work with an impressive 99 intensity levels. For most people, this means there is good variation in the intensity levels, even if they are just starting out with the belt. At the same time, you will find this belt has a good battery life. Furthermore, the belt comes with a lifetime warranty, which is hard to match by many other manufacturers.
Pros
Slim and lightweight
Easy to adjust
Adjustable intensity stimulation
Good power backup
Massive confidence booster
One size fits all belt
Cons
Improper gel usage can cause minor skin irritation
Slendertone Unisex Connect Abs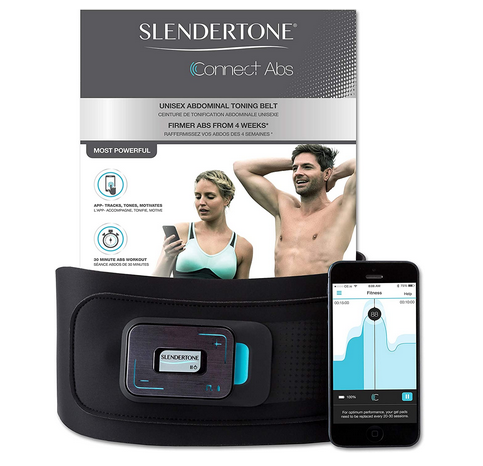 When it comes to using toning belts, some technologies are among the best. This can be seen in the Slendertone Unisex Connect Abs, which comes with an impressive wireless configuration. Based on a dedicated smartphone app, you can choose the type of workout you want your abs to have and your desired intensity level. As with any fitness app, this means that you can also track your performance in time. Most users report improvements of up to 72 per cent in abdominal endurance.
Pros
Rechargeable controller
100 intensity levels
Clinically demonstrated results
Easy to adjust
Comfortable belt
Suitable for all sizes
Cons
Slendertone Unisex Abs7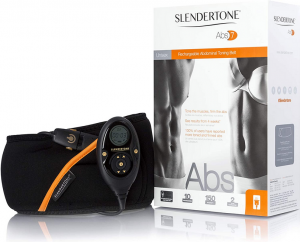 If you want a simpler solution with no smartphone integration, the Slendertone Unisex Abs7 can be a good alternative. It has multiple impressive characteristics. Among them, you will find a great use for the 150 intensity settings. With an intelligent training system, you can progress through the workout automatically. As with many similar products in its category, the belt offers 10 different training programmes. With seven passive and three active programmes, you can activate your abs in different ways. One of the downsides of the belt is that you will have to change the gel pads every three to four weeks.
Pros
Fully rechargeable
Budget-friendly
150 intensity levels
Comfortable to wear
Suitable for all sizes
Cons
Homefront Slim Pro-XV1000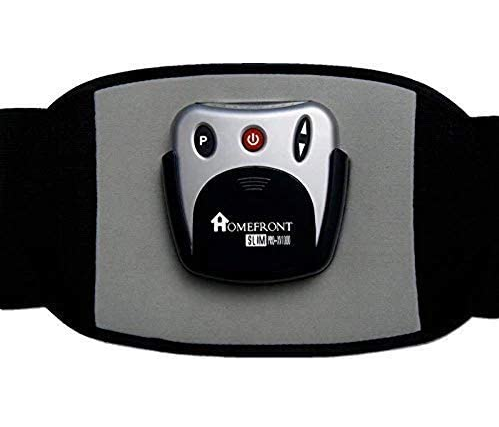 The Homefront Slim Pro-XV1000 belt is recommended for those seeking only to improve their overall abdominal toning. Designed to simplify the workout process, the belt is one of the few options that does not require gels or pads, and you can simply use water to make the most of your abdominal training. If you don't mind its lower number of intensity levels when compared to other belts, it can be one of the options to consider when you are looking for the fastest way to apply a belt with no gels.
Pros
Comfortable to wear
Value for money
Adjustable belt
Fast and efficient
Suitable for all sizes
Cons
Slightly tricky to programme for beginners
Bodi-Tek Abtek Toning Belt
The Bodi-Tek Abtek Toning Belt is among the options you can consider when it comes to waist sizes between 24" and 27". Its adjustable length means that you can use the belt for your legs or arms too, to firm up the muscles for better muscle toning.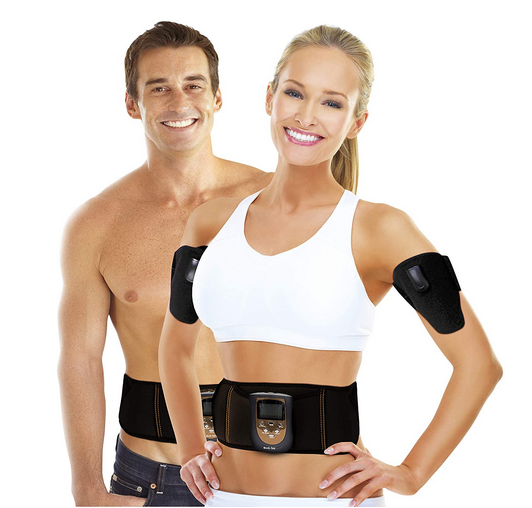 Made with six programmes, this affordable belt is one of the simplest methods to get into shape. At the same time, the users who report the best results are those who use the belt in conjunction with other types of abdominal exercises and a healthy diet. Since the belt is easy to use, it can be ready to go in minutes. It works with a gel which you need to apply to your skin before placing the belt into position. The lower intensity levels will come with a mild tingling. As you progress through the intensity levels, you will start to feel your muscles contracting.
Pros
Lightweight and comfortable to wear
Easy to use
Adjustable intensity stimulation
Discreetly worn under clothing
Easy to read LCD interface
One size fits all
Affordable
Cons
Fitness4Life MT-24 EMS Muscle Stimulator Toned ABS Toner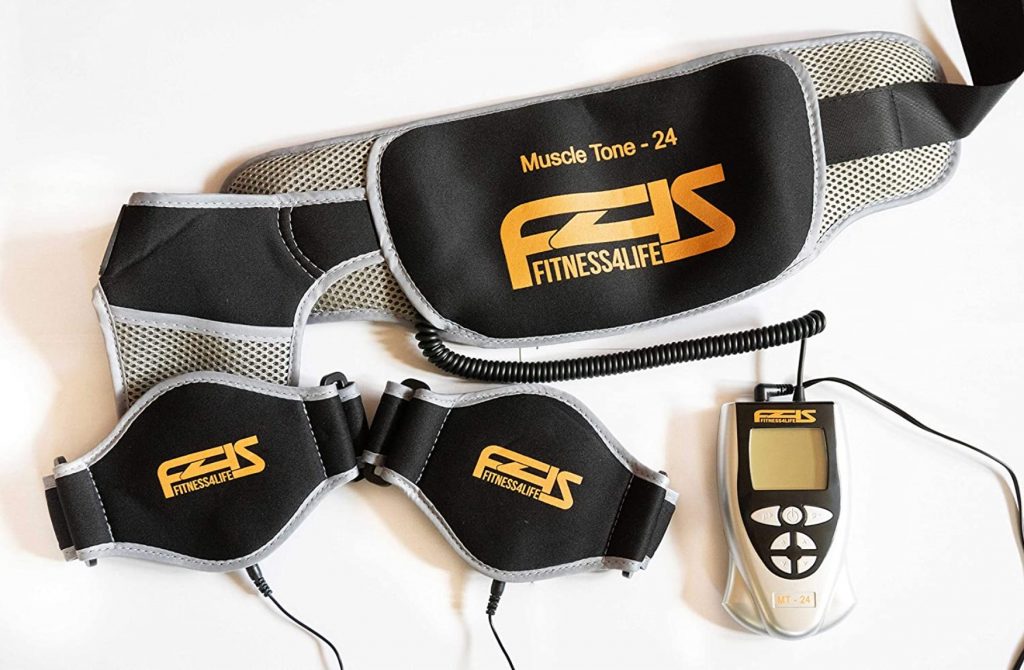 This toning belt is very effective for shaping and firming your muscles. The best thing about this belt is that everything is controlled with the help of a handheld controller. The belt also comes with a pocket where you can keep your controller, and as a result, if you wish to adjust the intensity it can be done easily.
All you need is 20 minutes and this muscle stimulator will do the job. Whether you are sitting and watching your favourite movie, performing household tasks, or even reading, just wear your belt and start enjoying your workout. You can also wear it on your legs and arms for toning.
But it doesn't end there! This perfect abdominal muscles stimulator also helps in improving your posture. The belt is also designed to relieve pain along with body slimming. The belt is particularly useful for post-natal exercises and can help the new mother regain her previous figure faster and more effectively.
What can be better than firming, shaping, toning, and strengthening your muscles with a single belt? Both men and women can use this versatile and easy-to-use belt.
Pros
100% money-back guarantee
Easy to use
Perfect for mild pain relief
Comfortable Velcro belts
Easy to clean
Remote control
Cons
Not recommended for anyone with curvature of the spine
ANLAN EMS Muscle Stimulator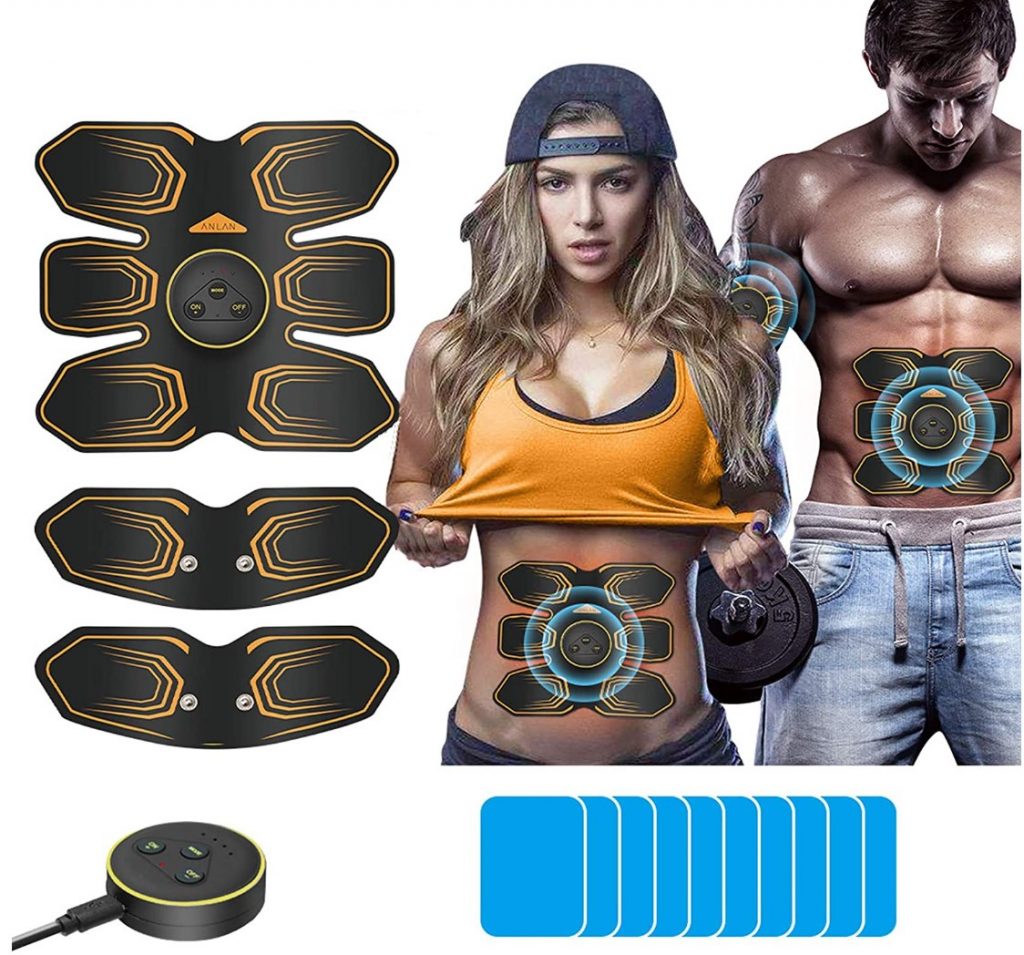 The ANLAN EMS Muscle Stimulator is another great product on the list. Having revolutionary technology, the belt is ideal to tone your muscles with the help of high precision, micro-discharges during your exercise schedule. This toning belt is specifically designed to help firm muscles using deep electrical muscle stimulation. The product works well for both men and women.
It comes with 10 intensity levels and six modes in total. The operational mode of the belt is equal to 60 minutes of sit-ups, a run of 2000m, or 60 minutes of freestyle swimming. You can enjoy a comfortable and personalized workout routine within the comfort of your home or even your office. If you suffer from muscle soreness after your workout session, go for this belt to soothe the aching muscles.
The belt is provided with an 8-electrode shaped stimulator, which is an innovative design. It helps with comfortable and ergonomic adhesion of the belt to the abdominal muscles. The pads are very soft and highly breathable, and being small and thin, they adhere perfectly to your skin.
You can charge the belt with a tablet or computer via any USB interface. It will only take two hours to charge fully, allowing 30 minutes of non-stop working. Just make sure you attach the machine to your skin tightly for better performance. The belt will switch off automatically after only a few seconds if it is attached too loosely.
Pros
Comfortable pads
Easy to adjust
USB rechargeable
Effective nature
Safe to use
12 months warranty
CE and RHOS certified
Improper attachment turns off the device automatically
Cons
iLoxin EMS Muscle Stimulator Abs Trainer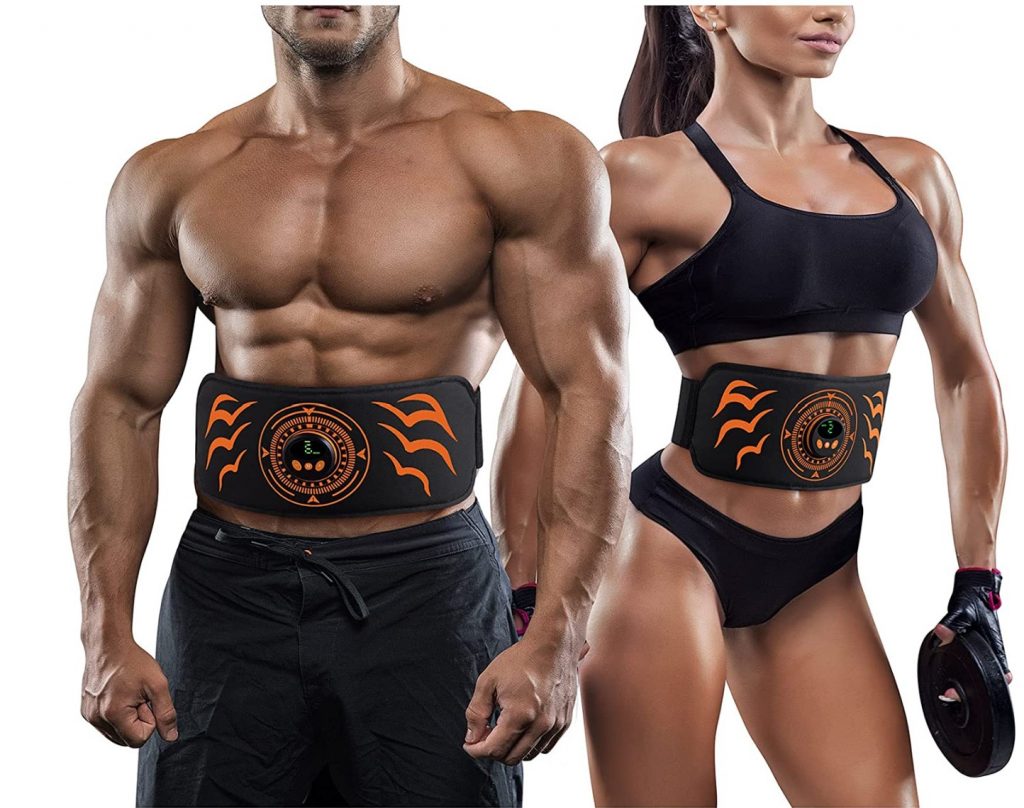 This ab trainer will develop your dream physique just the way you want it. The iLoxin EMS Muscle Stimulator Abs Trainer is a great choice to boost your body confidence. All you need to do is pull out a 20-minute session daily with the seamless integration of this belt, and you will start seeing a difference within a few weeks. The belt comes with revolutionary technology trusted by some of the top athletes from all across the globe.
This advanced technology stomach toner will train your muscles with the help of micro-contractions. Nearly 100% of your muscle fibres will experience stimulation to balance post-training comfort and quality performance. Get your hands on this ab cruncher and enjoy six training modes along with 15 intensity levels. There is no need to exhaust your body with strenuous workouts.
The belt is very reliable and convenient in its operations. No matter what waist size you are, the flexibility of this trainer will adjust accordingly. You are just one step away from a dream athletic body!
The rechargeable battery will make your life easier. Whether you are watching TV or reading a book, just wear the belt and start making significant gains!
Pros
Rechargeable battery
Easy to use
Adjustable waist
One size fits all
Cons
Sielife EMS Muscle Stimulator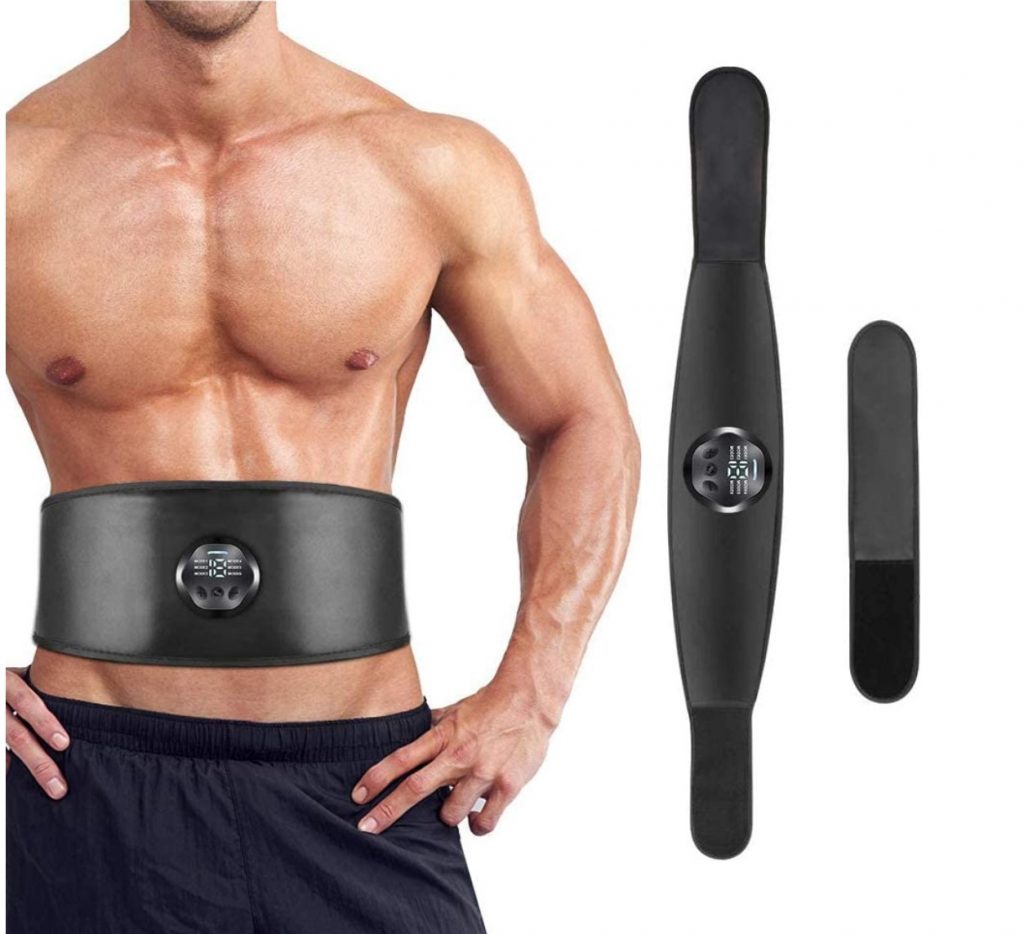 This belt comes with six modes and 18 intensities. You only need to wear this belt for 15 minutes daily and let it do the job. The results are equal to what you can achieve after swimming for 30 minutes, 60 minutes of crunches and sit-ups, 2000m of running, or two weeks of a strict diet.
This powerful body trainer is made of leather for a comfortable feel on the skin. You can easily fold the belt to carry it anywhere you want. Simply wear the belt and start your muscle strengthening and body slimming journey today! You will definitely see visible results within a month of using this trainer.
The best part about using this belt is that you can easily adjust each EMS electrode on an individual basis, so there is no need to worry about extra accessories. You do not require replacement pads or gel when using this belt. Simply apply some water directly to the pad and your abdomen and wear the belt. That's it!
The belt also offers a larger contact surface and better flexibility when compared to other models. Some extra perks you will receive with this belt include a spray bottle, a wipe cloth, a USB charging cable, and an extension belt. The company offers a 12-month guarantee.
Pros
Convenient and efficient
Fits perfectly
Easily adjusted to any size
Good for people with large waists
Travel friendly
No gel pads
Each EMS machine can be adjusted individually
Cons
Beginners might need extra assistance
VEOFIT Ab Toning Belt EMS Electrical Muscle Stimulator Trainer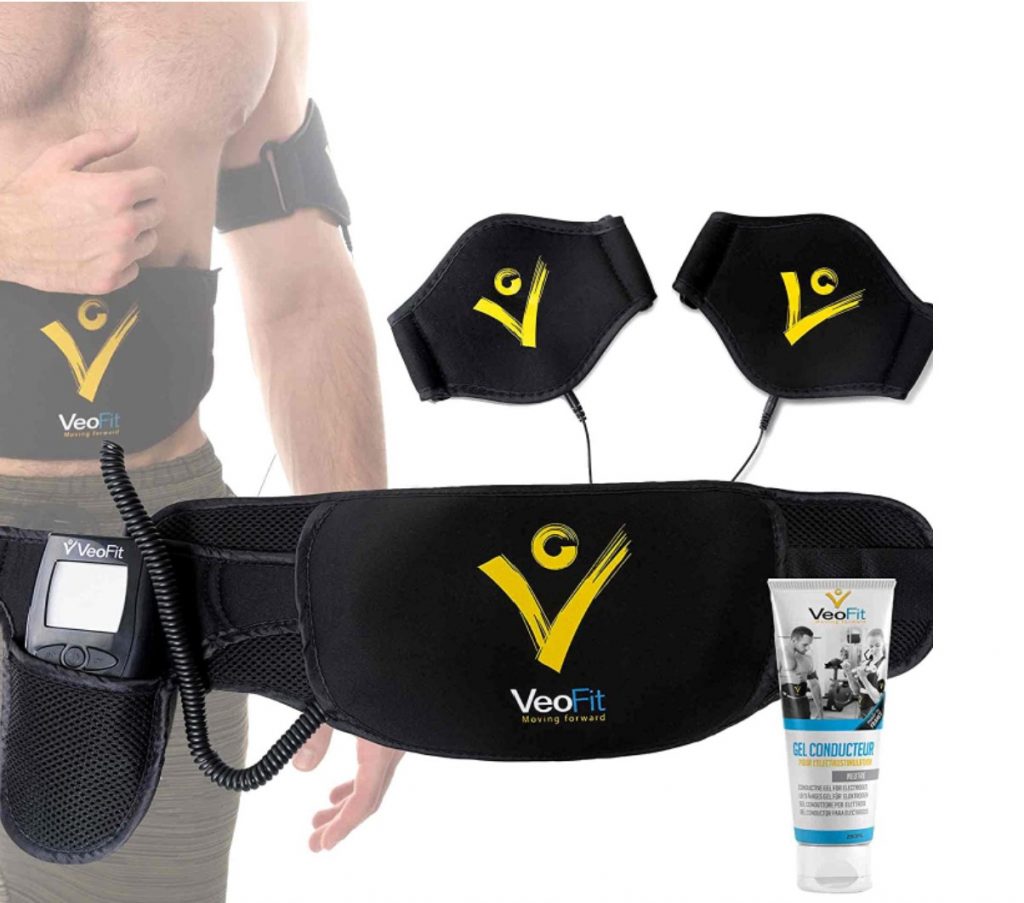 The VeoFit ab toning belt is a good option if you are looking for a full-body workout. It acts as your personal coach, offering innovative electrical stimulation for body slimming and toning. The belt promotes healthy drainage to flatten your stomach and tighten your arm as well as leg muscles. It is a perfect product for both men and women who want to get their ideal shape back. It is also an ideal device to warm up before you begin your muscular workout routine. You can also use it during gym or sports.
This muscle machine comes with 10 training programmes along with 40 intensity levels. The best thing is that there is no need for additional gel and the electrodes are already integrated. The belt meets European standards and is CE certified. A number of physiotherapists and athletes use this muscle machine for injury recovery and fitness training.
Three weight loss belts are capable of working at the same time. There are two additional toner belts in the package and four built electrodes. The belt can be used on the stomach as well as calves, thighs, and arms. It is an excellent machine for back pain, post-injury discomfort, and muscular re-education.
Pros
Dual-channel for simultaneous use
No additional gel needed
Money-back guarantee
Durable and economical
Integrated electrodes
Cons
Not ideal for larger waists
Charminer Muscle Toner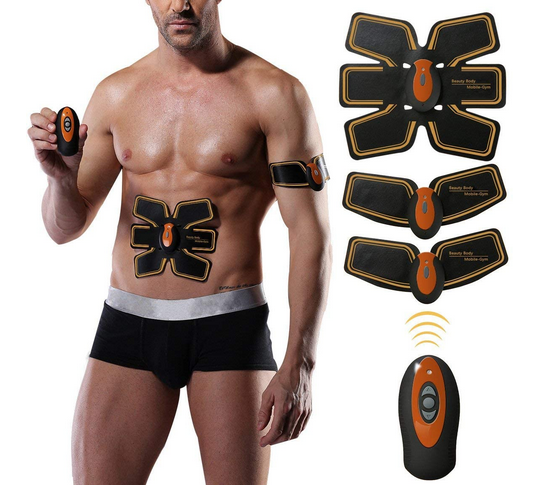 The toning belt is great for your whole body. It works for your abs and, with its adjustable length, it also works great for your legs, arms, and bum. It works for both men and women. Since it comes with a simple operation, it can be one of the options which are recommended as the first product in this class. This is because it comes with just 10 intensity levels and five programmes. If you don't mind the lower number of intensity levels, it can be one of the belts to use on various parts of your body for 20-30 minutes at a time.
Pros
Adopting EMS technology
High-quality abs gel sheet
Improved conductivity
Easy to use
Compact and ultrathin
Adjustable intensity stimulation
Cons
How To Choose The Best Abdominals Toning Belt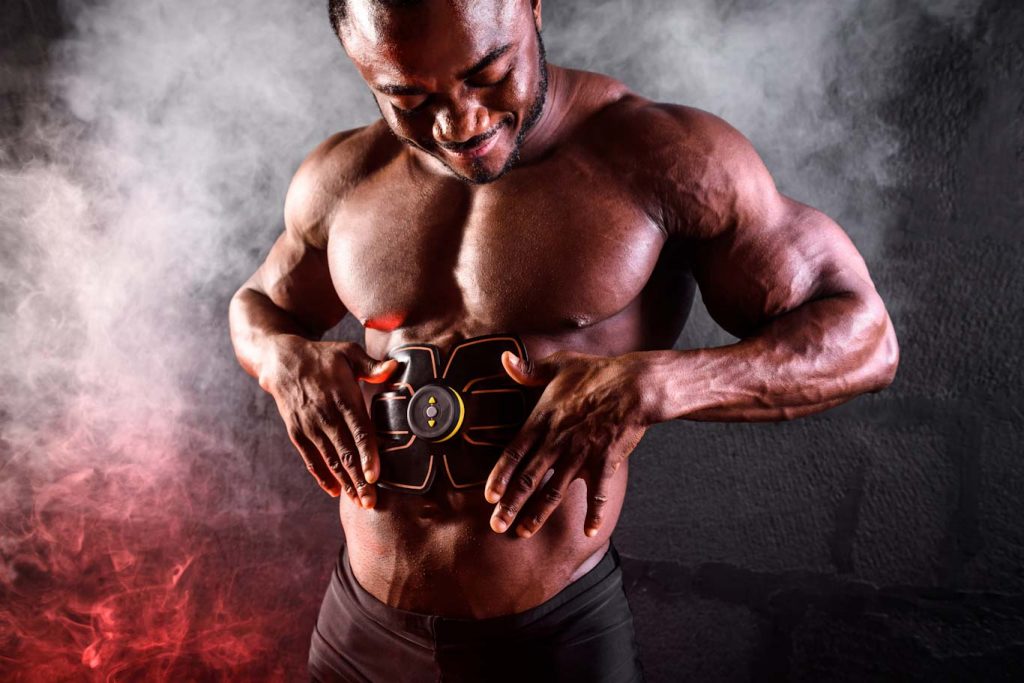 When it comes to making an informed decision, there are a few characteristics you need to look at. For most beginners, any belt can be a good start. But if you want the best solution, you will need to look at the features which offer the best results. Since most belts can be used on your waist, abs, legs, arms, and chest, you want to maximize the versatility of the product for your fitness goals.
Number Of Programmes
The number of programmes is among the most important characteristics of a toning belt. They vary from five to 10 among the leading products. In many cases, the number of programmes you have is also able to determine how you are going to use the belt in the future.
Some of the more active programmes might make it difficult for you to perform other activities. On the other hand, some of the passive programmes can allow you to perform daily tasks such as taking a walk or working at a computer. This is why it is recommended to choose a product which comes with a higher number of programmes.
Intensity Levels
The intensity levels are often overlooked by first-time buyers. You need to realise that the intensity levels are among the most important characteristics to consider. One of the best parts of using a toning belt which comes with multiple intensity levels is simply to track your progress. In the beginning, you will not be able to enjoy the most intense settings of the belt. But as you progress through the weeks of using a belt, you will be able to build your muscle endurance and eventually enjoy the higher intensity levels.
At the same time, the various programmes the toning belt comes with use different intensity levels. The variation in intensity is what makes the belt a good choice for muscle toning. This is because you will eventually get used to the same programme. Thus, if you plan to use the toning belt for a long period, you will be able to enjoy the best results with intensity variation. These levels also vary from 10 to 100 with the toning belts you can currently purchase.
Connectivity
Another important aspect to consider comes with the connectivity of the belt. If you are not a fan of smartphone apps, this feature might not be for you. But if you like to keep track of your progress, controlling your workouts through your smartphone can be interesting. At the same time, you will be able to save important data, such as the duration and intensity of a certain programme. Keeping track of your endurance progress is thus much easier.
Using a smartphone app to control your toning belt also makes it a future-proof purchase, as you won't need to upgrade your toning belt in a year's time. This is why choosing a solution which is up to date with modern technologies is recommended. For most people, it is also important to know that up-to-date toning belts work great for the entire family. They work for both men and women, and they can be used with different profiles on certain smartphone apps.
Ease Of Use
Simplicity is often highly praised by the users of toning belts. With so many designs, all manufacturers try to stand out. But it is often the products which are the simplest which are favoured by customers. This is why you should always look to use a toning belt which is easy to use.
From your classic solution with just a few buttons to the belt which comes full of possible settings and adjustability, there are many options to consider. A good balance between customization and simplicity is the best route. If you read the reviews on many toning belts, you will see that one of the problems which come up constantly is the time which is needed to set up the belt. This is where people tend to favour the products which are the quickest to set up. Since they might even be used every day, you may consider the options you have with the belts which are ready to go as soon as possible, in order to save time.
Since you might also be using a toning belt alongside other types of physical training, you may not have any extra time to set up your device. This is why it is recommended you choose a minimalistic design, at least if you are looking to make your first purchase in this category.
Warranty Coverage
There are many types of warranties on the market. You can find products which offer only a few months of warranty and others which offer a lifetime warranty. In theory, there is not much which can go wrong with a toning belt. Ideally, you should be looking for a toning belt which offers at least a few years of coverage for any manufacturing defects. In some rare cases, manufacturers can also offer extended warranties.
Price
Finally, one of the important aspects to consider is the price of the toning belt. This is where you will have to set a budget according to your circumstances. Some products might require you to purchase the gel and batteries separately. Others work with water, and you would be left with expenses on batteries only. It is important to look at the product you can afford at the time.
FAQs
Do AB Toning belts burn fat?
The AB belts are great when it comes to toning your muscles. But alone, the toning belt is not magic! You won't be able to detect any significant difference in terms of appearance because the majority of your ab muscles are covered by fat. Some of the products claim they are capable of fast weight loss and overall conditioning, but a diet plan and active lifestyle are recommended.
Are AB Toning belts dangerous?
Not for the majority, but for some people, yes, the ab belts can cause harm. If you use a pacemaker even the highest quality ab toning belts can be dangerous. The majority of the top companies warn buyers with internal electronic devices not to use ab toning belts.
Also, read our opinion: Do Ab Toning Belts Really Work?
Conclusion
Choosing the best ab toning belt is not complicated when you know the types of features to look for. The good news is that you can choose products which are made to a high standard and include some of the latest characteristics, such as app integration.
So when you ask – what is the best toning belt for stomachs on the market, the Ab Flex Ab Toning Belt is the best answer for most people. With 99 intensity levels and easy operation, the belt is great for both beginners and advanced users. At the same time, it is a versatile solution which can work for your waist, abdominals, legs, and arms. It is also a product for long-term use, as it comes with lifetime warranty.
References and further readings:
Last update was on: November 26, 2023 9:48 pm