Top 10 Best Heavy Punch Bags – A Fighters Guide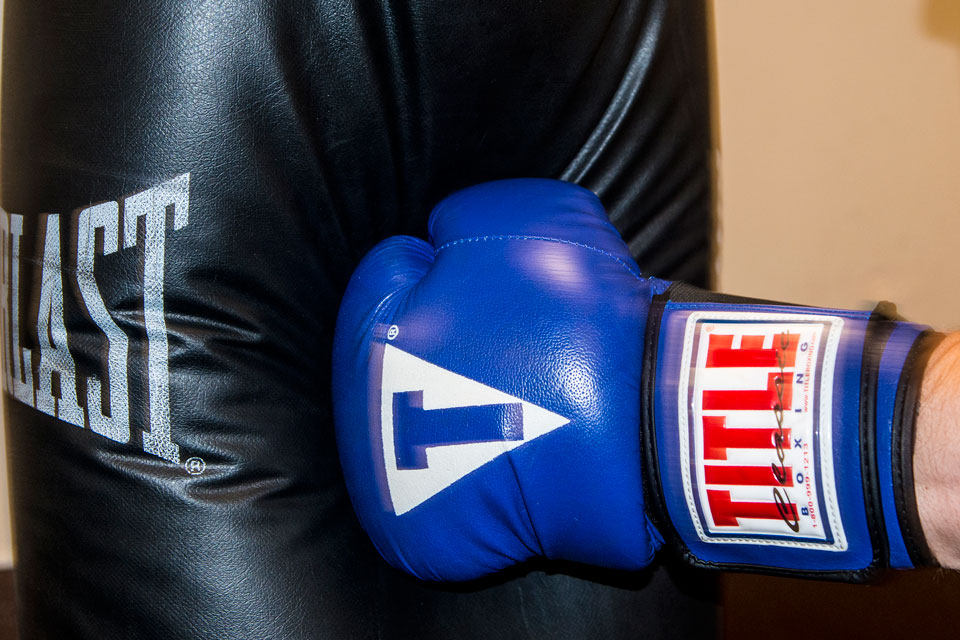 The Best Punch Bags 2023
Some of the best heavy punch bags are suitable for the thought fighters. Boxers, kick-boxers or MMA fighters can rely on them for everyday training. A good heavy punch bag may be all that's needed to get into fighting training. However, what makes a good heavy punch bag? Here are the best choices and why they are popular today.
<< Top 10 Free Standing Punch Bags >>
Top 10 Best Punch Bags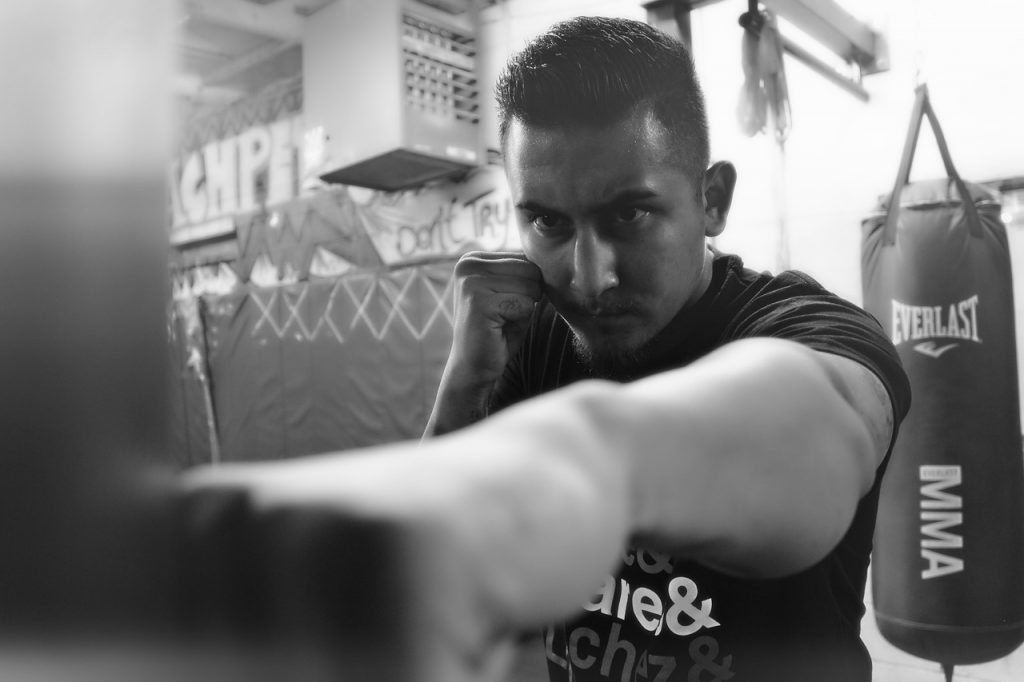 Free-standing and ceiling-hanged punch bags are available for home or gym use. Their weights and materials differ and they can be used in a wide number of sports which include boxing, MMA, kick-boxing or simply used to achieve better fitness.
1. RDX Heavy Punch Bag
The heavy punch bag is one of the most popular options due to its durable materials. Double stitching is used to keep the materials firmly together. This is why fighters can punch as hard as they can without the fear of damaging the bag.
Another major advantage is given by the waterproof protection of the punch bag. While indoors, there's no need to worry about possible water damage. But many fighters simply prefer to train outdoors. It's outside they get to breathe a bit better and to stay cooler during training. But rainy days have done their damage on many heavy punch bags before. The RDX punch bag eliminates these issues with its waterproofing.
Gel foam padding comfort
Gel foam is used on the outer surface of the punch bag. This material absorbs shocks. It limits the damage made to the knuckles and the feet. Of course, it doesn't replace actual punch gloves. But the gel foam insertion comes with a bit of cushioning so that those who train every day are not as impacted by the materials as they normally are.
An anti-sway design has been implemented as well. The weight of the punch bag is evenly distributed. This means it comes with reduced sway. Furthermore, it is one of the main issues which prevents other punch bags from being installed in corners.
Pros
Includes Maya Hide bag gloves
Durable double stitching design
Includes supporting D shackles
Cons
2. ONEX Heavy Filled 11 Piece 5ft Boxing Punch Bag
This affordable punch bag is one of the best solutions to get started with training. Mainly made for home use, the heavy punch bag impresses with its all-in-one pack. Complete with a hanging mechanism, the punch bag also comes with lightweight punching gloves. They might not be the thickest fighting gloves out there but they are enough to get started with training.
To install the punch bag, fighters first need to find a suitable place on the ceiling. The hanging chain is installed next. The entire punch bag can be lifted by a single person. This is why no helping hands are needed during the installation process. Furthermore, fighters can easily take the punch bag off as needed.
Color options
The affordable punch bag is available in blue, black, and red. The gloves inside the pack are white. Gray wrist wraps are also shipped with the punch bag. But the best part is those creating their home gym can color-match the punch bag to their fitness equipment.
Inside the pack, the manufacturer also adds a simple jump rope. It can be used for endurance training and fighters can start their training program just using the punch bag, the skipping rope and bodyweight exercises.
Pros
Ships as a set
Installs with no help
Includes punch gloves and a jump rope
Cons
The punch gloves are thinly-cushioned
3. Gallant 5.5ft Free-Standing Boxing Punch Bag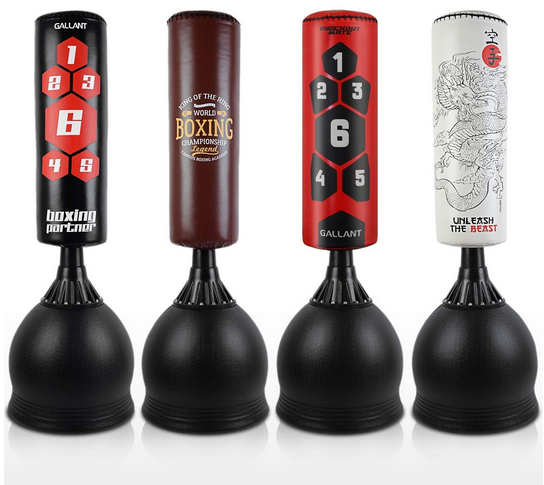 Not all fighters have the space to hang a punching bag. This is why the Gallant free-standing punch bag is one of the best alternatives. Made to be used indoors, it sits on a heavy base on any flat floor surface. This is why it's important to look at the options which allow fighters to place the punch bag in a training location around the home. One of its advantages is that it can be moved to a corner when training finishes.
A combination of water and sand completes the heavy-duty steel base. This base is specifically heavy so that the punch bag stays up regardless of how hard fighters hit it. The base is removable when the punch bag is transported.
Foam cushioning and PU leather
A layer of foam is added as cushioning on the outside surface of the punch bag. The lightweight material is used to absorb shocks and it represents one of the viable options for extra durability with a lower risk of injury. Together with the punching gloves' foam shock absorption, the punch bag diminishes high impact has on the knuckles.
PU grain leather is used to cover the punch bag. The premium material is particularly helpful for those seeking a premium design. While the punch bag is not as lightweight as many believe, the leather cover makes it particularly appealing for those who might already be using their own favorite leather punch gloves.
Pros
Sits on a stable steel base
Includes foam cushioning
Covered in PU grain leather
Cons
165cm maximum punching height
4. MADX 4ft Punch Bag Filled Heavy Punch/Kick Bag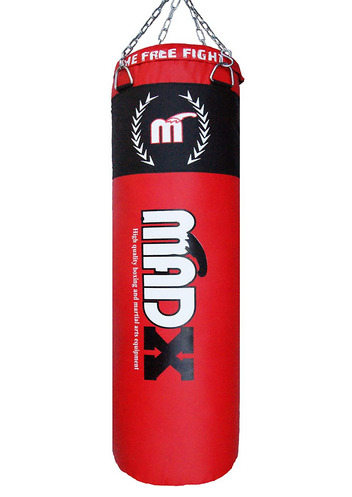 Filled with rexine leather, this heavy punch bag comes with a weight of 20kg. The punch bag has a zipped top which allows users to add a bit more weight as needed. It handles a maximum weight of 60kg. Those who want to add a bit more leather to increase their weight can do so when their fighting skills improve and when they need an even heavier punch bag.
A heavy-duty swivel chain is also included in the pack. The chain is normally attached to a hook in the ceiling. Before installing such a hook, it's advised to ensure the beam it's inserted in supports its 20kg weight.
Since it's hanged from the ceiling, the punch bag can also be used as a kick bag. Muay Thai fighters can also use is as can MMA fighters. The versatility of the bag allows it to be used in all types of contact sports such as boxing.
But the biggest advantage of the MADX 4ft punch bag is the fact it handles extra weight as needed. Clothes or leather materials can be added inside the punch bag to increase its weight and feel with every punch.
Pros
Easily hanged from the ceiling
Ships with a heavy-duty steel chain
Supports up to 60kg
Cons
Made with thin foam cushioning
5. Onex Filled Heavy Punch Bag Buyer Build Set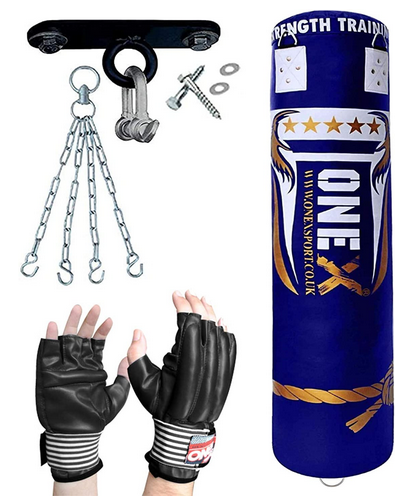 Available in 3,4, and 5 feet versions, this heavy punch bag is an all-in-one solution for amateur fighters. It ships complete with accessories and it includes practical punching gloves as well. Suitable for technical fighters and teenagers as well, the bag comes with an 18kg weight.
This weight can also be slightly expanded. Extra materials can be added through the top opening. Fighters are also able to remove the weight and reduce it to a comfortable limit. Depending on the sport and on the style of training, the weight versatility of the system allows it to work for all types of fighters, regardless of their age and height.
All-in-one starter pack
Punching gloves are also included in the pack together with wrist wraps. The way they are used depends on each fighter. Some fighters only use punching gloves while also wearing wrist wraps. Others only use punching globes on their bare hands. But several MMA-style fighters only use wrist wraps during their punching training sessions.
As other punching bags from the manufacturer, waterproofing is included. Properly stitched together, the punch bag doesn't allow water to get inside. Hardcore fighters who box out in the rain have no durability issues with the bag for this reason.
Pros
Ships with punching gloves and wrist wraps
Includes a jump rope
Made with a waterproof design
Cons
Not available in multiple colors
6. RDX Heavy Boxing Uppercut Body Punch Bag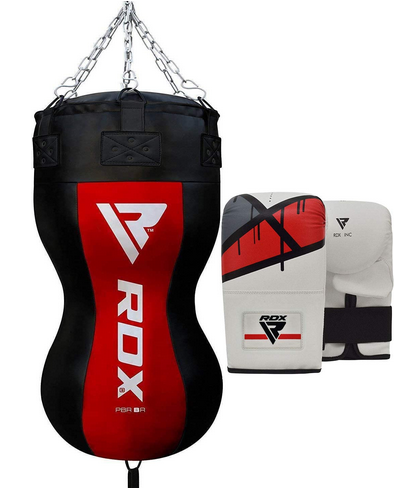 This heavy-duty punch bag comes with an impressive 30kg weight. It is one of the heaviest options in this class and it's specifically made for the toughest fighters. Its shape is irregular as well and this means punching from different angles is favored considerably.
Such a heavy punch bag comes with its limits as well. For example, it may prove difficult to hang by a single person. At least to people need to be present to lift and hang the bag on the swivel chain set included in the pack.
2-inch polyethylene foam cushioning
Since it comes with a considerable weight, the punch bag is backed by 2-in foam cushioning. This cushioning is one of the thickest in its class. However, due to its weight, it might not be as easy to punch it hard as beginners might think.
Extra weight can also be added as needed. A zip-fastened top has been specifically made for this reason. This weight is added through the zip opening as needed. But even with heavier weight, punching gloves are still needed to make the most of it. RDX also includes comfortable punching gloves in the box,
Since it comes with a zipped top, the punching bag may also be used outdoors. Water cannot enter its contents and it dries fast after rain due to this reason. In case the top opening is open when the rain comes, it is important to empty its content and allow it to dry naturally to prevent mold formation.
Pros
Made with 30kg of weight
Covered in synthetic leather
Protected by 2in foam cushioning
Cons
Needs 2 people for installation
View Latest The Boxing Gloves Prices
7. BodyRip Free Standing Punch Bag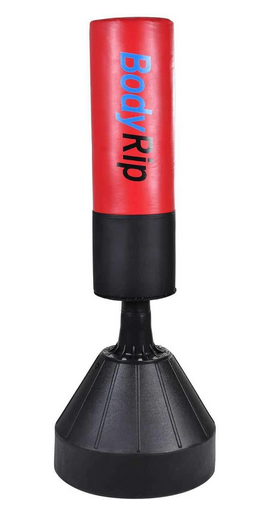 This punch bag is available both in straight and in T-shape forms. Suitable for real fighters, it has a freestanding design. Those new to heavy punch bags can rest assured no nuts and bolts are need during the installation process. This is the reason why it can be used both in gyms and at home.
Furthermore, extra heavy punches are fully supported by the bag. But the basic needs to be filled with sand and water to be the sturdiest. Some users even report adding as much as 40kg of weight to the base. This made the punch bag extra stable.
Thick padding
The foam padding on the punch bag measures 5cm. EPE foam is used for cushioning. This also places the punching bag in a category with thickly-padded surfaces, suitable for all types of heavyweight fighters. From boxing to kickboxing, it supports all types of sports.
Pros
Sits on a stable base
Uses 5cm of EPE foam padding
Doesn't require assembly tools
Cons
Needs sand added to the base
8. U'king Free Standing Boxing Punch Bag Stand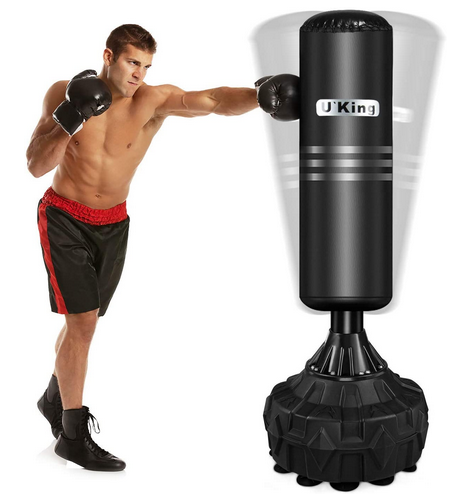 The U'king standing boxing punch bag has a unique base. It uses suction cups to keep it in place. As a result, the punch bag has the advantage of staying in place. One of the biggest problems of free-standing bags is that they move around, especially with heavy punches or powerful kicks. With 12 ABS plastic suction cups, the punch bag's base sticks to the floor as not many others can.
Leather and foam cushioning
Thickened 2mm leather is used to cover the punching bag. As seen on the products from the manufacturer, this material is made to resist friction. It doesn't matter if the fighters use boxing gloves or not. The synthetic leather is made to last. Unlike many other types of real leather, the synthetic alternative is also less susceptible to water damage.
EPE foam of 5cm is used to protect the hands of the puncher. This thickness is quickly becoming the norm on the best heavy duty punch bags. Together with the heavy base, it absorbs the shocks well. The base can be filled with water to a weight of 182lbs, where it hardly moves around when punched.
Pros
Made with ABS plastic suction cups
The base fills with water to 182lbs
Based on a free-standing design
Cons
Hard to move around the house
9. Last Punch Heavy Duty Punching Bag with Chains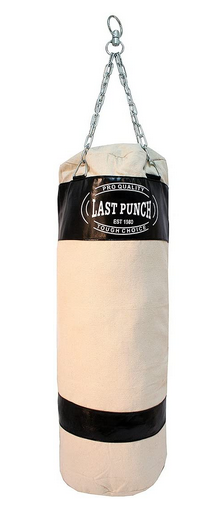 This heavy-duty punching bag is one of the customizable options fighters can rely on. It doesn't come filled with weight and users can add whatever weight they find around the house inside the punch bag. Old clothes are among the items most used for this purpose.
50" in length
The punch bag has a 50" length. It represents one of the suitable options for those wishing to punch and kick during the training session. While it is one of the longest punch bags, it is also suitable for the tallest fighters. Its overall versatility allows it to be used for MMA, kickboxing or boxing training.
Made with heavy-duty synthetic leather, the bag is durable. However, it is not made with waterproofing and this is the reason it's mainly made to be used indoors or under a roof such as in a garage. At the moment, the bag is only available in a white option.
Pros
Made with a 50" length
Allows users to add their weights
Hangs from a beam or ceiling
Cons
10. Everlast Nevatear Heavy Punch Bag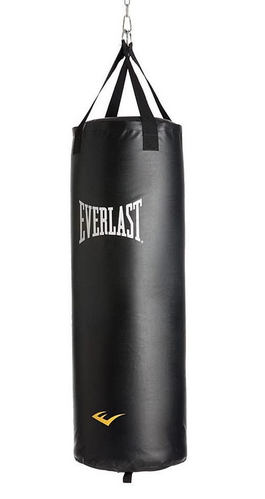 This 25kg punch bag is one of the multiple releases made by Everlast. It is made with double stitching to ensure proper punching durability. Unlike many others made for the toughest fighters, it uses nylon straps instead of chains to hang from the ceiling. This means it makes less noise when punched hard. As a result, it is recommended for families or those who want to keep the noise level at a minimum while training.
25kg of weight
Filled with resilient materials, the punching bag weighs up to 25kg on average. It also supports a few more kilograms as added by users. This means it supports the heaviest punches from the heavyweight fighters.
With a circumference of 32 cm and a height of 91cm, the punching bag is not the smallest in its class. This means it needs sufficient space plus clearance to be hanged off a ceiling. At the same time, it needs sufficient punching or kicking space around it for users to make the most of its benefits.
The vinyl-covered punch bag doesn't come with any punching gloves. But since its made by Everlast, users can purchase one of the multiple punching gloves made by the manufacturer to start training with the punch bag as soon as possible.
Pros
Made with a length of 91 cm
Measures 32cm in diameter
Uses nylon hanging straps
Cons
Final Words
Choosing the best heavy punch bag is not complicated. But users need to keep in mind not all of them come with the same weight. The diameter and the length of the punch bag vary as well. Most importantly, punch bags can be hanged off the ceiling or they can come in a free-standing design. For this reason, every fighter needs to decide which works best for their needs.
Those who like to train in various locations around the house can benefit from a free-standing design. Fighters who only want to punch and kick hard every training session might not need as much versatility and a punching bag hanged off a ceiling might be sufficient for their needs.
FAQs
What is an Ideal Weight for a Heavy Punching Bag?
According to UFC.com, the weight of a heavy punching bag should be determined by your body weight. As a general guideline, the weight of the heavy bag should be approximately half of your own body weight. For beginners, a 31.75-kilogram bag (70-pound) is a good starting point. For individuals weighing over 45 kilograms (100-pound) or with more experience, a 45.36-kilogram bag (100-pound) or heavier may be more suitable. It's important to select a weight that allows you to practice your technique without risking injury.
How High Should Heavy Bags Be Suspended from the Floor?
The heavy bag should be hung so that the bottom of the bag is approximately 15 centimeters (6-inch) off the ground for adults and 10 centimeters (4-inch) off the ground for children. This ensures proper striking and movement during workouts.
Are Heavier Punching Bags More Effective?
The effectiveness of a punching bag depends on your goals and experience level. Heavier punching bags provide more resistance and can help develop strength and power, but they can also be more challenging to control and may place additional strain on your joints. It's crucial to choose a punching bag that is appropriate for your skill level and fitness objectives.
Does a Heavy Bag Require a Swivel?
While it is not absolutely necessary to have a swivel for your punching bag, it is highly recommended. A swivel allows the bag to rotate freely, reducing stress on the bag and hanging hardware. It also enables a wider range of movement and enhances training for punches and kicks.
Last updated on November 26, 2023 8:03 pm