Top 10 Best Boxing Headgear For Sparring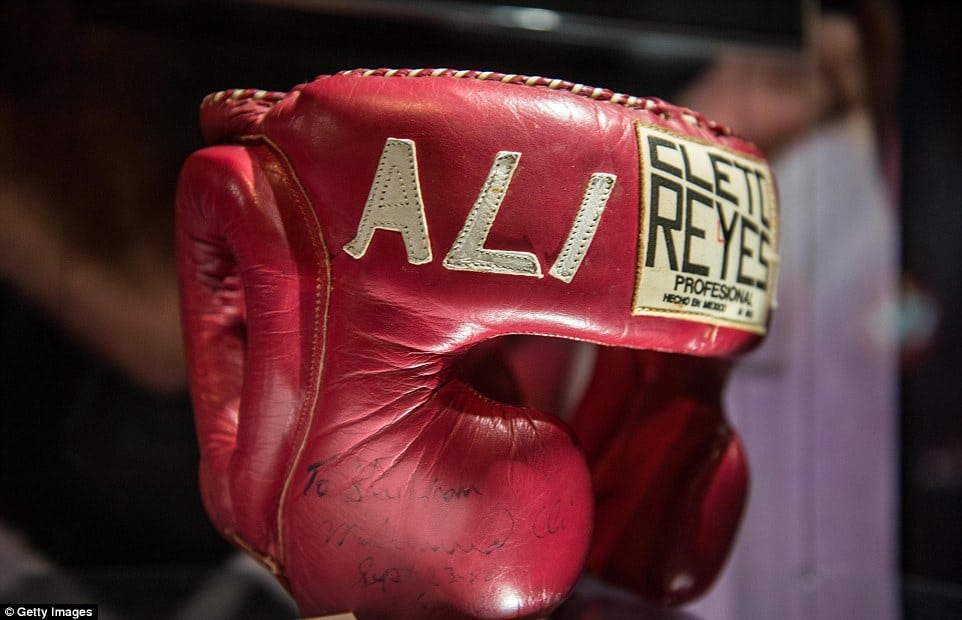 If you are smart, and if you are seriously into Boxing or MMA you are going to need to buy headgear to protect yourself during training sessions. If you're clever then you will want to buy the best boxing headgear for sparring. Although headgear will not protect you from concussion, it will reduce your chances of receiving cuts and bruises dramatically. It will also give you some degree of safety from brain damage if you are hit in the head. But try and get good at boxing so you don't get hit in the head!!
The next question for you is; What is the best MMA and boxing headgear for sparring ?
To answer that question we have put together the top 10 best headgear boxing brands have to offer. When choosing our top 10 list we have taken into consideration the padding and protection offered, the quality of materials, price of the headgear and overall functionality.
Top 10 Boxing Headgear For Sparring

---
10) RDX Cow Hide Leather Boxing Headgear
What They Say
RDX head guard is built to give maximum protection to the most vital part of your body – your brain. Durable and long lasting, authentic full-grain cowhide leather compliments the already solid interior of this guard. Zero Impact G-Core gel technology incorporates Tri-Slab™ Shell-Shock™ integrated Supremo Shock™ foam padding to provide the most shock-absorbent head-guard you have ever worn. Exclusive R-Lock™ system adjusts snugness providing a comfortable fit with zero budge. This guard was made to provide confidence where it's needed the most, while sparring.
Key Features
Pro Head Guard with 4 way adjustable (Certified Approved by SATRA)
RDX Zero Impact G-Core Gel Integrated Technology Cow Hide Leather Head Guard
Full padding with super shock absorbing closed cell with Gel integrated G-Core padding
Provides good ventilation and unobstructed view
Adjustable chin strap closing and padded top
The Good
Twin layers of shock absorbing gel
Good ventilation
Lightweight
Made from cow hide leather making this a very durable headgear
Very cheap for headgear
The Bad
The brand RDX is mostly known for cheap equipment (matters to some however this is a good boxing headgear for the money)
What We Say
If you are new to boxing and looking for cheap boxing headgear that still does the job, then the RDX boxing headgear is perfect for you. Although they are not known for producing the very best boxing equipment, now and again the RDX brand does come out with some great value products. This example is both highly functional and very durable. If taken care of, this face-saver will last a good few years.
£38.99
in stock
as of November 26, 2023 5:37 pm
Last updated on November 26, 2023 5:37 pm
---
9) TITLE Platinum Training Headgear
What They Say
Experience the Platinum advantage!
Extra thick cowhide leather offers added durability. The Platinum is ultra plush and comfortable – and fits your head like a glove. The Inner liner is super soft and supple leather. The fully padded cheek and chin pads help provide increased coverage. An adjustable elastic top strap with hook-and-loop closure on the back gives you a quality fit.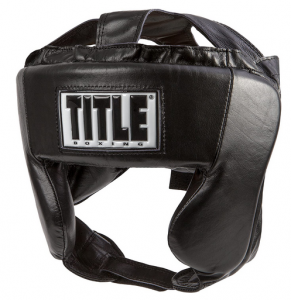 Key Features
Hook and Loop adjustable strap
Made from thick cow hide leather for extra durability
Padded cheeks for extra protection coverage
The Good
Very affordable
The hook and loop closure works perfect
Provides plenty of protection
The Bad
Restricted visibility
limited colour options
What We Say
Title are known to make top – rated headgear and this model is no exception. Although this is not at the top end of boxing headgear equipment it does the job it has been designed for. In addition to the overall protection that this headgear offers the hook and loop closure is also very easy to use. This reduces the on and off time to a matter of seconds. All in all this is good quality headgear at a very affordable price by a brand that can be trusted to provide durable equipment.
---
8) Venum Elite Headgear
What They Say
Elite fighters deserve the highest protection and the ultimate fighting technical advances to still perform in training after training session. The "Elite" headgear is the answer for those who are looking for the best quality at an affordable price!
Hand made in Thailand using skintex leather – well known for its durability – it features a triple density foam for a better shock management. The face pad was designed to provide a combination of full cranial protection and a 180-degree vision.
Key Features
Highly durable skintex leather.
Triple densified inner padding for optimal shock distribution.
One size fits all-adjustable with 2 velcro fasteners.
Specific gesicht design for perfect protection and an open, 180- degree visibility.
.The Good
Made from highly durable skintex leather.
One size fits all.
Provides maximum face protection at the same time as offering high visibility.
Affordably priced.
The Bad
Some reviews say that this headgear can shift, this is probably because its a one size fits all design.
What We Say
This is probably the best headgear that the Venum brand has to offer and is perfect for providing plenty of protection. In addition to been made from skintex leather, ensuring the durability of this headgear, there are also other noteworthy feature;. the one worth mentioning the most is the one-size fits all feature. In most cases this product will fit snugly and wont shift around. However, if you do have a little pea head then this probably isn't the best boxing headgear for you.
£100.08
in stock
as of November 26, 2023 5:37 pm
Last updated on November 26, 2023 5:37 pm
---
7) RIVAL RHG PRO Training Headgear
What They Say
N/A
Key Features
25 mm dual density foam.
Anatomical rear head pad for perfect fit.
3 way velcro adjustment.
State of the art microfibre suede lining.
The Good
Microfibre lining for comfort.
Cheek protectors.
Steel Buckle (lasts longer than plastic).
From a brand quickly gaining a reputation for high quality affordable products.
The Bad
A few reviewers said they would prefer a different buckle.

What We Say
If there is one thing that you need to know about Rival boxing equipment its that it is of the highest quality suppliers on the market. In addition to quickly gaining a reputation for their quality, Rival equipment is also very affordable. Furthermore this brand covers the whole boxing range, and makes some of the best boxing headgear for sparring. If you want some of the best headgear for boxing that looks the part, then this is the brand for you.
£84.99
in stock
as of November 26, 2023 5:37 pm
Last updated on November 26, 2023 5:37 pm
---
6) Fairtex Super Sparring Headgear
What They Say
The Fairtex Headgear provides comprehensive full face coverage to help protect the cheeks, forehead, chin, ears and back of the head while maintaining superb visibility. It features an anatomically correct curve on the chin protector to give additional comfort to the throat during training. It also features a special multi-layered high density foam core for maximum protection and shock absorbency. There is an adjustable lace-tie on top and adjustable padded back hook-and-loop closure for added coverage and a secure fit. The 100% cowhide leather gives maximum longevity.
Key Features
Made from 100% cow hide leather.
Anatomically correct chin protector.
Multi layered high density foam.
Rear hook and loop closure.
The Good
Good protection and very breathable.
Made to last using the best cowhide leather.
Secure and snug fit.
Good value for money.
The Bad

What We Say
For some, Fairtex isn't the boxing brand they want for headgear, however we simply love this headgear. We love everything about it from the way it looks to the snug fit and how it actually stays in place. Its hard to fault. Also the adjustment fittings are simple to use and once you have fiddled around and understand how they work, it only takes a few seconds to adjust. Consequently all of the above leads to me highly recommending this product and for the price this is definitely some of the best value boxing headgear on the market.
Last updated on November 26, 2023 5:37 pm
---
5) TITLE Aerovent Elite Amateur Competition Headgear
What They Say
An unbelievably savvy competition headgear that exceeds every elite athlete's highest demands. We highly recommend this headgear for all competitors who want to look, perform and dominate in style, and achievement.
Key Features
Made from full grain leather.
Exclusive Aerovent insets on front, back and sides.
Advanced non-slip lining.
Lace tie top and twin elastic double hook and loop rear panel.
The Good
The full grain leather ensures durability.
Lightweight.
Very good shock absorption.
Very breathable.
Good visibility.
The Bad
If you have ever seen the television programme gladiators you will know what i mean..lol

What We Say
The incredible full-grain leather exterior delivers championship results and an extra-long life. Exclusive integrated Aerovent® insets on front, back and sides allow unique air-release channels during intense competition for cooler, drier performance…every time. Advanced non-slip inside lining is uniquely comfortable and moisture-wicking for keeping cool and superior action. There is a fully adjustable leather chin strap with buckle, lace-tie top and twin elastic with extra-wide double hook-and-loop rear panel which affords a custom fit for every athlete. USA Boxing 4-layer sandwich foam delivers exceptional shock suppression and maximum coverage. It has the open face design which is the preferred option for many warriors.
---
4) RIVAL D30 Intelli-Shock PRO Headgear
What They Say
The RHG10 is the result of 2 years of evolution giving heightened improvements, we have worked very closely with a lot of athletes in the boxing world to bring you a head gear like no other on the market today.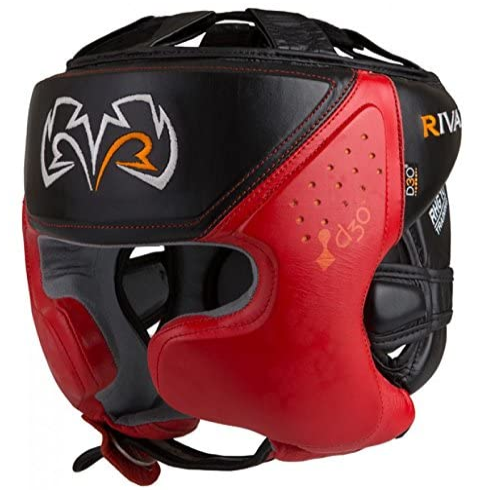 Key Features
Suede lining.
3-way Velcro© adjustment.
Heavy duty nickel clad chin-strap buckle.
Anatomical rear head pad for a perfect fit every time.
Embroided logo.
The good
Some of the best shock absorption of any headgear.
Snug fit.
Good visibiity
Looks the part.
The Bad
Quite heavy for headgear.

What We Say
There is no doubting the quality of this piece of headgear. The total protection offered and the shock absorption means even the most brutal of sparring sessions will be a walk in the park. The d30 technology means that the padding actually stiffens up on impact and therefore disperses more of the force. If you have been into boxing for a while you will know about the rise of the rival brand and the quality equipment they produce. However if you are new to boxing this brand is one worth keeping an eye on. To conclude this headgear is more than up to the job and although a little pricey its still a lot cheaper than some brands and has a lot more to offer.
---
3) TITLE Gel Full Face Headgear
What They Say
Gel lining and multi-layered sleek design foam makes for an unbeatable combination of comfortable form-fit and impact resistance. Fully padded cheeks, forehead, ears and back make for optimal wrap-around coverage and fit. Super convenient rear-entry design makes for the best on and off of any headgear on the market. Hook-and-loop rear closure with leather and elastic top make perfect custom adjustments. Its an all-leather build in full-face style, with added chin protection.
Key Features
Hook and Loop closure.
Gel lining for optimal comfort.
Multi layered foam.
Rear entry on and off.
Made from high quality leather.
The Good
Gives plenty of protection.
Very comfortable for full face headgear.
Lightweight.
The Bad
Quite expensive.
Limited colour options.
What We Say
Title are renowned for producing some of the best headgear for boxing. In addition to providing more than sufficient protection this model is also very comfy and breathable. The rear entry also makes for a quick on and off time and the adjustable straps are easy enough to use, obviously when gloves are off. Overall this facesaver is up there with some of the top rated headgear but not quite the very best.
---
2)

HAYABUSA TOKUSHU Regenesis Headgear
What They Say
For the first time ever, Hayabusa is offering a Boxing-styled protective headgear – the Tokushu Regenesis™ Boxing Head Gear. With a high-density front bar design for added protection, a hook & loop rear closure and adjustable chin strap, the Tokushu Regenesis Boxing Head Gear ensures a safe and secure fit.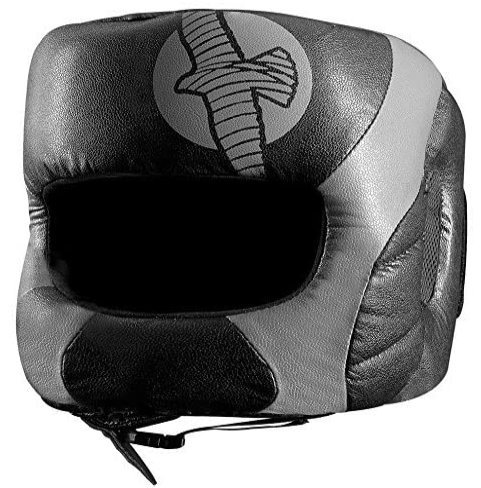 Key Features
Protective front bar for added protection.
Hook and loop rear closure system.
Exclusive Hayabusu inner fabric provides thermo-regulation.
Anti microbial technology delivers anti odour properties.
Engineered leather with anti-cracking properties.
One size fits all.
The Good
Provides plenty of protection
The thermo regulating properties actually work
Good visibility
The Bad
What We Say
First of all the most notable thing to say about this boxing headgear is the protection it offers. When wearing this you feel like you have the protection of a motorbike helmet, without the weight of course. The front bar also provides more protection saving your head from receiving a pounding. In addition to the protective qualities of this headgear there are also some other features worth mentioning. First of all the thermo regulating properties of this face saver are spot on, ensuring you stay as cool as you can during a sparring session. The last thing to say about Hayabusu headgear is that it is very durable been made form materials engineered to have anti cracking properties.
Last updated on November 26, 2023 5:37 pm
View More Variety of Hayabusa Headgear on Amazon.com
---
So….What Is The Best Boxing Headgear For Sparring ?
1) Cleto Reyes Protector Headgear II
What They Say
All of the quality and craftsmanship you have come to expect from an authentically produced Cleto Reyes training headgear.
Key Features
Full face saver head gear.
Adjustable chin strap with steel buckle.
All round protection.
The Good
Full face protection.
Made to last, from high quality materials.
Best protection of any headgear for boxing.
Padding, padding, padding.
The Bad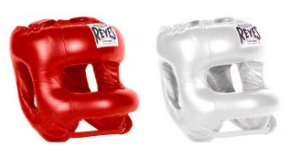 What We Say
This headgear is undoubtedly the very best boxing headgear for sparring that money can buy. It provides lots of protection for your nose and it's also very well padded throughout. I remember taking a few shots in sparring that never seemed to hurt. I can honestly say that i don't mind getting hit with a few punches in this. One noteworthy thing to say about this headgear is how compact it is, which leaves for little movement around your head. You can take a barrage of punches and it will barely shift at all. Finally there is plenty of protection for the ears and the bar doesn't get in the way when slipping punches. Consequently this is the best boxing headgear for nose protection and overall the best headgear for boxing
Last updated on November 26, 2023 5:37 pm
FAQs
Is boxing sparring with headgear safe?
While headgear can provide some protection, it is important to note that it does not completely eliminate the risk of head injuries. It is still possible to sustain a concussion or other head injury while sparring with headgear. It is important to use proper technique and to only spar with a trained partner under the supervision of a coach.
Should boxing headgear be tight or loose?
Boxing headgear should have a snug fit without being overly tight. It should be secure enough to stay in place during sparring or training, but not so tight that it causes discomfort or restricts movement. It's important to try on different sizes and styles to find the one that fits your head shape and size best.
Do MMA fighters spar with headgear?
It depends on the gym and the individual fighter. Some gyms require headgear for sparring, while others do not. In professional MMA fights, headgear is not allowed, but in amateur fights, it may be required. Ultimately, it is up to the fighter and their coach to decide whether or not to use headgear during sparring.
Can you still get knocked out with headgear?
While headgear can reduce the impact of a punch and protect against cuts and bruises, it does not completely eliminate the risk of a knockout. In fact, some studies have shown that headgear can actually increase the risk of concussion due to the added weight and padding. It is still important to practice proper technique and safety measures while boxing, even with headgear.
Last updated on November 26, 2023 5:37 pm