Top 10 Best Agility Ladders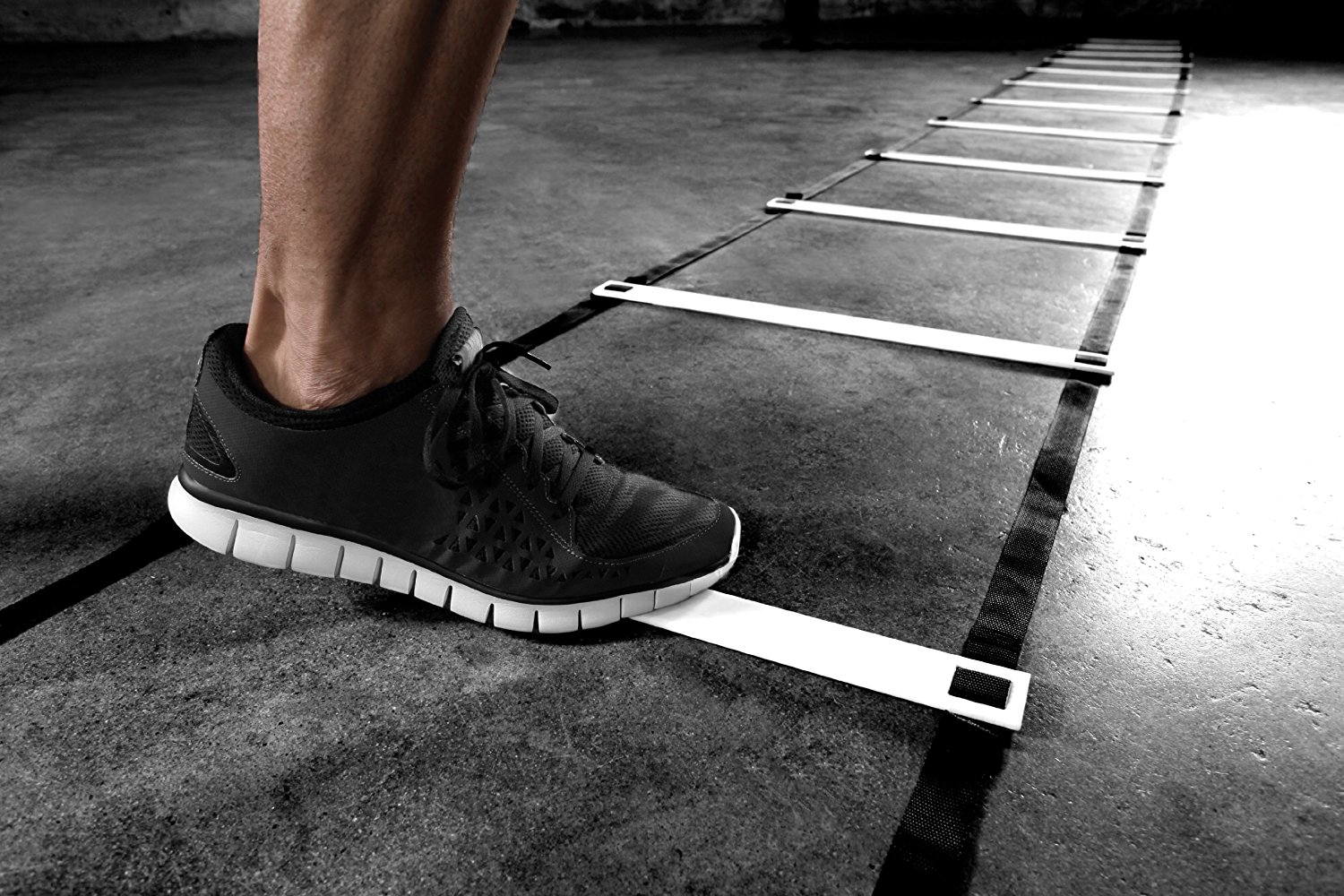 Agility ladders have been around for a long time and are becoming increasingly popular. For such a small and cheap piece of equipment the benefits of the best agility ladders are numerous. Due to this many sporting professionals have incorporated agility ladder training in to their fitness regime. From boxers to professional footballers and athletes it looks like agility speed ladder training is here to stay.
In this guide we will be giving you all the information you need to know about purchasing a fitness ladder as well as showcasing the top 10 best agility speed ladders on the market.
But first a little more information on the benefits of using one.
Benefits Of Using Agility Ladders
As mentioned earlier the benefits of agility ladder training are numerous. If you're not sure that they can help you with your chosen sport here is a list of the most noticeable benefits.
Footwork
There aren't many sports where good footwork isn't needed. One sport where agility ladder training is commonplace is boxing. Footwork is extremely important for a boxer and agility speed ladders can help to improve footwork vastly
Agility & Reflex Time
Agility is having the ability to change direction in a split second, one sport where this can help is football. With this piece of equipment been called an agility ladder, it seems fairly obvious that this is the biggest benefit it provides. Good agility incorporates balance, strength, speed, and coordination. Using this piece of equipment will also improve these attributes.
Cardio
This piece of exercise equipment provides a very good cardio workout. Been at a high intensity the lungs will get a good workout that's for sure. There are even Agility speed ladder DVDs available that have some great cardio workouts, one prime example been the insanity workout.
Speed
If you have seen someone who is experienced with using an agility ladder train, then no doubt you have been in awe at the speed they move around the ladder. Nowadays all football training has elements of speed ladder training because of its effectiveness. As you progress with your ladder training a noticeable improvement in your speed will soon happen.
Portable
Many brands have realised that been portable is one thing that people love about fitness ladders. Due to this, most of the best brands come with a free carry bag so it can be taken anywhere.
Very Affordable
It would be hard to find a piece of equipment that is as cheap as an agility ladder and at the same time as versatile.
So here it is our top 10 list of all the best-selling fitness ladders.
---
Top 10 Best Agility Ladders
---
10) Kabalo 4m Long Speed Agility Ladder
Features
4m long
Comes with carry case
Our View
At 4m long this is one of the longer fitness ladders. In addition it is also one of the cheapest available and is great value for money.
There is the added bonus of a carry case making this already lightweight piece of training equipment even more portable.
All in all a good speed ladder suitable for all sports but due to its size probably best when used outdoors.
Click For Reviews & Latest Amazon Prices
---
9) Pepup Adjustable Speed Agility Ladder
Features
6m long
The strip can be easily bent to 180 degrees
Can be added to another fitness ladder
Fully adjustable rungs
Our View
The Pepup brands speed agility ladder has an added twist to it, literally! This ladder can be bent to 180 degrees to form a half circle for a more varied workout. In addition it comes fully adjustable which basically means the gap between the rungs can be adjusted to shorter or longer lengths.
Another positive is that it can be attached to more fitness ladders to make it even longer.
Coming in at 6 metres this is a long agility ladder.
One of the better speed ladders on the market and very affordable.
Click For Reviews & Latest Amazon Prices
---
8) Ohuhu 12 Rung Agility Ladder
Features
Crafted with high quality PP material, designed to last for years.
Offers 15″ distance between each rung.
Includes a carry bag for on-the-go training.
Comes in 2 lengths
Ideal conditioning tool for all athletes and sports to improve foot speed, lateral quickness, agility, coordination, and overall balance
Our View
Made from a high quality PP material this training ladder is built to last for years of continuous use.
There are two lengths to choose from these are 4m and 6m. To be honest it's a shame there isn't a 2m as this would be better suited for those with limited space indoors to workout.
Fully adjustable and with a carry bag for portability this is a durable product but on the downside there is no 2m version.
Click For Reviews & Latest Amazon Prices
---
7) CELEMOON Agility Speed Training Ladder
Features
Comes in 2 sizes 6m and 12m
Rungs adjustable up to 50 cm
Can connect to multiple ladders
Comes with carry bag
Our View
A very versatile speed ladder and made to a high standard. Available in 6 and 12 metre lengths with the ability to be connected to additional ladders. The rung distance can be adjusted to 50cm which is more than any other agility ladder.
This model also comes with a carry bag and receives 5 stars on Amazon's customer agility ladder reviews.
Click For Reviews & Latest Amazon Prices
---
6) Net World Sports Agility Speed Ladder
Features
Available in 3m and 6m lengths
Made from Hi-Viz yellow plastic rungs and extremely heavy-duty nylon side rails.
Attach multiple ladders together using the end fastenings
Comes with free carry bag
Our View
These are very heavy-duty speed ladders intended for a lot of usage. There are two lengths a handy 3m as there aren't too many about and a standard 6m. It can be added to other ladders and again has a free carry bag for portability and storage
Overall this is a very affordable agility ladder and does what you expect it to do.
Click For Reviews & Latest Amazon Prices
---
5) GHB Agility Ladder Speed Ladder
Features
12 Durable plastic rungs, overall length: 20 feet
Each rung measuring 17″ long, space between rungs measuring 15″
Equipped with a carry bag for easy portability
Comes in 2 colours blue or yellow
Our View
This ladder is 6m in length, unfortunately this is the only size. On the flip side it comes in two colours a vibrant yellow and a sporty blue.
As with most speed ladders this one can be added to another to make it longer.
Fairly cheap and receiving really good reviews this is a good mid-range fitness ladder.
Click For Reviews & Latest Amazon Prices
---
4) Insanity The Asylum – Agility Ladder
Features
2m long
Rungs made from durable plastic
Can be bought with DVD set
Our View
This fitness ladder by Insanity is perfect for home use been only 2m long. Highly durable and one of the bestsellers this is a popular agility ladder for fitness fanatics.
The downside to this ladder is that it can't be added to other ladders. However this ladder is intended for use with the Insanity DVD workout.
Click Here For Reviews & Latest Amazon Prices
---
3) Trained Agility Ladder
Features
Comes with a carry case
Freely Adjustable Training Lengths for Different Skill
12 High Quality Flat Plastic Rungs
Free agility drills e-book
The Only Agility Ladder backed by a Lifetime No Hassle Free Replacement Guarantee
Our View
This agility adder by Trained is the only one to offer a lifetime guarantee, so a good indicator of the durability of it. The user has the ability to adjust the rungs to a length of their choice. In addition to the free replacement guarantee there is also a free agility drills e-book which has a wide variety of drills for beginners and experienced alike.
All in all this is a good speed ladder best suited for football use due to the cones that come with it.
Click For Reviews & Latest Amazon Prices
---
2) Diamond Adjustable Speed Agility Ladder
Features
Comes in 2m, 4m and 9 m sizes
Fully adjustable
Comes with a carry case
Adjustable rungs
Can be linked together with other agility ladders
Our View
Reviews say how well-built and durable this product is and by looking at it, it's easy to see the difference when compared to other fitness ladders.
With a 2m, 4m and a 9m length there is a good size for most needs with this brand.
Fully adjustable and with the obligatory carry case this a step up in terms of quality.
Can also be added to more ladders.
Click For Reviews & Latest Amazon Prices
---
1) Insanity Agility Ladder
Features
Get stronger, run faster, and jump higher with THE ASYLUM Volume 2!
Includes 7 New All-Star Workouts, Agility Tutorial, 3-Step Quick-Start Guide, Nutrition Plan, Workout Calendar, and more.
The Athletic Matrix pro athlete training model uses dynamic multi-directional movements to help get you fit
This is the next 30 days of elite athlete training-building on the foundation of INSANITY: THE ASYLUM® Volume 1.
Our View
If it's the complete agility ladder training package that you are after then this is full outfit. Aside from the agility ladder that came fourth in our top ten list, the buyer also gets 6 high intensity workout DVDs and a jump rope.
Been the second installment in the world-famous INSANITY workout this DVD package will push you to your limits
Click For Reviews & Latest Amazon Prices
---
Agility Ladder Drills & Exercises
In this video there are 30 ladder drills and routines more than enough to keep the most experienced busy for a while.
---
Final Words On Agility Ladders
In this gear guide we have brought you the best agility ladders available to buy. We have included models with multiple lengths as a certain length speed ladder is best suited to certain sports or fitness workouts. All the fitness ladders in out top 10 list have many sales and a high overall rating on Amazon.
FAQs
What is the best length for an agility ladder?
The best length for an agility ladder depends on your training goals and the space you have available. A standard length for an agility ladder is 15 feet or 4.5m , but you can also find shorter ladders (around 3m or 10 feet) or longer ladders (up to 9m or 30 feet) depending on your needs. It's important to choose a length that allows you to perform a variety of drills and exercises without feeling cramped or restricted.
Should I do the agility ladder every day?
It is recommended to use an agility ladder 2-3 times per week, with rest days in between to allow for muscle recovery. Doing agility ladder exercises every day can lead to overuse injuries and may not allow enough time for your muscles to recover and improve.
Do agility ladders improve footwork?
Yes, agility ladders can improve footwork and overall agility for athletes. They are a great tool for improving coordination, balance, and quickness, which are all important for sports performance. Regular use of an agility ladder can also help prevent injuries by strengthening the muscles and joints used in quick movements.
Why do ladder drills improve agility?
Ladder drills improve agility by forcing the athlete to change direction quickly and efficiently. This helps to improve footwork, coordination, and balance. The drills also help to improve reaction time, which is important in sports where quick movements are necessary. Additionally, ladder drills can be used to improve cardiovascular fitness and endurance.
Last updated on November 26, 2023 8:03 pm