Top 8 Best Netball Trainers For Attacking & Defensive Players 2021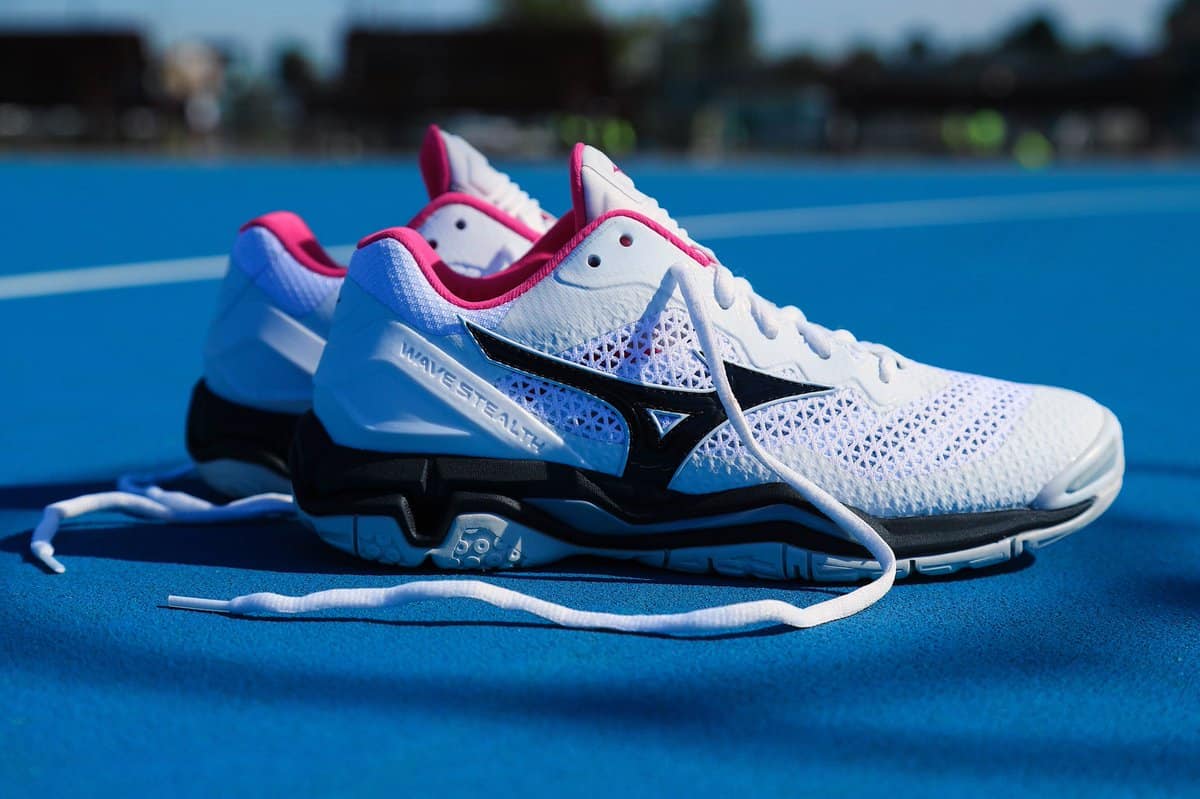 Best Netball Trainers In 2021
Netball is becoming increasingly popular and it should come as no surprise. Due to its fast pace and overall intensity more and more people are taking up the sport. Consequently, with so many newcomers to the sport and most of them not knowing how important it is to wear the correct footwear, injuries are commonplace. The easiest way to reduce the chance of injury is to invest in a pair of the best netball trainers.
What are the best shoes for netball?
To answer that question we have compiled a list of the best-selling netball trainers in the UK. In our top list you will find both attacking and defensive netball shoes. If you don't know the differences between the two check our buyers guide out at the end of this article it has all the information on how to choose the best ones for your needs.
1

Asics Gel-Netburner Ballistic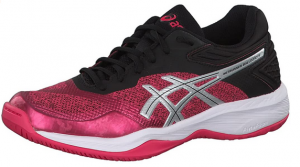 The Asics Gel-Netburner Ballistic Women's Netball Shoes come with a five-star rating on Amazon and overall customer feedback is very positive. Recommended as our number one netball shoes due to their overall versatility. They incorporate many of the features that you look for in both attacking and defensive netball trainers. Consequently, they are a good all round trainer suitable for all positions.
The trainers themselves provide a firm and comfortable fit and incorporate a host of different features that will benefit you on the court. First of all, the synthetic material they are constructed is very breathable and allows plenty of airflow. The heels are cushioned with two layers of memory foam for added comfort. A very good thing about these trainers is how lightweight they are. Due to the material the midsole is made from been even lighter than previous models, they are now among the lightest available. At the same time they remain highly durable and this has a lot to do with their high rubber content. Finally the soles come with Asics Wetgrip, made from a special blend of organic and non-organic compounds it enhances traction even on wet surfaces.
Who should buy them?
These are very functional netball shoes and are suitable for all positions on the netball court. Made by a brand with a reputation for high-quality and with very good feedback from previous buyers they come highly recommended. Furthermore, with a good range of colours there should be something for everyone's taste.

Knitted mesh upper - Provides breathable comfort.
Overlays - Swathe the midfoot to improve stability.
Internal heel counter - Secures the rearfoot to minimise slippage.
Personalised Heel Fit - Uses 2 layers of memory foam to cradle the ankle in soft support.
Last update was in: July 3, 2022 11:05 am
2

Mizuno Wave Phantom Women's Netball Shoes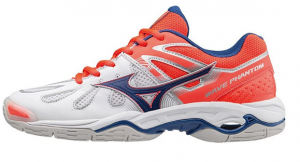 Mizuno are another brand with an excellent reputation for their sports footwear.
The Mizuno Wave Phantom netball shoes are best suited for those looking for extra comfort and protection. Due to the shock absorbency of the cushioning and the more than adequate toe protection these are perfect for defensive players. The reason for this is they tend to make high defensive jumps that require plenty of cushioning and support when landing back on the ground. Another injury prevention feature is the Mizuno Wave Plate that offers midfoot and lateral support which helps to prevent the foot from twisting in directions that may cause injury.
Who should buy them?
Offering plenty of cushioning, support and stability these are the ideal for defensive players. Made from durable materials they will last a good while if taken care of properly.

AirMesh Upper - Provides excellent ventilation and breathability.
Moisture Management - Wicks away excess sweat and moisture.
Breathable - Encourages cool air to circulate.
Synthetic Overlays - Adds durability and abrasion resistance.
Last update was in: July 3, 2022 11:05 am
3

Asics Gel-Netburner Super 6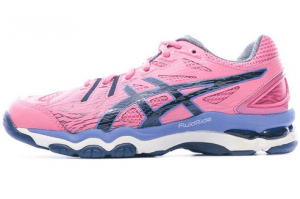 Another pair of Asics and its the Asics Gel Netburner Super 6, which are more of an attcking players netball trainers than a defensive players.
These are designed to be extra light and a lot of thought has gone into their design to make them so. First of all the midsole is made from solyte which is lighter than the traditionally used material and significantly reduces weight. For stability they feature the Asics DuoMax Support System which is strategically positioned in the shoes for maximum support and stability. For cushioning and shock absorbance the rearfoot and forefoot gel cushioning system adequately provides enough without feeling too soft or too hard. The sole adds further to shock absorbance and is made to be extra durable.
Who should buy them?
Due to their lightweight design these are best suited for attacking players. Furthermore, they tick all the right boxes in other areas, such as support, stability and cushioning. With 5 stars on Amazon and glowing reviews these are well worth checking out.

ComforDry Sockliner - Removable sockliner that provides cushioning performance and anti-microbial properties for a cooler, dryer, healthier environment.
Impact Guidance System (I.G.S.) - ASICS design philosophy that employs linked componentry to enhance the foot's natual gait from heel strike to toe-off.
Last update was in: July 3, 2022 11:05 am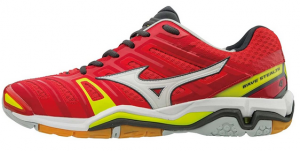 If you are a seasoned netball player then you will know how important the gait cycle is. The Mizuno Wave Stealth netball trainers are designed to provide plenty of support when changing direction quickly and work with your foot through the gait cycle. Due to this there is less chance of sustaining an injury. Consequently these are perfect for fast paced attacking players.
Other features include a Durashield at the front for keeping your toes safe during certain moves and positions. A full length ventilation system for keeping the feet nice and dry. For comfort there is a removeable insock that is anatomically molded. Then there is the cushioning system which provides great shock absorbance. The Mizuno Wave Stealth come with lightweight cushioning made from a high shock absorbing compound. This compound has good rebound properties and reduces impact forces dramatically.
Who should buy them?
These netball shoes have all the features of a top quality model. They provide excellent cushioning and comfort at the same time as been extremely lightweight. Best suited for forwards, however, they do have some useful features that you usually find in defenders netball shoes, you decide!
5

Asics Gel Netburner Super 5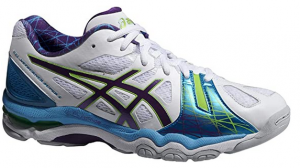 The Asics Gel Netburner Super 5 have been around for a while now and are considered by many happy previous buyers to be the best netball trainers. With a five-star rating on Amazon and customer reviews praising the comfort and snug fit the outlook is good.
Due to these been made by Asics a lot of technology has gone into their design. As with all Asics netball trainers they are designed to offer outstanding support, stability, cushioning and comfort. They feature many of the same attributes as the number one best netball trainers in our reviews, the Asics Gel Netburner Ballistic.
Who should buy them?
There isn't a bad word to be said about these sports trainers. For a cheaper price they have many of the qualities of the Asics Gel Netburner Ballistic. Consequently, these are a great alternative at a fraction of the price.

Mesh Upper Breathable upper that increases airflow.
No-Sew Construction- For a comfortable, irritation free fit.
FluidRide Midsole- Lightweight comfort and durability.
SpEVA Lasting 55- Provides energy packed bounce back.
Last update was in: July 3, 2022 11:05 am
6

Asics Gel-Netburner Professional 12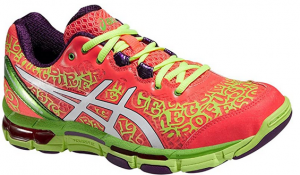 Asics Gel Netburner Professional are the favoured netball shoes of many professional netball players. At the time of writing they have just been given a massive discount and currently cost half of their original price.
Made to be very breathable the upper part of the shoe is made from a lightweight air mesh for maximum airflow. For comfort they come with a removable sockliner and two layers of soft foam in the heel. In addition, the sockliner can be removed and replaced with a medical orthotic if needed. The midsole is made from Solyte which is designed to be extra lightweight at the same time as not compromising shock absorbance. Featuring the DuoMax support system in the midsole these netball shoes offer great support and stability. Both the front and back ends come with a gel cushioning system for extra shock absorbance. Finally the outsole is constructed from high abrasion resistant rubber for maximum durability
Who should buy them?
If you are looking for a bargain, it doesn't get much better than this. These are some of the best netball trainers UK customers can get their hands or feet on. Furthermore they come with excellent credentials from both professional players and customer reviews.

TPU Yarn Mesh Durable, lightweight and breathable mesh.
Secure Laces Up the foot laces for secure fit.
Padded Tongue Tongue sits comfortably on the foot.
Heel and Toe Protection Thicker material on both heel and toe provide protection.
Last update was in: July 3, 2022 11:05 am
7

New Balance Women's Netball Shoes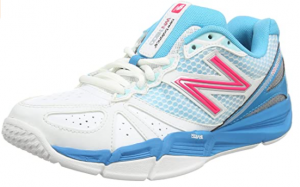 New Balance aren't as big a brand as they used to be in the netball world, however, they still come up with a good netball shoe now and again. This particular pair is suitable for all positions due to it incorporating aspects needed of both good attacking and defensive netball trainers.
Consisting of high-density compression moulded EVA on the inside edge these trainers add great stability and support. They feature a specialised tread that is said to aid your balance when landing after a jump. The all important midsole is made from a lightweight material that acts as a very good shock absorber. The outsole is made from a non-marking durable material for durability.
Who should buy them?
If you are new to netball and haven't found your natural position yet, then a good pair of versatile netball shoes like these are a good starting point. They have the pros of both attacking and defensive shoes for netball. Furthermore they are very reasonably priced.
[amazon box="B013WGG0V6″ template="horizontal"]
8

Gilbert Elite Netball Trainers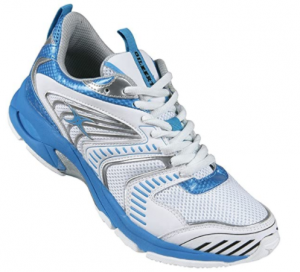 Gilbert have been making sports equipment for a long time. In some sports, rugby for example, they are considered one of the best brands. There netball shoes however, aren't considered the very best. What they do offer though is a good quality shoe from a trusted brand at a very affordable price. Consequently the Gilbert Elite come recommended as the best cheap netball trainers.
Gilbert Elite have all the features you need from a good pair of trainers for netball. They are lightweight, very breathable and provide ample support and cushioning.
Who should buy them?
Traditional in design and not quite as bright in colour as some of the more popular brands netball trainers, the Gilbert Elite still have a lot too offer. They are highly durable and built to last. Customer reviews speak highly of their snug fit and how comfortable they are to wear. If you are looking for a good pair of cheap netball shoes these are probably the best on the market.
[amazon box="B00MHX7S2G" template="horizontal"]
Netball Trainers – Buyers Guide
Before buying a pair of netball trainers there are a few things worth knowing before you do. To make sure you get the best pair for your needs its useful knowing what to look out for. if you are a defensive player cushioning and shock absorbance will be high on the list of priorities, if attacking play is your forte then a more lightweight trainer will be something to look out for when buying. That been said, there are plenty of netball shoes that have features desirable by both defensive and attacking players.
Things To Look Out For When Buying
Support – If you don't want to suffer an ankle injury then you best buy a pair of trainers for playing netball. The difference between normal trainers and ones for playing netball with is that netball trainers are specifically designed to add support and help with correct movement through the gait cycle. It doesn't matter what netball shoes you buy, any pair is better than wearing trainers.
Cushioning – The cushioning is a very important purchasing consideration. It's always worth checking the product description to see what cushioning is used. The best brands use materials with high shock absorbent qualities, these are the ones to look for.
Lightweight – In a sport that involves a lot of jumping, for obvious reasons lightweight trainers have their benefits. Due to this you will find most brands have developed their own lightweight materials. The problem with this is that it can compromise other qualities such as durability. If you want to buy a good pair of lightweight trainers for netball i would advise sticking with brands such as Asics or Mizuno.
Sole – All the best sports trainers have highly durable rubber soles and netball shoes are no different. One thing to look for when buying is are they abrasive resistant. Netball trainers with this feature tend to last far longer than those that don't.
Final Words – Best Trainers For Netball
Wearing the correct footwear while playing netball is a must. The risk of not wearing them, vastly increases the chance of sustaining an injury that can leave you on the sidelines for a good while. All of the models featured in our netball trainer reviews are among the best netball trainers and tick all the right boxes for a top rated pair.
Last update was on: July 3, 2022 11:05 am