The Ultimate Guide to Affordable Cardio: Top Exercise Bikes Under £500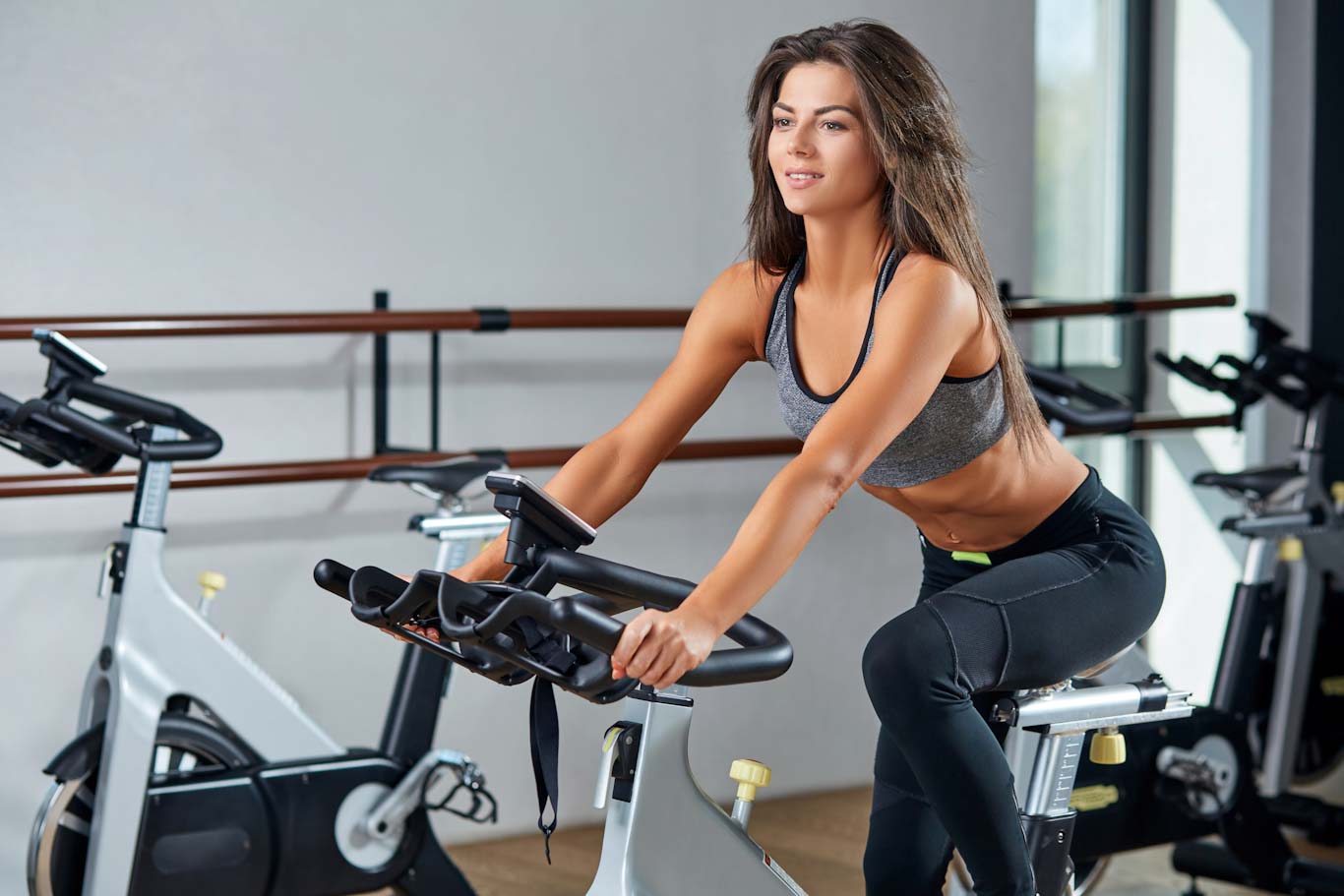 An exercise bike helps bust stress, boost energy, and rev up your heart rate in the comfort of your home. But given the inflation, there's no shame if you gravitate towards cheap exercise bikes. In this article, we've rounded up some of the best exercise bikes under £500 to show you that you don't have to cough up on cardio equipment.
No matter how hard times can get, you can always find great, affordable options out there if you search hard enough, and we have done the legwork for you!
Here, we've listed a range of exercise bikes. We have upright and spin bikes, recumbents providing back support, and air bikes delivering high-intensity workouts minus the high-intensity price tag.
What To Expect For £500 When Buying an Exercise Bike
Getting an exercise bike is a sound investment whether you're looking to kickstart your fitness journey, find an alternative way to get your heart up, or recover from an injury. But with so many options available claiming to be the best, it can be daunting to choose which one is right for you. Here are the most important factors to consider to help you narrow down your options.
Type of Bike
There are different types of stationary exercise bikes. The most popular ones are the spin bike, upright bike, recumbent bike, and the newest addition, the air bike.
Spin bikes are designed for high-intensity training. They are fitted with a heavy flywheel of around 20 kilogrammes or more to produce steady, smooth resistance that you can amplify based on your exercise needs. Likewise, spin bikes simulate riding outdoors. The rider needs to lean forward, mimicking the stance of an outdoor cyclist.
Upright bikes have a traditional bike frame and as the name suggests, a comfortable upright riding position that is easy to get on and off. They are among the simplest exercise equipment to use and are made for low-impact workouts.
Recumbent bikes have a reclined seat and backrest, which provides superior back support. They are designed for low-impact exercise, but they are easier on the joints compared to others due to the position and height of their seats. Recumbent bikes are best for older people who want to do low-impact exercises, as well as people with limited mobility from physical disabilities, chronic illnesses, or injuries.
Air bikes are fitted with an oversized fan that provides resistance, and responds to the user's effort. With their movable handlebars, they offer a total-body workout.
The air bike is dubbed as a misery machine or Satan's tricycle. They are a terrific option for advanced users who are looking for HIIT, resistance training, aerobic exercise, and such.
Each type of bike has its own unique set of features and benefits. Research each bike type and read reviews from users to help you make an informed decision.
Weight Capacity
An exercise bike's weight capacity can serve as a useful measure of its overall quality. Exercise bikes within this price point should have a minimum user weight capacity of 100 kilogrammes. Anything above this is a bonus. Usually, a bike with a large capacity features a robust stainless steel frame and shows that it is built to last for several years.
Resistance and Flywheel
Another important consideration is the resistance the bike offers, particularly if you want to build and strengthen muscles.
Resistance controls the amount of effort required to pedal and therefore aids in defining the workout's intensity. Greater resistance increases pedalling difficulty, which increases calorie burn. Likewise, resistance helps to simulate riding conditions such as uphill riding, and it can help to build cardiovascular endurance and stamina.
The flywheel determines the amount of resistance generated. A lighter flywheel — especially one under 10 kilograms — might not provide enough resistance for high-intensity workouts, which could hinder your progress and prevent you from getting the most out of your exercise.
Preset Programmes
Preset programmes have the added benefit of not having to worry about resistance changes. You don't have to stop and manually change resistance levels. Just select the programme you want and pedal until you complete it.
Warranty
The length of the warranty varies from brand to brand, but as a rule of thumb, the longer the warranty, the better. A warranty is a sign of quality. It shows that the company stands behind their product and is willing to make things right if something goes wrong.
Best Spin Bike Under £500
---
JLL IC400 PRO Indoor Cycling Exercise Bike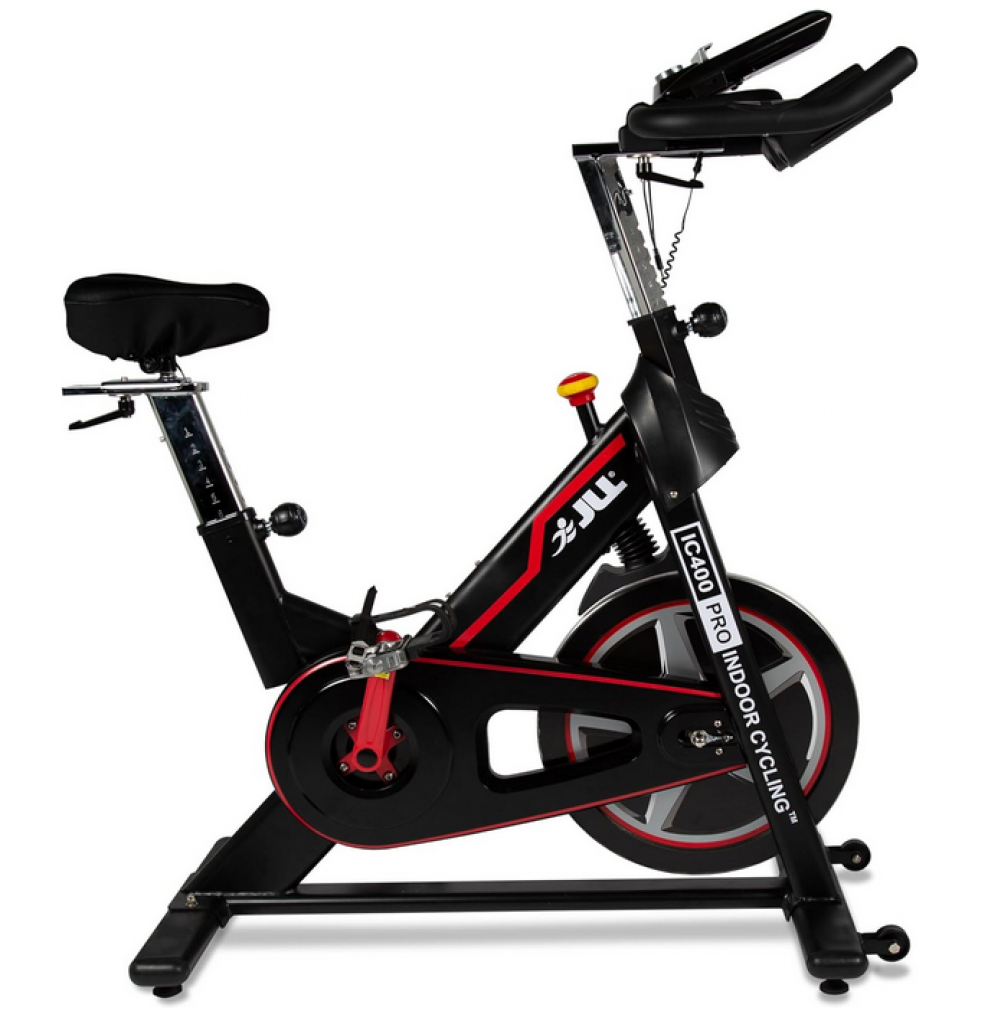 First up is the JLL IC400 PRO, which garnered 4.1 stars and hundreds of positive reviews on Amazon. Why are people raving about it? Let us go into more detail!
Boasting a stainless steel frame, the JLL IC400 PRO is unquestionably as well-made as it is good-looking, giving you the confidence to ride harder and faster. That also explains its maximum user weight of 150 kilogrammes.
Another strong feature is its 22-kilogramme flywheel. Most bikes within the same price bracket come with lightweight flywheels, which fall flat in resistance.
That said, anyone can find satisfaction in this belt-driven spin bike. Beginners can enjoy a quiet, mild to moderate workout, while seasoned athletes can ramp up the intensity based on their fitness levels.
Much like a mountain bike, the bike has an extensive range of adjustments. To get the most comfortable position, you may adjust the handlebar height, saddle height and angle, saddle-to-handlebar distance, and more.
But wait – there's more!
The pedals are also compatible with SPD shoes for superior power transfer. Neoprene encases the handlebars to give sweaty palms a better grip. There are built-in pulse sensors, so you can monitor your heart rate with ease.
Other nice, thoughtful additions include two large bottle holders and a gel cover that you can place above the padded saddle. The bike is Bluetooth-enabled and compatible with the iConsole app. On its LCD, you can view 7 metrics: time (mins/secs), distance travelled (miles), speed (mph), calories burned, RPM, watts, and scan.
Overall, the JLL IC400 PRO is a well-built, attractive machine that performs as intended. This spin bike should last for many high-intensity sessions, especially with careful maintenance!
Recommended Reading: JLL IC300 Pro Review
---
Bluefin Fitness TOUR SP Bike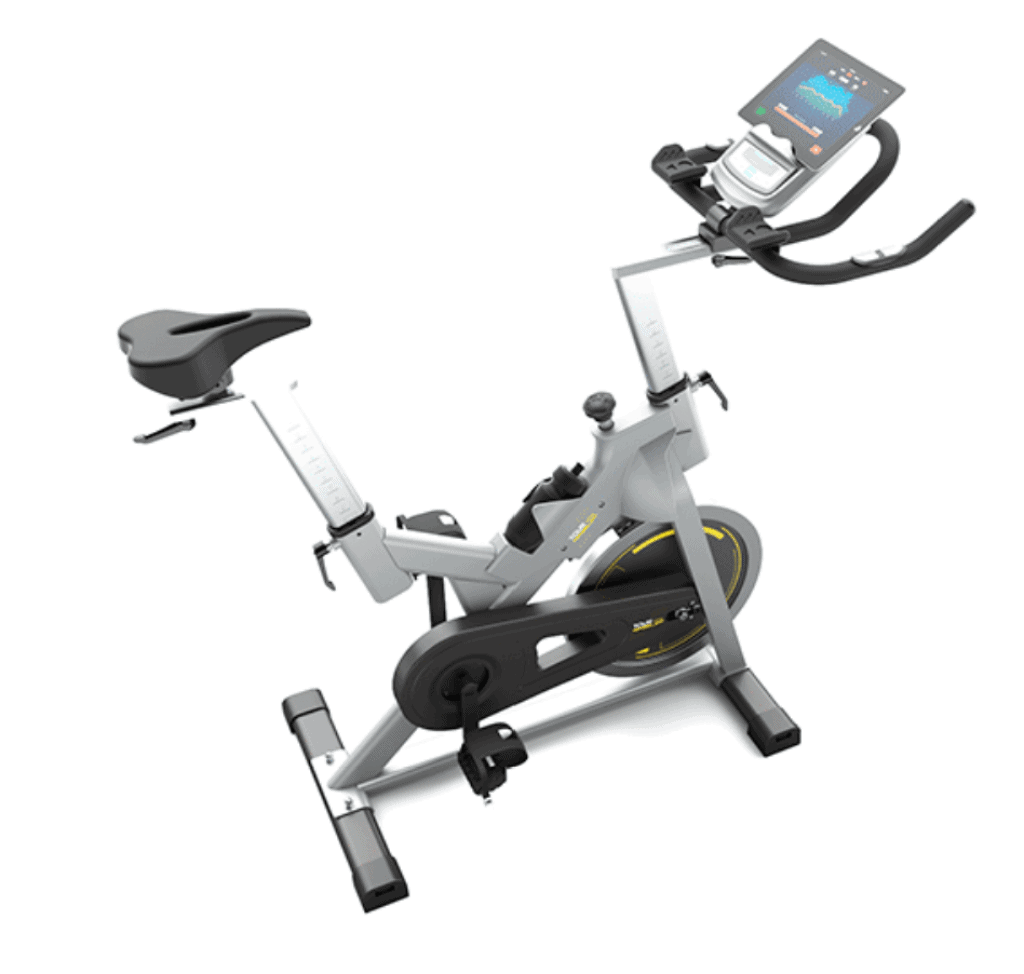 Our first-runner up is the Bluefin Fitness TOUR SP Bike, which scored 3.8 stars.
The combination of a 25-kilogramme flywheel and belt-drive system results in more resistance and momentum and whisper-quiet, smooth engine operation. The tension control knob also includes a brake.
Since the resistance mechanism uses a screw-in felt brake pad, it lacks the fine adjustments of a commercial gym spin bike. All the same, a lot of happy customers attest to its excellent performance; you only need to change the resistance in small increments.
The seat has nine levels of vertical height adjustments, and you can also move the cushioned saddle forward and backwards to suit your requirements. The ergonomic handlebars can be horizontally and vertically adjusted as well. They also come with arm supports for higher-intensity training.
The LCD shows 4 metrics: heart rate, calories burned, time, and distance travelled. As it is Bluetooth-enabled, you can sync the multifunctional console with a heart rate monitor. You may also download Kinomap to make your fitness journey more fun and engaging. There's a device holder to keep your smartphone or tablet safely in place.
All things considered, the Bluefin Fitness TOUR SP Bike is a fantastic spin bike that gives you the feeling of travelling outdoors and has a heavy flywheel akin to that of a pro gym spin bike. Many complained about the pedal's shoddy feel and the fact that you can't use them with cleats. Positively, you can always swap them out for SPD shoe-compatible pedals.
Best Upright Bike Under £500
---
DKN AM-E Exercise Bike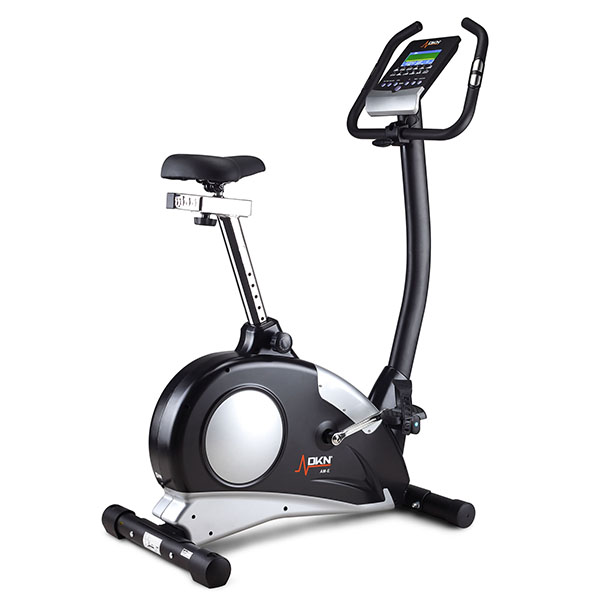 DKN Tech have built themselves a reputation for premium quality and innovative features. Even with the launch of the DKN AM-E Exercise Bike, a budget-friendly option, the company did not compromise on build quality. It has earned 4.4 stars on Amazon and 542 ratings as of writing.
While the 8-kilogramme flywheel and belt-drive transmission provide a quiet, fluid operation, the AM-E offers 32 levels of friction-free, electromagnetic resistance to ensure you get the neuromuscular and cardiovascular workout you need.
On its LCD, you can view 6 metrics: time (mins/secs), speed (mph), watts, pulse rate, distance travelled (kilometres), and calories burned. Up to 4 users can set up a bespoke programme on the console for improved accuracy of training data feedback. This is especially useful if you share your bike with others.
In addition to the manual mode, there are 12 pre-set programmes, as well as Target HR Mode, Watt Mode, and Recovery Mode. Considering its build quality and good degree of choice in terms of programmes and resistance, the DKN AM-E is already incredibly impressive for an upright bike at this price point.
But no, we are not quite finished yet!
In addition to having pulse sensors on the handlebars, the AM-E comes with a built-in wireless receiver that you can use with any compatible chest strap for a more precise and dependable heart rate reading, making your workouts efficient and safe. This feature really blows us out of the water!
The bike offers a good range of adjustments for comfort for users of most heights and sizes and can support up to 140 kilogrammes.
---
JTX Cyclo Go X Exercise Bike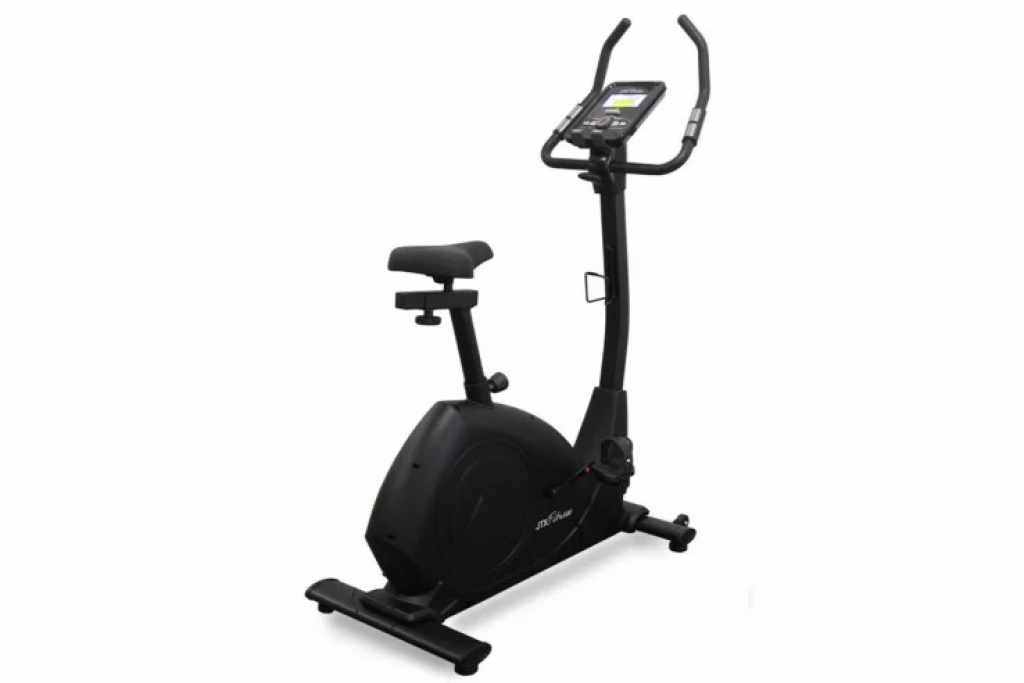 Another popular entry-level upright bike we highly recommend is the 4.4-star JTX Cyclo-Go X. With its flywheel included, the bike weighs 34 kilogrammes in total and can carry up to 120 kilogrammes.
Adding to its 11-kilogramme flywheel, which is rather heavy given its price point, it boasts an electromagnetic resistance system with a 16-point range and 18 workout programmes. The resistance will adapt automatically based on your chosen workout programme, or you can change it using the dial. There shouldn't be any jankiness as it uses a belt-driven transmission, and everything should be fairly quiet even as you go for a more strenuous workout.
You can view 6 metrics on the LCD: time (mins/secs), speed (mph), watts, pulse rate, distance travelled (kilometres), and calories burned. The console is actually simple, thus appealing to those who aren't as tech-savvy.
What makes it "advanced," as per manufacturer claims, is its Bluetooth connectivity. You could use a Polar chest strap for reliable and precise statistics or Kinomap to intensify your workouts and simulate riding real-world routes.
With the turn of a knob, you can adjust every customizable aspect of the seat. The adjustability features alone make this bike a good purchase, as it can accommodate users of most heights and sizes.
Visit JTX Fitness UK Official Store
For more guide, read our JTX Fitness Cyclo GO X Review
Best Recumbent Bike Under £500
---
JLL RE200 Recumbent Bike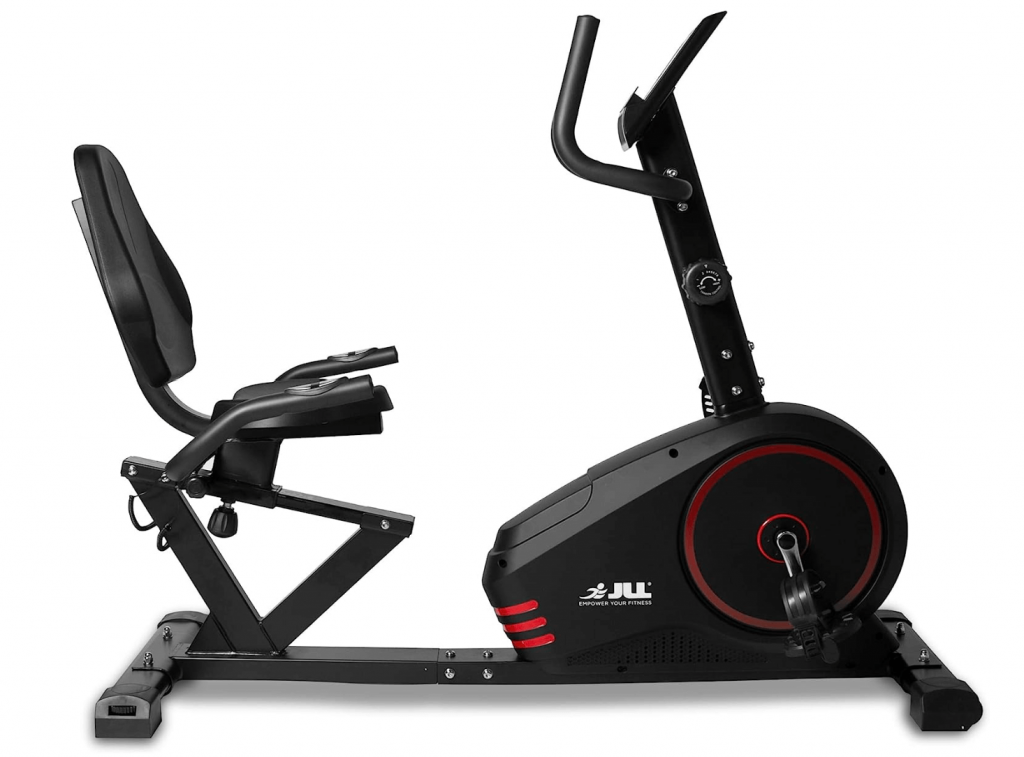 The JLL RE200 Recumbent Bike uses a 5-kilogramme flywheel with 8 different levels of resistance. The belt-drive system works well together with the flywheel to provide a smooth and silent workout experience indoors. Since the flywheel is bi-directional, it can serve as a helpful tool to rehab a knee injury.
The seat has vertical and horizontal adjustment options, so you may find the most natural riding position and comfortably cycle for extended periods of time. With the JLL RE200, you will be sitting at a position where your centre of gravity is low, thus improving both the bike's and the rider's stability.
Two handlebar sets are included with the bike, one of which is shaped for resting. Heart rate sensors are included into every set, and the console allows you to see your pulse rate, along with other readouts: time (mins/secs), speed (mph), distance travelled (kilometres), calories burned, scan, and odometer.
It's a sturdy machine per se, given that steel makes up all of its metal parts. It has a maximum weight capacity of 100 kilogrammes.
If things go wrong, you can always make use of the 12-month warranty. Likewise, JLL Fitness LTD offers a 30-day money-back guarantee from the delivery date, so you can see if it is really the right choice for your needs.
This bike might not be enough for intense exercises for athletes or gym rats, but users who were looking for a steady-state, slower-paced cardio session were impressed by it. This is evidenced by the 4.5-star rating on Amazon.
---
Sunny Health and Fitness Magnetic Recumbent Bike SF-RB4708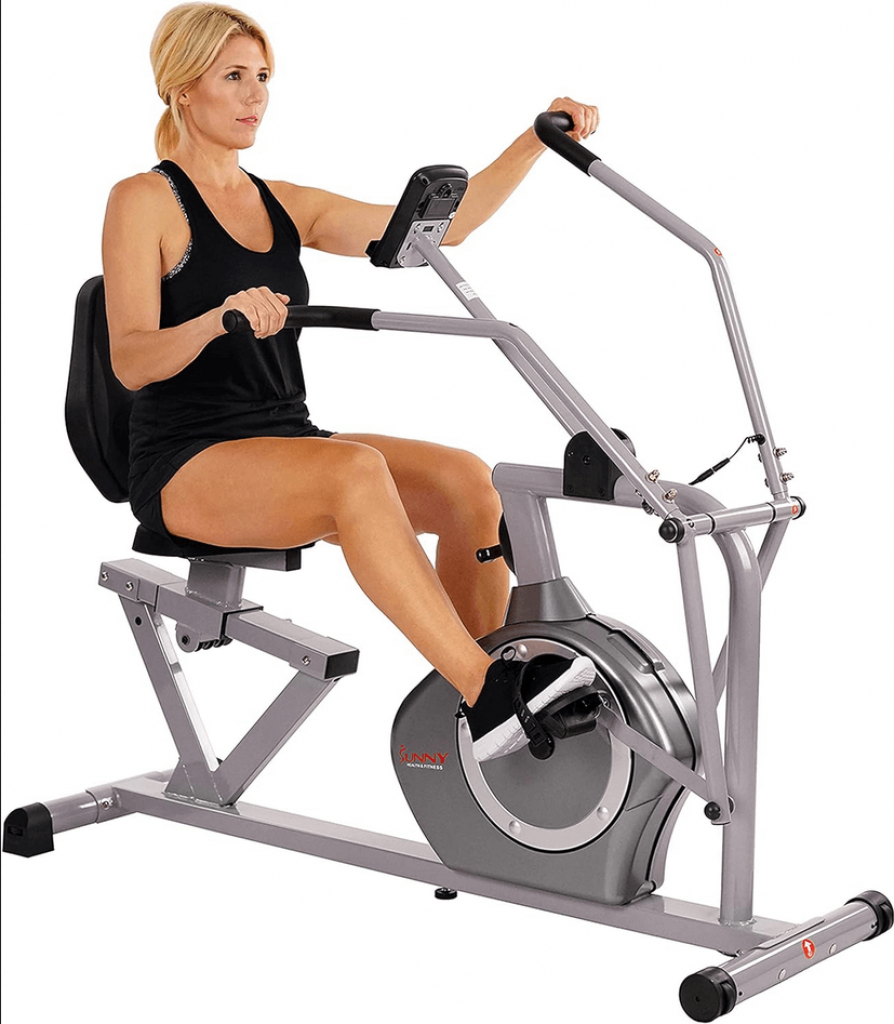 With over 3, 500 reviews, the 4.4-star exercise bike is definitely a crowd-pleaser. Why? Because it combines both the best elements of an elliptical and recumbent bike.
This two-in-one exercise bike comes with an oversized seat and contoured backrest to promote proper posture, thus reducing pressure on your lower back. The textured foot pedals and straps help prevent you from losing your footing while you work up a sweat.
The handlebars are movable, so you can work your glamour muscles as you pedal. The integrated pulse sensors in the handlebars make it easy to monitor your pulse rate, along with 7 other key metrics, displayed on the bike's LCD. And with the device holder, you can stay engaged with your favourite media while you exercise.
If you want a challenge, you may simply switch between the 8 magnetic resistances using the tension lever, and take your workout to the next level.
Best Folding Bike Under £500
---
Exerpeutic Gold 575 XLS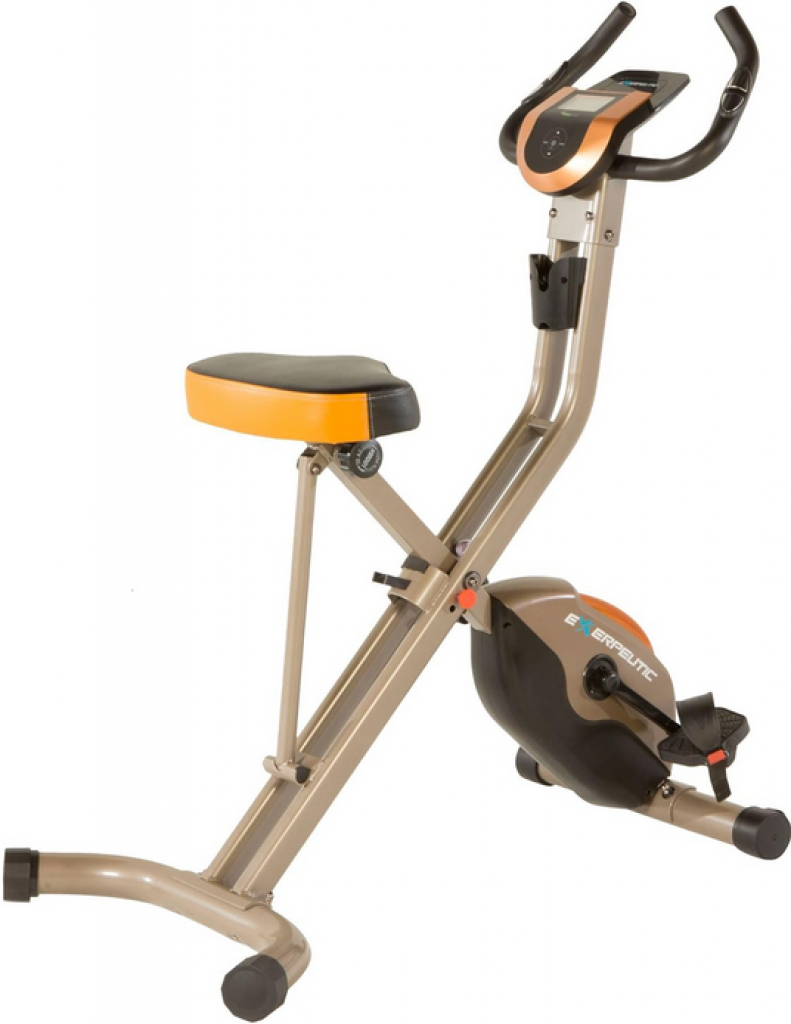 If you don't want your exercise equipment to become a space hogging eyesore, we suggest the Exerpeutic Gold 575 XLS. Now, let's look more closely at why this bike received 4-star ratings out of 337 reviews.
Though it may appear slim, the Exerpeutic Gold 575 XLS boasts a steel frame that can support up to 181 kilogrammes of user weight. It has a wide, cushioned seat that accommodates larger users nicely. You can easily modify the height of the seat, and customers who are 5'1″ to 6'5″ in height have confirmed that it is comfortable enough. It also includes large pedals with safety straps.
The Exerpeutic Gold 575 XLS uses a 4-kilogramme flywheel with a 16-point range and 21 preset workout programs that you can access via its backlit console. Bluetooth-enabled, you can pair your bike with a heart rate monitor.
It comes with a backlit console that displays time (mins/secs), speed (mph), distance travelled (kilometres), calories burned, and pulse rate. You can create 2 user profiles for detailed workout feedback. Additionally, it features a device holder for your tablet or smartphone.
Learn more by reading our full review
Best Air Bike Under £500
---
Sunny Health & Fitness SF-B2729 Tornado LX Fan Bike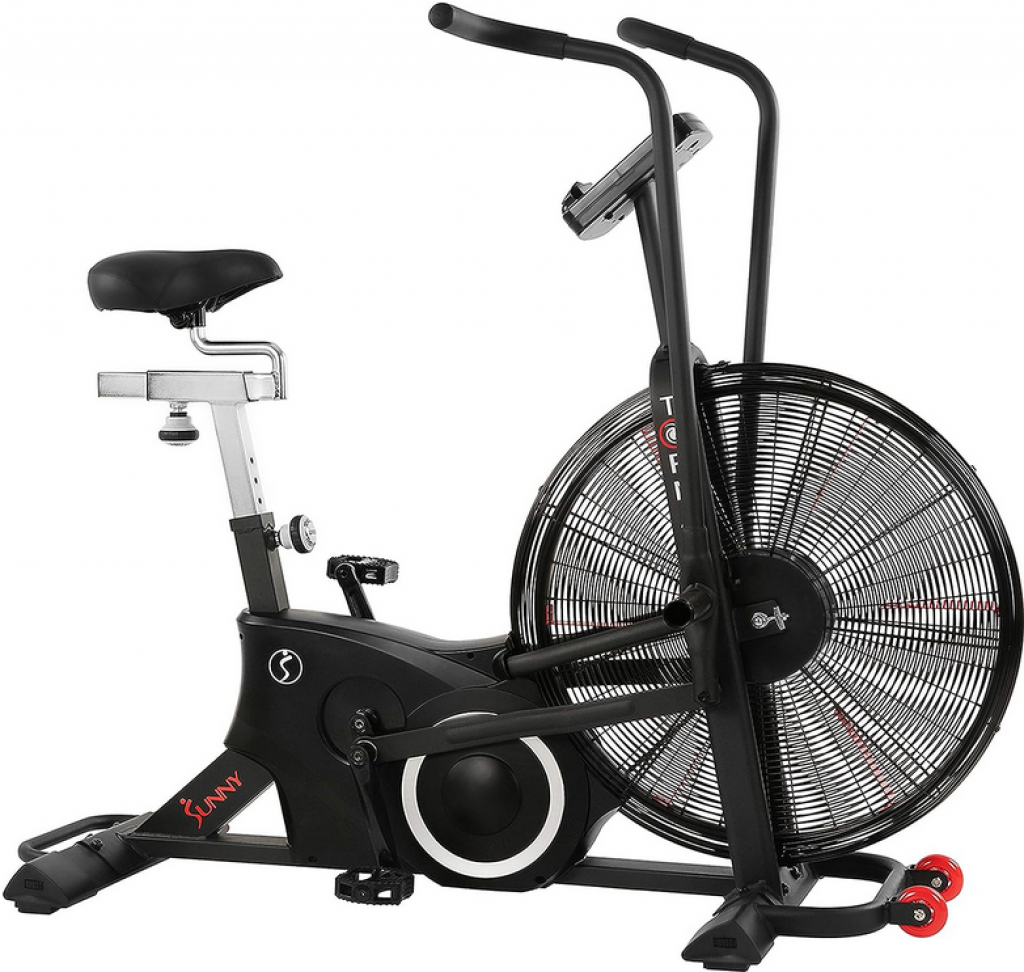 The Sunny Health & Fitness SF-B2729 Tornado LX Fan Bike might look intimidating due to its 27.5-inch fan wheel. But if you wish to taste the thrills of fighting against a tornado, you will love this monster's enormous fan.
The bike weighs 44.72 kilogrammes as it is made nearly entirely of steel. Its 149-kilogramme maximum weight capacity is another indicator of its solid construction. Even when you're on the heavier end of the scale, you can ride harder with confidence.
There are also floor stabilisers to help the bike remain firmly planted. Front wheels make it easy to move this big machine around.
The seat is adjustable in four different ways, both vertically and horizontally, to fit users of different heights. If you want an isolated arm workout, you can rest your legs on the foot pegs.
There are plenty of air bikes way ahead of the Tornado LX Fan Bike. But for under £500, we love that you can get all these amazing features. No wonder it received 4.3 stars on Amazon!
However, the Tornado LX Fan Bike has to make a few tradeoffs to bring the cost down. For one, it uses a chain drive system, which requires maintenance and creates a bit of noise.
Second, the console is pretty much basic. On the plus side, it has Bluetooth connectivity and so you can pair it with a heart monitor. The LCD shows 8 metrics: time (mins/secs), speed (mph), watts, pulse rate, distance travelled (kilometres), calories burned, RPM, and scan.
---
Marcy Fan NS-1000 Exercise Bike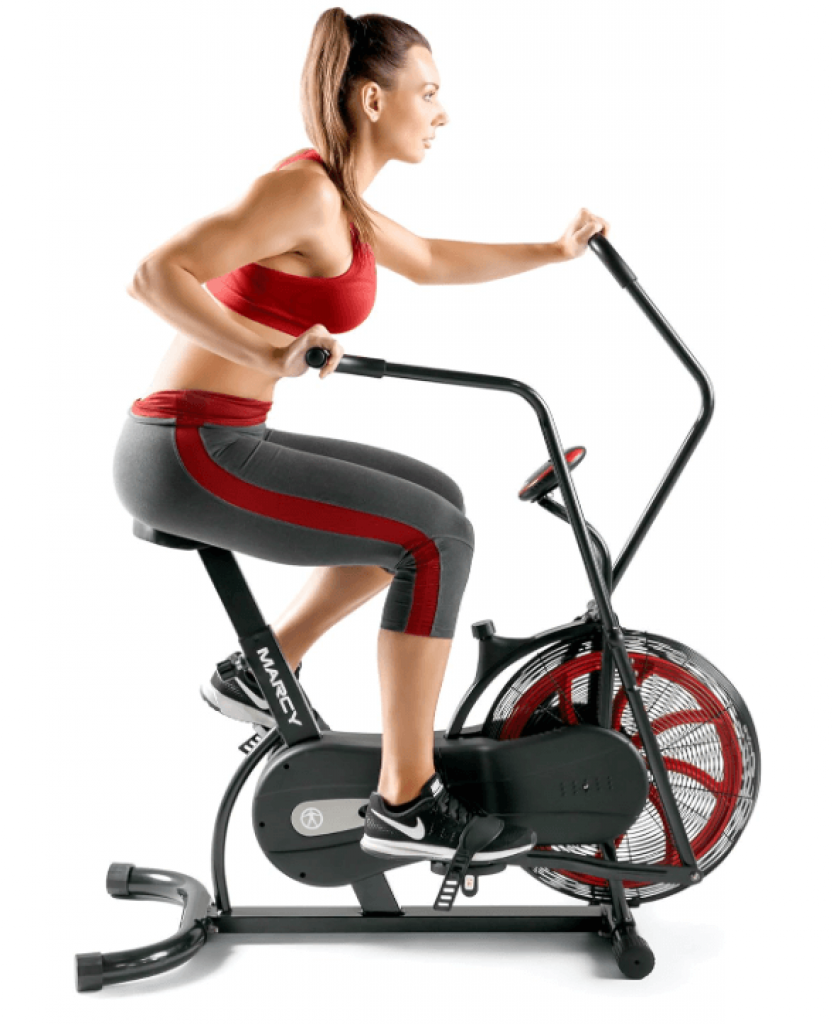 The Marcy Fan NS-1000 Exercise Bike is our runner-up that is suitable for newbies who want to get a durable air bike. While the bike seems lightweight at 26 kilogrammes, it can sustain 113 kilogrammes of weight. The bike is constructed of 14-gauge steel tubing with a powder-coated finish, assuring you of its durability and stability.
Its ease of assembly and portability have been praised by satisfied customers, making it ideal for outdoor use during sunny days. The bike has seven seat adjustments to help you find the best sitting position. High-density foam is used as padding for the seat. The pedals are a good size and width, and they feature straps for improved grip.
The bike's belt-driven flywheel technology provides a smooth and silent ride for the user. The tension is adjustable via a rotary knob. While you work out, you can keep an eye on the time, distance, calories burned, speed, and scan mode while working out.
Read Our Marcy Fan NS-1000 Review
---
Conclusion
Buying an exercise bike for under £500 is an achievable option for those who want to stay fit without costing an arm and a leg.
List your fitness goals and preferences to choose the best one for you. Always look for a bike with a sturdy frame, a considerable weight capacity, and a good warranty. Consider the resistance and flywheel, and if possible, look for one with preset programmes.
With our list of the best exercise bikes under £500, you're sure to find one that fits your needs. So, why wait? Start your fitness journey today with a budget-friendly exercise bike!
Make sure to explore our recommended exercise bikes under £500 that we have thoroughly reviewed: