Budget-Friendly and Eco-Friendly: Discover the Best Electric Bikes for Under £1000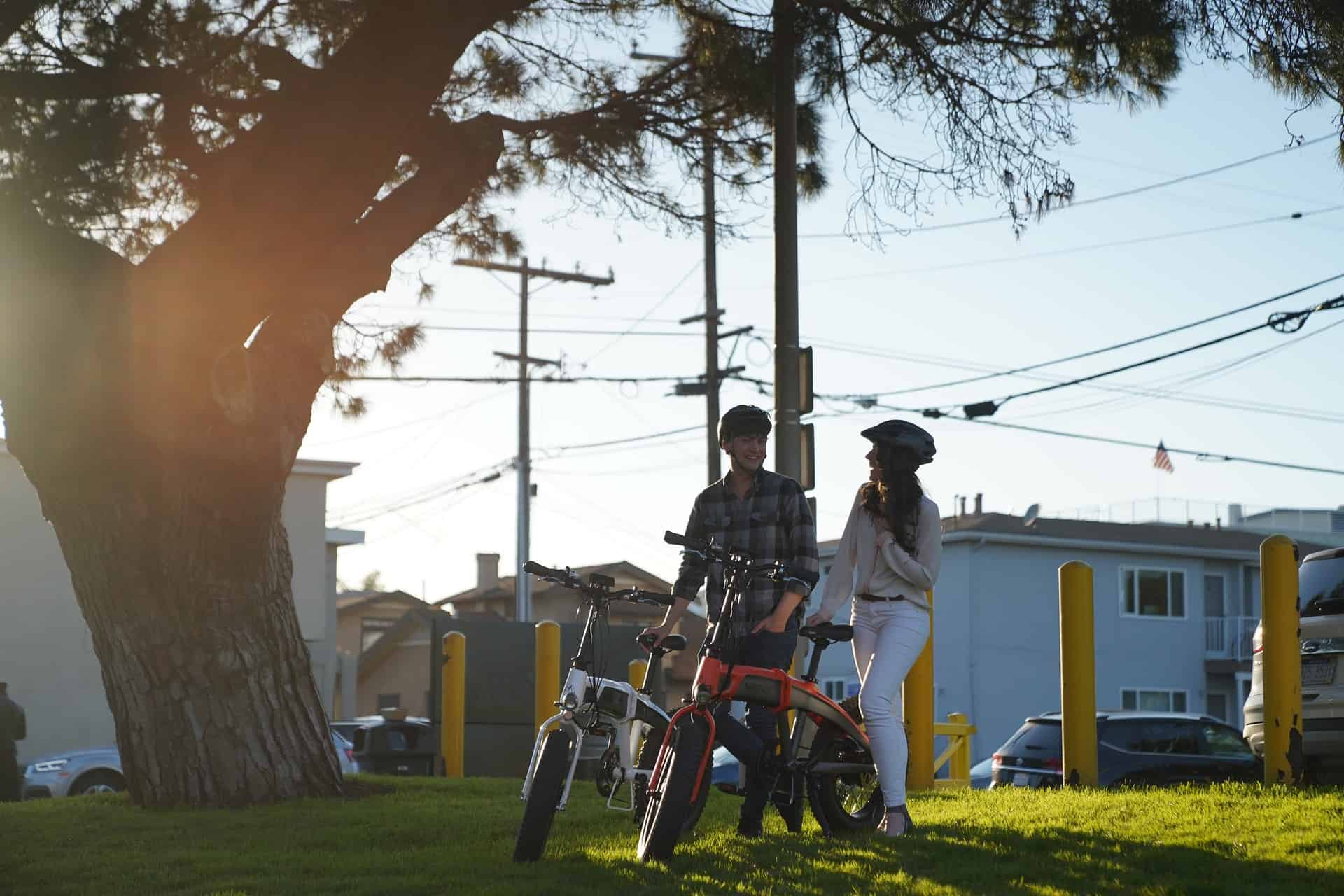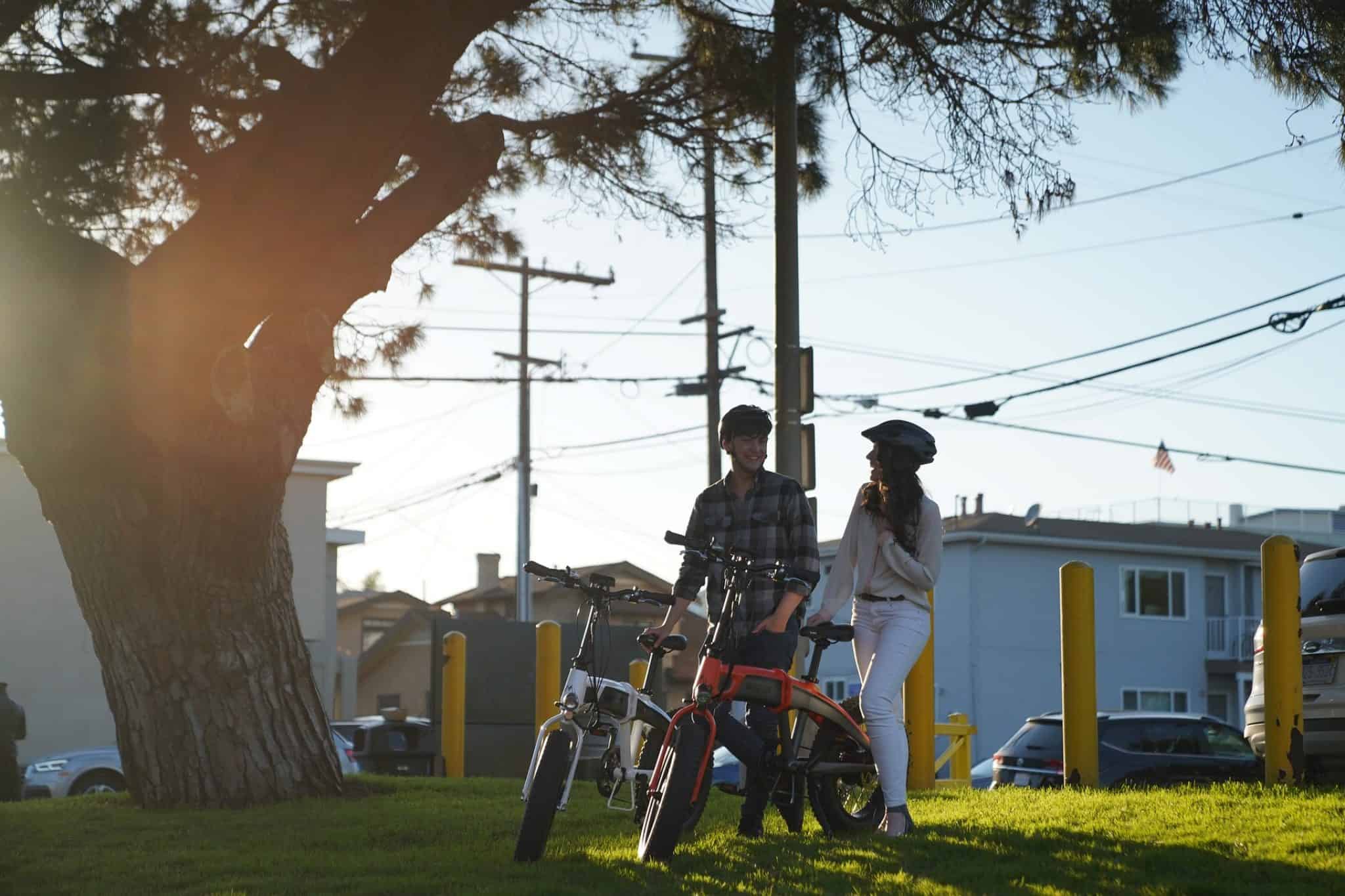 Are you looking for an affordable and environmentally friendly mode of transportation that will get you around town in style? Look no further than electric bikes! With a price tag under £1000, these budget-friendly options are revolutionizing the way we commute. Whether you're a casual rider or a daily commuter, there's an electric bike out there for you.
In this article, we've scoured the market to find the best electric bikes that won't break the bank. From sleek urban models to rugged off-road options, there's something for every type of rider. We've considered factors like battery life, motor power, and overall performance to bring you our top picks.
Not only are electric bikes cost-effective, but they also have a positive impact on the environment. Choosing an electric bike reduces your carbon footprint and contributes to a more environmentally-friendly future. So why not make the switch and start enjoying the benefits of an electric bike today?
Join us as we dive into the world of budget-friendly and eco-friendly electric bikes. Discover the models that offer the best value for your money and help you commute with ease.
Our Top Picks – Best Electric Bikes Under £1000
Best for Beginners: AKEZ Electric Bike
Best for Adults: Power-Ride PRO Electric Bike
Best for Women: Hyuhome Electric Bike
Best for Seniors: Fafrees Electric Bike
Best for Kids/Teenagers: HITWAY Electric Bike
Best for Commuting: Bodywel Electric Bike
Best for Touring: Eleglide M1 Electric Mountain Bike
Best Electric Mountain Bike: Eurobike EMTB
Best Foldable: F.lli Schiano E-Star Folding Electric Bike
Best for Under £500: DYU D3F Portable E-Bike
What Is An Electric Bike?
An electric bike is very similar to a conventional bicycle, but it has a rechargeable battery and a motor attached to it to help you move, saving you precious pedalling energy. It allows you to travel much longer distances and even move up hills with ease, which would otherwise result in a very tiring and sweaty ride. And none of us want to arrive at work drenched in sweat.
Most electric bikes use a "pedal-assist" system, which means that the motor will help along with pedalling and allow you to drive faster and more easily. This makes e-bikes great for commuting to work and transporting heavy groceries or children.
But they're not made just for commuting. There are countless options to electric bikes nowadays, from all-road bikes to cargo bikes, mountain bikes, folding bikes, and more. If you can imagine it, chances are it already exists.
All this has resulted in a mass of people who would rather ride electric bikes than regular ones. With their popularity in a dramatic rise and so many options available on the market, it can be hard to choose the best electric bike for your needs sometimes. Let's take a look at some of the most important things you need to consider when buying the best ebike 2023.
Things to Look For in an Electric Bike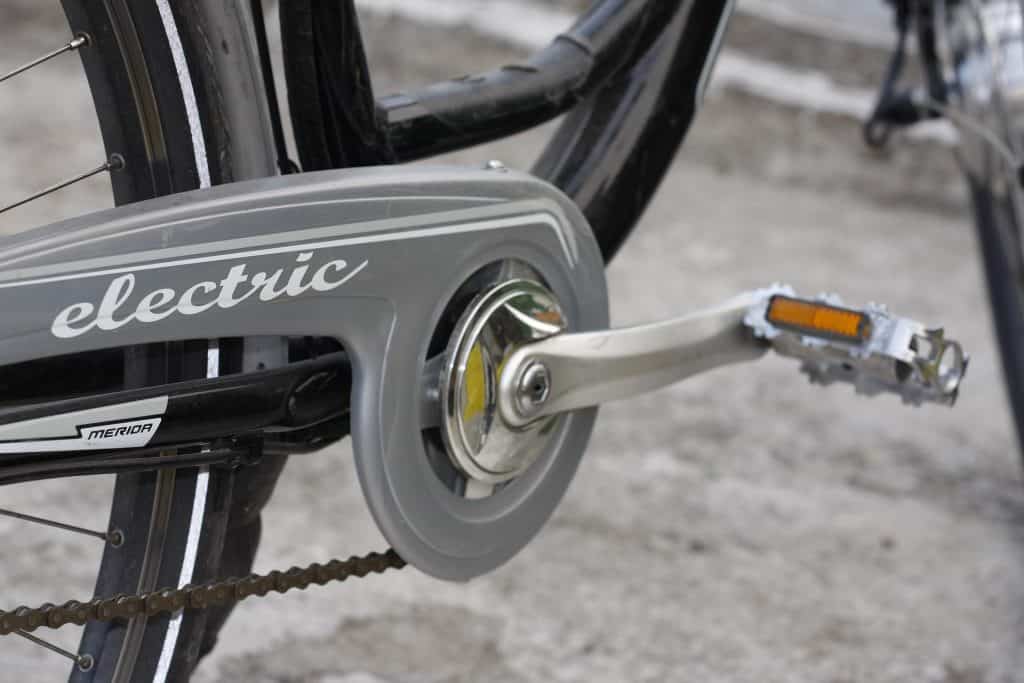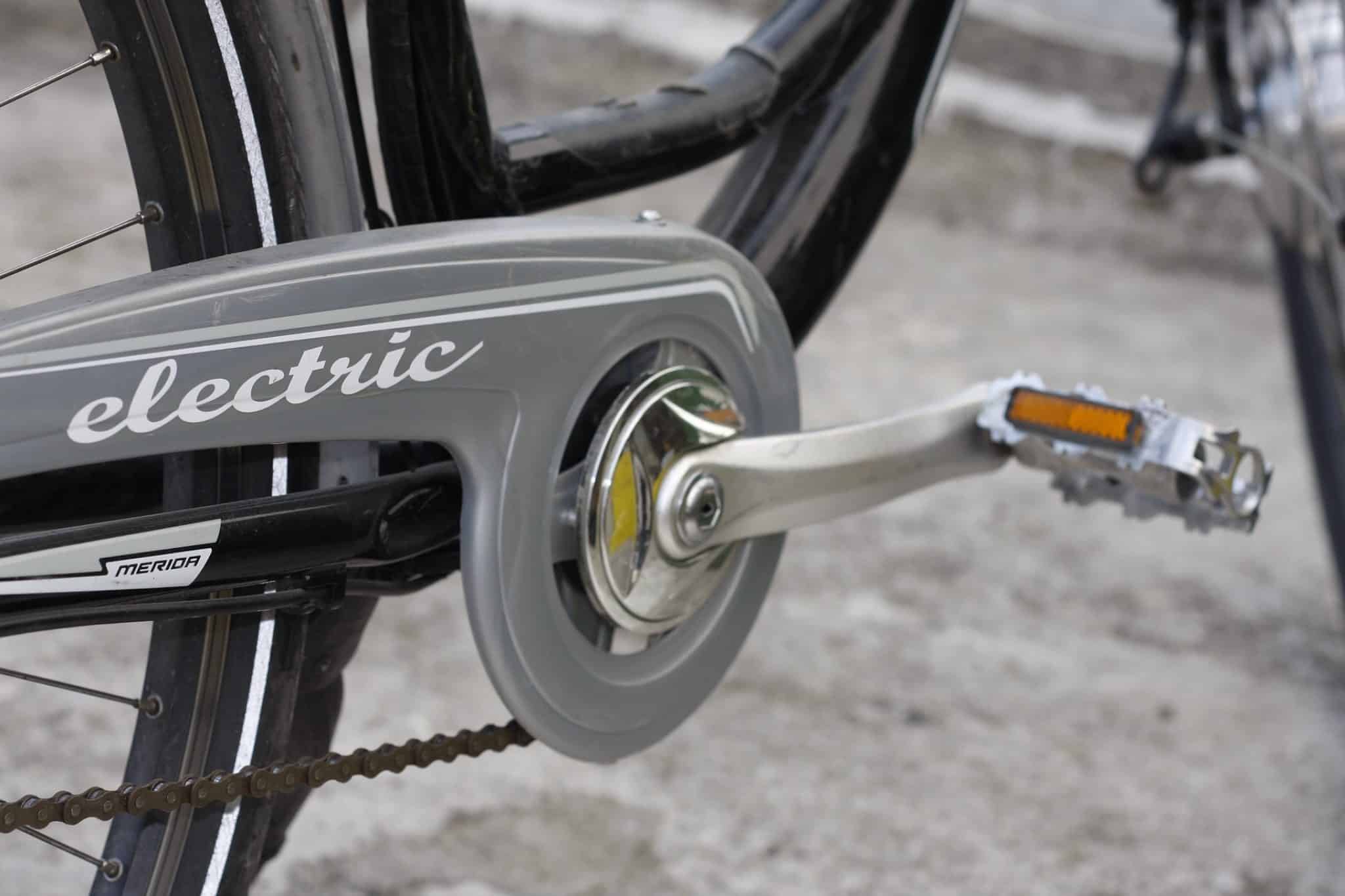 Pedal-assist vs. throttle
Electric bikes tend to fall into two main categories – pedal-assist and throttle.
On a pedal-assist bike, the motor only works when you start pedalling and can be set to different levels of assistance, depending on how much energy you want to spend or conserve.
Throttle electric bikes, on the other hand, will move you along even when you're not pedalling, allowing you to relax and enjoy the ride. However, they're legally classified in a different category than pedal-assist bikes, so make sure to check with your local laws before buying one.
Motor type
There are two main types of motors you can find on the best ebike 2020, and those are:
Hub Motors – placed within the hub at the wheels, usually at the rear one. They're the most popular and most affordable option. The good thing about them is that they require little to no maintenance and don't put stress on the other components. Another big plus is that even if your motor breaks mid-way through your ride, you can still ride home using your pedals, and vice-versa.
Mid-drive Motors – these are placed between the cranks of the ebike and require a specific kind of bike frame. The central placement, along with the lightweight design, allows for even weight distribution. They offer more range and a generally smoother ride, but are the more expensive option of the two and require more maintenance.
If you're looking to get maximum pedal assistance and not worry about maintenance, go for a hub motor. But otherwise, if you're looking for a boost in your rides and are experienced in ebikes, you can't go wrong with mid-drive motors.
There are also many wattage options to choose from, ranging from 250 to 750 watts. This might seem like a straightforward way to determine how powerful the ebike is, but it's not. You also need to take into account the battery's voltage and the maximum current.
Battery size
For people who want to ride electric bikes, this is the most important metric to look for. It determines how much pedal assistance you can get and for how long you can ride.
If you're often riding up hills, you'll need more battery power to push you through, but if you're always cruising around on flat streets, you can go for a more lightweight option.
Watt-hours (Wh) is the metric you need to determine the capacity. The higher the Watt-hours, the more range you can get out of your ebike. Most manufacturers provide an estimated range, which averages somewhere around 40km, but always take this number with a grain of salt.
It's calculated by using the perfect circumstances and often varies in real-life performance. It all depends on how you plan to use it. The more you plan on carrying groceries, dragging cargo, or riding through tough conditions and terrains, the more range you'll need.
Now that you're familiar with the basics of electric bikes and how to find one for your needs, it's time to go through the 10 best electric bike options available on the market today.
Top 10 Electric Bikes Under £1000 in the UK
---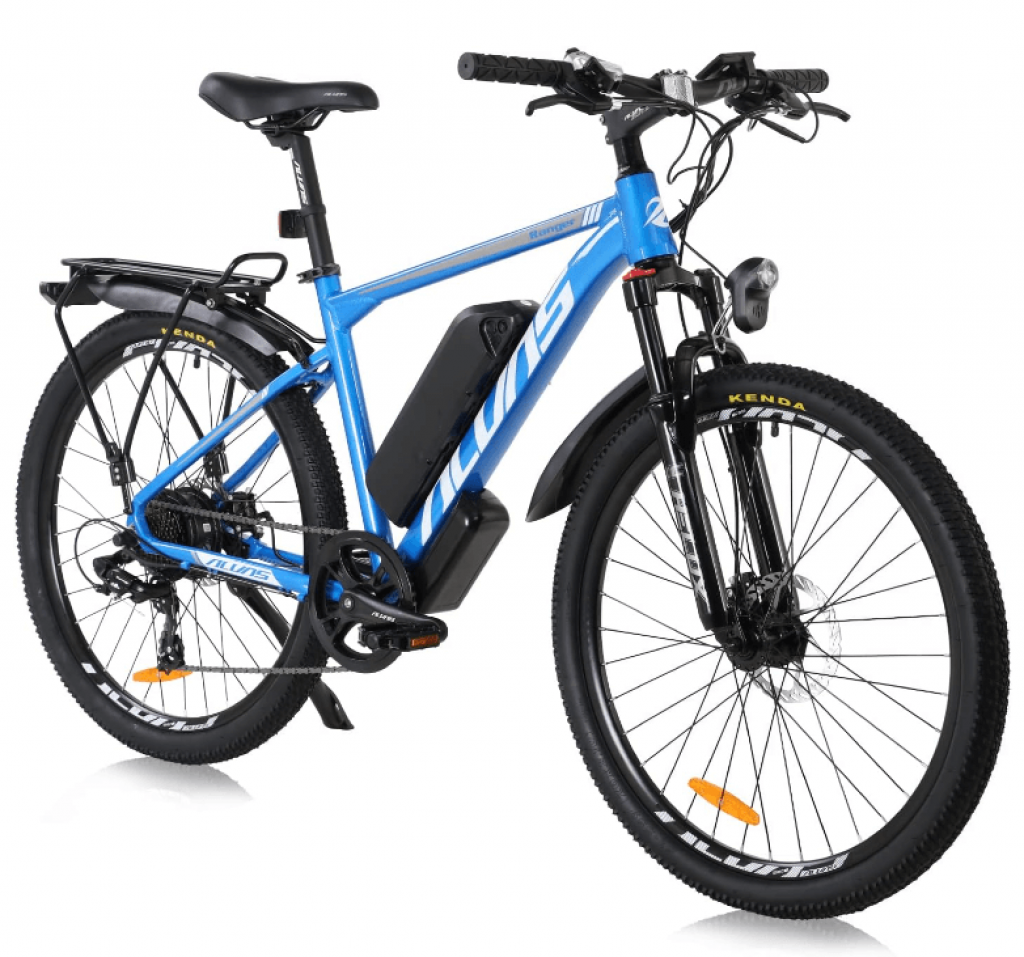 Wheel Size: 26 Inches
Weight: 22 KG
Motor: 250W 36V
Battery Life: 35-50 KM
Charging Time: 3 – 4 Hours
Speed: 25 KM/H
Load Capacity: 120 KG
The AKEZ Electric Bike is your ticket to affordable and versatile cycling adventures. Priced under £600, it's the perfect entry point for riders of all purposes, whether it's city commuting or outdoor exploration.
With a spacious 36V 12.5Ah lithium-ion battery, this bike offers a generous range. Plus, it features three riding modes, ensuring you can choose the one that suits your style. Charging is a breeze, and the battery management system (BMS) safeguards its longevity.
The BAFANG motor provides reliable power for your daily commute or short trips, and it comes with a global fixed-point warranty. Upgraded front suspension ensures a smooth ride even on rugged terrain, while the 7-speed Shimano gear system eases fatigue and adapts to various conditions.
Stay informed with the intelligent LCD screen, and the left thumb throttle adds convenience. The pluggable waterproof cable enhances durability, and LED headlights and tail warning lights keep you visible during night rides.
This electric bike not only promotes a healthy lifestyle but also delivers practicality. The pedal-assist mode offers an impressive battery life of 50-90km, depending on your chosen assist level.
With 85% assembly completed and adjustable seat height, it's beginner-friendly and a fantastic gift option. Join the electric bike revolution with AKEZ – your affordable and versatile cycling companion!
---
Best Electric Bikes For Adults – Power-Ride PRO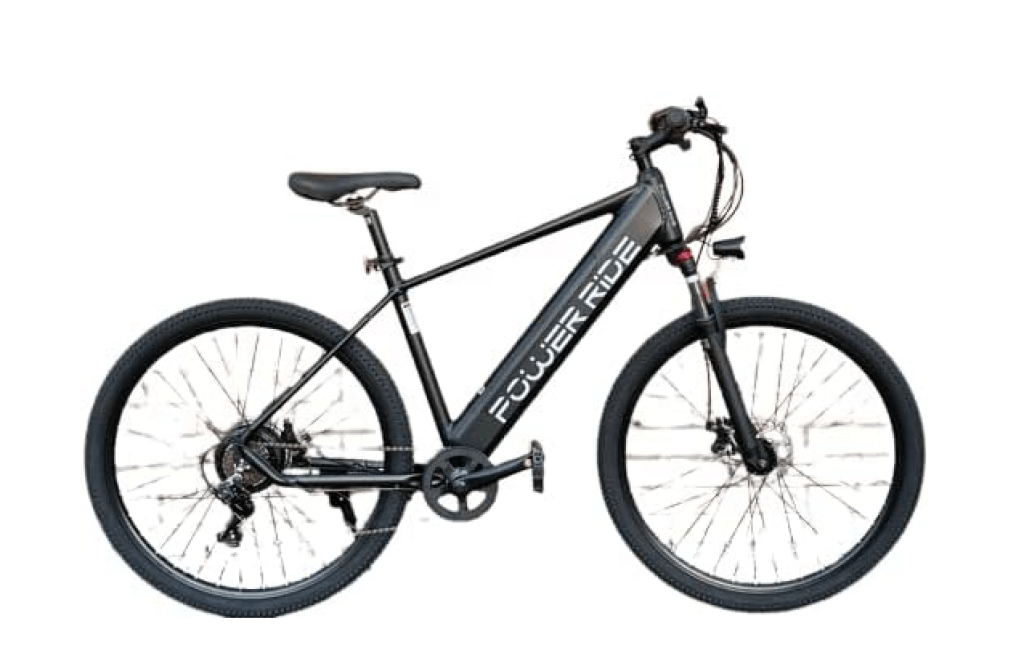 Wheel Size: 27.5 Inches
Weight: 22 KG
Motor: 250W 36V
Battery Life: 45-65 KM
Charging Time: 4 – 6 Hours
Speed: 25 KM/H
Load Capacity: 120 KG
The Power-Ride PRO Electric Bike is your ultimate ride, offering the perfect blend of freedom, convenience, and style. Whether you're tackling daily commutes or leisurely rides, this e-bike is your trusty steed to conquer the open road.
Packed with features, it boasts an easy-to-read HKP1 Display interface, a shock-absorbing fork, Shimano TY200 rear derailleur, and a powerful 250w brushless rear hub motor with 45NM of torque. Say goodbye to traffic chaos and hello to effortless cruising.
The removable 36V 10.4AH battery provides a range of 45-65KM on a single charge, beautifully integrated into a durable aluminum frame. Safety is paramount with JAK-7 disc brakes and an electric brake lever for reliable stopping power.
Switch between pedal assist, normal biking, and throttle power effortlessly, thanks to the three riding modes. The Shimano TZ500-7 speed gear system and TX50 gear shift lever make adapting to different terrains a breeze.
Assembly is a breeze with 80% pre-assembly, and the plug-and-play style makes it beginner-friendly. Detailed instructions, tools, and a user manual are included, and you can even find an assembly video online.
With the Power-Ride PRO, you not only get a fantastic bike but also access to a friendly and knowledgeable support team based in Nottingham, UK. Experience the joy of riding like never before – make this e-bike your trusted companion today!
---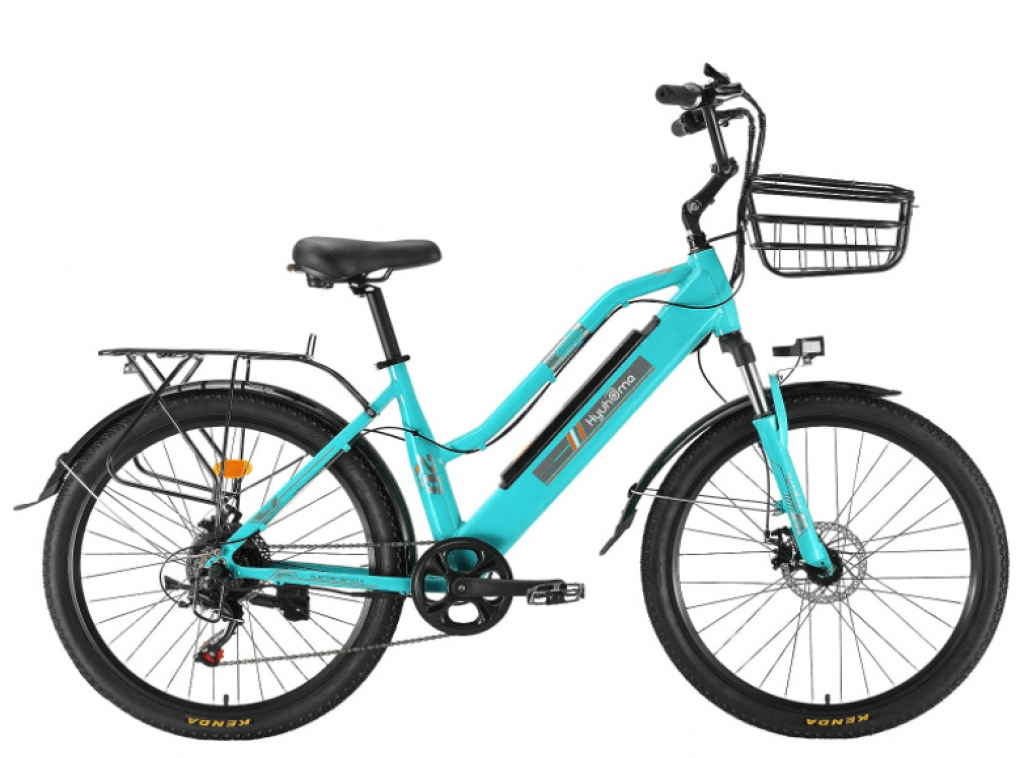 Wheel Size: 26 Inches
Weight: 26 KG
Motor: 250W 36V
Battery Life: 35-50 KM
Charging Time: 4 – 6 Hours
Speed: 25 KM/H
Load Capacity: 150 KG
Ladies, it's time to embrace the freedom of the open road with the Hyuhome 2022 Upgrade Electric Bike! This mountain e-bike is designed with you in mind, offering a powerful yet cost-effective riding experience.
The brushless gear rear motor delivers robust power, while the 36V removable lithium battery provides convenience – charge it at home or the office in just 4-6 hours. Tailor your ride with adjustable speed settings and choose between assist or electric-only mode for the perfect range.
Crafted from high-strength aluminum alloy, this bike can handle a maximum load of 330 lbs. It's suitable for riders from 160 to 190 cm and comes 85% pre-assembled, making it easy to put together in under an hour with the help of our YouTube video.
Experience unparalleled comfort with the bike's upright riding style, adjustable handlebars, shock-absorbing equipment, and rugged mountain tires for smooth rides on any terrain. Plus, it comes with a basket, fenders, and a safety lock for added convenience.
Get ready to ride anytime, anywhere, and enjoy the freedom of the road with the Hyuhome 2022 Upgrade Electric Bike – your perfect companion for every adventure!
---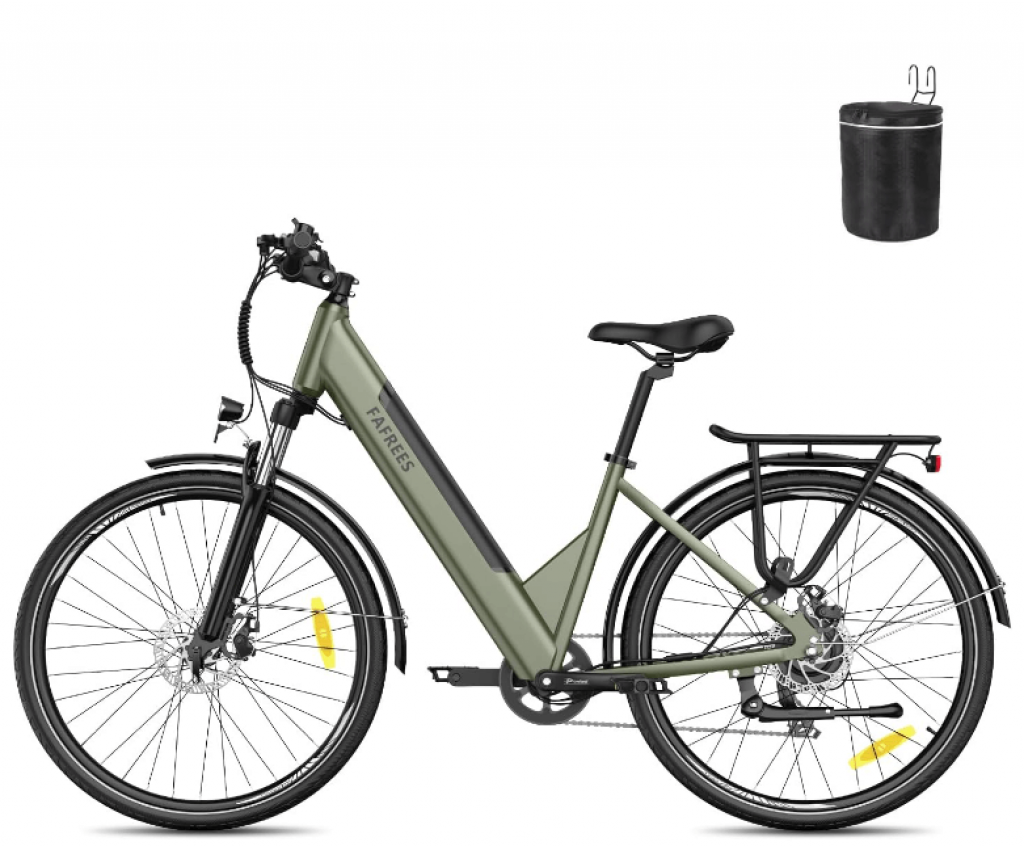 Wheel Size: 27.5 Inches
Weight: 31 KG
Motor: 250W 36V
Battery Life: 55-65 KM
Charging Time: 6 – 8 Hours
Speed: 25 KM/H
Load Capacity: 120 KG
The Fafrees Electric Bike is here to redefine your riding experience with comfort and convenience in mind.
The aluminum stepped frame makes mounting and dismounting effortless, ensuring you can enjoy your rides without any hassle. The 250W brushless motor provides a quiet yet powerful performance, effortlessly conquering hills and making your journey enjoyable.
One standout feature is the removable 14.5Ah battery, offering an impressive 110 kilometers of range in PAS mode after a full charge. Plus, the backlit LCD display not only keeps you informed about your ride but also lets you connect to your phone and even charge it!
For a smooth ride, this electric bike is equipped with a 27.5-inch front suspension fork with a locking function, adapting to various road surfaces. The Italian brand SR SELLE ROYAL silicone saddle ensures long-distance riding comfort for seniors, and the 27.5-inch*1.75 tires offer a non-slip, wear-resistant grip and improved road speed.
Safety is paramount with highly reflective strips, ensuring better visibility in low-light conditions. Additionally, the bike features front and rear 160mm mechanical disc brakes with powered brake levers, guaranteeing efficient and quick stops.
Experience the joy of riding with the Fafrees Electric Bike – it's your ticket to comfortable, worry-free adventures!
Best Electric Bikes For Kids/Teenagers – HITWAY Electric Bike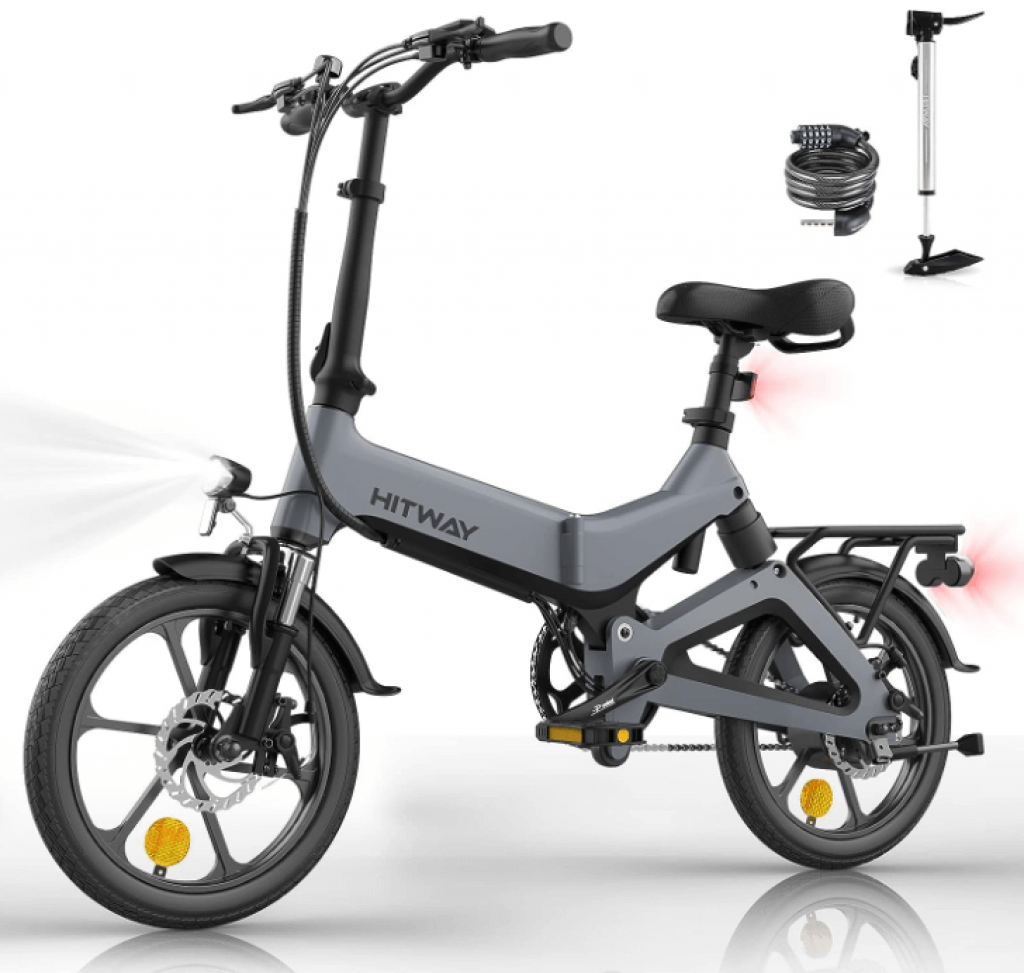 Wheel Size: 16 Inches
Weight: 22.5 KG
Motor: 250W 36V
Battery Life: 35-70 KM
Charging Time: 4 – 5 Hours
Speed: 25 KM/H
Load Capacity: 120 KG
Hey there, teenagers, listen up! The HITWAY Electric Bike is your dream ride, and here's why it's perfect for you.
First off, it's got a powerful 250W 36V motor that zips you around at speeds up to 25km/h. That means you can get to school or meet your friends in no time. Plus, it can conquer steep hills like a champ.
But the real magic is in its compact size and easy folding design. When folded, it's just 77 x 43 x 70cm – compact enough to stash in your locker or carry up to your room. It weighs only 22.5kg, so you won't break a sweat transporting it.
The removable 7.5Ah/36V lithium battery gives you an impressive 35-70km of cruising range, making it ideal for your daily adventures. And it's super safe with front and rear dual disc brakes, electronic brakes, LED lights, and a horn – perfect for those late-night rides with friends.
Adjustable handlebars and saddle heights mean it's designed for teenagers like you, ensuring a comfy ride every time.
So, whether you're heading to school, meeting friends, or just exploring your neighborhood, the HITWAY Electric Bike is your trusty sidekick. Time to hit the road in style and convenience!
---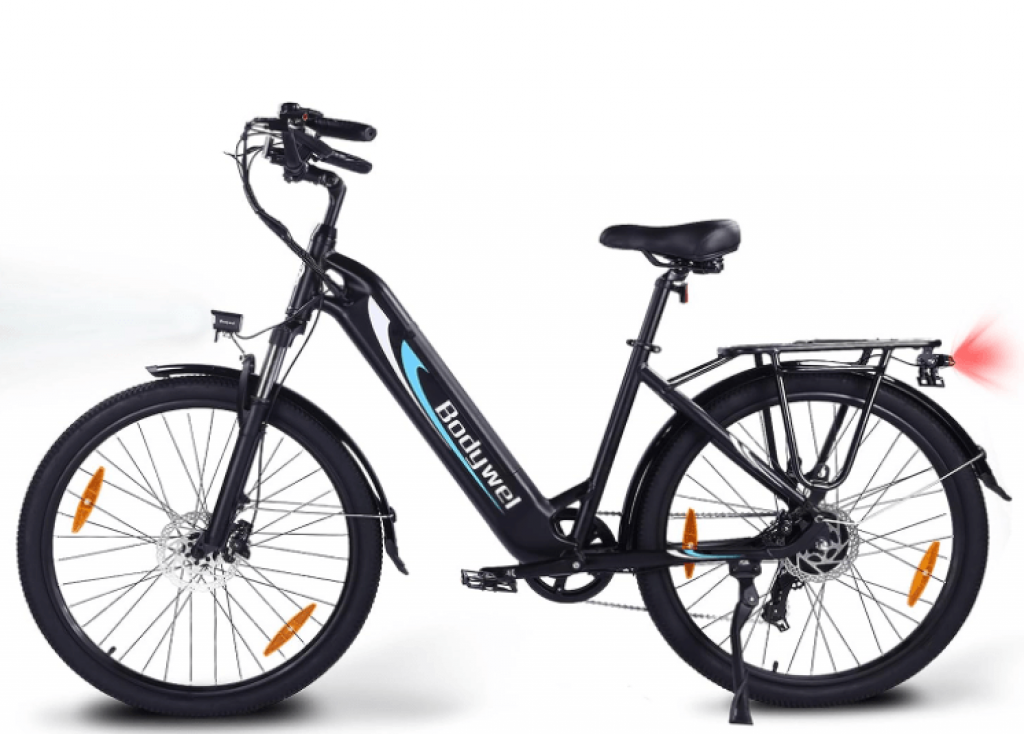 Wheel Size: 27.5 Inches
Weight: 24.5 KG
Motor: 250W 36V
Battery Life: 70-90 KM (Pedal Assist)
Charging Time: 5 – 6 Hours
Speed: 25 KM/H
Load Capacity: 120 KG
Calling all commuters! The Bodywel Electric Bike is your dream come true for hassle-free and eco-friendly commuting.
With a sleek and sturdy aluminum alloy frame, this e-bike is designed to make your daily rides a breeze. The 250W Brushless Motor provides just the right amount of power, effortlessly assisting you up to speeds of 25km/hour. Say goodbye to sweaty commutes!
The real star of the show is the rechargeable Lithium-Ion Battery with a whopping 15Ah capacity, giving you an impressive single range of up to 59 miles on a single charge. That means you can easily conquer your daily commute and more, without worrying about running out of juice.
Worried about those hills? The Shimano 7 Gears System has got you covered. It's a unisex design, suitable for adults between 160-185 cm, accommodating riders up to 264lb (120kg).
Safety? Check! It's equipped with dual-disc brakes, ensuring you can stop confidently. Plus, the LED display with APP function keeps you informed.
In a nutshell, the Bodywel Electric Bike is your trusty companion for convenient, comfortable, and eco-conscious commuting. Say hello to stress-free rides to work and back!
---
Best Electric Mountain Bike – Eurobike EMTB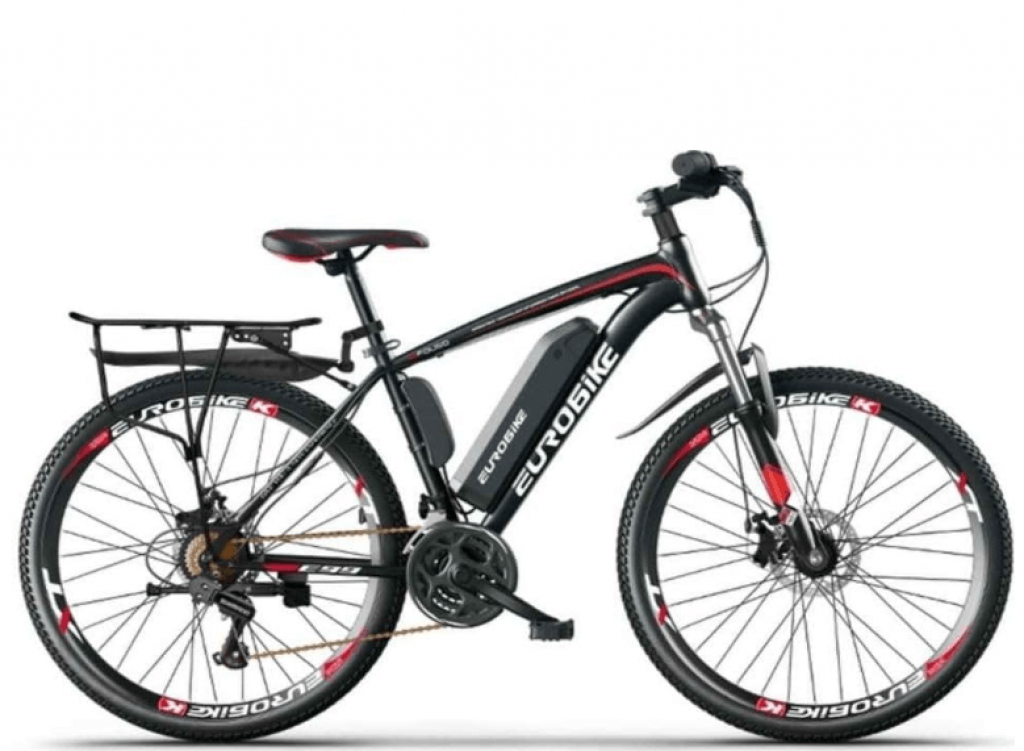 Wheel Size: 26 Inches
Battery Life: 48KM
Attention all outdoor adventurers and rugged terrain conquerors! The Eurobike Electric Mountain Bike is your ultimate ticket to thrilling escapades. Picture this: a powerful electric motor that effortlessly tames the wildest terrains, making every ride an exhilarating journey.
Wave goodbye to range anxiety with its robust lithium battery, offering a whopping 30-mile range on a single charge. Extend your outdoor adventures, explore further, and never worry about running out of power.
Crafted for toughness, this bike's frame is a marvel of engineering, designed to handle challenging trails and unpredictable terrains. And the best part? It's surprisingly lightweight, ensuring agility on your adventures.
The front fork shock absorption system transforms bumpy rides into silky-smooth journeys. Say goodbye to discomfort and hello to pleasure as you navigate through rugged landscapes.
With a versatile 21-speed gear system, this bike adapts to any riding scenario. Steep ascents or rapid descents, it conquers them all effortlessly. This is the EMTB you've been waiting for in 2023.
Embrace the outdoors like never before with the Eurobike Electric Mountain Bike – your trusty companion for unforgettable adventures. Get ready to unleash the adventurer in you!
---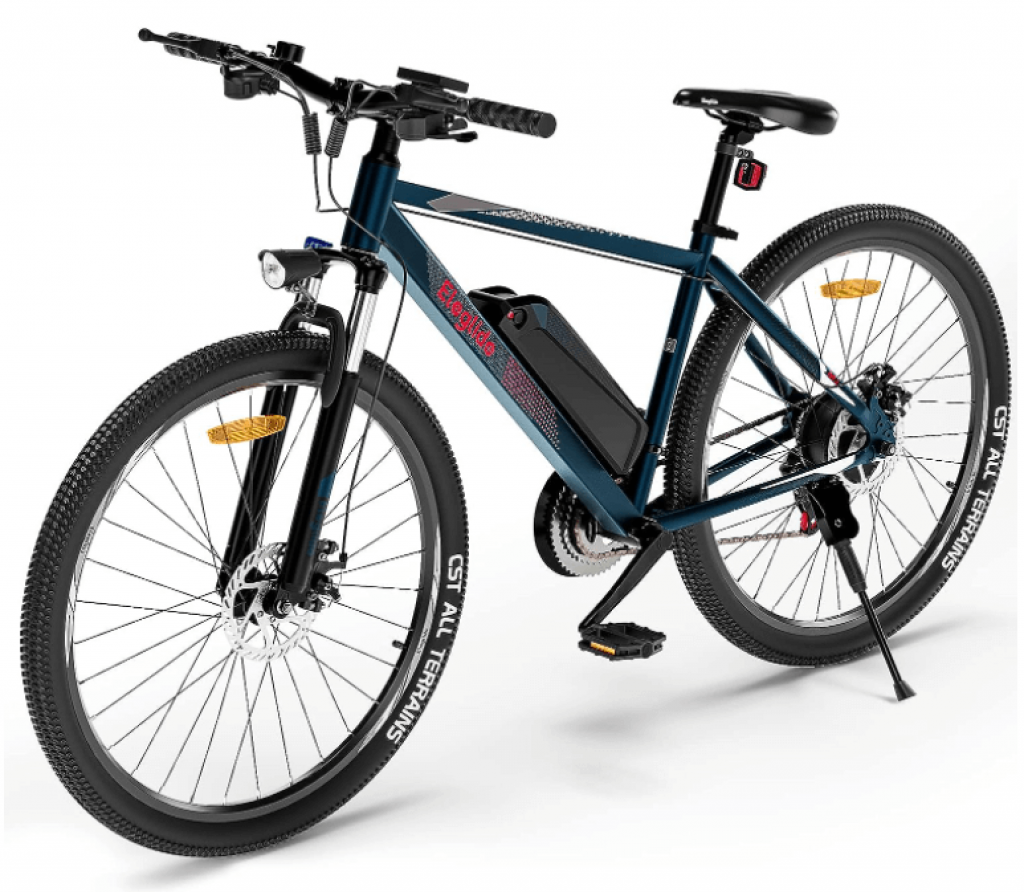 Wheel Size: 27.5 Inches
Weight: 20.3 KG
Motor: 250W 36V
Battery Life: 30-65 KM
Charging Time: 4 – 5 Hours
Speed: 25 KM/H
Load Capacity: 100 KG
Introducing the Eleglide M1 Electric Mountain Bike, your ticket to thrilling outdoor adventures and long-distance exploration!
This bike is all about comfort and reliability. With three modes – bike, electric-assist, and pure electric – it's designed to cater to your every need. The Shimano transmission, offering 3 speed + 7 speed, ensures effortless gear adjustment for a smoother ride. Plus, the 5-speed levels let you conquer any terrain with ease, turning each acceleration into a unique journey.
Powered by a 36V 7.5Ah removable long-life battery with advanced BMS technology, it's not only lighter but also safer and more durable. You can ride further and longer, up to an impressive 65 kilometers (41 miles) on electric assist mode.
Safety is paramount with dual disc brakes, front suspension for shock absorption on rough terrains, and non-slip tires for a secure grip. Night riding is a breeze with the bright LED headlight.
Stay informed with the intelligent LED display, showing battery status, speed, and more.
Whether you're craving a mountain trail or a city escape, the Eleglide M1 is your ideal companion for unforgettable journeys. It's time to embark on your next adventure with confidence and style!
---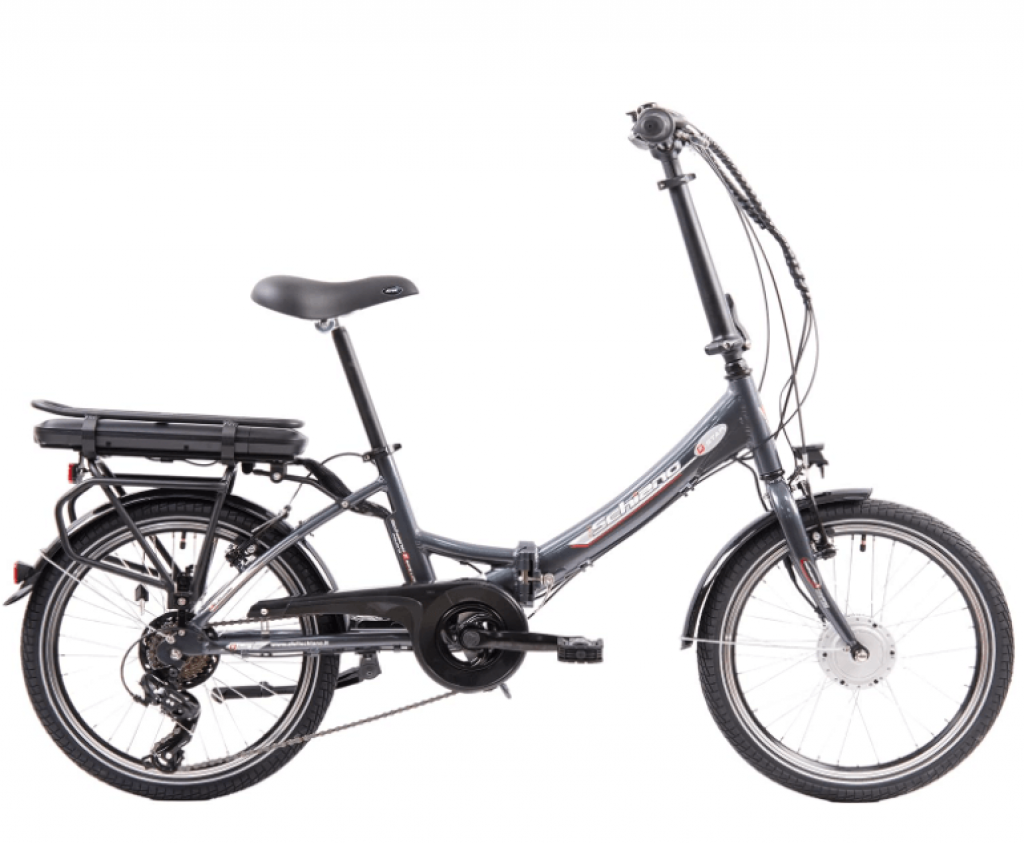 Wheel Size: 20 Inches
Weight: 22 KG
Motor: 250W 36V
Battery Life: 50-70 KM
Charging Time: 3 Hours
Speed: 25 KM/H
Load Capacity: 120 KG
Discover the F.lli Schiano E-Star Folding Electric Bike, your ultimate travel companion for convenience and performance.
This foldable electric bike boasts a powerful 250W brushless front motor with 40Nm torque, ensuring a long-lasting and high-performance ride. With a maximum supported speed of 25 km/h, you'll effortlessly glide through your daily commute or leisurely rides.
The lithium battery, conveniently stored under the luggage rack, offers a remarkable 90 km autonomy in ECO Mode. Say goodbye to range anxiety and embrace worry-free travel.
The Shimano Tourney T35D SS gearbox provides you with 7 easily selectable speeds, making it suitable for various road types. Whether you're navigating city streets or countryside paths, this bike has you covered.
Quality is paramount with its aluminum frame, V-brakes, double-walled aluminum rims, Kenda tires, and a rigid fork. Safety features include front and rear lights, mudguards, and a chain cover.
With its foldable frame, LED display, comfortable Selle Royal saddle, and quick-release system, this bike combines practicality and comfort seamlessly.
Upgrade your commuting experience with the F.lli Schiano E-Star Folding Electric Bike, where convenience meets performance for the ultimate ride.
---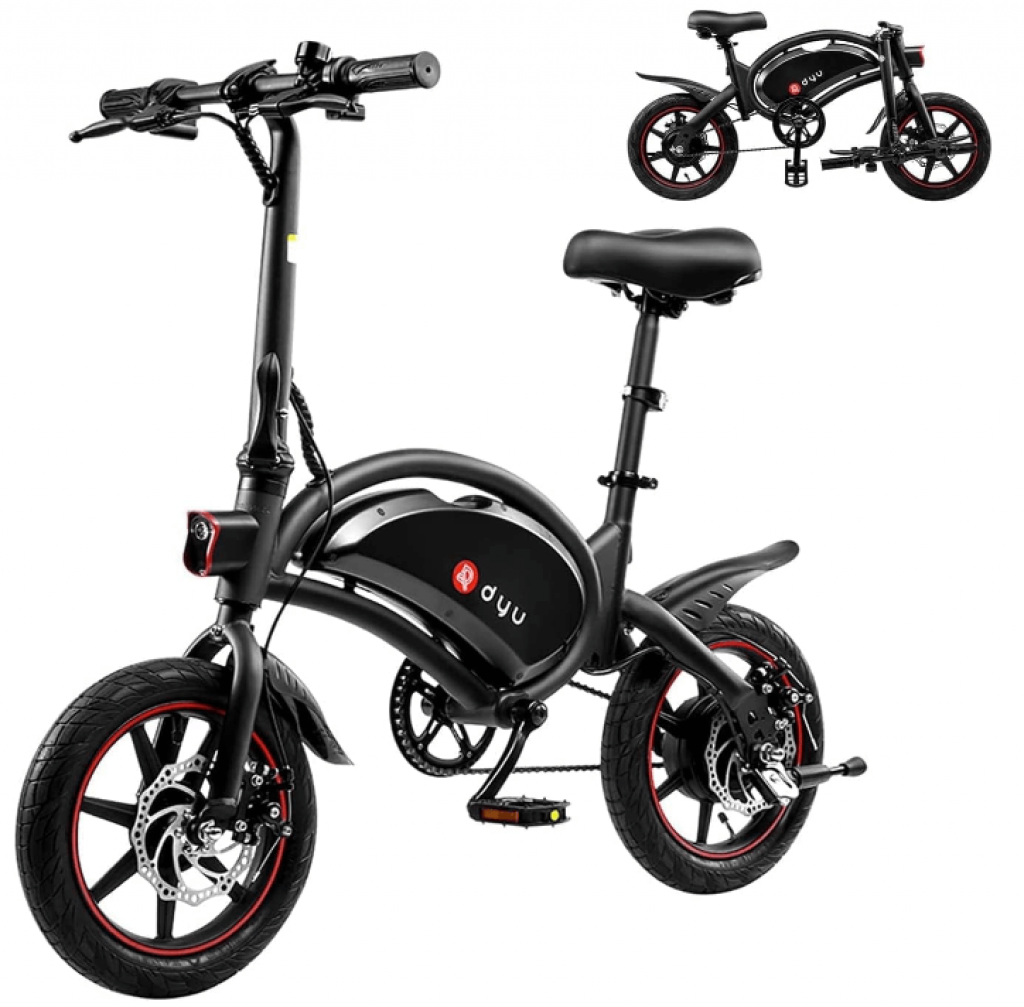 Wheel Size: 14 Inches
Weight: 17.5 KG
Motor: 250W 36V
Battery Life: 35-40KM
Charging Time: 2 – 4 Hours
Speed: 25 KM/H
Load Capacity: 120 KG
Discover the DYU D3F Portable E-Bike – your compact, budget-friendly ticket to effortless commuting and outdoor adventures.
Powered by a robust 250W 36V motor, this electric bike propels you to a max speed of 25km/h, making city streets and country roads a breeze to navigate. Plus, with a 10Ah rechargeable lithium battery, you'll enjoy extended rides, covering 35-40KM in light bike mode.
Crafted with an aluminum-magnesium alloy frame, this bike is lightweight, sturdy, and folds down to a mere 116 x 21 x 74 cm, perfect for tight budgets and small spaces. Its 14-inch one-piece aluminum alloy tires offer superior grip, while the front fork shock absorber ensures a comfortable and stable ride.
Customize your experience with three riding modes: pure electric, fitness, or regular bike mode. The adjustable seat and handlebar cater to different builds for the most comfortable ride.
Safety is paramount with dual disc brakes, electronic brakes, LED headlights, and a bicycle bell. Whether it's day or night, you'll be seen and heard.
With its large battery, efficient design, and UK-based warehouse for speedy delivery, the DYU D3F Portable E-Bike is the ideal choice for anyone seeking an affordable, portable, and high-quality electric bike. Join the e-bike revolution today!
---
Benefits of Using Electric Bikes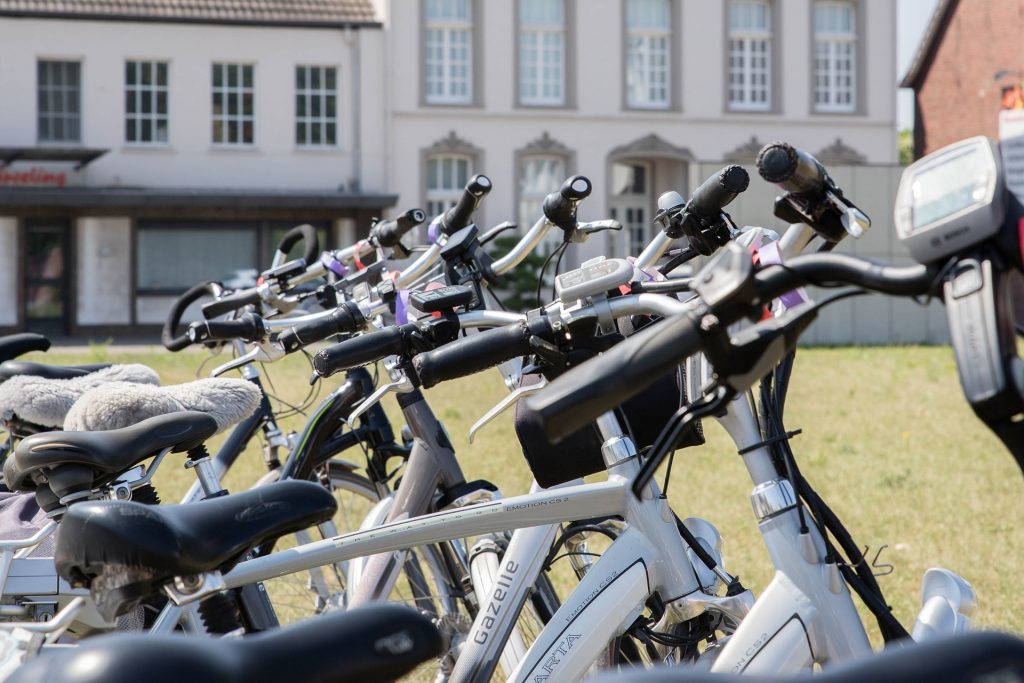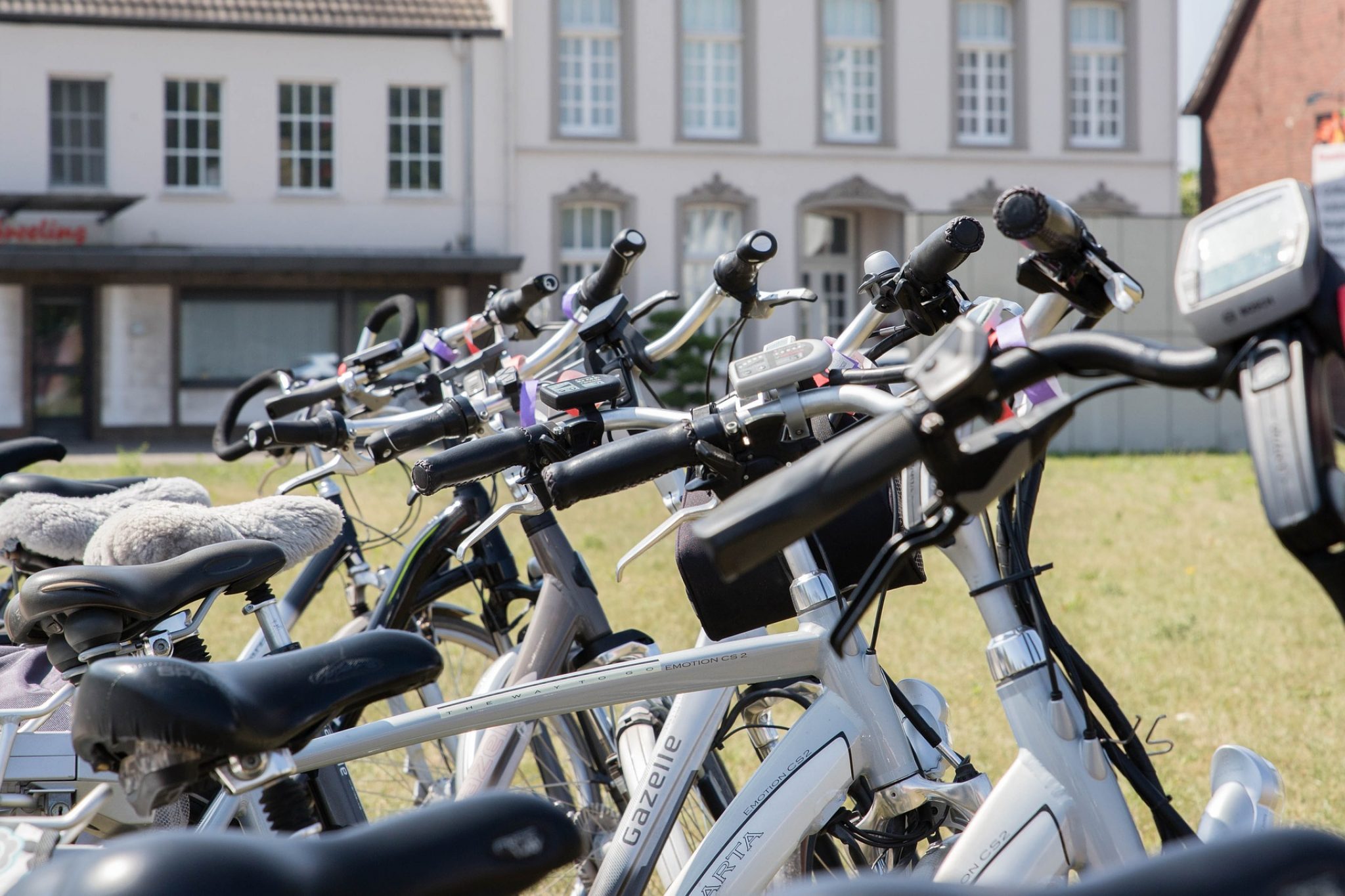 Fast and efficient
Urban congestion has become the main problem for most commuters, and electric bikes can help solve that. The fact that you can choose between different levels of assistance means you can power through empty streets with ease, and slow down and navigate with precision when it's congested.
It also allows you to go much longer distances than you could go by pedal-power alone, and when you finally get to your destination, you won't be too tired to even talk.
Cost-effective
Although they can be pretty costly, electric bikes are extremely cost-effective in the long run. The more you use it, the more money you'll save on fuel, car maintenance, registration, parking, tolls, and all the other costs associated with owning a car.
They can be even cheaper than public transportation if you use it every day. No more bus or train tickets and standing in crowds and queues.
Good for the environment
Climate change and global warming are some of the most pressing issues of today, and we all need to play our part in combating them. Ebikes can help you cut your carbon emissions tremendously when compared to a car.
When you get an electric bike, your friends and family will all be inspired to get one too, and so will their friends and families. This will result in much better air quality for your immediate surroundings. And who wouldn't want to ride their bike in fresh air instead of smog and pollution?
Electric bike accessories and maintenance
To enhance your electric bike experience and ensure its longevity, it's important to invest in the right accessories and practice regular maintenance. Accessories like helmets, lights, locks, and reflective gear are essential for safety, especially when riding in low-light conditions or busy urban areas.
Consider additional accessories like panniers, baskets, and cargo racks if you need to carry groceries, work supplies, or outdoor gear. Regular maintenance is also crucial to keep your electric bike in optimal condition. This includes checking tire pressure, cleaning and lubricating the chain, inspecting the brakes, and ensuring proper battery care.
It's a good idea to familiarize yourself with the manufacturer's recommendations and consult professional bike mechanics if needed. By taking care of your electric bike and using the right accessories, you can enjoy a reliable and enjoyable riding experience for years to come.
Conclusion and final tips for choosing the best electric bike
In conclusion, electric bikes offer a sustainable, efficient, and fun way to commute and explore your surroundings. By considering factors like motor power, battery life, bike type, and specific features, you can find the perfect electric bike that caters to your lifestyle and preferences. Test riding and comparing different models, as well as researching reputable brands, will help you make an informed decision. Don't forget to invest in the right accessories and practice regular maintenance to ensure a safe and enjoyable riding experience. So, buckle up, embrace the future of cycling, and get ready to embark on countless adventures with your new electric bike!