Best Protein Bars In The UK – Healthy and Tasty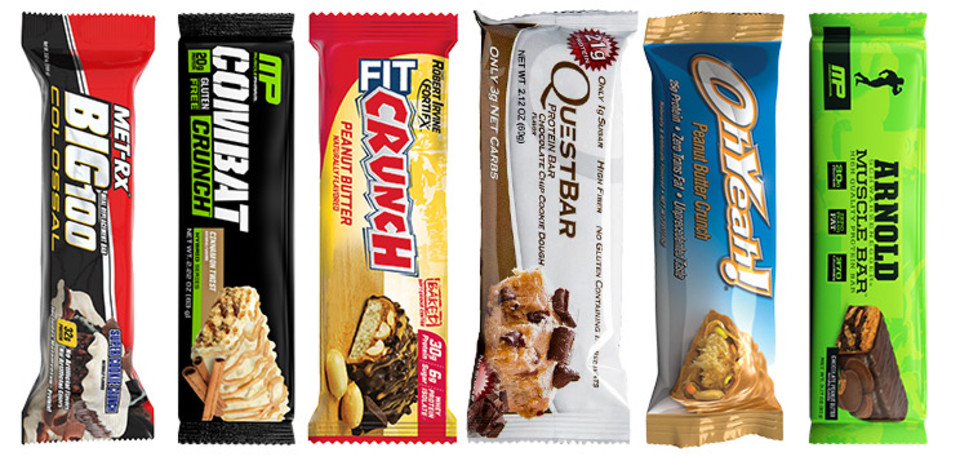 If you are looking for the best protein bar in the UK to supplement your daily intake of protein, then you are in the same situation as a lot of people.
For many finding the right protein bar is a matter of trial and error, which usually means buying and testing out a whole bunch of different brands and flavours before eventually finding one that they are happy with. This can be a costly experience and one that can be avoided, that is if you know what to look for in a good protein bar.
Depending on your needs this could be anything from a low carb, low sugar or low calorie protein bar, to one suitable for vegans or vegetarians. The list of requirements is a long one and one that we go more in-depth on in our guide on protein bars. One thing we know for certain that everybody wants from their bar of choice, is for it to be the best tasting bar they have ever tried.
If this sounds like you, then keep reading on as we take a look at what we believe to be the best protein bars currently available in the UK. In our recommendations we have taken into account a number of factors including, taste, texture, price and customer reviews. If you find a brand with a bar that ticks all these boxes then you are on to a winner!
If you haven't got the time to read our full reviews or just can't be bothered, you can compare our top 5 recommendations in the comparison table below.
Top 5 Best Protein Bars In The UK
1

Grenade Carb Killa Protein Bar
The Grenade Carb Killa High Protein Bar has held the position of been rated the best protein bar for some time now. It can be found for sale at the front desk of almost every gym and fitness centre in the UK, it is even sold in corner shops.
Is it's popularity just down to good marketing then?
There is no denying that the Grenade Carb Killa can be found everywhere, but aside from the good marketing it is a very good protein bar with ingredients that meet the requirements of the majority of people that eat them. With most people wanting a high protein content in their chosen bar, the Carb Killa has exactly that, with 23g of the stuff and only 1.4g of sugar per bar. In addition there are 13.5g of carbs and 7.9g of fat, making this a well rounded protein bar in terms of nutritional value.
With 12 tasty flavours to choose from there should be one for everyone in their full range. The Birthday Cake, Caramel Chaos and the Cookies and Cream are firm favourites for many.
Another important area where the Carb Killa does very good is with the texture of their protein bars. It seems they have got this just right with a combination of ingredients that make up a "triple layered bar consisting of protein nougat, topped with caramel, coated in milk chocolate and crispies" their words not ours.
Taste: 9/10
Texture: 10/10
Price: 9/10
Overall: 9/10
If you are looking for a protein bar with good texture and a wide choice of tasty flavours to choose from the Carb Killa ticks both those boxes. It is also reasonably priced making continuous use affordable for most people. With excellent feedback in customer reviews it is without doubt the best choice for a lot of people out there.
---
2

Optimum Nutrition Protein Bars

Optimum Nutrition are one of the most well recognised and respected supplement brands in the world. They have a reputation for only producing very high quality supplements that adhere to strict health and safety guidelines. The Optimum Nutrition range of protein bars known as "Optimum Protein Bars" are another very popular choice due to their high protein content and great taste.
Surprisingly, there are only 3 flavours to choose from those been the Chocolate Caramel, Chocolate Peanut Butter and the Rocky Road. The Rocky Road succeeds where others fail and is actually very good and my favourite out of them all.
The bar itself is made up of a soft whipped base topped with layers of crispies and caramel and covered in real dark Belgian chocolate. There is 20g of protein per bar including both whey protein isolate & casein protein. There are no addes sugars and all three flavours are suitable for vegetarians. 
Taste: 9/10
Texture: 8/10
Price: 9/10
Overall: 9/10
Great tasting and offering a healthy dose of high quality protein they are worth checking out. The only downside is the lack of flavours to choose from. Hopefully, they will decide to add more in the near future.
---
3

Quest Nutrition Protein Bar
These bars by Quest Nutrition have been around for quite some time now. When they first came out they received rave reviews for their delicious flavours with many claiming they were the best tasting bars ever. In total there are nine different flavours to choose from with five of them been chocolate based. If you like chocolate protein bars this could be the brand for you. Personally, I found the Blueberry and Muffin to have the most unique taste and the chocolate varieties very similar to many other brands.
In terms of nutritional value the protein content differs slightly from bar to bar, but is still a good amount at either 20g or 21g. With each bar been under 200 calories, containing no added sugar and less than 7g of fat, it is easy to see why they have remained popular for such a long time.
Taste: 10/10
Texture: 9/10
Price: 7/10
Overall: 8/10
In the world of protein bars you don't get to be around for as long as Quest Bars have without been a very good product. These are undeniably very tasty protein bars and I know a handful of people that have stuck with them and are 100% satisfied. In my opinion though they are a little bit over priced and could .
---
4

PhD Nutrition Pharma Whey HT+
The PhD Nutrition Pharma Whey HT+ Protein Bar is best suited for anybody that is looking for a serious dose of high quality protein. With 30 g of the stuff per bar it is packed full of it. The protein used is derived from a triple-source protein matrix of whey protein, casein and soya protein isolate. These are all high quality ingredients helping to contribute to building more lean muscle mass.
There is also the addition of calcium and Vitamin E to protect the body from the oxidative stress that can occur during intense exercise. Like many of the best bars in our top list the choice of flavours is limited with only 3 to choose from. These are Chocolate Peanut, Cookies and Cream and Double Chocolate.
The only bad thing I have to say about them is the quite high sugar content. There are 3 grams of sugar per bar, which is quite high when compared to some other brands. That been said, these bars are bigger than most weighing 75g each.
Taste: 9/10
Texture: 9/10
Price: 8/10
Overall: 9/10
These bars by PhD are one of the best value for money options available. All of the ingredients are top quality and the protein content blows most of the competition out of the water. They are also very reasonably priced and the customer reviews are good too.
---
5

BodyMe Organic Protein Bar
The BodyMe Organic Protein Bar is for health conscious individuals that want only the best organic ingredients used in the making of their protein bar of choice. Perfect for vegans it is made up from 3 sources of plant based proteins. These include organic pea protein, organic sprouted brown rice protein and organic hemp seed protein. In addition all the other ingredients used are 100% organic.
In terms of protein content they are quite low at 16g per bar. This is to be expected due to all organic protein bars having less protein than those made from dairy based proteins. Another positive is the addition of 9 essential amino acids and the fact it is raw pressed and not baked.  BodyMe bars are also gluten-free, soy-free, whey-free and dairy-free.
In terms of flavours they have broken the mould and come up with some interesting ones. The Raw Beetroot Berry, Raw Macao Cinnamon and Raw Cacao Mint are definitely worth a try. It's a shame they don't do a mix bundle giving you the chance to try their full range
Taste: 9/10
Texture: 9/10
Price: 8/10
Overall: 9/10
To be honest, I really like the BodyMe take on a protein bar. It is one of the more healthier options and the flavours are truly amazing. On a different note they are quite expensive and the relatively low amount of protein will put many off.
---
6

Maximuscle Promax Lean High Protein Bar
The Maximuscle Lean Protein Bar provides functional protein support and tastes great. The amount of protein per bar is average at 20g, but with only 184 calories and 1.5 g of sugar they are a good choice for those looking to lose weight.
In terms of flavours there are 5 to choose from and they are pretty much your standard run of the mill flavours, with nothing that stands out from the crowd. On a positive note Maximuscle have put a lot of effort in to making their protein bars taste very good. The Chocolate Salted Caramel is a favourite of many and the one I recommend as been the best tasting, along with the Rocky Road.
One thing definitely worth mentioning is the difference in price among the different flavoure. A good example is the Chocolate Salted Caramel, which is nearly a fiver cheaper than the Cookies and Cream.
Taste: 8/10
Texture: 8/10
Price: 8/10
Overall: 8/10
Maximuscle have been making protein supplements for a long time, it should come as no surprise that there protein bars are among the best available. The only problem I have with them is the significant difference in price between different flavours. That been said, most of the flavours are priced roughly the same as most other top brands.
---
Do Protein Bars Really Work ?
Well it depends on what is meant by mean do protein bars work. If you mean as a protein supplement for those working out or trying to put weight on then the answer is undeniably yes protein bars do work.
However some brands try to push their protein bars as a meal supplement. In the short-term this is not a problem but long-term it is not advisable to use protein bars as a meal replacement continuously.
Are Protein Bars Good For You ?
The answer to this depends on the ingredients and what type of protein bar. As mentioned earlier there are brands that sell protein bars as a meal replacement or snack. These type of protein bars are not good for your health.
Why?
Meal replacement protein bars are full of sugar, trans-fats, additives, artificial sweeteners and a whole lot more nasty ingredients. However, protein bars for working out are a lot more healthy. First of all the sugar content in these bars is very low and usually under one gram per bar, not bad eh. Then there is the fact that many protein bars have added vitamins, minerals and even BCAAs.
If you working out and looking for a pre or post workout protein hit then always go with one that is made for gym goers in mind, not the sugar filled ones for couch potatoes from the shop down the road.
When To Eat Protein Bars
The best time to eat protein bars is pre and post workout.
Why ?
The reason why it is recommended to eat a protein bar before a workout is because it can give an added energy boost. The extra energy can lead to performing at a higher intensity during exercise and consequently this means more gains especially if you are weightlifting/bodybuilding.
After a hard workout the body is depleted of energy, amino acids and other essential nutrients and for bodybuilders that don't get a quick protein BCAA boost muscle depletion can begin to set in. Eating a protein bar post workout is a terrific way of getting much-needed protein and BCAAs in to the body to aid with muscle repair and growth.
There you go the two best times to take protein bars are pre and post workout.
Final Words On The Best Protein Bars UK
So there you have it, pretty much all you need to know about protein bars before buying. All of the protein bars/ flapjacks in our top 10 list are the very best protein bars UK fitness fighters can get their hands on.