What's The Best Treadmill For Under £200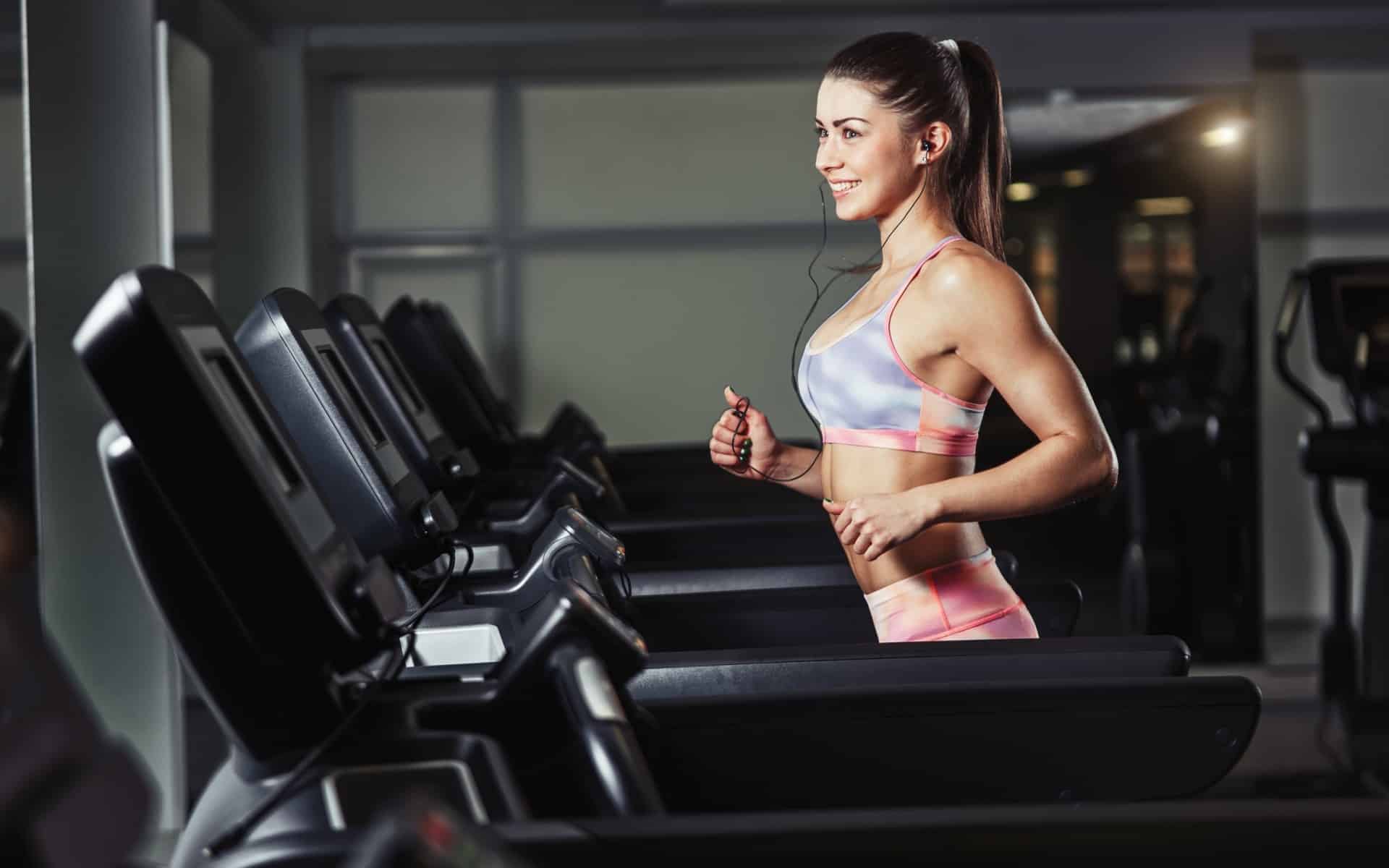 Best Treadmill For Under £200
There are plenty of budget treadmills to choose from when buying, however, not all of them are good and hardly any of them provide great value for money. In this article we will be reviewing the top five models to bring you the best treadmill for under £200. All the models featured are among the best sellers in the UK and come with very good customer feedback.
What To Expect For £200 When Buying A Treadmill
When spending up to £200 on a treadmill the first thing to know is that you will only be purchasing a budget treadmill. Budget models tend to have a lot fewer features when compared to more expensive models and the overall build quality is good but not the best. Due to there been literally hundreds of different running machines to choose from, buying  the wrong one is easy done. If you know what to look for and which brands are the best then buying the right running machine for your needs and budget will be a lot easier. The link below has all the information you need to know before buying a treadmill.
For those that already know what they are after it's time to take a look at the top 5 treadmills under £200. So, let's take a look!
---
Body Fit Folding Electric Treadmill
The Body Fit folding treadmill is simple in design but still very functional. As the name suggests this is a folding treadmill and with an overall weight of only 17kg the is a good model for this with limited space as it is very portable and easy to move.
The central control panel has four readout functions and 3 automatic programmes. The four functions show the users time, speed, distance and calories. The programmes are fairly basic and last between 10 and 30 minutes but are more than sufficient in providing a good workout.
There is a top speed of 6 km/h with this treadmill which is at the lower end for a budget model.
To sum up: the Body Fit treadmill comes in at a price way under £200 and is best suited for those looking for a cheap treadmill with some quality. There is no denying that this is not the best treadmill out there, however, if you are on a limited budget you could do far worse. With a 12 month guarantee and four stars on Amazon this is a good cheap treadmill for moderate use.
Last updated on May 16, 2022 6:11 am
---
PremierFit T100 – Motorised Treadmill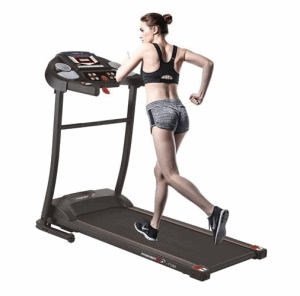 The PremierFit T1000 is a big step up from our previous featured treadmill and comes with a lot more features than you would expect from a budget treadmill.
First of all there are 12 exercise programs with 3 of these been manual. The LED screen is easy to use and shows the users elapsed/remaining time, speed, calories and any information related to the exercise programme in use. Overall there is plenty to play with and the programs will keep you entertained for a decent amount of time.
There is a top speed of 10 km/h with this treadmill which is very good considering the price.
Other features include the Include an iPad holder and built-in speakers with an AUX input. This means it is possible to listen to your favourite tunes from your phone through the built-in speakers. Finally there are two water bottle holders and even a towel rail, what more do you want?
To sum up: there isn't a bad word to say about this treadmill, it is what it is, which is a very good cheap treadmill. In addition to been full of features this model is also solid in design and sturdy. Furthermore there is a wide variety of exercise programs making this a good home treadmill for frequent use.
Last updated on May 16, 2022 6:11 am
---
Hi-Performance Motorised Electric Treadmill

This running machine by Hi-performance has excellent customer feedback on Amazon and is one of the best-selling budget models. However, to be brutally honest we at Fitness Fighters think it is overpriced for what you get.
So let's take a look!
To start us off there is no denying that this treadmill is fairly solid in design and sturdy to use and with it been a folding model it appeals to many. However, when compared to more affordable running machine it lacks features. There are only three programs which is quite weak. Furthermore the running deck isn't the biggest. On the flip-side there is a maximum top speed of 10 km/h and an LED screen which shows the users time, speed, calories and speedometer.
Another positive is the emergency stop cord which some cheaper models don't have. This feature is good for those new to treadmills, you don't want to end up on one of those YouTube vids been the person getting filmed who ends up on their backside in a tangled web of arms, legs and a running machine!
To sum up: this is actually a well-built running machine but, as mentioned anyone thinking of buying could get more for their money. With good reviews on Amazon, which is always a good indicator of quality, this treadmill is best for beginners that are looking for an easy to use treadmill.
Last updated on May 16, 2022 6:11 am
---
Confidence Power Plus Motorised Treadmill
The Confidence Power Plus treadmill is the number 1 best-selling treadmill in the UK. With excellent customer reviews on Amazon the outlook is good for this running machine.
So let's take a look!
To start us off this treadmill comes with a respectable top speed of 10 km/h. This can be adjusted in 1 km/h increments with 1 km/h been the lowest setting. The LED screen is fairly basic but has all the readout functions needed to keep track of a workout and any progression made. The readouts shown are time, speed, distance, calories and scan mode.
Most noteworthy is how well-built and sturdy this treadmill, with a maximum user weight of 120 kg it has been designed o take a pounding and is good for medium to heavy use.
To sum up: this is one of the best budget treadmills on the UK market, with outstanding reviews on Amazon and a four and a half stars rating the quality to price ratio is way above average. For a cheap treadmill it would be hard to find one with as good customer feedback as the Confidence Power Plus motorised treadmill.
Last updated on May 16, 2022 6:11 am
---
XM-PRO II TREADMILL Motorised Running Machine

With a budget of £200 the XM-Pro II running machine is as good as it gets. This model is full of features and comes highly recommended for a variety of reasons.
First of all there is a top speed of 10 km/h which is at the top end for a  budget model. Powering this treadmill is a powerful 1.0CHP motor which comes with a lifetime warranty. In addition there is also a 2 year warranty on parts and labour which is always very reassuring.
There are 8 pre-set programs which are designed to put the user through their paces. There is a 10% incline which will add intensity to a workout. The LED display as with all budget models is simple to use and shows the usual readouts, time, speed distance etc.
Extra features include two bottle holders and a handy tower rail. This model is also a fold away running machine and has a maximum user weight of 100 kg.
To sum up: this is a great treadmill at an affordable price and with features that most treadmills in this price bracket don't have. With plenty of programs there is enough to keep you going until you reach your fitness goals. With excellent customer feedback on Amazon and a very good warrant this is one of the best buy treadmills available.
£249.99
in stock
as of May 16, 2022 6:11 am
Last updated on May 16, 2022 6:11 am
---
Final Words
When buying a running machine it isn't necessary to spend a fortune to get a decent model. There are some very good ones at affordable prices like the ones featured in our top 5 list.
Hopefully this guide on the best cheap treadmills will save you time and money when buying your next treadmill.
Last updated on May 16, 2022 6:11 am