Best MMA Gear Bag 2021 – Fitness Fighters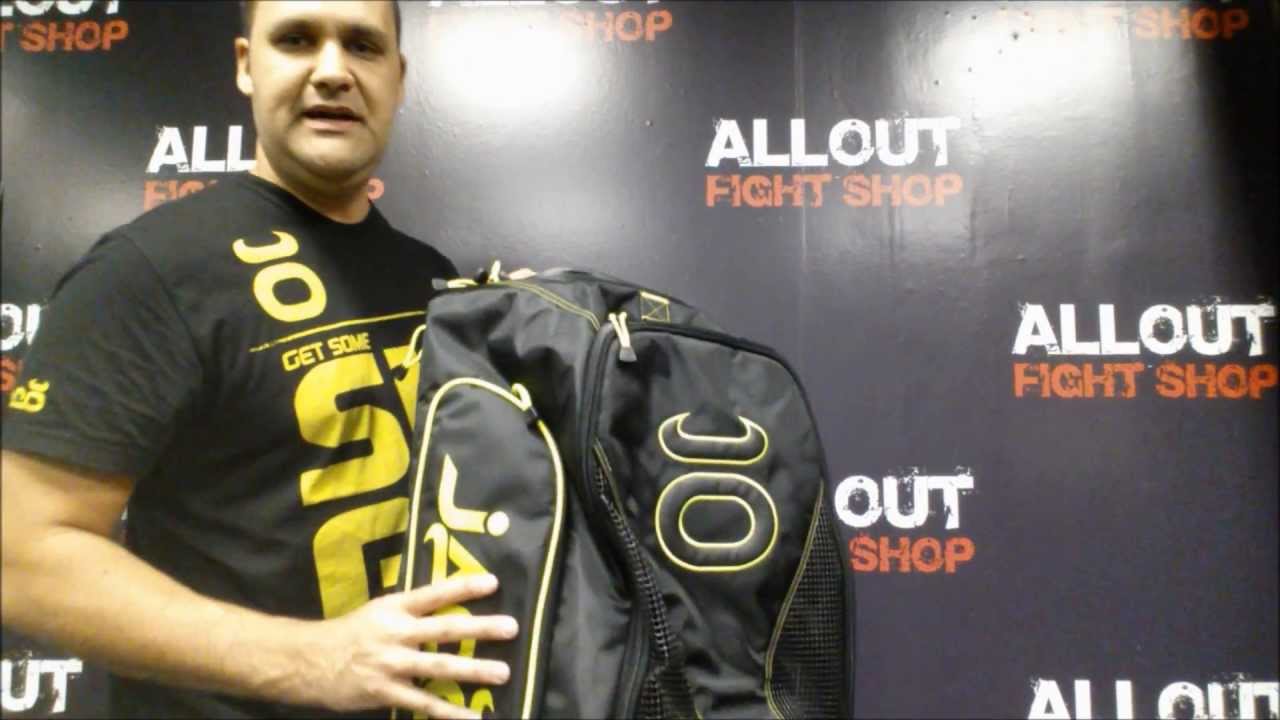 The Best MMA Gear Bag 2021
If you are new to MMA training you will soon learn the importance of having the best MMA gear bag for your equipment. There are many reasons why a good MMA gear bag is an essential requirement for any MMA fighter. The first been the most obvious that a good MMA gear bag will be able to hold all of your equipment from headgear and gloves to your shorts and handwraps with additional room for other items.

In this article/guide we will be going over all you need to know about choosing MMA gear bags and what to look for when buying. Also we will be bringing you the top 5 best MMA bags available to buy.




So first here are our top 5 MMA gear bags.
Top 5 Best MMA Gear Bags
---
1) Hayabusa MMA Combat Sports Bag
Key Features
Ultimate sports bag for all your training equipment
Entspricht of its functions fit for all athletes
Made from extremely durable and water-repellent polyester
Dual external mesh pockets for water bottles etc
Dimensions:  53 cm L x 24 cm W x 30 cm.
What We Think
If you are looking for the best MMA gear bag then look no further. This MMA bag by Hayabusa has it all. The main compartment has a separate smaller compartment to put your gear in after training. In addition this bag is made from water-repellent polyester with mesh inserts for ventilation ensuring that your bag doesn't get that funky gym bag smell lol. There are also large side pockets and a fleece protected pouch for more delicate items such as phones etc. Out of all the MMA bags available this is the most functional overall and has more than enough room for your MMA gear and other essentials for when training.
For Latest Amazon Prices Click Here
---
2) Tatami Fightwear Meiyo Large Gear Bag

Key Features
Made from breathable mesh for added airflow
Many compartments for all your fight gear
Can be carried as hold all or worn like a backpack
What We Think
If you need a lot of room for a lot of fight gear then this bag by Tatami is more than likely the best MMA gear bag you will find. This gear bag has more than enough space for all of your BJJ and MMA needs and includes breathable mesh. The main compartment can fit in all of your bulkier items such as shin pads and training shoes.Tatami are a highly respected brand and are well known for making some quality MMA gear this bag is no exception.
For Latest Amazon Prices Click Here
---
3) RDX Gym Holdall Gear Bag

Key Features
Can be used as backpack or duffle bag,Backpack straps can be hidden behind a panel
Can be carried in 4 ways,U-shaped zippered main compartment
The shoe compartment is sectioned off and zips from the outside
Two side zipped pockets, front Velcro pocket and top zipped pocket
Handle on the sides with comfort grip and two detachable shoulder straps
What We Think
This gear bag by RDX is one of the best value for money MMA gear bags that you can buy. Been relatively cheap and of high quality for a mid price range bag this really is a bargain. In addition to the usual large compartment there is also a separate compartment for putting shoes in. There really is more than enough compartments in this bag so no need to worry if you can fit all of your gear in. This bag can also either be carried like a hold-all orworn like a backpack, the straps are made from strong nylon for durability. All in all a very good and fairly cheap MMA bag with many of the features of more expensive gear bags.
For Latest Amazon Prices Click Here
---
4) Meister Breathable Chain Mesh

Key Features
CLASSIC (22″ x 13″ x 13″) for Everyday Use / X-LARGE (28″ x 15″ x 15″) for Athletes with a Lot of Gear

Super strong Chain Mesh breathes to allow air flow

Incredibly lightweight – bag weighs just over a pound

Zipper pockets on both sides to store small valuables

The Gym Bag You Need to Air Out Your Stink! Not See-Through!
What We Think
This bag by Meister doesn't have as many compartments for storing your equipment when compared to other bags, but still is big enough to fit all of your gear in. Coming in various sizes you can be sure to find one that suits your needs. Made with a breathable chain mesh for allowing plenty of airflow this bag will stop your gear from getting that gym bag smell. The materials used in the construction are highly durable and made to take a beating at the same time as been extremely lightweight, For a cheap MMA gear bag this is one of the best around as well as been made by a hughly reputable brand.
For Latest Amazon Prices Click Here
---
5) Farabi MMA Gear Bag

Key Features
Farabi, gym fintess mma training kit bag for all kinds of gears
Especially designed for mma, kick boxing and gym training
Made of heavy duty water proof material with strong shoulder and holding straps
One large compartment for all your gears, Extra side pocket for rusty and wet gears
Perfect for outdoor, indoor games & travel, Available in two colour schemes
What We Think
This MMA gear bag by Farabi can be yours for less than £20. Coming in either black and blue or a red and black colour scheme, personally i prefer the blue. Made from heavy duty waterproof material and coming with two strong shoulder straps and holding straps. Inside you will find the main large compartment which in addition comes with a side pocket for your wet/sweaty gear. Overall a cheap MMA bag that doesn't have a mesh panel design for increased airflow, meaning don't leave your gear in there for too long or it will begin too smell. But for less than £20 you cant go wrong.
For Latest Amazon Prices Click Here
---
What To Look For When Choosing The Best MMA Gear Bag
Size
The size of the MMA bag you buy is one if notthe most important factor, after all you don't want to buy a gear bag and find out that you cant fit all oy your gear inside it. So when buying a MMA gear bag big is always best especially if you do take a lot of equipment to the gym when you workout. When choosing an MMA bag make sure you buy onewith many compartments and if you can, get one with a separate compartment for all of your wet gear.
Materials
When buying an MMA bag try to buy one constructed with mesh panels as this allows for increased airflow, which will help reduce any odour from building up in your kit bag.
Price
This is a determining factor for most people. The price you are willing to pay obviously effects the quality of product that you get. However there are some very good cheap MMA bags and we have included a few in our top 5 list.
When buying a MMA bag take into consideration all that is mentioned above and you will be more likely to find the best MMA gear bag for your needs.
Remember when buying aMMA gear bag you will need one with these essential features:
Durable and sturdy construction
High capacity for bulky items like headgear, boxing gloves
Small compartments for handwraps, mouthguards, keys
Great ventilation for wet gear after a sweaty training session