Rugby Scrum Cap Buyers Guide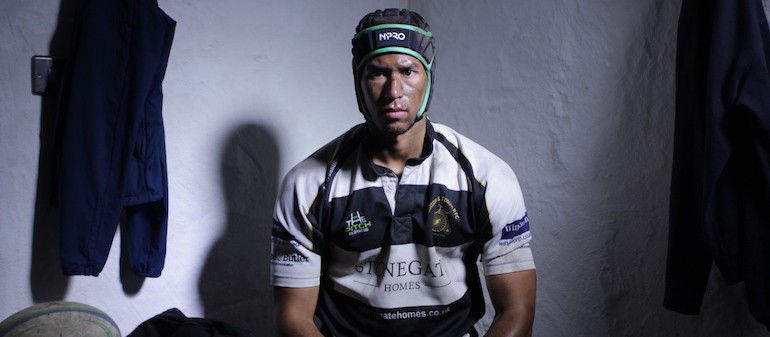 Rugby Scrum Cap Buyers Guide
In this buyers guide we will be going over all you need to know about rugby scrum caps. From the benefits of scrum caps to tips on how to choose the best scrum cap, we have it covered. Before we get into our buyers guide, first let's take a look at some of the questions people ask when talking about scrum caps.
Who Wears A Scrum Cap In Rugby?
Originally, only forward players wore a scrum cap and as only forward players are involved in the scrum this is where the name came from. However, these days many of the back players in rugby choose to wear a rugby headguard.
Why?
Rugby headguards are designed to protect the head when in the scrum. Additionally they have benefits for those who play scrum half, fly half, centre, winger and flanker. Aside from protection from elbows and knees etc, scrum caps are very good at minimising lacerations and abrations on the head.
Due to these benefits these days it is not uncommon to see a whole rugby team wearing scrum caps.

Rugby Scrum Caps Can Prevent Lacerations And Abrasions
When it comes to reducing the chances of receiving a laceration a scrum cap lowers the percentages drastically. Just having the padding there to protect the head from any loose flying studs or elbows is a key benefit of wearing headgear for rugby. We have all seen a player or two be nearly scalped by another players studs.
Do Scrum Caps Help Prevent Concussions?
This is one misconception that some people have about rugby scrum caps. There is no evidence to suggest that a rugby headguard can help prevent concussion. What headgear for rugby does do is reduce the chances of sustaining cuts, bruises and of getting cauliflower ears.
Do Scrum Caps Prevent Cauliflower Ears?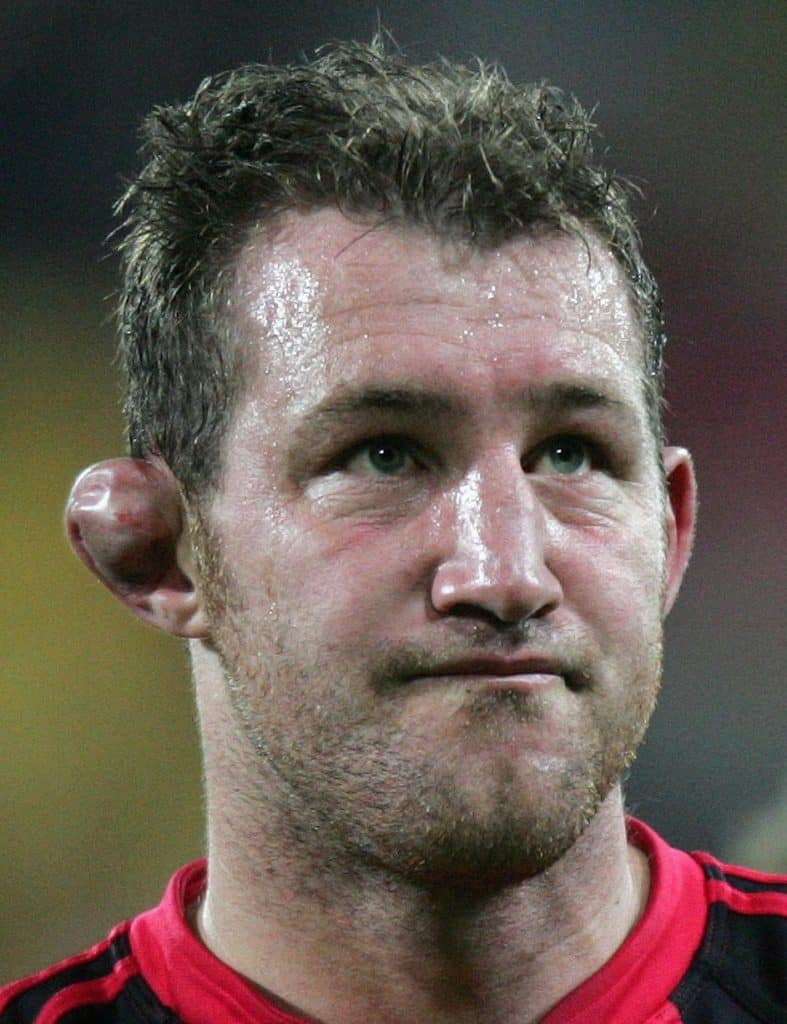 This is probably the only reason anyone needs to start wearing a scrum cap. Scrum caps are designed to minimise cauliflower ears.
Cauliflower ear comes about from the repeated impact and trauma it causes on blood vessels in the ears. When the ears swell up and fill with fluid, if they are not drained the fluid can solidify and leave a shocking mess, just take a look at the picture to the left.
If you are in the tight 5 then you are more than likely wanting to invest in a scrum cap. The ear protection offered by a rugby scrum cap will go a long way in ensuring your ears don't look like a Sunday dinner vegetable.
Choosing A Scrum Cap
Now that you know about the benefits and reasons rugby players wear headgear you will probably of decided if it something you need. In this section we will be covering all the information you need to know before buying a rugby headguard.
World Rugby Organisation APPROVED
To meet the requirements set by the World Rugby Organisation headgear for rugby has to meet a stringent set of criteria. Scrum caps that meet this criteria will come with an approved clothing label. Buying a scrum cap without this label means you are investing in a product that doesn't do the job it needs to do.
SIZE
As with any rugby gear the correct size is important. When it comes to rugby headgear getting the right size is crucial in gaining the benefits associated with a scrum cap. Buying a scrum cap that is too big or small for your head will lead to you struggling to get a secure fit when securing the rear drawstring and velcro chinstrap.
PROTECTION
The main purpose of a scrum cap is to provide protection for the head. The main areas where protection is provided are the temples, crown, forehead and ears.
Rugby headguards are designed to prevent cuts, bruises and cauliflower ears. They are not for preventing concussion as some people wrongly believe due to misinformation.
PADDING
The amount of padding a rugby scrum cap has is restricted to the amount set by the World Rugby regulations. Regulation 12 states that padding can be no thicker than 10 mm.
With 10mm been the limit some brands have invented their own foam padding technology. The aim being this technology is maximum shock absorbance within the 10mm limit.
VENTILATION
Adequate ventilation is a very important factor when buying the best headgear for rugby. Airflow and ventilation is a requirement under world rugby regulation 12. To meet this requirement most rugby scrum caps have a pattern of ventilation holes. These  ventilation holes help to keep temperatures down which is one of the main points behind the reason for this requirement by the World Rugby Board.
LINING
The inner lining of rugby headgear is designed to be more than just comfortable. Many of the best rugby headgear brands have lining which incorporates wicking materials. This basically means that the inner lining will reduce the build up of moisture. This leads to a more comfortable scrum cap to wear as any wet sports gear is not a good thing.
PRICE
The price is the main factor for !any people when buying any sport equipment. Ideally the aim is to get the best quality product for as cheap as possible Luckily a good quality scrum cap doesn't have to break the bank and some of the most cool scrum caps can be bought for around £30 to £40 quid.
Final Words
Hopefully we have clarified the benefits of wearing a scrum cap for rugby. Regardless of your playing position for a very affordable price a scrum cap offers protection from some horrific injuries, most notably scalp lacerations and torn ears.