JLL IC300 PRO Indoor Cycling Exercise Bike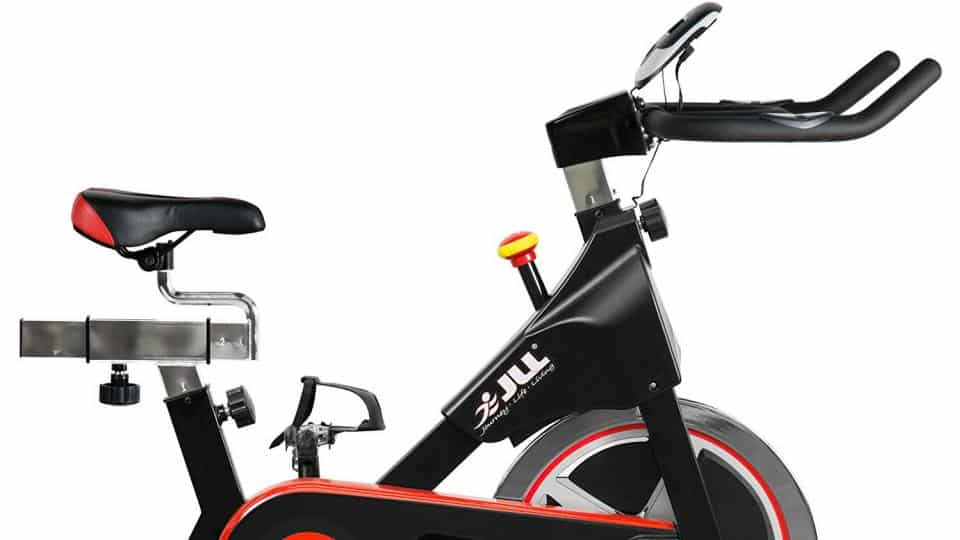 In this article we will be reviewing the JLL IC300 Pro Indoor Cycling Exercise Bike and giving you all the need to know information before buying.
So lets take a look!
JLL IC300 PRO Review
What The Manufacturer Has To Say 
The IC300 PRO Indoor Cycling bike is an advanced piece of exercise equipment ideal for those looking to challenge themselves harder. Whether you are a beginner or a serious athlete this exercise bike can be adjusted to suit your needs. So start toning your muscles, burning calories and improving the health of your heart today within the comfort of your own home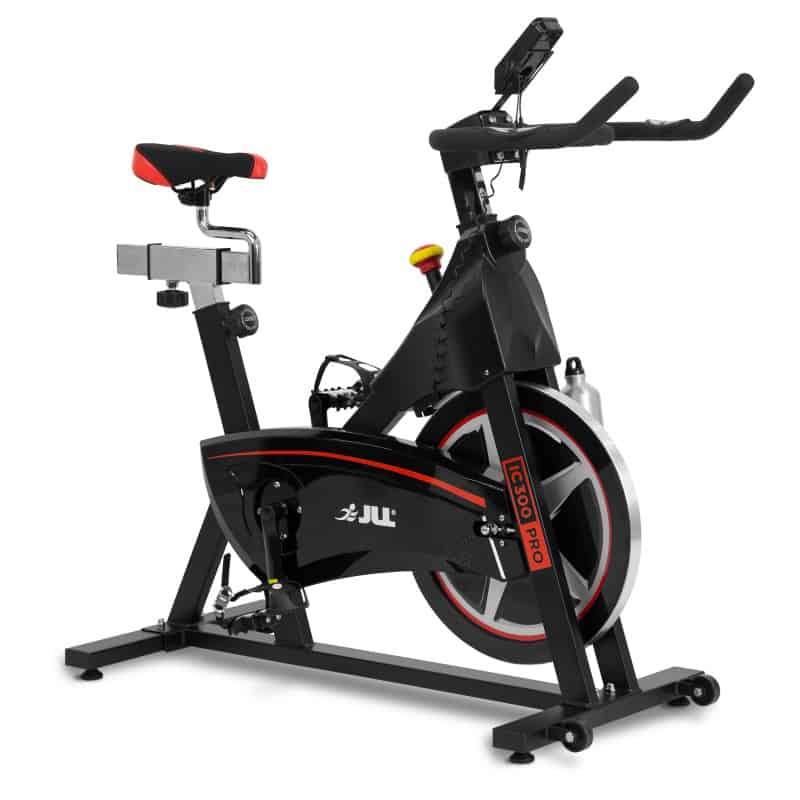 £449.99
in stock
2 new from £449.99
Last updated on May 9, 2021 5:38 pm
JLL IC300 PRO Indoor Cycling Exercise Bike
The Need To Know
Type Of Exercise Bike: Spin Bike
Flywheel: 18Kg
Resistance Type: Adjustable
Monitor Functions: Speed, Time, Distance, Pulse, Calories and RPM
Seat & Handlebars: Adjustable
Dimensions: 112cm (H) x 105cm (L) x cm 48(W).
Warranty: 12 months
---
What We Think
There is no denying that the JLL IC300 Pro is a very popular spinning bike. Truth be told, it is probably one of the best indoor cycling bikes in the UK. With four and a half stars on Amazon and very positive feedback from buyer reviews the outlook is good for this model.
In this review we will be highlighting all the features of this model. In addition we will also explain the differences between this model and the JLL IC300. For those that don't know there are in total five spin bikes in the JLL range, these are the JLL IC200,IC300,IC 400 Elite and finally the JLL IC600
Flywheel
With a larger than average flywheel the JLL IC300 Pro is more than capable of providing a testing spin workout. Weighing 20 Kg which is among the heaviest available, and 2 Kg heavier than the JLL IC300, the resistance offered is suitable for both beginners and advanced users of spinning bikes.
In addition to a heavy flywheel this model also uses a belt drive system to rotate the flywheel. The advantage of a belt drive over chain driven spin bikes is the at provide a smoother ride.
Seat & Handlebars
For an exercise bike to be used by people of different heights it is imperative that both the seat and handlebars are adjustable. The JLL IC300 Pro has this feature and is consequently suitable for people up to a height of 6 foot 4 inches. The saddle has 6 levels of horizontal adjustment and 10 levels of vertical adjustment. With such a wide range of adjustment it is far easier to find the most comfortable riding position.
The handlebars have 6 levels of adjustment which is pretty much the standard with spin bikes. In conjunction with the seat adjustment the JLL IC300 Pro offers a comfortable workout which generally leads to people exercising for longer.
Pedals
Like all good exercise bikes the IC300 Pro comes with metal pedals for durability. In addition the pedals feature toe cages which are there to keep the riders foot securely in place. As you probably know having your foot slip of the pedals to hit your shin on it can be a painful experience. The toe cages eliminate this hazard and allow for faster pedaling.
LCD Display & Monitor Functions
The LCD display on this model is simple to use and very easy to navigate through the various functions. To monitor performance and progress there are in total six functions in total these are speed, time, distance, pulse, calories and RPM.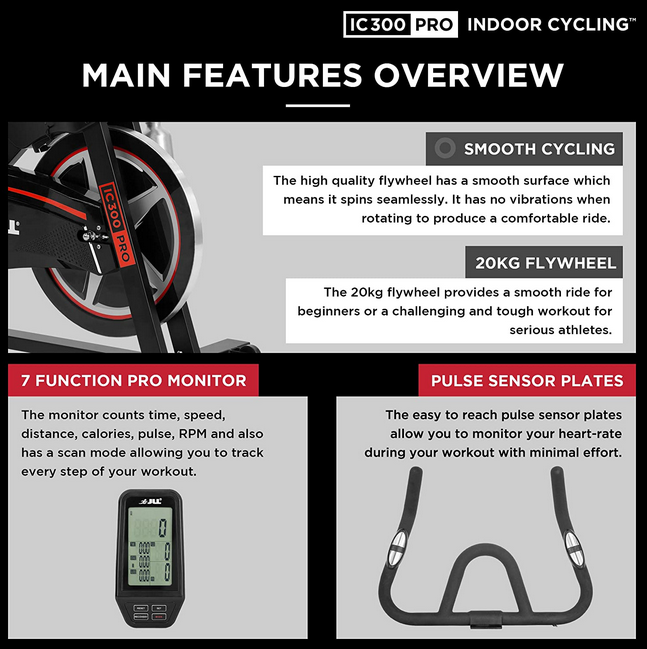 Resistance
Out of all the spinning bikes in the JLL range this model is the only one that features a magnetic resistance system. The main benefit to magnetic resistance is that it causes less wear and tear on the components. Due to a magnet causing the resistance there is no friction involved to damage any parts.
Other advantages include the spin bike been quieter than a friction based resistance system. Furthermore magnetic resistance requires less maintainance which is always a good thing.
The resistance provided by this exercise bike is more than adequate enough to give the user a hard workout, especially at the top end.
Max User Weight
With a maximum user weight of 125 Kg you can be positively sure that this is a very well made spin bike. A lot of spin bikes have a maximum user weight of 100 Kg and are quite flimsy. As you can see from the images of the IC Pro this is a very sturdy looking bike. Reviews go on to say how sturdy this spinning bike is and with a weight of 45 Kg it is quite heavy for a spin bike.
Pros
Very quiet to use
Easy to assemble
Great value for money
Sturdy when in use
Cons
Quite a few reviews go on to say how uncomfortable the seat is
Good Customer Review
Fantastic piece of equipment. Very pleased, arrived on time, easy to put together and is very good quality.
Bad Customer Review
Really super. BUT must have been designed by a man – that saddle is painful.
Extras
Been able to rehydrate is crucial when exercising and to make it easier the JLL IC300 Pro has a built-in bottle holder. In addition at the time of writing each purchase comes with a free water bottle.
For those that don't have the room to leave their spin bike out and have to put it away after use, the easy transport wheels are a handy feature.
Final Words On The JLL IC300 Pro
With the JLL IC300 Pro been one of the UK best sellers, there is no denying that this is a very popular model. With excellent reviews on Amazon from many verified buyer's you can take this as a good sign towards its quality. At a price that can't be beaten for the quality you get, this is without doubt one of the best spinning bikes in the UK today.