DMASUN FOLDABLE INDOOR ROWER REVIEW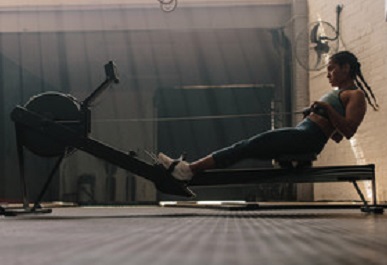 DMASUN FOLDABLE INDOOR ROWER 
One way to keep your fitness goals on track, especially with many gyms being closed now, is investing in a rowing machine.
Rowing machines can provide you with a perfect full-body workout. From your upper body and back to your lower body and core, this machine can target all your muscle groups and all with a fairly low impact on your joints.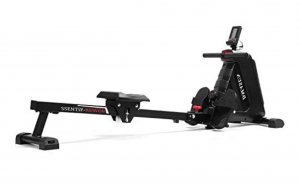 But don't let the name hold you back – even if you don't like rowing as a sport and haven't tried it before, this machine is very simple to use. You just sit down and pull a bar to replicate the movement of rowing a boat.
This engages almost your entire body and helps you improve your posture over time. And we all know how a good posture is crucial to your overall health.
For me personally, the rowing machine has been my favorite piece of fitness equipment this past year. I've been holding back on buying one as I didn't want to clutter up my living space with a big machine, but did you know that modern rowing machines come with a foldable design?
Yes, you read that right. The one I bought, the DMASUN rowing machine, can be folded right up for easy storage, so I was very happy that I will be able to exercise regularly and still have an aesthetically pleasing living room. 
Today, I'll be reviewing this machine to help you decide if it's the right option for you to get you started on your fitness journey. 
DMASUN – Foldable Rowing Machine Review
With 16 adjustable levels of magnetic resistance and a belt drive system, the DMASUN is an ideal way to achieve your fitness goals. It's built from solid steel for optimum stability and produces very little noise so it doesn't disturb your friends and family.
For more details and hands-on experience, continue reading the review below. 
What I Liked
Ever since gyms have started closing, the DMASUN rowing machine has been my best friend. I use it to exercise almost every day, and I gotta say, it's doing a pretty good job honestly. I've managed to strengthen my entire upper body and greatly improve my posture over the past year. I no longer have any problems with slouching or unexpected back pains in the middle of the day.  
But what I like about it the most is its simplicity. Whenever I decide to exercise, I just need to sit down and start rowing – no more complicated setups that make me not want to exercise in the first place.
And when I'm finally done and exhausted, I don't have to worry about having a giant exercise machine in my living room. I just fold the rear supporting tube upright and it takes almost no floor space at all. 
Personally, I'd like to keep it folded like that right in my living room for easy access, but if you want, you can easily take it into another room for storage thanks to the built-in transport wheels. They make it extremely easy to move around, so you don't have to keep it in your living room if you have guests over.
The thing that makes me excited about using this machine multiple times a week is the handy phone or tablet holder. I always use it to play some of my favorite shows, exercise videos, or listen to some upbeat music to keep me motivated. I find myself more likely to stick to regular exercising if I have something interesting to watch or listen to while I work out. 
Another feature I really like is the ability to track and improve my progress. There are 16 different levels of resistance, so I started off at the lower levels, and gradually built up to the 14th level now.
What I Didn't Like
My overall experience with the DMASUN indoor rower so far has been amazing, all but for one feature. It's the digital monitor that's supposed to display important metrics, such as time, count, distance, and calories. 
It hasn't been working since day one, and my experience with customer service was not great. They were responsive and tried to help, but the issue still couldn't be resolved. 
I managed to find a workaround where I now use a fitness tracker to track my calories and time, so it's not that big of an issue overall.
Besides that, using the DMASUN rowing machine has been great and it definitely helped me get back on track with my fitness. 
Product Features
Super quiet and stable

– the DMASUN rowing machine is built with alloy steel and a belt drive system, ensuring a quiet and comfortable workout. 

Comfortable design

– The cushions and the handlebars are covered in foam for a comfortable grip. The pedals where your feet are supposed to go are adjustable and don't slip while you're rowing. 

Adjustable resistance

– easily switch the difficulty of your rowing with a simple turn of the knob. 

Foldable

– once you're done rowing, simply fold the machine up and use the wheels to easily transport it to storage so it doesn't take precious space in your living room.
Pros & Cons
Pros
Provides full-body workout

Adjustable resistance to suit all fitness levels

Comfortable to use

Foldable design for easy storage

Quiet operation

Easy to assemble
Cons
Display monitor doesn't work for some users
View Latest Amazon Best Prices
Comparing The Best Rowing Machines in 2022
| Brand/Model | Marcy Foldable | DMASUN Foldable | Serenelife Smart  | Concept2 Model D  | Fitness Reality 1000 Plus  | JTX Freedom Air  | JLL® R200 |
| --- | --- | --- | --- | --- | --- | --- | --- |
| | | | | | | | |
| Dimension | 189.23 x 50.8 x 81.28 cm | 125 x 66 x 24 cm | 212.09 x 49.02 x 88.39 cm | 243.84 x 60.96 x 35.56 cm | 224.79 x 54.61 x 54.61 cm | 230 x 55 x 88 cm | 180 x 52 x 49 cm |
| Weight | 33.5 kg | 30 kg | 48.08 kg | 26 kg | 28.8 kg | 40 kg | 26.2 kg |
| Frame Material | Alloy Steel | Alloy Steel | Aluminum | Stainless Steel, Aluminum | Alloy Steel | Iron monorail. Iron & stainless steel frame. | Alloy Steel |
| Resistance | Magnetic | Magnetic | Magnetic | Air | Magnetic | Air | Magnetic |
| Resistance Levels | 8 | 16 | 16 | 10 | 14 | 8 | 10 |
| Display | LCD | LCD | LCD | LCD | LCD | LCD | LCD |
| Monitor Features | Time, Count, Calories | Time, Count, Distance, Calories, Strokes/Min | Time, Distance, Strides, Pulse, Calories | Distance, Pace, Calories | Time, Distance, Count, Calories, Strokes/Min | Time, Distance, Strokes/Min, Total Strokes, Calories | Time, Count, Calories, Distance |
| Foldable | Yes | Yes | No | No | No | Yes | Yes |
| Price | Check on Amazon | Check on Amazon | Check on Amazon | Check on Amazon | Check on Amazon | Check on Amazon | Check on Amazon |
Is it The Right Choice for You?
The DMASUN foldable rowing machine is for those looking for an easy home workout solution that engages all the major muscle groups, from the upper body and back to the lower body and core. 
It's very simple to use, folds away easily for compact storage and is quiet enough to use in your living room. You can adjust the resistance to suit your fitness level, and track your progress using the key metrics displayed on the included monitor.
Verdict
All in all, I think the DMASUN rowing machine is one of the easiest ways to get back to your fitness goals with gyms closed. It's extremely easy to use but still strengthens all your muscles. It has a high-quality build so the workout experience is smooth and quiet for those around you.
And with 16 different adjustable resistance levels, you can get started with it even if you're at the start of your fitness journey, and progress onto the higher stages. Good luck and happy shopping!