Best Whey Protein UK Reviews – For Athletes & Fitness Enthusiasts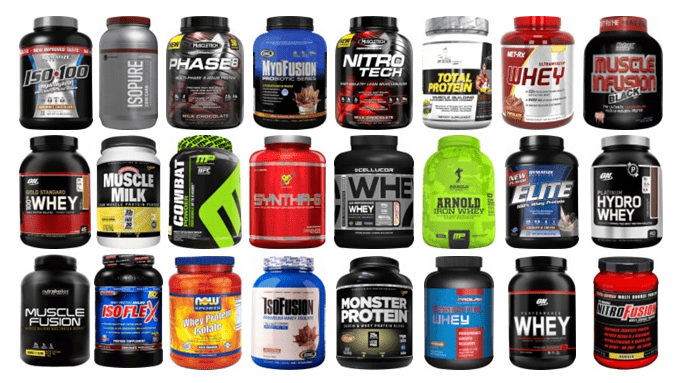 Anybody that is looking to build muscle and bulk up knows that protein is a vital ingredient in achieving these goals. There are a number of ways to increase your protein intake with food high in protein been the most obvious one. From red meat and tuna to nuts and chicken there are plenty of options to choose from. However, increasing the amount of protein you intake from food is not always the most convenient or best option. For starters, aside from the protein, some of these foods can contain some unwanted ingredients such as too much salt or saturated fats. Another very good source of protein is whey protein. In this guide to the best whey protein UK residents can buy we will be going over all the information you need to know before buying whey protein.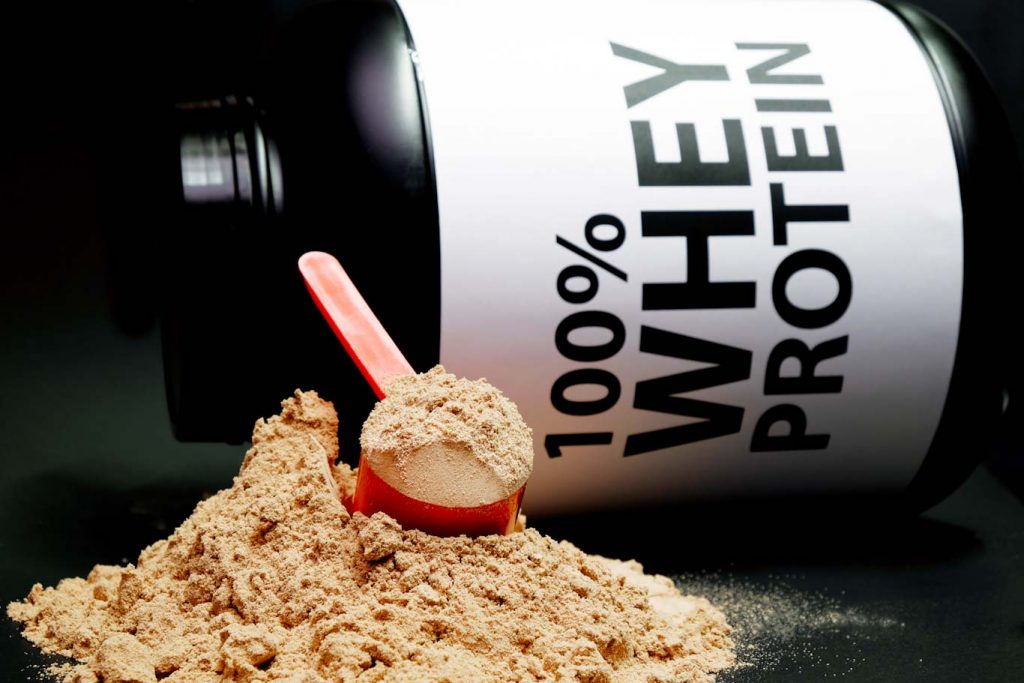 Should I Use Whey Protein?
The most obvious reason for taking whey protein is to increase muscle mass. However, there are numerous other benefits associated with taking whey protein powder aside from the bodybuilding ones. Due to the fact that most of you are here to build muscle let's take a look at the muscle-building benefits of incorporating whey into your diet.
Aside from the high protein content whey protein also contains a very good amount of BCAAs which are the building blocks for muscle growth
It helps to increase the amount of anabolic hormones in the body such as Insulin which is known to contribute to muscle growth
Whey protein is quickly digested by the body which is why the majority of people take it pre and post workout, to give the body the tools it needs to repair itself
Different Types Of Whey Protein
Those that aren't familiar with protein may not know that there are three different types of Whey Protein these are hydrolysate, isolate and concentrate. Each has its own benefits and uses and some brands even combine them to reap these benefits for a well-rounded whey protein.
Whey protein hydrolysate is already partially digested making it easily absorbed by the body. Due to this it is mainly used as a medical protein supplement for those with a high protein dietary need.
Whey protein isolate is highly processed with the aim of removing any lactose and fat. Doing this makes it easily absorbed by the body and fast acting. Many premium whey proteins use whey isolate as a main ingredient.
Whey protein concentrate is used by many brands in their products. The thing to remember with this type of protein is that the quality varies. Always check the protein content before buying and what type of protein has been used.
Best Whey Protein Powder List
Best Quality Whey Protein UK
1) My Protein Impact Whey Protein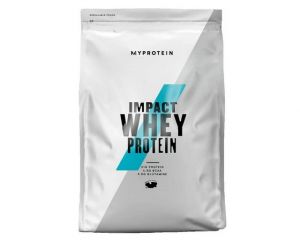 MyProtein are one of the leading suppliers of health supplements in the UK. Due to this popularity they are able to keep the price of their products within the budget range at the same time as maintaining a high-quality product. MyProtein Impact whey protein is a prime example of this as it contains 21g or 80% protein per serving. In addition to providing all the essential amino acids there is also 2g of Leucine per serving.
<< MyProtein Whey Protein Reviews >>
Another positive are the wide range of flavours to choose from. Currently there are over 50 flavours to choose from, we would go into our favourites but the list would be too long to be honest. Is unflavoured protein a flavour? i don't know, but they have that as well. Furthermore they also have a few that are flavoured with stevia.
Overall this is a premium quality whey protein at a budget price. With a high protein content and a good dose of BCAAs this is recognised by many as the best whey protein UK customers can buy.
2) Optimum Nutrition 100% Gold Standard
Optimum nutrition have been making bodybuilding supplements for over thirty years. Recognised as one of the best supplement brands their products are used by millions of people around the world. Optimum Nutrition Gold Standard Whey is the yardstick by which other whey proteins are measured by. The formula used in this whey is constantly been tweaked and fine tuned to provide the best protein powder UK residents can buy. Currently each serving provides 24g of protein. In addition to the 5.5g of BCAAs there is also 4g of Glutamine.
With 12 flavours to choose from Optimum Nutrition haven't gone all out in terms of variety. The flavours they do have receive some good customer reviews and the Double Rich Chocolate seems to be a favourite for many.
There is no denying that this is a very good whey protein, the amount of years it has been around tells you that. Costing a bit more than our previously reviewed whey proteins this is a top quality product. The protein content is high as expected, as too are the BCAAs and Glutamine. To sum up, this is a well-rounded protein perfect for building lean muscle mass and aiding with recovery.
3) Bulk Powders Pure Whey Protein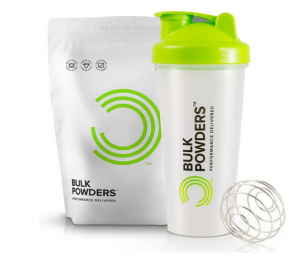 Here we have another very popular supplement brand with a reputation for providing some very good health supplements. Bulk Powders Pure Whey Protein is another budget priced supplement that offers a high percentage of protein. With an 82% protein per serving this is slightly more than our number one choice. However, there are far more flavours to choose from with the MyProtein range, with 22 flavours Bulk Powders still has a good choice and the White Chocolate is very tasty indeed.
In conclusion Bulk Powders are another brand that offers high-quality and very affordable supplements. Similar to our number one choice in terms of protein content and price, buyers should seriously consider checking out their full range for some great value supplements.
4) USN Whey Protein Premium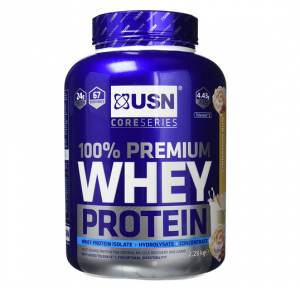 USN are another brand that are known around the world for their premium health supplements. When we say premium we do mean price as well as quality. When compared to most other brands USN Premium Whey Protein is considerably more expensive.
The protein content is 70%, which might not seem great, however this is a high-grade protein of the very best quality. In addition to the protein the BCAAs, Potassium, Calcium, Phosphorus and Magnesium content are another positive attribute.
When it comes to flavours there are only seven to choose from which isn't great for those who like variety. What we can say about the choice of flavours is that the Cinnamon Bun is by far the best. If you are looking for a premium whey protein with a proven record for quality look no further than USN.
5) MusclePharm Combat Powder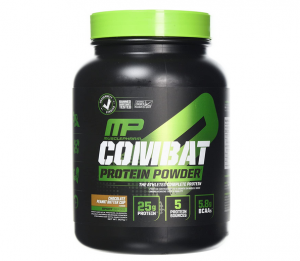 The scientists at Musclepharm have created one of the most innovative whey proteins available. With protein from five different sources, all of which digest at different rates, the idea is to give the body a steady constant dose of protein, BCAAs and Glutamine. The five protein sources are whey protein hydrolysate, whey protein isolate, whey protein concentrate, egg albumin and micellar casein. Admittedly this is a strange combination, the only thing to do is test it and see if it works for you. With 24g of protein per shake this is a respectable amount.
Reviews from previous buyers speak highly of Musclepharm Combat Protein Powder and it has a four and a half star rating on Amazon. In total there are 13 flavours to choose from. The usual suspects are there (chocolate, strawberry and vanilla) a particular favourite for most people is the cookies and cream.
6) The Protein Works Whey Protein 80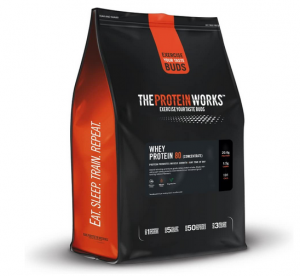 The Protein Works haven't been around as long as some of the more well-known supplement brands, however, in the time that they have been around they have gained a reputation for providing a range of good quality and very affordable supplements. With 80% protein or 20g per serving, this is not the highest but still a good amount for the price.
The Protein Works Pure Whey Protein 80 Concentrate powder comes in 12 flavours. Due to the fact there are no added thickeners or fillers it mixes into a creamy smooth texture. In addition each serving has less than 100 calories and is low in carbohydrates and fat.
Reasonably priced and well designed supplements the Protein Works is a brand to keep an eye on.
7) Reflex Nutrition 100% Whey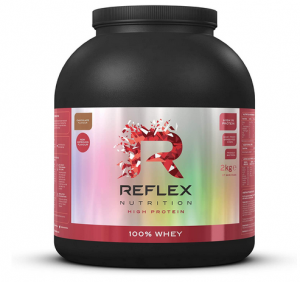 There was a time when Reflex Nutrition had only one flavour and we have waited a while for them to add some more. At long last they have added a few to the range and there are now eight very tasty flavours to choose from. The Cinnamon Swirl iand Chocolate Mint Perfection are a favourite of mine and come highly recommended.
The protein content is impressive at an 80% and then there is the addition of digestive enzymes to help the body breakdown and absorb protein more efficiently. Furthermore there are four types of friendly bacteria. The addition of friendly bacteria in a product is usually to help the digestion process and to keep the gut healthy. Finally 5g of BCAAs are contained in each serving for aiding with muscle recovery.
If Reflex Nutrition's claim of having the most advanced formulated whey protein is true then i would seriously consider checking it out. In our opinion this is a good product but not the best protein powder in the UK.
8) BSN Syntha-6 Edge Protein Powder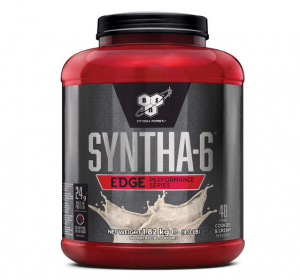 BSN Syntha 6 Edge Protein Powder is similar to Musclepharm Combat Protein powder in the way that it uses a combination of different proteins. In total there are six sources of protein these are Whey Protein Concentrate, Whey Protein Isolate, Hydrolysed Whey Protein Isolate, Milk Protein Concentrate, Micellar Casein and Calcium Caseinate. Each shake provides 24g of high-quality protein which is very good indeed. In addition there is a massive 11g of BCAAs per serving. Surprisingly there is a low sugar content of only 1.2g per serving.
When it comes to flavours BSN describe their range as game changers. When you look at the flavours and see the same ones other brands have, I would hardly call them game changers. This is not to say that they taste bad, quite the opposite as the Salted Caramel is delicious, they are just not as described "game changers".
Another whey protein worthy of a place in any top 10 list of the best whey protein supplements. Reasonably priced and high in protein what more do you want.
9) PHD Nutrition Whey Isolate Powder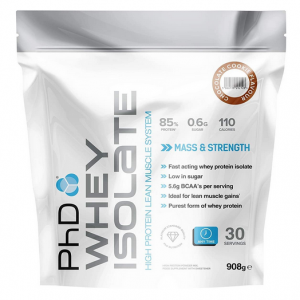 If you go with PhD as your choice whey protein brand expect to pay premium prices. With the high price though comes a high-quality protein. PhD obtain their protein for this whey from only one source which is whey protein isolate. This is considered the best form of protein and explains the premium pricing. With each serving there is 25g of pure whey isolate protein and over 5g of BCAAs.
Unfortunately the range of flavours is limited and there are only four at the moment. However, after trying them we can safely say they are up to standard.
Overall this is a quality whey protein the only downside for some will be the price. Taking that into consideration you could use this as your post-workout shake and a cheap whey protein for the rest of the time.
Final Words – Best Whey Protein UK
There are many different brands to choose from when shopping for the best whey protein UK residents can buy. In our top 9 list we have tried to include something for all budgets, so there should be something for everyone. With all the information included in this article choosing the best brand for your needs shouldn't be a problem.
FAQs
Should I have whey protein every day?
While whey protein can be a convenient and effective way to increase your protein intake, it is important to consider your overall diet and individual needs. It is generally safe to have whey protein every day, but it is recommended to consult with a healthcare professional or registered dietitian to determine the appropriate amount for your specific goals and health status.
How long can I take whey protein?
Whey protein is generally safe for long-term use for up to 6 months (according to WebMD). However, it is recommended to consult with a healthcare professional or nutritionist to determine the appropriate duration and dosage for your specific needs and goals.
Should I take whey before or after the gym?
It is generally recommended to take whey protein both before and after your workout. Taking it before your workout can help provide your muscles with the necessary amino acids for fuel and recovery during your workout. Taking it after your workout can help with muscle repair and growth.
When should I avoid whey protein?
While whey protein is generally safe for most people, there are a few situations where it may be best to avoid it. These include if you have a dairy allergy or lactose intolerance, if you have kidney or liver disease, or if you are pregnant or breastfeeding. It's always best to consult with a healthcare professional before adding any new supplements to your diet.
<< Top 10 Casein Protein Powders >>