Reebok ZR8 Treadmill Review
Reebok ZR8 Treadmill
The Reebok ZR8 Treadmill is one of more than ten models in the Reebok Treadmill ZR series. Due to a recent discount this model has now dropped into the mid-price range and offers buyers a very good treadmill at a reasonable price. Consequently it is quickly becoming a best seller on Amazon.
So lets take a look at what makes this treadmill so popular!
What The Manufacturer Has To Say
The Reebok ZR8 Treadmill has all the functional benefits of any compact treadmill with the added feature of electronic incline control providing a seamless way to increase the difficulty of your workout. With a running deck of 126 x 41cm and maximum user weight of 120kg, the ZR8 has more than enough space for an effective workout. Housed within the smooth exterior is a 2.0HP motor which offers the ZR8 speeds between 1-16km/h, a great range for anyone serious about running.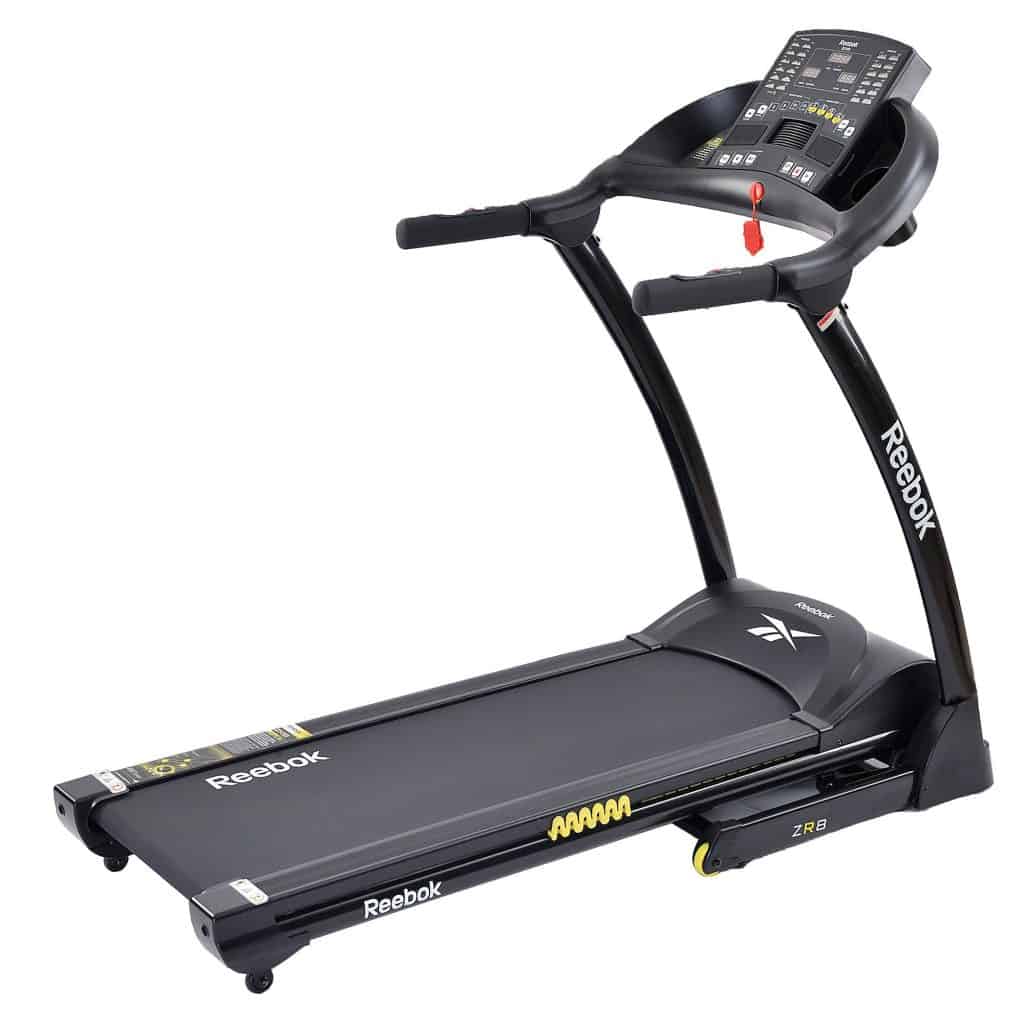 out of stock
as of May 14, 2022 9:54 am
Last updated on May 14, 2022 9:54 am
---
Treadmill Review – Reebok ZR8 Treadmill Review
---
The Need To Know
Speed: 16 km/h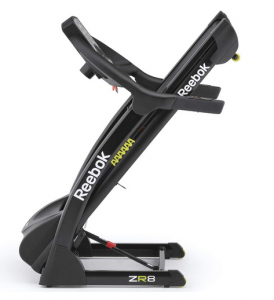 Running Area: 126 cm (length) x 41 cm (width)
Incline: 15 levels
Programs: 24 professional running programs
Shock Absorption: 
Monitor Functions: speed, time, distance, heart rate, calories, incline, chart profile
Dimensions: 164cm (L) x 74cm (W) x 132cm (H)
Max User Weight: 120 kg
Warranty: 2 year frame warranty, 2 year motor warranty, 2 years parts & labour
---
What We Think
Been made by a brand as big as Reebok buyers can be sure that this is going to be a top quality treadmill. With a host of features from 15 levels of incline, 24 pre-set programs and 6 monitor readouts there is more than enough to help you in your fight for fitness.
Speed & Incline
With a 2.0HP continuous duty motor the Reebok treadmill can reach a top speed of 16 km/h or 10 mph. Anyone running enthusiast will know that 10 mph is a good top speed and more than adequate for both beginner and advanced users.
With 15 incline levels this running machine offers users a tough workout , that is if they choose to use it! The incline is automatic and adjusted by pulse sensors on the hand rails. Most noteworthy is the fact that the shift between different incline levels is very smooth and there is no shuddering that is associated with some treadmills.
Running Deck
The all important running deck is a serious purchasing consideration when buying a running machine. The running area for the Reebok ZR8 measures in at a very respectable 126 cm by 41 cm and is above average for treadmills of this price. The extra length makes this model suitable for people up to the height of 6ft 4"
Incorporated in to the running deck is the Reebok ZigTech cushioning system. This cushioning system is a focal point with the ZR8 and is associated with been one of the main reasons for its popularity. For the price of this treadmill you would be hard pressed to find a model with a better cushioning system.
LCD Display & Monitor Functions
Anyone who has looked at any of the other treadmills in the Reebok ZR series will probably of noticed that the console differs for each model, unlike some other brands who keep the same or very similar display for every model. This does cater for those with different tastes very well. Although the console looks quite complex, it is surprisingly easy to navigate through the settings and 24 pre-set programmes. In total there are 3 LCD screens and between them they show the readouts of the monitor functions which are speed, time, distance, pulse, calories and incline.
Programs
In total there are a whopping 24 programs built-in to the Reebok ZR8 Treadmill, which is plenty to keep even the most experienced users occupied. furthermore and quite significant is the fact that each program utilizes a different incline and speed setting which helps to provide workouts that engage all the different muscle groups for a full body workout.
Entertainment
Staying motivated is crucial when trying to reach a fitness goal and what better way to stay motivated than listening to your favourite music. Built in to this model are 2 speakers and surprisingly, they are quite good even when cranked up to the maximum volume.
Maximum User Weight
Weighing in at 67 kg this is a very heavy treadmill. However, with that weight comes the added assurance that it will be sturdy when in use. With a maximum user weight of 120 kg and plenty of customer reviews confirming the sturdiness i would suggest that is nothing to worry about. Cheaper treadmills tend to be a lot lighter in comparison and at the same time they are nowhere near as sturdy as a heavier treadmill.
Pros
24 programs
12 levels of incline
Built in speakers
Very sturdy
Foldable
Good warranty
Cons

 
Good Amazon Review
Excellent machine. Does everything I need. Robust and quiet. It is very heavy so make sure you have help moving it when unpacking. Very easy assembly.
Bad Amazon Review
Still learning but could have done with a couple of slower settings. Great product.
To Sum Up
If you are serious about getting fit and healthy then the Reebok ZR8 treadmill is a top quality home treadmill that will aid you in achieving your fitness goals. For a very affordable price potential buyers get themselves a treadmill with all the best features, such as built-in speakers to keep you motivated with your favourite music and a wide range of programs and incline options. With very good customer feedback in reviews on Amazon previous buyers seem to be very happy with their purchase.
For more home treadmill reviews check out our home treadmill reviews.