Which Martial Art Is Best For MMA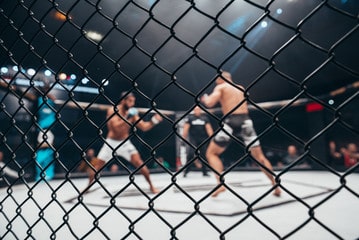 Which Martial Art Is Most Useful In An MMA Fight?
When you watch MMA on TV, or live, you see a wide range of fighting techniques being used. MMA is a combination of the best elements from various martial arts – Greco-Roman slams, Judo throws, kickboxing level change, Muay Thai clinch, BJJ submission switches, Sambo leg locks, Karate footwork, and Taekwondo kicks.
But which martial art works best in an MMA fight? Can an elite striker defeat a top-notch grappler and vice versa? Sometimes it's not about the martial art, sometimes it's about the fighter! However we'll try to rank each martial art and combination, pinpointing their good and bad aspects Let's start with;
Combat Sambo
The most famous Sambo fighters in the world of MMA are Fedor Emelianenko and the former UFC 155-pound king Khabib Nurmagomedov, while other notable names are Islam Makhachev, Vitaly Minakov, ex-UFC heavyweight champ Andrei Arlovski.
The competitors compete in a gi, and everything is allowed – knees, elbows, strikes, throws, ground and pound. The combat Sambo bout is similar to an MMA fight, so a Sambo fighter should be a tough, well-rounded opponent.
Fighters wear MMA gloves; the difference between MMA and combat Sambo is that in Sambo you wear a gi and fight on the mats, you don't fight inside the Octagon.
The downsides of combat Sambo are kicks and movement, but if you plan to transition to MMA from other martial art, this Russian fighting style should be your number one choice.
Trademark techniques: leg locks, armbars of the bottom, and submission switches.
Wrestling
Both Greco-Roman and freestyle wrestling are great choices for an MMA fight, especially when you deal with a fighter who has no ground skills. Good wrestlers clinch up and slam the opponent to the canvas, then finish the bout via a brutal barrage of hammer-fists or straight punches over the top.
Wrestlers are very aggressive, but a takedown stuffing specialist gives them a hard time. They are very vulnerable to knees, uppercuts, and lateral movements. The most famous UFC wrestling names are Randy Couture, Matt Hughes, Brock Lesnar, Henry Cejudo, Yoel Romero, Stipe Miocic.
Trademark techniques: throws, slams, ground and pound strikes.
Judo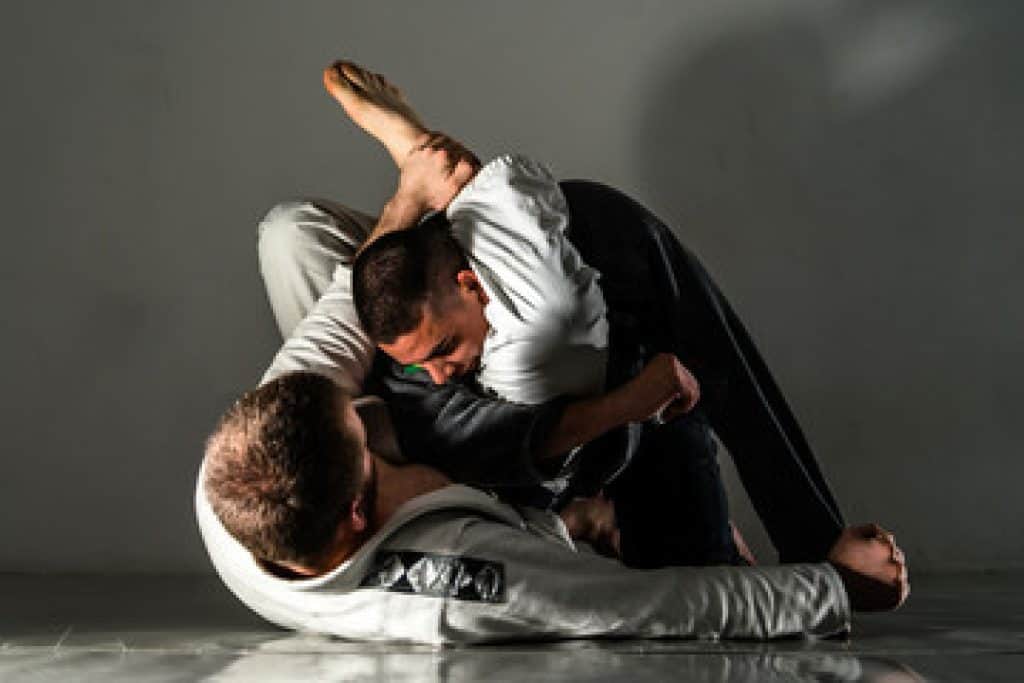 The greatest Judokas in MMA are Ronda Rousey, Hector Lombard, Karo Parisyan, Rick Hawn. Judo fighters are known for outstanding armbars and amazing hip throws. But there are few downsides to relying on judo– turning your back too much and no-gi in MMA, so the majority of throws won't work. Also judoka have weak lateral movement.
Trademark techniques – all kinds of armbars, hip toss, ground and pound straight punches.
Note: Judokas were staying away from the UFC fitness equipment because their fights mostly didn't last longer than one round. They started UFC fitness training when Ronda Rousey was brutally destroyed by Holly Holm and Amanda Nunes.
Boxing Mixed With Karate
Good boxers don't last long because they only land punches. For example, after UFC 220 loss to Stipe Miocic, Francis Ngannou, the most powerful boxer in the world of MMA, totally changed his fighting style from boxing to sprawl and brawl and avenged the loss a few years later.
And Francis Ngannou was holding a punch machine record until it was broken by another UFC boxing expert, Derrick Lewis. So you can say boxers land the most powerful UFC heavy punching bag hand strikes. https://middleeasy.com/mma-news/derrick-lewis-broke-punching-record/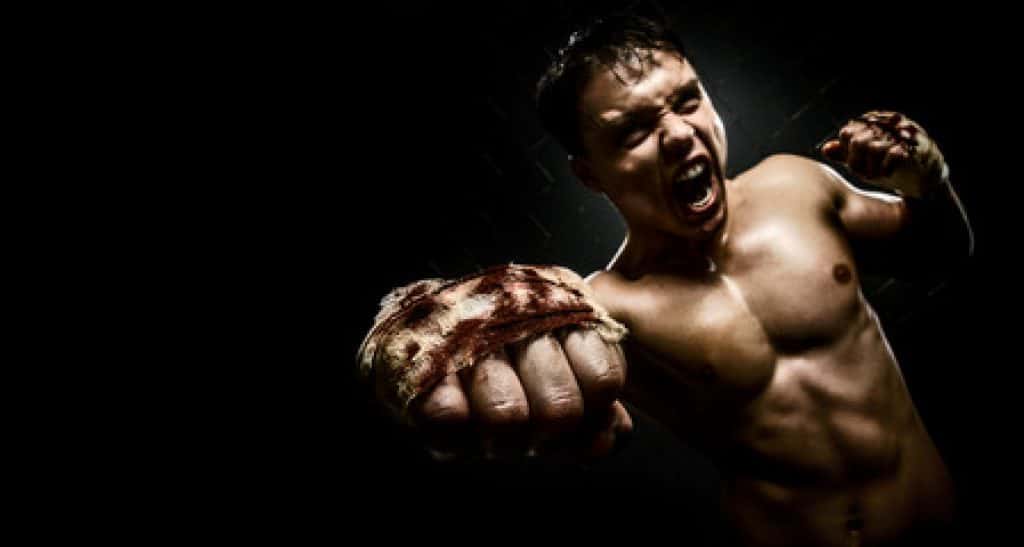 Boxing and Karate are very hard to mix, but let's analyze the all-time greatest Icelandic MMA fighter Gunnar Nelson (also a BJJ specialist). His stance is wider and his straight punches rock (Karate), but "Gunni" modifies the stance when he tries to rock his opponents with hooks and uppercuts.
Overall, this is a good combination because Karate's punches offer longer range and counterstrike ability, plus Karatekas are movement and kicking experts. Boxers hit harder, but stance modification is mandatory for greater strike efficacy. Also, Boxing/Karate sounds like the best striking combination for all kinds of quick strikes on a boxing bag and stand.
On the other hand, an example of a 100% Karate UFC champ is Lyoto Machida. Movement, kicks, and top-notch counters are his trademarks.
Kickboxing
Kickboxing is one of the best striking martial arts for an MMA fight. A good kickboxer is a master of level change. He lands heavy punches and kicks. Clinching and takedown defense are the downsides of kickboxing in MMA, but a good fighter can work on it.
Examples of good kickboxers are Israel Adesanya, Michael Bisping, Holly Holm, Melvin Manhoef, and Maurice Smith.
Trademark techniques – low kicks, level change combos.
Muay Thai
Muay Thai is one of the best choices of all-around fighters. Great clinch, elbows, kicks, knees, and sweeps will give every single opponent a hard time. Thai fighters are trained to march forward and tolerate an enormous amount of pain, and they can land a shot from every single position.
Great Muay Thai MMA fighters are Donald Cerrone, Joanna Jedrzejczyk, Jose Aldo, Gaston Bolanos, Cris Cyborg, Max Holloway, Loma Lookboonmee. The big downside of Muay Thai is a lack of side stepping and head movement, only better fighters tend to move to the side when the opponent attacks.
Trademark techniques– clinch, elbows, knees, sweeps.
Taekwondo
Taekwondo is usually combined with grappling or another striking martial art because it is incomplete on is own. Good Taekwondo fighters are Anthony Pettis, Anderson Silva, Edson Barboza, Yair Rodriguez, Rose Namajunas, and Dennis Siver. Close-range fighting is a big downside of Taekwondo, so fighters work on Kickboxing or Muay Thai too.
Trademark techniques – all kinds of kicks, top-notch footwork.
BJJ (Brazilian Jiu-Jitsu)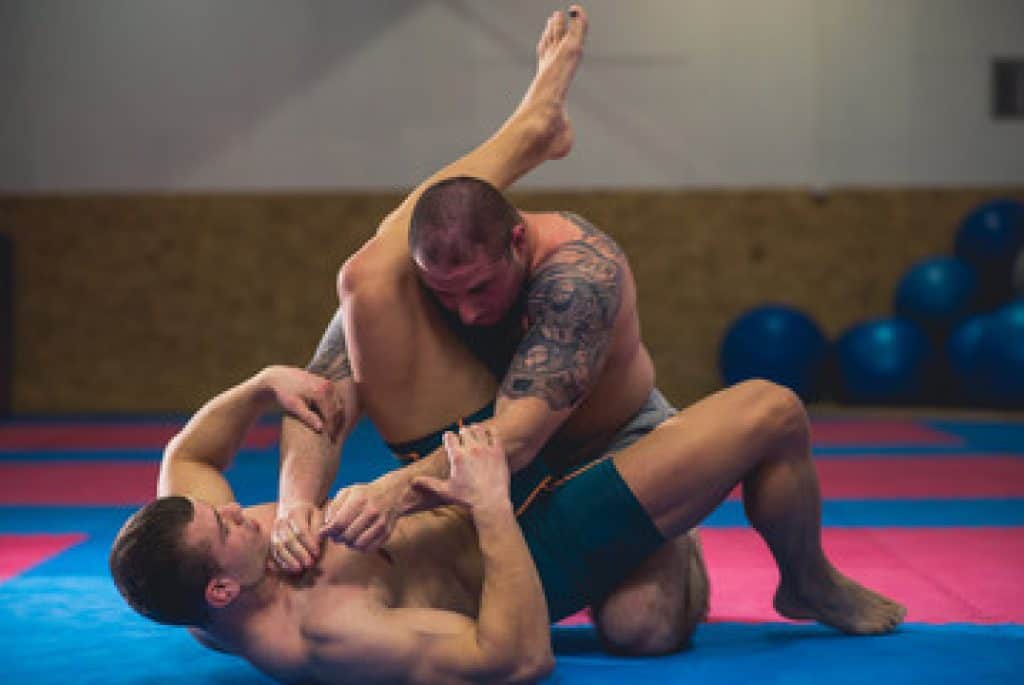 There were many UFC BJJ champions. Royce Gracie submitted way heavier opponents in his first four UFC events. Many other top-notch grapplers followed his footsteps to win the title belt – Miesha Tate, Frank Mir, Jens Pulver, Demetrious Johnson, Rafael dos Anjos, Luke Rockhold.
BJJ is arguably the best way to defend against powerful wrestlers because it lets you surprise fighters from the bottom. It is an outstanding combination of unusual submissions, sweeps, and transitions.
There is one rule versus BJJ fighters – don't try to pound them out off the top position. BJJ fighters are vulnerable to takedown stuffing and stand-up fighting.
Trademark techniques – submissions and submission switches.
Yet, the modern MMA demands a combination of the best elements from all martial arts.
UFC Fighting Equipment
Nowadays, every fighter works on all aspects of the game. You must know at least two martial arts. The majority of gyms are equipped with heavy bags, mitts, mats, and wrestling/grappling dummies. You can find UFC fitness equipment in advanced dojos – treadmills, exercise bikes, uppercut bags, free-standing bags, elevation training masks and much more.
UFC Home Equipment
When you plan to become a pro, you should think about investing some money in at least a heavy bag or a free-standing heavy punching bag, because you can move it all around your house or condo. Good grappling and wrestling dummies are also recommended, it will help you boost your ground skills. More equipment means more ways to train and improve the weak areas.
Conclusion
Each martial art can be good and bad, it depends on how you use it. A good mixed martial artist must combine at least one striking with one grappling martial art. Good combinations are boxing/wrestling, kickboxing/BJJ, Combat Sambo/Taekwondo (Zabit Magomedsharipov), and much more.
Also, a good fighter must leave his ego at the door and accept advice from their coaches, because that's the only way to progress. Learn the best from every martial art, improve your weak spots and you'll get into title contention.
What do you think, which is the most useful martial art for MMA? Leave us comments on the contact page!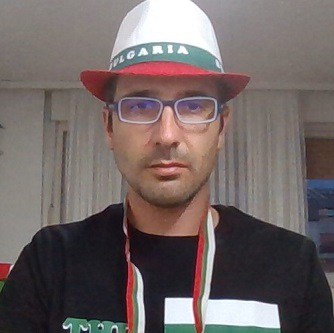 He is a master of Sports and Physical education and a a well-known Bulgarian MMA commentator ("The Bulgarian Cowboy") who also spends time as an analyst, interviewer, and podcaster. Get to know about him here.