Vibration Plate Exercises – The Basics – A Fitness Fighters Guide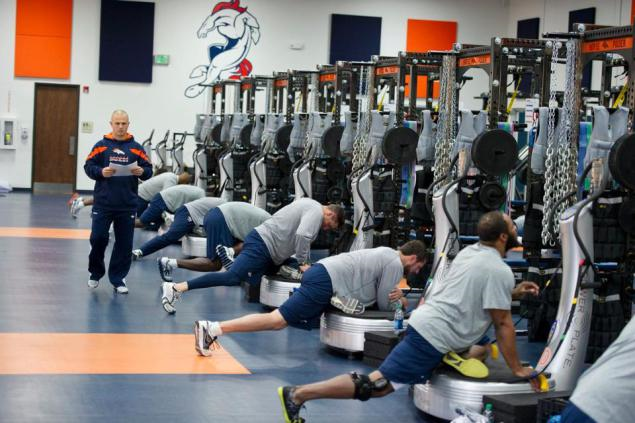 Vibration Plate Exercises
A vibration plate exercise machine can give a full body workout in 15 minutes, when used correctly. In addition to the many known benefits of a vibration plate there are also a few lesser known ones that come with exercising with a vibration plate. For instance vibration machines can be used for training, balance and injury recovery, with each of these having their own associated benefits. So choosing vibration plate exercises at random is not the correct way to go about plate training. To check out reviews of the best vibration plates have a look at our article here.
In this article I will be explaining the basic exercises to do when using your vibration machine, how to perform them, what muscle groups they help to tone and finally the optimal frequency to have your vibro plate set to for each exercise to gain the most benefit. Also we will be going over some of the best workout sheets and videos from the internet.
.
Basic Vibration Plate Exercises For Beginners
So here is a quick run down of the most basic exercises for when performing a vibration plate workout. I have included a step by step guide as to how to perform each exercise to gain the maximum benefit. A must know for any beginner is the importance of correct posture and position for when using a vibro plate. Maintaining the correct posture is essential to avoiding injury and should be done at all times.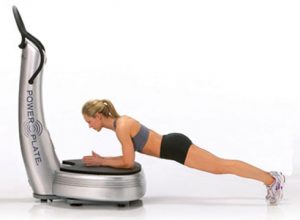 Exercise – Plank
Muscles Worked – Arms, Back, Core, Legs
Frequency: 14 – 24 Hz
Duration: 30 Seconds
First of all kneel on the floor in front of the platform and then place your forearms on  the plate of the machine and spread them an equal distance apart. Then lift your body and take the weight through your toes and maintain a rigid position. Hold for 30 seconds.
In addition to the plank there is also the modified plank. To do this exercise simply follow the instructions above but instead of raising your body weight onto your toes, transfer the weight through your knees which you should obviously have on the floor.
Exercise – Heel Raise
Muscles Worked – Calves
Frequency: 23-28 Hz
Duration: 15 Seconds
To perform this exercise simply stand on your plate at the centre tilt axis point with both of your feet equal distances apart. Then raise yourself onto your toes and hold the position for 15 seconds. To maintain the correct posture for this position you should keep your hips as square as possible to maintain your balance and make sure you don't lean forwards or to the side.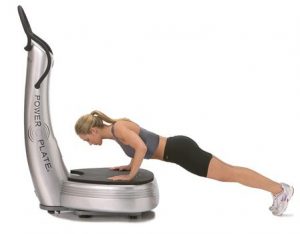 Exercise – Push Up's
Muscles Worked – Back, Chest, Shoulder's, Lower Body
Frequency: 22 – 28Hz
Duration: 15 seconds
Place the palms of your hands on the plate of your machine and spread them an equal distance apart. Then raise your body weight on to your toes and keep rigid to ensure stability and that you are gaining the full benefits from this exercise. Then simply lower your chest to the machine and hold the position.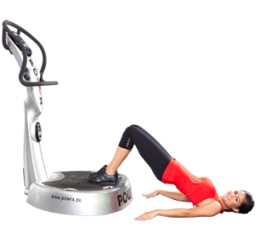 Exercise – Jack Knife
Muscles Worked – Back, Abdominals
Frequency:  22- 28Hz
Duration: 30 Seconds
To perform this exercise first sit down on the floor facing towards the vibration plate. Then place your feet on the plate an equal width apart with your arms laid flat on the floor beside you. Slowly raise your back off the floor as shown in the picture and hold the position for 15 seconds and lower yourself back to the floor and repeat.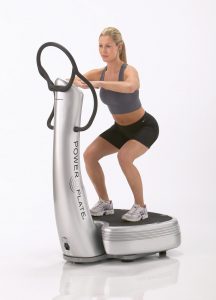 Exercise – Squats
Muscles Worked – Thighs
Frequency: 23 – 28 Hz
Duration: 30 Seconds
Stand on your machine with your feet a little wider than shoulder width apart. Then outstretch your arms so that they are parallel with the ground and with your palms facing down. Then stick your buttock out and lower yourself. Remember to gain the full benefit from this exercise you should lower your hips below knee level. When raising your body be sure to push through your heels and make sure you engage your core in the exercise also maintain a straight back for correct posture.

Exercise – Hip Flexor/Quad Stretch
Muscles Worked – Quadriceps, Hip Flexor
Frequency:   18 – 24Hz
Duration: 30 Seconds
To start off place an exercise mat on the plate of the vibration machine. Then put your knee on the mat as pictured and place your foot on the floor. lastly gently push your right hip forward while holding onto your thigh to remain stable. While performing this exercise be sure to maintain a solid upright position. when done correctly you will feel the stretch across the front of the leg that is on the floor and on the hip of the leg on the platform.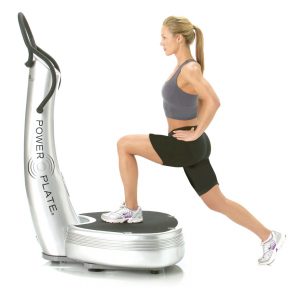 Exercise – Lunges
Muscles Worked – Legs, lower Body
Frequency:  22 – 28 Hz
Duration: 30 seconds
To perform this exercise first place your foot on the plate of your machine and bend your knee to a 90 degree angle (as shown in the picture) and then place your hands on your sides for stability. With your other foot placed securely on the ground, slightly raise your heel and bend your knee. Then simply lower yourself towards the ground in a vertical motion without leaning forward. When done correctly this exercise should not feel too strenuous on the knee-joint of the leg which is on the plate of the machine.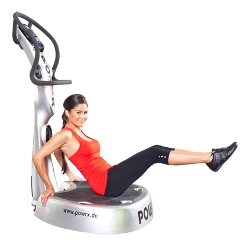 Exercise – Leg Raises
Muscles Worked – abdominal
Frequency: 14 – 20 Hz
Duration: 15 Seconds
First of all sit down on your vibration plate as in the picture shown. then place your hands behind you and hold on to the base platform of the machine for support and raise your legs until they are level. hold this position for at least 15 seconds. Alternatively you can lower your legs to work different abdominal muscles or bring your knees in towards your body a bit. After doing this exercise a few times you will begin to realise what height your legs are raised and what muscles they are working.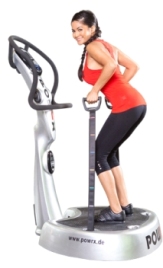 Exercise – Inclined Row
Muscles Worked – Arms, Shoulders, Back
Frequency: 22 – 28 Hz
Duration: 30 seconds
this exercise utilises the straps that come with most vibration plates. to start with stand on the platform of the machine with your feet no wider than your hips. Then hold both straps and slightly bend the knees all while keeping an upright back. Pull on the straps as in the picture, keeping your arms at a 90 degree angle from the elbow at all times. Finally pull your shoulder blades together and maintain this position for 30 seconds.
---
Vibration Plate Exercise Charts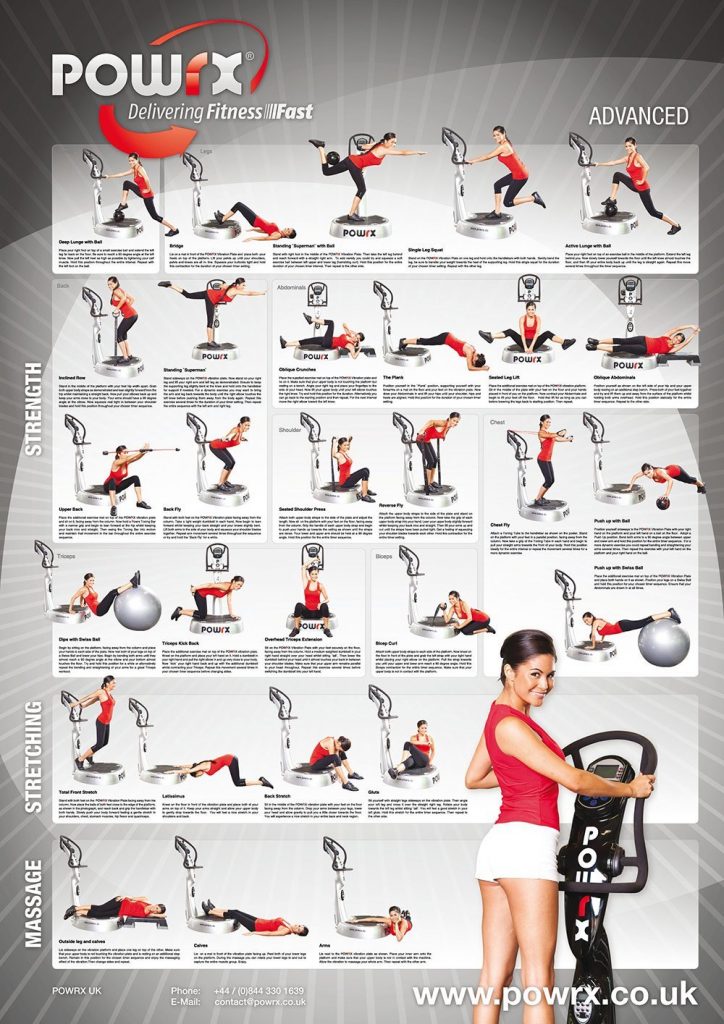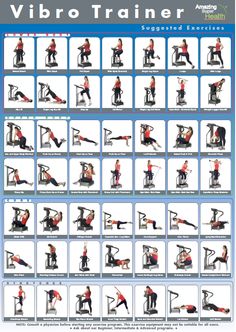 Exercise charts are a useful training aid for beginners and an excellent way to get to grips with the exercises that can be performed.
When purchasing your vibration plate depending on the brand then you will more than likely of received a free exercise chart. simply place the chart on a wall near your machine and use as a reference when exercising. After a few weeks of training you will know all the basic and will no longer need the chart and can then move to vibration plate exercise video's'
Vibration Plate Exercise Video's
Due to the visual nature of video's they are probably the best training aid for beginners. However they are also a valuable resource for more advanced users wishing to learn more technical exercises.
First of all the beginner's plate workout is the perfect introduction to exercising on your vibro plate. This video goes through all the basics and is well worth a watch for any newcomer or someone trying to decide whether a vibration plate workout id for them.
Vibration Plate Beginner's Workout
Vibration Plate Workout For Butt & Legs
In this second video you can learn how to perform the correct vibro plate exercise to tone your buttocks and legs. There is also valuable knowledge on how to perform these exercises correctly which is very important if you are to get the results you want.
To Conclude
When deciding on whether or not you want to use a vibrating exercise equipment as your chosen method of fitness, you should first research if you would enjoy the workouts involved to see if they are to your taste. As there is nothing less enjoyable than trying to stay fit using exercises and workouts that you don't enjoy. Hopefully this article provided the information needed for those deciding if they should purchase a vibro plate or those seeking training guidance on vibration plate exercises. Finally remember healthy eating, taking the right supplements and exercise is the best way to fight for your fitness.
For more exercise and fitness workout routines head to our training section on our homepage and see if you have got what it takes to fight for your fitness. For a review of the best vibration plates check HERE
Look Here For The Best Vibration Plates