What Are The Best Boxing Gloves Under £100?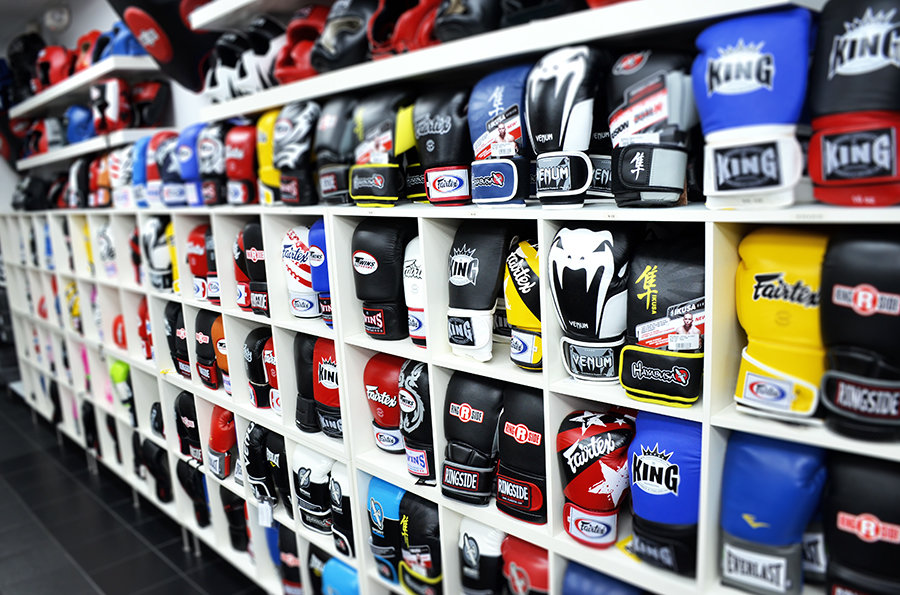 The Best Boxing Gloves Under £100 
When buying boxing gloves the deciding factor for most of us is the price. After all not everyone can afford to spend £250+ on the very best boxing gloves. There are however plenty of boxing brands and between them numerous good boxing gloves a lot cheaper than £250. With so many boxing gloves to choose from finding the best value boxing gloves can be a tricky task. In this article we will be putting gloves costing between £50 and £100 through their paces to bring you the best boxing gloves under £100. Obviously we will be taking into consideration the usual factors such as padding, protection, wrist support etc. All the gloves we recommend are up to standard in terms of quality and durability.
As mentioned earlier  there are many different boxing brands and various models of gloves, meaning we could put a 100 different pairsof boxing gloves in our top list. However we have only included the top 5 from across all brands and these are the best of the best with outstanding reviews and many sales. 
So What Are The Best Value Boxing Gloves ?
Top 5 Best Boxing Gloves Under £100
5)

Venum Fusion Boxing Gloves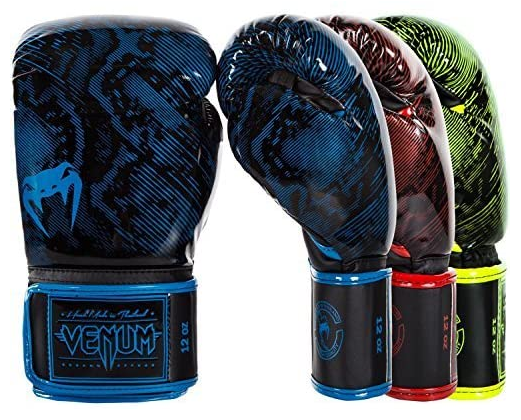 First of all, yes we know these gloves aren't made from leather but the synthetic simili leather which has many of the characteristics of real leather, except for that one flaw, these gloves are very good for the price.
These gloves come with reinforced stitching helping them remain intact and highly durable and high density foam padding which has great shock absorption qualities. We could of put the Venum Elite Gloves here the only reason we chose these gloves is because we feel they have the same qualities but look a lot better.
As with all good boxing gloves these are made in Thailand which usually assures good quality. All in all these are stylish looking and very functional boxing gloves and some of the best cheap boxing gloves as these come way under the £100 mark.
Technical Features:
Simili Leather 

Manufactured in Thailand.

Triple density foam for better absorption of the shock wave to each impact.

Thumb completely attached for added security.

Venum logo embossed on each cuff.

Premium Skintex leather construction.
Specific mesh panel placed under the fist for great thermal regulation.
Triple Density foam.
Reinforced palm for a maximum absorption.
Strengthened seams for a long-lasting quality.
Free shipping
Last update was in: July 2, 2022 9:58 am
---
4)TITLE Infused Foam Anarchy Training Gloves
The amount of padding on these gloves is phenomenal its everywhere from the front end through to the palm and there is even wrist inserts for helping with blocking and parrying punches. In addition to the amount of padding the fact it is Title Infused Foam only adds to its credentials.
These gloves are definitely for the swarmer and are perfect for hard sparring sessions, the protection offered is ideal as is the wrist support. The wraparound wrist strap with a hook and loop attachment gives all the wrist support you need and more.`
Made from high quality full grain leather these gloves will go the distance and pack a punch in terms of quality/price ratio.
Again these gloves are way under the £100 mark but had to be included as they have all the qualities and features of more expensive boxing gloves. If you like gloves that have plenty of protection and support then you will love these. if you are prone to wrist injuries these gloves may also help as mentioned the wrist support is very firm. 
Technical Features:
Made from full grain leather

2 inches of Title Infused Foam padding

Extra wide leather wrist strap with hook and loop attachment

Padded wrist inserts for extra protection

TITLE Youth Boxing Gloves
Youth Only - 10 oz.
Last update was in: July 2, 2022 9:58 am
---
3)

Fairtex Boxing Gloves BGV1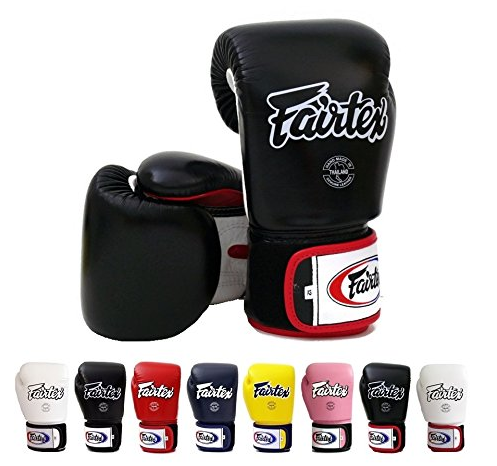 Although these gloves by Fairtex have been around for a while they are great value for money been of the quality they are. Fairtex make some really good boxing gloves and the reason we included these is because they are the perfect all round glove been ideal for sparring and both bag and pad work.
Hand made in Thailand and from the best premium leather available you can't go wrong with these gloves. Highly durable and made with a tight fit hand compartment for an extra snug fit. In addition to the durability of these gloves been very good, the padding is also more than up to standard as it is with all Fairtex gloves.
If you are new to boxing you should familiarize yourself with this brand as it makes some high quality and very affordable boxing gloves.
Technical Features:
Hand made in Thailand

Hook and loop Wrist attachment

Tight fit hand compartment

Made from high quality leather

3 layered foam for shock dispersement

All-purpose boxing gloves with vectro straps.
Tight fit design.
Constructed of premium leather and handmade in Thailand.
** Free Shipping upgrade. ** Gloves ship expedited with standard shipping cost.
Service centers for return/exchange in U.S. and Thailand.
Last update was in: July 2, 2022 9:58 am
---
2) Twins White Gold Premium Dragon Boxing Gloves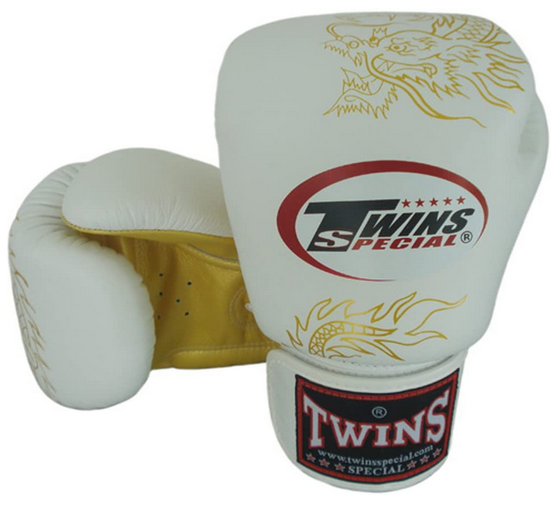 Twins Boxing gloves are renowned for their durability been made from only the very best materials. From the 100% cow leather to the multi layered foam padding quality is assured with this boxing brand.
When it comes to talking about how comfortable a glove is well these ones fit like a glove…..sorry had to be done lol. Seriously though the hand compartment is ergonomically correct and when wearing these gloves the fit is secure and firm.
These gloves feature a velcro strap and offer adequate wrist support and in terms of protection they are more than up to standard. 
In addition to been at the top end of the £100 mark these gloves are also top quality and without a doubt some of the best boxing gloves under £100.
Technical Features:
Hand made in Thailand

Made from 100% cow leather

Multi layered foam for hand protection

 Velcro strap

All-purpose boxing gloves. Tight fit design.
Genuine leather gloves with vectro straps.
Handmade in Thailand.
FREE SHIPPING UPGRADE. Gloves ship expedited with standard shipping cost.
Import from Thailand.
Last update was in: July 2, 2022 9:58 am
---
1)Hayabusa Tokushu Regenesis Gloves

So here we have the Hayabusa Tokoshu Regenesis boxing gloves the best boxing gloves available for under £100.
First of all these gloves pack a punch in terms of technology and innovation. Starting with the patented Dual-X wrist closure which has been proven to provide 99.7% perfect hand and wrist alignment which basically means they help prevent wrist injury.
Second we have the state of the art Deltra-EG inner core which is a great shock absorption system that transfers unwanted energy reducing impact forces on the hand. 
Then there is the thermo regulating properties of these gloves. Inside these gloves is an ultra soft microfiber suede designed fabric which helps with keeping your hands cool and less sweaty. In addition to this there is also the anti-microbial technology that helps to eliminate any unwanted odour from them heavy, sweaty training sessions.
As you can see these gloves have it all and then some and are our number 1 best boxing gloves under £100. 
Technical Features:
Patented Dual-X® Wrist Closure and Fusion Splinting® technologies enhance wrist support by delivering up to 99.7% perfect alignment.

Deltra-EG® Inner Core with advanced Crush Zone™ complex work to absorb unwanted energy transfer, protecting your hands.

Powered by X-Static® XT2®, an anti-microbial technology that delivers anti-odor properties.

Exclusive Hayabusa AG™ inner fabric and improved ventilation provide enhanced breathability and thermo-regulating properties.

Upgraded Vylar®-2 Engineered Leather provides advanced crack

5 layer foam structure that doesn't require break in. Designed to deliver the best performance for bag work and sparring.
DUAL-X closure system provides lace-like fit. Best in class wrist support delivered by the 4 interlocking splints at the back of the hand.
Last update was in: July 2, 2022 9:58 am
Final Round
As you can see you don't always have to spend a fortune to get the best quality boxing gloves and £100 can get you a really good pair. For more information on choosing boxing gloves check out our boxing guide section for all you need to know about choosing boxing gloves to make sure you get the right pair for you.