The Top 8 Best Electric Bikes for 2021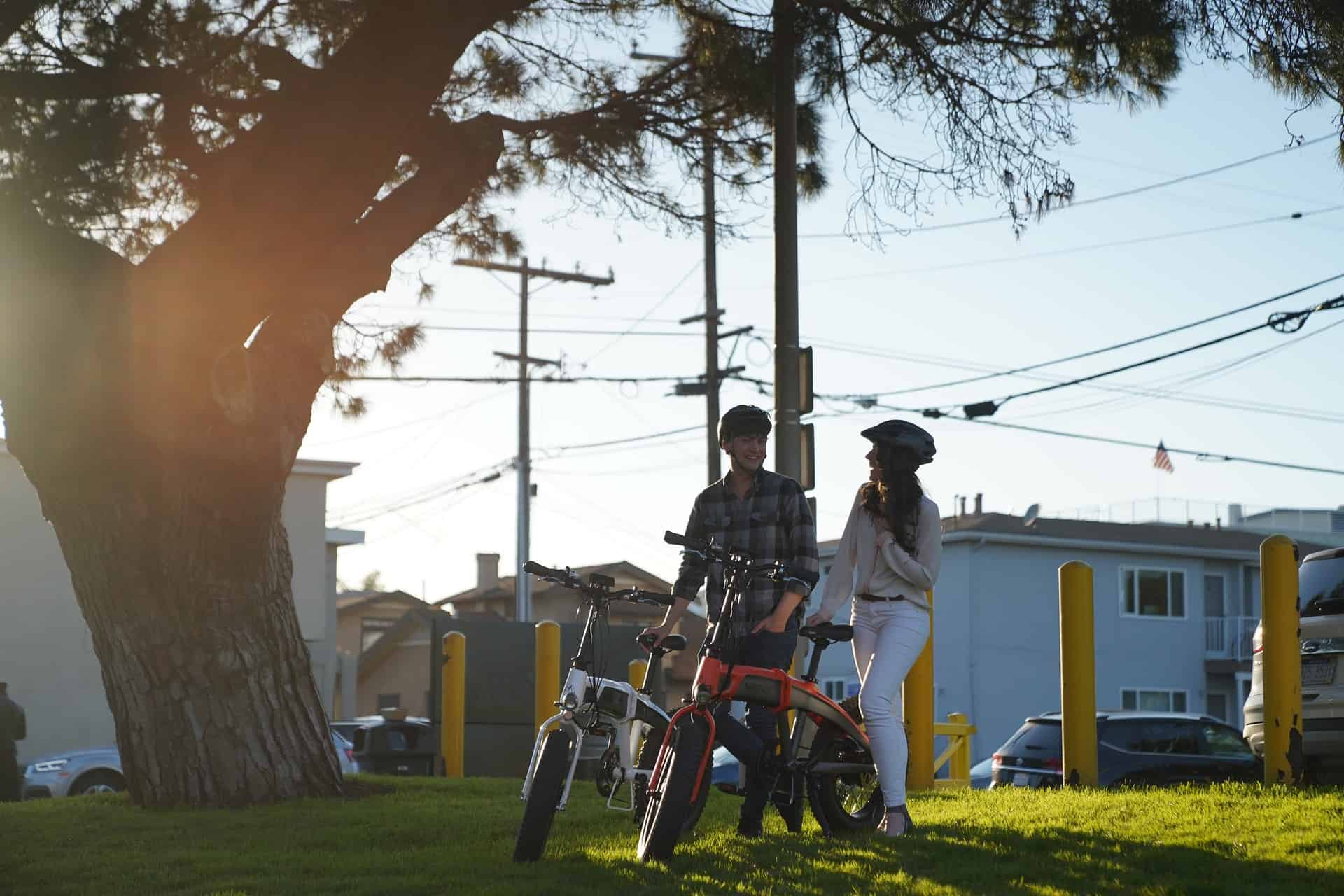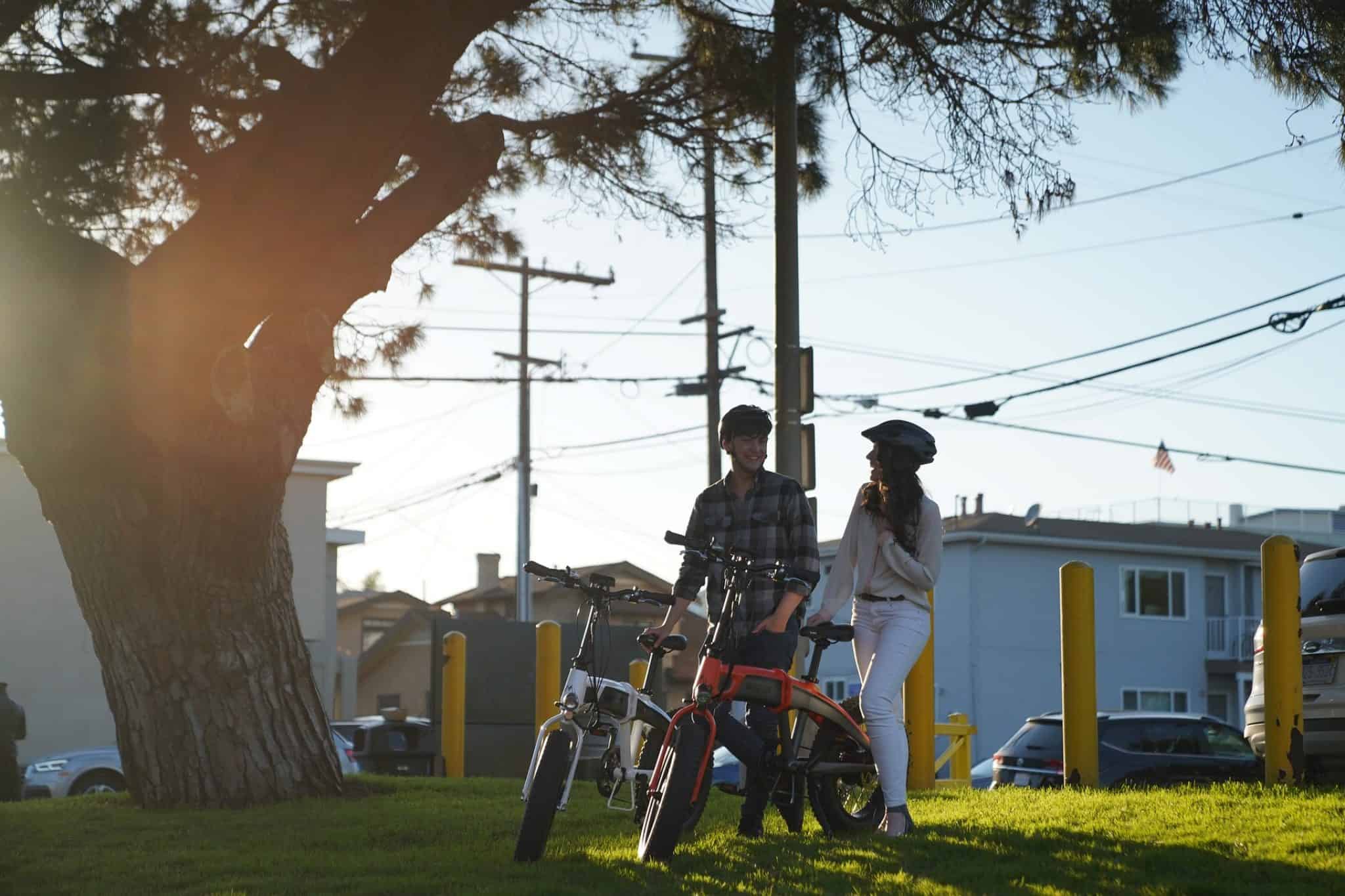 Best Electric Bikes
Around the world, transportation has changed dramatically since the pandemic started. Keeping your distance from other people has become the number one priority, and it's hard to do so on a crowded bus.
But what's the alternative? Cars are expensive and contribute to global warming, and walking is not an option for some people.
Enter the electric bike!
What Is An Electric Bike?
An electric bike is very similar to a conventional bicycle, but it has a rechargeable battery and a motor attached to it to help you move, saving you precious pedalling energy. It allows you to travel much longer distances and even move up hills with ease, which would otherwise result in a very tiring and sweaty ride. And none of us want to arrive at work drenched in sweat.
Most electric bikes use a "pedal-assist" system, which means that the motor will help along with pedalling and allow you to drive faster and more easily. This makes e-bikes great for commuting to work and transporting heavy groceries or children.
But they're not made just for commuting. There are countless options to electric bikes nowadays, from all-road bikes to cargo bikes, mountain bikes, folding bikes, and more. If you can imagine it, chances are it already exists.
All this has resulted in a mass of people who would rather ride electric bikes than regular ones. With their popularity in a dramatic rise and so many options available on the market, it can be hard to choose the best electric bike for your needs sometimes. Let's take a look at some of the most important things you need to consider when buying the best ebike 2020.
Things to Look For in an Electric Bike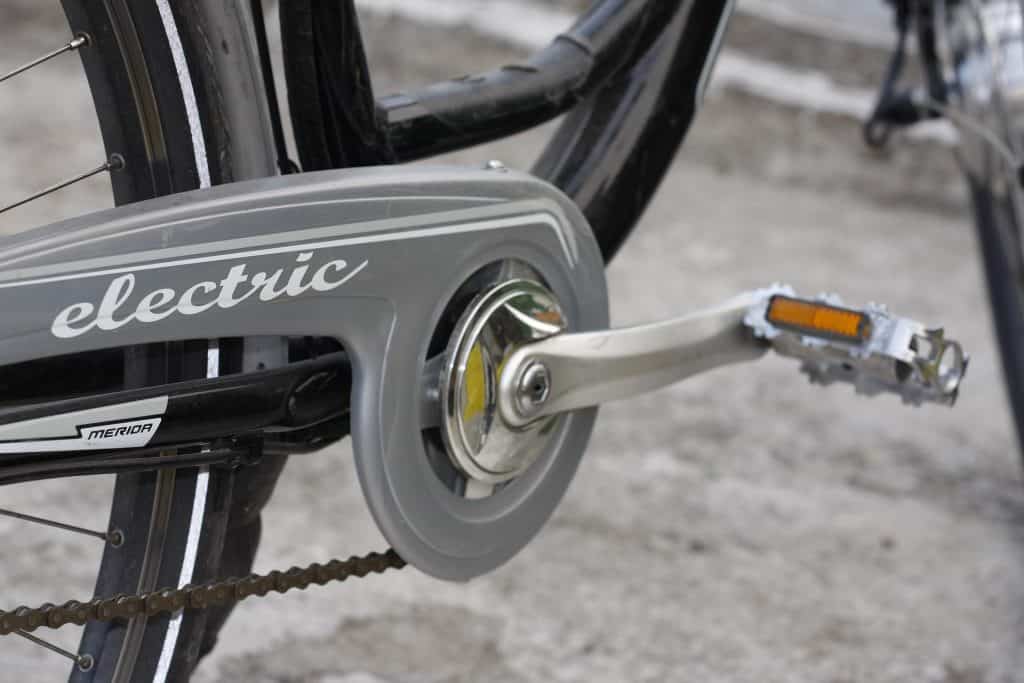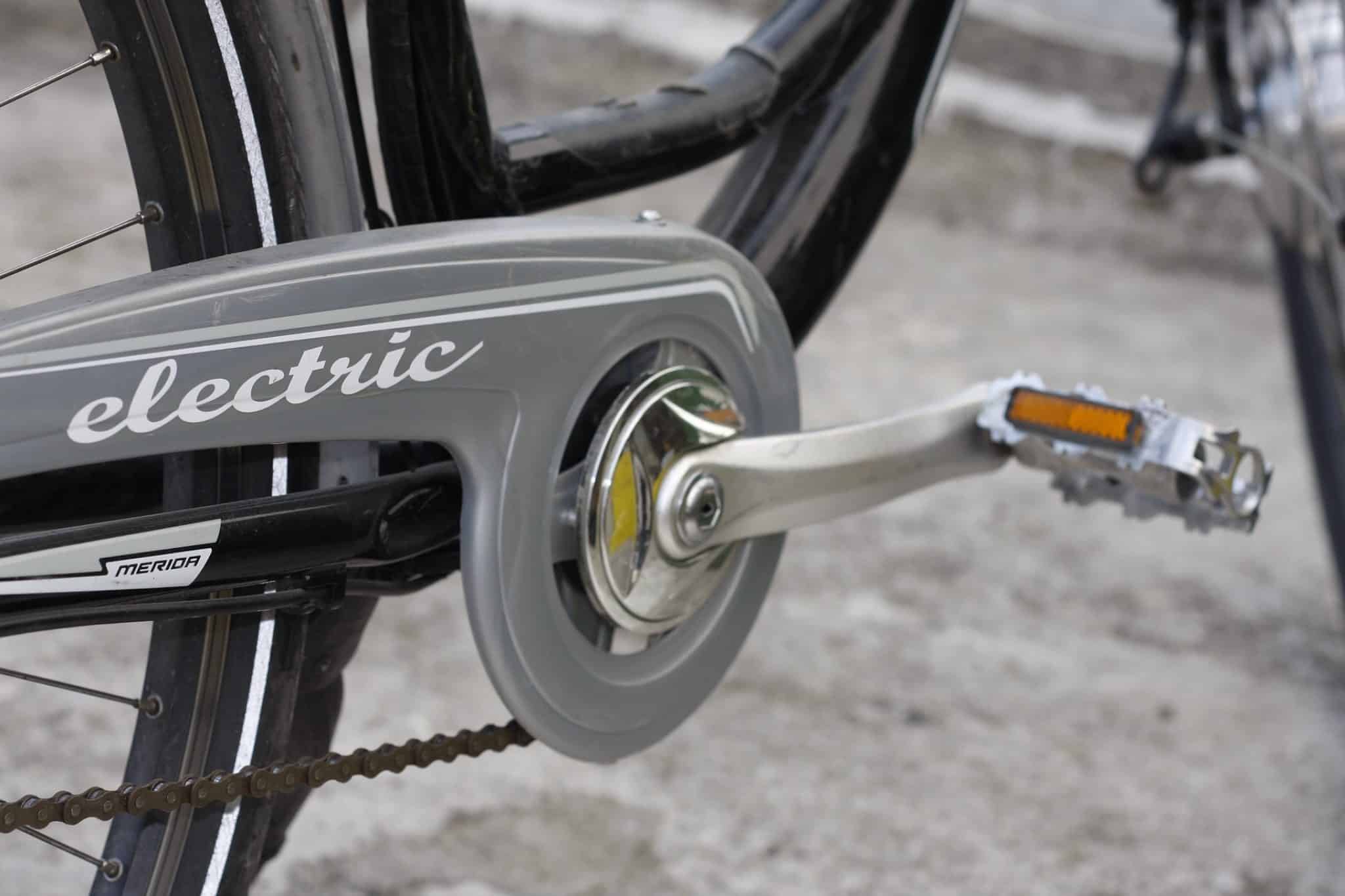 Pedal-assist vs. throttle
Electric bikes tend to fall into two main categories – pedal-assist and throttle.
On a pedal-assist bike, the motor only works when you start pedalling and can be set to different levels of assistance, depending on how much energy you want to spend or conserve.
Throttle electric bikes, on the other hand, will move you along even when you're not pedalling, allowing you to relax and enjoy the ride. However, they're legally classified in a different category than pedal-assist bikes, so make sure to check with your local laws before buying one.
Motor type
There are two main types of motors you can find on the best ebike 2020, and those are:
Hub Motors – placed within the hub at the wheels, usually at the rear one. They're the most popular and most affordable option. The good thing about them is that they require little to no maintenance and don't put stress on the other components. Another big plus is that even if your motor breaks mid-way through your ride, you can still ride home using your pedals, and vice-versa.
Mid-drive Motors – these are placed between the cranks of the ebike and require a specific kind of bike frame. The central placement, along with the lightweight design, allows for even weight distribution. They offer more range and a generally smoother ride, but are the more expensive option of the two and require more maintenance.
If you're looking to get maximum pedal assistance and not worry about maintenance, go for a hub motor. But otherwise, if you're looking for a boost in your rides and are experienced in ebikes, you can't go wrong with mid-drive motors.
There are also many wattage options to choose from, ranging from 250 to 750 watts. This might seem like a straightforward way to determine how powerful the ebike is, but it's not. You also need to take into account the battery's voltage and the maximum current.
Battery size
For people who want to ride electric bikes, this is the most important metric to look for. It determines how much pedal assistance you can get and for how long you can ride.
If you're often riding up hills, you'll need more battery power to push you through, but if you're always cruising around on flat streets, you can go for a more lightweight option.
Watt-hours (Wh) is the metric you need to determine the capacity. The higher the Watt-hours, the more range you can get out of your ebike. Most manufacturers provide an estimated range, which averages somewhere around 40km, but always take this number with a grain of salt.
It's calculated by using the perfect circumstances and often varies in real-life performance. It all depends on how you plan to use it. The more you plan on carrying groceries, dragging cargo, or riding through tough conditions and terrains, the more range you'll need.
Now that you're familiar with the basics of electric bikes and how to find one for your needs, it's time to go through the 10 best electric bike options available on the market today.
The 8 Best Electric Bikes on the Market
1. FGART Mountain Bike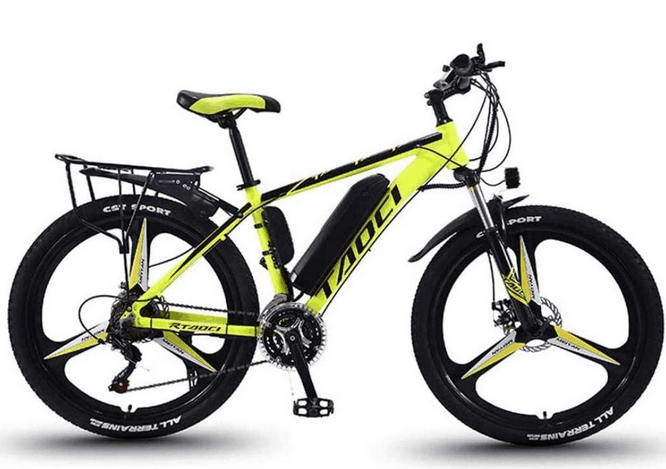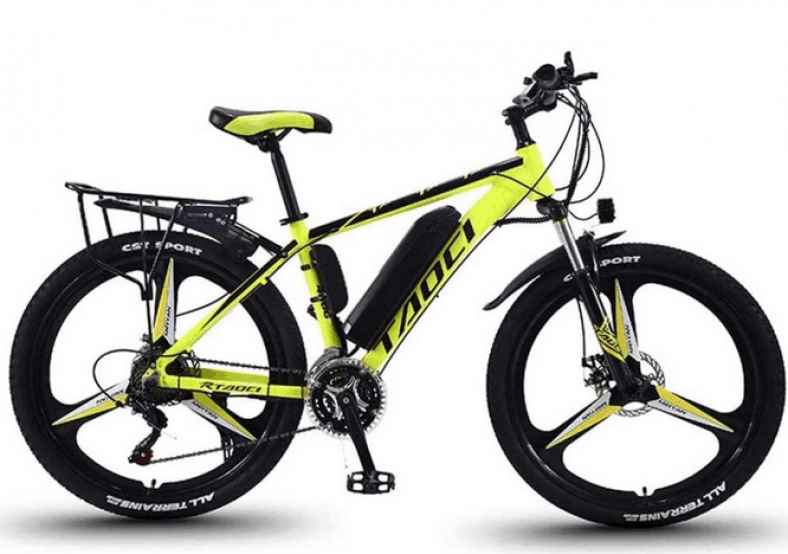 Wheel Size: 26 inches
Weight: 22kg
Motor: 36v 350W
Battery Life: 50-90km
Charging Time: 3-4 hours
Speed: 30-35 km/h
The FGART electric mountain bike is an ergonomically designed ebike that can be used not only for mountain rides but on all other terrains as well.
It has a 36v/8-13Ah Lithium-Ion battery, allowing you to go on longer rides of up to 90 kilometers. The battery can be removed so you can choose whether you want to charge it on the frame or separately. This allows you flexibility so you don't always have to depend on one mode or another. And it only takes 3 to 4 hours for a full charge.
The battery status can be always checked on the LED display, along with many other useful metrics, such as speed, voltage, mileage, outdoor temperature, and more.
You can also choose between three different driving modes – pure electric mode, where you let the motor do all the work and you sit back and enjoy the ride, pedal-assist mode, where the motor only gives you a boost, and pure pedaling mode where you do all the work to save some battery life.
These 3 modes can be used however you see fit, and combining them would allow you to both preserve the battery and your energy so you don't get too tired.
As for the accessories, the FGART electric mountain bike has front and rear disk brakes, along with a 21-35 speed professional transmission system from Shimano, and a front suspension fork to absorb the shock from rugged mountain paths.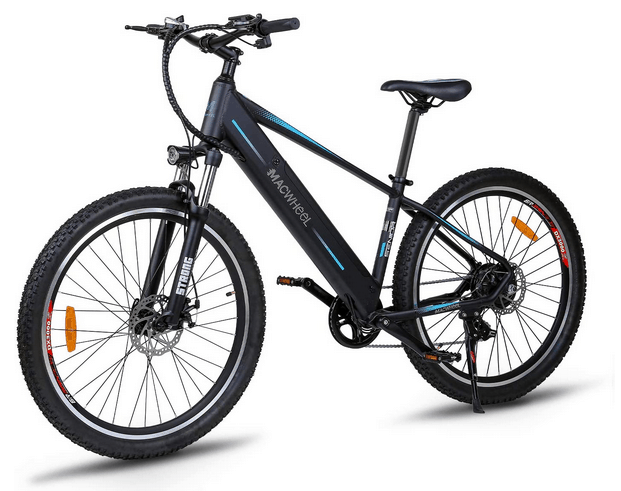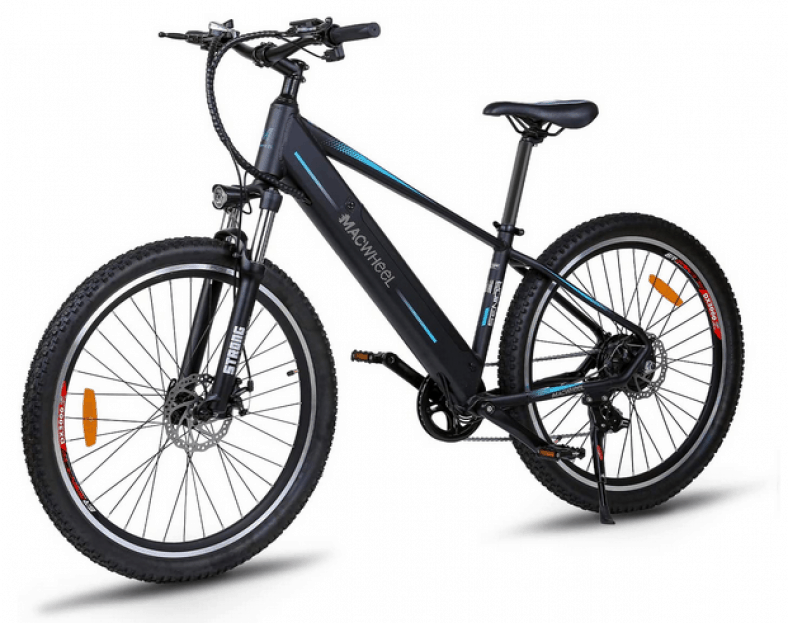 Wheel Size: 27.5 inches
Weight: 29.8kg
Motor: 250W
Battery Life: 40-100km
Charging Time: 6-8 hours
Speed: 25 km/h
The Wrangler 600 from Macwheel is one of the most affordable options on the market, but without sacrificing on quality. It has an aluminium alloy frame and an integrated battery pack.
The battery can provide you with a range of up to 100km on pedal-assist mode, and up to 50km on pure electric mode, which is more than enough to get you almost anywhere you want without needing a shower afterward.
You have the option of charging your battery on the bike or unlock it and charge it wherever you want. To fully charge the battery it will take around 6-8 hours, so you can just leave it overnight and come back to a fully charged ebike in the morning.
The Wrangler 600 has a 250W hub motor mounted to the rear wheel that can provide power for a max speed of 25km/h, making light work of steep hills and long rides.
You can check the status of the battery and the speed you're going in on the LCD display, as well as information on distance, selected mode, and more.
All the other accessories on this ebike are from high-quality brands, such as Shimano gears, Tektro Disc brakes, Kendra tires, and a KMC chain.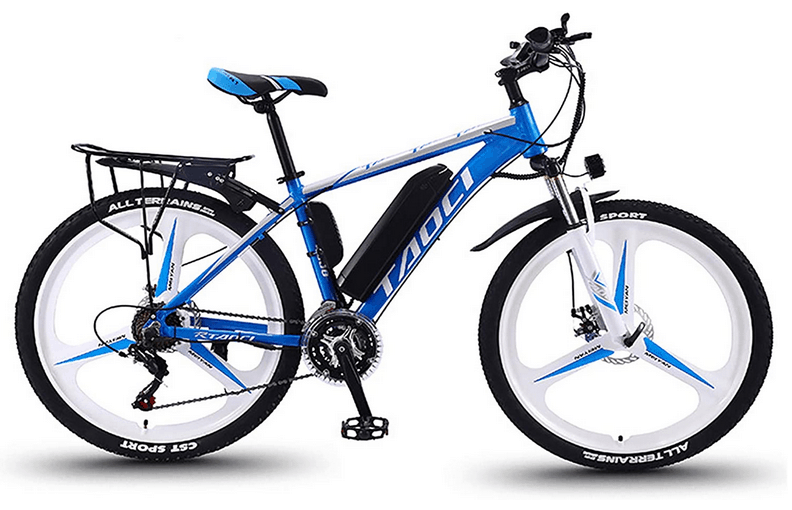 Wheel Size: 26 inches
Weight: 22kg
Motor: 36v 350W
Battery Life: 50-90km
Charging Time: 3-4 hours
Speed: 30-35 km/h
Another very affordable ebike option, the Hyuhome ebike has all the standard features you'll need for an enjoyable ride.
It's made out of aluminium alloy and has a semi-aluminium front fork that can be locked or opened depending on the road conditions, allowing you to adapt to snow, mountains, beach, and more.
The Lithium-Ion battery offers a range of up to 90km, enough to power all your long rides. When the battery is drained, you have the option to recharge it on the bike itself, or you can take it out and charge it wherever you want. This allows you to prevent theft since batteries are most at risk when you leave your ebike outside.
You can monitor the status of the battery at all times thanks to the LCD display, which in addition to the battery, shows the speed, distance, and assist level. Speaking of which, you can also choose between 3 driving modes on this bike – pure electric, pedal-assist, and pure pedaling.
It also comes with excellent accessories for an even smoother ride, such as front and rear disc brakes, a Shimano transmission system, and an automatic power cut when you're braking for increased safety.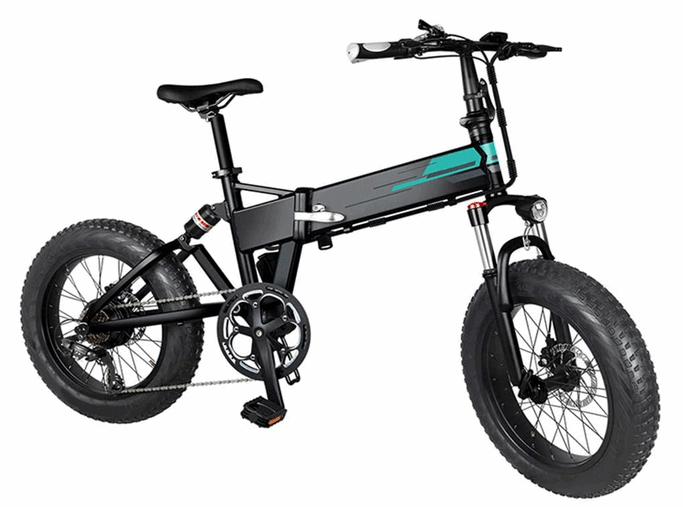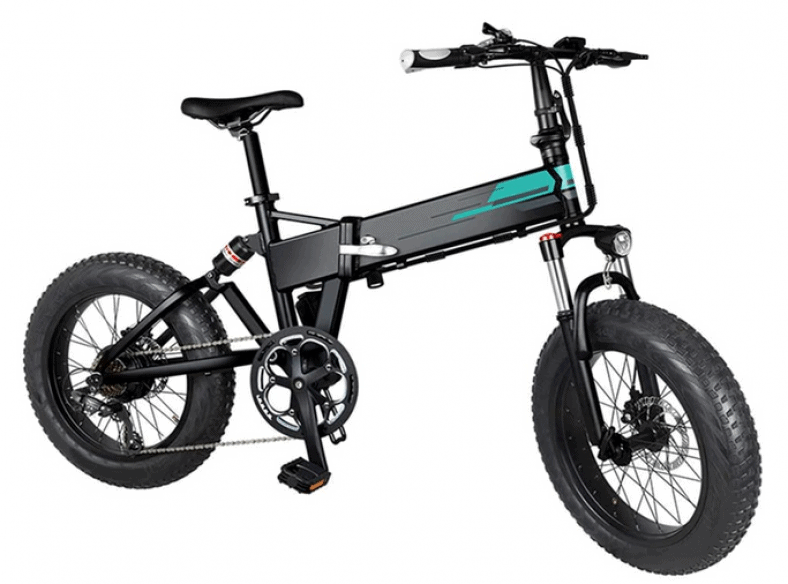 Wheel Size: 20 inches
Weight: 25kg
Motor: 250W
Battery Life: 45-80 km
Speed: 25 km/h
Do you like the convenience of electric bikes but don't want to drag a whole bike with you everywhere you go? Foldable electric bikes might be a better option for you.
The Tuking folding electric bike can be folded to almost half its original size, so you can easily pick it up and take it with you on the subway, train, bus, or even place it in the trunk of your car. And although foldable, the body is still compact and sturdy thanks to the aluminium design, and it can withstand all kinds of weather.
It has a large capacity removable battery and an anti-theft lock for increased security. When fully charged, the battery offers a range of up to 65km in pure electric mode, and up to 80km in pedal-assist mode.
The 250W motor is brushless, which means that it's less noisy and around 20% more efficient than a brushed motor. It also provides more starting torque, perfect for off-road riding.
Additionally, there are also front and rear mechanical disk brakes, a 52-tooth steel chain, and 20-inch tires that can adapt to any type of road and climb up to 30 degrees.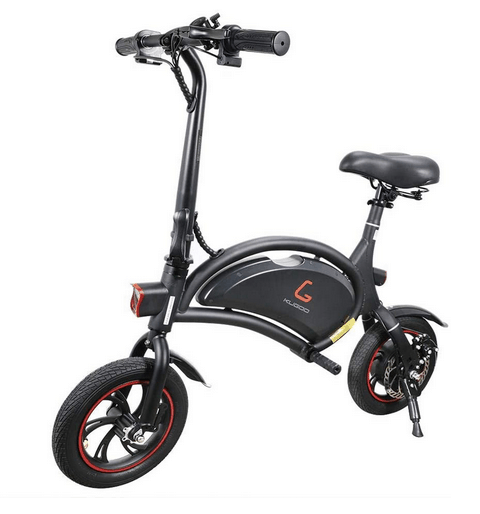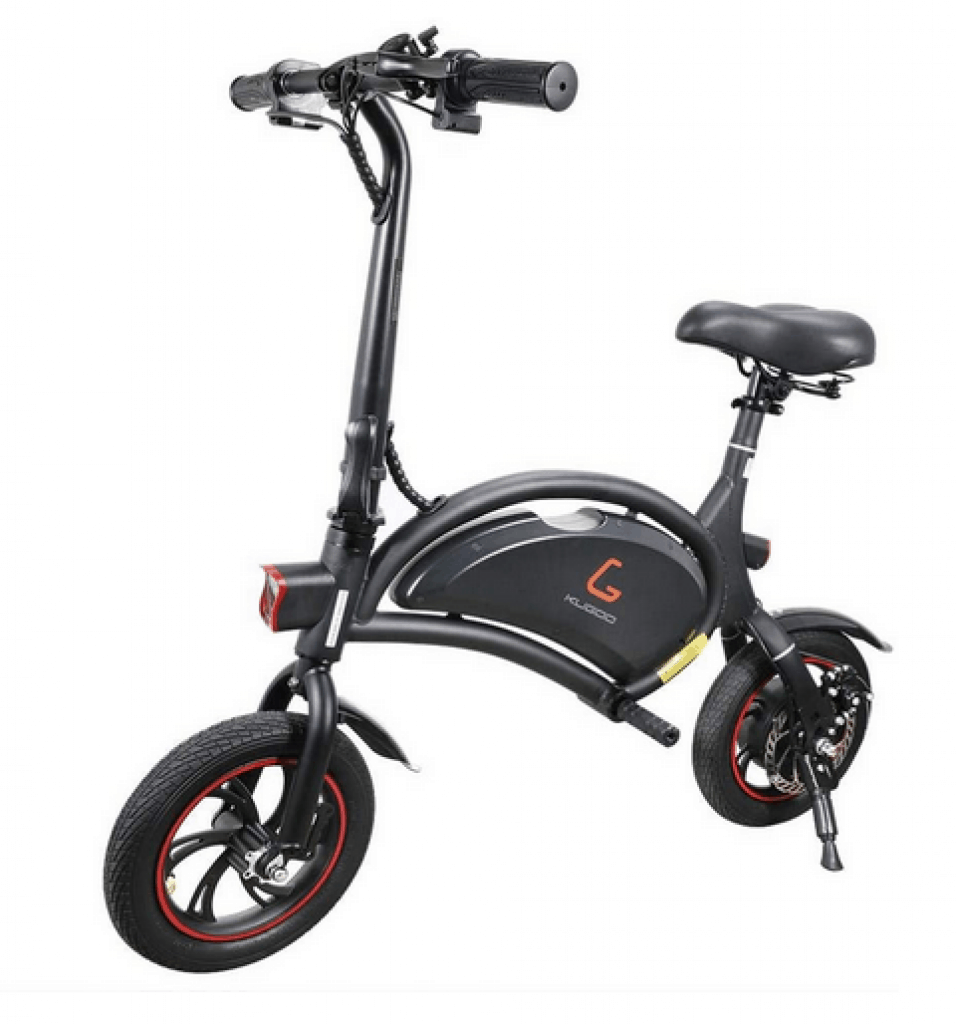 Wheel Size: 12 inches
Weight: 15.7 kg
Motor: 36v 250W
Battery Life: 23 km
Charging Time: 3-4 hours
Speed: 25 km/h
The Kugoo B1 is more of a scooter than an electric bike but still offers quality performance. The best part about it is that it's extremely lightweight and compact. It can also be folded to save even more space if you need it.
It has a conveniently placed handle in the middle of the body that allows you to carry it easily wherever you go, which is perfect for short-distance city travel.
The 250W high-speed brushless motor can help you drive up to 25km/h, ensuring you quickly arrive at your destination every time.
To fully charge the battery, you'll need to wait around 3-4 hours, and then you can expect up to 23km riding distance, which should be just enough for the average commuter.
The 12-inch wheels have an inflatable rubber tire with an anti-slip and wear-resistant texture that provides a comfortable riding experience no matter where you ride.
Oh, and did we mention that it comes with app support? You can use the app to set a riding route, adjust the speed, unlock the bike, and run a self-checking function. Pretty cool!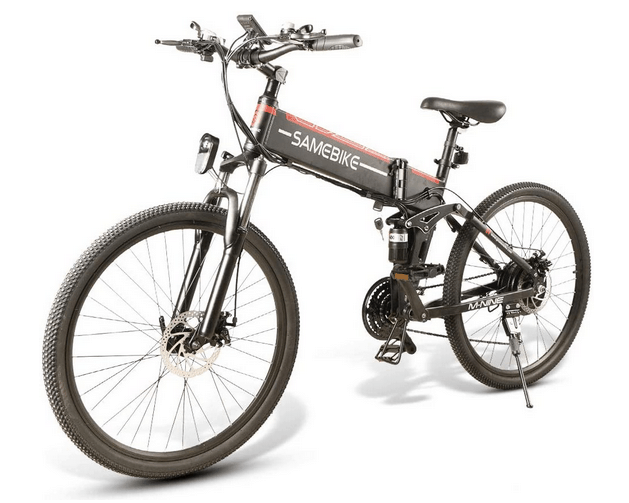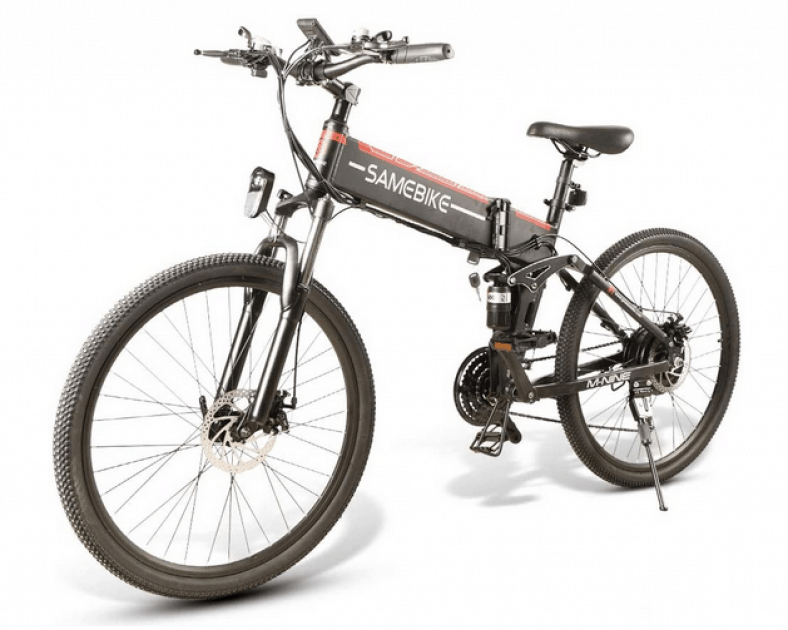 Wheel Size: 26 inches
Weight: 25 kg
Motor: 500W
Battery Life: 40-70 km
Charging Time: 4 hours
Speed: 30 km/h
Another folding ebike in our list of the best ebikes 2020, the GRENERIC ebike comes in slightly bigger than other folding bikes at 26 inches wheel size. The shell is made out of aluminium alloy and can support weight up to 150kg.
The folding mechanism is very easy to use and the bike can be folded in three easy steps. When folded, it takes almost half the space and can be taken anywhere you need.
And just like any other electric bike, you can choose between three different driving modes: pure electric, pedal-assist, and pure pedaling. When fully charged, which takes around 4 hours, you can expect a range of up to 40km in pure electric mode, and up to 70km on pedal-assist mode.
The 500W brushless motor ensures you can reach speeds up to 30km/h and climb hills up to a 30-degree gradient.
There's also an LCD display that shows you real-time information about distance travelled, battery status, speed, and more.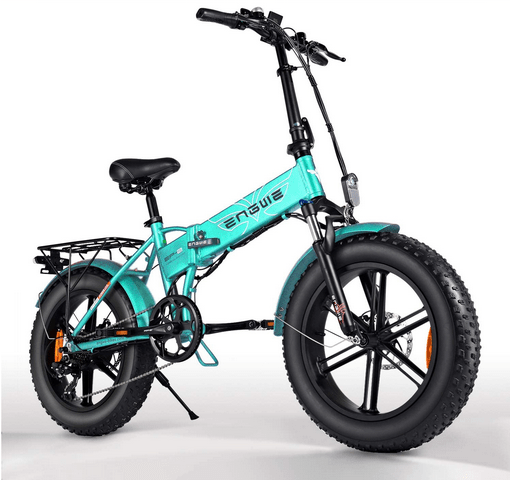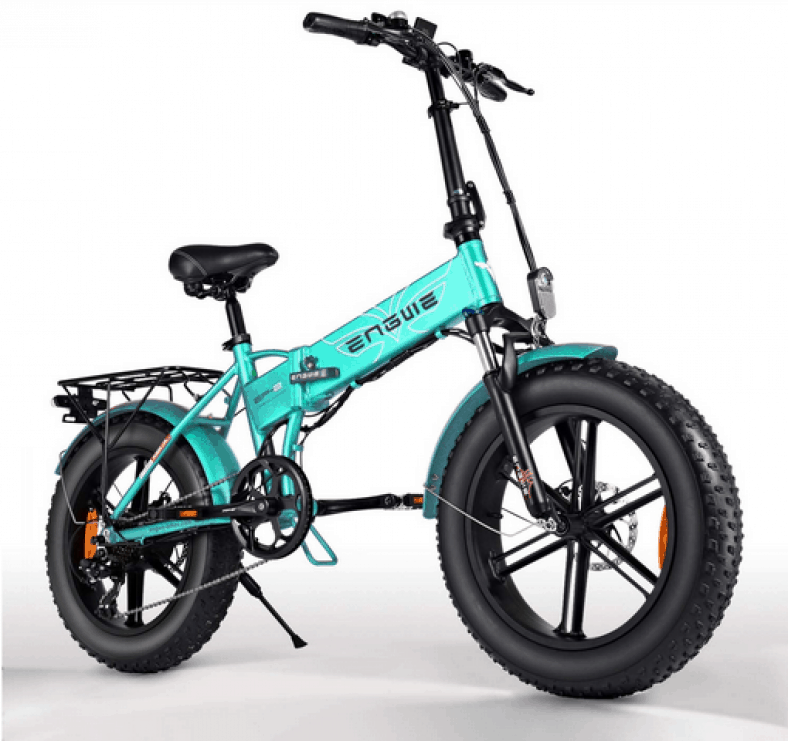 Wheel Size: 20 inches
Weight: 32 kg
Motor: 48v 500W
Battery Life: 30-60 km
Charging Time: 6 hours
Speed: 35 km/h
The EP-2 from Engwe is a stylish fat tire electric mountain bike with an aluminium alloy frame and a bright brushed finish. The top tube and the frame are foldable, which means you can easily carry it with you wherever you go. All it takes is 10 seconds and 3 simple steps, and you've got a bike half the size.
There's a mechanical lock suspension fork on the front wheel made out of carbon steel that offers premium shock absorption and can be locked depending on where you ride.
The lithium-ion battery offers a range of up to 35km on pure electric mode and up to 60km on pedal-assist mode. To get the max range, you need to fully charge the battery, which takes about 6 hours, and you can do it either on the bike or remove it and charge it separately. There's also a lock on the battery to ensure theft prevention.
When you purchase the bike, it comes only 85% assembled, and you need to do the rest, which is not that much. You'll need to install the front wheel, the handlebar, the pedals, and insert the battery. All of this takes around 10 minutes.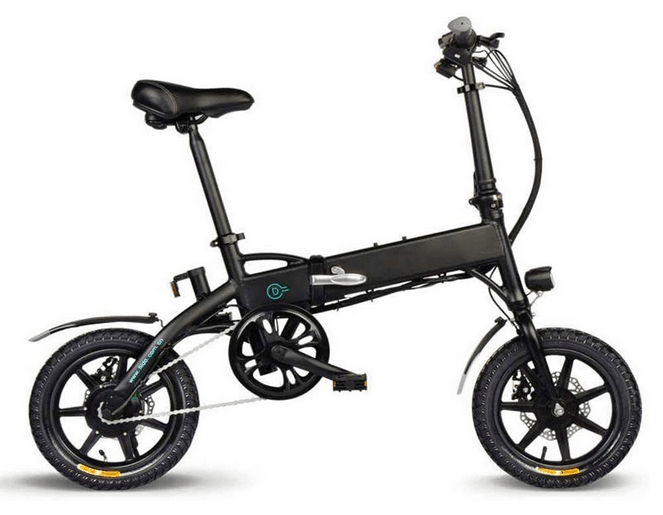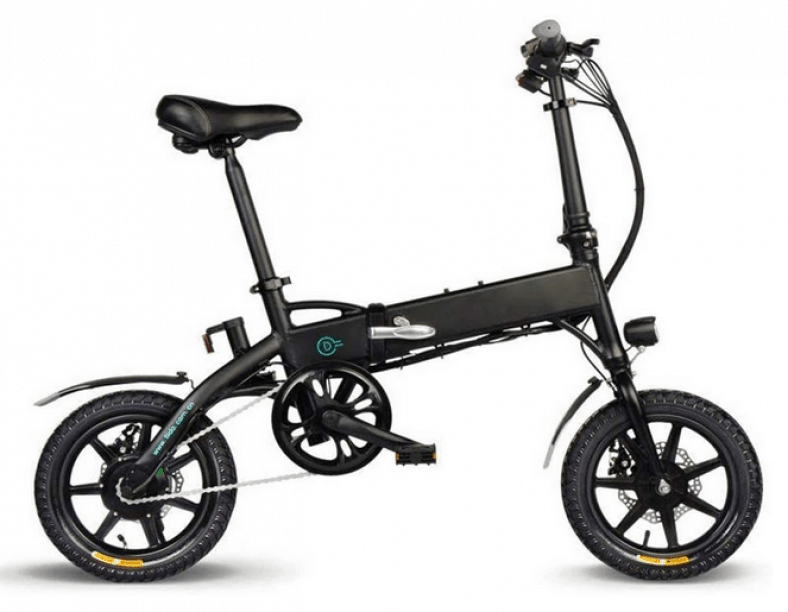 Wheel Size: 20 inches
Weight: 17.5 kg
Motor: 250W
Battery Life: 40-90 km
Speed: 25 km/h
The Soulitem electric bike is one of the most compact options on our list of the best ebikes 2020. When folded, it's only 75cm wide and 65cm tall, half the size it is when not folded. This allows you to save a whole lot of space for storage and easy transportation. All it takes is 3 easy steps and you're done.
For such a compact size, it sure doesn't sacrifice on performance though. It has all the standard features and specifications as any other folding ebike, with a maximum speed of 25 km/h and a battery life of up to 90km on pedal assist mode.
There's also a USB phone holder on the top so you can navigate without having to hold the phone in your hand. Right next to the holder there's a LED display that lets you know the current battery status.
Finally, the tires are inflatable and made out of shockproof, wear-resistant, and anti-slip texture that allows you to enjoy smoother and more comfortable rides, no matter the road conditions. Both tires have efficient disc brakes for added safety.
Benefits of Using Electric Bikes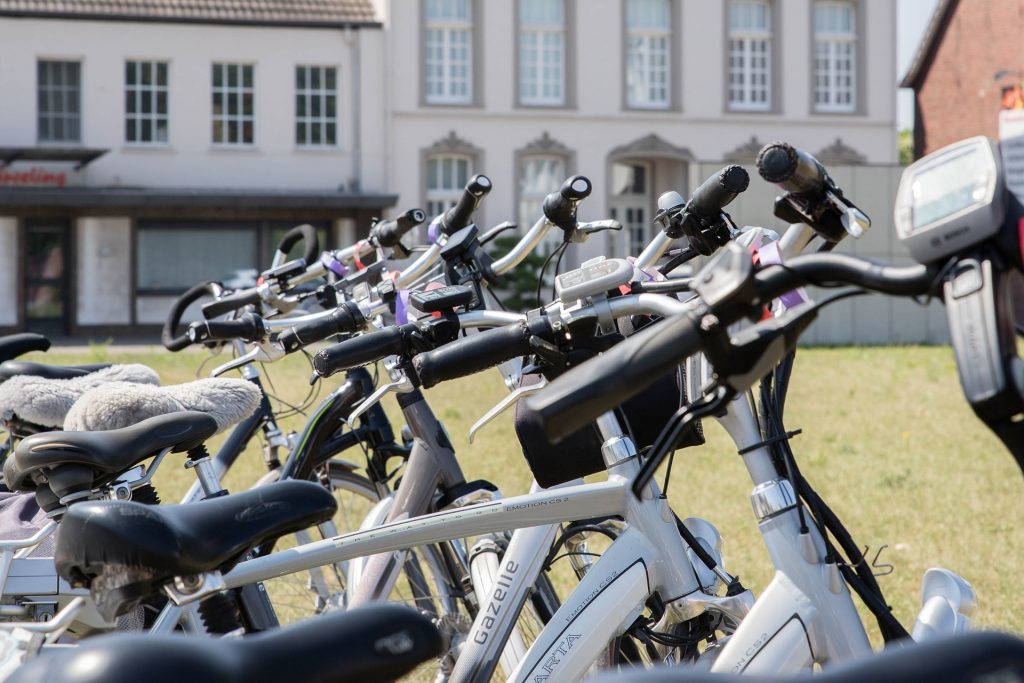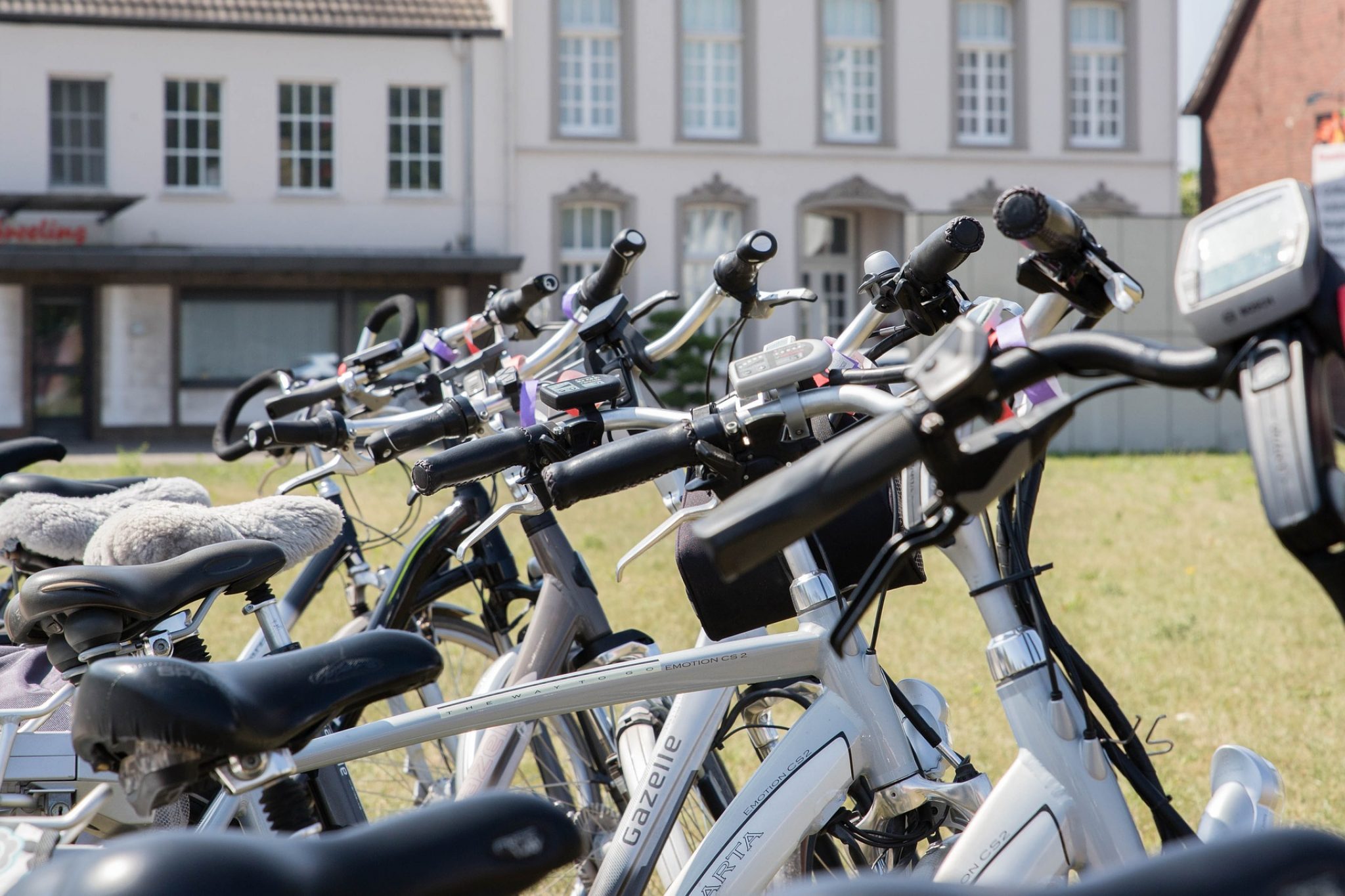 Fast and efficient
Urban congestion has become the main problem for most commuters, and electric bikes can help solve that. The fact that you can choose between different levels of assistance means you can power through empty streets with ease, and slow down and navigate with precision when it's congested.
It also allows you to go much longer distances than you could go by pedal-power alone, and when you finally get to your destination, you won't be too tired to even talk.
Cost-effective
Although they can be pretty costly, electric bikes are extremely cost-effective in the long run. The more you use it, the more money you'll save on fuel, car maintenance, registration, parking, tolls, and all the other costs associated with owning a car.
They can be even cheaper than public transportation if you use it every day. No more bus or train tickets and standing in crowds and queues.
Good for the environment
Climate change and global warming are some of the most pressing issues of today, and we all need to play our part in combating them. Ebikes can help you cut your carbon emissions tremendously when compared to a car.
When you get an electric bike, your friends and family will all be inspired to get one too, and so will their friends and families. This will result in much better air quality for your immediate surroundings. And who wouldn't want to ride their bike in fresh air instead of smog and pollution?