Best Recumbent Exercise Bikes In The UK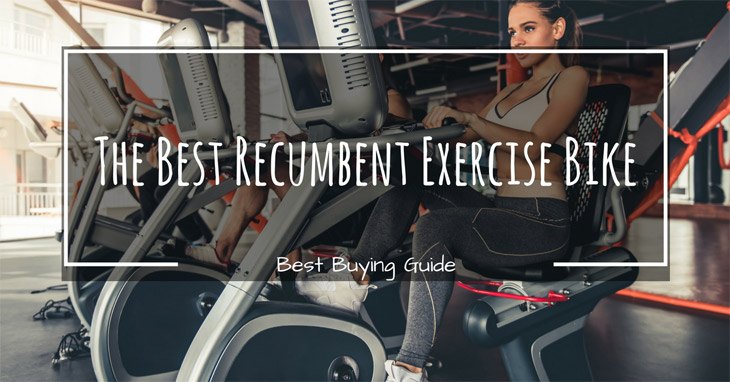 Best Recumbent Exercise Bike
Are you wondering what is the best recumbent exercise bike UK residents can buy for home use then look no further.
In this guide/article we will be bring you the best recumbent exercise bikes in different price ranges. In addition we will also be sharing all the important information that you need to know before purchasing.
If you are not 100% sure that a recumbent bike is for you then check the link below for information on all different types of exercise bikes.
What To Look For When Buying A Recumbent Bike
If recumbent bikes are new too you then there are a few things you should consider before purchasing one. Below we have compiled a list of the main things to look in to before buying.
Programmes
The best recumbent bikes for home use come with pre-set programs built in to the on-board computer/monitor. The more programmes the less likely the user is to get bored of exercising. These programs provide workouts for those of all fitness levels. In addition the more expensive recumbent bikes have the option to design your own workouts, so no excuses lol.
LCD Monitor Features 
The LCD monitor on recumbent bikes shows a host of statistics. Generally speaking the more expensive models tend to have more features. The main ones to look out for are time, distance, speed, calories burned and odometer.
Resistance/Flywheel
The resistance is an important factor when buying the best recumbent bike for home use. Ideally a exercise bike with a magnetic resistance system is the best option. The reason for this is that they tend to be a lot quieter and there is less wear and tear on the components.
The flywheel is the round weighted wheel at the front of a recumbent bike. The flywheel is either connected by a chain or belt drive. The purpose of the flywheel is to provide some form of resistance.
Max User Weight
As the title suggest this refers to the maximum user weight. Generally speaking the higher the maximum user weight the more well built the exercise bike is.
Warranty
For peace of mind its good to get a recumbent exercise bike with a good warranty. With there been so many parts/components used in the making of recumbent bikes there is bound to be a failure at some point in time. Many exercise bike manufacturers give a lifetime frame warranty if possible try to get one of these models.
Best Cheap Recumbent Bike
JLL RE100 Recumbent Home Exercise Bike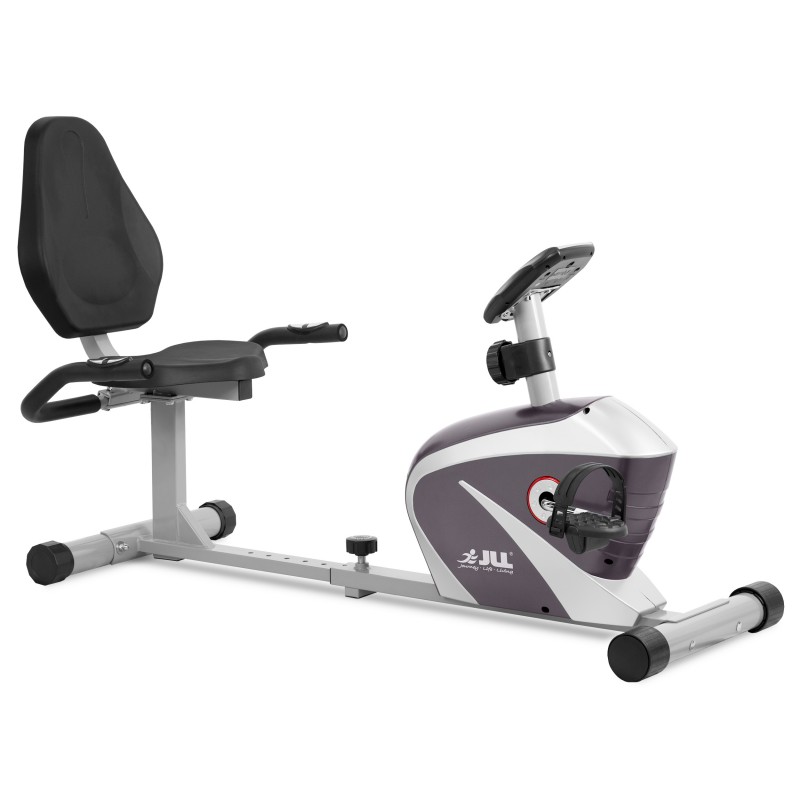 Features
Monitor that displays: Time, Speed, Distance, Calories and Odometer.
8 Levels of Magnetic Resistance
Hand grip pulse sensor.
Adjustable length on the seat with 7 different horizontal levels to choose from: Minimum length 110cm, maximum length 140cm.
5 different levels of adjustment on the toe straps for the pedals.
5kg Flywheel.
The Good
Very affordable
Really good Amazon reviews
Adjustable seat & toe straps for the pedal
Magnetic resistance
12 month warranty
The Bad
No pre-set programs
Our View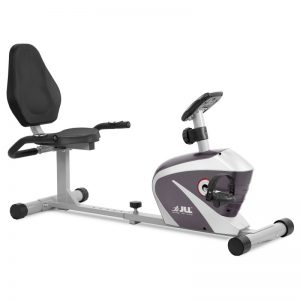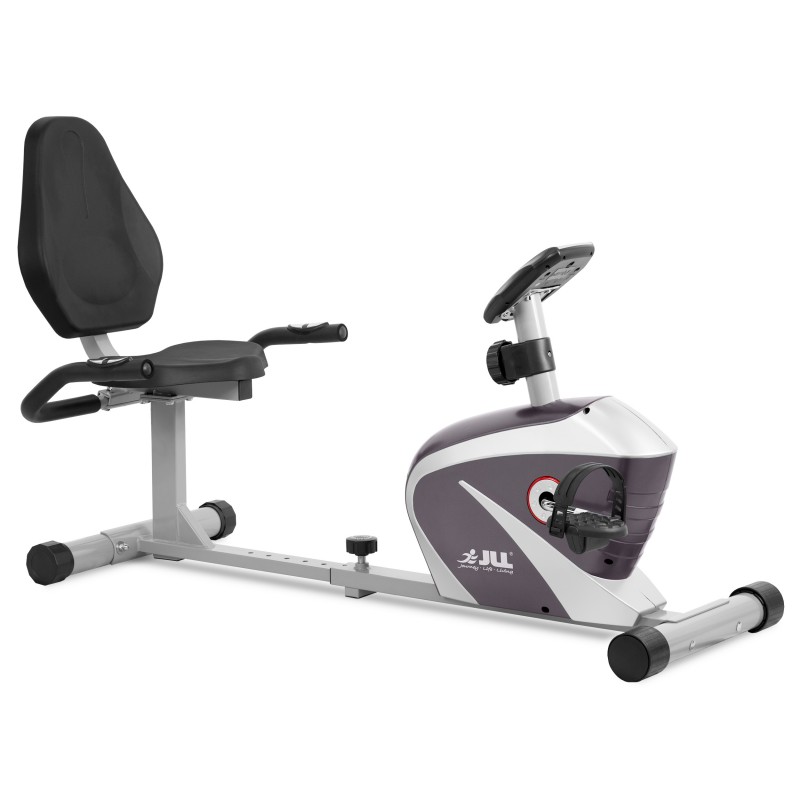 If you are looking for the best home recumbent bike on a budget then here it is. The JLL 110 provides great value for money and is hands down the best cheap recumbent bike available to buy.
This bike comes with 8 levels of magnetic resistance and is direct belt driven to be as quiet as possible when in use. With a maximum user weight of 100Kg you can be sure that this recumbent bike is sturdy and fairly well built. If your in any doubt about the quality of this bike, due to its price, then the 12 month warranty should alleviate any fears. The monitor shows time, speed, calories, distance and odometer for the price your really not going to get much more than that. All in all this is a good quality recumbent bike well within the budget of most people. If you are looking for pre-set programs built in then you are going to have to spend a little more.
£125.99
in stock
1 new from £125.99
Last updated on October 14, 2019 3:54 pm
---
Best Recumbent Bike Under 200
V-fit G-RC Recumbent Magnetic Cycle
Features
8 levels of adjustable magnetic resistance
Adjustable backrest, handlebars & oversize pedals
7-function LCD exercise monitor
Maximum user weight of 115Kg
6Kg cast iron flywheel
The Good
Magnetic resistance
Sturdy/well built
7 functions on the monitor
Reach adjustable seat
The Bad
No wheels for easy movement/storage
Our View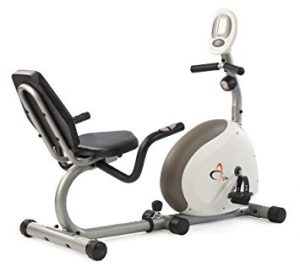 Is this the best recumbent bike under 200 pounds?
If reviews and sales are anything to go off then yes it is. The V-Fit G-RC recumbent exercise bike features a magnetic resistance system with 8 levels of resistance. There is a LCD monitor that features 7 functions these are calories burned, distance, pulse reading, speed, time, scan and total distance.
The durability is a sure thing been made from tubular steel longevity is assured. In addition this bike is finished with a chip resistant paint to cope with any knocks and bangs. There is a comfortable deep set seat which has the seat adjustment within hands reach making any adjustment an easy process.
To sum up this is the best recumbent exercise bike that those on a budget of £200 can buy. Most noteworthy is the fact that it costs a fair bit less than £200 so grab a bargain with this one.
£313.00
in stock
1 new from £313.00

Amazon.co.uk
Free shipping
Last updated on October 14, 2019 3:54 pm
---
Best Recumbent Bike Under 300
ProForm 310 CSX Recumbent Exercise Bike
Features
8 week weight loss centre
Mains powered
Magnetic resistance system
Hand grip pulse sensor
Programmes include: 8 weightloss and 8 intensity
Console feedback including: speed, calorie, distance, time, rpm
MP3 connectivity
16 level tension control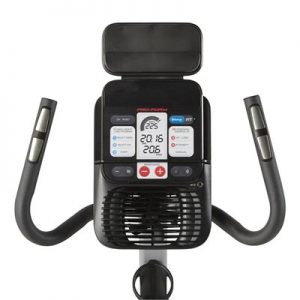 6kg flywheel
Self levelling pedals with pedal straps
Adjustable seat
Maximum user weight 125kg (19st 10lb).
The Good
16 user programmes
2 year warranty (parts & labour)
Water bottle holder
Mp3 connectivity
The Bad
Our View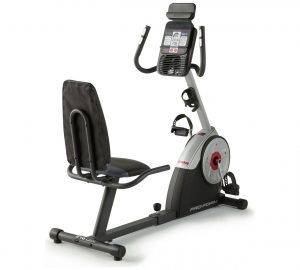 The first thing to say about this recumbent bike is the amount of features it has. When compared to the two previous models the difference is noticeable. This is because when you spend over £250 on a recumbent bike you tend to get a lot more for your money. Due to this many reviews say this is the "best recumbent bike for the money".
The ProForm 310 CSX comes with 16 user programs with eight of them been focused on weight loss and the other eight on intense workouts. Featuring magnetic resistance with a massive 22 levels of resistance for all fitness levels making it perfect for multi use.
This is a very comfortable recumbent bike and the water bottle holder and onboard fan make intense workouts a little more bearable. In addition there is also the added bonus of speakers and Mp3 connectivity for music to give that extra motivational boost. 
If weight loss is your aim then the 8 week weight loss programme will be highly suited. The onboard programme is tailored to help users reach there weight loss goals.
To sum up in a few words this is undoubtedly the best recumbent exercise bike under 300 pounds. If this amount is your budget i would go with this model every time.
out of stock
1 new from £460.51
Last updated on October 14, 2019 3:54 pm
---
Best Recumbent Bike Under 500
Kettler Cycle R Recumbent Exercise Bike 
Features
12 programmes including heart rate controlled option
Polar compatible receiver for use with chest strap (extra), for pulse measurement
Electronic magnetic resistance in 16 stages 
The LCD display is easy to operate and constantly shows time, distance, speed, pedalling speed, energy consumption time and date
Comfortable and secure seating position ensuring an optimum workout for everyone
The Good
Very well built
Four person memory
Perfect for injury recovery
The Bad
Chest strap for pulse measurement sold separate
Big, bulky and takes up a lot of space
Our View
The Kettler Cycle R is said to be the best recumbent bike for elderly people or those with mobility issues. The main reason for this is due to the low entry height which makes it easy to get on or off. However, just because this recumbent bike is ideal for the elderly don't assume the workouts are of a lesser intensity. This recumbent bike is suitable for those of all ages and fitness levels.
There are 12 programs with this bike and 16 levels to the magnetic resistance. In other words this recumbent bike has plenty to offer to achieve those fitness goals. The LCD screen is easy to operate and in addition to the usual features it also  has a 4 person memory option. The 4 person memory allows four different people to store their data and record their progress over time. As the pictures show, this is a well built recumbent bike and very sturdy when in use. If its a good recumbent bike for home use and under £500 you are after, then this is it, especially if you are elderly or suffer from bad knees or other mobility issues.

Amazon.co.uk
Free shipping
Last updated on October 14, 2019 3:54 pm
---
Best Recumbent Bike Under 1000
JTX Cyclo-5R Recumbent Exercise Bike
Features
18 Exercise programs including watt training
Option to design your own workout
16 Levels of silent electro-magnetic resistance
Bluetooth computer provides option to connect to the iConsole app
Mp3 player connectivity
Ventilated seat back with breathable sweat-resistant fabric
8.5Kg flywheel
The Good
Comes with free Polar heart rate chest strap

Lifetime frame warranty
Speakers and Mp3 connectivity
Max user weight 160Kg
The Bad
Our View
The JTX Cycle-5 pretty much has it all and comes in at way under £1000. There are a quite a few recumbent bikes in this price range, so why choose this one ? The reason we choose this one is because it has the same if not more features than more expensive models. In addition this recumbent bike comes with a lifetime frame warranty and a 3 years home repair service.
This recumbent exercise bike is classed as a light commercial model. This means it is designed and built from better materials than cheaper models and is designed for heavy usage. There are a massive 18 exercise programs and the option to design your own workout if the standard ones get a bit monotomous. Furthermore there is also the iConsole app which allows the user to connect through bluetooth and access the training guides.
There are 16 levels of silent magnetic resistance and a 8.5Kg flywheel which isn't the heaviest but more than suffices. In a few words this recumbent bike is great value for money and has more than enough features to keep anyone occupied. If its a comfortable, well built and sturdy exercise bike that you are looking for then this might be the one.
Last updated on October 14, 2019 3:54 pm
---
What Is A Recumbent Bike?
A recumbent stationary bike is just one of the few variations of exercise bikes that are available. The main difference between recumbent bikes and other exercise bikes is that the user is sat in a reclined position and not an upright one. Due to this and the fact that recumbent bikes place less stress on certain areas of the body, recumbent bikes are considered to be the best exercise bikes for those with bad knees and/or back pain. In addition this type of exercise bike is favoured by the elderly.
How To Use A Recumbent Exercise Bike
What Are The Benefits Of Recumbent Exercise Bikes?
Low-Impact Workout
Using a recumbent exercise bike is considered a low-impact workout. This basically means that the impact forces on  your body are fairly low unlike most forms of exercise which place a lot of impact stress on your ankles, knees and back etc. The good thing about this is that recumbent bikes can be used by those recovering from injury or as mentioned before the elderly or those with bad knees.
Good Cardio Workout
Using a exercise bike is a great way to give the body a cardio workout. Constant use will help to improve lung capacity and overall stamina. In addition if its weight you are looking to lose then again a recumbent bike is ideal for achieving those fitness goals.
Longer Workouts
It is well known that people who use recumbent exercise bikes tend to workout for longer when compared to other exercise machines. Many suggest that the main reason for this is due the fact that they are a lot more comfortable than other exercise bikes. Been sat in a reclined position places less stress on the body and this also helps contribute to extended workouts.
Helps To Build Strength
Using a exercise bike helps the body to build more lean body mass. This is due to the muscles that are used when exercising. Thighs, calves, glutes and buttoocks are just a few of the muscles used when training with recumbent bikes.
 Final Words
When buying the best recumbent exercise bike there is a lot to consider. If you have read the whole of this article and are thinking about buying a recumbent bike then with the information here it is more likely that you will make the right decision for your needs.
Last updated on October 14, 2019 3:54 pm