Top 3 Best Folding Treadmills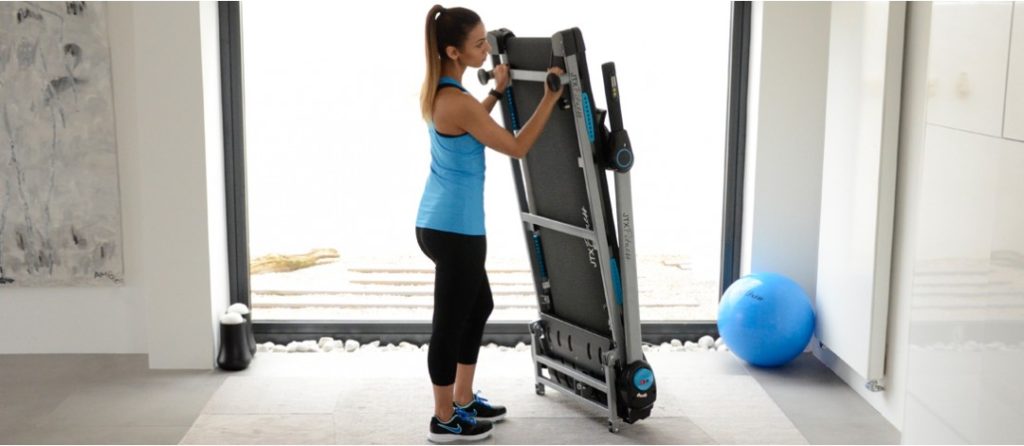 Having a treadmill in the home is a great way to still be able to reach your daily fitness goals on days when you are either too busy to leave the house or just not in the mood to go to the gym. The convenience of being able to go for a quick run at a moments notice is one of the many benefits of investing in a treadmill. However, one of the biggest drawbacks to this type of exercise machine is their sheer size and the amount of space they take up. Due to treadmills having such a large footprint there are many people that simply put the thought of buying one to the back of their mind. There is of course a way around this problem with a folding treadmill being the solution for those with limited space..
Folding Treadmills – Who Should Buy One
Many folding treadmills come with all of the same features you should expect to get when buying a regular treadmill. The main difference is of course the folding function which is the main selling point of this type of treadmill. If you have limited space or are looking to cram as many exercise machines and pieces of fitness equipment in to your home gym as possible then considering those with a fold away capability is a good idea.
It is worth mentioning that foldable treadmills tend to be more affordable than those that don't have a foldaway function. This is due to them being more compact in their overall design and having a smaller running surface. Consequently, less materials are used in their construction which helps to reduce the overall cost. So, if you are looking for a treadmill that won't break the bank again they are a good choice.
There are of course both affordable and more expensive options to choose from it all depends on what you are looking for in a folding treadmill.
Best For Small Spaces
Best For Value
Editor's Choice
JLL S300 Digital Folding Treadmil
Folded Dimensions - 73 cm x 24 cm x 157 cm
Folded Dimensions - 68cm x 60cm x 120cm
Folded Dimensions - 100 cm x 70 cm x 141 cm
Programs - 6 manual, 1 custom
Programs - 12 manual 3 custom
Programs - 15 manual, 3 custom
Running Area - 125 x 41cm
Running Area - 120 cm x 40 cm
Running Area - 123 cm x 41 cm
Best For Small Spaces
Folded Dimensions - 73 cm x 24 cm x 157 cm
Programs - 6 manual, 1 custom
Running Area - 125 x 41cm
Best For Value
Folded Dimensions - 68cm x 60cm x 120cm
Programs - 12 manual 3 custom
Running Area - 120 cm x 40 cm
Editor's Choice
JLL S300 Digital Folding Treadmil
Folded Dimensions - 100 cm x 70 cm x 141 cm
Programs - 15 manual, 3 custom
Running Area - 123 cm x 41 cm
What To Look For In A Folding Treadmill
When choosing a treadmill with a foldable function there are a number of key points to first take in to consideration.
Dimensions – With lack of space been the main reason most people choose to invest in a fold away treadmill it makes sense to take a look at the dimensions before buying one. Although they are typically a bit smaller than a regular treadmill they are still quite big and can take up a considerable amount of room. It is highly recommended that you take a tape measure and check that you have enough room for your chosen model first.
Folded Dimensions – The difference between the folded dimensions of individual treadmills is quite significant and some are considerably more compact than others. Again it is recommended that you check the folded dimensions to see if they are suitable for your storage needs. In our reviews we have only included models that represent good value for money and have a compact design when folded.
Portability – Considering the majority of people who buy a fold up treadmill intend to put it away when they have finished there workout it is a wise decision to make sure it has storage wheels. Most models do but some are better than others with the JTX SlimLine being a prime example of a treadmill that is easy to move around.
Running Area – A good size running area is definitely something to keep an eye out for when browsing different options. With foldable treadmills anything below 120cm x 40cm is considered small.
Best Folding Treadmill
1
Nero Sports Pro Treadmill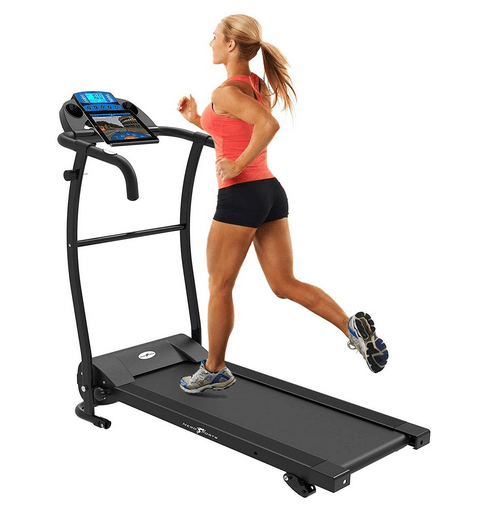 First up we have the very popular Nero Sports Treadmill which comes with some features that are usually only found on more expensive models. If you are looking to buy a compact treadmill that can be easily stored away when not in use it comes highly recommended for that purpose.
The Good
Considering the very affordable price it may surprise some people when they see this model comes with Bluetooth connectivity and a downloadable app for tracking all of your activity. Compatible with iPhones and iPads the app records your workout data on both the Nero treadmill and when you are doing any other form of exercise. It allows you to set personal goals, compete against other users and is a great motivational tool for losing weight and increasing cardiovascular fitness.
When folded the dimensions of 68cm x 60cm x 120cm mean the Nero Pro can be tucked away in a corner without taking up too much room.
It comes with a brightly lit LED screen and the on board computer allows you to keep track of important workout data such as time, distance, speed and calories burned. There are even pulse sensors built in to the hand rails for measuring heart rate which is another great feature for such an affordable treadmill.
For a testing workout the 3 incline levels add an extra level of intensity and mean you won't outgrow this treadmill any time soon. In addition the 12 programs will keep you entertained and there is even the option to custom your own workout.
The Not So Good
The maximum speed of 10km/h might not be fast enough for those with very good fitness levels. The suspension system isn't the best but then we were surprised it even had one as they are usually reserved for models that cost a bit more than this one.
Our View
With a good mix of quality and affordability it is well worth considering the Nero Pro if you have limited space and are on a budget. There are quite a lot of foldable treadmills in the budget price bracket but not many of them are as good as this one.

Powerful 700 watt Motor treadmill
Foldable - Folds away for easy storage
Free shipping
Last update was in: May 17, 2022 8:37 pm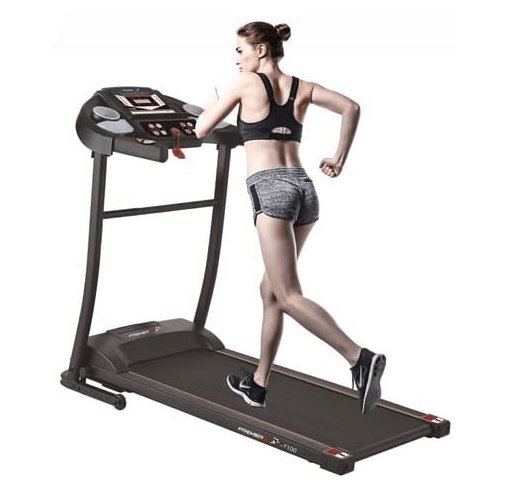 Another popular choice for those on a budget is the T100 by PremierFit. In terms of features it is very similar to the previous model with the biggest difference being that there is no Bluetooth connectivity with the model. However, it does come with built-in speakers which is preferable for some people.
The Good
In total the T100 comes with 15 built-in exercise programs of these 12 are pre-set and 3 of them are manual, meaning you can customise your own workouts. What we really like about the 12 pre-set programs is how they alternate from low to high in intensity which has been proven to burn more calories and provide a more effective workout.
In terms of readouts the LED display monitors various time and speed settings, calories burned and gives information about the chosen exercise programme. Another positive feature are the pulse sensors for monitoring heart rate and for heart rate training.
The maximum speed of 10km/h should be adequate for most people and there is a fixed incline of 4%. The speed can be adjusted in increments as low as 0.1Km/h making this treadmill suitable for both jogging and running. This is great for those that may have let their fitness levels dip a bit as it gives you more control over the intensity of your workout.
When is comes to overall design quality the T100 is considerably heavier than the previous model and is noticeably more sturdy to run on. Furthermore the running area is a bit bigger with dimensions of 110cm x 40cm it is a good size for the price.
The Not So Good
This isn't a deal clincher for some but It is a shame there is no Bluetooth connectivity with this treadmill.
Our View
The T100 is another very reasonably priced folding treadmill that is hard to overlook if you are on a limited budget. With some impressive features it offers really good value and has a sturdiness to it that you don't get with many cheap folding treadmills.

Last update was in: May 17, 2022 8:37 pm
3
JLL S300 Digital Folding Treadmill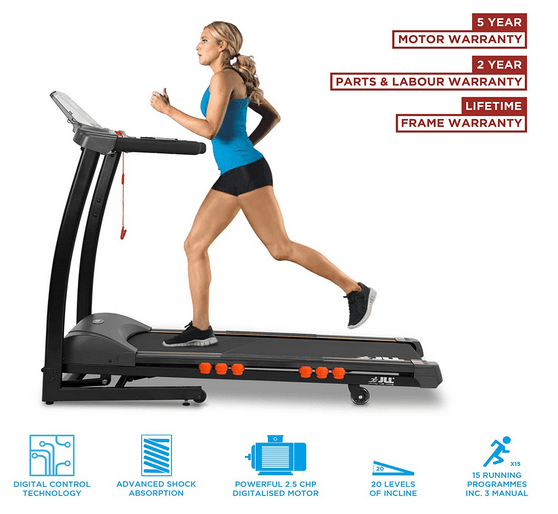 The JLL S300 is a step up in terms of quality on the models we have featured so far and in our opinion it is worth the additional cost, especially if you are looking for a folding treadmill that will put you through your paces. The S300 is one of the best selling treadmills in the UK and has been for quite some time. With positive feedback and reviews from previous buyers its a good choice for those looking to buy a top quality home treadmill with a folding function.
The Good
With speed settings ranging from 0.3 km/h to an impressive 16 km/h the S300 is capable of giving a very testing workout. In total it comes with 15 running programs and has an incline that features 20 different levels. There are also 3 custom programs for creating your very own workout. To be honest the 15 pre-set programs are quite varied and most people probably won't use the custom programs but they are still good to have.
In terms of readouts given the LCD monitor shows your workout time, distance, speed, calories burned and heart rate. The running area of 123cm x 41cm can't be complained at either and there is even a built-in cushion deck for reducing impact on the knees, hips and ankles.
Those that like to listen to their favourite music while working will be glad to hear that the high powered speakers are of good sound quality. Compatible with both iPod and iPhone, as well as featuring MP3 connectivity and a USB interface there are plenty of options for blasting tunes out. 
The Not So Good
Taking the price in to consideration there isn't really anything bad that can be said about the S300.
Our View
The JLL S300 is simply one of the best folding treadmills in its price range and if your budget stretches this far you should definitely check it out. When compared to other similar priced models there is no comparison as the S300 even comes with features and specifications that are more impressive than many other treadmills that cost a lot more.

Speed ranges from 0.3 km/h to 16 km/h; Incline ranges from 0 to 20 levels
5-Inch LCD monitor displays time, speed, distance, heart rate and calories - 15 running programs, first 3 programs can be customised; High powered speakers; iPod, iPhone, MP3 connectivity and USB interface
Last update was in: May 17, 2022 8:37 pm
4
JTX Slim Line Flat Foldable Running Machine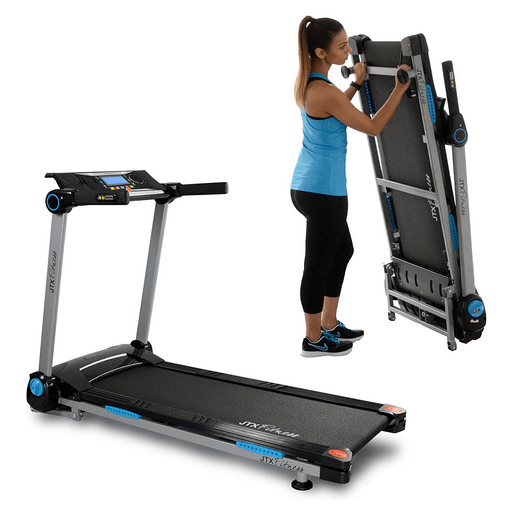 The JTX Slim-Line is a premium folding treadmill that comes with a compact design and once folded away it takes up very little floor space. Considering models in this price bracket are usually quite bulky even when folded, it is by far the best option for those looking to buy the best folding treadmill for small spaces.
The Good
With saving space and portability in mind treadmills don't get much better than this one. As mentioned the design is very compact and it can even be folded completely flat allowing it to fit under a bed or even in a cupboard when not in use. The storage wheels make moving the Slim-Line around easy enough due to them moving in all directions, which is a big help.
There is a top speed of 14km/h with the JTX Slimline and combined with the 15 levels of incline there is a good workout to be had. In total there are 7 built-in programs and like us you were probably expecting more for the price. However, the quality of the exercise programs and the workouts they offer are some of the best we have seen on a foldable treadmill.
There is also a large digital display that allows users to monitor various readouts incuding time, distance, speed and calories. Furthermore there is a shock absorption system which is well designed for reducing impact on the joints and is another positive feature to have.
The Not So Good
With this been the least affordable option in our top list the price might put some people off.
Our View
With folded dimensions of 73 x 24 x 157cm the JTX is a great choice for anybody with very little storage space. It comes with all the features you need in a good treadmill for home workouts.

THIS COMPACT FOLDING TREADMILL: delivers an outstanding running experience. Totally flat folding for easy storage. 15 LEVELS OF DIGITAL INCLINE and a 14KPH TOP SPEED. It's delivered fully assembled.
ELECTRIC & MOTORISED: With a 1.5 HP high grade motor and a top speed of 14KPH. There are 7 built in programs, hand pulse sensors and built in speakers.
Last update was in: May 17, 2022 8:37 pm
Final Words
With saving space been the main concern for most people when choosing a folding treadmill we highly recommend the NERO Pro Treadmill for those on a budget. It comes packed with features and provides unbeatable value in its price bracket. If you can stretch the amount you can afford to spend on a treadmill the JLL S300 is our top choice in the mid-price range. This is one of the most popular models in the UK with a high top speed and a lot of exercise programs its not hard to see why. For overall quality and compactness the JTX Slim-Line takes the top position. With a folding design that allows you to put it under the bed or even inside a cupboard it is a top choice for those with limited space.