Best Table Tennis Tables For Indoor And Outdoor Fun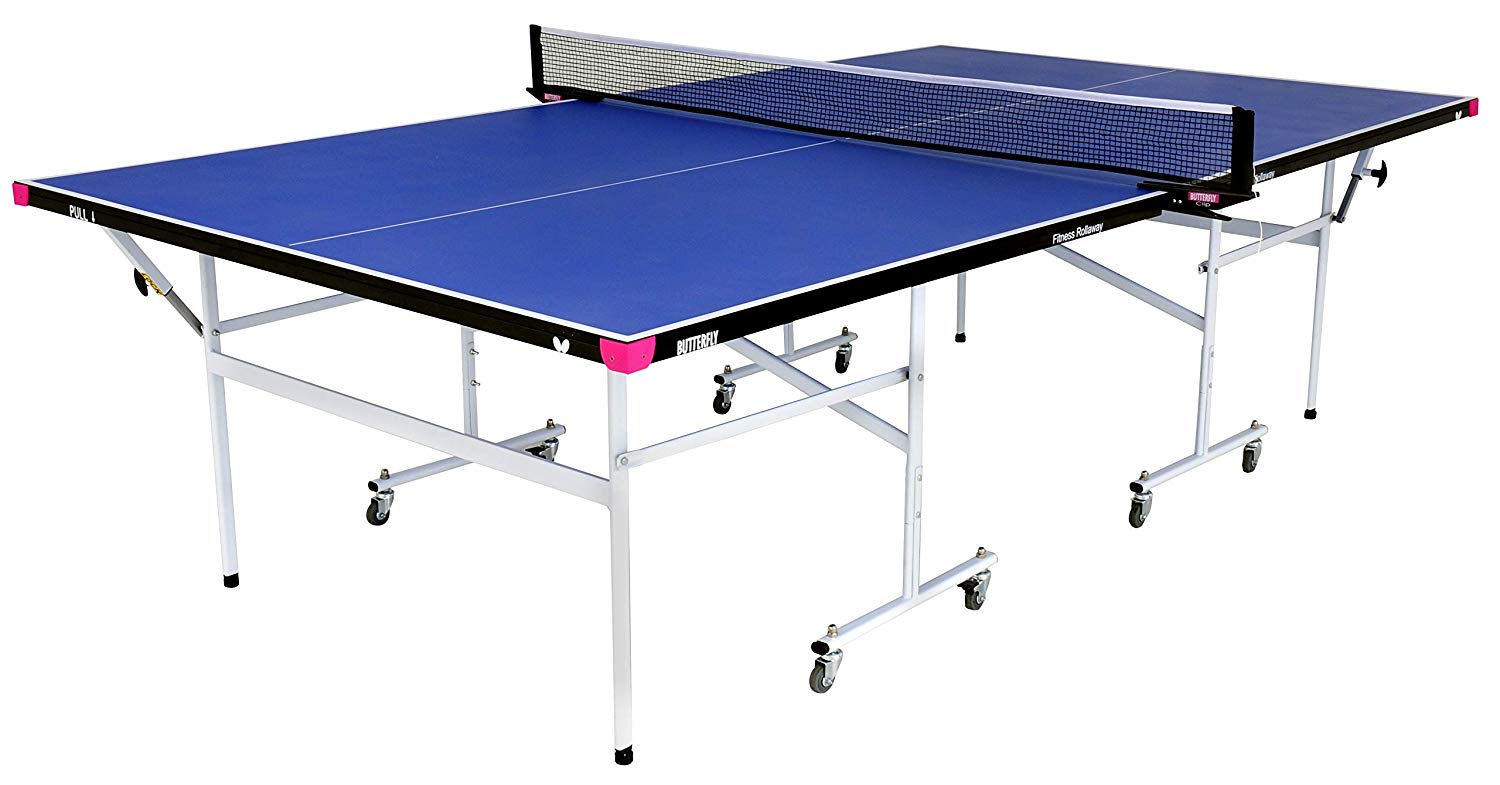 Table tennis is one of only a few sports that you can play in the comfort of your own home and with relatively little outlay. All you need is a couple of bats a few balls and a good table tennis table and away you go. This fun, fast-paced and action packed game provides hours of entertainment and can be enjoyed by almost everyone. If you play table tennis regularly at a club then you may possibly already have thought about the benefits of having a table in the home. Whether it be an indoor or outdoor table making the decision to invest in the best table tennis table your budget allows for is by far the biggest step you can take to improving your overall game.
On the other hand, if you are just looking for a table that is good enough for the kids and family to have a bit of fun with then you really don't have to worry about spending too much. No matter what type of table tennis table you are looking for we have you covered. In this guide we will be sharing all the information you need to know as well as bringing you our top recommendations in our table tennis table reviews.
Recommended Table Tennis Tables
[amazon table="7429″]
Choosing The Best Table Tennis Table
There are a number of things to consider when choosing a table tennis table but by far the biggest factor that determines the overall quality and game play of a table is the thickness of the table top. The thicker the table top the better and as you might have guessed table tennis tables with the thickest table top are the most expensive.
The thickness varies from model to model but will typically range from between 12mm to 25mm. However, there are a few tables to be found with a thickness of 30mm.
If your budget allows it is recommended that you stay clear of tables with only a 12mm thick table tennis top. These are usually made by generic brands are very low quality and don't offer a good ball bounce that you get with a good quality table.
For most a table with a thickness in the mid-range will be adequate enough. This type of table falls between 16mm to 19mm thick gives good bounce and ball speed. The Butterfly Indoor Table Tennis Table is a popular choice offering a mix of both affordability and quality. It has a thickness of 16mm and is perfect for family use being durable enough to last a good number of years before and signs of deterioration.
Those who have played table tennis for some time and intend on doing so for the foreseeable future would probably be better off investing in one of the best table tennis tables on the market. This doesn't mean you have to spend a fortune as there are some very good and reasonably priced tables out there, if you know what to look for that is.

Do You Have Enough Room?
Stating the obvious table tennis tables are big! How big are they? Well to be exact a professional sized table is 274cm long, 152cm wide and 76cm in height. These dimensions along with room to move around the table and actually play table tennis take up quite a lot of space, but then you probably already know that. That been said most tables come with the exact dimensions of professional tables and it is wise to make measure up the room or garage you intend to use. If you don't have enough room in the house or garage you could always choose to buy an outdoor table tennis table instead.
Indoor Table Tennis Table vs Outdoor Table Tennis Table
The choice of choosing between an indoor and an outdoor table tennis table is one worth giving some serious thought. Or you could just choose to buy one of the very versatile indoor and outdoor tables and do away with this part of the buying process.
The main difference between a indoor and an outdoor table tennis table is the material that the table tennis top is made from. Indoor tables have a playing surface that is made out of wood and outdoor tables are usually made out of metal or a combination of both metal and wood. With the difference in material used there is also a difference in how the table tennis ball reacts to the surface.
In terms of playability with an outdoor table there is slightly less bounce and as a whole the ball does leave the surface slightly slower. Another drawback is that outdoor tables tend to be more expensive than their indoor counterparts.
Does It Allow For Solo Training
Not having a partner to practice with on a regular basis can be a big setback that will ultimately affect how fast you progress at playing table tennis. A great way around this is to choose a table tennis table that allows for single player practice. Known as "playback" this is a great feature to have and one that ensures you will get plenty of use out of your table. The playback position simply allows half of the table to be folded up in a fixed position from which the ball is rebounded off. When you get used to training with the playback facility you can get some really good rally's going.
Best Table Tennis Tables
1
Butterfly Junior Table Tennis Table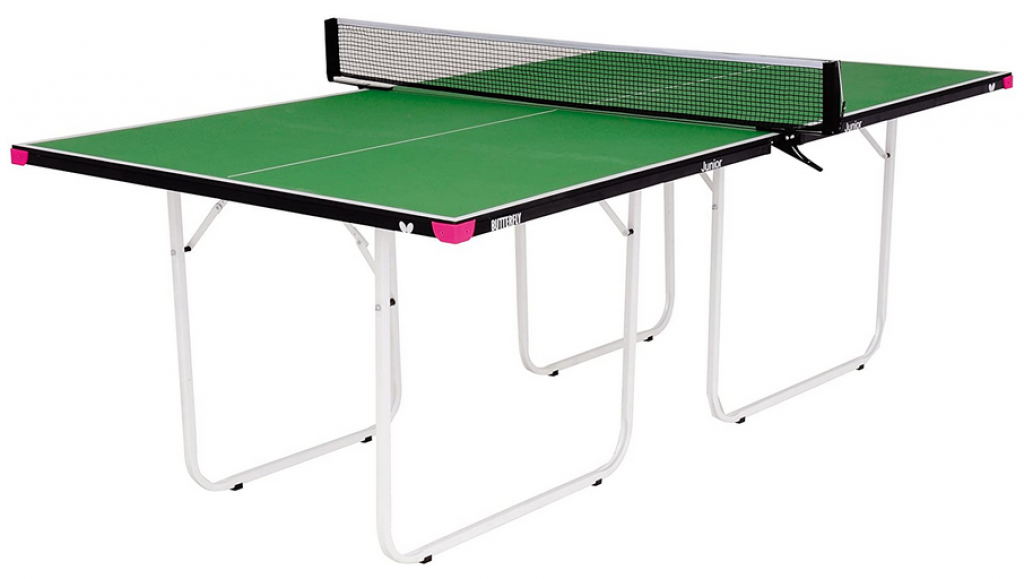 Specifications:
Dimensions – 206 x 115 x 77 cm
Table Top Thickness – 12mm
Weight – 32.5 Kg
Butterfly are one of the leading brands and they have a wide range of tables to suit all budgets. With children in mind this compact junior table tennis table is a great choice, especially if space is limited. At 3/4 the size of a full table and featuring a space-saving folding design it folds up nicely and doesn't take up too much room. The table can be split in to two halves for easy storage and the legs fold in to the top making it nice and compact.
At 12mm thick the playing surface isn't the thickest but it is more than adequate for kids and family fun. Weighing 32.5 kg it is very well-built for a junior table and overall surprisingly sturdy. Due to the quite heavy weight the kids might need a hand when setting up.
With every purchase you get a couple of reverse sponge bats and a few balls giving you everything you need to get started. It also comes with an impressive 3 year guarantee which is reassuring.

The Junior Rollaway Table Tennis table from Butterfly - one of the world brand leader
Three quarter size table ideal for homes where playing space is limited and a full-size table would be too big
12 mm playing surface that is protected by a strong steel frame with stable magenta corner pieces
Free shipping
Last update was in: November 27, 2021 10:02 am
2
Wido Full Size Indoor/Outdoor Table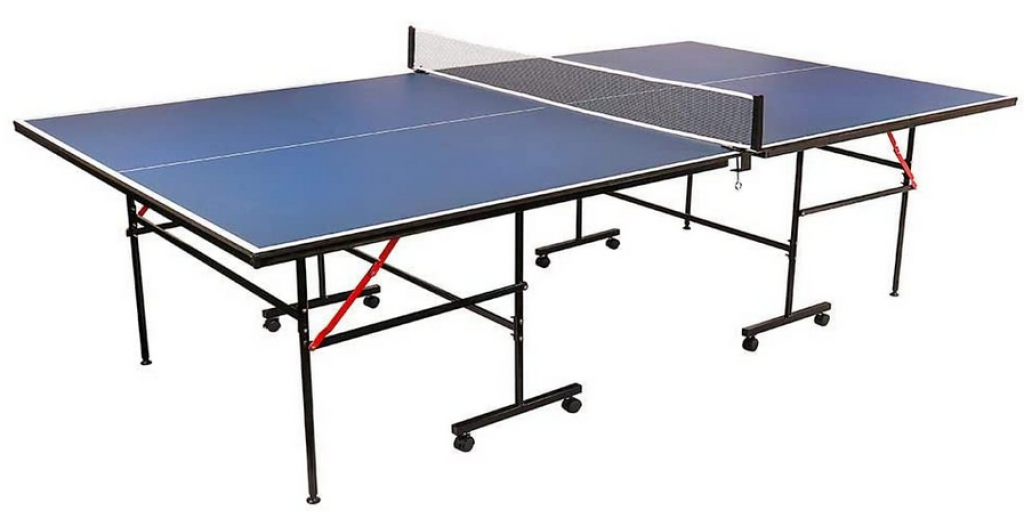 Specifications:
Dimensions – 275 x 153 x 73.5cm
Table Top Thickness – 13mm
Weight – 55 kg
Wido are by no means a big brand in the table tennis world but we had to include this model in our top list due to its versatility and great price. If you are on a limited budget this full size indoor and outdoor table might be just what you have been looking for.
With a 13mm table tennis top it just passes the 12mm thickness that we recommend you avoid. With a smooth plastic coated surface it is possible to use is outside as it is weatherproof to a degree. Although you can use this table to play outside it is highly recommended that you store it in a warm and dry place when not in use. Another positive is the durable net which has two spring loaded posts ensuring good net tension.
Unfortunately you don't get any bats or balls with this package. That been said it might be more economical to buy a table that costs slightly more if it has a good set of bats included.

Last update was in: November 27, 2021 10:02 am
3
Butterfly Fitness Indoor Table Tennis Table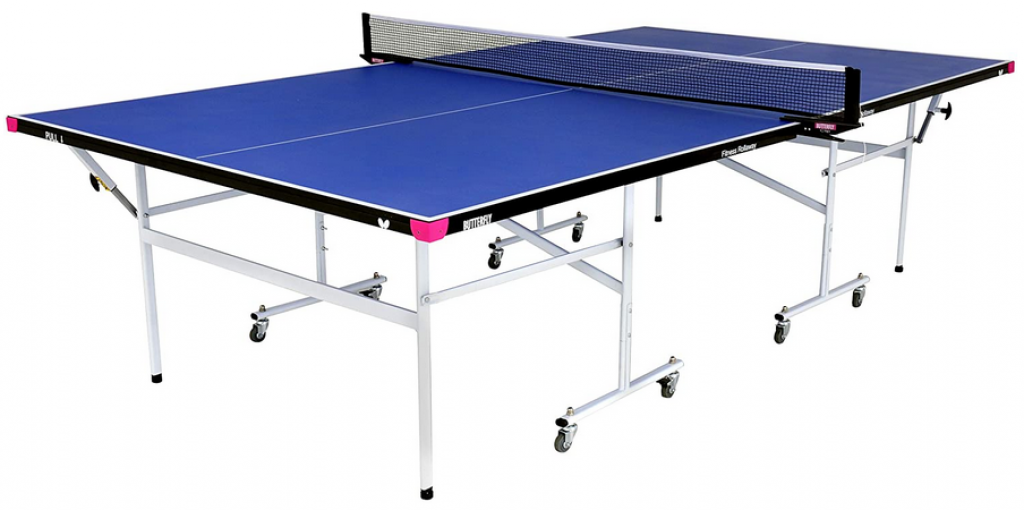 Specifications:
Dimensions – 183 x 155 x 80 cm
Table Top Thickness – 16mm
Weight – 68.5 kg
A step up from the previously featured model is another Indoor Table Tennis Table from Butterfly. Offering a good mix of affordability and quality it is a popular choice for those not looking to spend too much on good quality table tennis table for home use.
With a 16mm playing surface you can be confident this table has a good bounce and no dead spots like you tend to get with thinner and cheaper models. It features an 8 wheel design which makes setting up and storing it away an easy process.
What we really like about this indoor table is that it comes with the playback function allowing you to practice by yourself.
Again there is a 3 year warranty and it comes with a set of bats and balls. There is also the option to choose between a green or blue playing surface.

The fitness table tennis table from Butterfly – one of the world brand leader
Ideal for home use; with a 16 mm playing surface that provides and consistent bounce
Eight wheel leg system that offers economic storage and lighter rollaway benefits
Last update was in: November 27, 2021 10:02 am
Specifications:
Dimensions – 274 x 152.5 x 76 cm
Table Top Thickness – 19mm
Weight – 58 kg
Kettler are another brand with a very good reputation for their high-quality table tennis tables. Their full range of tables includes models for all budgets with the Axos 1 being one of their most affordable and popular choices.
The Axos 1 is a full size table that comes with a very impressive 19mm solid wood table tennis top. At this thickness there should be no complaints as this is more than suitable for both fun and serious practice. With the playback facility there is also the option for single player practice which is a must have for those that wish to improve their game.
Featuring 4 steerable wheels this table is easy to move around and the put away. One complaint that pops up in customer reviews though is that it takes quite a long time to assemble.

Easy-to-mount, detachable net.
Standalone training possible through playback position.
4 steerable wheels.
19 mm special wooden top.
Compact design:For height of 1.71 m.
Last update was in: November 27, 2021 10:02 am
5
Butterfly National League Table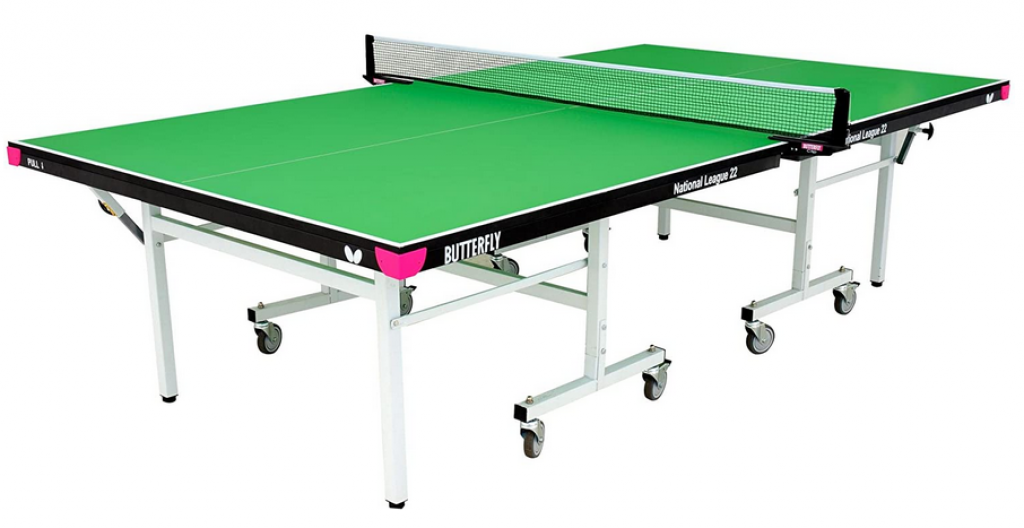 Specifications:
Dimensions – 274 x 153 x 76 cm
Table Top Thickness – 22mm
Weight – 65 kg
If you are looking to buy one of the very best indoor table tennis tables they don't get much better than the Butterfly National League Table. Costing considerably more than any of the previous models featured in our reviews, we think it is worth the added expense.
With a very impressive 22mm thick playing surface it has consistent bounce in all areas of the table. Another positive is the heavy-duty design and the use of 30 x 38mm steel in its construction. With high quality materials like these you can be certain that this is a durable and very sturdy model that will last for years.
Like all of the top tennis tables it features an 8 wheel system for easy storage and portability. It also comes with a height adjuster on each leg to to ensure you have a perfectly level playing surface.
Like all table tennis tables made by the Butterfly brand it comes with 2 reverse sponge bats, 3 practice balls and a 3 year guarantee on the table.

Ideal for home use and also light school use
22mm Blue or Green Playing surface in two separate halves
Legs fold for storage, two wheels for easy movement and storage
Includes Clip net and post set, 2 reverse sponge bats and 3 practice balls
Last update was in: November 27, 2021 10:02 am
Recommended Outdoor Table Tennis Tables
1
Kettler Axos 1 Outdoor Table Tennis Table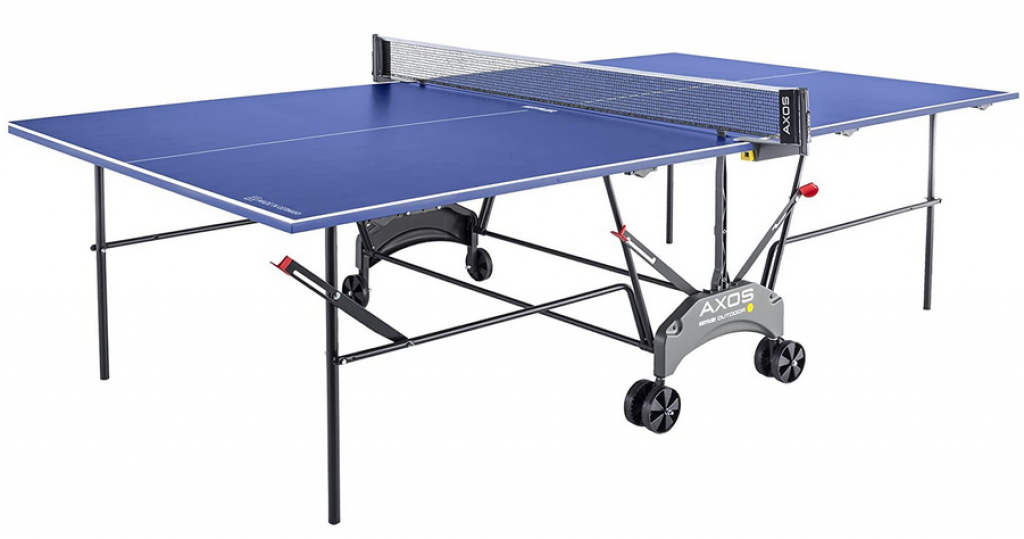 Specifications:
Dimensions – 274 x 152.5 x 76 cm
Table Top Thickness – 22mm
Weight – 68.5 kg
Similar to the indoor version the Kettler Axos 1 Outdoor table tennis table is a very popular model with excellent feedback from previous buyers. It comes with a 22mm thick playing surface that is made out of an aluminium compound and offers complete weatherproof protection from the elements. It also features a non-glare surface ensuring you don't get blinded by the sun on hot days.
In terms of overall build quality being made from the best materials it is extremely durable and will without any doubt last for a very long time. When folded up it is relatively compact and doesn't take up that much room. It also comes with a tarp cover for protection when not in use.
Unbelievably, there is a 10 year guarantee with this model on the table tennis top and a 3 year guarantee on the undercarriage. In our opinion this just goes to show how well-built this outdoor model actually is.

Last update was in: November 27, 2021 10:02 am
2
Cornilleau Sport 100S Crossover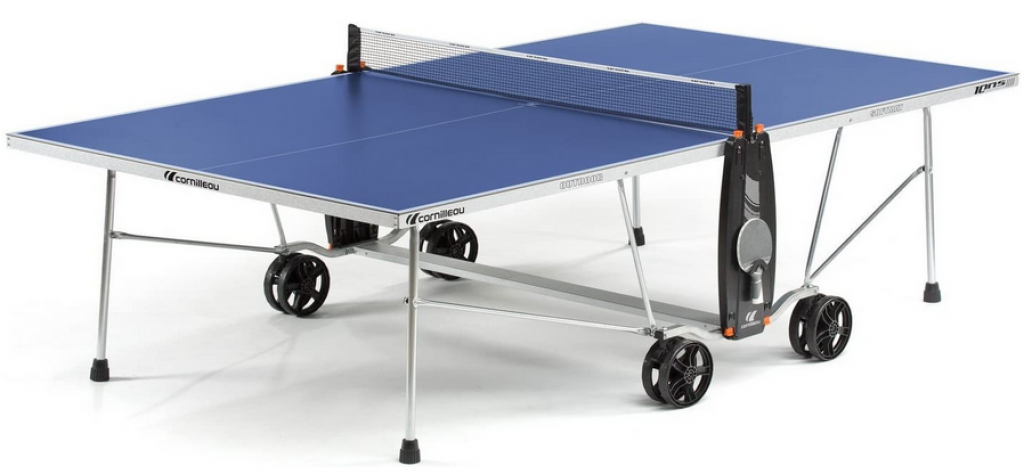 Specifications:
Dimensions – 274 x 155 x 75 cm
Table Top Thickness – 5mm resin laminate on top of a 35mm thick metal frame
Weight – 48 kg
Another popular choice for outdoor table tennis fun is this table by Cornilleau Sports. Cornilleau Sports produce some very fine outdoor models and their full range has options that cater for all budgets. The Cornilleau 100S is the budget model in their range and a prime example of the overall quality of this brands tables.
First of all this is a table tennis table with a difference as it comes with a resin laminate playing surface. The laminate surface is completely weatherproof and reduces glare from the sun better than most. The resin laminate is 5mm thick and is built on top of a 35mm metal support frame for increased durability.
There is of course the playback facility with this table and it is also backed with a very impressive 10 year guarantee. This should alleviate any fears for those worried that the 5mm laminate surface won't be thick enough. One thing we really like is the bat storage on each side of the table which is very convenient.

Table Top: Blue 5mm resin laminate with soft mat top on 40 mm corrosion/scratch-resistant steel frame
Legs & Wheels: 25mm sturdy steel legs with adjustable feet and large diameter 200mm wheels
Net & Posts: ABS fixed posts
Last update was in: November 27, 2021 10:02 am
Final Words
Offering a good mix of affordability and quality the Kettler Axos 1 is a top contender for the best table tennis table. The truth is it all depends on your budget and what it is you are looking for. In our table tennis table reviews we have included the best models from different price brackets for both indoor and outdoor models, so there should be something in there for most people's needs. Hopefully, the information included in this guide brought you a step closer to finding the right table tennis table.