Bring the Fun Outdoors: A Guide to Finding the Perfect Table Tennis Table for Your Yard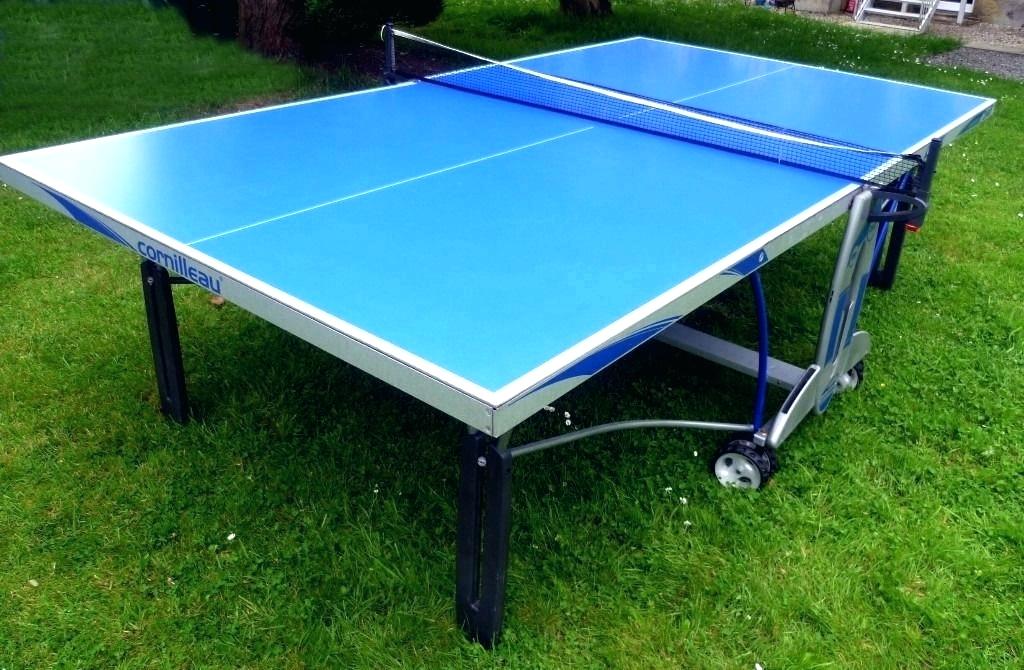 Recognizing the best outdoor table tennis table is not difficult. Made to withstand changing weather, these tennis tables are more robust than their indoor alternatives. From compact designs to Olympic-size tennis tables, they are made with weatherproof materials.
Without an impact on the quality of the game, outdoor tennis tables use materials such as composite, aluminum, plastic, and resins resistant to warping. Some of the following releases combine these unique materials into fast playing surfaces that are made to last.
What Are The Best Outdoor Table Tennis Tables
1. JOOLA Nova – Outdoor Table Tennis Table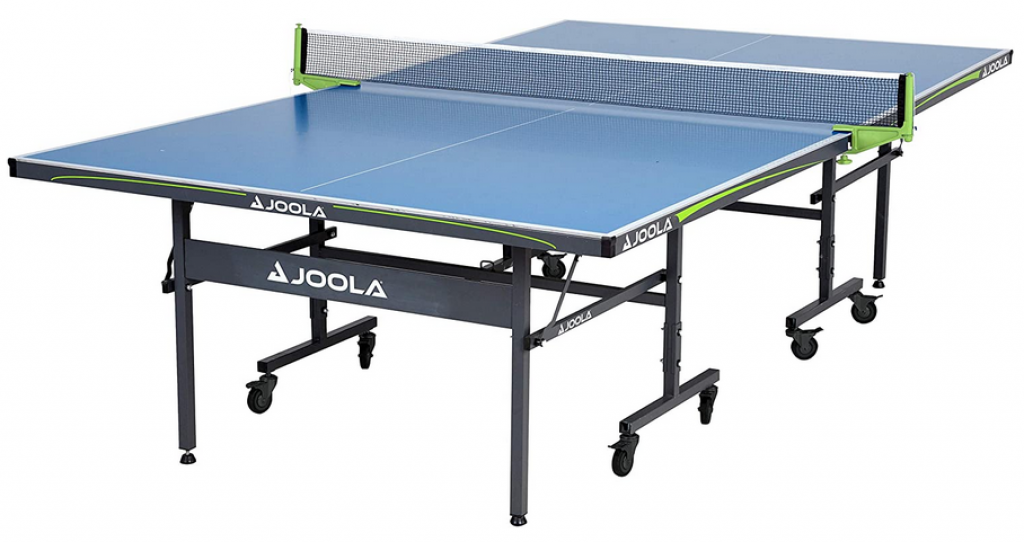 Made with unique tabletop materials such as plastic, aluminum, and composite, this release is foldable and mobile. Since its tabletop is thinner than most alternatives at 6mm, it is also lighter, which means its design favors garage or shed storage with better mobility.
Key features
Apart from being made by an Olympics sponsor, the tennis table is durable and reliable for residential use. It even comes with small wheels for quick transportation.
Composite tabletop
The composite tabletop allows great bounce and a responsive surface with less material. This is where the Olympics profile of the brand is seen and experienced table tennis players appreciate it more as a result.
95% assembled
Delivery is quick and the tennis table comes pre-assembled. This means no special tools are required to put it together. Those thinking about it as a gift are also glad to know the tennis table comes 95% pre-assembled out of the box.
Trusted name
JOOLA has been seen as a sponsor at the Olympics and the World Cup. This is why those into table tennis can appreciate it more than those new to the sport. This is why it only takes 15 minutes to have the table ready for quick games once out of the box.
Pros
Made by a trusted brand
Includes composite materials
Quick 15-minute assembly
The net offers a tensioning system
Cons
Small wheels for gravel surfaces
2. Wido Full-Size Tournament Tennis Table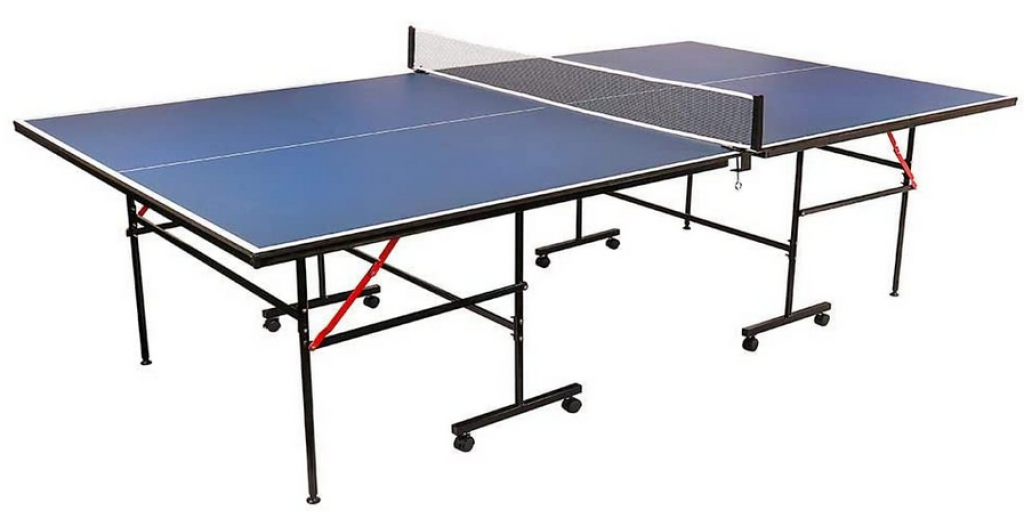 Made with a foldable design, the outdoor tennis table can easily be installed within minutes. Its ideal location is a flat surface and table tennis lovers can either install it on a patio or somewhere in the backyard. With a sturdy profile and included transportation wheels, the table tennis can roll into the garage when not in use.
Key Features
Unlike most of its alternatives, the STIGA XTR is made with durable materials. Since it comes pre-assembled, it only requires a bit of patience before playing the first game. It can also be installed by a single person.
All-weather aluminum
The aluminum used in its frame construction makes the tennis table a reliable option when it comes to all-weather fun. Even during low temperatures specific to winters or during the summer months, it still maintains its shape and sturdiness.
10-minute setup
Since it comes pre-assembled, there's not a lot for users to worry about. It is estimated this outdoor table tennis is installed in an average of 10 minutes, which includes the 72in net setup. It's also worth noting this net is also made with a durable profile, specific to outdoor use.
Legs with levelers
Another major advantage is given by the legs with levelers design. Since not all surfaces are even, such as patio or grass grounds, the levelers allow small adjustments for the perfect table tennis game.
Pros
Made with all-weather aluminum
The legs are designed with levelers
Measures 275 in length and 153cm in width
Installs in minutes
Cons
Aluminum glare in strong sunlight
3. Kettler Outdoor 10 Table Tennis Table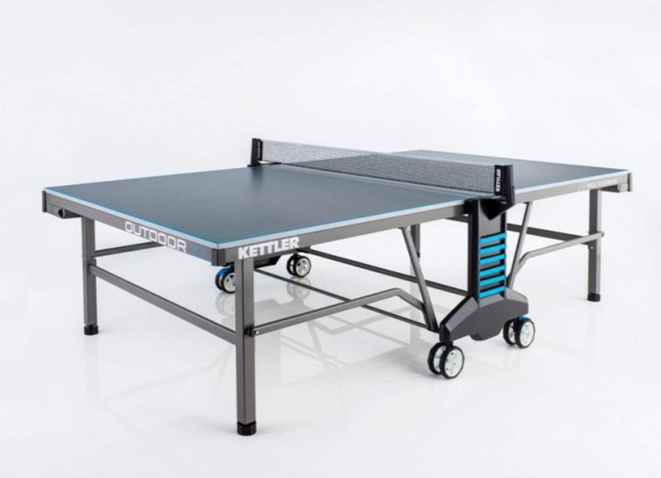 This German design impresses with its attention to detail. This is why the tennis table is recommended for the most demanding players who value things such as an included ballbox, removable corner protectors, and single-hand locking.
Key features
The German design is ready to be used both indoors and outdoors. Some of its features are borrowed from professional designs, which make it even more appealing to dedicated table tennis players.
Prevents warping
Made with galvanized steel legs with powder coating, the frame of the table is made so that it resists warping. Its materials and finish are suitable for intense use in families where table tennis is a major attraction.
Alu-Tec waterproofing
Made with the unique Alu-Tec technology, the table is covered in a special aluminum surface for durability. This surface maintains its shape even in high or low temperatures.
Single-hand folding
The single-hand folding mechanism installed by Kettle is another major advantage. It allows instant adjustments. Those who value playback and practice games find this particularly appealing. Since it allows faster operation, the single-handed design is also valuable in environments where the table needs to be unfolded frequently.
This is why it can even be used in commercial spaces where players book tables multiple times per day. For added convenience, the table also comes accessorized with a special cover. It protects the tennis table from the elements while not in use.
Pros
Made with an aluminum top
Includes a ballbox
Supports single-hand locking
Great for children with added corner protectors
Cons
It takes around 2 hours to fully assemble
4. HOMCOM Mini Tennis Table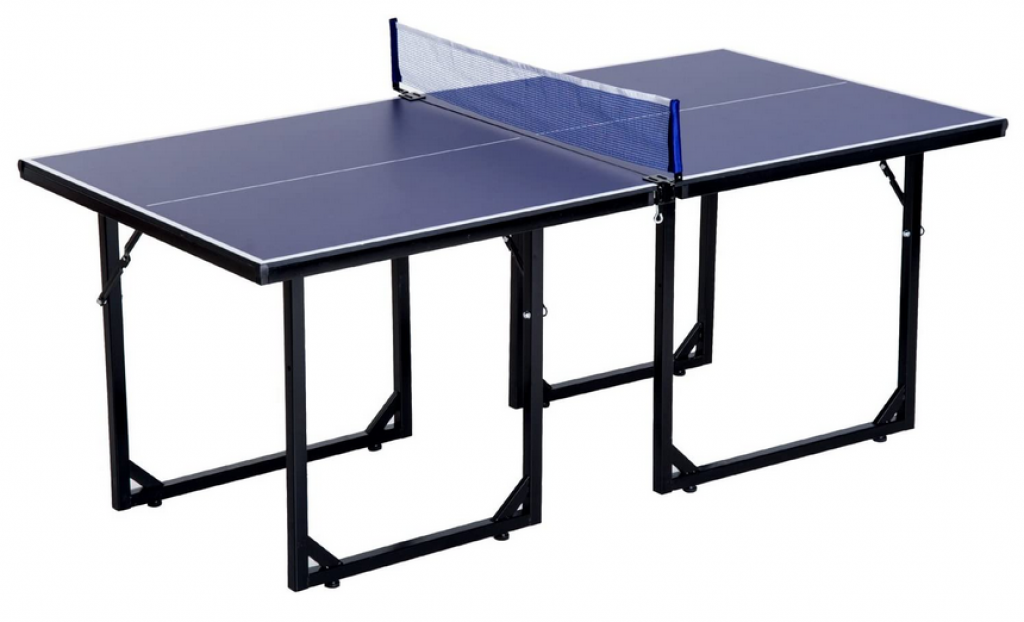 Made with a compact size, this tennis table is suitable for small homes, patios and limited storage space. It has instant setup which means there are no screws and washers to worry about. Those who value practicality above size find it very appealing.
Key features
Such a small tennis table usually has just a few parameters to be judged on. This is also the case of the GoSports tennis table with its minimalistic approach. However, these are their main strengths to consider.
Mid-size practicality
At a length of 183cm and a width of 91.4cm, the tennis table is among the most interesting options for adults and kids playing together. It is used both indoors and outdoors. The little table tennis players value it even more as they don't yet have the strength to deal with an Olympic-style alternative.
Folding design
This folding outdoor tennis table is easy to store away in a garage with its folding design. When not in use, it can even be separated in halves. But the most important characteristic of the folding design is that it doesn't require any assembly.
Aluminum durability
Even if the table is small, it still features durable materials. Its aluminum frame is designed to work well outdoors where it's not impacted by rain or by the sun's UV rays. With a smooth playing surface, it offers all the thrills of a full-size tennis table.
Pros
Easy to fold away
Made with an aluminum frame
No assembly required
Cons
Not made for experienced players
5. Kettler Axos 1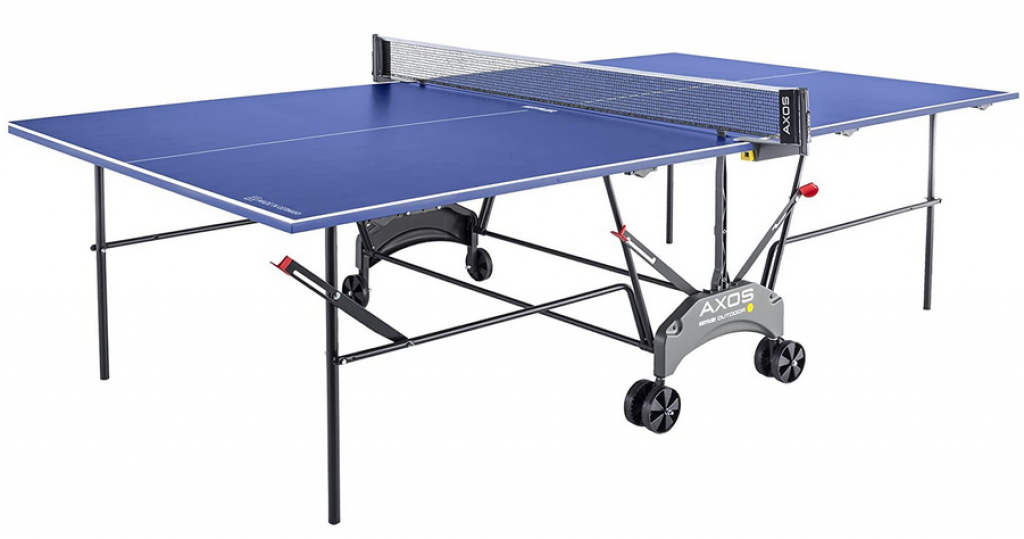 Inspired by indoor tennis tables, this outdoors design is also practical and foldable. Its main quality is its tournament bounce. At a drop height of 300mm, it has a 210mm bounce, which means its suitable for the most experienced table tennis players.
Key features
This pro-inspired design comes equipped with everything it needs. Furthermore, a cover is also shipped with the tennis table which saves buyers from other unnecessary purchases.
Pro bounce
The pro 210mm bounce of the tennis table its mains strength. When playing, this allows good bounce and faster playing speeds. As tennis table skills improve, the table is ready for action at a higher pace.
Dual-lever safety fold
For safety purposes, the German design comes with a dual lever safety fold. This stops accidental closing or opening. It keeps players safer. Together with unique swivel casters, it also makes the transportation process safer and easier.
Pros
Made with true tournament bounce
Suitable for easy storage
Includes paddles and a table cover
Cons
It takes a few hours to assemble
6. Butterfly Compact 19 Table Tennis Table with Net Set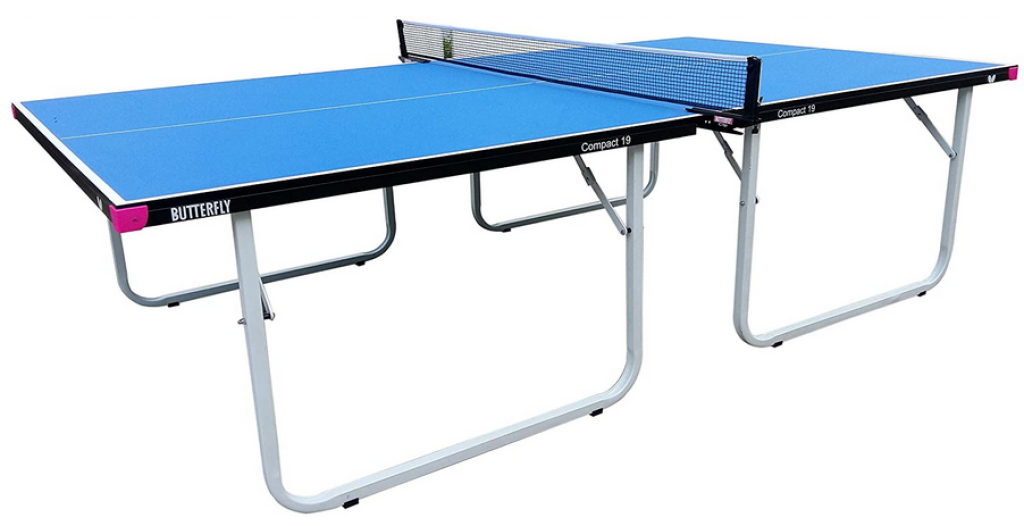 This tennis table is specifically made to save storage space. Its foldable legs are already attached and it saves players time and effort with each setup. With an included net, the table is also useful for a quick setup during a long game out in the sun.
Key features
Made with either 19mm or 16mm tops, the tennis table offers good bounce at a size that is abiding by regulation. Furthermore, the table supports various types of skills and it only lacks storage options for the paddles to be a perfect companion for players of all ages.
Regulation size play
At a size of 9X5, the tennis table is abiding by rules and it allows practice sessions even for experienced players. Those who want a true tennis table experience also value its true size more than those new to the sport.
Long warranty
A manufacturer's warranty of 3 years is offered with the Butterfly Compact. Unlike many of its alternatives, it is covered for all types of weather damages which could occur during this period.
Pros
Made according to regulation sizes
Offers a choice between 16mm and 19mm tops
Suitable for quick storage
Cons
Heavy for single-person operation
7. Cornilleau – Pro 510M Outdoor Table
Made with a 7mm laminate surface, the table tennis is recommended for glare reduction. This issue is known for outdoor table tennis players, specifically when playing in mid-day, when the sun is the strongest.
Key features
The table tennis is made for commercial outdoor use. While it can also be a solution for residential use, its stainless steel net recommends it for heavy use.
Galvanized steel durability
Made with galvanized steel, the table tennis is ready to offer a durable playing surface, not affected by changing temperatures. But this also means it's one of the heaviest of its class.
Stainless steel net
The insertion of the stainless steel net makes this outdoor table robust, ready for multiple daily play sessions. It can even be used in parks and other outdoor areas. Since it's made from steel, the net doesn't need to be removed from the table in-between games. It's made to sit on the table as it's not affected by UV lights, changing temperature or rainwater.
Color options
Available on the silver and blue top, the tennis table is ready to fit any type of outdoor decoration. However, it doesn't come with any wheels which means its rather fixed, once installed.
Pros
Made with galvanized steel
Includes a 7mm laminate surface
Treated against glare
Cons
Doesn't include transportation wheels
8. Cornilleau – 500M Crossover Outdoor Table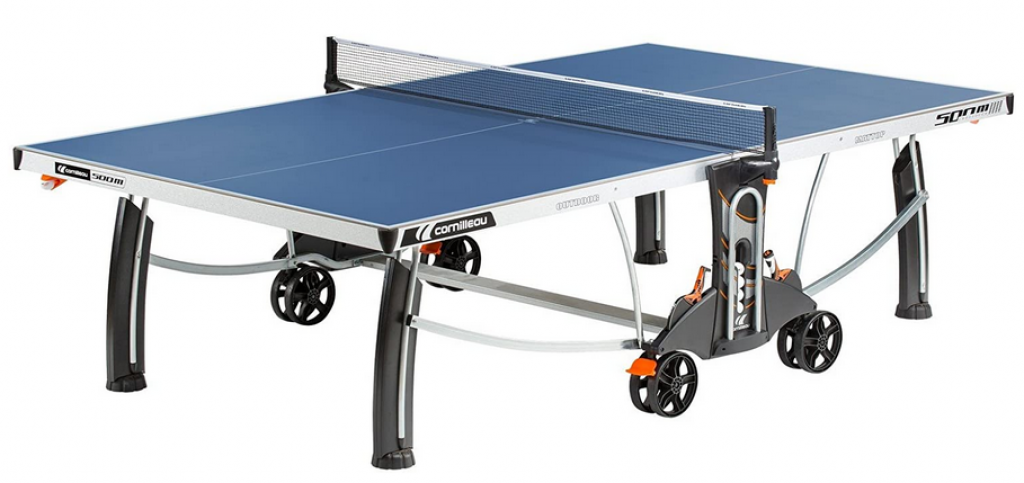 The outdoor tennis table is ready for action for players of all ages. Even kids can move it around the yard with the help of its oversized wheels. Unlike many others in its class, these wheels easily tackle gravel and grass surfaces without sinking. Such large wheels are rare to find in most tennis tables. This is why they offer a valuable answer to all types of uneven surfaces to be transported around the house. Since they're not filled with air, there's no flats risk neither.
Key features
Apart from its attractive wheels, the outdoor tennis table is also ready to be used in playback for proper skills improvements.
8" wheels
Designed with 8" oversized wheels, the tennis table is ready for action on any type of surface. Taking in and out of the garage is easy, especially for clear sunny days when there's no mud or debris to worry about.
Great bounce
The supportive bounce of the tabletop is ensured by a popular 7mm laminate surface. Seen in top tennis table alternatives, the surface is useful for a professional-like bounce and responsiveness. In terms of actual game improvements, this allows players to go for faster speeds and a more direct approach to each game. Those with the best tennis table skills appreciate fast surfaces as they support tournament practice.
Steel frame
Made from pure steel, the tennis table is ready to deal with harsh outdoor conditions. Apart from its net and wheels, there are no plastics to worry about.
Pros
Made with a bouncy tabletop
Includes 8" oversized wheels
Finished for glare reduction
Cons
Poor assembly instructions lack detail
View More Models On Decathlon UK
9. HLC 9FT Professional Full-Size Folding Table Tennis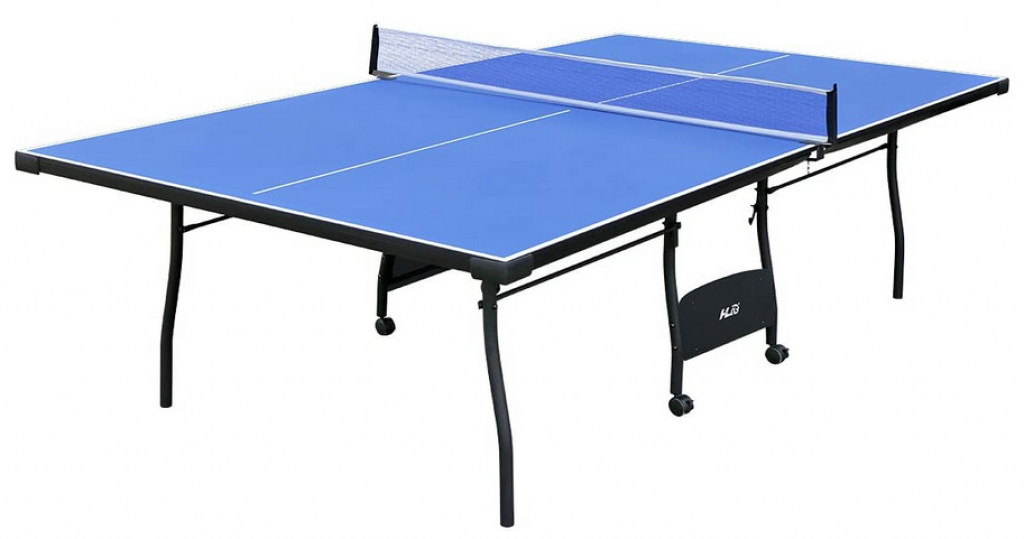 Made with sturdy materials, the outdoor tennis table comes with a width of 160cm. Perfect for a single or double play, it installs quickly. However, it is heavier than an indoor alternative and this is why it comes with quick roll wheels.
Key features
Designed for practicality, the table assembles quickly and it also cleans quickly with a wipe. However, its main advantage is given by the folding design which supports quick practice sessions.
Quick roll wheels
The extra quick roll wheels support mobility. When table tennis is installed, it can be moved on a flat surface with no help. However, it won't be lifted without any help. This is why the quick roll wheels are only used for short-distance movement.
Leg levelers
The leg levelers allow uneven height compensation. Instead of heaving the table lean to one side, users simply create the perfectly-level playing platform. Some force is required when adjusting one of the 4 table legs, however.
Playback adjustability
Those who want to practice and improve table tennis skills can do so with the help of its folding design. With playback adjustability, the tennis table may even be used by a single player at a time.
Pros
Includes a table cover
Supports playback adjustability
Designed with quick roll wheels
Cons
10. Killerspin MYT Lee Table Tennis Table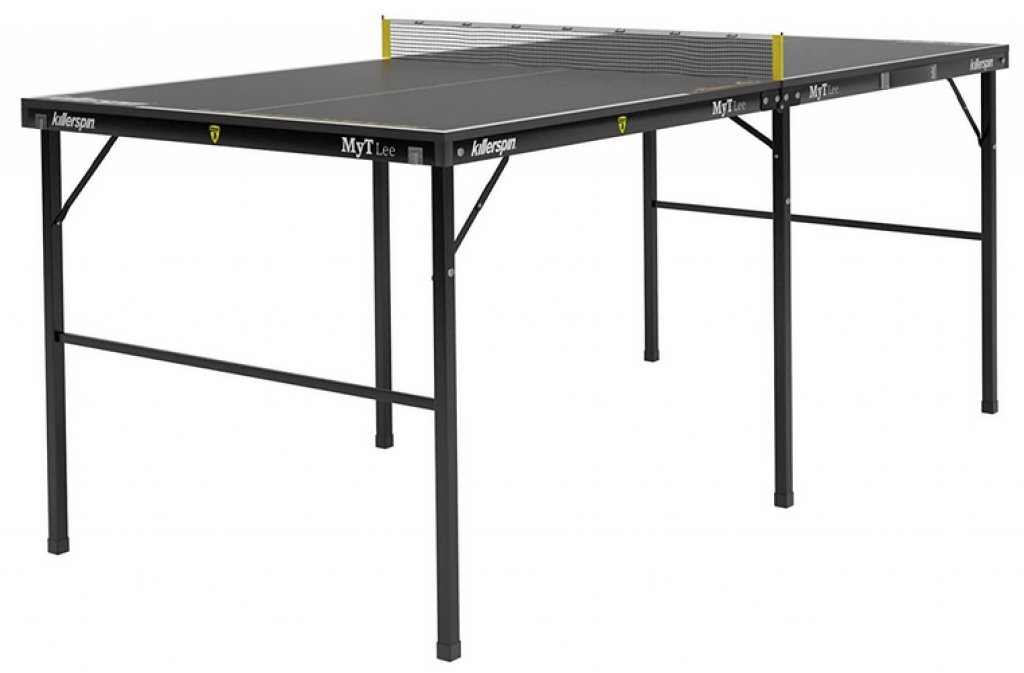 With a 30in X 30in size, this compact tennis table is an all-in-one solution for those new to the game who want to play outdoors. Featuring an aluminum tabletop, it's as durable as the leading names on the market. Being water-resistant, the table can also be left outside in the rain.
Key features
Among its unique features such as a net which stores in a compact bag, the tennis table also includes practical a practical side with its foldable design.
Foldability
Unlike most similar outdoor tennis tables, the Killerspin design comes with attached foldable legs. It allows all users to take the compact tennis table in the more inspiring locations to get active. This is the reason many users take the table outdoors to the park. But it may also be one of the tennis tables with a dual function. Since it is smaller than a full-size design, it can also be used indoors during the winter months.
At a weight of just 42lbs, the outdoor tennis table is also easy to carry. Those who want to quickly load it inside the car can do so without needing the helping hand of a family member. Furthermore, it can also be the main attraction of a party. Even the manufacturer recommends its design to be used at various outdoor social events.
Aluminum-plastic top surface
The tabletop is made from an aluminum-plastic mix. This is what keeps rust and deterioration away as much as possible. Furthermore, the materials don't negatively impact ball bounce.
Pros
Made with a foldable design
Compact 30in X 30X design
100% weather-resistant construction
Cons
Best brands for outdoor table tennis tables
When it comes to outdoor table tennis tables, there are several reputable brands that consistently deliver high-quality products. One of the top brands in the industry is Cornilleau. Known for their innovation and durability, Cornilleau offers a wide range of outdoor tables that cater to both recreational and professional players. Their tables are designed with weather-resistant materials and feature advanced playing surfaces for optimal ball bounce and spin.
Another popular brand in the outdoor table tennis market is Kettler. Kettler tables are known for their German engineering and attention to detail. Their outdoor tables are built to withstand the harshest weather conditions and are designed with features such as adjustable legs, playback options, and easy folding mechanisms for convenient storage.
For those looking for a more budget-friendly option, JOOLA is a brand that offers excellent value for money. JOOLA outdoor tables are designed with weather-resistant materials and feature sturdy construction for long-lasting durability. Their tables are easy to assemble and come with convenient features such as playback mode and built-in wheels for easy transportation.
Types of outdoor table tennis tables
When it comes to outdoor table tennis tables, there are three main types to choose from: weatherproof tables, outdoor tables with a playback feature, and permanent outdoor tables.
Weatherproof tables are specifically designed to withstand all types of weather conditions. These tables are made from durable materials such as aluminum or synthetic laminate, which are resistant to warping, rusting, and damage caused by moisture. Weatherproof tables are a great option if you live in an area with harsh weather conditions or if you plan on leaving the table outdoors year-round.
Outdoor tables with a playback feature are versatile options that allow you to practice and play by yourself. These tables have a hinged top that can be folded up to create a vertical backboard, allowing you to hit the ball against it and practice your shots. The playback feature is especially beneficial for beginners or players who want to improve their skills without needing a playing partner.
Permanent outdoor tables are designed to be installed in a fixed location and are often made from more durable materials such as concrete or steel. These tables are ideal for public parks, schools, or community centers where a permanent outdoor table is required. While they may not offer the flexibility of other types of tables, permanent outdoor tables are extremely sturdy and can withstand heavy use and vandalism.
Features to look for in an outdoor table tennis table
When choosing an outdoor table tennis table, there are several features to consider that can enhance your playing experience. Firstly, look for a table with a high-quality playing surface. The playing surface should provide consistent ball bounce and spin, allowing for a fair and enjoyable game. Tables with an anti-glare coating or a matte finish are also preferable as they reduce the sun's reflection, making it easier to see the ball.
Another important feature to consider is the table's frame and undercarriage. Look for tables with a sturdy frame made from materials such as steel or aluminum, as this will ensure stability and durability. The undercarriage should also be robust and well-designed to withstand heavy use and prevent the table from wobbling during intense gameplay.
Additionally, consider the table's safety features. Look for tables with rounded corners and edges to minimize the risk of injury during gameplay, especially if you have children or inexperienced players using the table. Some tables also come with a safety locking system that prevents accidental collapses, providing added peace of mind.
Lastly, consider optional features such as adjustable legs, built-in ball and paddle storage, and playback mode. Adjustable legs allow you to level the table on uneven surfaces, ensuring a consistent playing surface. Built-in storage compartments can be convenient for keeping balls and paddles within reach, while the playback mode allows you to practice solo and improve your skills.
Conclusion: Enjoying table tennis in your own backyard
Bringing the fun outdoors and enjoying a game of table tennis in your own backyard is an excellent way to create lasting memories and bring people together. By following the tips and considerations outlined in this guide, you can find the perfect outdoor table tennis table that suits your space, budget, and playing needs.
Whether you're a casual player looking for some recreational fun or a serious enthusiast aiming to improve your skills, investing in a high-quality outdoor table tennis table will provide countless hours of entertainment and enjoyment. So, get ready to transform your yard into an exciting table tennis arena and bring the fun outdoors!
Last updated on November 23, 2023 3:40 am