Best Exercise Bikes Under £200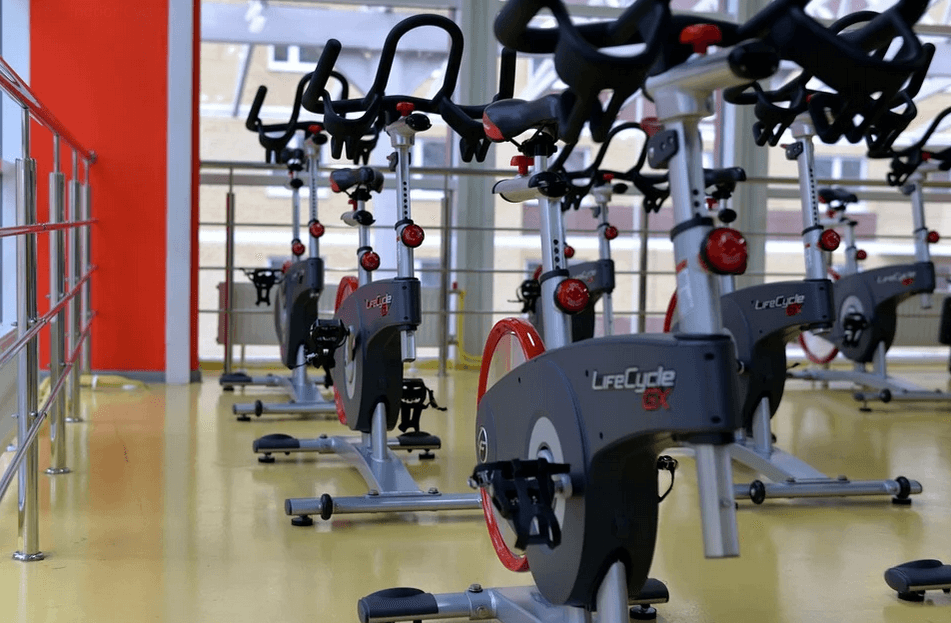 Best Exercise Bikes Under £200
If £200 is your budget then no doubt you are wondering what are the best exercise bikes under £200. In this article we will be highlighting the best models within that price range. In addition we will also be giving a quick rundown of the bikes best features and explaining what makes it the best within this price bracket.
What To Expect For £200 When Buying an Exercise Bike
When spending £200 on an exercise bike the first thing to remember is that £200 will get you a budget exercise bike. Been a budget model usually means low quality and design. However among the cheap bad quality exercise bikes there are a handful of very good budget ones. These models provide great value for money in terms of features and overall quality. All of the models featured in this article are bestsellers on Amazon and come with excellent customer feedback.
What To Look For
Warranty – the first thing to look out for is a warranty for this price it should be at least 12 months. Some models have better warranties than others bear this in mind.
Adjustable Seat & Handlebars – Having an adjustable seat and handlebars allows the user to find the most comfortable riding position.
Pre-Set Programs – it's the same for all types of exercise bikes the more you spend the more pre-set programs you should expect built-in to your exercise bike. After all variety is the spice of life.
Maximum User Weight – this is important as it gives an indication of the overall quality of the bike. Generally speaking 125Kg is the expected weight capacity anything above is a bonus.
Is It The Right Type – now this is the most important of all. With there been such a wide variety of exercise bikes, is the one you like the look of the right one. If you're not 100% sure on this click the following link for more information on exercise bikes.
Last updated on November 26, 2023 7:11 pm
Best Spin Bikes Under £200
JLL IC300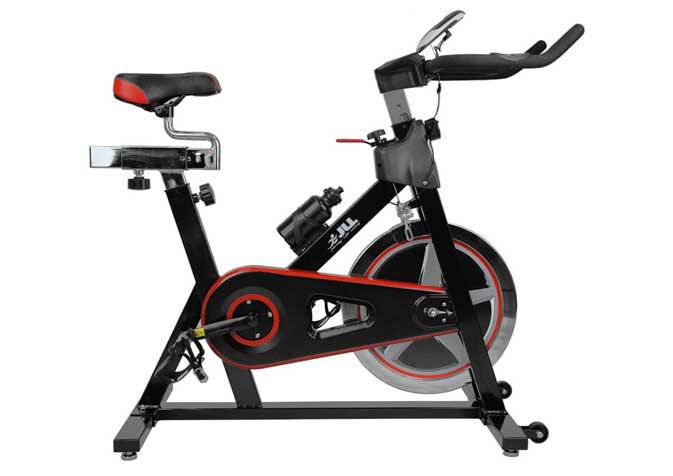 The JLL IC300 is one of the most popular selling items on Amazon in the sports and outdoors category. With four and a half stars overall rating and positive customer reviews lets take a look at what makes this bike so good.
This spin bike has an 18 Kg flywheel which is heavy for a bike of this price. in addition the seamless flywheel provides a smooth ride and doesn't vibrate to provide unwanted noise like some budget models.
The seat and handlebars are both fully adjustable. The seat adjusts vertically and the handlebars both horizontally and vertically. This combination allows for a comfortable ride.
This is a direct chain driven exercise bike which basically means it uses a chain like an ordinary bike. With the JLL IC300 exercise bike the user can pedal both forwards and backwards. Backwards pedaling allows different muscle groups to be engaged than just forward pedaling, so another positive.
The monitor shows six readouts and these are time, speed, distance, calories, odometer and pulse, thanks to the heart rate sensors built into the handlebars.
To sum up this is a very good budget spin bike been well-built and sturdy when in use. In addition it has many features that are associated with more expensive spin bikes. If it's the best spin bike under £200 you are after, this is a hot contender.
We R Sports Aerobic Training Cycle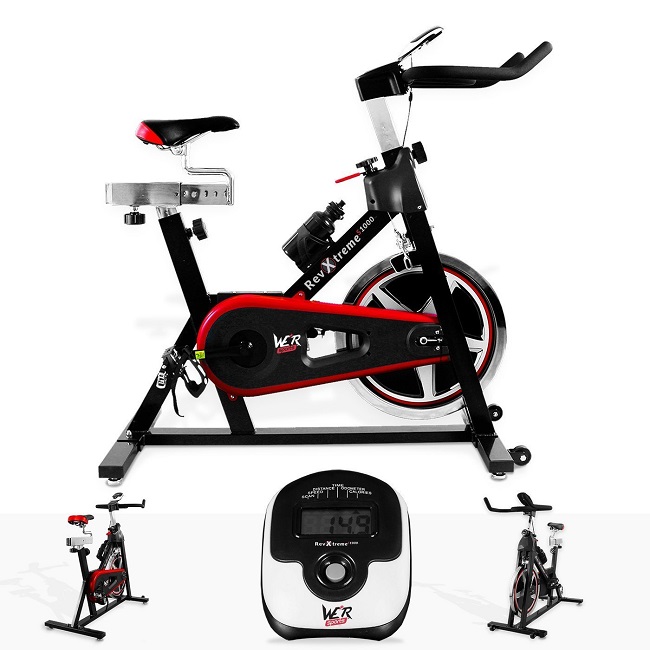 This spin bike by We R Sports comes in at way under the £200 mark and is far more functional than some exercise bikes that are twice the price. Similar to the JLL IC300 this bike also has a four and a half stars rating on Amazon. In addition customer feedback is also very good.
The first thing to say about this spin bike is that the flywheel is a bit lighter than the JLL IC300, but at 13Kg it's still a good enough weight to provide a decent workout.
This bike features a variable resistance system, this is where the user can adjust the level of resistance to a higher or lower setting. In the case of this bike it is done with a lever that is located just below the handlebars.
The seat and handlebars are both fully adjustable which is a positive for a bike of this price. Customer reviews say how comfortable this bike is which is always a welcome sign.
The 5 function exercise monitor displays all the information you need when exercising including: calories burnt, distance, speed, scan and time. Providing performance feedback after every session the We R Sports cycle allows you to see how your fitness levels are improving.
All in all an excellent budget spin bike with very positive customer reviews on Amazon. Although this bike is not quite as good as the JLL IC300 it is still a very good home exercise bike and at a price that can't be knocked.
Best Upright Exercise Bike Under £200
York Fitness Active 110 Exercise Bike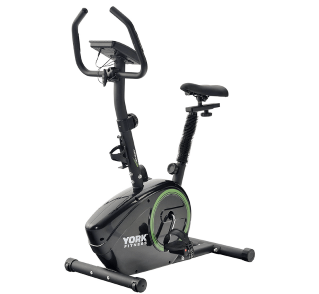 The best exercise bike under £200 in the upright category is by far the York Fitness Active 110 Exercise Bike. With four stars from over 400 Amazon reviews the outlook is good.
So let's take a look!
To look at this upright bike is very stylish in design and makes many other models look very outdated. There is a 4 Kg flywheel which might not seem a lot. However, this exercise bike uses a magnetic resistance system which combined with the flywheel will give a harder workout than some may at first think.
There are eight levels of magnetic resistance in total which is a good amount for a bike this price.
The seat is adjustable both horizontally and vertically. In addition the seat itself is made with a thick padding so comfort isn't an issue. Some exercise bikes seats are that bad that you may need to buy a gel cover for a comfortable workout.
The LCD screen has built-in workouts to test the users fitness levels. In addition readouts given are speed, distance travelled, calories burned, time and pulse, so you can monitor your progress during your workout.
If customer reviews are anything to go off then this is the best upright bike under £200. Sturdy as well as stylish in design and at a price that is very affordable the York Fitness upright bike is the only choice at this price range.
View Latest BestGymEquipment Prices
Final Words
At £200 or under all the exercise bikes featured are without doubt the best in their category. With so many exercise bikes in this price range choosing the right one can be hit or miss. However, customer feedback is a very good indicator of whether something is worth buying. All the models featured have excellent customer feedback by verified buyers on Amazon. If you can't find what you are looking for in our best exercise bikes under £200 article then check the best exercise bikes for £500.
Last updated on November 26, 2023 7:11 pm