Fitness Reality 1000 Plus Rowing Machine Review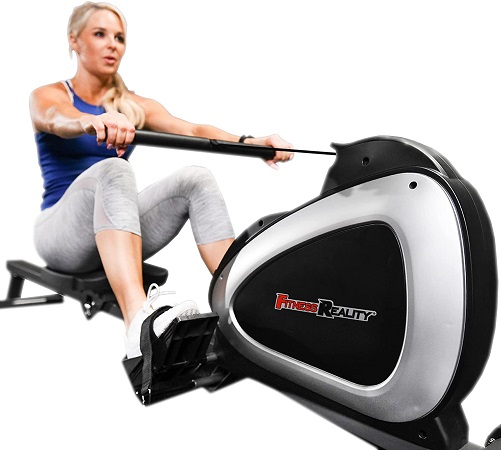 Fitness Reality 1000 Plus Rowing Machine Review
Fitness, like all other physical activities, is a very important aspect of the overall quality of our lives. It affects how much energy we have, how well we feel in our bodies, and science has already proven that it leads to an increased life span. 
But to achieve a certain level of fitness, you need a consistent workout schedule and the discipline to stick to it. And as you know, these past couple of years many gyms have closed and the shift to working from home has made us even less motivated to exercise.
I was in the same situation myself, but a few months ago, I started picking up interest in the sport of kayaking and rowing and thought that could be my new physical activity. But I wasn't going to go all out of my way and buy all sorts of equipment and go rowing every weekend, at least not enough to actually improve my fitness.
That's when I discovered the newest trend in home fitness equipment: indoor rowing machines!
That's right, rowing machines allow you to replicate the exact movement of rowing a boat, thus engaging all your muscle groups. From the arms and back to your core and legs, this machine does it all. On top of all that, it helped me tremendously improve my posture and manage my back pain after all these years. 
Today, I'll be talking about the experience I had with the one I bought to help you decide if it will be the right choice to get you started on this amazing indoor rowing journey.
Fitness Reality 1000 Plus Rowing Machine Review
With 14 levels of magnetic resistance, real-time workout analytics, and access to personal workout programs, this machine is suitable for both beginner rowers and experienced ones. It's also extremely quiet for a fitness machine and won't disturb your family while you work out.
For more details and hands-on experience, continue reading the review below. 
What I Liked
First off when I got the machine delivered I had to do some assembling, which is expected of course. I've heard some friends have had trouble assembling other fitness equipment they bought online, so I was a bit worried. 
But the assembly was so simple and I managed to do it all by myself in around half an hour. All the tools are supplied, and the instructions are easy to follow. During the assembly process, I immediately felt that the machine is sturdy and well built. The seat movement and pulling action were both smooth and felt comfortable.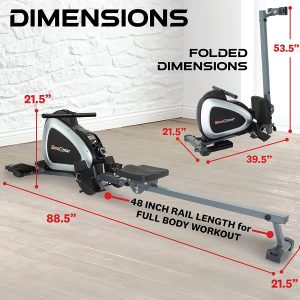 Once I finished assembly, I was confused at how quiet it was. At first, I thought I had maybe assembled some parts wrong, but no, it is actually that quiet, even less than the stationary bike I used to have. I can still hear the TV at medium volume while I exercise, which is awesome!
I started off exercising at level 4, but you can work your way up from 1 to 14 levels of resistance. I reached level 10 after a few months. The great thing is that you can easily adjust it mid-workout and you can even change up settings to create your own HIIT workout.
I used the LCD monitor to keep track of my calories and strokes per min to make sure I was progressing over time, and put my tablet on the holder to watch some shows or occasionally use their MyCloudFitness app. The app is great for storing your workout data and accessing some workout information. You can get a 30-day free trial, and I found it was enough for me to get all the information and knowledge I need and I didn't start paying for the subscription.
What I Didn't Like
One thing that made me feel a bit disappointed was that the machine is advertised as foldable, which it is, but it's not simple at all. I had to unscrew the handle and remove a safety pin, which is not terrible but not something I would do every single day. If you need to put it away for a few days, it might be worth it though.
Product Features
Ultra-quiet design

– the nylon belt drive system is engineered to be as quiet as possible.

Workout analytics

– use the LCD screen to monitor your key metrics, and store them on the provided app.

Phone & Tablet holder

– for following workout classes, enjoying scenic routes, and tracking workouts.
Pros & Cons
Pros
Makes almost no noise

Easy to assemble

Ability to adjust your resistance levels

LCD monitor for tracking calories and other data

Holder for your phone and tablet

Affordable
Cons
Not very simple to fold up
View Latest Kanadian Best Prices
Comparing The Best Rowing Machines in 2022
| Brand/Model | Marcy Foldable | DMASUN Foldable | Serenelife Smart  | Concept2 Model D  | Fitness Reality 1000 Plus  | JTX Freedom Air  | JLL® R200 |
| --- | --- | --- | --- | --- | --- | --- | --- |
| | | | | | | | |
| Dimension | 189.23 x 50.8 x 81.28 cm | 125 x 66 x 24 cm | 212.09 x 49.02 x 88.39 cm | 243.84 x 60.96 x 35.56 cm | 224.79 x 54.61 x 54.61 cm | 230 x 55 x 88 cm | 180 x 52 x 49 cm |
| Weight | 33.5 kg | 30 kg | 48.08 kg | 26 kg | 28.8 kg | 40 kg | 26.2 kg |
| Frame Material | Alloy Steel | Alloy Steel | Aluminum | Stainless Steel, Aluminum | Alloy Steel | Iron monorail. Iron & stainless steel frame. | Alloy Steel |
| Resistance | Magnetic | Magnetic | Magnetic | Air | Magnetic | Air | Magnetic |
| Resistance Levels | 8 | 16 | 16 | 10 | 14 | 8 | 10 |
| Display | LCD | LCD | LCD | LCD | LCD | LCD | LCD |
| Monitor Features | Time, Count, Calories | Time, Count, Distance, Calories, Strokes/Min | Time, Distance, Strides, Pulse, Calories | Distance, Pace, Calories | Time, Distance, Count, Calories, Strokes/Min | Time, Distance, Strokes/Min, Total Strokes, Calories | Time, Count, Calories, Distance |
| Foldable | Yes | Yes | No | No | No | Yes | Yes |
| Price | Check on Amazon | Check on Amazon | Check on Amazon | Check on Amazon | Check on Amazon | Check on Amazon | Check on Amazon |
Is it The Right Choice for You?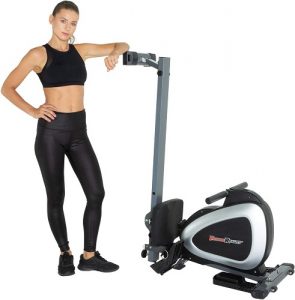 If you're looking for an affordable way to start your home fitness journey, I highly recommend the Fitness Reality 1000 Plus rowing machine. It's very easy to use, engages all your muscle groups, and can definitely improve your overall quality of life.
It's quiet enough to not disturb your family and friends, can be assembled in half an hour, and you can fold it away for storage when not using it.
Verdict
Overall, the Fitness Reality 1000 Plus rowing machine is an excellent way to get started with home workouts. You can get a whole home gym is just one machine and strengthen your entire body, all with a single, enjoyable rowing movement.
I hope I helped in motivating you and getting you started on your fitness journey. Happy shopping and happy exercising!