Spin Bike Reviews – All The Best Sellers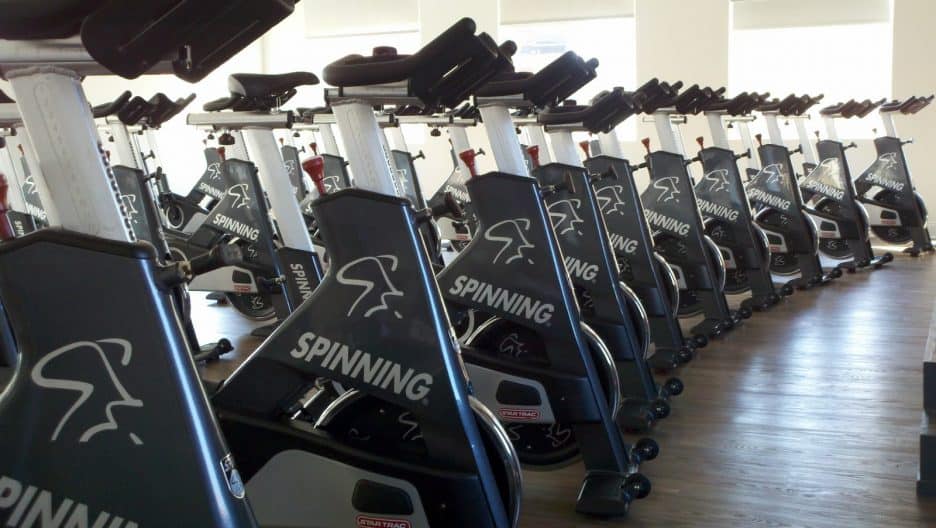 Best Spin Bike Reviews UK
Spin bikes, there are literally hundreds of different models out there some of them good and some not so good. So it's no surprise if you are struggling to find out which is the best home spin bike. That is why we have done our best research to bring our readers the best  spin bike reviews UK customers can get their hands on.
In this article we will be reviewing in summary all of the best spin bikes available to buy.  As well as including links to our more in-depth reviews on the bikes that make up our top 5 spin bike reviews list. Our detailed reviews will contain all the important information about that spin bike from features and specifications as well as where to buy from.
First though for those that don't know too much about spin bikes or indoor exercise bikes as they are also known here is a quick rundown.

Spinning Bike Facts
The average spin bike workout can burn anything from between 400 to 600 calories over 40 minutes.
The term spin bike is actually a brand of indoor exercise bike that is made by Mad Dog Athletics. Due to its popularity in the early days of indoor exercise bikes it has become the term used by many for this type of exercise bike.
In addition to a good cardio workout using an indoor cycling bike is great for toning the muscles. Some of the muscles worked in a spinning session are glutes, abdominals and core to name a few.
Best Spin Bikes By Price
For those on a budget and looking to spend a certain amount of money on an indoor exercise bike, the list below features the best home spin bike in different price brackets. All the models listed have been reviewed by Fitness Fighters are best sellers and come highly recommended by customers.
£100 – £200
JLL IC 300 Indoor Cycling Exercise Bike
WE R Sports Aerobic Training Cycle Exercise Bike
XS Sports Aerobic Indoor Training Exercise Bike
£200 – £300
JLL IC300 PRO Indoor Cycling Exercise Bike
£400 – £500
JTX Cyclo 6 Aerobic Exercise Bike
---
Best Spin Bike Reviews 
---
JTX Cyclo 6 Aerobic Exercise Bike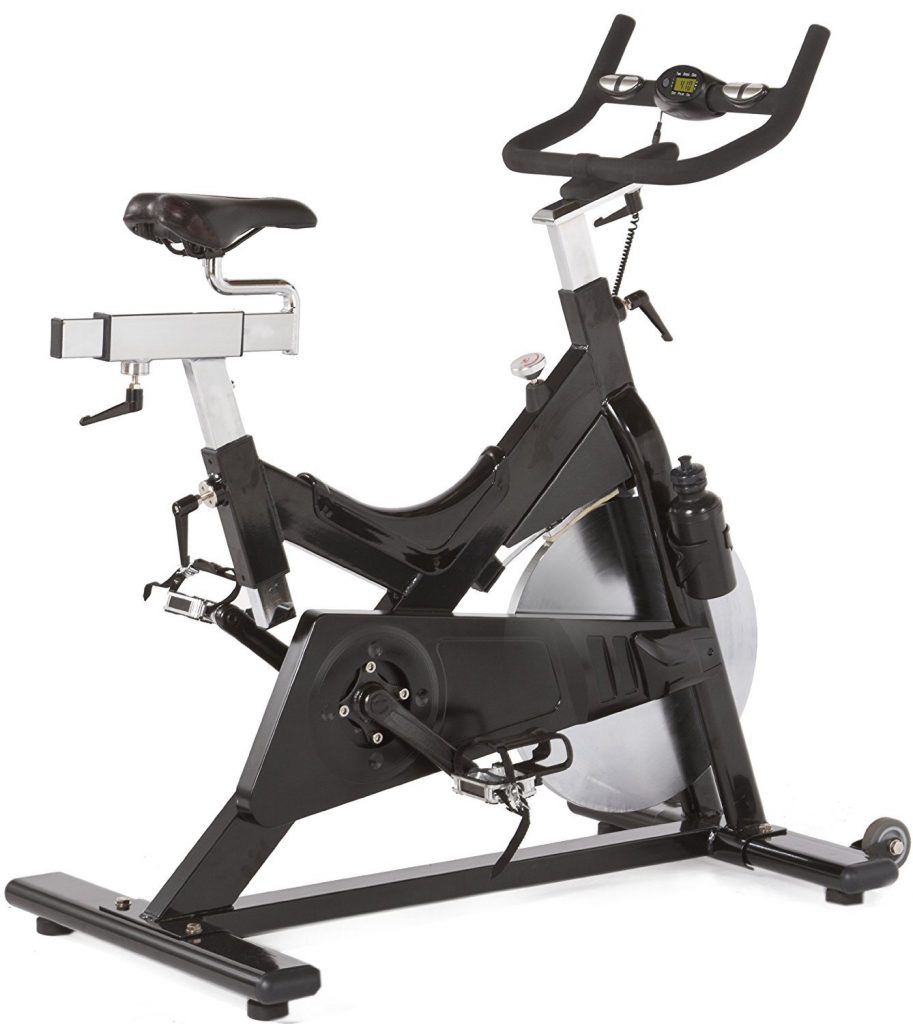 The JTX Cyclo 6 has a stylish look that would look the part in any home gym. The black and chrome finish combined with a futuristic design is probably one of the many reasons this is a bestseller on Amazon.
READ OUR FULL REVIEW OF THE JTX CYCLO 6 AEROBIC EXERCISE BIKE
Aside from the aesthetics the cyclo 6 is also very functional and that has a lot to do with it been a gym spec bike. This indoor exercise bike is built to a commercial standard. Consequently it is far sturdier and more reliable than cheaper alternatives.
With a whopping 22 Kg flywheel this bike offers plenty of resistance and with 99 speed settings it is perfect for both beginners and experienced alike. Most noteworthy are the adjustable seat and handlebars which are both fully adjustable. This allows for a comfortable spin workout.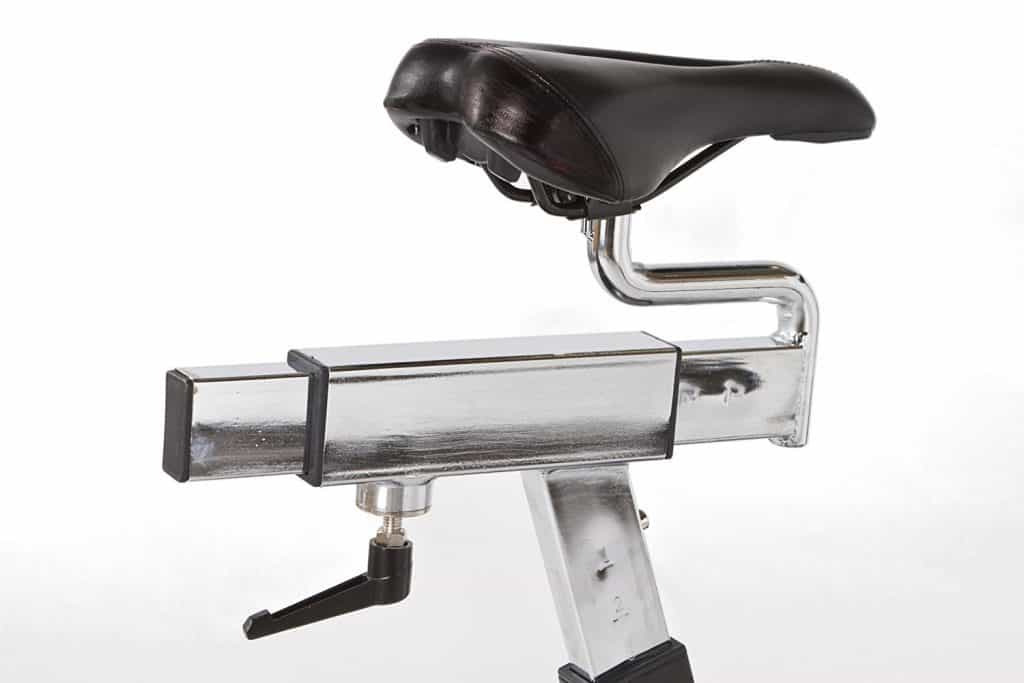 Another positive about this spinning bike is that it comes with a lifetime frame warranty. In addition there is also two years parts and labour and all this is inclusive of the buying price. This indoor exercise bike has a total weight of 64 Kg which is a lot. Due to this there is increased stability and sturdiness which is always a good thing.
With many five-star reviews and overall positive reviews this is the best indoor spin bike UK customers can get their hands on, or backsides. If it's a gym spec spin bike you need for your home gym then the JTX Cyclo fits the description.
£499.00
1 new from £499.00
Last updated on April 9, 2020 7:24 pm
---
We R Sports RS4000 Indoor Exercise Bike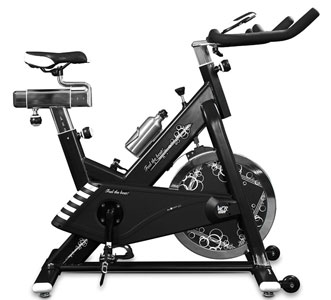 The WE R Sports RS 4000 Indoor Exercise Bike is about as futuristic looking as indoor exercise bikes come. The design of this spin bike is more suited to those that are looking for a high intensity workout. In addition to the black and white model pictured there are also another five colours to choose from.
READ FULL REVIEW OF THE WE R SPORTS RS4000 INDOOR EXERCISE BIKE
First of all with a hefty 22 Kg flywheel and a wide range of resistance settings this indoor spinning bike will give the user a testing workout. In addition to a 22 Kg flywheel this bike has an overall weight of 52Kg. Due to this there is no shaking around when in use that is associated with the lighter models.
The seat and handlebars are both fully adjustable on the WE R Sports RS 4000 Indoor Exercise Bike. However, the seat itself isn't the most comfortable. In our opinion and that of a number of reviews on Amazon a gel cover would make riding more comfortable. The pedals on this spin bike are non slip and have an adjustable toe cage for added comfort.
The on board monitor is simple to use and has five functions these are speed, time, distance, calorie and odometer. Furthermore the monitor rotates between these readings during a workout to give the user their workout stats.
With four and a half stars on Amazon and numerous good reviews this premium looking indoor exercise bike with a budget price tag is well worth taking a look at.
£246.76
£249.99
2 new from £246.76

Amazon.co.uk
Free shipping
Last updated on April 9, 2020 7:24 pm
---
JLL IC 300 Indoor Cycling Exercise Bike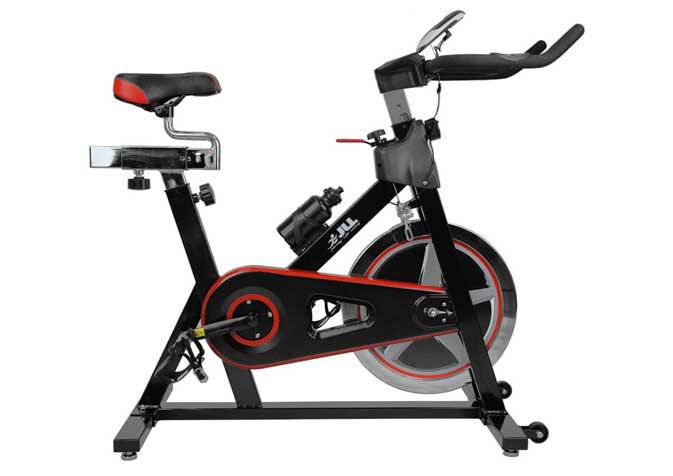 If you have been looking on the internet for spin bike reviews then you will have noticed that this indoor exercise bike pops up a lot. The reason for this is that it is a very good budget spin bike. In addition it has numerous reviews on Amazon stating how well-built it is.
READ OUR FULL REVIEW OF THE JLL IC 300 EXERCISE BIKE
The JLL IC 300 indoor cycling exercise bike is the second spin bike in the JLL IC series, with the first been the IC 200. The main difference between the two is that this model has a heavier flywheel and is a lot more robust in design.
The first notable thing to say about the JLL IC 300 aerobic bike is that the flywheel is quite heavy at 18 Kg. This is something that you don't usually get with a spin bike in this price range. The positive to this aspect of the bike is that combined with the resistance system, it will give the user a good workout.
The seat and handlebars are both adjustable which usually gives the user a nice and comfy position. However the only bad thing we could find about this bike is that a few reviews say how uncomfortable the seat is. Some go on to say they had to buy a gel cover for it.
Overall this is a very affordable, stylish and well-built spin bike and for the price it would be hard for us too recommend a better indoor exercise bike.
Last updated on April 9, 2020 7:24 pm
---
WE R Sports Aerobic Training Cycle Exercise Bike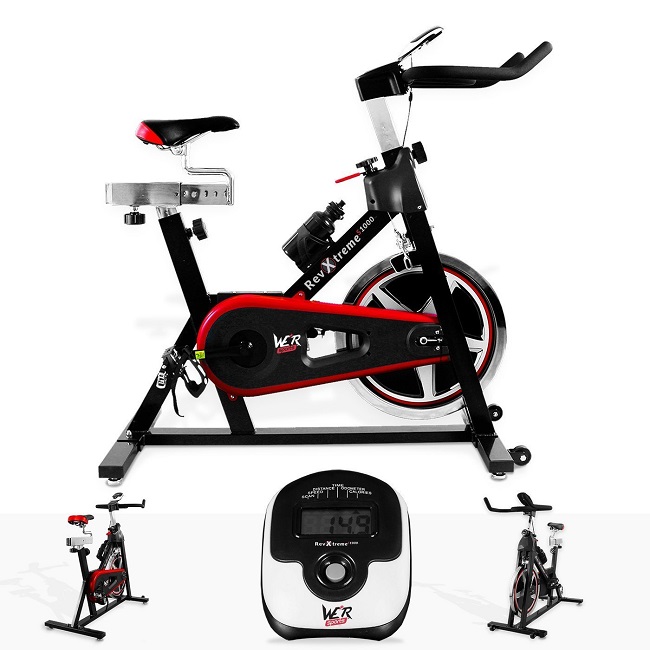 Due to its affordability and quality design the We R Sports revxtreme exercise bike is one of the most popular spin bikes in the UK today.
READ OUR FULL REVIEW OF THE WE R SPORTS REVXTREME
Customer feedback on this We R Sports spinning bike is overall very good. With this been a budget spin bike you would normally expect a fair amount of reviews to say how unsteady or flimsy this bike is. However, that is not the case.
Weighing 38 Kg this is not the heaviest spin bike but it is stable when in use. The flywheel for this spinning bike weighs 13Kg and gives a good enough workout for beginners and experienced users. Advanced users of spin bikes would probably be better off with the JTX Cyclo 6.

The seat and handlebars are adjustable and this is done by simply turning a dial. With this been a spinning bike that uses a friction resistance system do expect some noise when using. If something a quieter that is needed then a spin bike that uses a magnetic resistance would be better suited.
To sum up, this is a good beginner spin bike with excellent customer feedback. If it's a good spin bike on a budget that you're after then for many this is the best budget spin bike UK customers can buy.
£157.97
1 new from £157.97
Last updated on April 9, 2020 7:24 pm
---
XS Sports Aerobic Indoor Training Exercise Bike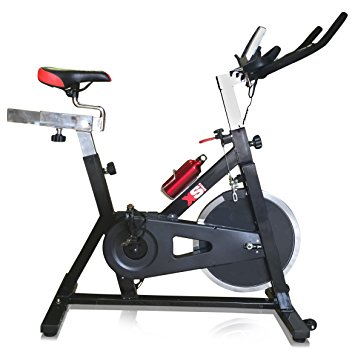 XS Sports are another brand that is well-known for their affordable yet high quality home gym equipment. The XS Sports Aerobic Indoor Training Exercise Bike is a prime example of the brands popularity been a bestseller. This is by definition a budget spin bike but it does come with features that are usually associated with more expensive models.
READ FULL REVIEW OF THE XS SPORTS AEROBIC TRAINING EXERCISE BIKE
This indoor exercise bike is a good starting point for any beginner to spinning. The design is sturdy and the 15 Kg flywheel offers more than enough resistance for a good cardio workout.
The seat is fully adjustable and the handlebars can be adjusted vertically. In addition the seat can also be tilted on an angle to get the ideal riding position. Especially relevant is that the handlebars can be used to rest on which reduces fatigue, perfect for beginners.
The monitor has five functions and these are time, speed, distance, calories and pulse. Furthermore post workout progress can also be checked through the monitor functions.
Customer feedback says how much value for money this bike gives and we have to agree. For a budget price the XS Sports Aerobic Training Exercise Bike is great value and were surprised it doesn't cost more.
Last updated on April 9, 2020 7:24 pm
---
How Do Spin Bikes Work ?
Indoor cycling bikes or spin bikes, depending on the term you prefer, are designed to replicate the feeling of riding an ordinary outdoor bike.
The main feature that helps in replicating this sensation is called the flywheel. The flywheel is the weighted wheel that is on the front of most indoor cycling bikes. In combination with the resistance system that a spinning bike uses a workout that is just as effective as outdoor cycling can be performed indoors.
The variable resistance system that spin bikes have is adjusted by simply turning a dial, which in turn increases or decreases the resistance. The different levels of resistance can simulate the sensation of riding up hills or doing sprints on an ordinary bike. Especially relevant and worth remembering if you intend on buying a spinning bike is that the heavier the flywheel is the harder the workout.
Final Words
The best spinning bike is one that has a heavy enough flywheel and provides plenty of resistance to give the user a hard workout. Generally speaking the more expensive models have the heavier flywheels. Consequently they do give a harder workout than cheaper spin bikes with lighter flywheels.
The decision to be made if you haven't bought before is.
Do you splash out and buy the best spinning bike ?
Or
Do you go for the best budget spin bike ?
There are benefits to both choices. Splashing out on a more expensive indoor cycling bike will get you a high quality exercise bike that will last for years. In addition there will be more choice in terms of workout options on the monitor. Furthermore high-end indoor bikes tend to come with a better warranty.
Budget spin bikes been cheaper are obviously not as well made as more expensive ones. However, as can be seen in our best spin bike reviews there are some very good ones on the market.
Last updated on April 9, 2020 7:24 pm