Spin Bike Reviews – All The Best Sellers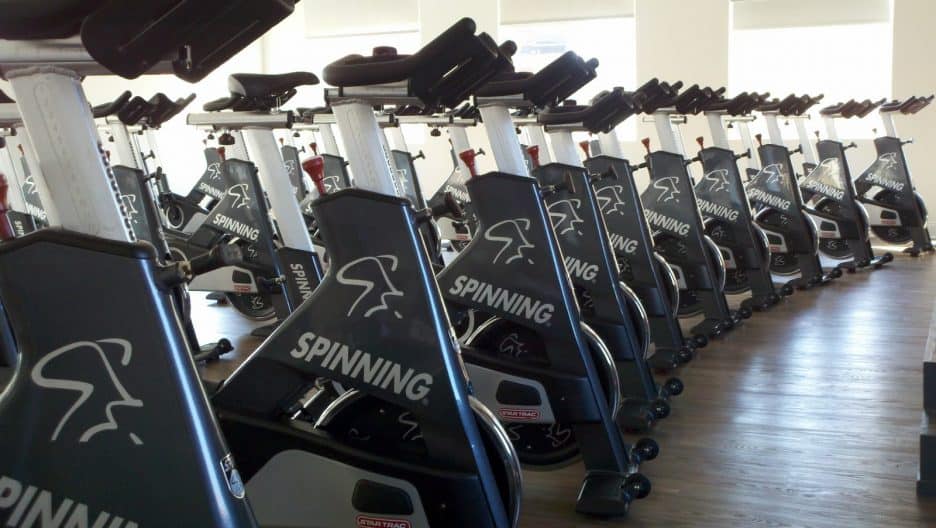 Best Spin Bike Reviews UK 2022

Spin bikes; there are literally hundreds of different models out there and some are better than others. So it's no surprise if you are struggling to find out which is the best home spin bike. That is why we have done our  research to bring our readers the best spin bike reviews UK customers can get their hands on.
In this article we will be reviewing the best spin bikes available to buy.  In addition we will be including links to our more in-depth reviews on the bikes that make up our top ten spin bike reviews list. Our detailed reviews will contain all the important information about that spin bike from features and specifications as well as where to buy the bike.
First though for those that don't know too much about spin bikes – or indoor exercise bikes as they are also known – here is a quick rundown:

Spinning Bike Facts
The average spin bike workout can burn anything from between 400 to 600 calories over 40 minutes of exercise.
The term 'spin bike' is actually a brand of indoor exercise bike that was made by Mad Dog Athletics. Due to its popularity in the early days of indoor exercise bikes it has become the term used by many for this type of exercise bike.
In addition to a good cardio workout, using an indoor cycling bike is great for toning the muscles. Some of the muscles worked in a spinning session are the glutes, abdominals and core muscles to name a few.
Best Spin Bikes By Price – How much do spin bikes cost?
For those on a budget and looking to spend a limited amount of money on an indoor exercise bike, the list below features the best home spin bikes in different price brackets. All the models listed have been reviewed by Fitness Fighters are best sellers and come highly recommended by customers.
Best spin bikes on a budget
£100 – £200
JLL IC 300 Indoor Cycling Exercise Bike
WE R Sports Aerobic Training Cycle Exercise Bike
XS Sports Aerobic Indoor Training Exercise Bike
BodyTrain ES-7021 Racing Studio Style Exercise Bike
Nero Sports Bluetooth Exercise Bike
Best spin bike for your money
£200 – £300
JLL IC300 PRO Indoor Cycling Exercise Bike
Domyos Basic Exercise Bike 100
CITYSPORTS CS-08 Fitness Exercise Bike
Best spin bikes for home under 500
£400 – £500
JTX Cyclo 6 Aerobic Exercise Bike
Bluefin Fitness Tour SP Exercise Bike
---
Best Quality Spin Bike Reviews – Top rated spin bikes for home
---
Domyos Basic Exercise Bike 100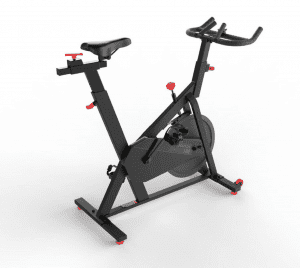 Who doesn't want to burn some extra calories in the comfort of their home? Domyos Basic Exercise Bike 100 by Decathlon UK is one of the best indoor bikes to serve the purpose.
The first and the most important thing about this indoor bike is the sound basic construction and a heavy flywheel. The bike comes with a 12 kg flywheel which makes pedalling super smooth in case of moderate-intensity use. Basic Exercise Bike 100 is very easy to assemble. The overall look of the bike is pretty stylish.
READ OUR FULL REVIEW OF THE DOMYOS BASIC EXERCISE BIKE 100
The chain-drive feature will make you feel like you are riding a real road bike. The chain is provided for better durability. Another good thing about the bike is leather pad resistance, so it can be adjusted according to your need. It is also relatively secure and very smooth. The bike also offers a multi-position, adjustable saddle and handlebar. The saddle is very comfy and best combined with a non-slip handlebar. You can adjust both according to your height.
The majority of the users appreciated the steel frame and stabilising pads, useful if there are uneven floors. Its easily mobile. You can  move it wherever you want with the help of the front wheels. The bike is also equipped with fixed cogs as well as an emergency braking system. What can be a better guarantee of a totally safe workout?
It doesn't end here, the console of the bike measures the workout intensity along with time, distance, RPM, and calories burnt. Also, the pedals are given toe clips for better support. You can even change them with automatic pedals if needed.
The only bad thing about the Domyos Exercise Bike 100 is that it's a bit noisy. Many users find the noise distracting. Any other issue quickly gets resolved as the bike comes with a 2 years warranty (parts and labour). Not only this but you also get a 5 year warranty for the metallic frame and can obtain spare parts for up to 10 years.
Buyers from the UK can avail themselves of the chance to get this bike delivered to their doorstep. Also, you can choose the click and collect option on the official UK website to choose the nearest store for making a purchase.
View Latest Decathlon UK Prices
---
BodyTrain ES-7021 Exercise Bike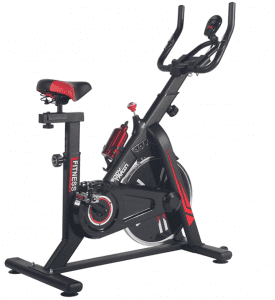 The BodyTrain ES-7021 comes with plenty of outstanding features and a competitive price which makes it one of the best sellers on AmazonUK. The ES-7021 is an ideal substitute if you don't like to leave the house for spin bike classes in a gym.
The BodyTrain ES-7021 Racing Studio Style Exercise Bike is highly recommended for cardio workouts at home. It comes with a phone/tablet holder to make your longer workouts less boring.
On the other hand, the super quiet belt-driven transmission system plays a major role in a smooth workout. The massive 16Kg flywheel is fitted at the front of the bike that works just fine dealing with plenty of resistance.
Having great design and being easy to assemble, the ES-701 also has adjustable handlebars and saddle. These important features ensures that a wide variety of users can exercise with comfort. Don't be concerned if you weigh more than 100kg, ES-701 is capable of carrying 110 kg or 17 Stone 4lb.
The ES-7021 bike also features non-slip pedals with a toe cage. At the same time, the adjustable straps make sure that you are held firmly in place, no matter how intense or strenuous your workout gets. If you are fond of commercial-grade spin bikes at your local gym, the twist/push feature to stop resistance control is exclusively for you. In case of any emergency, the 'punch' braking system's super responsive technology can be trusted completely.
Another good thing about this top-rated product is that it comes with a warranty of 1 year. The only bad thing about ES-701, according to some tall customers, is that they find working out on this bike a bit uneasy due to their height.
Overall, it has five-star ratings for a reason. The innovative features and stylish look make it an ideal indoor bike for you. If you are looking for a high-quality, stylish, and studio-style exercise bike, the ES-7021 from BodyTrain is exactly for you.
View Latest UKSportImports Prices
---
CITYSPORTS CS-08 Exercise Bike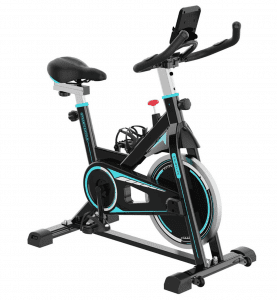 CITYSPORTS Fitness Exercise Bike CS-08 is one of the most smooth and quiet bikes. This indoor cycling exercise bike will make sure you don't need to hit the pricey local gym daily.
When it arrives, the CS-08 takes less than 15-19 minutes to assemble.The CS-08 comes with a sturdy steel frame and 8kg flywheel to ensure a stable and smooth ride every time. The entire workout system is based on maintaining quiet exercise. In the case of resistance adjustment, the bike features a tension knob. You can easily pedal at high resistance to experience the realistic road feeling. The emergency stop braking gives you optimum control during intense workouts.
CITYSPORTS Fitness Exercise Bike CS-08 can easily support up to 120kg. Whether you place the bike on the carpet, tiles, or plain wood floor, the multiple balance regulators provide ideal stability on a variety of surfaces. To relieve pressure on your hip during a workout, the seat cushion is designed with resilient material. Don't forget to place a cup or glass of clean detox water on the cupholder provided, right before you begin cycling.
The small size allows you to get a good workout without taking up too much room!
The CS-08 also offers the best analytics for tracking your daily sports data. The LCD display tracks a wide variety of factors including, heart rate, speed, calories burned, odometer, and even calories. It has a magnetic steering wheel for smoother and much more adjustable resistance.
A 2-way adjustable handlebar and easy-to-use designs are unbeatable in terms of ultimate comfort and compatibility. You can adjust the seat height as per your choice.
The only bad thing reported by the users about CS-08 is that pedalling while standing is not at all recommended. If you are professional cyclists who love to pedal while standing, this might not be your best choice.
In short, if you are looking for a durable, lightweight, compact, packed with features, and super adjustable indoor exercise bike, CS-08 is perfect for you. Plus, it comes with a one-year warranty. That makes it a top-selling indoor bike for UK customers.
View Latest LikeSporting Prices
---
Bluefin Fitness TOUR SP Exercise Bike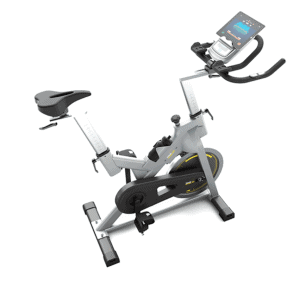 The streamlined and truly compact Bluefin Fitness Tour SP Exercise Bike comes with a wide variety of latest design features. The bike is delivered partially assembled where the unit is fitted with quality wheels. This allows easy transportation of the bike anywhere around the house. Plus, this bike is pretty stable due to its heavy body.
Bluefin TOUR SP Bike makes sure that you burn calories and build muscles without putting extra stress on your joints. It is highly recommended by users for individuals suffering from knee pain. The bike allows you to sit and just peddle while reading your favourite book.
READ OUR FULL REVIEW OF THE BLUEFIN FITNESS TOUR SP EXERCISE BIKE
The best part of the tour SP bike is the integration of the Kinomap App for mobile or tablet. You can connect the device via Bluetooth in order to track and focus on your personal fitness dashboard. For some users, the connection wasn't as smooth as expected, and even some are still waiting for the Kinomap App integration.
The LCD display makes it further easy to keep a track of your workout time and other important sports data like pulse and calories burned, distance, speed, etc.
The bike comes with an in-built stand/shelf that allows you to watch a movie or control your smartphone mid-exercise without any hassle. The holder is keenly designed to hold any size of a smartphone or even a tablet.
No matter if you are 6'2, the Bluefin TOUR SP Bike is big enough to carry you and work smoothly. Being a sturdy and well-built machine, with a straightforward assembly, Kinomap app integration, cushioned arm supports, aluminium sport pedals, HRC pulse monitors, and water bottle holder, what else can be a better home workout system?
Cheaper bikes with lighter flywheels appear to be short-lived and may flex excessively if used strenuously. There are no such issues in the Bluefin Tour SP. It has a heavy flywheel that runs quietly. So, expect to experience a pro indoor gym spin bike at a reasonable price. Get ready to enjoy the best low-impact cardio exercise experience within the comfort of your home.
View Latest Bluefin Fitness Prices
---
Nero Sports Bluetooth Upright Exercise Bike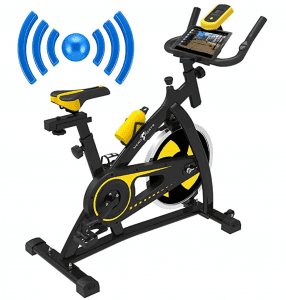 Maintaining a 4.0-star rating on Amazon, Nero Sports Bluetooth Upright Exercise Bike is a great way to work out indoors. This bike is ideal for general conditioning and toning of your body as well as improving cardiovascular fitness. Whether you are into losing some extra weight this summer, or simply want to stay in healthy shape, Nero Sports Bike is a good option to consider.
This indoor exercise bike offers a fully adjustable seat along with comfortable handlebars. The toe clips ensure better safety and grip. One of the cool features includes an easy to use onboard computer. It measures time, distance, speed, calories, and heart rate. It can also scan between them all.
Tracking your complete fitness, the bike now comes with pulse sensors!
Nero Sports Bike features a 12kg smooth running flywheel, an iPad / Smartphone stand, and a free water bottle. The bike can easily bear 120 kg weight. It is manufactured with highly durable and tough tubular steel. The roller wheels make sure the movement of the bike is smooth and easy. You will also get a three-piece crank for better energy transfer.
Users love selecting their resistance with the help of a knob that can be easily turned as per your workout needs. A quick top brake makes the journey better secure and controlled.
The only bad thing reported about this bike is that it is not a good option for tall individuals. if you're over 5ft 6" you might want to go for a different model, the one that has a longer seat stem.
The Nero Sports Bike comes with a free five year warranty (frame and parts), and free 24 hour delivery for UK buyers.
---
JTX Cyclo 6 Aerobic Exercise Bike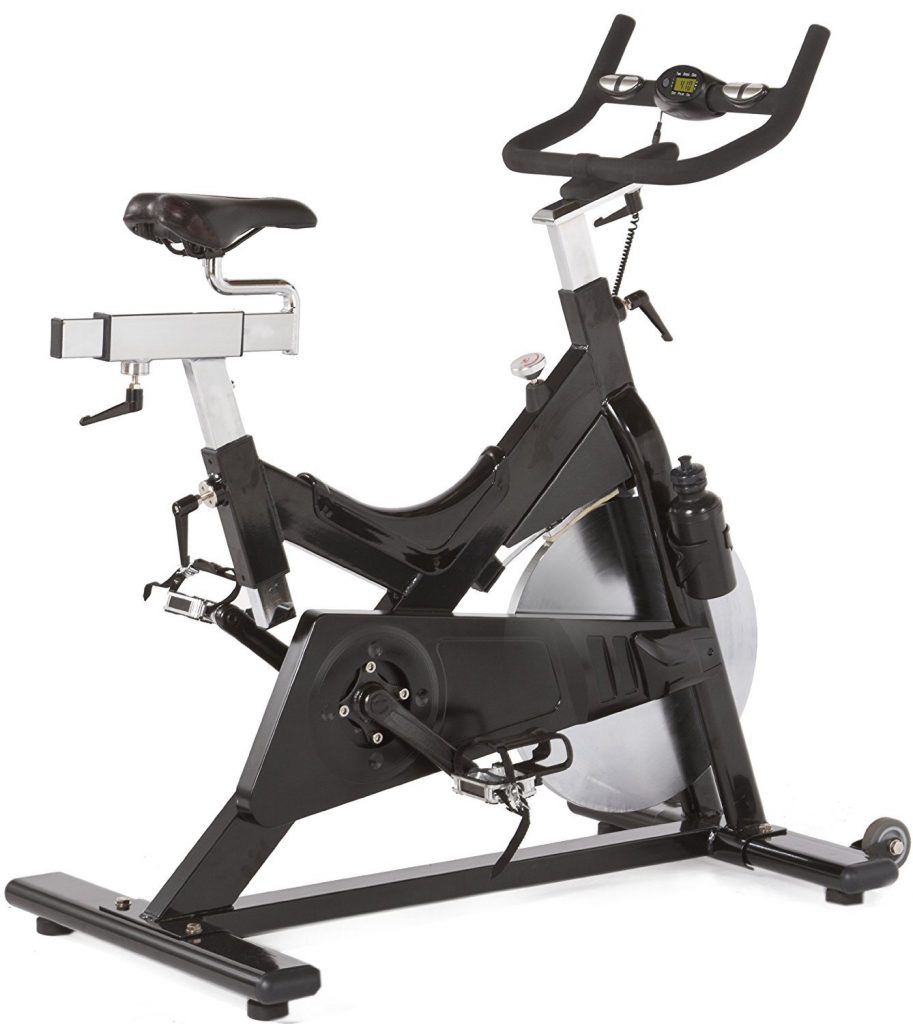 The JTX Cyclo 6 has a stylish look that would look the part in any home gym. The black and chrome finish combined with a futuristic design is probably one of the many reasons this is a bestseller on Amazon.
READ OUR FULL REVIEW OF THE JTX CYCLO 6 AEROBIC EXERCISE BIKE
Aside from the aesthetics the cyclo 6 is also very functional and that has a lot to do with it been a gym spec bike. This indoor exercise bike is built to a commercial standard. Consequently it is far sturdier and more reliable than cheaper alternatives.
With a whopping 22 Kg flywheel this bike offers plenty of resistance and with 99 speed settings it is perfect for both beginners and experienced alike. Most noteworthy are the fully adjustable seat and handlebars. This allows for a comfortable spin workout.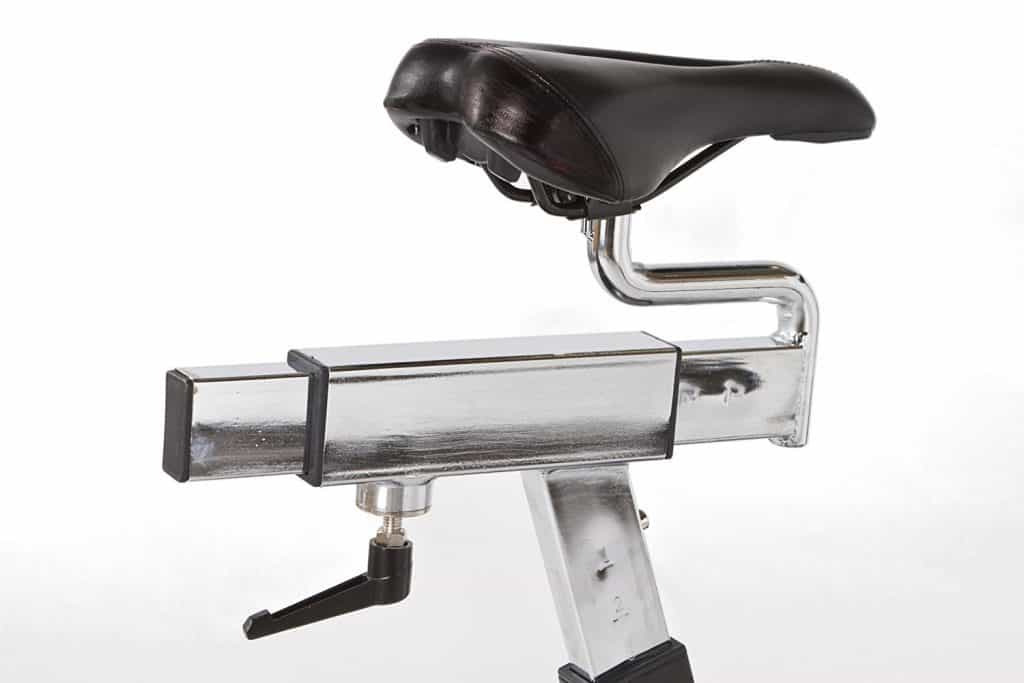 Another positive about this spin bike is that it comes with a lifetime frame warranty. In addition there is also a two year parts and labour warranty and all this is inclusive of the  price. This indoor exercise bike has a total weight of 64 Kgt. This gives increased stability and sturdiness which is  a good thing.
With many five-star reviews and overall positive reviews this is the best indoor spin bike UK customers can get their hands, or backsides on. If it's a gym spec spin bike you need for your home gym then the JTX Cyclo fits the description.
£599.00
in stock
as of May 17, 2022 10:52 am
Last updated on May 17, 2022 10:52 am
---
We R Sports RS4000 Indoor Exercise Bike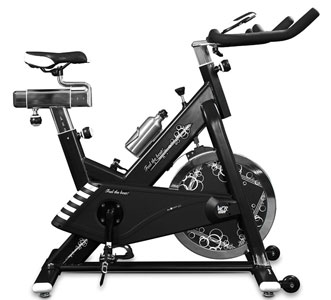 The WE R Sports RS 4000 Indoor Exercise Bike is about as futuristic looking as indoor exercise bikes come. The design of this spin bike is more suited to those that are looking for a high intensity workout. In addition to the black and white model pictured there are also another five colours to choose from.
First of all with a hefty 22 Kg flywheel and a wide range of resistance settings this indoor spinning bike will give the user a testing workout. In addition to a 22 Kg flywheel this bike has an overall weight of 52Kg. Due to this there is no shaking when in use such as is associated with the lighter models.
The seat and handlebars are both fully adjustable on the WE R Sports RS 4000 Indoor Exercise Bike. However, the seat itself isn't the most comfortable. In our opinion and that of a number of reviews on Amazon a gel cover would make riding more comfortable. The pedals on this spin bike are non slip and have an adjustable toe cage for added comfort.
The on-board monitor is simple to use and has five functions these are speed, time, distance, calorie and odometer. Furthermore the monitor rotates between these readings during a workout to give the user their workout stats.
With four and a half stars on Amazon and numerous good reviews this premium indoor exercise bike with a budget price tag is well worth taking a look at.
out of stock
as of May 17, 2022 10:52 am
Last updated on May 17, 2022 10:52 am
---
JLL IC 300 Indoor Cycling Exercise Bike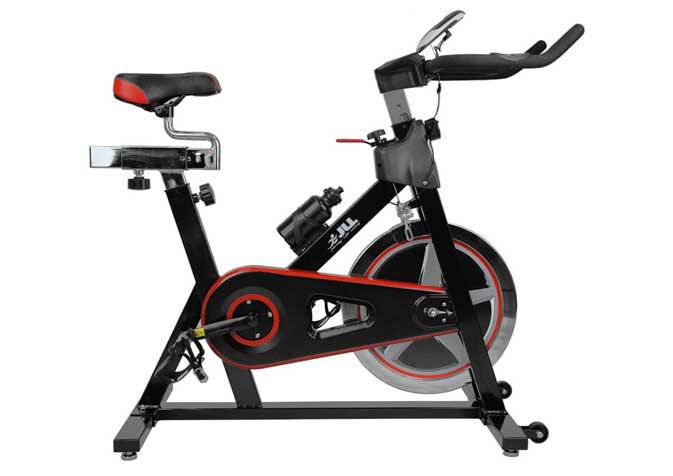 If you have been looking on the internet for spin bike reviews then you will have noticed that this indoor exercise bike pops up a lot. The reason for this is that it is a very good budget spin bike. In addition it has numerous reviews on Amazon stating how well-built it is.
READ OUR FULL REVIEW OF THE JLL IC 300 EXERCISE BIKE
The JLL IC 300 indoor cycling exercise bike is the second spin bike in the JLL IC series, with the first been the IC 200. The main difference between the two is that this model has a heavier flywheel and is a lot more robust in design.
The first notable thing to say about the JLL IC 300 aerobic bike is that the flywheel is quite heavy at 18 Kg. This is something that you don't usually get with a spin bike in this price range. The positive to this aspect of the bike is that combined with the resistance system, it will give the user a good workout.
The seat and handlebars are both adjustable which usually gives the user a nice and comfy position. However, that said, I really found the seat uncomfortable and had to go out and buy a gel seat cover just to make it useable.
Overall this is a very affordable, stylish and well-built spin bike and for the price it would be hard for us too recommend a better indoor exercise bike.
out of stock
as of May 17, 2022 10:52 am
Last updated on May 17, 2022 10:52 am
---
WE R Sports Aerobic Training Cycle Exercise Bike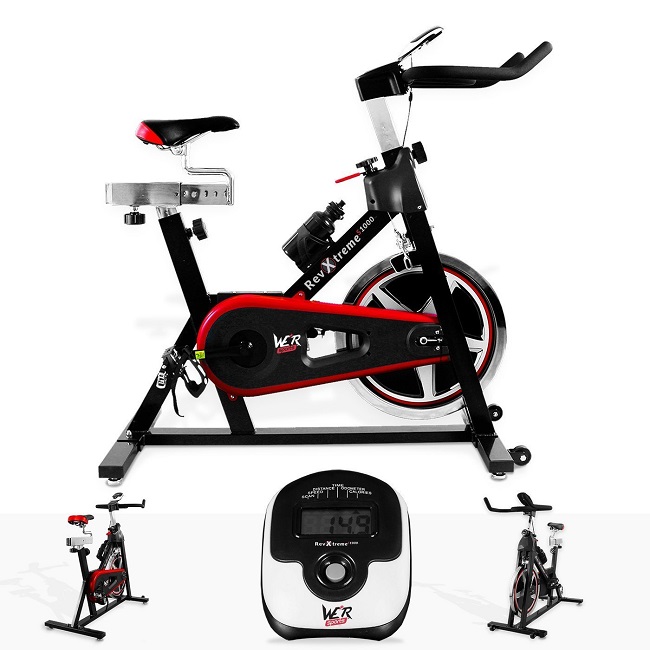 Due to its affordability and quality design the We R Sports revxtreme exercise bike is one of the most popular spin bikes in the UK today.
READ OUR FULL REVIEW OF THE WE R SPORTS REVXTREME
Customer feedback on this We R Sports spinning bike is overall very good. With this been a budget spin bike you might expect reviews commenting how unsteady or flimsy this bike is. However, that is not the case.
Weighing 38 Kg this is not the heaviest spin bike but it is stable when in use. The flywheel for this spin bike weighs 13Kg and gives a good enough workout for beginners and experienced users. Advanced users of spin bikes would probably be better off with the JTX Cyclo 6.

The seat and handlebars are adjustable and this is done by simply turning a dial. With this being a spinning bike that uses a friction resistance system, do expect some noise when using. If something a quieter is needed then a spin bike that uses a magnetic resistance would be better suited.
To sum up, this is a good beginner spin bike with excellent customer feedback. If it's a good spin bike on a budget that you're after then for many this is the best budget spin bike UK customers can buy.
£199.00
in stock
as of May 17, 2022 10:52 am
Last updated on May 17, 2022 10:52 am
---
XS Sports Aerobic Indoor Training Exercise Bike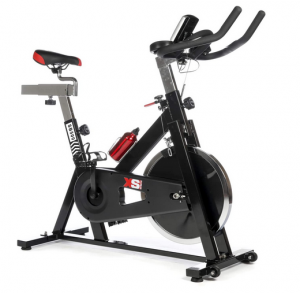 XS Sports are another brand that is well-known for their affordable yet high quality home gym equipment. The XS Sports Aerobic Indoor Training Exercise Bike is a prime example of the brands popularity been a bestseller. This is by definition a budget spin bike but it does come with features that are usually associated with more expensive models.
READ FULL REVIEW OF THE XS SPORTS AEROBIC TRAINING EXERCISE BIKE
This indoor exercise bike is a good starting point for any beginner to spinning. The design is sturdy and the 15 Kg flywheel offers more than enough resistance for a good cardio workout.
The seat is fully adjustable and the handlebars can be adjusted vertically. In addition the seat can also be tilted on an angle to get the ideal riding position. Especially relevant is that the handlebars can be used to rest on which reduces fatigue, perfect for beginners.
The monitor has five functions and these are time, speed, distance, calories and pulse. Post your workout progress can also be checked through the monitor functions.
Customer feedback says how much value for money this bike gives and we have to agree. For a budget price the XS Sports Aerobic Training Exercise Bike is great value and were surprised it doesn't cost more.
£99.99
£119.99
in stock
as of May 17, 2022 10:52 am
Last updated on May 17, 2022 10:52 am
---
How Do Spin Bikes Work ?
Indoor cycling bikes or spin bikes, depending on the term you prefer, are designed to replicate the feeling of riding an ordinary outdoor bike.
The main feature that helps in replicating this sensation is called the flywheel. The flywheel is the weighted wheel that is on the front of most indoor cycling bikes. In combination with the resistance system that a spinning bike uses a workout that is just as effective as outdoor cycling can be performed indoors.
The variable resistance system that spin bikes have is adjusted by simply turning a dial, which in turn increases or decreases the resistance. The different levels of resistance can simulate the sensation of riding up hills or doing sprints on an ordinary bike. Especially relevant and worth remembering if you intend on buying a spinning bike is that the heavier the flywheel is the harder the workout.
Final Words
The best spinning bike is one that has a heavy enough flywheel and provides plenty of resistance to give the user a hard workout. Generally speaking the more expensive models have the heavier flywheels. Consequently they do give a harder workout than cheaper spin bikes with lighter flywheels.
The decision to be made if you haven't bought before is.
Do you splash out and buy the best spinning bike ?
Or
Do you go for the best budget spin bike ?
There are benefits to both choices. Splashing out on a more expensive indoor cycling bike will get you a high quality exercise bike that will last for years. In addition there will be more choice in terms of workout options on the monitor. Furthermore high-end indoor bikes tend to come with a better warranty.
Budget spin bikes being cheaper are obviously not as well made as more expensive ones. However, as can be seen in our best spin bike reviews there are some very good ones on the market.
Last updated on May 17, 2022 10:52 am