Marcy Foldable Rowing Machine Review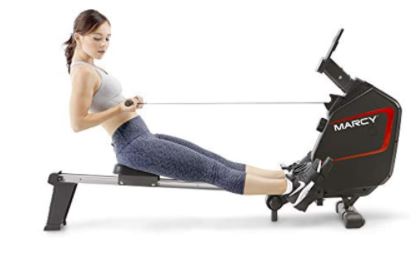 Marcy Foldable Rowing Machine Review
Rowing is an amazing sport with many benefits. But trust me, even if you don't know anything about it, you can still get a great workout with a rowing machine.
Rowing machines help you replicate the movement of rowing a boat and engage all your muscle groups, from the arms and legs to the core and back. It can even greatly improve your posture as you build strength over time.
Besides being a whole-body workout, rowing is also a low-impact exercise and doesn't put too much pressure on any of your joints. That's why the rowing machine has been one of my favourite exercise machines in the past year.
Today, I am going to be talking about a specific rowing machine made by the brand Marcy. I'll go through what I like and didn't like about it, so hopefully, you can decide if it's the one to get you started on your rowing journey.
Marcy NS-6002RE – Foldable Rowing Machine Review
Manufactured from heavy-duty steel, the Marcy rowing machine is built to last for years. It has magnetic resistance that can be easily adjusted to your level, a high-functioning LCD screen to track your performance, and foam-covered handles for a firm grip. 
For more details and hands-on experience, continue reading the review below. 
What I Liked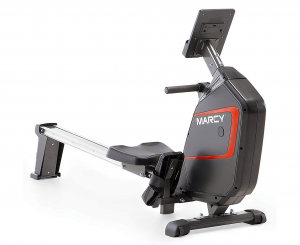 To be honest, since gyms have started closing, I've been on the lookout for a simple machine on which I can exercise my entire body. I've spent hours searching and ended up deciding on a rowing machine. Long story short – it was the best decision ever. 
The Marcy rowing machine has allowed me to train both my upper and lower body, all with a few simple movements. I just take a seat and start rowing away. It also helps me relax and clear my mind after a stressful day at work. 
But the part I like the most is that it's foldable. So once I'm done working out, I just fold it in half and put it back in storage. I wasn't a big fan of having a big bulky machine in my living room on a permanent basis, so this handy little feature definitely is a game-changer.
Another great thing is that the resistance level can be adjusted according to your fitness. So for example, when I first started exercising it a year ago, I was on level 3, and slowly transitioned into level 7 now. I also sometimes switch between different levels during the same workout, sort of making my own high-intensity interval training. That's because switching the resistance is so easy – just rotate the resistance knob located right below the handle. This will allow you to experiment with different levels and find the one that suits your body the most.
While transitioning from level 3 to level 7, I constantly tracked my progress with the built-in LCD monitor to ensure I wasn't putting my body under too much pressure. I noticed I was getting faster and faster, and once I was no longer challenged, I upped the level. 
The monitor is extremely helpful and shows how much time has passed, which speed you're rowing with, as well as how many calories you have burned. 
What I Didn't Like
The rowing machine itself doesn't have many flaws if I'm fair, but my experience with the product wasn't so great. When I first ordered it, the assembly instructions were too confusing to follow and when I finally managed to figure things out, I found out that one of the footplates was broken. 
I managed to sort things out with their customer service, which was also slow and not very helpful, but I got a new machine in the end. I later found out through reading online reviews that there were around a dozen more people that had the same problem as me, so in my opinion, Marcy need to do better to fix these logistics issues. 
Other than that, the machine provided great value to me and made me fall in love with working out again, so it was definitely a worthwhile purchase.
Product Features
Premium steel construction

– the Marcy foldable rowing machine is built with heavy-duty steel and will last for years to come. It can withstand up to 300 pounds of weight.

Adjustable resistance levels

– no matter your fitness, you can always get started rowing and adjust your intensity as you build strength. The tension knob is very easy to use, even during a workout.

LCD screen

– track all your progress with the LCD computer that acts as an odometer. It tracks your speed, burned calories, and time elapsed so you can always strive to improve.

Quality materials

– the Marcy rowing machine has a foam-covered seat and handles for increased comfort while you exercise, as well as an oversized foot pedal to accommodate all user sizes.  
Pros & Cons
Pros
Engages all your muscle groups

Adjustable resistance based on your fitness level

Folds away for easy storage

Comfortable to use

Keep hydrated with a bottle holder
Cons
View Latest Amazon Best Prices
Comparing The Best Rowing Machines in 2022
| Brand/Model | Marcy Foldable | DMASUN Foldable | Serenelife Smart  | Concept2 Model D  | Fitness Reality 1000 Plus  | JTX Freedom Air  | JLL® R200 |
| --- | --- | --- | --- | --- | --- | --- | --- |
| | | | | | | | |
| Dimension | 189.23 x 50.8 x 81.28 cm | 125 x 66 x 24 cm | 212.09 x 49.02 x 88.39 cm | 243.84 x 60.96 x 35.56 cm | 224.79 x 54.61 x 54.61 cm | 230 x 55 x 88 cm | 180 x 52 x 49 cm |
| Weight | 33.5 kg | 30 kg | 48.08 kg | 26 kg | 28.8 kg | 40 kg | 26.2 kg |
| Frame Material | Alloy Steel | Alloy Steel | Aluminum | Stainless Steel, Aluminum | Alloy Steel | Iron monorail. Iron & stainless steel frame. | Alloy Steel |
| Resistance | Magnetic | Magnetic | Magnetic | Air | Magnetic | Air | Magnetic |
| Resistance Levels | 8 | 16 | 16 | 10 | 14 | 8 | 10 |
| Display | LCD | LCD | LCD | LCD | LCD | LCD | LCD |
| Monitor Features | Time, Count, Calories | Time, Count, Distance, Calories, Strokes/Min | Time, Distance, Strides, Pulse, Calories | Distance, Pace, Calories | Time, Distance, Count, Calories, Strokes/Min | Time, Distance, Strokes/Min, Total Strokes, Calories | Time, Count, Calories, Distance |
| Foldable | Yes | Yes | No | No | No | Yes | Yes |
| Price | Check on Amazon | Check on Amazon | Check on Amazon | Check on Amazon | Check on Amazon | Check on Amazon | Check on Amazon |
Is it The Right Choice for You?
If you're looking for an easy-to-use rowing machine that can provide you with a whole-body workout, the Marcy foldable rowing machine will suit you just fine. Once you're done using it, you can fold it and put it away so you can keep your living space nice and tidy. That was, at least for me, the main selling point.
Verdict
Overall, I'd say the Marcy rowing machine provides good value for money and will get you closer to your fitness goals. It can engage all your muscle groups with a few simple movements, and you can adjust the resistance according to your fitness goals. You can even keep track of how well you're progressing with the LCD screen that displays important metrics.