Top 10 Best MMA Fight Shorts – A Fighters Guide
Top 10 Best MMA Fight Shorts
When choosing the best MMA training shorts or the best MMA fight shorts there are a few requirements that need to be met for them to be up to standard and fully functional. From Flexi panels and grip panels to split seams and a drawstring closure these are the main qualities that dood MMA shorts should have. In our top 10 list all the shorts featured are highly durable, fully functional and good if not great value for money.
For more information on choosing MMA shorts click the link below
VALOUR STRIKE MMA Shorts
Key Features
Advanced technological design ensures perfection for the most flexible of athletes. Crafted from top quality polyester fabric, selected for its bacterial resistance and hygiene efficiency. Making it the premier choice.
Inner thigh and groin area multi directional flex panel. Split seams enhancing freedom and flexibility.
Expertly placed triple stitching in areas that are proven to come under high stress levels during combat.
Our View.
Although these are not considered a proper MMA brand there is no denying that they provide great value for money. Featuring many of the qualities of far more expensive MMA shorts but at a fraction of the cost Valour Strike are onto a winner with these. Reviews are more or less repeating the same thing, saying how durable and comfortable they are and we have to agree. This pair of MMA shorts are the ideal beginner pair been fairly cheap and at the same time very functional. Split seams and flexi panels are built into these shorts and they also include anti bacterial and odour properties making them on par with other MMA fight shorts in their design.
---
 TURNER MAX
Key Features
TurnerMAX MMA Shorts especially designed for contact sports
Boxing shorts have an elasticated waist with innovative tie strings for a snug fit
Poly mix material for MMA shorts gives a comfortable workout and Smooth fight
Generously cut MMA Shorts to keep you moving freely
Our View
These shorts from TurnerMax look the part and are also some of the cheapest MMA shorts in our top 10. They feature split seams but no flexi panels. The closure is velcro with a drawstring making them very secure around the waist. Overall these are a beginners pair of MMA fight shorts but they are very durable and for the price you really can't complain. 
---
SPRAWL MMA Shorts
Key Features
Sweat and blood repellent
Advanced lightweight 4-way stretch fabric
Quality MMA SHORTS – Long Life
Fusion of the most advanced features, fabrics and technology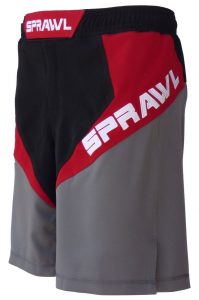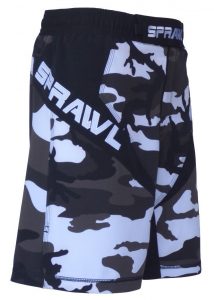 Our View
This MMA brand has been around for a long time so they know how to make quality fight shorts. These Sprawl shorts feature a non-slip waistband, split seams, flexi panels, 4 way stretch fabric and finally they incorporate fabric technology that makes them sweat and blood repellent. All in all these are a very good pair of fight shorts, maybe a bit plain looking for some but they are very durable and functional.  
---
SMAASH SAMURAI MMA Shorts 
Key Features
SMMASH Pro PowerFlex FABRIC
Easy-catch system
Velcro strip
Flexi panels in the crotch area
Triple reinforced stitching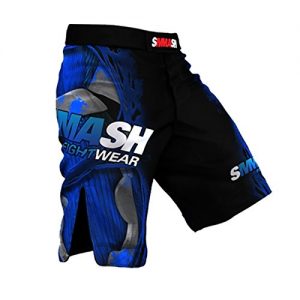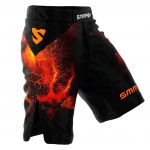 Our View
These are some of the most stylish MMA fight shorts on the market and again are also very reasonably priced. Some of the features that these shorts have make them highly desirable, from the easy catch system which makes it possible to fasten and unfasten them with your gloves on to the triple reinforced stitching which guarantees a very durable pair of fight shorts. In our opinion these are great value for money having many of the features that much more expensive MMA shorts do.
---
RDX MMA Training Shorts
Key Features
Strong Grip Waistband for an Accurate Fit
Ergonomically-designed with athletic cuts for free mobility
Quality fabric with anti-microbial and odor-preventing properties
Exclusive T3 stitching for higher strength and improved resilience
Made with supreme durability, functionality and complete breathability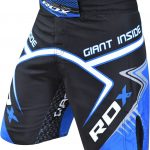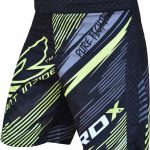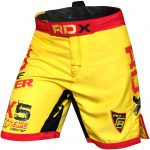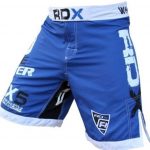 Our View
If you know about the RDX brand, then you know that they make affordable, high quality fight gear and their MMA shorts are no different. The current range of RDX MMA shorts has all the features expected of true MMA fight shorts and comes in a variety of styles and colour options. Grab yourself a bargain and get these while you can because as RDX is quickly gaining a name for itself in the fight equipment arena they will probably cost a lot more in the future.
---
PRIDE OR DIE MMA Shorts
Key Features
100% Microfiber Polyester
Fully sublimated patterns
Lycra band on the crotch (95% Polyester – 5% Spandex)
Inner waistband Including the SGS (Soft Grip System)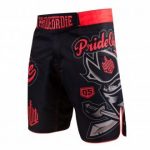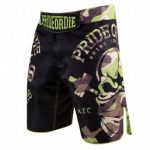 Our View
I have always been a fan of the style of Pride Or Die MMA gear so my view might be a little biased here lol. Truth be told these are not considered to be the best MMA shorts by a lot of people, however they are very durable and will last for ages. In addition to their durability they have all the feature that MMA shorts should have, so i can't see why this brand isn't a lot more popular than they are. One good thing about this, is that you can be sure you wont turn up to the gym in shorts that someone else has. Overall these shorts do the job and are reasonably priced, again you cant go wrong with these. 
---
VENUM MMA Shorts
Key Features
100% lightweight and durable premium polyester.
New Speed Grip closing for an easier and speeder adjustment of your shorts.
Design fully sublimated into the fiber for an extended durability.
Flex-system on the crotch : increased mobility.
Reinforced seams for an enhanced lifetime.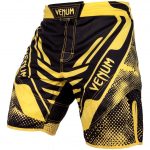 Our View
When choosing MMA shorts aside from been made from durable materials and having all the necessary features, looking the part is also another must. With the Venum range you are guaranteed high quality shorts that look the real deal. These Venum technical training shorts have a 3 way closure system that keeps them firmly in their place. Also featuring split seams, flexi panels and reinforced seams. All in all these are a tough pair of fight shorts that will withstand tugging and pulling no problem and last for a good while, making them some of the best MMA training shorts.
---
HAYABUSU METARU
Key Features
Reinforced T3 Stitching for Ultimate Strength and Durability.
Made With Stretch Fabric and Split Side Seams for Unrestricted Range of Motion.
Exclusive Inner Grip Waistband System to Ensure Your Shorts Stay Securely in Place.
Innovative Tie System With Indestructible Webbing for a Distinct, Customised Fit.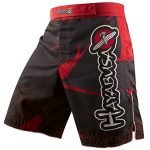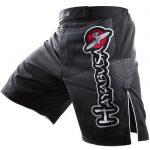 Our View
Hayabusu make some of the best MMA gear available and their MMA shorts are no different. The material used is very thick and highly durable, in addition to having a little stretch in it. One of the outstanding features of these shorts are the guardlock inner grip waistband which ensures a secure fit and makes these shorts very comfortable to wear. If you have heard of this brand then you already know about the quality of their fight gear if not then you do now, these are some of the best MMA fight shorts available to buy.
---
FAIRTEX PRO MMA Shorts

Key Features
100% Polyester Microfibre with Spandey panels, dry quickly.
Side Schlize for extra freedom of movement
Waistband with lace and velcro closure
Hand crafted in Thailand.
Suitable for all types of sport
Our View
Strictly speaking these are not just MMA shorts as they are sold as been for all combat sports. However they have everything that MMA shorts have and are made by one of the best fight gear brands around. Fairtex have made a very diverse pair of fight short here and they are without doubt very good. When wearing these you can feel just how thick and durable the material is, this pretty much guarantees their quality and durability. Furthermore the freedom of movement in these is hard to beat with the split seams been a bit higher than most other shorts. If i was you i would really consider buying these as they are excellent value for money and are made by one of the best MMA shorts brand.
VENUM Gorilla Training Shorts

Key Features
100% Polyester : lightweight and durability.
New non-abrasive Velcro closure system.
Design sublimated in the fiber: durability and unsurpassed quality.
Flex-System: increased mobility.
Reinforced seams: extended life.
Our View
Go bananas or totally fu***ng Ape shit in these Gorilla MMA shorts by venum. These shorts have all the qualities that you would expect from a very good pair of MMA fight shorts and they look sick to be honest. The only downside is that they only come in one colour apart from that you can't go wrong with these and they are well within the budget of most people. for me personally these are some of the best MMA training shorts available. From durability and comfort to looks and functionality these shorts have it all.
---