The Best MMA Gloves For Sparring, Grappling & Competition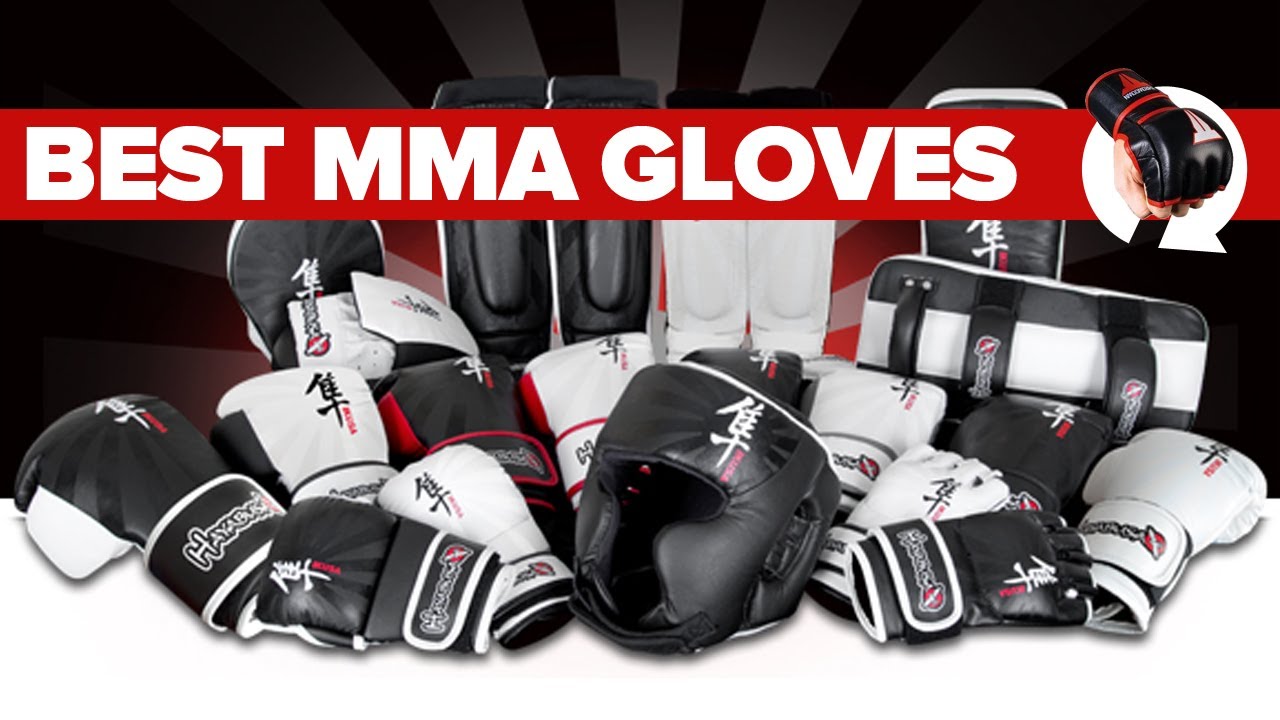 The Best MMA Gloves For Sparring, Grappling & Competition
When choosing MMA gloves there is a lot to consider before you make a purchasing decision. If you want to get the best MMA gloves for your money, then its best to know as much about the different types of MMA gloves and their uses as you can. 
In this guide we will be explaining everything you need to know about the various kinds of MMA gloves and bringing you the top MMA gloves for sparring, grappling and competition.

Different Types Of MMA Gloves
There are three different main variations of the MMA glove these are sparring gloves, grappling and competition gloves.
Each different type of glove has different design features that are tailored towards what they are been used for. Some gloves have multiple uses, for example you can use sparring gloves for bag work as they provide plenty of protection. However i would not advise using sparring gloves for grappling work.
WHY ?
When grappling it is important that your fingers and thumbs have as much mobility as possible for gripping and grappling. The thing with sparring gloves is that they have too much padding which restricts movement making them not really suitable for grappling.
---
MMA Sparring Gloves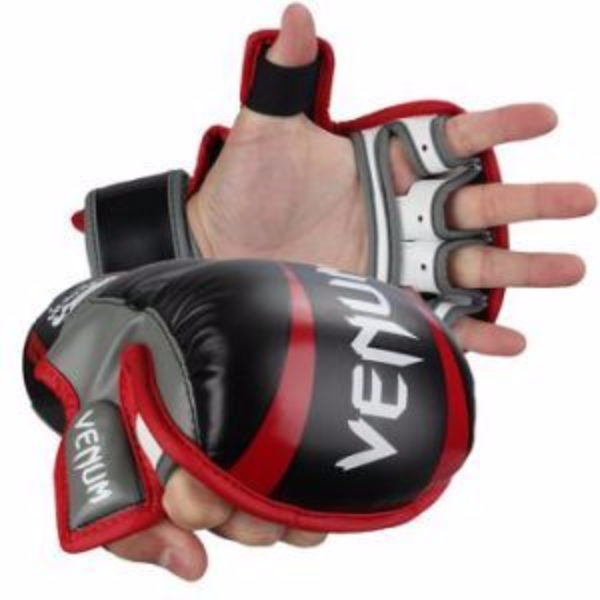 Generally speaking MMA sparring gloves weight is usually 7 Oz. When sparring there is obviously a lot of punching involved, from working the bag to actual sparring with a partner. Both of these require that your knuckles are adequately protected and cushioned from the forces put upon them. The 7 Oz refers to the weight of the padding inside the gloves and this padding is usually mainly within the front end of the glove where the force of most punches thrown is absorbed. 
In the picture shown you can see that there is a grip bar, this is for helping a fighter to form a tighter fist for when throwing a punch at an opponent.
---
MMA Grappling Gloves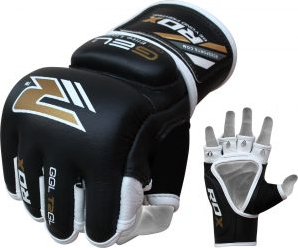 Grappling gloves also known as hybrid or training gloves are mainly used for clinch work and have a few different features when compared to sparring gloves.The first difference been in the fingers, grappling gloves allow each finger to move independently thus allowing for more overall movement and gripping ability. They also stop at the second knuckle leaving the fingertips exposed, which makes it easier to grip with. The second main difference is in the amount of padding, grappling gloves have a lot less padding than sparring gloves. 
When purchasing grappling gloves the aim is to buy a pair that allows for plenty of movement but at the same time providing adequate protection.
---
MMA Competition Gloves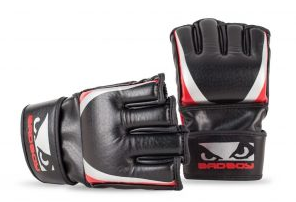 Competition gloves for MMA have a lot less padding than sparring gloves and usually the required weight is 4oz but this can vary depending on certain competition/organization rules. Similar to grappling gloves the fingers are separated allowing for plenty of movement and making it easier to grip an opponent.
Equipment Tip: When wearing competition gloves it is advisable to wear hand wraps as competition gloves offer little in padding protection
So What Are The Best MMA Gloves ?
Here it is the Fitness Fighters top MMA gloves for competition, grappling and sparring.
All the gloves in our top 5 list meet all the requirements needed of a good MMA glove providing plenty of protection and wrist support in addition to been highly durable and functional.  
Top 5 Best MMA Competition Gloves
1)Revgear Vigilante Gel Pro MMA Gloves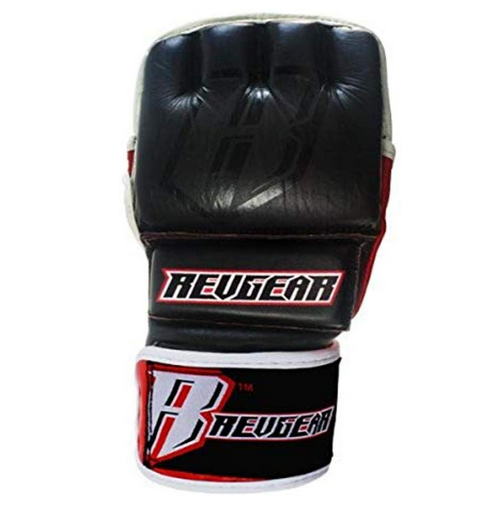 Our View
Been the number one best MMA competition gloves its hard to find anything bad to say about these gloves. The gel padding works a treat and the shock absorption qualities are second to none. They are made from the best leather available and will hold up for many years and just holding the gloves you can feel the quality of them. If you are looking to invest in some fairly expensive MMA gloves which are of the highest standards, then the Revgear Vigilante is the one to go with. 
One thing worth mentioning is that these gloves are marketed as been the the "most comfortable glove"and this is true they are extremely comfortable, after you have broken them in. 
For Latest Amazon Prices Click Here
---
2)Revgear Challenger MMA Gloves

Our View
Here at Fitness Fighters we have been highly anticipating the launch of Revgear's new MMA gloves and now that they are here we can happily say that we aren't disappointed. The Revgear Challenger has it all and the only reason this glove came in second place is because the Revgear Vigilante is even better.
The first thing you notice about these gloves is that they are a little stiff but give it a few weeks and once you have broken them in they genuinely are the most comfortable gloves on the market. They feature an extra wide velcro strap which provides plenty more support in the wrist area. Been made from the highest quality leather available a long life is guaranteed with these gloves. All in all these are a very good pair of MMA gloves and you will be hard pressed to find much better. Theonly downside is the price tag but with the high price comes higy quality and craftmanship.
For Latest Amazon Prices Click Here
---
3)Venum Undisputed 2.0 MMA Gloves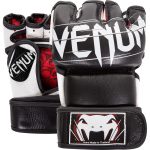 Our View
Venum have redesigned many of the features when making these gloves. The first thing they have worked on is making their gloves more comfortable and with the new design they have got it spot on. These gloves are some of the most comfortable i have ever worn providing plenty of support and just enough padding. In addition to comfort the new Venum closure system has been redesigned so that you can fasten and unfasten it with one hand. Been hand made in Thailand and with the best nappa leather the quality and durability of these gloves is assured.
Coming in a wide variety of colour options there is something for everyone with the new Venum Undisputed MMA Gloves. 
For Latest Amazon Prices Click Here
---
4)Hayabusa Tokushu Regenesis MMA Gloves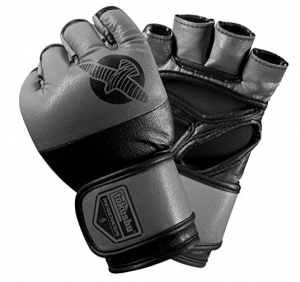 Our View
There is a lot to be said about these gloves and none of it is bad. The Hayabusu Tokoshu Regenesis 4oz competition gloves are full of innovative design features. The patented dual wrist closure works a treat and stays firmly in place at all times. Another good point to these gloves is the anti-microbial technology which is guaranteed to last for the lifetime of the gloves. In addition to been highly functional these gloves are also extremely comfortable to wear. To conclude these are some of the best MMA gloves for competition and they don't cost an arm and a leg. 
For Latest Amazon Price Click Here
---
5)Venum Challenger MMA Gloves
Our View
If you are looking for high quality MMA gloves at an affordable price then you will struggle to find a pair better than the Venum Challenger MMA gloves. These gloves have been designed for multi-purpose use, aside from been competition glove they make ideal training gloves. Featuring a double closure system for added support and high density layered foam for better shock absorption these gloves have the features of much more expensive MMA gloves.
Overall these are a mid-range glove with some excellent features and come in at a very affordable price.
For Latest Amazon Price Click Here
---
Top 3 Best MMA Grappling Gloves
Revgear Deluxe Pro MMA Grappling Gloves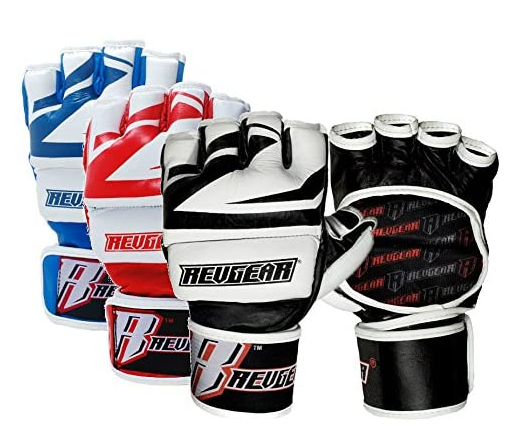 Our View
The saying goes that you get what you pay for and with MMA gloves the same principle applies. The Revgear Pro Grappling gloves are a little price for grappling gloves but with that price comes the best quality on the market.
These gloves feature a patented foam padding for optimal shock distribution, extra padding to protect the palm of the hand and a long hook and loop fastening for a secure fit. The freedom of hand movement in these gloves is second to none and i genuinely don't think there is a better grappling glove on the market anywhere for this quality. If grappling is a big part of your training regime then i suggest you invest in these gloves by Revgear and do yourself a favor by not wasting money on any other gloves as these are the very best grappling gloves available to buy.
For Latest Amazon Price Click Here
---
RDX MMA Gel Grappling  Gloves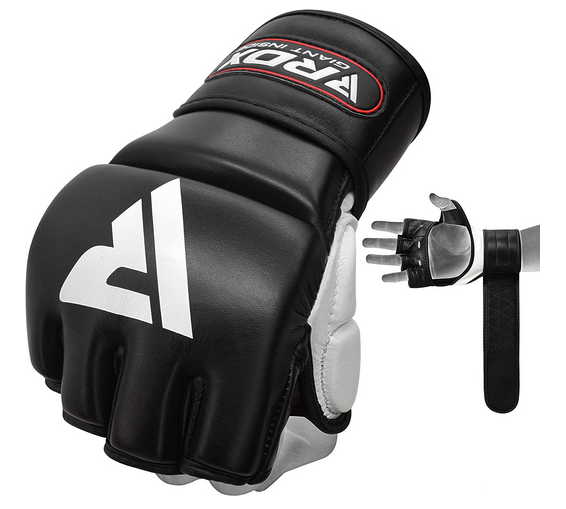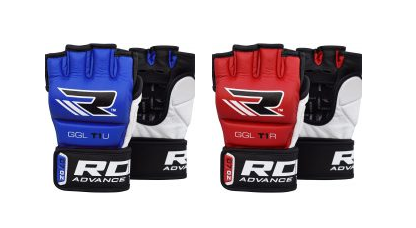 Our View
RDX have gone the distance here as these gloves really pack a punch. Made from genuine leather unlike many of their other gloves, these gloves are of far superior quality than what we are used to from RDX. The interior of these gloves is full of technology from a triple padding system with an added gel lining for shock distribution between each finger. in addition to been really good grappling gloves they are also more than affordable and in the near future we expect RDX to deliver even better MMA Gloves.
Grab yourself a bargain with these gloves as no doubt in the future as this brand becomes increasingly popular the price will more than likely increase too. 
For Latest Amazon Price Click Here
---
Everlast Men's MMA Grappling Gloves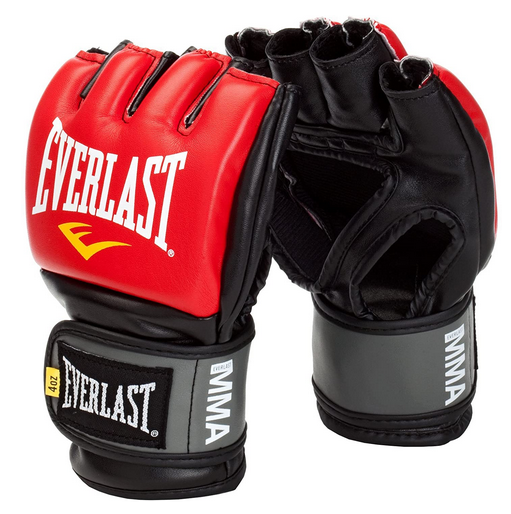 Our View
These grappling gloves by Everlast are the best that the brand has to offer out of all the grappling gloves they make. The first thing to say about these gloves is that the wrist support they provide would be hard to match. This is mainly due to the full wrist strap that assures a secure and firm fit. When wearing these gloves there is plenty of flexibility in them and moving your fingers around is easy enough. Also the little padding is just enough to protect the fingers and doesn't get in the way like on some more bulkier grappling gloves.
For Latest Amazon Price Click Here
---
Top 3 Best MMA Sparring Gloves
1)Hayabusa Ikusa 7oz MMA Gloves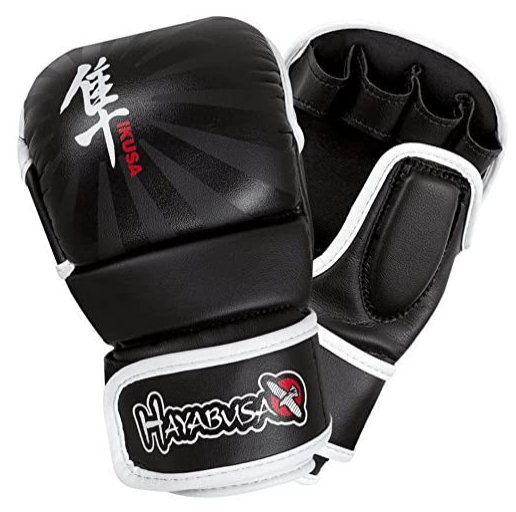 Our View
Hayabusa are known to make some of the best boxing, Muay Thai and MMA gloves. This pair of MMA sparring gloves is no exception and makes it as our number one sparring glove. Weighing 7 oz these gloves are thickly padded and are very good for hard sparring sessions. They come with a reactive inner core for maximum cushioning and shock distribution giving the hands maximum protection. Also featuring a patented velcro fastener for a secure fit and firm grip and a moisture wick lining to keep the hands cool and non sweaty.
There is no denying the quality of these sparring gloves, they have all the features and then some, that are expected of the best MMA sparring gloves in addition these are also some of the best MMA boxing gloves. 
For Latest Amazon Price Click Here
---
2)Bad Boy Training Gloves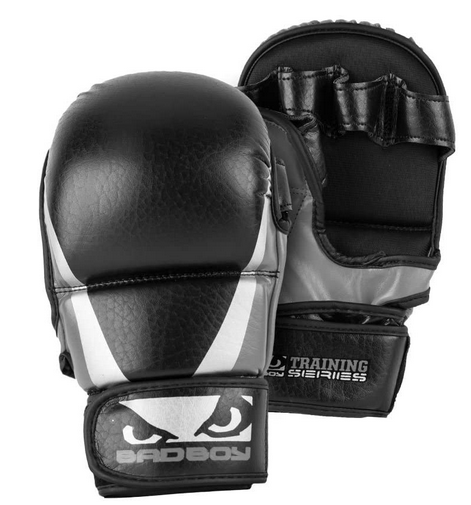 Our View
Bad Boy MMA gloves have been around for a very long time and in that time they have learnt a thing or two about making sparring gloves. This particular pair is my favourite gloves by Bad Boy, from the comfort and fit to the closure and support everything with these gloves is just as it should be. The only downside for me about these gloves is the lack of colour options. In conclusion these gloves are some of the best MMA gloves for training and wont break the bank. 
For Latest Amazon Price Click Here
---
3)RDX MMA Sparring Gloves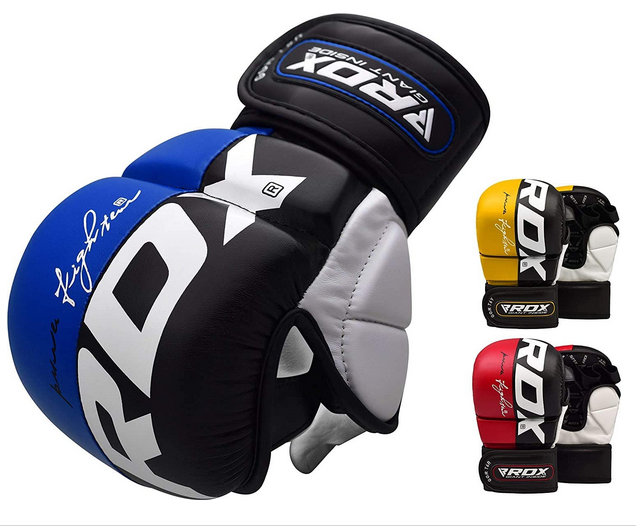 .
Our View
RDX are known to make some good quality but very cheap MMA gloves.
This brand is starting to gain a name for itself with certain fight equipment and their gloves in particular. The design features of these gloves are as you would expect but at half the price of other gloves of similar quality. The only flaw in these gloves is that they are not made from genuine leather but maya hide which is a synthetic substitute. Main features include multi-layer gel padding, quick EZ velcro closure and the palm O design which has a special thumb enclosure for maximum protection. 
If you need cheap MMA sparring gloves at more than average quality or are just getting into MMA and don't want to spend too much then these would make a good starting point. 
For Latest Amazon Price Click Here
---
Things To Consider Before Buying MMA Gloves

 
Before buying MMA gloves there is a few things worth knowing first to make sure that you get the best value MMA gloves for your money. Buying expensive low quality gloves is not something we recommend, however we don't have a problem with cheap MMA gloves as long as they meet all the requirements expected from an MMA glove.
Materials
Synthetic v Leather
When choosing MMA gloves you have the option of ones made from leather or a synthetic material that is made to imitate leather.
Generally speaking most people, if given the choice they would choose a leather MMA glove as the overall opinion is that they are of a better quality.
However there are benefits to both materials.
Gloves made from a synthetic material tend to be a lot cheaper and are a easier to clean than leather.
One added benefit of leather gloves is the durability they offer, leather is a far more resilient material than the synthetic leather imitations and this type of glove will last you considerably longer.
This doesn't mean that synthetic MMA gloves aren't up to standard. In our top gloves for competition, grappling and sparring there is the odd pair in there that are really good quality. 
Price
The amount of money you spend on MMA gloves can vary. If you are looking for a good pair of MMA gloves, that will set you back about £50. But if you are looking for the best MMA gloves in terms of quality and durability then you are going to have to ask yourself.
What are The Best MMA Gloves Under £100 ?
Yes £100 is the top end of the market and is what you will have to spend to get the best quality fight gloves. 
Durability
The durability of your gloves is a very important factor, there is no point buying gloves that are going to fall apart after a few uses. One thing worth noting is that the durability is a quality issue and with quality comes price, so if you want durable MMA gloves that will last you, then you are going to have to pay for it.
Comfort & Support
Nobody wants to buy gloves that feel uncomfortable to wear. To avoid this make sure you have the correct size gloves. In addition to comfort the support your chosen gloves offer is highly important. The best MMA gloves will offer plenty of wrist support and make the hand, wrist and forearm feel rigid. Remember to buy Gloves with a velcro wristband closure for a tight secure fit.
Common Questions Asked When Buying MMA Gloves
Before buying MMA gloves there are a few things you need to know below is a list of a few of the most common queries.
How Much Do MMA Gloves Weigh ?
If your new to MMA training then you may be a little confused with all the different weights of gloves. The weight refers to the amount of padding inside the gloves and is measured in ounces.
Below is a list of all the different types of MMA gloves and the weight of them
MMA Sparring Gloves Weight
Sparring gloves tend to weigh around 7 Oz although you can get slightly heavier ones.
MMA Grappling Gloves Weight
Grappling gloves weigh 7 oz although if you get a small glove size they will probably be 6 oz
MMA Competition Gloves Weight
Competition gloves are 4 Oz for most MMA competitions although some organizations do use different weights.
What Size MMA Gloves Do I Need ?
MMA Gloves Size Chart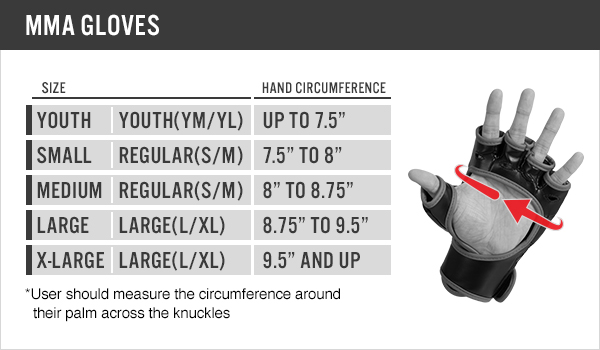 When deciding upon a pair of MMA gloves making sure you get the correct size is crucial. Failure to do so will mean one of two things, you will have to buy a new pair or even worse you may injure yourself. If the gloves you buy don't fit you correctly then it is more likely that they also wont provide the correct support and this is what leads to a lot of wrist injuries. 
Its worth noting that most MMA brands have their own size charts for their equipment. However generally speaking they are usually pretty much the same. The MMA sparring size chart pictured is a good guideline to go by and will be correct for 99% of people. 
Equipment Tip: When measuring your hand size for MMA gloves remember to always measure across your knuckles and if you intend to wear wraps underneath make sure you buy a size bigger to accommodate for the extra bulk.
---
How To Choose The Right MMA Glove Size
In this short video Georges St-Pierre explains how to choose the correct glove size i suggest you take a look if you are considering buying as the info contained is very helpful for MMA beginners.
---
Final Round
As you can see there is a lot more to choosing the best MMA gloves for sparring, grappling and competition than you may know. If you have read this full guide then you will be more informed when it comes to making a purchasing decision and therefore more likely to choose the right MMA gloves for you.