Ultrasport Foldable Exercise Bike Review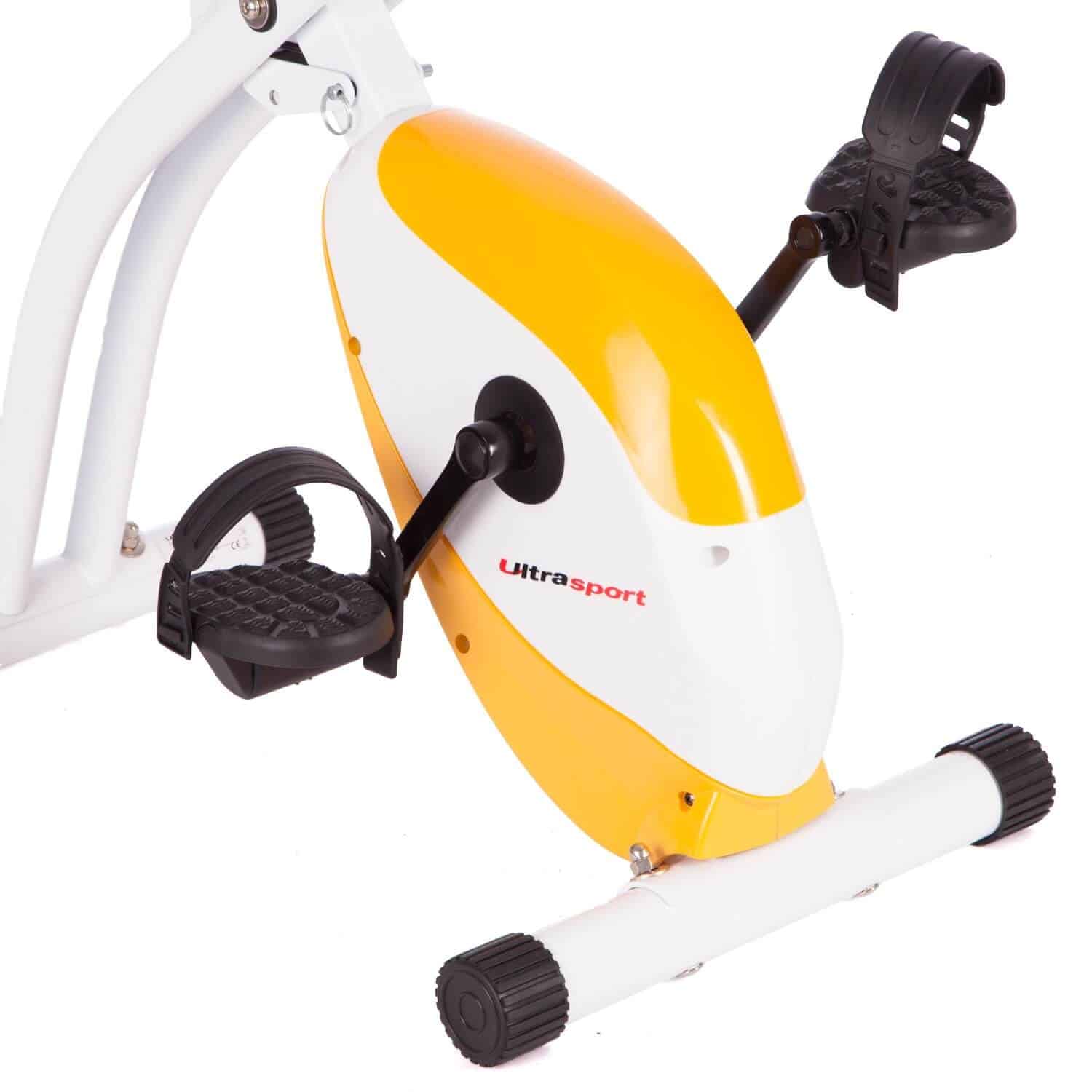 Ultrasport Foldable Exercise Bike Review
The Ultrasport foldable exercise bike is the best-selling folding exercise bike in the UK today. With thousands of sales on Amazon and a very impressive four and a half star rating from over 1500 buyers, this seems to be a very popular model.
So, lets take a look!
What The Manufacturer Has To Say 
Stay at home while you tone with the Bike Box Hands Free Compact Exercise Bike.
What makes this bike different is just how small and compact it is, making it easy to store, attractive and convenient, unlike most bikes which take up a lot of space in your home.
Last updated on May 3, 2021 3:42 pm
---
Bike Reviewed –
Ultrasport Foldable Exercise Bike with Pulse Sensor Grips 200-b
---
The Need To Know
Type Of Exercise Bike: Foldable exercise bike
Levels Of Resistance: 8
Monitor Functions: Speed, Time, Distance, Pulse, Calories
Seat & Handlebars: Adjustable
Dimensions: 142cm (H) x 45cm (L) x cm 36 (W).
Max User Weight: 100 kg
Warranty: 12 months
---
What We Think
Made by a brand with a reputation for building the best folding exercise bikes and the best-selling models, this Ultrasport exercise bike comes with some very good customer feedback. When compared to models of a similar price there is no denying that this model wins hands down in terms of features and overall quality. So, lets take a look at the features and specifications.
Resistance
In total there are eight levels of resistance which is a good range for a folding model. Most noteworthy is the fact that there are a few customer reviews stating that the resistance offered is fairly light. With this been a folding exercise bike the resistance offered is never going to be too testing. If you are looking for a very tough workout then a spin bike would be more suitable to your needs.
Seat & Handlebars
The seat and handlebars are an important consideration when buying any exercise bike.  Ultrasport have come up with a novel solution in terms of providing a comfortable exercise bike by adding a backrest to this model. This provides added support and puts less strain on the back. If you have back trouble then this might be the best model for you. In addition the seat is adjustable from a height of 78 cm to 86 cm.
Pedals
Featuring adjustable pedal straps it is easy to get a firm footing with this model. Consequently this generally leads to a far more comfortable workout, which in turn leads to a longer workout and more calories burned.
LCD Display & Monitor Functions
The LCD display for this Ultrasport exercise bike is basic in design and at the same time easy to navigate through the functions. In total there are five readouts given and these are speed, time, distance, calories and pulse. As you can see from the image below the pulse sensors are built-in to the handlebars and give a fairly accurate readout via the LCD display.
Max User Weight
As always the maximum user weight is a good indicator of a well-built and sturdy exercise bike. The Ultrasport exercise bike has a maximum user weight of 100 kg, which is a very respectable amount. Due to the wide-set legs on this model it is said to be very sturdy, which is always a good thing.
Pros
8 levels of resistance
Very quiet to use
Easy to assemble
Foldable design for space efficiency
Great value for money
Sturdy when in use
Cons
advanced users of exercise bikes won't find the resistance too testing
not suitable for those under 5 ft 1"
Good Amazon Review
I've had it for about a month and I'm actually quite happy with it.
It really is pretty sturdy, I wouldn't have thought it possible on a folding model.
The intensity dial seems to work well, and I find the amount of resistance well-balanced. It's also almost completely quiet.
Bad Amazon Review
Everything about the exercise bike is fine except for it not being possible to lower the seat sufficiently to enable my wife, who is 5 feet 1 inch in height, to operate the pedals. So, use of the machine is limited to me whereas the intention was for both of us to use it.
Extras
For those looking for extra comfort when exercising there is the option to buy the model with a backrest. However, this does cost a little bit more but definitely worth it.
Final Words
The Ultrasport foldable exercise bike is best suited to beginners as advanced users will require a harder workout. However, this is a very good exercise bike, if not the best foldable exercise bike UK customers can buy. If you are looking for an affordable and compact model with some good features this is well worth taking a look at.