XM-PRO III Treadmill Review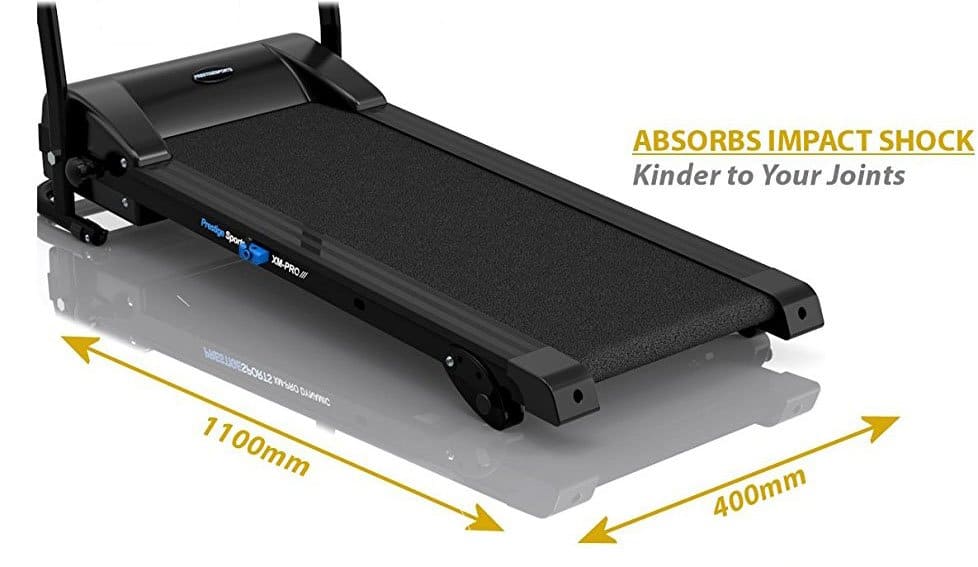 XM-PRO III Treadmill Review
The XM-PRO III treadmill has gained a reputation of been the best budget treadmill for those looking to spend around £200. With a four and a half star rating on Amazon and very good customer feedback the outlook is positive. With a free aerobic twist disc with resistance bands and a fruit infusion bottle thrown in for free with every purchase this does look to be a good buy.
So lets take a look at what makes this treadmill so popular!
What The Manufacturer Has To Say
As seen in "Womens Fitness" and "Health & Fitness" Magazine, this latest model is lightweight, compact and folding, offering the perfect space saving solution for your home gym. The ultra slim fold away design makes using the XM-PRO III simple and convenient.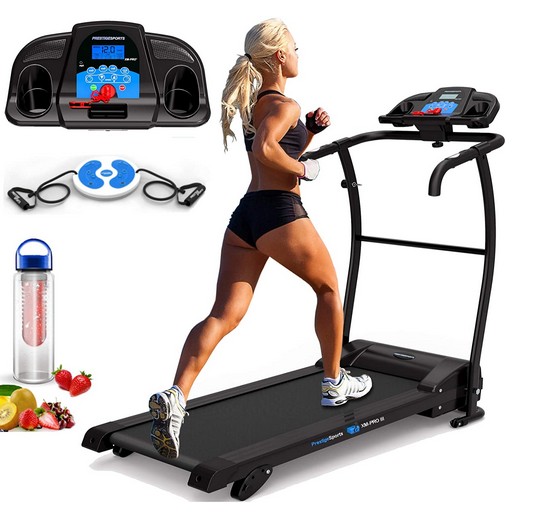 £299.99
in stock
2 new from £299.99
as of May 17, 2022 11:37 am
Last updated on May 17, 2022 11:37 am
---
Treadmill Review – XM-PRO III Treadmill Review
---
The Need To Know
Speed: 12 km/h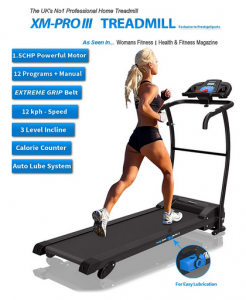 Running Area: 110 cm (length) x 40 cm (width)
Incline: 3 levels
Programs: 12 professional running programs, 1 manual program
Shock Absorption: n/a
Monitor Functions: speed, time, distance, heart rate, calories, incline
Dimensions: 135cm (L) x 65cm (W) x 140cm (H)
Max User Weight: 110 kg
Warranty: 2 year frame warranty, 2 year motor warranty, 2 years parts & labour
---
What We Think
For a budget treadmill the XM-PRO III has some good features within its specifications, most noteworthy are the 12 programs and incline option. For a treadmill to have this many programs at this price and an incline is not a common thing and probably one of the reasons this model has become a bestseller so quickly.
Speed & Incline
With a powerful 1100 watt motor this model can reach a top speed of 12 km/h. Although this is not the fastest of top speeds, it is by far not the slowest either. For a cheap treadmill this is a good top speed and you would be hard pressed to find a running machine in the same price bracket with a faster top speed.
There are 3 manual incline levels to this treadmill and the difference between each increment is quite noticeable, which is a good thing. A running machine with an incline option has the added benefit of toning the body more and can also burn more calories than a treadmill without an incline.
Running Deck
The running deck is an important consideration when purchasing a running machine, especially when buying a cheaper model. As a standard feature the more expensive models have a large running area. The problem with budget treadmills is that they are quite a bit smaller in comparison. The XM-PRO III has a running area of 110 cm by 40 cm which is good for people up to about 6 ft 2". Anyone above this height will notice that they can't take full strides at the top end of the speed settings.
LCD Display & Monitor Functions
Featuring a large LED screen, which is very easy to navigate through the monitor functions, this model is very user-friendly.
In total there are five readouts given with this treadmill and these are time, speed, distance, calories and heart rate/pulse. All in all these are sufficient enough to keep track of any progress made towards reaching your fitness goals.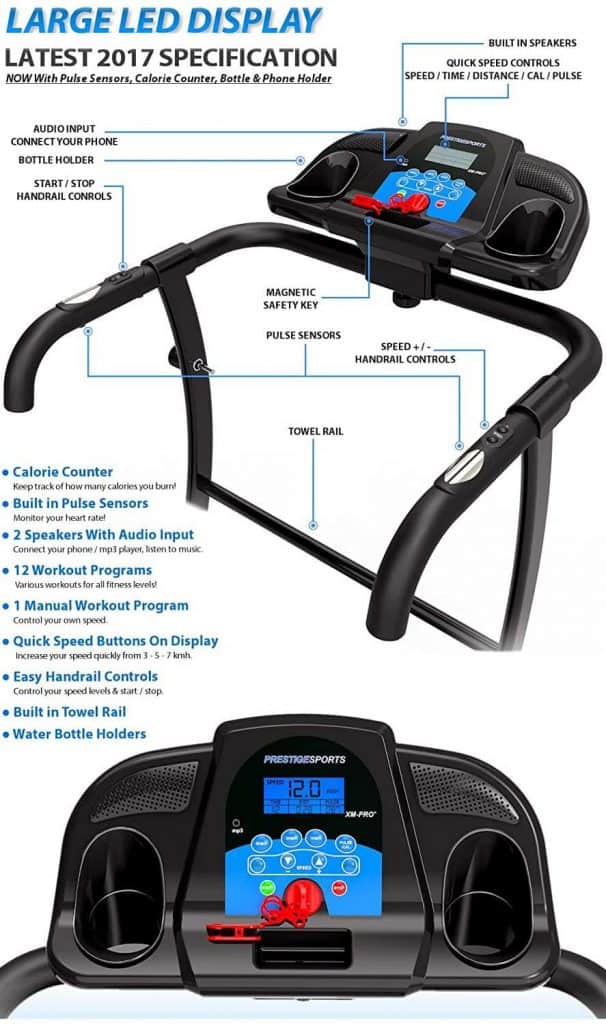 Programs
In total there are 12 programs with the XM-PRO III treadmill. This is above average for this price bracket and more than enough to keep users entertained. Having a wide range of programs has been shown to lead to longer workouts and tends to make workouts more varied and enjoyable.
Entertainment
In terms of entertainment there are two built-in speakers which can be hooked up to your phone or ipod through the audio input. Unfortunately, they are not the best quality speakers and after a while, users will probably revert to using their headphones. That been said, with this been an "affordable treadmill" you will never get speakers that are the best in the world built into a cheap treadmill.
Maximum User Weight
The maximum user weight of a treadmill is a good indicator of the overall sturdiness when in use. The cheapest treadmills generally have a lower maximum user weight than more expensive ones. Treadmill user weights vary from 90 kg all the way up to 200 kg for commercial models.
The XM-PRO III Treadmill has a respectable max user weight of 110 kg, which is quite good for a budget treadmill.
Pros
12 programs
3 levels of incline
built in speakers
foldable
good warranty
Cons

 
Good Amazon Review
Very pleased with this product! It came earlier than expected which was a bonus! The built in speakers are great and very easy to fold away and store! Will definitely be using this company again!
Bad Amazon Review
Not a heavy weight treadmill by any means. Heart rate monitor is a bit suspect, but we will see as things progress.
Extras
In terms of extras this model has quite a lot to offer. There is a built in bottle holder and towel rail. In addition with every purchase there is a free aerobic twist disc and a fruit infusion bottle. Furthermore there's are 3 e-books for users to download.
To Sum Up
If you are looking for an affordable treadmill with a good set of feature then the XM-PRO III could be the one for you. With more to offer than the majority of treadmills around the same price it is easy to see why this model has become a best seller on Amazon.
Last updated on May 17, 2022 11:37 am