Confidence Pro Fitness Vibration Plate Trainer Review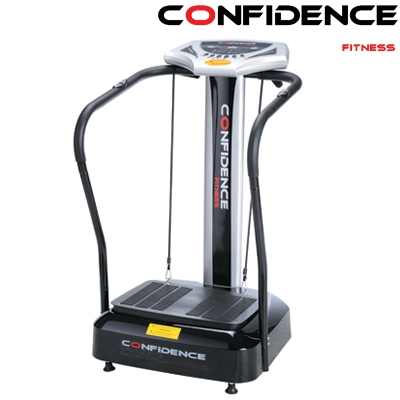 Confidence Fitness have cornered the budget vibration plate market with their Confidence Pro Fitness Vibration Plate Trainer. With numerous sales and four and a half stars rating on Amazon customer feedback is generally overall positive. In this review we will be seeing if it lives up to expectations.
So let's take a look…
The Need To Know
Below is a list of the specifications of the Confidence fitness vibration plate plus. When buying a vibro plate these are the main things to look out for.
Maximum user weight: 150kg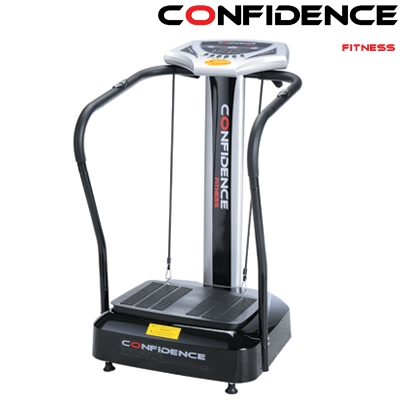 Maximum power: 600W
Pre-set programmes: 10
Dimensions: 73.5 cm (H) x 69.5 cm (L) x 122 cm (W).
Warranty: 12 months
What The Manufacturer Has To Say 
The latest design from Confidence Fitness is the Vibration Plate Plus. This compact machine is the answer to low impact, easy exercise with fast results in your own home. With a user friendly display console and simple to navigate menu, will make even the most inexperienced gym goers comfortable in training immediately
---
Vibro Plate Reviewed – 
Confidence Fitness Pro Vibration Plate Trainer
£199.99
in stock
1 new from £199.99

Amazon.co.uk
Last updated on July 31, 2020 11:20 am
---
What We Think
Confidence fitness have been around for quite some time and over the years they have built some very good and affordable vibration plates, as well as other home fitness equipment. The Confidence plus vibration plate is one of their bestsellers and at first glance it does indeed look the part.
So the big question…
Is the Confidence Pro Fitness Vibration Plate any good? 
As mentioned this vibration plate does look the part been both modern and stylish at the same time. That is of course after assembly, which is a simple procedure even due to the instructions not been the best. It took us literally 10 minutes to put this together from out of the box.
When fully assembled this model weighs in at 38 Kg and with a max user weight of 150Kg it is quite sturdy when compared to other vibro plates in more or less the same price range.
With a full 600 Watts of power a good vibration workout is assured with this plate. However do remember this is a budget vibro plate and although it is made to a high standard it is an oscillating plate which technically aren't as good as the more expensive vertical plate models.
The plate itself is quite big and has plenty of room for vibration plate exercises such as squats and lunges. One thing we did notice is that the screws need tightening up for the first few uses, this is probably where a few reviews about noise come from. This is due to this exercise machine been a vibrating one. Consequently to rectify just simply tighten the screws and they will settle in a fixed place after a few uses.
Good Customer Review
Good quality product, easy to put together and follow up calls to check everything is working ok.

The wife is happy!
Bad Customer Review
Part of me wants to give this item 5 stars as it is rock solidly built and I feel it will last for years. However there are some fairly major issues with it in my opinion.
The most noteworthy features and definitely worth a mention are the handles and adjustability of them on the Confidence Fitness Pro Vibration Plate Trainer. First of all there are built in BMI sensors on the handles. In addition the handles can be adjusted to save space for when not in use which are very handy.
Due to this been a budget vibration plate there are no pre-set programmes which makes the Vibration Plate Plus best suited to beginners, more experienced users would be better off with a more advanced vibro plate. There are 50 speed settings to this plate and these can be easily changed through the LCD screen.
Max User Weight
The Confidence Pro Fitness Vibration plate has a maximum user weight of 150Kg which converts to 23.5 stone.
Pros
Easy to assemble
Easy to move around been fairly light
High range of speed settings
Space saving design (adjustable frame)
Cons
Extras
The handles for this vibro plate have built in sensors which makes it easy to measure the user's BMI.
[embedyt] https://www.youtube.com/watch?v=uGfqijlLIQw[/embedyt]
Final Words
If its a reliable and very affordable vibration plate from a brand with more positive reviews than almost any other that you're after then the Confidence Fitness Vibration Plate Plus comes highly recommended. Stylish in design, simple to use and very sturdy because of all these things this is one of the best vibro plates in its price bracket.
£199.99
in stock
1 new from £199.99

Amazon.co.uk
Last updated on July 31, 2020 11:20 am